The Silverstone NT07-AM2 is 1U low profile skived aluminum heatsink that is actively cooled by a small top-mounted 80mm fan. The entire heatsink measures just 36mm high, making it ideal for 1U, slim-line and book-sized PC cases. It weighs just 330 grams and operates very quietly. Although it's 80mm 1500-2500RPM PWM fan isn't much to get excited about, when used to cool an energy efficient AMD processor having a TDP of 65W or less, the Silverstone NT07-AM2 is sufficient. The heatsink is officially rated for heat loads up to a maximum 65W, but as Frostytech's AMD test platform runs at 125W we'll have to stress it a little.
When it comes to low profile heatsink under 50mm in height, there really aren't very many options out there. This is problematic as the compact PC form factor is starting gain popularity as more and more multi-core low power consuming CPUs hit the market from AMD. In the world of sub-50mm tall heatsinks, the only other low profile coolers we've tested are listed on the Top 5 Low Profile heatsink chart.
Silverstone NT07-AM2 Heatsink

---

heatsink specsheet
manufacturer: silverstone
model no.: nt07-am2
materials: skived aluminum
fan mfg: silverstone changfeng df0801512rfmn
fan spec: 1500-2500rpm, 12v, 0.18a
fan dim: 15x80x80mm
heatsink & fan dim: 36x79x106mm
weight: 330 grams
includes: mounting brackets, thermal compound, instructions

---

Compatible with Sockets:
AMD - AM2/AM2+/AM3
Est. Pricing: $15USD ($15CDN)
Skiving is a process by which the aluminum fins of the heatsink are drawn up from a flat plate or bar of metal. The remains of that flat plate go on to form the base of the actual heatsink which means the thermal properties should be very good.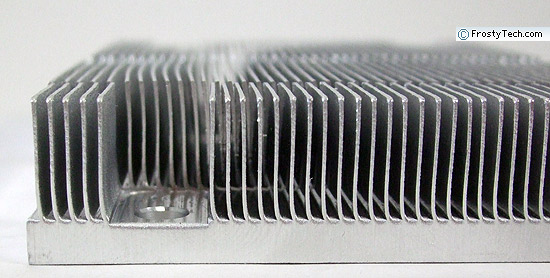 The significance of this set up is that there is no interface to be concerned with between the fins and base. Materials such as solder, or thermal epoxy can impede the flow of heat energy more so than pure aluminum.
Heatsink Installation
Silverstone's NT07-AM2 heatsink is compatible with AMD socket AM2/AM2+/AM3 processors only. The NT07-AM2 ships with rear support plate and four spring tensioned screws.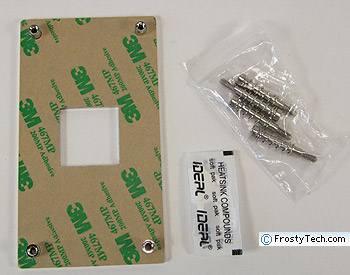 Base Finish and Flatness
Flipping a heatsink over to inspect the business end is often a simple indicator of overall cooler quality. More practically speaking, a heatsink is in many ways only as effective as the contact it makes with the processor - the flatter and smoother the better. Base finish is one of the criteria that Frostytech measure in the course of evaluating heatsinks, and it involves two distinct aspects. Surface Finish is the first; this is calculated with the aid of Surface Roughness Comparator that has a cross section of common machine surface finishes and their numerical surface roughness equivalents in microinches. The second is Surface Flatness. This is tested with an engineers straight edge or proven flat surface, in two axis.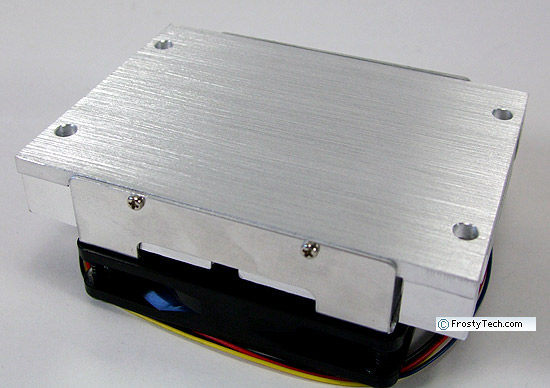 The aluminum base of the Silverstone's NT07-AM2 heatsink has a sanded finish with a surface roughness of approximately ~32 microinches. The base is slightly concave in one axis, and generally flat in the opposite.
FrostyTech's Test Methodologies are outlined in detail here if you care to know what equipment is used, and the parameters under which the tests are conducted. Now let's move forward and take a closer look at this heatsink, its acoustic characteristics, and of course its performance in the thermal tests!