Frostytech is going to make a prediction, you tell us if we've got it right or wrong. You're looking for a heatsink that keeps CPU temperatures reasonably cool while at the same time is practically noiseless, installs without too much effort and doesn't cost a fortune. Sound about right?
The Scythe Zipang 2 heatsink actually fulfills most of these criteria, essentially silently, thanks to a clever combination of a slow-speed 140mm diameter fan and large cooling surface area. It's not the coolest heatsink Frostytech has ever tested, but it did keep noise levels under 40dB and temperatures to a little over 25C ambient in our 150W synthetic test scenario. To put that in perspective, out of ~200 heatsinks there are only two other CPU coolers that can match the Zipang 2's low noise output and maintain slightly cooler CPU die temperatures on both Intel and AMD test platforms. Those include the Infinity and AK-967.
There are a couple aspects that go into making the Zipang 2 unique, but let's start with the basics. The Scythe Zipang 2 (SCZP-2000) heatsink features six 6mm diameter copper heatpipes, "multiple airflow pass-through" aluminum fins, a copper base plate and a mammoth 140mm PWM fan that spins at a leisurely 1000 RPM. The heatsink weighs in at 715 grams and stands just 105mm high. That squat height means it competes well against the multitude of +150mm tall tower heatsinks which are too big for a great many PC cases out there. The fan has 11 impeller blades and is rated for 51.4 CFM.
Scythe's Zipang 2 heatsink is compatible with Socket 478/775/1156/1366 Intel processors, and the entire AMD processor family from socket 754/939 through to AM2/AM3. It retails for about $44 here, or here. As of this writing socket 1156 is unofficially supported, we'll explain that in a moment.
Scythe Zipang 2 Heatsink

---

heatsink specsheet
manufacturer: scythe
model no.: zipang 2
materials: aluminum fins & base cap, copper heatpipes and base plate
fan mfg: scythe sy1425sl12ml
fan spec: 1000rpm, 12v, 0.19a
fan airflow: 51 cfm
fan dim: 25x140x140mm
heatsink & fan dim: 105x145x148mm
weight: 715 grams
includes: mounting brackets, thermal compound, instructions

---

Compatible with Sockets:
AMD - 754/939/940/AM2/AM3
Intel - 487, 775/1156/1366
Est. Pricing: $44USD ($44CDN)
The Zipang 2 features a unique aluminum fin design that consists of three separate sets of aluminum fins split in half. Thus, each of the six heatpipes is basically independent of the rest. The manufacturer calls this 'multiple airflow pass-through', and it seems to have been done to increase crossflow between the rows.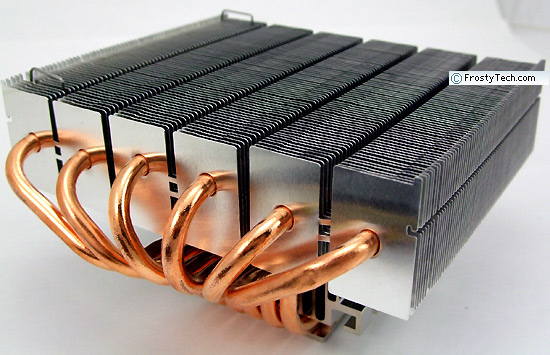 In older extruded aluminum heatsinks it was not uncommon for manufacturers to cut up the rows of fins to promote airflow moving freely between them. With the adoption of stamped fins that technique had largely been abandoned.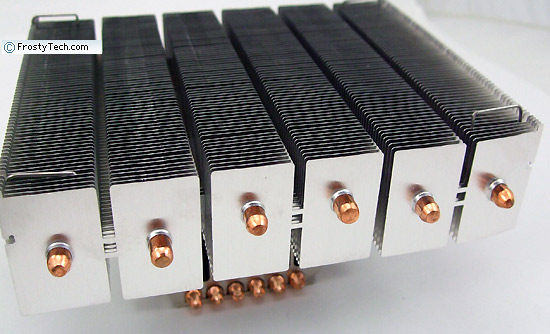 Another interesting aspect of the Scythe Zipang 2 heatsink are its heatpipes, or more specifically how the six, 6mm diameter heat pipes make the 180 degree shift from the base to the fins. Over-under heatsink configurations like the Zipang 2 can suffer from heatpipe dry out if an incorrect wick structure is chosen, or heatpipes are bent too far so a "J" trap forms, or more commonly the severe bend causes a sintered metal wick to crack in the bending process.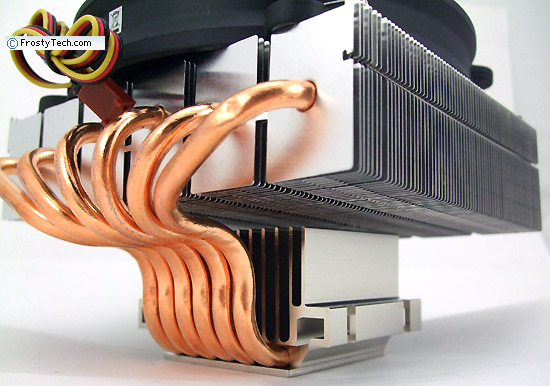 The Zipang 2 suffered none of these problems, but we did notice that Scythe had opted to bend the heatpipes in four separate 90 degree steps - R L R R. I'll have to plead the fifth on whether this has any particular advantages over the typical single 180 degree bend...
Heatsink Installation
The Intel mounting clips supplied with the Scythe Zipang 2 heatsink are designed with push-to-click pins that slide along a channel in the bracket and therefore accommodate both Intel LGA 775 and LGA 1366 hole spacings. Since socket 775, 1156, 1366 mounting holes are spaced 72mm, 75mm and 80mm respectively, the hardware supplied with the Zipang 2 is unofficially compatible with Intel Core i5/i3 socket 1156 processors as well. On a side note, those little injection molded plastic feet are technically called the "Intel C33389 reference fastener." We tend to call them "push-to-click" pins since that seems like a more apt name.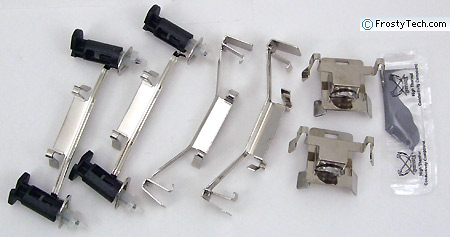 Scythe mounting systems are pretty straight forward, there are three pairs of clips; one for socket 775/1156/1366, another pair for socket 478, and the last for all AMD K8 processors (754/939/AM2/AM3). The clips click into the side of the base cap heatsink without the use of any tools, and are removable by the same means.
For Intel processors the company relies on the standard Intel push-to-click Intel C33389 reference fastener. For older generation Intel CPUs, we even find a set of brackets for socket 478. All four generations of AMD CPUs are serviced by one cam lever clip that engages on the central lug of the AMD heatsink retention frame.
Of all the heatsinks FrostyTech has reviewed recently, this interchangeable clip system is the most convenient. The heatsink is held on firmly and the appropriate amount of clamping pressure is applied - what more could you ask for?
FrostyTech's Test Methodologies are outlined in detail here if you care to know what equipment is used, and the parameters under which the tests are conducted. Now let's move forward and take a closer look at this heatsink, its acoustic characteristics, and of course its performance in the thermal tests!