360° View - Coolermaster Hyper 212 Plus Heatsink

---

Information on Frostytech's test methodology is available here.

The 120mm PWM fan on the Coolermaster Hyper 212 Plus heatsink spins at 600-2000RPM. A standard 4-pin PWM motherboard header provides power. The heatsink stands 161mm tall, and uses wire clips to hold the fan in place. Additional clips can be used to secure a second fan if desired.

The raw aluminum fins on the Hyper 212 Plus are press-fit over four 6mm diameter copper heat pipes which are alternatively spaced. The bottom fin is elevated 37mm for adequate motherboard component clearance. Each aluminum fins measure 0.4mm thick and is spaced 1.75mm apart. The aluminum/heatpipe base is 7mm thick.

The base of the Hyper 212 Plus heatsink is pressed flat, with a footprint measuring 37x44mm. The heatpipes are swaged into the aluminum base block side-by-side, then separated by 9mm as they pass through the fins to distribute the heat over a larger area.
Base Finish and Flatness
Flipping a heatsink over to inspect the business end is often a simple indicator of overall cooler quality. More practically speaking, a heatsink is in many ways only as effective as the contact it makes with the processor - the flatter and smoother the better. Base finish is one of the criteria that Frostytech measure in the course of evaluating heatsinks, and it involves two distinct aspects. Surface Finish is the first; this is calculated with the aid of Surface Roughness Comparator that has a cross section of common machine surface finishes and their numerical surface roughness equivalents in microinches. The second is Surface Flatness. This is tested with an engineers straight edge or proven flat surface, in two axis.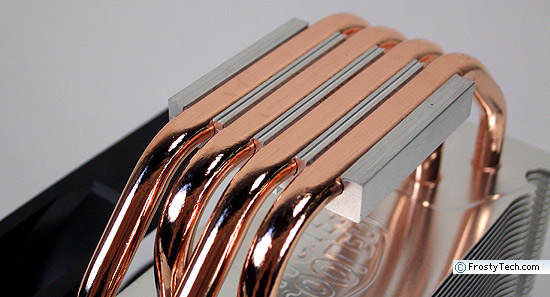 The Coolermaster Hyper 212 Plus heatsink has a pressed base with a surface roughness of approximately ~32 microinches. The base is flat in both axis. The creases between the copper heatpipes and aluminum form channels which help to evacuate excess thermal compound.
Next up, sound measurements to determine how loud this heatsink is at full fan speed, and 600RPM.