3Rsystem's Iceage 80 Prima Mini is a compact CPU cooler that stands just 104mm tall. It's ideally suited towards compact PC systems, slim cases, or simply as a low noise cooling solution for energy efficient sub-85W processors.
Given the burgeoning volume of 85W, 65W and 45W energy efficient processors, compact coolers like the Iceage 80 Prima Mini are certainly handy for any PC situation where there's not a lot of headroom. The use of big chunky 8mm copper heatpipes here is a little interesting, we have to wonder if the low speed fan and short stubby aluminum fins are really fit for the heat that size heat pipe is capable of transferring...
The heatsink packs a single, fixed speed, 1800RPM 80mm fan to move air though the Prima Mini's 'tower' built around three 8mm diameter copper heatpipes. The entire heatsink weighs just 365 grams and installs onto AMD or Intel processors with the same tool free mounting clip. The Iceage 80 Prima Mini is compatible with Intel socket 775 and AMD socket 754/939/940/AM2/AM3 processors. As of this writing socket 1366 is not supported.
Like all recent 3Rsystem heatsinks Frostytech has tested, the Iceage 80 Prima Mini is an exposed heatpipe cooler - meaning its three heatpipes make contact with the top of the processor. It is rated for processors with a TDP of up to 200 Watts according to the manufacturer, but this is perhaps a touch optimistic.
As a thermal solution measuring less than 110mm in height, the 3Rsystem Iceage 80 Prima Mini qualifies as a low profile heatsink. It will fit into slim type desktop cases and 3U sized chassis.
3RSystem Iceage 80 Prima Mini Heatsink

---

heatsink specsheet
manufacturer: 3rsystem
model no.: iceage 80 prima mini
materials: aluminum fins, copper heatpipes, aluminum base with exposed heatpipes.
fan mfg: n/a
fan spec: 1800rpm, 12v, 0.12a
fan dim: 25x80x80mm
heatsink & fan dim: 104x83x102mm
weight: 365 grams
includes: multi-socket socket mounting hardware, thermal compound, instructions

---

Compatible with Sockets:
AMD - 754/939/940/AM2/AM3
Intel - LGA775
Pricing: $35USD ($39CDN)
The base of the 3Rsystem Iceage 80 Prima Mini features three exposed 8mm diameter copper heatpipes.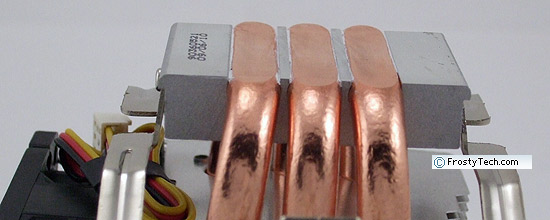 The heatsink mounts to both Intel and AMD motherboards using the same bracket, which is nice as it simplifies the installation procedure. A special black plastic retention frame will need to be installed onto Intel motherboards to give the Prima Mini something to clip onto, but this is no more complicated than pushing in four pegs.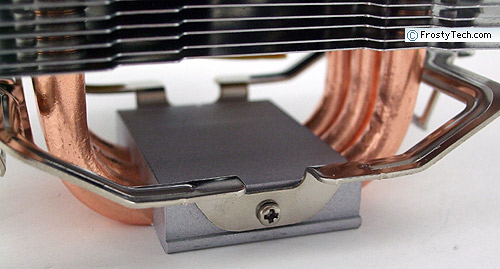 The 3Rsystem Iceage 80 Prima Mini heatsink ships with brackets for Intel LGA775 and AMD 754/939/940/AM2/AM3 processors. The black plastic bracket pictured below is used on Intel 775 motherboards, using push-to-lock type clips. The heatsink then attaches to the bracket to hold it in position.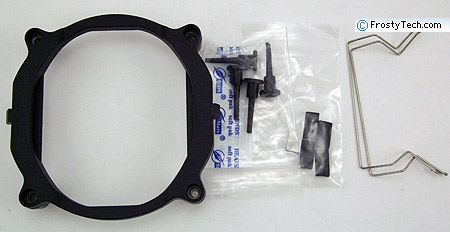 Only one set of wire fan clips are supplied with the heatsink, and only one 80mm fan can be installed onto it. I suspect many potential users would like the option of installing a second fan in a pull configuration. Along with the wire fan clips, some rubber vibration absorbing pads can be used in between the fan and aluminum fins to prevent rattling sounds.
Base Finish and Flatness
Flipping a heatsink over to inspect the business end is often a simple indicator of overall cooler quality. More practically speaking, a heatsink is in many ways only as effective as the contact it makes with the processor - the flatter and smoother the better. Base finish is one of the criteria that Frostytech measure in the course of evaluating heatsinks, and it involves two distinct aspects. Surface Finish is the first; this is calculated with the aid of Surface Roughness Comparator that has a cross section of common machine surface finishes and their numerical surface roughness equivalents in microinches. The second is Surface Flatness. This is tested with an engineers straight edge or proven flat surface, in two axis.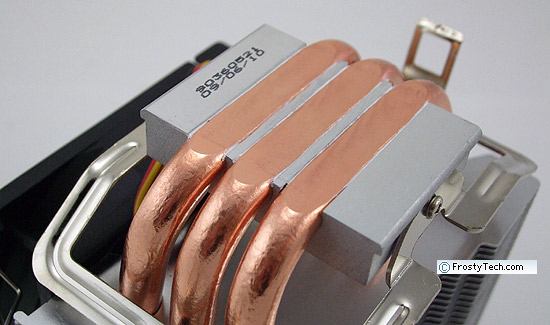 The 3Rsystem Iceage 80 Prima Mini heatsink has a surface roughness of approximately 32 microinches, which is considered good. The base is machined perfectly flat in both axis, but has a slight grooved finish from the machining operation. The copper and aluminum parts are flush.
FrostyTech's Test Methodologies are outlined in detail here if you care to know what equipment is used, and the parameters under which the tests are conducted. Now let's move forward and take a closer look at this heatsink, its acoustic characteristics, and of course its performance in the thermal tests!