Sound Level Measurements: Which Heatsink is Quietest?
Because most fans used with videocards are fairly quiet we're omitting the fan noise recordings for this segment of heatsinks. Instead, FrostyTech will emphasize its reliance on cold hard facts when evaluating different thermal solutions by providing the following noise level measurements taken with a digital sound level meter in a noise-proof chamber.
FrostyTech.com VGA Heatsink Noise Level Measurements

---

Noise level Decibel measurements of each heatsinks' fan in operation are taken with the aid of a sound level meter and sound isolating enclosure. The values may be higher than the mfgr's listed specs, but are directly comparable to one another. Measurements are made on the dB (A) scale. Information on Frostytech's test methodology is available here.

manufacturer:
model no.:
*fan speed:
noise level (dba):

---

Zalman
VF700-AlCu
low
32.6 dB
Quiet
Zalman
VF700-AlCu LED
low
32.9 dB
Zalman
VF900-Cu
low
33.5 dB
Zalman
FC-ZV9
low
40.0 dB
Zalman
VF900-Cu
high
42.0 dB
Zalman
VF700-AlCu
high
43.1 dB
Zalman
VF700-AlCu LED
high
43.3 dB
Albatron
Stock FX5900 Heatsink
48.0 dB
Zalman
FC-ZV9
high
51.9 sB
Loud
noise level (dba)
*unless noted, for reference heatsinks with variable-speed fans only the 'high speed' (12V) fan noise measurement is included in the comparison sheet; more detailed results for the low fan speed (~5V) tests reside in each specific heatsink review.
With the Zalman FC-ZV9 heatsink running at its stock 3600RPM speed, the cooler really can't be heard outside the case (51.9 dBA). The Zalman Fan Mate 2 we can reduce the fan impeller speed to just 1650RPM, thus decreasing the FC-ZV9's fan noise to 40 dBA.
Heatsink Temperature Comparisons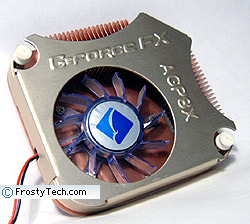 The 'refrence' Albatron FX5900 GPU heatsink is the stock cooler used on this videocard. The copper heatsink is equipped with a 45mm fan.
FrostyTech typically eschews real world testing for synthetic thermal test platforms; repeatability is more controllable, and parameters like thermal load can be specified from the start by selecting appropriate resistive heater components.
However, when it comes to videocard heatsinks it has proven a challenge to design a suitable platform which will accommodate the wide variety of mounting styles, GPU core dimensions, and VGA heatsinks out there.... Videocard heatsinks react strongly to the internal case environments, and when front/back thermal solutions start to be considered the equation gets rather complicated.
Thus for the time being, FrostyTech will be conducting its VGA heatsink tests with an actual videocard. Temperatures will be recorded with the computer system at idle on the desktop, and when stressed with 3DMark06 where the peak temperature will be noted. The parameters of equipment set up and instrumentation are noted below. The reference heatsink is a stock Albatron FX5900 copper GPU cooler which is pictured at left (no model numbers are available).
FrostyTech.com VGA Heatsink Test Results

---

Results based on readings from a thermocouple positioned on the backside of a FX5900 videocard, directly behind the GPU. The thermocouple is separated from the PCB by Thermagon thermoconductive gapfiller, and insulated on the opposite side by closed cell neoprene. Thermal Test values for each heatsink were calculated by determining the rise over ambient temperature at time of test. Information on Frostytech's test methodology is available here.
ATI / nVidia compatible GPU heatsinks

manufacturer:
model no.:
*fan speed:
idle
fx5900 thermal test (°c)
noise level (dba)

---

Zalman
FC-ZV9
high
3.5
11.5
51.9
Zalman
VF900-Cu
high
3.8
12.0
42.0
Zalman
FC-ZV9
low
8.1
14.5
40.0
Zalman
VF900-Cu
low
8.6
15.2
33.5
Zalman
VF700-AlCu
high
6.4
15.5
43.1
Zalman
VF700-AlCu LED
high
8.9
15.8
43.3
Zalman
VF700-AlCu LED
low
11.9
20.5
32.9
Zalman
VF700-AlCu
low
10.8
21.3
32.6
Albatron
Stock FX5900 GPU HSF
13.6
25.7
48.0
idle
fx5900 thermal test (°c)
noise level (dba)
*heatsinks are ranked according to the thermal test results column (rise over ambient temp.). low temperatures with low noise levels are considered best. for reference heatsinks with variable-speed fans, only the high speed (12v) fan test result is included in the comparison sheet; more detailed results reside in each specific heatsink review.
there are not a lot of vga heatsinks in this comparison, but what we've tested thus far gives a good indication of where the Zalman FC-ZV9 stands. The FC-ZV9 heatsink posts a 3DMark06 system stressed maximum rise above ambient temperature of 11.5°C, with 51.9 dBA noise (fan speed 3600RPM). With the FC-ZV9's 80mm fan spinning at full speed we see an idle temperature of about 4°C above ambient - idle being when the videocard is just displaying the WindowsXP desktop.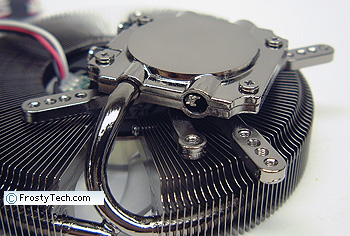 For quieter operation the Zalman Fan Mate 2 is used to reduce the fan speed of the FC-ZV9 to about 1650RPM, thus dropping noise levels to at best 40.0 dBA. In this situation the recorded temperature from the back of the graphics card increases to 14.5°C above ambient under the 3Dmark06 stressed parameter. At idle, the temperature hovers around 8.1°C above ambient.
The stock FX5900 GPU heatsink does no better than 25.7°C above ambient, with 48 dBA noise, under the same conditions.
The Zalman FC-ZV9 videocard heatsink takes a unit approach to GPU cooling, both in materials and thermal design. From our real-world test results it's clear the FC-ZV9 provides better temperature and acoustic results than the stock FX5900 videocard heatsink will. Given the set of data we have to draw conclusions from, I think we can safely say that the Zalman FC-ZV9 heatpipe-based videocard GPU heatsink certainly offers a competitive advantage to GPU cooling.
Related Articles:
For more reviews on the latest heatsinks and cooling solutions, rely on FrostyTech's inventory of 350+ heatsink reviews. Here are a few other articles that you might enjoy as well...
1. Scythe NCU-2000 Pentium4 Heatsink Review
2. Gigabyte 3DCooler-Ultra PCU31-VH P4/K7/K8 Heatsink Review
3. Coolermaster Jet 4 ICB-V83 Pentium 4 Heatsink
4. Cooljag E44C/180 Pentium 4 1U Heatsink Review
5. Cooljag 2QC/180 1U Socket 478 Heatsink Review
6. Cooljag JACE2DC/180 1U Socket 478 Heatsink Review
7. Alpha Novatech S-PAL8952 Pentium4 Heatsink Review
8. Verax P17CuX Ultra Quiet Heatsink Review
9. Spire Verticool SPA49B0 Socket A Heatsink Review