360° View - EKL Alphenfohn GroB Clock'ner Heatsink

---

Information on Frostytech's test methodology is available here.

The 120mm fan on the EKL Alphenfohn GroB Clock'ner heatsink spins at 1200RPM by default. An optional fan speed controller can drop that down for quieter operation is desired. A standard 3-pin motherboard header provides power, so the fan is not PWM compliant. Note the AMD K8-style mounting clip attached to the aluminum base block, this one clip allows tool-free attaching to both Intel and AMD processors.

The EKL Alphenfohn GroB Clock'ner stands 154mm tall. Its raw aluminum fins are press-fit over the four 8mm diameter copper heat pipes. The bottom fin is elevated 36mm above the base for adequate motherboard clearance. The aluminum fins measure 0.3mm thick and are spaced 2.0mm apart. The aluminum/heatpipe base is 10.5mm thick.

The base of the EKL Alphenfohn GroB Clock'ner has a machined surface finish. The portion of the base that comes in contact with the CPU measures 45x40mm, about 32mm of that is pure copper heatpipe. Looking at the top of the Alphenfohn GroB Clock'ner we see the aluminum fins are roughly 125 x 75mm in size, and the trailing edge has a slight bend to direct airflow down towards motherboard components.
Base Finish and Flatness
Flipping a heatsink over to inspect the business end is often a simple indicator of overall cooler quality. More practically speaking, a heatsink is in many ways only as effective as the contact it makes with the processor - the flatter and smoother the better. Base finish is one of the criteria that Frostytech measure in the course of evaluating heatsinks, and it involves two distinct aspects. Surface Finish is the first; this is calculated with the aid of Surface Roughness Comparator that has a cross section of common machine surface finishes and their numerical surface roughness equivalents in microinches. The second is Surface Flatness. This is tested with an engineers straight edge or proven flat surface, in two axis.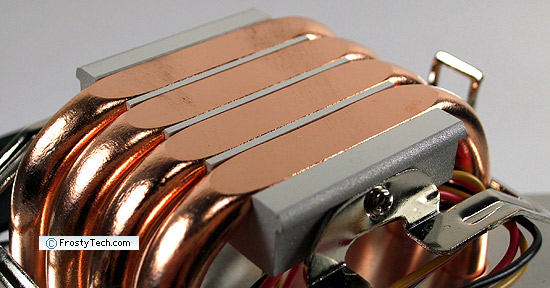 EKL's Alphenfohn GroB Clock'ner heatsink has a machined base with a surface roughness of approximately ~32 microinches. The manufacturer has purposefully given the surface a very fine ridged texture. The base is perfectly flat in both axis as expected.