360° View - Scythe Orochi Heatsink

---

Information on Frostytech's test methodology is available here.

The 25x140x140mm fan on the Scythe Orochi heatsink rotates at a fixed 500RPM. Power is supplied by a standard 3-pin motherboard fan header. The Scythe Orochi heatsink stands 155mm tall without the fan attached, 180mm with it. The cooler is 194mm long and 120mm wide, so it may not fit all cases or motherboards. The aluminum fins are nickel plated, and all joints between the fins and 6mm diameter heatpipes are soldered.

Springy wire clips allow the fan to be attached on any one of the three sides of the Scythe Orochi heatsink. The bulk of the Orochi is elevated 55mm above the base to provide clearance for adjacent Motherboard components. Ten 6mm diameter copper heatpipes fan out from the base to the aluminum fins. At the base the heatpipes are packed edge-to-edge to ensure good thermal transmission from the 6mm thick copper base plate below. Each aluminum fin is 100x120mm in size. A small extruded aluminum heatsink caps the base and provides additional cooling.

The aluminum fins measure 0.46mm thick and are spaced 3.9mm apart. The copper base plate is chrome plated copper and the CPU mounting bracket attaches around it with a couple screws. The Scythe Orochi's base measures 37.5 x 37.5mm in size. The base has a very smooth surface thanks to the plating.
Base Finish and Flatness
Flipping a heatsink over to inspect the business end is often a simple indicator of overall cooler quality. More practically speaking, a heatsink is in many ways only as effective as the contact it makes with the processor - the flatter and smoother the better. Base finish is one of the criteria that Frostytech measure in the course of evaluating heatsinks, and it involves two distinct aspects. Surface Finish is the first; this is calculated with the aid of Surface Roughness Comparator that has a cross section of common machine surface finishes and their numerical surface roughness equivalents in microinches. The second is Surface Flatness. This is tested with an engineers straight edge or proven flat surface, in two axis.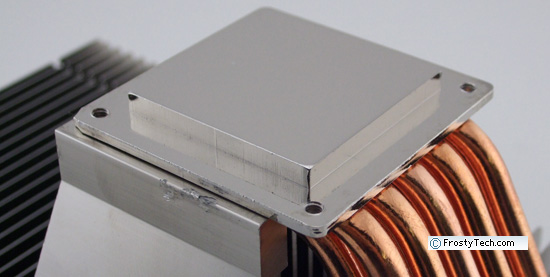 The copper base of the Scythe Orochi heatsink is machined and chrome plated. The surface roughness is ~8 microinches, which is considered excellent. The base is generally quite flat in both axis, though there is some very slight waviness when held up to an engineers straight edge (nothing a little thermal compound won't be able to remedy). There are four screw holes around the outside of the base area to attach the Intel and AMD mounting brackets.