Base Finish and Flatness
Flipping a heatsink over to inspect the business end is often a simple indicator of overall cooler quality. More practically speaking, a heatsink is in many ways only as effective as the contact it makes with the processor - the flatter and smoother the better. Base finish is one of the criteria that Frostytech measure in the course of evaluating heatsinks, and it involves two distinct aspects. Surface Finish is the first; this is calculated with the aid of Surface Roughness Comparator that has a cross section of common machine surface finishes and their numerical surface roughness equivalents in microinches. The second is Surface Flatness. This is tested with an engineers straight edge or proven flat surface, in two axis.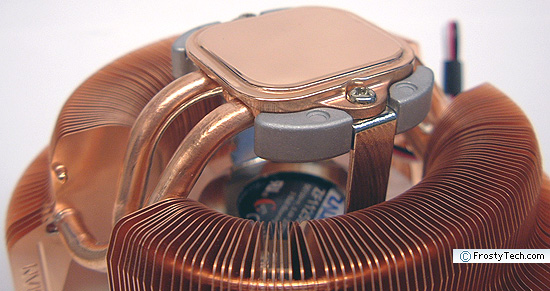 The Zalman 8700 LED heatsink heatsink has a surface roughness of approximately 8 microinches, which is considered good. The copper base has a smooth polished surface finish and is perfectly flat in both axis.
360° View - Zalman CNPS8700 LED Heatsink

---

Information on Frostytech's test methodology is available here.

The 105mm fan spins at 2300RPM, and draws power from a standard 3-pin motherboard fan header. The seven-bladed translucent impeller is internally illuminated by a couple blue LEDs. Since airflow is directed downward, components adjacent to the CPU socket are also cooled to some degree. Removing the fan gives us a clearer idea of how the CNPS8700 LED heatsink is made from an assembly of individually punched out sheets of 0.2mm thick copper. Each copper fin is 35mm long.

Standing 66mm tall, the Zalman CNPS8700 LED is a compact heatsink in the vertical sense. The spring clip system is mounted to the heatsink just under the integral 105mm fan. The bevel in the shape of the heatsink fins is so it will clear the heatsink retention frame.

The copper base is 30x34mm in size, machined razor flat and polished smooth.