FrostyTech Mk.II Synthetic Thermal Heatsink Test Results

---

Intel Pentium D / Extreme Edition & Quad Core class heatsinks tested at 150W
Intel Core 2 Duo / Pentium 4 / Celeron class heatsinks tested at 85W
Results based on readings from a 30x30mm copper interface die with 150W and 85W heat loads applied on the LGA775 version of the Mk.II Test Platform. Temperature results listed for each heatsink were calculated by determining the rise over ambient temperatures at time of test. Information on Frostytech's test methodology is available here.
Socket 775 compatible CPU heatsinks

manufacturer:
model no.:
fan speed:
150w
thermal test* (°c)
85w
thermal test (°c)
noise level (dba)

---

Apack
Zerotherm BTF90
21.8
12.7
52.1
Apack
Zerotherm BTF80
22.8
13.9
51.9
Thermalfly
F1-IACSHA
high
29.0
18.3
60.4
Zalman
CNPS9500 AT
29.6
17.3
53.3
Alpha Novatech
PRE9060M92P
high
29.9
18.5
51.5
Akasa
AK-961
30.0
18.7
60.7
nPowertek
NPH-775-1
30.1
18.8
50.1
Sunon
Waturbo
30.6
18.3
57.5
Apack
CF800
high
31.4
20.7
48.4
Thermaltake
Jungle512
high
31.6
20.4
60.8
Zalman
CNPS7700-Cu
high
32.9
19.7
50.7
Apack
CF900
high
32.9
20.3
48.3
Evercool
PT02-9232CP
33.3
19.9
63.3
Zalman
CNPS7700-Cu LED
high
33.5
20.6
49.8
Intel
Stock Pentium D
high
33.8
20.7
47.5
Akasa
AK-960E
36.1
21.4
56.3
Thermalfly
I75DUH
37.8
22.8
48.7
Intel
Stock Pentium D
low
40.3
23.9
40.5
Zalman
CNPS7700-Cu LED
low
41.3
25.0
34.9
Zalman
CNPS7700-Cu
low
42.6
24.7
35.1
150w
thermal test (°c)
85w
thermal test (°c)
noise level (dba)
*heatsinks are ranked according to the 150w thermal test results column (rise over ambient temp.). low temperatures with low noise levels are considered best. for reference heatsinks with variable-speed fans, only the high speed (12v) fan test result is included in the comparison sheet; more detailed results reside in each specific heatsink review.
with a 150w heat load applied by the intel lga775 version of frostytech's synthetic thermal test platform, the Zalman CNPS7700-Cu LED yields a rise above ambient temperature of 33.5°C (49.8 dBA) at the fans' stock speed of 2000RPM. The processor equivalent of this heat load would be an Intel Pentium D / Extreme Edition or Core 2 Quad class CPU. At the much quieter fan speed of 1000RPM, temperatures rise by only a few degrees to 41.3°C (34.9 dBA) over ambient.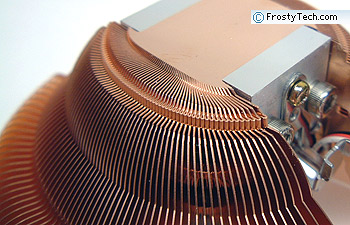 To measure the effectiveness of the Zalman CNPS7700-Cu LED heatsink on a Intel Core 2 Duo class processor we need to drop the heat load down to about 85W, to represent a stressed dual-core CPU. With 85W heat applied the Zalman CNPS7700-Cu LED heatsink generates a 20.6°C rise over ambient temperature at full fan speed, and 25.0°C over ambient at its lowest fan speed.
As a low noise heatsink for the socket 754/939/940 AMD Athlon64 platform the Zalman CNPS7700-Cu LED heatsink is very good at what it does. Only the a few other heatsinks post lower temperature results with similarly low noise outputs.
On the socket 775 Intel platform, the Zalman CNPS7700-Cu LED is equally well positioned as a low noise heatsink, however the design has clearly given way to the heatpipe-based Zalman CNPS9500 LED heatsink.
Where low noise is concerned it's hard to go wrong with the Zalman CNPS7700-Cu LED heatsink, and in this respect its thermal performance is still quite good on the both AMD K8 and Intel LGA775 platforms. However, the design is not quite as advanced as the Zalman CNPS9500 and new CNPS9700 heatsinks, which seem to have largely superceded the Zalman CNPS7700-Cu LED on both acoustic and thermal fronts.
Related Articles:
For more reviews on the latest heatsinks and cooling solutions, rely on FrostyTech's inventory of 350+ heatsink reviews. Here are a few other articles that you might enjoy as well...
- Apack Zerotherm CF800 Socket 775 Heatsink Review
- Evercool PT02-9232CP Bifurcated Fin Heatsink
- Thermalfly I75DUH Bifurcated Fin Socket 775 Heatsink Review
- Intel Stock Pentium D Radial Curved non-Bifurcated Fin Heatsink Review
- Thermalfly F1-IACSHA Heatsink Review
- Zalman Fatal1ty FS-C77 Heatsink Review
- Antazone ASC1000 Copper Heatsink Review
- Zalman CNPS9500 AT Socket 775 Low Noise Heatsink Review
- Gigabyte 3D Rocket II Cooler GH-PCU23-VE Heatsink