FrostyTech Mk.II Synthetic Thermal Heatsink Test Results

---

Intel Pentium D / Extreme Edition & Quad Core class heatsinks tested at 150W
Intel Core 2 Duo / Pentium 4 / Celeron class heatsinks tested at 85W
Results based on readings from a 30x30mm copper interface die with 150W and 85W heat loads applied on the LGA775 version of the Mk.II Test Platform. Temperature results listed for each heatsink were calculated by determining the rise over ambient temperatures at time of test. Information on Frostytech's test methodology is available here.
Socket 775 compatible CPU heatsinks

manufacturer:
model no.:
fan speed:
150w
thermal test* (°c)
85w
thermal test (°c)
noise level (dba)

---

Apack
Zerotherm BTF90
21.8
12.7
52.1
Apack
Zerotherm BTF80
22.8
13.9
51.9
Thermalfly
F1-IACSHA
high
29.0
18.3
60.4
Zalman
CNPS9500 AT
29.6
17.3
53.3
nPowertek
NPH-775-1
30.1
18.8
50.1
Sunon
Waturbo
30.6
18.3
57.5
Thermaltake
Jungle512
high
31.6
20.4
60.8
Zalman
CNPS7700-Cu
high
32.9
19.7
50.7
Evercool
PT02-9232CP
33.3
19.9
63.3
Intel
Stock Pentium D
high
33.8
20.7
47.5
Thermalfly
F1-IACSHA
low
36.0
28.3
35.4
Thermaltake
Jungle512
low
37.8
22.2
53.7
Intel
Stock Pentium D
low
40.3
23.9
40.5
Zalman
CNPS7700-Cu
low
42.6
24.7
35.1
150w
thermal test (°c)
85w
thermal test (°c)
noise level (dba)
*heatsinks are ranked according to the 150w thermal test results column (rise over ambient temp.). low temperatures with low noise levels are considered best. for reference heatsinks with variable-speed fans, only the high speed (12v) fan test result is included in the comparison sheet; more detailed results reside in each specific heatsink review.
frostytech's Intel LGA775 synthetic thermal test platform applies a 150W heat load which approximates a stressed Intel Pentium D / Extreme Edition or Core 2 Quad class processor. Once equilibrium is reached we note the rise in temperature above that of the ambient temperature. In effect, what we're doing is leveling the playing field and allowing comparisons between each heatsink in the Intel LGA775 reference list above. The far right column identifies the noise level of each cooler, and naturally the lower this value the better.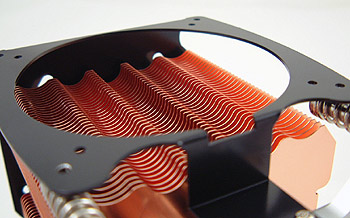 With a 150W heat load applied to it, the nPowertek NPH 775-1 heatsink produces a temperature of 30.1°C over ambient. To put that in perspective, it's actually about 3-4°C cooler than the reference Intel Pentium D heatsink!
The 80mm fan generates a moderate 50.1 dBA, which will be somewhat audible outside the computer case.
To accommodate other Intel processors which run cooler than quad-core and Extreme Edition chips, like the Intel Core 2 Duo for example, FrostyTech also tests Intel LGA775 heatsinks with an 85W heat load. In this temperature test, the nPowertek NPH 775-1 heatsink maintains a 18.8°C rise above ambient temperature result.
As socket 775 thermal solutions go, the nPowertek NPH 775-1 heatsink is a good unit. Yet, since it does not utilize a 4-pin Pulse Width Modulation (PWM) fan that can be controlled by the BIOS to manage noise, it may find itself side stepped by consumers who want a heatsink that constantly scales its fan speed to meet thermal demands. Low noise is after all the biggest trend in heatsinks this year.
Related Articles:
For more reviews on the latest heatsinks and cooling solutions, rely on FrostyTech's inventory of 350+ heatsink reviews. Here are a few other articles that you might enjoy as well...
- Thermaltake Jungle 512 Bifurcated Fin Heatsink Review
- Evercool PT02-9232CP Bifurcated Fin Heatsink
- Thermalfly I75DUH Bifurcated Fin Socket 775 Heatsink Review
- Intel Stock Pentium D Radial Curved non-Bifurcated Fin Heatsink Review
- Thermalfly F1-IACSHA Heatsink Review
- Zalman Fatal1ty FS-C77 Heatsink Review
- Antazone ASC1000 Copper Heatsink Review
- Zalman CNPS9500 AT Socket 775 Low Noise Heatsink Review
- Gigabyte 3D Rocket II Cooler GH-PCU23-VE Heatsink
- Zalman CNPS7700-Cu Low Noise Heatsink
- Thermalright Ultra-120 Low Noise Heatsink
- Zalman CNPS8000 Low Noise Heatsink Review
- Apack ZeroTherm BTF80 Heatsink Review
- Apack ZeroTherm BTF90 Copper Heatsink Review
- Verax Quattro 1 Ultra-Quiet Heatsink Review