FrostyTech Mk.II Synthetic Thermal Heatsink Test Results

---

Intel Pentium D / Extreme Edition & Quad Core class heatsinks tested at 150W
Intel Core 2 Duo / Pentium 4 / Celeron class heatsinks tested at 85W
Results based on readings from a 30x30mm copper interface die with 150W and 85W heat loads applied on the LGA775 version of the Mk.II Test Platform. Temperature results listed for each heatsink were calculated by determining the rise over ambient temperatures at time of test. Information on Frostytech's test methodology is available here.
Socket 775 compatible CPU heatsinks

manufacturer:
model no.:
fan speed:
150w
thermal test* (°c)
85w
thermal test (°c)
noise level (dba)

---

Apack
Zerotherm BTF90
21.8
12.7
52.1
Apack
Zerotherm BTF80
22.8
13.9
51.9
Thermalfly
F1-IACSHA
high
29.0
18.3
60.4
Zalman
CNPS9500AT
29.6
17.3
53.3
Sunon
Waturbo
30.6
18.3
57.5
Zalman
CNPS7700-Cu
high
32.9
19.7
50.7
Intel
Stock Pentium D
high
33.8
20.7
47.5
Thermalfly
F1-IACSHA
low
36.0
28.3
35.4
Intel
Stock Pentium D
low
40.3
23.9
40.5
Zalman
CNPS7700-Cu
low
42.6
24.7
35.1
150w
thermal test (°c)
85w
thermal test (°c)
noise level (dba)
*heatsinks are ranked according to the 150w thermal test results column (rise over ambient temp.). low temperatures with low noise levels are considered best. for reference heatsinks with variable-speed fans, only the high speed (12v) fan test result is included in the comparison sheet; more detailed results reside in each specific heatsink review.
the heat output from intel processors varies widely between single and multi-core processors, so we've settled on two values which represent the upper limit of both existing CPU families. With a 150W heat load applied by the Intel LGA775 version of FrostyTech's synthetic thermal test platform, the Zalman CNPS9500 AT heatsink yields a very nice rise above ambient temperature of 29.6°C! For this thermal result, there was 53.3dBA noise from the 92mm fan spinning at its full speed of 2650RPM. The CPU equivalents of this test would be an Intel Pentium D / Extreme Edition or Core 2 Quad class chip.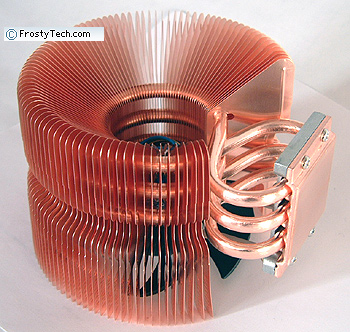 The Zalman CNPS9500 AT heatsink was also tested with the reduced heat load of 85W. In this situation the heatsink produced a 17.3°C rise over ambient at full fan speed.
No low fan speed thermal tests were conducted.
This is due the fact the PWM fan was determined to be rotating below minimum design criteria when a standard 3-pin fan speed controller was applied. This will probably be an ongoing issue with socket 775 Intel heatsinks and most PWM fans.
In any case, Pulse Width Modulation fans certainly bring a lot of positive attributes to the table, so there is no reason to avoid them just because of the challenges in testing that we've described.
When a PWM fan is attached to a motherboard that has a 4-pin PWM CPU fan header, the BIOS is able to control fan speed in direct correlation to the thermal output of the processor. On the plus side this reduces computer noise; it can also create a situation where the fan spins up and slows down with annoying regularity as Windows XP or Windows Vista goes about its behind the scene duties...
From the results listed above, it's clear that the Zalman CNPS9500 AT heatsink offers better thermal results than the stock Intel Pentium D heatsink, though at a slightly higher noise levels - 53.3 dBA vs. 47.5 dBA. However, on both the 150W and 85W head loads, the CNPS9500 AT heatsink maintained lower temperatures, and with a PWM-compliant system we would expect fan speeds to scale down too.
Related Articles:
For more reviews on the latest heatsinks and cooling solutions, rely on FrostyTech's inventory of 350+ heatsink reviews. Here are a few other articles that you might enjoy as well...

- Intel Stock Pentium D Radial Curved non-Bifurcated Fin Heatsink Review
- Thermalfly F1-IACSHA Heatsink Review
- Zalman Fatal1ty FS-C77 Heatsink Review
- Antazone ASC1000 Copper Heatsink Review
- Gigabyte 3D Rocket II Cooler GH-PCU23-VE Heatsink
- Zalman CNPS7700-Cu Low Noise Heatsink
- Thermalright Ultra-120 Low Noise Heatsink
- Zalman CNPS8000 Low Noise Heatsink Review
- OCZ Tempest Heatsink Review
- Verax Helado PWM-T Low Noise Heatsink
- Apack ZeroTherm BTF80 Heatsink Review
- Apack ZeroTherm BTF90 Copper Heatsink Review
- Verax Quattro 1 Ultra-Quiet Heatsink Review
- AVC Z7U7414001 Athlon64 Socket AM2 / 939 Heatsink Review
- Cooljag SFO-Q Socket AM2 / 939 Heatsink Review
- Zalman CNPS9500-AM2 Socket AM2 Low Noise Heatsink
- Scythe Samurai SCSM-1000 Heatsink Review
- Gigabyte 3D Rocket Cooler-Pro PCU22-VG Heatsink Review