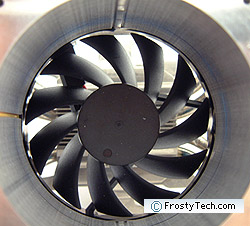 The Gigabyte 3D Rocket II gets its name from the way air is exhausted out of the cooler, and it's not too far off its namesake. What makes this heatsink stand out from the pack is that air is drawn in through sides of the 60mm-tall section of aluminum fins, which is where the heat is picked up. The 25x92x92mm fan at the top of the 3D Rocket II then moves most of that warmed air out of the heatsink, while the smaller 15x70x70mm fan at the bottom handles the rest.
This lop-sided balance of exhaust fans seeks to keep some airflow moving over the base of the heatsink, and components adjacent to the CPU socket, while the majority is dumped into the case by the power supply intake fan and case exhaust fans. To that end, the top half of the Gigabyte 3D Rocket II heatsink has a removeable fan duct.
If there is sufficient room in your PC case, it can be rotated to direct the warm exhaust air from the CPU towards the rear of the case. This is better for internal case air flow, and to some lesser degree may reduce the perception of noise at the front of the case slightly.
The blue section of the heatsink, and the second fan duct both have a small channel for the fluorescent rubber rings to fit into. The cooler comes with a white, green, orange and blue ring so you've got your pick of what to use.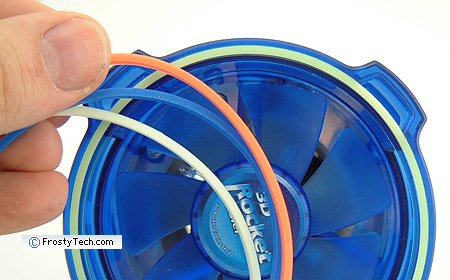 Clips, Brackets and Fan Speed Controllers
Included with the Gigabyte 3D Rocket II GH-PCU23-VE heatsink is a fan speed controller which attaches to either a 3.5" bay insert, or PCI bracket. Mounting hardware for Intel and AMD processor sockets is kept refreshingly simple, and entirely tool free. The Gigabyte LGA775RM retention frame for socket 775 processors will require the motherboard to first be removed from the case in order for heatsink to be installed, however. Instructions, a small syringe of thermal compound, and assorted wiring is also to be found.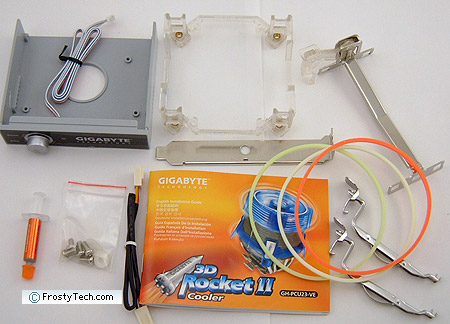 FrostyTech's K8 Test Methodology is outlined in detail here if you care to know what equipment is used, and the parameters under which the tests are conducted. Now let's move forward and take a closer look at this heatsink, its acoustic characteristics, and of course it performance in the thermal tests!