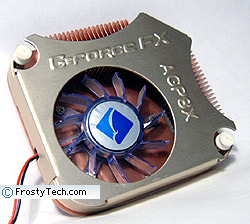 The 'refrence' Albatron FX5900 GPU heatsink is the stock cooler used on this videocard. The copper heatsink is equipped with a 45mm fan.
FrostyTech typically eschews real world testing for synthetic thermal test platforms; repeatability is more controllable, and parameters like thermal load can be specified from the start by selecting appropriate resistive heater components.
However, when it comes to videocard heatsinks it has proven a challenge to design a suitable platform which will accommodate the wide variety of mounting styles, GPU core dimensions, and VGA heatsinks out there.... Videocard heatsinks react strongly to the internal case environments, and when front/back thermal solutions start to be considered the equation gets rather complicated.
Thus for the time being, FrostyTech will be conducting its VGA heatsink tests with an actual videocard. Temperatures will be recorded with the computer system at idle on the desktop, and when stressed with 3DMark06 where the peak temperature will be noted. The parameters of equipment set up and instrumentation are noted below. The reference heatsink is a stock Albatron FX5900 copper GPU cooler which is pictured at left (no model numbers are available).
FrostyTech.com VGA Heatsink Test Results

---

Results based on readings from a thermocouple positioned on the backside of a FX5900 videocard, directly behind the GPU. The thermocouple is separated from the PCB by Thermagon thermoconductive gap filler, and insulated on the opposite side by closed cell neoprene. Thermal Test values for each heatsink were calculated by determining the rise over ambient temperature at time of test. Information on Frostytech's test methodology is available here.
ATI / nVidia compatible GPU heatsinks

manufacturer:
model no.:
*fan speed:
idle
fx5900 thermal test (°c)
noise level (dba)

---

Zalman
VF900-Cu
high
3.8
12.0
42.0
Zalman
VF900-Cu
low
8.6
15.2
33.5
Zalman
VF700-AlCu
high
6.4
15.5
43.1
Zalman
VF700-AlCu LED
high
8.9
15.8
43.3
Zalman
VF700-AlCu LED
low
11.9
20.5
32.9
Zalman
VF700-AlCu
low
10.8
21.3
32.6
Albatron
Stock FX5900 GPU HSF
13.6
25.7
48.0
idle
fx5900 thermal test (°c)
noise level (dba)
*heatsinks are ranked according to the thermal test results column (rise over ambient temp.). low temperatures with low noise levels are considered best. for reference heatsinks with variable-speed fans, only the high speed (12v) fan test result is included in the comparison sheet; more detailed results reside in each specific heatsink review.
with the zalman vf700-alcu's fan spinning at stock speed, the VGA heatsink posts a 3DMark06 system stressed maximum rise above ambient temperature of 15.5°C, with 43.1 dBA noise. Pretty good as far as this short list of reference VGA heatsinks goes... When the VF700-AlCu's 80mm fan drops down to 1350RPM (5V DC supplied), we find that idle temperatures hover around 10.8°C above ambient. By comparison, at full fan speed, the temperature of the videocard is about 6.4°C above ambient as the system idles at the WindowsXP desktop.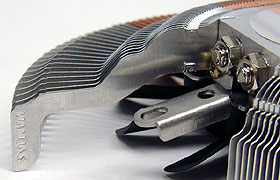 For users that want the least possible noise, the quiet mode for the Zalman VF700-AlCu heatsink will produce only about 32.6 dBA. In our test environment with a FX5900 videocard, this caused measured GPU temperatures to rise to 21.3°C above ambient. Clearly, lower noise comes with a slight thermal penalty. Still, in both circumstances the Zalman VF700-AlCu heatsink offers better thermal and acoustic results than the stock FX5900 GPU heatsink is capable of.
The Zalman VF700-AlCu videocard heatsink offers an economical way to improve GPU cooling while reducing noise output. It's also interesting to see that the VF700-series design is marginally quieter than the newly introduced VF900-series, when the fan speed is dialed all the way down. The cooler installs onto most ATi and nVidia videocard models, but will occupy an extra PCI slot which may prove problematic for some computers. Ultimately though, the Zalman VF700-AlCu heatsink is a nice lightweight GPU cooler, and it comes with a useful assortment of accessories for enhancing it's best attribute - quiet cooling.
Related Articles:
For more reviews on the latest heatsinks and cooling solutions, rely on FrostyTech's inventory of 350+ heatsink reviews. Here are a few other articles that you might enjoy as well...
1. Zalman VF900-Cu VGA Heatsink Review
2. Zalman VF700-AlCu LED VGA Heatsink Review
3. Coolermaster Jet 4 ICB-V83 Pentium 4 Heatsink
4. Cooljag E44C/180 Pentium 4 1U Heatsink Review
5. Cooljag 2QC/180 1U Socket 478 Heatsink Review
6. Cooljag JACE2DC/180 1U Socket 478 Heatsink Review
7. Alpha Novatech S-PAL8952 Pentium4 Heatsink Review
8. Verax P17CuX Ultra Quiet Heatsink Review
9. Spire Verticool SPA49B0 Socket A Heatsink Review