The Zalman VF700-AlCu LED VGA heatsink is attached to compatible videocards with a set of nuts that pass through the videocard PCB. Small rubber washers prevent any of the metal hardware from damaging circuit board trace lines, and once the hardware is in place it's just a matter of screwing the VF700-AlCu's integrated spring mounting clip down into place.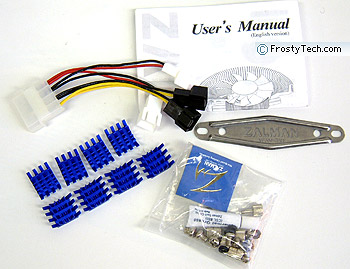 Depending on the graphics card model, and whether or not it's an ATI or nVidia GPU, either two of the four mounting holes around the GPU, or the two off-center mounting holes are used to install the VF700-AlCu LED VGA heatsink.
| | | |
| --- | --- | --- |
| | | The ATI Radeon videocard mounting style uses two offset holes on either side of the GPU, but not positioned at opposite corners. The nVidia Geforce videocard mounting style has four holes positioned around the GPU, and of these only two need be used for the VF700-AlCu LED VGA heatsink to attach to. |
During our evaluation of the Zalman VF700-AlCu LED heatsink, we found that the installation process took just a couple minutes to complete and that the steps were straightforward and well documented in the instructions.
Installing the VF700-AlCu LED
| | |
| --- | --- |
| Install the little through-PCB screws with rubber washers. | Attach the nuts for the VF700-AlCu LED to screw into, apply a generous amount of thermal compound to the GPU core. |
| | |
| --- | --- |
| Place the VF700-AlCu LED heatsink on the GPU and rotate back and for slightly to work in the thermal compound. Screw down the spring clips onto the PCB mounts. | Flip the videocard over and attach the the rear brace plate to prevent the PCB from flexing over time. |
| | |
| --- | --- |
| Attach the eight little BGA DRAM heatsinks to the videocard memory (they are self-adhesive). In this case it's on the rear of the videocard, but the VF700-AlCu LED will have enough clearance if the memory is located on the front of the card and you want to install the RAMsinks there. | Last but not least, install the videocard into the computer and plug the Zalman VF700-AlCu LED's power cable into a free motherboard fan header, or use the included Molex-to-Fan connector addaptor. |
FrostyTech's new Test Methodology is outlined in detail here if you care to know what equipment is used, and the parameters under which the tests are conducted. Now let's move forward and take a closer look at this VGA heatsink, its acoustic characteristics, and of course it performance in the thermal tests!