The Cooljag SFO-Q socket AM2 / 939 heatsink is a compact cooler with variable speed temperature responsive fan and a pair of heatpipes at its center. The heatsink bares striking resemblance to the AVC Z7U7414001 socket AM2 reference heatsink which FrostyTech recently tested, both in design and materials. If the Cooljag SFO-Q performs anything like that socket AM2 heatsink, you'll want to pay close attention to this unit.
As this is one of the first few socket AM2 (aka socket M2) heatsinks to enter the FrostyTech test labs, we'll be touching upon the critical differences between 940-pin socket AM2 and socket 754/939/940 heatsinks in just a moment. The CoolJag SFO-Q heatsink weighs little over 410grams, utilizes two copper heatpipes and comes equipped with a fan that spins at between 2800-5000 RPM. Fan speed is determined by a thermistor located on the fan motor, maximum fan speed is achieved at an ambient temperature of 40C.
The heatsink comes with a pre-applied square of thermal compound on the base, and is intended for use with all AMD Athlon64 K8 sockets. The single tab clip mechanism makes it compatible with both socket AM2 and socket 939 processor heatsink retention frames. Specs like this should make the CoolJag SFO-Q ideal for workstation or even 3U systems, provided its temperature test results are good.
Cooljag SFO-Q AM2 / 939 Heatsink

---

heatsink specsheet
manufacturer: asia vital components (avc)
model no.: sfo-q (cjcp89c)
materials: copper base, heatpipes and aluminum fins
fan mfg: delta efc0812db
fan spec: 2800-5000rpm, 12v, 0.50a
fan dim: 15x80x80mm
heatsink & fan dim: 62x75x75mm
weight: 410 grams
includes: pre-applied thermal compound

---

Compatible with Sockets: 754/939/940/AM2
Est. Pricing: $40USD ($45CDN)
The Cooljag SFO-Q heatsink relies upon a set of 6mm diameter copper heatpipes that connect the copper base to the aluminum fins. The heatpipes transfer heat away from the copper baseplate to areas of the fins where there's more airflow. The solution is more effective than relying upon pure conductive forces, and it's also the same solution used in the AVC Z7U7414001 heatsink.
When testing heatsinks which have thermally responsive fans, set up gets a little tricky. The thermistor is located on the side of the motor, and it responds to the ambient case air temperature to adjust the speed of the fan impeller. To test the Cooljag SFO-Q heatsink in its full speed setting we had to short out the electrical contacts of the thermistor, and thus trick the fan into running at full speed.

Now, let's take a look at the new socket AM2 heatsink retention frame and explain which kinds of K8 heatsinks are not going to be compatible with it...
AMD Athlon64 Socket AM2 Heatsink Considerations
The 940-pin socket AM2 Athlon64 processor is physically speaking, nearly identical to the previous generations of socket 754, socket 939 and socket 940 AMD K8 processors. There is one very significant difference as far as heatsinks are concerned, and that is a newly designed AM2 plastic heatsink retention frame that attaches to the motherboard via four screw holes. A four-post metal PCB stiffener backplate rests behind the motherboard to provide support as 70+Lbs/in forces are applied.
The new socket AM2 heatsink retention frame and metal backplate are not compatible with the previous socket 754/939/940 heatsink retention frame and metal back plates, and vice-versa.
AM2 motherboards will ship with the new AM2 heatsink retention frame, and that means many existing Athlon64 heatsinks will be unuseable on the AM2 platform. All existing K8 heatsinks that screw directly into the two-post metal backplate of the socket 754/939/940 series are not usable with the socket AM2 retention module because its four-posts are positioned differently.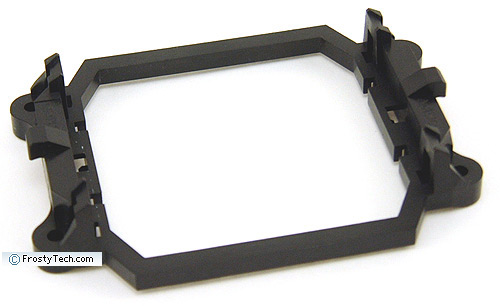 Lightweight (and AMD retail heatsinks) that clip onto the socket 754/939/940 heatsink retention frame center tabs will continue to be compatible with the socket AM2 heatsink retention frame. The center tabs survived the transition to socket AM2, alongside with a new type of four-post socket 478-like integrated clip points. Existing K8 heatsinks which use a cam-lock to apply pressure on the spring clip after it has been attached to the retention frame tab will also work with AM2 motherboards, though there are no lock tabs built into the retention cage.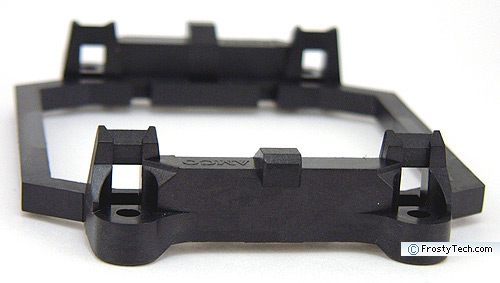 Three tab K8 heatsink clips should also work with AM2, but it depends on how well the load forces are balanced. Uneven loading is usually associated with the very inexpensive thermal solutions of lower quality standards. If you can avoid this type of heatsink with AM2, we'd recommend doing that.
FrostyTech's K8 Test Methodology is outlined in detail here if you care to know what equipment is used, and the parameters under which the tests are conducted. Now let's move forward and take a closer look at the Cooljag SFO-Q heatsink, its acoustic characteristics, and of course it performance in the thermal tests!