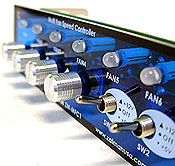 The Zalman ZMMFC1 is made with a blue translucent front panel that hides the electronics, but also shows the circuitry off. The blue plastic panel is labeled with white descriptions and the tips of the 6 LED's poke out from behind.
The electrical side of the unit is pretty simple, and it is nice to see that the switches are good quality, but I think Zalman could have gone a few steps further to present a really unique appearance. The functionality of the unit is there, but with competition coming from Vantec and Thermaltake, Zalman's ZMMFC1 has a somewhat home-brew appearance.
With the amount of aluminum cases out there a fully aluminum frame for the ZMMFC1 would have been preferential to the translucent blue plexiglass.
The toggle switches are good quality, but stick out a little too far, and the same can be said for the aluminum dials which stand 2mm proud of the surface. Recessed LED's would have been an interesting variation, but I have to admit that in a dark room they do serve well as quick tactile indicators of each fan-speed channel.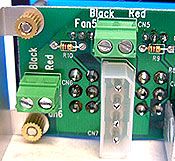 The bottom line is that the Zalman ZMMFC1 is that the unit is well laid out can contains a useful set of controls which are easy to operate. If you connect a full computer's worth of fans up to the unit you can lay claim to absolute control over noise. The four fan speed dials will drop the voltage enough that even the most common fan should become pretty much silent.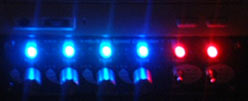 Instructions are included on the back of the box which explain things well, and the power leads should be long enough to accommodate the distances between devices most mid-tower sized cases. The aluminum dials have a good grip, and the blue LED/s really stand out at night when a fan is connected up.
The two alternate 12V/5V channels are an interesting addition, but I'm not sure if this is something which is really necessary, or intended to mesh with some future products from Zalman we have yet to hear about. Given the option I would have kept one of the 12V/5V switches and traded the other for a set of headphone audio jacks (volume wheel would have been nice actually) and maybe a USB port or two.
Case modders will probably disagree with me on that point, and I can understand that an actual power switch for their Cold Cathode lights on the outside of the case would indeed be useful.
Faced with a wide number of choices in the fan speed controller department, the Zalman ZMMFC1 has sought to innovate a little, and hopefully bring a few extra features into what we are generally used to. I think the ZMMFC1's features will especially resound with case modders looking for some control over their fans, but an aluminum face would have really made the unit stand out.