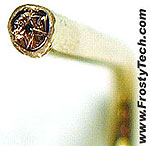 Cut in half, we can see the wick which lines the inside of the ZM50-HP heat pipe. The wick draws the working fluid by capillary action back to the evaporator end of the heatpipe.
The Zalman ZM50-HP system works this way; as heat energy is absorbed from the GPU by the front heatsink - through direct contact via the mounting base, and through the heatpipe as well - passive cooling begins. However, because of computer case airflow characteristics, the front heatsink on the videocard is not necessarily guaranteed good parasitic airflow.
When the videocard is installed in the AGP slot, the front heatsink is typically going to be upside down and sandwiched between another PCI card with little hope of sufficient airflow alone.
Convection cooling will of course kick in as that heatsink warms up, but to ensure the GPU doesn't overheat we need a little extra surface area. That extra bit of cooling comes in the form of an equally sized rear-mounted extruded heatsink. The key is now how to move the heat from the videocard processor all the way around to the back where the second large passive heatsink is mounted.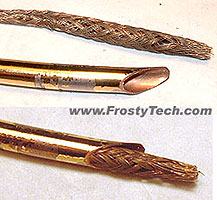 The internal wick is simply a section of hollow braided copper in this instance. When we cut the tube there was a little bit of water spray on the workbench, and the wick was wet to the touch.
The solution is naturally to use a heatpipe, and Zalman have opted for one measuring 300mm in length with a 5mm diameter.
As heat energy from the processor reaches the heatpipe at the front of the videocard, a reaction inside the copper tube begins to occur. The copper tube is sealed at both ends, but there is a small amount of liquid contained inside, in a vacuum.
The water (or working fluid) absorbs the latent heat which causes it to boil and undergo a phase change to water vapour. In our daily lives, water boils at 100C, but as pressure is decreased the temperature gradient required also drops. In any case, the small amount of water inside easily converts to water vapour as the temperature of the evaporator end of the heatpipe increases.
The vapour is subsequently drawn to the cooler end of the heatpipe and condenses. As the hot vapour cools back into liquid, the heat energy that it previously stored is transferred into the rear heatsink. The condensed vapour, now working fluid once again, is drawn back to the hot evaporator end of the heatpipe by capillary action along the internal wick structure. As the liquid reaches the hot end once more, the entire process repeats.
Heatpipes are a closed loop process which work within certain temperature ranges (for example 40C - 80C degrees). If the differential between the hot and cooler sides becomes too low (say for example, each side reaches 85 degrees) the system can stall. That shouldn't be a problem here however.