Computer Maintenance: Spiral Cable Wrap
---
Full tower computers often become rats nests of wires as power cables stretch out to every imaginable peripheral. In most cases, this mess is hidden away from view and we don't give it much thought. However, if you are an overclocker or your system seems unstable, it could very well be that it's the internal case temperature which is holding you back. Believe it or not, even the least expensive white box relies on a few basic principles of internal case air-flow for cooling.
A while back we bought a hundred feet or so of 1/4" Nylon Spiral Cable Wrap from www.meci.com for somewhere in the neighborhood of $30USD. That roll is now significantly smaller as the spiral cable wrap has been put to good use. From our past experience setting up systems around the office we've used many different types of cases - from expensive to economical white boxes - but alway's try to keep a nice clear path for internal airflow.

Practically every case we've used has an intake of one form or another at the bottom front, and an exhaust at the rear via the power supply. Keeping power cables and IDE cables from blocking the air path between those two points is an important step to consider while installing a new system.
The easiest and least expensive way to do manage all those wires is with garbage bag ties, but if you want cable ties also work too. The problem with both of these types of cable management is that you have to cut, or unravel them if you want to make any changes. With garbage bag ties this isn't a big deal, but nylon cable ties on the other hand aren't reuseable.
Enter spiral cable wrap. This cable management wrap is essentially nylon tube with a spiral cut that makes it able to wrap around groups of wire up to about 3/4" thick. It is especially useful on those big groups of power cables if they aren't already bundled together by the manufacturer. It works well on groups of molex power cables too, but I don't think it is really worth using on just the four wires.
For an example of what all this looks like, we took a typical system and did a before and after comparison using the spiral cable wrap. There isn't much point in taking temperature measurements in this example given that they just don't translate - so just focus on the clutter. ;-)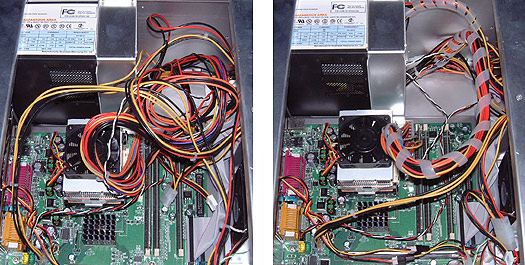 This is an older P4 system, so there are three sets of power cables to the motherboard. The 300W Zalman power supply (which was modded in this article) doesn't have any cable wrapping on the ATX power cable so things easily get out of hand. With less than two feet of spiral cable wrap we are able to clean up the wires considerably, making it easier to get at the devices, keeping the wires from interfering with the CPU fan, and improving airflow a little to.
The proof is in the pudding as they say, and given the low cost of this material it really is an easy way to maintain the inside of your computer.