Synthetic Temperature Test Results: *Ranked according to 100W interface die test results.
FrostyTech Synthetic Temperature Test Platform Results
Mfg.
Model
Ambient Temp.
27mm large copper block
27mm large copper block
Thermal pad
No. Fans
Fan Noise
Clip force
50W
100W
1
AVC
117140
22.6
37.8
50.4
none
1
med
med
2
Coolermaster
IHC-H71
23.0
37.0
51.1
none
1
loud
stiff
3
Arkua
8568
22.4
37.8
51.7
none
1
med
med
4
NengTyi
XPC5000
23.8
38.4
53.9
none
1
med
loud
5
Zalman
CNPS6500-AlCu
23.1
40.3
57.4
none
1
low
easy
6
Vantec
GSN-7025
22.5
41.7
58.5
none
1
med
med
7
Chauh Choung
DTA-478
22.4
42.1
59.0
carbon
1
low
med
8
Intel
Socket 478
22.4
41.8
59.8
carbon
1
low
med
9
Titan
TTC-MT3AB
22.8
41.5
61.2
none
2
loud
stiff
10
Dynatron
DC1206BM-S
22.4
43.2
62.0
none
1
med
med
11
AVC
117160
22.4
42.7
62.2
white pad
1
med
med
12
Cho-Liang
CL-CB00881
23.6
41.2
65.0
none
1
med
easy
13
Cho-Liang
CL-CB0094-1A
23.2
39.5
67.9
none
1
med
easy
14
Dynatron
DC1206BMV
23.1
45.1
68.2
none
1
low
easy
15
Vantec
GSN-7015
22.4
47.5
69.0
none
1
loud
stiff
50W
100W
It has been some time since we saw a heatsink enter on the list of reference heatsinks at such a high position. The Coolermaster IHC-H71 shows off very good initial performance by entering at the number two spot. Although it uses a louder fan than the AVC Sunflower its' design is a little more traditional than that cooler. AVC have a very solid product, and that is best shown by the fact Intel have chosen it for their heatsinks.
However, regardless of that, Coolermaster have managed to out perform the Arkua cooler which is no small feat either. Arkua are one of our favorite manufacturers around here and it was good to see that Coolermaster surpass those high standards as well.
Rise Above Ambient Temp. (c)
Mfg.
Model
27mm large copper block
27mm large copper block

50W

100W

1
AVC
117140
15.2
27.8
2
Coolermaster
IHC-H71
14.0
28.1
3
Arkua
8568
15.4
29.3
4
NengTyi
XPC5000
14.6
30.1
5
Zalman
CNPS6500-AlCu
17.2
34.3
6
Vantec
GSN-7025
19.2
36.0
7
chauh Choung
DTA-478
19.7
36.6
8
Intel
Socket 478
19.4
37.4
9
Titan
TTC-MT3AB
18.7
38.4
10
Dynatron
DC1206BM-S
20.8
39.6
11
AVC
117160
20.3
39.8
12
Cho-Liang
CL-CB00881
18.2
41.4
13
Cho-Liang
CL-CB0094-1A
16.3
44.7
14
Dynatron
DC1206BMV
22.0
45.1
15
Vantec
GSN-7105
25.1
46.6

50W

100W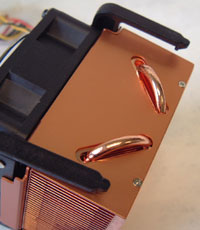 The results are so close between the AVC and Coolermaster heatsinks that they are just about equal. It is interesting to note that the temperatures on the 50W heat source are better for the Coolermaster heatsink, but then slightly less on the 100W test.
One possible explanation may be that the heatpipes were working best at 50W, but then were pushed past their ideal operating temperature on the 100W test. Not knowing the exact specs for the heatpipes it is difficult to say for sure, but it is easy to see that the Coolermaster IHC-H71 is a very good performer, and much better than the stock Intel heatsink.
With the twin heatpipes, copper construction and speedy fan the Coolermaster IHC-H71 is a heatsink to watch out for. Coolermaster have done it again and we are glad we had a chance to test out a Pentium 4 heatsink that keeps the performance bar up high.
Although the base finish is lower than what you may expect to see on a AMD targeted heatsink, it is not too bad for those heatspreader toped Pentium 4 processors. More importantly, when we tested the base with an engineers straight edge we could see just how flat the base actually was. Over the center, where the heatsink makes contact with the processor flatness was very good.
Overall, this is an easily recommended heatsink for anyone looking to add an extra bit of cooling power to their socket m478 Pentium 4 processor, just keep in mind that you will also be adding a few decibels of noise along with it.