New CPU cooling companies pop up very infrequently these days, but Georgia Tech Professor Yogendra Joshi and Ven Holalkere who used to manage Intel's thermal management lab, are bucking that trend with their company Coolclouds.net. According to the bio; "CoolClouds Inc. was founded in 2009 through Georgia Tech's VentureLab and ATDC technology commercialization programs." The company aims to produce thermal solutions for computers, LED lighting, military communications and game consoles.

CoolClouds technology appears to be a mash up of a miniturized self-contained liquid cooling system and a standard heatsink - in this case the entire liquid cooling system is packed into the footprint of a standard heatsink. Compact, certainly. Able to cool 500W in a 1U server rack? That remains to be seen.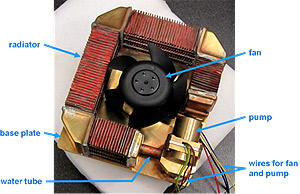 From Coolclouds; "SuprCool, CoolClouds' first product, is designed to cool chips that operate at up to 500W of power. It sits directly on the chip package and is a completely self-contained, water-cooled thermal solution that fits in a 1U server rack. The hardware is composed of several patent-pending materials and components, including hybrid micro-channel technology, that afford the highest performance in the smallest space."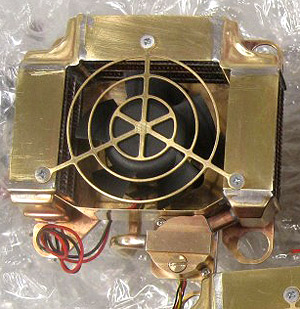 The initial proof of concept prototypes
The companies initial CPU heatsink is called the CoolClouds SuperCool. The unit pictured below is apparently rated to 380 Watts.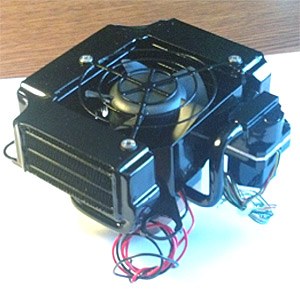 Specs given for a rendering of a tower heatsink version of the companies technology indicate overall dimensions of 165x125x50mm, weight: 800 grams, material change from brass to aluminum, the use of a copper micro channel water block, fan speed: 800-2500RPM, fan size: 120mm - 140mm.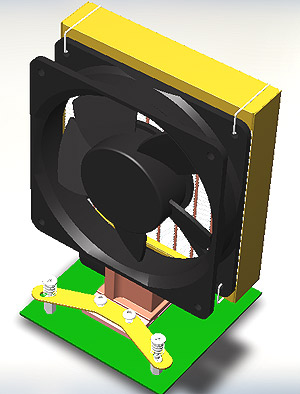 This CoolClouds heatsink is very reminiscent of the Auras GTO990 self contained liquid cooling heatsink we tested, circa 2007.
The CoolClouds SuprCool-PC™ module is expected to reach the market in the Spring of 2014 if the company reaches their crowd-funding goal of $200,000.

Check out their pitch on Fundable.com