| | |
| --- | --- |
| Wed: 11/22/2017 | Topic: Cooling / Heatsinks PermaLink |
"Successor to the award-winning NH-L12, the NH-L12S is a compact low-profile CPU cooler that combines excellent compatibility, surprising efficiency and remarkable flexibility. Thanks to its NF-A12x15 PWM, slim 120mm fan, the NH-L12S provides even better quiet cooling performance than the previous model with its 92mm fan."
---
| | |
| --- | --- |
| Tue: 11/21/2017 | Topic: Cooling / Heatsinks PermaLink |
Corsair's ML120 Pro RGB fans pair an innovative magnetic-levitation bearing with RGB LED lighting for a fan that's both functional and flashy. We put a trio of these spinners to the test to see whether their performance matches their good looks.
---
| | |
| --- | --- |
| Sat: 11/18/2017 | Topic: Cooling / Heatsinks PermaLink |
The Scythe Mugen 5 Rev B (SCMG-5100) heatsink is a lower-noise tower cooler standing 154mm tall and equipped with a single 120mm PWM fan. The Mugen 5 Rev B is constructed around six 6mm diameter nickel plated heatspipes which are swaged onto an array of raw aluminum cooling fins.
The fins are moderately spaced so as to offer less airflow resistance, meaning a relatively low pressure (1.05mmH2O) fan rotating at 1200-600RPM can be relied upon. For those that prefer dead silent computers, Scythe supply an extra set of wire fan brackets so a second fan can be mounted to the rear of the Mugen 5 Rev B and both fans run at minimum RPM for ultra-quiet operation.
---
| | |
| --- | --- |
| Fri: 11/17/2017 | Topic: Cooling / Heatsinks PermaLink |
Despite the recent market rumors indicating that Samsung Electronics may stop using heat pipes for its new smartphones in 2018, sources from upstream supply chain players have pointed out that the Korea-based vendor will continue the thermal design and its suppliers have already begun small volume production of related components.
---
Customization is the key to be a successful modder. The more you pay the attention to the details the more your works stands out. be quiet! has been providing PC enthusiasts with quality cooling and power solutions for about ten years now and their product really do stand out in the crowd. As the name suggests …
---
The new MasterBox Pro 5 is an improved version of the MasterBox 5 with a transparent front panel and a tempered glass side panel to show off your hardware!
---
| | |
| --- | --- |
| Fri: 11/17/2017 | Topic: Cooling / Heatsinks PermaLink |
Having utilized ARCTIC's Freezer 7 Pro and Freezer 64 Pro in previous generation builds, we were excited to take a look at their new Freezer 33 eSports Edition, as it has been a while since we took at look at any of their offerings. The Freezer 33 eSports Edition is a tower-style cooler with four heatpipes and a dual-fan configuration to keep air flowing through the heatsink. You may be wondering why this cooler comes with an "eSports" designation, and so were we when we first received the cooler. Well, follow along as we see how this cooler competes against a few opponents."
---
| | |
| --- | --- |
| Tue: 11/14/2017 | Topic: Cooling / Heatsinks PermaLink |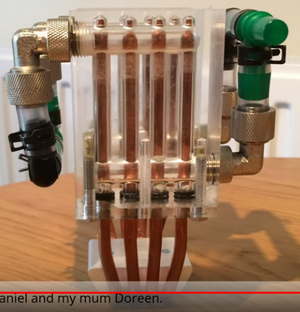 Youtube user 'Rob Hobbo' posted this quick video of an interesting DIY heatpipe heatsink interface to a watercooler loop via machined acrylic blocks. Visually, it looks like a nifty piece of medical equipment, practically, hard to say how effective this will be. Props to Rob for building this concept cooler.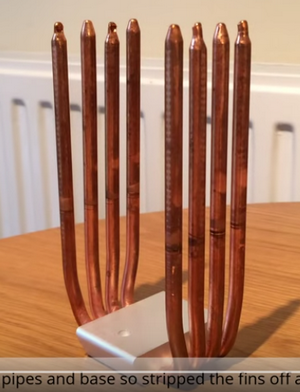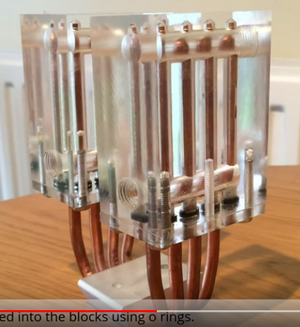 Below is the 1 minute video on the DIY "Water cooled heat pipe cpu cooler".
---
| | |
| --- | --- |
| Mon: 11/13/2017 | Topic: Cooling / Heatsinks PermaLink |
"The NH-L9a-AM4 is the latest, AM4-specific revision of Noctua's award-winning NH-L9a low-profile CPU cooler for AMD Ryzen-based HTPCs and Small Form Factor (SFF) systems. At a height of only 37mm, the NH-L9a is ideal for extremely slim cases and, due to its small footprint, it provides 100% RAM and PCIe compatibility as well as easy access to near-socket connectors even on tightly packed mini-ITX motherboards."
---
| | |
| --- | --- |
| Sun: 11/12/2017 | Topic: Cooling / Heatsinks PermaLink |
Scythe's Fuma Rev.B CPU cooler is definitely one to take a close look at. Join us as we check it out."
---
| | |
| --- | --- |
| Fri: 11/10/2017 | Topic: Cooling / Heatsinks PermaLink |
"Corsair's LL140 Dual Light Loop RGB LED fans offer brilliant customization and simply look fantastic, but how about performance? Let's see."
---
| | |
| --- | --- |
| Fri: 11/10/2017 | Topic: Cooling / Heatsinks PermaLink |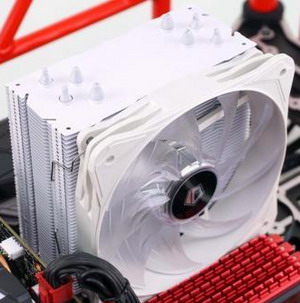 "ID Cooling's SE-214L Snow Edition CPU cooler looks the good and isn't loud, but can it tame our processor? Let's see."
---
| | |
| --- | --- |
| Thu: 11/09/2017 | Topic: Cooling / Heatsinks PermaLink |

ID Cooling's Auraflow 240 CPU liquid cooler gets thoroughly investigated as we find out if its a buy or not."
---
| | |
| --- | --- |
| Thu: 11/09/2017 | Topic: Cooling / Heatsinks PermaLink |
Today we take a look at the Noctua NH-L12S which is the direct evolution of its award winning NH-L12. Featuring an overall height of only 70mm from the CPU, the NH-L12S is designed to fit into your small HTPC while providing excellent cooling performance.
---
| | |
| --- | --- |
| Thu: 11/09/2017 | Topic: Cooling / Heatsinks PermaLink |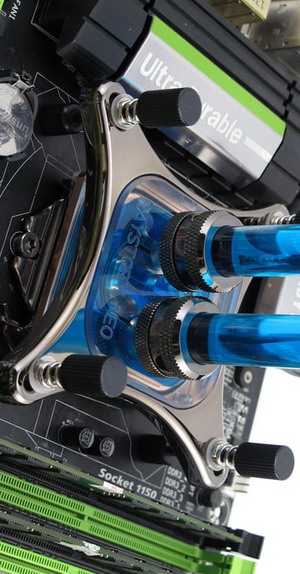 The RayStorm Neo is XSPC taking their flagship RayStorm Pro block and applying a new look to it. Featuring a polished acrylic top, chrome-plated aluminum brackets, and included RGB LEDs with controller, the Neo offers an option to those who want more than a matte/metal top block. Add in a precise installation mechanism and good performance alike and this is a block well worthy of consideration in the sub-$80 market.
---
| | |
| --- | --- |
| Thu: 11/09/2017 | Topic: Cooling / Heatsinks PermaLink |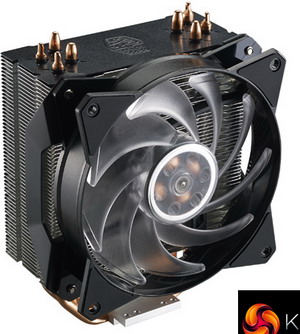 Cooler Master has launched two new RGB air coolers. This review focuses on the MasterAir MA410P - a standard 4 heatpipe air cooler with an included RGB fan.
---
| | |
| --- | --- |
| Thu: 11/09/2017 | Topic: Cooling / Heatsinks PermaLink |
If you'd ask an enthusiast to part out their dream build, most, if not all would include some kind of liquid cooling. However, in the real world, many people are discouraged from water cooling due to its high cost. Also, the thought of mixing liquids and electronics can also put people off. That's not to say that they …
---
Dual tempered glass panels, RGB LED illumination with 4 different effects, 4 pre-installed fans and enough room for up to 3 radiators and the longest graphics cards around are just some of the features found in the brand new Project 7 P7-C0 Pro Mid-Tower by AeroCool.
---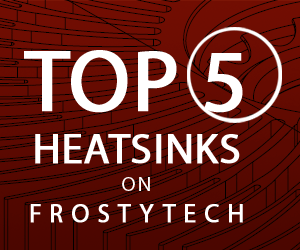 | | |
| --- | --- |
| Mon: 10/30/2017 | Topic: Cooling / Heatsinks PermaLink |
"Intel recently released it's eighth processor generation recently. While Coffee Lake requires a new chipset (Z370), the 1151 socket remains unchanged and thus the compatibility of a large number of ARCTIC coolers is ensured. Amongst others the Liquid Freezer, Freezer 33, Freezer 12 and Freezer 13 Series provide reliable cooling solutions for Intel's i3, i5 and i7. We offer coolers for different requirements ranging from 85 W to 300 W TDP, an overview of all Coffee Lake compatible coolers is available on Arctic's website: www.arctic.ac/lga1151

The Coffee Lake series, especially the K Version, is aimed at gamers and users with high performance requirements, for whom an optimal cooling of their processors is essential. The models of the Freezer 33 series – first of all the powerful Freezer 33 eSports Edition – as well as the Liquid Freezer water coolers are particularly suitable for overclockers. With their powerful cooling performance at minimum noise levels even under full load they create best conditions for overlocking. "
---
| | |
| --- | --- |
| Mon: 10/30/2017 | Topic: Cooling / Heatsinks PermaLink |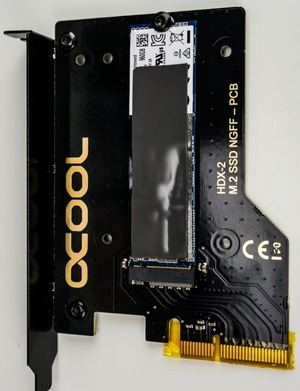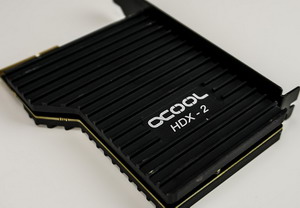 "If there is one thing we've learned about fast M.2 drives over the past year or so is that many of them get hot, very hot. Hot enough that that they will actually throttle and cause slower transfer speeds. We actually saw this in our review of the Kingston KC1000 M.2 drive. Obviously with many major drives (Samsung 950, anything Phison E7-based) having this issue something needed to be done, especially with so many of these drives out there. Well Alphacool has you covered with their Eisblock HDX line of M.2 coolers. There are actually 4 coolers in the line, but we will be mainly concentrating on the HDX-2, which is basically a PCI-Express 3.0 x4 card with an M.2 slot on it and a very large aluminum heatsink. This should definitely solve all of your M.2 throttling issues. Let's take a look!"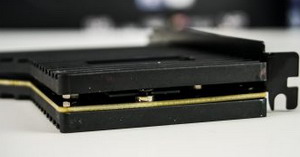 ---