| | |
| --- | --- |
| Thu: 10/01/2015 | Topic: Cooling / Heatsinks PermaLink |
In our comparison tables, you can find test results regarding 45 recent air and watercoolers. Furthermore we do not comment the benchmark values. The idea and also the goal is to present to you a market overview which helps you choose the right cooler. ?
---
| | |
| --- | --- |
| Tue: 09/29/2015 | Topic: Cooling / Heatsinks PermaLink |
Water cooling systems -- whether they are a custom loop or an AIO -- all follow the same basic principles. You have the reservoir, the pump, the radiator, the fans, some tubing, a block (for either the CPU, GPU, or both), and the water itself. After years of working with water cooling kits, here are some important tips to help you get the most out of your system.
---
We are relatively new to All In One Coolers, and being an advocate of water cooling and custom loops, we firmly believe there is no greater challenge than your own custom water cooling loop. That said, we did enjoy the NZXT Kraken X61 AIO CPU Cooler, and so we are going to look at more of these. With EK entering the market, and no doubt a few other big cooling names soon, it's going to get tough for the mainstream AIO manufacturers to keep up, in the meantime we are going to look at another AIO sample, this time from an even bigger household name, Corsair.
---
Back in the day, before everybody started checking email on their smartwatch or shopping online with their phone, mobile users did their work on laptop computers. These days tablets and smart devices get most the attention, but notebook computers are still beating them on performance and productivity. Unfortunately, all that power generates heat, which slows down the system to maintain stability. But what if it didn't have to? That's where notebook coolers come in, such as the Cooler Master NotePal Ergostand III used as our example in this article about keeping hot laptops cool and running fast.
---
| | |
| --- | --- |
| Sat: 09/26/2015 | Topic: Cooling / Heatsinks PermaLink |
There are various reasons that one chooses an AIO or All-In-One CPU cooler over assembling a custom water loop. One of these reasons could be cost; typically, custom loops tend to me more expensive than an AIO. Another reason could be a technical or skill based limitation; meaning, the user does not know how to assemble a custom loop. Whatever …
---
| | |
| --- | --- |
| Fri: 09/25/2015 | Topic: Cooling / Heatsinks PermaLink |
EKWB has burst onto the all-in-one liquid cooler scene with their Predator 240. Like its name sake it eats the competition alive, redefining what one should expect from a pre-filled liquid cooler. Elegant and functional it is for those that can't be bothered with a custom loop.
---
| | |
| --- | --- |
| Thu: 09/24/2015 | Topic: Cooling / Heatsinks PermaLink |
With the increased popularity in liquid cooling type CPU coolers and the renewed interest and availability of enthusiast-friendly parts with the introduction of the Intel Z97, X99, and Z170 parts, it was past time to measure how well different CPU water blocks performed on an Intel X99 board paired up with an Intel LGA2011-v3 5960X processor. The five water blocks compared include the following:

Koolance CPU-360 water block
Koolance CPU-380I water block
Swiftech Apogee HD water block
Swiftech Apogee XL water block
XSPC Raystorm water block

---
| | |
| --- | --- |
| Thu: 09/24/2015 | Topic: Cooling / Heatsinks PermaLink |
We tested the Cooler Master Nepton 240M, a high-end sealed liquid cooling system for CPUs, with a 240 mm radiator cooled by two 120 mm fans.
---
| | |
| --- | --- |
| Thu: 09/24/2015 | Topic: Cooling / Heatsinks PermaLink |
EK Water Blocks (EKWB), if you've never heard of them before, is a top-tier CPU water cooling component manufacturer based in Slovenia and founded in 1999. They have strictly made components that you can buy separately and put together your own liquid cooling setup, or they sold them as a ready-to-assemble kit - until now. Today, EKWB is launching the Predator 240, which is their first pre-filled and pre-assembled solution.
---
| | |
| --- | --- |
| Fri: 09/18/2015 | Topic: Cooling / Heatsinks PermaLink |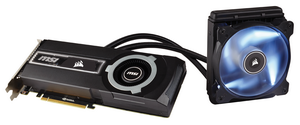 Corsair®, a world leader in high-performance PC hardware and number one supplier of PC cooling technology, today announced the Hydro GFX, a liquid cooled GeForce® GTX™ 980 Ti graphics card developed in partnership with MSI. Corsair's exclusive liquid cooling technology enables the GPU and circuitry to run faster and cooler than standard cards, giving gamers faster, smoother frame rates with less noise. The Hydro GFX installs in minutes in almost any desktop PC, from full-size tower cases to compact gaming PCs like Corsair Bulldog.
Hydro GFX consists of a MSI GeForce GTX 980 Ti card with an integrated aluminum bracket cooled by a Corsair Hydro Series H55 liquid cooler. Liquid cooling keeps the card's hottest, most critical components—the GPU, memory, and power circuitry—30% cooler than standard cards while running at higher clock speeds with no throttling, boosting the GPU clock 20% and graphics performance up to 15%. The Hydro Series H55 micro-fin copper cooling block and 120mm radiator expels the heat from the PC reducing overall system temperature and noise. The result is faster, smoother frame rates at resolutions of 4K and beyond at whisper quiet levels.
The Hydro GFX installs in minutes in nearly any modern PC case. Users simply mount the radiator on one of their PC's 120mm mounts, insert the card into a PCI Express 3.0 16x slot, and then plug power connectors into the card. No messy coolant filling or maintenance is required.
"PC enthusiasts have chosen Corsair liquid coolers to overclock their CPUs and silence their PCs for nearly a decade," said Michael Hooper, Corsair's product manager for cooling technology. "Now with our partners MSI, we are bringing Corsair liquid cooling technology to the GeForce GTX 980 Ti with the Hydro GFX—one of the fastest, quietest, and easy-to-install graphics cards available."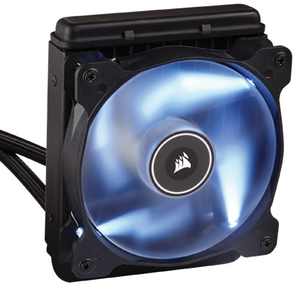 NVIDIA® GeForce GTX 980 GPU with Maxwell 2.0 microarchitecture, designed for next generation gaming at resolutions of 4K and beyond
1190/1291 MHz base/boost clock
Clocked 20% faster than standard GeForce GTX 980 Ti cards for up to a 15% performance boost.
Cooling:

Integrated liquid cooling technology keeps GPU, video RAM, and voltage regulator 30% cooler than standard cards
Corsair Hydro Series H55 liquid cooler with micro-fin copper block, 120mm radiator/fan
Memory:

6GB GDDR5
7096 MHz
384-bit interface
Outputs: 3x DisplayPort 1.2, HDMI 2.0, and Dual Link DVI-I
Power: 250 watts (600 watt PSU required)
Requirements: PCI Express 3.0 16x dual-width slot, 8+6-pin power connector, 600 watt PSU
Dimensions: 10.5 x 4.376 inch
Warranty: 3 year warranty
MSRP: $739.99
---
| | |
| --- | --- |
| Thu: 09/17/2015 | Topic: Cooling / Heatsinks PermaLink |
Up for grabs today we have one NH-D15S, two NF-F12 Industrial PPC 2000RPM PWM fans and two NF-S12B Redux 1200RPM PWM fans for three very lucky winners.
---
| | |
| --- | --- |
| Thu: 09/17/2015 | Topic: Cooling / Heatsinks PermaLink |
"The performance is on par with the D15, which is really no surprise. The D15S is clearly built to keep the heat of overclocking under control with its massive dual towers and capable (and quiet) NF-A15 fan. Noctua's well-known SecuFirm2™ multi-socket mounting system makes the installation a breeze. If you have ever installed a Noctua cooler with the SecuFirm2™, you know what I mean. There are two key factors that determine the success of a cooler. One is a properly designed heat sink that can effectively transfer the heat away from your CPU and into the fin stack, and the other is a fan that can efficiently move air through the fin stack. The NF-AF15 140mm fan effortlessly handles this task."
---
| | |
| --- | --- |
| Tue: 09/15/2015 | Topic: Business / Industry PermaLink |
Attention thermal solutions manufacturers:

"NineSigma, representing a leading global automobile parts manufacturer, seeks innovative heat transfer enhancement technologies (including simulation technologies) from a solid wall to air, for the purpose of performance improvement and downsizing of automotive heat exchangers. Of interest are both technologies based on ion winds or plasma actuators and those based on new principles, possibly under concept development stages, such as surface shaping by biomimicry.

A major automotive parts manufacturer, one of the clients of NineSigma, aims to enhance heat transfer from a solid wall to air, for the purpose of performance improvement and downsizing of automotive heat exchangers. However, existing technologies, such as miniaturizations of fins, louver processing, or corrugation, can provide somewhat but not radical improvements of the heat transfer. Therefore, the client seeks breakthrough technologies based on new principles."
---
| | |
| --- | --- |
| Tue: 09/15/2015 | Topic: Cooling / Heatsinks PermaLink |
If i had to guess what most of your reading these lines right now use to keep the temperatures of your CPUs in check chances are that most of you are still using regular CPU air coolers and why not since they can provide excellent cooling efficiency without asking for much in return like custom watercooling kits and even some AIO models? Unfortunately as I've already mentioned numerous times in the past CPU air coolers have reached a level of performance which i really doubt they will ever be able to surpass (AIO solutions might) but in the long run they may not have to since miniaturization (smaller manufacturing process) tends to reduce power requirements and thus temperatures. With the same reasoning in mind Noctua recently announced several "compact" CPU air coolers but for people wanting something more without however having to worry about clearance issues they also released a "tweaked" version of their flagship NH-D15 model which they named the NH-D15S.
---
| | |
| --- | --- |
| Tue: 09/15/2015 | Topic: Cooling / Heatsinks PermaLink |
HardwareOverclock.com has just posted another review. Last week we have taken a look at the Corsair Hydro Series H80i GT AIO watercooler. The Hydro Series H80i GT is a all-in-one liquid CPU cooler that works with standard 120mm radiator mounts. The extra-thick 49mm x 120mm radiator and dual SP120L PWM fans provide a high heat dissipation, but enough for our 4790K system? We'll find it out in our review.
---
| | |
| --- | --- |
| Fri: 09/11/2015 | Topic: Cooling / Heatsinks PermaLink |
"The Gelid Antarctica comes with a 3D optimized heatsink that offers best-in-class thermal performance. The engineers of GELID Solutions especially designed a set of 5 power heat pipes, aluminum fins with improved profiling and an additional smaller heatsink with a copper core. These elements provide exceptional heat transfer from the CPU to the heatsink.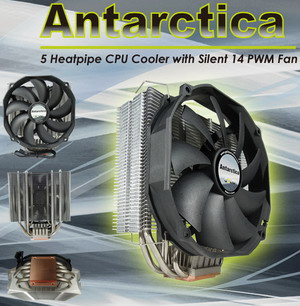 Both heatsinks were created using precise software simulation and calculation during the development stage to ensure efficient air flow distribution at the lowest fan speed possible. The result, the Antarctica fully supports heat transfer of TDP 220W being paired with even very low-speed, virtually noiseless fans.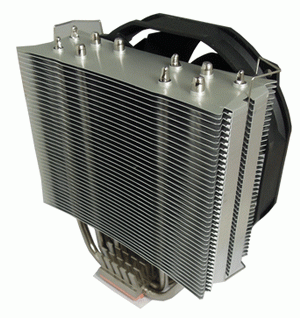 A silent 140mm fan with the intelligent GELID PWM (Pulse Width Module) control compliments the heatsink. The fan blades are optimized to deliver high air flow at low speed, and the newly designed PWM IC eliminates any clicking noise. The intelligent GELID PWM curve operates the fan in an extended speed range of 450 RPM to 1500 RPM, it constantly keeps the fan silent but accelerates speed whenever additional cooling is needed. With 2 sets of fan mounts, a second fan can be installed to improve the cooler's outstanding performance even further. Additionally, the multi-award winning high performance GC-Extreme thermal compound is already included in the package."
---
| | |
| --- | --- |
| Fri: 09/11/2015 | Topic: Cooling / Heatsinks PermaLink |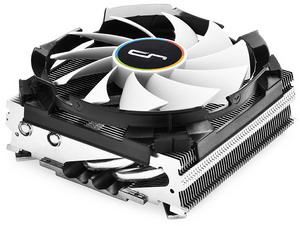 PC thermal solution innovation brand CRYORIG is releasing a new addition to it's C Series line up and also it's smallest cooler to date, the C7 compact cooler. First revealed in Computex 2015, the C7 is a low profile cooler with a max height of 47 mm. The C7's 47 mm height also makes it only 2 mm taller than the Intel Stock Heatsink, meaning it will fit in almost all case designs. Despite it's size, the C7 also packs a heavy dose of cooling with a total of 4 high performance heatpipes, phenomenal for it's size. Fitted with a dedicated 92 mm 2.500 rpm PWM fan with CRYORIG's proprietary Quad Air Inlet™ System for maximum airflow. The C7 effectively provides 25% more cooling capacity than stock heatsinks from Intel/AMD, while being up to 20% lower in noise. It's 97 x 97 x 47 mm (WxLxH) dimensions also makes it compatible with the latest 1151/115x Intel boards and AMD offerings, with no interference with PCI-E GPU cards or RAM slots.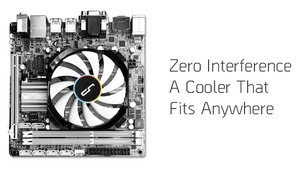 The C7 was designed from the ground up to be a cooler that fits anywhere and with everything. With dimensions aimed at complying with the Intel/AMD CPU Keep Out Zone, the C7 can fit snuggly into almost all boards and also all PC-chassis including the lowest rising SFF cases. Aimed at being the best in it's size category, with the help of CRYORIG proprietary manufacturing processes the C7 come with a total of four 6 mm premium performance heatpipes, something usually only found in larger tower grade heatsinks. The C7 is also fitted with a 92 mm 600~2.500 rpm PWM controlled fan. With the help of CRYORIG proprietary Quad Air Inlet™ System for extra air intake and airflow, the C7 offers 40,5 CFM, 2,8mmH20 air pressure at 30,0 dBA. In all, the C7 can effectively trump the Intel Stock Cooler by more than 25% in cooling performance, and 20% less noise, all the while being no bigger than stock. The C7 is aimed to be both extremely versatile with it's size as a stock cooler replacement or upgrade, while also being a strong performance option for SFF/ITX systems that only has enough space for stock cooling. The C7 is target for a September global release beginning in Japan, Taiwan, South-East Asia, and the US, with European markets targeted later in October. MSRP is 29,99 USD (excl. VAT) in the USA and 29,99 Euro (excl. VAT) in Europe.
---
| | |
| --- | --- |
| Fri: 09/11/2015 | Topic: Cooling / Heatsinks PermaLink |
The Silverstone Tundra series has a new addition with the TD03-LITE. This new standard 120 mm all-in-one liquid CPU cooler packs a pretty good punch, which is in part to its solid performance and affordable price. It has some serious potential.
---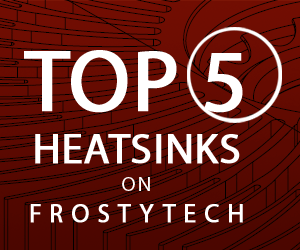 | | |
| --- | --- |
| Wed: 09/09/2015 | Topic: Cooling / Heatsinks PermaLink |
"As far as performance goes, things got a little toasty in my testing, which was expected. But my testing is really outside the boundaries of what this cooler would normally be subjected. My testing did show that this little cooler that can almost fit in the palm of your hand still kept an overclocked 4770K a few degrees below 100 °C. While that is a bit on the high side, I hesitate to list the cooling performance as a Con, because if you use the cooler within the design intention, which is small form factor cases and HTPC environments, then you will have no problems. It does a fine job of cooling. If you try to cool an overclocked gaming system, well, Noctua has a variety of coolers that are better choices."
---
be quiet! are a name KitGuru consider synonymous with quality. Today we look at their latest Dark Power Pro 11 550W unit – a new lower capacity model set to supplement the 850W, 1000W and 1200W units released in May this year. The 850W model earned our highest award back in May so we have high hopes for this 550W unit.
---