| | |
| --- | --- |
| Fri: 09/20/2019 | Topic: Cooling / Heatsinks PermaLink |
Thanks to a few size tweaks and a higher RPM fan the brand-new Macho 120 Rev.B CPU Cooler by Thermalright succeeded in surpassing the cooling efficiency achieved by its predecessor.
---
| | |
| --- | --- |
| Wed: 09/18/2019 | Topic: Cooling / Heatsinks PermaLink |
Since our initial review of the Corsair H100i RGB Platinum all-in-one liquid cooler, we have been looking at potential cooling solutions for the upcoming 3rd generation Threadripper release. As the H100i RGB Platinum officially supports socket TR4, it seems a good candidate to bring back for TR4 testing.
---
| | |
| --- | --- |
| Mon: 09/16/2019 | Topic: Cooling / Heatsinks PermaLink |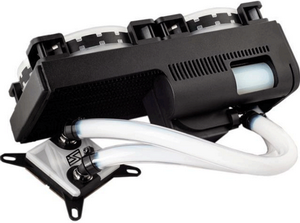 We are reviewing an AIO cooler from Swiftech: the H240 X3. It's one of two variants of this new series (the bigger one is a 360 mm). Swiftech hopes to lower the cost of entry to the "liquid world" with its expandable AIO: the H240 X3. This cooler isn't your ordinary AIO because, it gives you the option to expand it with other water-cooling components such as a GPU block.
---
The SilverStone Lucid LD03 is an atypical mini ITX case that fully delivers on the image of build quality and premium design.
---
| | |
| --- | --- |
| Wed: 09/11/2019 | Topic: Cooling / Heatsinks PermaLink |
One of the biggest additions is their anti-leak system. Deepcool have been developing this anti-leak technology for three years now and are pushing it hard on their latest AIO cooling loops, hopefully taking away one of the biggest risk factors of putting, what is essentially, a quantity of conductive liquid into your system. The anti-leak mechanism works by incorporating a rubber 'bung' into the radiator where the elastic properties of the rubber can accommodate for pressure, and therefore volume, changes within the loop.
---
| | |
| --- | --- |
| Wed: 09/11/2019 | Topic: Cooling / Heatsinks PermaLink |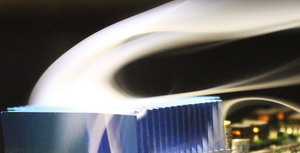 Norman Quesnel reports that; "Advanced Thermal Solutions is now providing design engineering services for companies doing business with Digi-Key, through their Design Services Provider network." ATS offers comprehensive thermal analysis, along with analytical, computational and empirical methods using proprietary tools and CFD software.
Said Digi-Key of the partnership, "We are aware of problems facing electronic design engineers. One of the most common is heat management. We are proud to carry standard ATS thermal relief products and delighted to expose ATS heat management engineering prowess to our customers as a design service."
"Thermal management is a critical junction point for the successful launch of any kind of electronics product," said Kaveh Azar, Ph.D., President and CEO of Advanced Thermal Solutions, Inc. "Being included in Digi-Key's Design Services Provider Program allows us to make available our 30 years of experience in thermal design and mechanical packaging of electronics to Digi-Key's customers to ensure that the thermal portion of the design cycle is addressed right-on-time-the-first-time."
---
| | |
| --- | --- |
| Sat: 09/07/2019 | Topic: Cooling / Heatsinks PermaLink |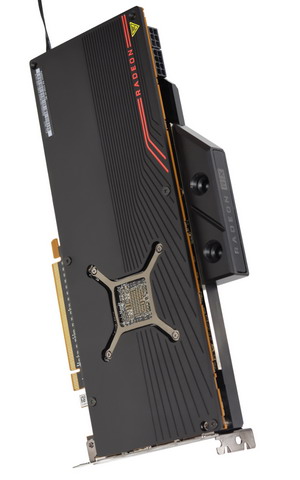 Nickel-plated copper block.
- Significant increase in performance compared to previous models.
- Patented flush stop fittings.
- Illuminated RADEON RX logo.
- Thinner 1 mm heat conduction pads for better performance.
- Thinner full copper cooling block for better performance.
- Optimized water flow. Voltage converters and the RAM are now cooled much better.

---
| | |
| --- | --- |
| Sat: 09/07/2019 | Topic: Cooling / Heatsinks PermaLink |
Deepcool is a Chinese manufacturer of PC cooling solutions, cases and power supplies. It is hard to believe they have been around for over 20 years now, but over the last few years they have definitely become more and more popular. Today, we will be looking at one of the latest additions from their extensive range of cooling products – the Deepcool Castle 240EX, which is a partially RGB-lit All-In-One liquid cooler (since RGB lighting is only applied to the pump and not the fans) from their line of Gamer Storm branded products.
---
| | |
| --- | --- |
| Thu: 09/05/2019 | Topic: Cooling / Heatsinks PermaLink |
Back in February, we had the opportunity to meet up with ARCTIC and get an early look at the upcoming Freezer 50 TR and Liquid Freezer II CPU coolers. They looked impressive but now we've had a chance to hear from ARCTIC'S technical director, Vincent Andre, to get even more details on these coolers and the design process behind them. If you've ever wondered what goes on behind the scenes when designing and launching an AIO or air cooler, then you will want to check this out.
---
| | |
| --- | --- |
| Thu: 09/05/2019 | Topic: Cooling / Heatsinks PermaLink |
The Riing Duo 12 is designed for a high static pressure output, suitable for tightly-packed cooling radiators or cases where air vents aren't optimally located or wide enough for easy airflow. Hydraulic self-lubricating bearings within the central hub of each fan lower noise output while increasing efficiency for a quieter system and longer lifespan.
---
| | |
| --- | --- |
| Thu: 09/05/2019 | Topic: Cooling / Heatsinks PermaLink |
Thermal paste is an often-overlooked part of most computer setups. You can simply use the pre-applied stuff, or the thermal paste that comes with your motherboard, and still get reasonable processor temps at stock speeds. Thermal paste is a compound that helps to fill the gap between the CPU and a custom cooler.
---
| | |
| --- | --- |
| Wed: 09/04/2019 | Topic: Cooling / Heatsinks PermaLink |
You've seen our Ryzen 5 3600 vs. Core i5-9400F battle in over 30 games, you've also seen the R9 3900X and Core i9 9900K duking it out in a few dozen titles, but today we have the most epic battle of them all... Intel vs. AMD's box cooler battle. Ok, so we may be overselling this one, but it is something we've wanted to do for a long time.
---
Team Group started with an innovative idea but ended up shipping a product that may endanger your other PC components."
---
| | |
| --- | --- |
| Thu: 08/29/2019 | Topic: Business / Industry PermaLink |
"Taiwan-based cooling modules supplier Chaun-Choung Technology (CCI) has seen shipments for smartphones ramp up since the third quarter of 2019, expecting the revenue ratio for such shipments to rebound to a double-digit level in the second half of the year, according to company sources.

CCI chairman Junichi Nagai said that 5G applications will show great demand for advanced heat dissipation solutions along with drastic upgrades in data transmission volume and speed as well as computing performance. He stressed that vapor chamber (VC) will be the best heatsink tool for 5G smartphones and therefore CCI will move to come out with diverse VC solutions in line with requirements from smartphone vendors."
---
| | |
| --- | --- |
| Tue: 08/27/2019 | Topic: Cooling / Heatsinks PermaLink |
You want to get into liquid cooling loops and create that unique mod but don't know where to start? Yeah, we all been there. Solutions from Swiftech are rich with quality products for any budget. The Boreas kits by Swiftech are designed to get you up and running in a matter of minutes. If you are on a tight budget..
---
| | |
| --- | --- |
| Tue: 08/27/2019 | Topic: Cooling / Heatsinks PermaLink |
We are reviewing an AIO cooler from Deepcool: the Castle 240 EX. It's one of two variants (the bigger is 360 mm) of the new series. Both are equipped with Deepcool's exclusive Anti-leak Technology. The technology helps the system achieve an automated pressure balance, which will significantly improve operation safety of AIO liquid cooling systems.
---
| | |
| --- | --- |
| Mon: 08/26/2019 | Topic: Cooling / Heatsinks PermaLink |
"For a few years now Cooler Master has been in a pretty decent cycle of refreshing or reinventing their product lines. This has proven to be true for their all in one liquid coolers as much as anywhere else. After rising to the challenge of engineering their own unique pump a few years back, they've continued to add features every release cycle. As time has gone on the ways in which companies are able to transform and innovate with their liquid cooling products has become more limited. To a certain extent, it has become kind of an 'it's all been done before', situation. Rising to that challenge is the MasterLiquid ML240P Mirage. Today we'll take a look at the ways the Mirage innovates as well as test out just what this 240mm AIO cooler has to offer for performance."
---
| | |
| --- | --- |
| Mon: 08/26/2019 | Topic: Cooling / Heatsinks PermaLink |
Arctic is a Swiss-Founded manufacturer of computer cooling products. Specialising in CPU and GPU coolers, case fans and thermal compounds, they have extensive experience in the industry. Arctic have collaborated with leading graphics card brands such as HIS, Inno3D, PowerColor, VTX3D and Sapphire in the development of OEM cooling solutions. In recent years, Arctic have branched out into other areas and now have a diverse range of products including audio/home entertainment, monitor stands and PC peripherals alongside their cooling solutions and thermal compounds.
---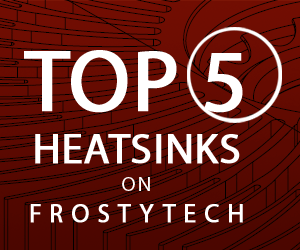 | | |
| --- | --- |
| Mon: 08/26/2019 | Topic: Cooling / Heatsinks PermaLink |
Deepcool comes out swinging with the Gamer Storm Castle 360EX, which comes packing their new "Anti-leak" technology alongside solid performance and acceptable noise levels. It also comes with RGB lighting that is aesthetically pleasing and limited to the pump, keeping things a bit more subtle and far less flashy.
---
| | |
| --- | --- |
| Mon: 08/26/2019 | Topic: Cooling / Heatsinks PermaLink |
Usually, when the word Mirage is mentioned, it's swiftly followed by being headshot multiple times in Counter-Strike Global Offensive. That aside, it is actually the name of a new All-In-One Liquid CPU cooler from Cooler Master. Its full name is the Cooler Master MasterLiquid ML240P Mirage – not exactly an easy one to remember! Just how good is it for £139.99?
---