| | |
| --- | --- |
| Wed: 02/13/2019 | Topic: Cooling / Heatsinks PermaLink |
The Easy V3.0 offers support for a wide range of components, including watercooling set ups with space for a pair of 360mm or 280mm radiators, multiple pump layouts and tube sizes. We also see space for multiple 3.5" HDDs and 5.25" disk drives, full size PSUs and FullATX motherboards all the way through to MiniITX.
---
| | |
| --- | --- |
| Wed: 02/13/2019 | Topic: Cooling / Heatsinks PermaLink |
The Arctic Liquid Freezer 240 is an all-in-one CPU water cooling solution built around a large 240mm-sized aluminum heat exchanger that's well suited to full tower PC cases. With the front-facing fans removed from the Liquid Freezer 240's heat exchanger for imaging clarity, a pretty basic coolant path can be easily be discerned. Judging by the resultant radiometric image, the Liquid Freezer 240's heat exchanger uses a simple parallel flow path design.
---
ADATA Technology, a leading manufacturer of high-performance DRAM modules, NAND Flash products, and mobile accessories today announces that the XPG SPECTRIX D80 DDR4 memory module has been honored with an iF Design Award 2019 for product design excellence.
The SPECTRIX D80 features a liquid heatsink on its top side that benefits from a non-conductive fluid with a low boiling point to dissipate heat. It works in conjunction with an aluminum heatsink and thermally conductive materials on the PCB to offer hybrid cooling. ADATA first introduced a prototype liquid-cooled memory design ("Jellyfish") during CES 2018 in Las Vegas to much excitement. The XPG SPECTRIX D80 is the realization of the concept's viability for a commercially available memory module.
Equipped with programmable RGB lighting, the liquid heatsink isn't just functional, but also visually captivating with the fluid completely illuminated for all to see. Users can customize the lighting effects by setting up patterns, pulse speed, lighting intensity, and more. Lighting control is intuitive with the XPG RGB Sync app, or users can use an existing RGB lighting control software from a major motherboard maker.
Made for avid gamers, DIY enthusiasts, and overclockers, the SPECTRIX D80 provides a wide frequency range from 2666MHz to 4133MHz. Also, preconfigured Intel® XMP (Extreme Memory Profile) 2.0 profiles allow for quick overclocking, doing away with the need for adjusting individual parameters in BIOS. For added reliability and dependability, the module uses high-quality chips chosen through a strict selection process for superior stability, even when operating at high speeds or under heavy loads. Earlier this year, the SPECTRIX D80 was overclocked to 5584MT/s, a new speed record.
---
| | |
| --- | --- |
| Mon: 02/11/2019 | Topic: Cooling / Heatsinks PermaLink |
In this review we test the DeepCool Captain 240 PRO, the kit has been updated with an improved All-in-One Liquid cooling kit is very decent in performance for an AIO with a 240mm rad. Next to that the pump and radiator fans now come with proper addressable RGB LED lighting as well as an included RGB controller.
---
| | |
| --- | --- |
| Wed: 02/06/2019 | Topic: Cooling / Heatsinks PermaLink |
Thanks to its all-copper compact heatsink and a high-speed 92mm fan the cooling efficiency levels of the C7 Cu CPU Cooler by CRYORIG are much better than expected.
---
| | |
| --- | --- |
| Wed: 02/06/2019 | Topic: Cooling / Heatsinks PermaLink |
The heatsink makes use of four direct contact heatpipes to remove heat from the CPU, which is then passed into the nickel plated fin array. The same was true of the non-RGB version which we reviewed so any difference we find will be down to the change in 120mm fan more than anything else.
---
| | |
| --- | --- |
| Tue: 02/05/2019 | Topic: Cooling / Heatsinks PermaLink |
Swiftech brings an all-copper all-in-one liquid CPU cooler to the masses with the H240 X3. Out of the box, it offers solid performance and acceptable noise levels with the option of expandability. Not to be left behind in the RGB LED era, it packs those as well, along with Pastel white coolant and various dyes which give users the ability to indeed make it their own.
---
| | |
| --- | --- |
| Mon: 02/04/2019 | Topic: Cooling / Heatsinks PermaLink |
ID-COOLING a cooling solution provider focusing on thermal dissipation and fan technology research and production for over 10 years, announced ZOOMFLOW 240 AIO water cooler, featuring a brand new pump design and Addressable RGB lighting on both the pump and fans at the same time synchronizing with motherboard RGB control.
ZOOMFLOW 240 is equipped with a brand new pump design with flow rate reaching up to 106L/H, lift range 1.3m H2O. The pump block has a micro-fin copper base to ensure the best cooling performance. Regarding LED lighting, it is featuring a newly developed addressable RGB lighting through a mirror-effect diffuser on the pump cover. Power connector is 3pin with a 3pin to Molex adapter to help ensure 12V constant input to ensure maximum cooling performance.
Solid connectors are used on both ends of the premium sleeved tubing, more reliable & performance efficient. Tubing length is 400mm. Inside the tubing is self-contained highly efficient and eco-friendly liquid coolant.
Two pieces of ZF-12025-RGB fans are included to help move the heat away from radiator. Each fan has 14 addressable LEDs built inside the fan frame. The lighting is emitted through the diffuser smoothly. Specially trimmed circles on the fan frame will give aesthetical pleasure when the RGB lighting is on. Fan speed is PWM controlled from 900 to 2000RPM, pushing max. airflow of 55.2CFM each. Rubber dampeners on fan frame are provided to absorb vibration to lower operation noise.
The pump and two fans have separate RGB cables which can all connected to the RGB splitter, through which the RGB lighting can be controlled either by motherboard software or remote controller. The RGB splitter supports 4 devices at the same time, so users can add an extra addressable RGB LED fan or RGB Strip.
Universal mounting brackets are included. ZOOMFLOW 240 is compatible with Intel LGA2066/2011/1366/1150/1151/1155/1156 & AMD TR4/AM4/FM2+/FM2/FM1/AM3(+)/AM2(+).
MSRP for ZOOMFLOW 240: 109.99USD/109.99EURO.
---
| | |
| --- | --- |
| Mon: 02/04/2019 | Topic: Cooling / Heatsinks PermaLink |
Gelid has released the Sirocco heatsink featuring six U-Stacked Power Heat Pipes, Soldered Heatpipes & Fins, High Pressure RGB LED Fan and TDP support of up to 200W.
---
| | |
| --- | --- |
| Mon: 02/04/2019 | Topic: Cooling / Heatsinks PermaLink |
The engineers at Zaward are something like a modern-day Leonardo da Vinci, because they have taken to a unique style of functional cooling devices. One of their featured products is the Sylphee aluminum CPU cooler. Benchmark Reviews tested this dual-heatpipe dual-impeller cooler, and it proved to be a very unique product, with results just as uncommon. Read on to see if function came before fashion, or if these looks can kill you system.
---
| | |
| --- | --- |
| Mon: 02/04/2019 | Topic: Cooling / Heatsinks PermaLink |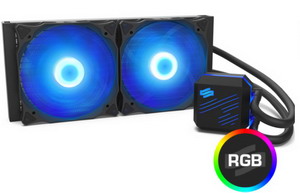 SilentiumPC introduces a new series of proprietary all-in-one CPU liquid cooling solutions. The Navis RGB series is available in three variants with the different radiator sizes 120, 240 and 280. The units focus on great built-quality, reliability and performance while incorporating discreet RBG illumination. Compatibility to latest CPU sockets and easy installation assure that even novice users are able to enjoy all the advantages of the new all-in-one CPU liquid cooling solutions.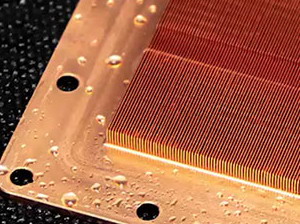 Navis RGB water block features professional-grade copper bearings and 9-pole motor pump to ensure smooth and noise-free operation. Copper cold-plate with series of flow-optimized channels enable efficient heat transfer to an all-aluminum, single or dual 120/140 mm radiator.
High static pressure Sigma HP RGB fans are the perfect match for the radiators, as they are offering optimum airflow through the fin matrix. All the units are equipped with 380 mm long and extremely durable yet flexible tubes, allowing for multiple installation options, either in front, top or rear of the case.
Yet another feature of the new Navis RGB series is the RGB LED illumination system. It lights up the distinct pattern on the water block as well as the fan rotors with visually stunning yet discreet colors and effects. All major motherboard RGB systems, such as Asus™ Aura as wells as manual control via included Nano RGB controller and the advanced Aurora Sync controller available in SilentiumPC Armis TG RGB cases are supported by the Navis RGB series.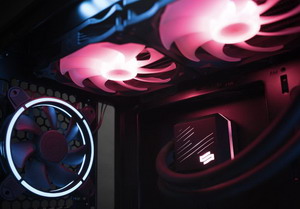 The Navis RGB units come pre-assembled, filled with liquid and ready for simple installation, no further maintenance is required. Available either as versatile 120 version (single 120 mm fan), performance oriented 240 (dual 120 mm fans), or the quietest 280 (dual 140 mm fans). The SilentiumPC Navis RGB series is available as of today.
---
| | |
| --- | --- |
| Sun: 02/03/2019 | Topic: Cooling / Heatsinks PermaLink |
With the market obsession of RGB lighting and a need for constantly improved cooling capacity due to power-hungry components, the Riing Trio 12 fans certainly seem to fit the bill, but do they perform or look as good as Thermaltake claim? Let's find out.
---
| | |
| --- | --- |
| Fri: 02/01/2019 | Topic: Cooling / Heatsinks PermaLink |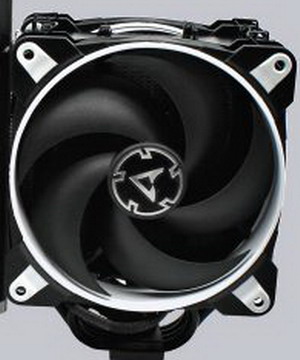 Today we are testing the first Arctic air cooler with the Arctic Freezer 34 eSports DUO, which wants to replace the Freezer 33 series with the help of the pressure-optimized BioniX P fans. After we had the Arctic BioniX P fans already in a separate review, we are excited to see how they will perform on a CPU cooler. There is also the 360 degree view and a new video. And after this review, you might even win the Arctic Freezer 34 eSports DUO cooler!
---
| | |
| --- | --- |
| Tue: 01/29/2019 | Topic: Cooling / Heatsinks PermaLink |
Noctua today introduced NT-H2, the second generation of its hybrid thermal compound. Combining the NT-H1's proven features, ease of use and long-term stability with a fine-tuned formula of microparticles, NT-H2 is an enthusiast-grade paste. At the same time, Noctua also presented a large 10g pack of NT-H1 as well as NA-SCW1, a set of 20 cleaning wipes that are ideal for removing thermal compound in a quick, clean and efficient manner.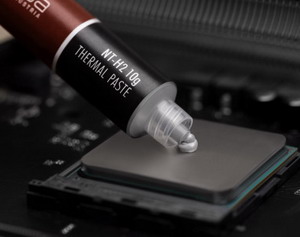 NT-H2 uses a new mixture of metal oxide microparticles for lower thermal resistance and reduced bond-line thickness at typical mounting pressures. In Noctua's standardised internal testing at various platforms and heat loads, up to 2°C lower temperatures were attained.
NT-H2 thermal compound does not require a break-in period and due to its long-term stability, it can be used on the CPU for up to 5 years. Both pastes are electrically non-conductive and non-corroding, so there is no risk of short circuits and they're safe to use with all types of heatsink.
NT-H2 thermal compound will come in standard 3.5g and extra-large 10g packages that include three (3.5g) and ten (10g) NA-CW1 cleaning wipes for easy cleaning. Pre-moistened with a custom detergent mixture, these wipes are ideal for cleaning CPUs, GPUs and the contact surface of heatsinks in a quick and efficient manner. For enthusiast users who take off and install their coolers frequently, the NA-CW1 wipes are also available separately in a set of 20 (NA-SCW1).
In addition to the new NT-H2 and NA-SCW1 cleaning wipes, Noctua also introduced a 10g package of NT-H1. While, so far, the popular paste has only been available in a 3.5g package, the new 10g version is ideal for power users or for large processors such as AMD's Threadripper (TR4) or Intel's LGA3647 that require higher volumes of thermal compound.

All compounds are available from Noctua's official Amazon and eBay. Other sales partners will receive stock shortly. The suggested retail prices are as follows:
NT-H2 3.5g: 12.90 EUR/USD
NT-H2 10g: 24.90 EUR/USD
NT-H1 3.5g: 7.90 EUR/USD
NT-H1 10g: 14.90 EUR /USD
NA-SCW1: 7.90 EUR/USD

---
| | |
| --- | --- |
| Mon: 01/28/2019 | Topic: Cooling / Heatsinks PermaLink |
EKWB's Supremacy CPU blocks have been a favorite of may water cooling enthusiasts and overclockers. With the launch of the Quantum line of products, EKWB also launched their Classic Line. The Classic line retains a familiar look of EK blocks of the past with minor aesthetic updates. The updates include an RGB LED strip under an aluminum cover on …
---
| | |
| --- | --- |
| Mon: 01/28/2019 | Topic: Cooling / Heatsinks PermaLink |
As the name suggests, the new SilverStone AR01 V3 is the 3rd iteration of the AR01 cooler from SilverStone's Argon series, and this model is now part of the ASUS TUF Gaming Alliance – meaning it is not only compatible with the other products that form the Alliance, but it also sports a primarily black and yellow colour scheme which is pretty rare in today's market.
---
| | |
| --- | --- |
| Wed: 01/23/2019 | Topic: Cooling / Heatsinks PermaLink |
Thermaltake has entered the DDR4 memory market in typical Thermaltake style. There are two kits of DDR4-3200MHz in the shape of a dual module 16GB kit and a quad module 32GB kit. You won't be surprised to learn that WaterRAM comes with RGB lighting however the novel part is that these kits can be water cooled with the minimum of fuss. You have three distinct options when it comes to cooling; you can leave the modules bare, apart from their 2mm thick aluminium heat sinks that function through regular convection cooling. Alternatively you can top off the assembly with the water block with its copper base to increase the thermal mass and thus assist cooling. Finally you opt for the Full Monty and plumb the water block to a custom loop.
---
| | |
| --- | --- |
| Tue: 01/22/2019 | Topic: Cooling / Heatsinks PermaLink |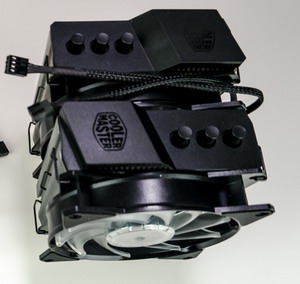 "The last time we took a look at a CPU cooler from Cooler Master it looked pretty awesome, but the performance was a little lacking. Today we have a pretty beefy cooler from the company that boasts dual fans, dual heatsink towers, and six large copper heatpipes. Is this the Cooler Master air cooler you want for those overclocks and intense gaming sessions? Read on as we find out!"
---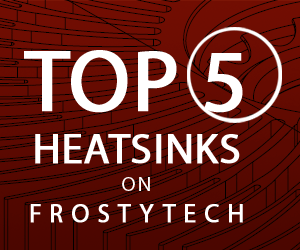 | | |
| --- | --- |
| Mon: 01/21/2019 | Topic: Cooling / Heatsinks PermaLink |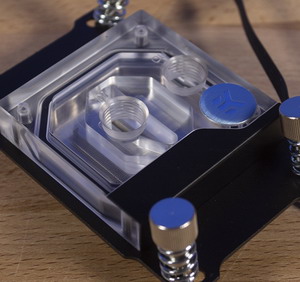 Like just about every other product on the market, RGB has been popping up in the water cooling market for a while now. It started on Monoblocks and EK even had it on their new Velocity line of water blocks. But their Supremacy water blocks have mostly been lacking with the exception of the Threadripper block. But at CES this year they have introduced their new lineup called the Classic RGB. They characterize it as "minimalistic and clean while maintaining class-leading performance". That explains the Classic part of the name, but the second half also indicates that the new lineup has also added RGB lighting as well. I've actually had most of the components in the office to check out and now that the cat is out of the bag I can share them with everyone. So today I'm going to check them out and do a little testing as well.
---
| | |
| --- | --- |
| Mon: 01/21/2019 | Topic: Cooling / Heatsinks PermaLink |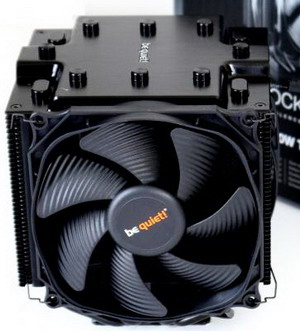 We review another be quiet! Dark Rock series cooler, this round the PRO TR4 with that TR for Threadripper. The dark tower flagship cooler comes with two radiators, two fans and takes up that cooling performance towards 250 Watts of cooling power, enough for Ryzen Threadripper, or is it?
---