"Earlier this year we took a look at our first Raijintek case, the Thetis Window, and today we have our second, the Asterion Classic. This case definitely stands out with its sleek bushed aluminum front panel, dual tempered glass side panels, and support for large E-ATX motherboards. Supporting E-ATX motherboards means that you have a good amount of room inside to build a pretty kick-ass system. So is the Asterion Classic the perfect case for your next build? Read on as we find out!"
---
| | |
| --- | --- |
| Thu: 01/11/2018 | Topic: Cooling / Heatsinks PermaLink |
We've seen RGB take the market by storm, with manufacturers stapling these multi-coloured LEDs to everything they can get their hands on; it now seems that all-in-one CPU coolers aren't able to escape this treatment, with Corsair releasing both the H115i Pro and H150i Pro featuring 16.7 million colours within the pump header.
---
| | |
| --- | --- |
| Thu: 01/11/2018 | Topic: Cooling / Heatsinks PermaLink |
"It's rather impressive that the company that basically introduced the all in one liquid cooler to us has also reinvented their product so many times and in so many ways since 2008. These days AiOs are standard and that standard has risen dramatically; especially over the past year. While performance will always be king, like it or not in the world of RGB everything, looks or rather the lack there of can kill. Checking a whole host of new boxes for the company, Corsair is introducing to the world the H150i PRO. This svelte new hydraulic system boasts a first ever for Corsair 360mm radiator as well as a new pump design equipped with of course, RGB LEDs. Follow along as we find out first hand whether this latest iteration is the future or a brief flash from the past."
---
| | |
| --- | --- |
| Wed: 01/10/2018 | Topic: Cooling / Heatsinks PermaLink |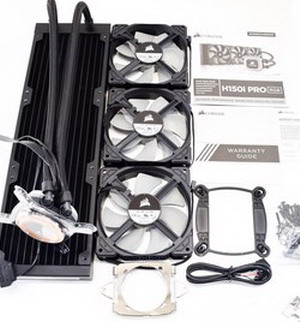 The brand new Hydro H150i Pro Low Noise 360mm RGB Liquid CPU Cooler by CORSAIR combines near-excellent cooling efficiency with almost inaudible operation even in performance mode.
---
| | |
| --- | --- |
| Wed: 01/10/2018 | Topic: Cooling / Heatsinks PermaLink |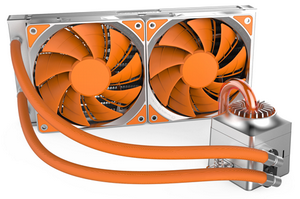 " Deepcool's Captain 240EX RGB is a closed loop liquid CPU cooler with a high performance pump, 240mm radiator and DEEPCOOL efficient dual blade fans.Today Deepcool launches TR4 version, it is compatible with a wide range of CPU types allowing users to integrate all the current releases from Intel and AMD into their rigs – including the new TR4 socket for the latest AMD RYZEN Threadripper processor. Captain 240EX RGB is equipped with an integrated RGB lighting system that can be controlled via a cable connected controller or with software and a motherboard header as part of a wider illuminated system. The Electro Limited Edtion is a stylish new addition to the existing choice of Black or White themed versions and will be available in May, 2018"
---
| | |
| --- | --- |
| Wed: 01/10/2018 | Topic: Cooling / Heatsinks PermaLink |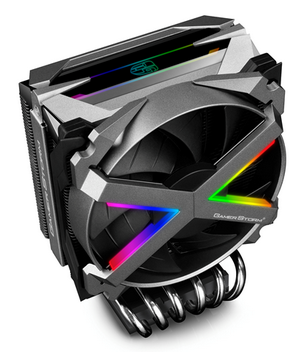 "DEEPCOOL also introduced its new FRYZEN air cooler, specifically designed for the Ryzen Threadripper series processor, supports AMD TR4/AM4 and all AMD Sockets and will be available in April, 2018. Ultra large copper base with mini-bumps and parallel arrangement of 6 boot-shaped heat-pipes perfectly cover the Ryzen Threadripper processors and offer extreme heat dissipation performance. In addition, exclusive metal fan frame with inverse double-bladed fans, offering twice the air pressure for twice the performance and 16.7M true color RGB flowing light system, in-built with 5 effects (dynamic color, static, breathing, comet, and fashion collision) for the top cover and fans for a total of 36 modes to choose from, meanwhile it supports Addressable RGB function with sync-control for the motherboard lighting."
---
| | |
| --- | --- |
| Wed: 01/10/2018 | Topic: Cooling / Heatsinks PermaLink |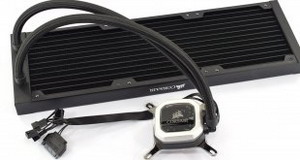 Having been in the liquid cooling game for quite some time now, Corsair has built up an excellent reputation for its closed-loop coolers, with the relatively recent H100i V2 proving to be an incredibly popular 240mm cooler. Today we have the pleasure of assessing Corsair's first ever 360mm liquid cooler, the H150i Pro. With a new pump design, as well as three ML-series fans, could this be the ultimate liquid cooler?
---
| | |
| --- | --- |
| Wed: 01/10/2018 | Topic: Cooling / Heatsinks PermaLink |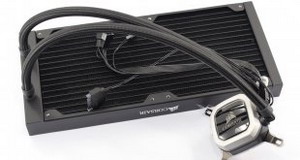 Along with the launch of its new 360mm liquid cooler – the H150i Pro – today Corsair has also released the H115i Pro, a smaller 280mm AIO. In reality, radiator size is the only real difference between the two models, as they are identical in every other area. You do save $30 by going for the smaller model, though, but might that be cash worth spending instead? Let's find out.
---
| | |
| --- | --- |
| Wed: 01/10/2018 | Topic: Cooling / Heatsinks PermaLink |
We check out the new 360mm radiator based Corsair Hydro Series H150i PRO - an AIO Liquid cooler series that Corsair injects into the channel. With a tiny bit of RGB, bling Corsair promises to deliver ultra-silent performance with more than adequate cooling capacity.
---
| | |
| --- | --- |
| Tue: 01/09/2018 | Topic: Cooling / Heatsinks PermaLink |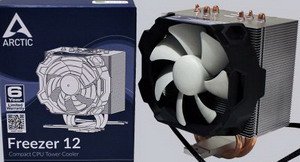 For the slim purse and/or slim case, Arctic offers the Freezer 12, a compact heat pipe cooler with 92mm fan tower design. We test the cooling performance and will check today on OCinside.de with the new AM4 test system, whether reserves for overclocking remain.
---
| | |
| --- | --- |
| Tue: 01/09/2018 | Topic: Cooling / Heatsinks PermaLink |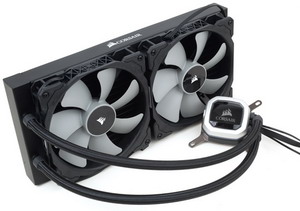 Corsair's H115i Pro and H150i Pro closed-loop liquid coolers represent the biggest change to the company's popular liquid-cooling hardware in quite some time. We put one of the hottest CPUs around underneath these coolers to see whether Corsair's update was a success.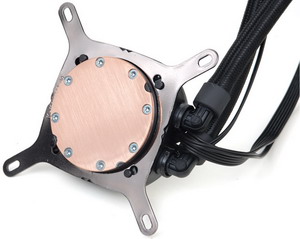 ---
| | |
| --- | --- |
| Tue: 01/09/2018 | Topic: Cooling / Heatsinks PermaLink |
Corsair looks to reassert their dominance in the all-in-one liquid cooler market with the launch of the H150i Pro. Taking the "go big or go home" approach, it packs an RGB pump block and 360 mm radiator. The cherry on top is the inclusion of Corsair's much vaunted ML series fans.
---
| | |
| --- | --- |
| Sun: 01/07/2018 | Topic: Cooling / Heatsinks PermaLink |
With Nvidia and AMD both expected to unveil their next-generation GPUs in 2018, Taiwan-based cooling fan maker Power Logic chairman Wen-Fang Hsu expects the company's shipments of cooling fans to expand significantly in the coming year as consumers are expected to purchase more cooling fans to upgrade their gaming devices.
---
| | |
| --- | --- |
| Sat: 01/06/2018 | Topic: Cooling / Heatsinks PermaLink |
When it's -19C outside and the water pipes are frozen solid, one often looks for creative ways to safely thaw the pipes. Frostytech knows heatsinks, not plumbing, so we'd approach this kind of engineering question from a bit of a unique perspective. If a freezing cold copper water pipe could be turned into a massive heatsink... heat energy would gradually be conducted along the copper pipe wall and melt the frozen water inside, right?
Attaching a CPU to a 1/2" diameter copper waterpipe is of course impractical, the heat source really needs to conform to the circumference of the metal to get good thermal conduction... so, how about a low voltage, polyimide thermofoil heater wrapped helically around the pipe? Could that work?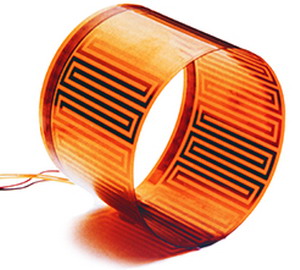 While looking up part numbers for some salvaged Minco polyimide thermofoil heaters, I just happened to stumble upon this awesome little video produced by Minco's summer interns in 2015. It's campy, but earnest, and nice to see an engineering company not take itself too seriously. :-)
---
Fractal Design is going for the Define as today they released their new flagship Define R6 chassis. opens a new design era for FS, a very enticing chassis shows nice aluminum elements, tempered glass, a power supply compartment to hide your PSU, hidden drive and SSD cages and the ability to mount the most extravagant 420mm liquid cooling solutions.
---
| | |
| --- | --- |
| Fri: 01/05/2018 | Topic: Cooling / Heatsinks PermaLink |
"At Computex 2017, Be Quiet introduced to the press an upcoming addition to their Silent Loop AIO series, the 360 model, featuring as you could have guessed a massive 360 radiator. The new flagship should top the cooling performance of the 240 and 280 model. Be Quiet has received many awards over the last decade and has established itself as one of the market leaders in quiet, yet powerful power supplies and processor cooling gear, especially their Silent Wings fan series are loved by watercooling purists as these Fans feature an excellent combination between airflow/pressure and silent operation. Time to open the box Be Quiet send to the MadShrimps lab. We were keen to test the new 360 Silent Loop version; it might not be the most commonly used as it can only be matched with a high end enclosure."
---
| | |
| --- | --- |
| Fri: 01/05/2018 | Topic: Cooling / Heatsinks PermaLink |
If you just bought a brand new mid/full-tower with many water cooling mounts and you're looking to outfit it with a powerful AIO model then you're in luck since the Liquid Freezer 240 by ARCTIC is right up your alley.
---
| | |
| --- | --- |
| Mon: 12/25/2017 | Topic: Cooling / Heatsinks PermaLink |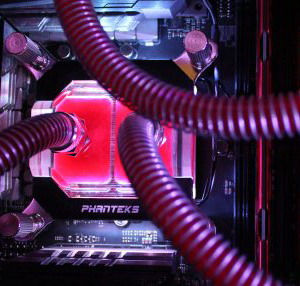 RGB lighting is in vogue. Phanteks therefore offers a premium RGB illuminated water cooler that combines the look of flowing water with light effects. The review includes a video of the Phanteks Glacier C350i in the OCinside YouTube channel.
---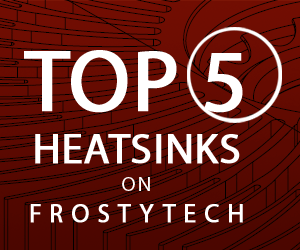 | | |
| --- | --- |
| Fri: 12/22/2017 | Topic: Cooling / Heatsinks PermaLink |
Corsair finally added RGB lighting to their excellent ML fans, and with it added, we possibly have the best balance of performance, noise, and aesthetics. Featuring a magnetic levitation bearing, a fine-tuned rotor for high static pressure applications, and four addressable RGB LEDs.
---
In Win's POLARIS Silent RGB PWM case fans deserve your attention? Why? Read on and find out."
---