| | |
| --- | --- |
| Thu: 08/16/2018 | Topic: Cooling / Heatsinks PermaLink |
It seems a little late in the game to be reviewing Arctic Cooling's Accelero Xtreme IV GPU cooler, so what gives? Well, I recently upgraded my ASUS ROG Strix GeForce GTX 1070 graphics card to an NVIDIA GeForce GTX 1080 Ti Founders Edition model, and while that is a solid GPU upgrade for sure, it is a downgrade acoustically and thermally. Some people prefer the blower style cooler that ships on Founders Editions cards. I am not one of them. My main system sits in an open air Thermaltake Core P5 chassis, so there really is not a benefit to expelling hot hair out of the rear of the case, as Founders Edition cards do...
---
| | |
| --- | --- |
| Thu: 08/16/2018 | Topic: Cooling / Heatsinks PermaLink |
In this review, we look at the Raijintek Orcus 240 AIO cooler. This new cooler from Raijintek is, on the surface, your fairly typical 240mm AIO liquid cooler. However, it brings a couple of fairly neat tricks to the party, that I will discuss in greater depth later.
---
| | |
| --- | --- |
| Thu: 08/16/2018 | Topic: Cooling / Heatsinks PermaLink |
"As is the way of things, Corsair has just about gotten their whole line of AiO coolers updated. If you've not already read our previous reviews of the H150i Pro and H115i Pro, check those out. In summary they are high performance coolers with great new looks and RGB effects. Today we are going to round out the group and finally add the recently released H100i Pro RGB to our stable. How will this 240mm cooler stack up against the rest of the family, how will it perform compared to the competition? Follow along as we put the H100i Pro RGB through its paces."
---
| | |
| --- | --- |
| Tue: 08/14/2018 | Topic: CPU / Processors PermaLink |
Today, AMD introduced the first 32-core desktop processor for the consumer market with the Ryzen Threadripper 2990WX 32-core, 64-thread behemoth. This processor is the successor to the AMD Ryzen Threadripper 1950X 16-core, 32-thread processor that was released just last year. In just one year we are witnessing the core count double on consumer processors and better yet, this is a drop-in replacement for the 1950X...
---
| | |
| --- | --- |
| Mon: 08/13/2018 | Topic: Cooling / Heatsinks PermaLink |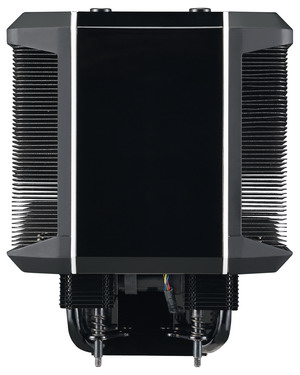 Cooler Master, a global leader in computer hardware and peripherals manufacturing, announces the Wraith Ripper, the official air cooler for the 2nd Gen AMD Ryzen Threadripper desktop processor, as part of an exclusive partnership with AMD. The Wraith Ripper is designed, specifically, to keep the 2nd Gen AMD Ryzen Threadripper cool under the most strenuous conditions and manage up to 250W TDP.
With content creators, developers and PC enthusiasts in mind, the Wraith Ripper is designed with dual tower heatsinks, a seven heatpipe array for advanced thermal conductivity and a large contact surface area optimized for the Ryzen Threadripper. Concealed under a specialized Wraith Armor, designed to help guide airflow, is a 120mm MasterAir Pro Servo fan. Mounted between the dual tower heatsinks, the MasterAir Pro Servo enables a push-pull configuration by pulling cool air though one heatsink and expelling through the other to maintain thermal integrity and maximum performance of the CPU.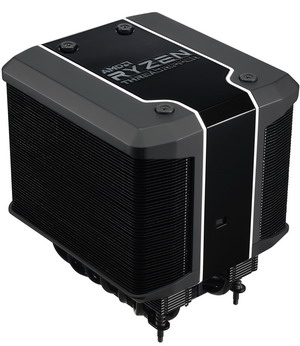 The Wraith Ripper's mounting system is the most straightforward installation on the TR4 bracket. Four long screws run from the top of the cooler to the bottom, enabling users to easily install the Wraith Ripper by tightening the screws at the top instead of struggling to mount the cooler at the base. In addition to its easy mounting system, the Wraith Ripper provides ends users with 44mm of RAM clearance, eliminating compatibility issues with most mainstream memory modules.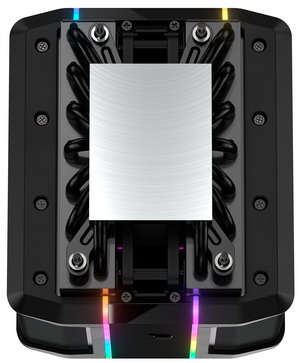 The Wraith Ripper's sleek, black design is complimented by the simple dual Addressable RGB LED strips that highlight the cooler and frame the backlit ARGB AMD Ryzen Threadripper logo on the top. Users can customize the speed, color and lighting mode of each LED through the built-in lighting control.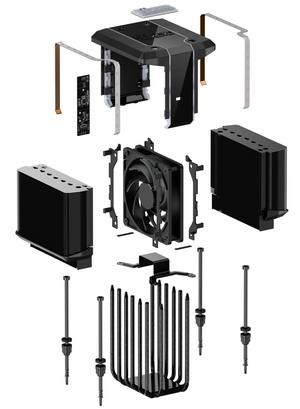 To achieve full lighting control, users will need to download the Wraith Ripper lighting software, available on the Cooler Master website.
The Wraith Ripper will be available for purchase in September, on Amazon and Newegg, for a starting MSRP of $119.99USD.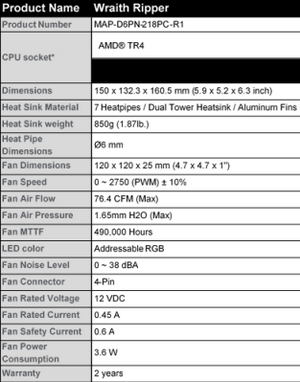 ---
| | |
| --- | --- |
| Mon: 08/13/2018 | Topic: CPU / Processors PermaLink |
"The embargo has expired now for talking about Threadripper 2 performance figures... First up are our initial Threadripper 2950X Linux benchmarks. In this article are the most interesting metrics for this 16-core / 32-thread processor while in the just-published AMD Threadripper 2990WX Linux Benchmarks are a lot more figures complemented by the 2950X and other CPUs plus power consumption numbers, etc. This article is most useful if specifically focused on the performance of the Threadripper 2950X that comes in at $899 USD."
---
| | |
| --- | --- |
| Mon: 08/13/2018 | Topic: CPU / Processors PermaLink |
It's that time of the year where we will unleash some CPU fury, yes AMD today launches its new Threadripper Gen2 processors. We have two reviews ready for a read, one covering the 16 core / 32 threads Threadripper 2950X, and then there's, of course, that beast to rule them all, the 32 cores and 64 threads AMD Ryzen Threadripper 2990WX.
---
| | |
| --- | --- |
| Wed: 08/08/2018 | Topic: Cooling / Heatsinks PermaLink |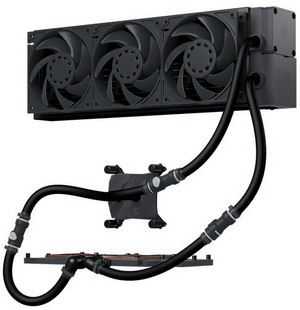 Following the massive success of the EK-XLC Predator line of AIO liquid coolers EK Waterblocks recently released the EK-MLC Phoenix line and on our test bench today we have the top of the line tri-fan 360 model.
---
| | |
| --- | --- |
| Wed: 08/08/2018 | Topic: Cooling / Heatsinks PermaLink |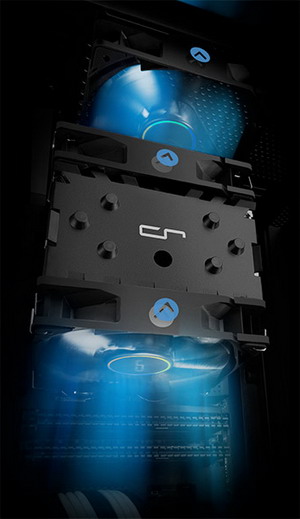 Enthusiast thermal solutions brand CRYORIG releases the new H7 Plus and M9 Plus dual fan heatsinks. Based on the best-selling H7 and M9i/a, CRYORIG is now offering these two models with a direct dual fan upgrade for best in class performance. Adding an additional fan makes the overall heatsink airflow even better optimized to expel heat directly into the rear system fan and out of the PC case. With an included PWM Y-Cable, users can have both front and back fan speed synced together for optima efficiency.
The H7 Plus is based on CRYORIG's best-selling compact tower, the H7. Like the H7, the H7 Plus is also only 145 mm in height and even with the fans attached it completely avoids the RAM slots for Zero RAM Interference on the latest LGA1151/AM4 boards for both Intel™ and AMD™. Other thermal technologies include CRYORIG's proprietary Hive Fin™ design for optimized airflow, Heatpipe Convex-Align™ optimization design and Quad-Air Inlet™ for added air intake on the dual 120 mm QF120 PWM fans. All together along with the new dual fan push-pull-setup is able to boost the thermal efficiency and performance of the H7 Plus.
The M9 Plus is based on CRYORIG's M9i/a, the best in class mini tower. At a low height of 124,6 mm the M9 Plus assures Zero-Ram-Interference on both AMD™ and Intel™ platforms. Unlike the M9i and M9a, the M9 Plus is now compatible to both Intel™ and AMD™ platforms, making it an even easier upgrade for PC users to choose from. The M9 Plus's dual 92 mm PWM fan system utilized the push-pull principle, hence optimizing airflow to efficiently move heat directly from the heatsink to the rear system fan and out of the case. Thanks to the included PWM fan Y-Cable, both the front and rear fan is synchronized for optimum performance.
Both the H7 Plus and M9 Plus are scheduled for world-wide release mid-August. MSRP for the US market is 44,45 USD (excl. taxes) for the H7 Plus and 24,45 USD (excl. taxes) for the M9 Plus. Euro-zone MSRP is 44,45 EUR (incl. VAT) and 24,45 EUR (incl. VAT):
---
| | |
| --- | --- |
| Wed: 08/08/2018 | Topic: Cooling / Heatsinks PermaLink |
Today, we are testing the Q300L and Q300P, a new Micro ATX duo from Cooler Master, positioned in the budgetary space. We tested the two cases with an ASRock AB350M Pro4 motherboard and the Cooler Master MasterAir G100M UFO cooler to find out what you can expect from the two cases. We'll see if they can break away from the crowd even in the lower price segment with some tricks.
---
| | |
| --- | --- |
| Wed: 08/08/2018 | Topic: Cooling / Heatsinks PermaLink |
Deepcool have developed an RGB fan that's like nothing we've seen before. They've entirely foregone the frame and typical PWM connection, instead using a central hub as the frame for the entire fan and communicating to your smartphone via a supplied WiFi hub.
---
| | |
| --- | --- |
| Tue: 08/07/2018 | Topic: Cooling / Heatsinks PermaLink |
ID-Cooling offers a true feast for the eyes with the Dashflow 360. Fully decked out in RGB LEDs on both the fans and pump, this design will definitely turn a few heads. Looks are not all it has on its side either; with standard G1/4" fittings, the unit is also fully expandable and serviceable.
---
| | |
| --- | --- |
| Tue: 08/07/2018 | Topic: Cooling / Heatsinks PermaLink |
The Cooler Master MasterLiquid ML120R RGB biggest selling point may be its flashy lights, but it is also a very capable cooler with a smaller size.
---
| | |
| --- | --- |
| Sat: 08/04/2018 | Topic: Cooling / Heatsinks PermaLink |
The Cooler Master MasterLiquid ML240R RGB is a skilled cooler, providing both performance and a show at the same time.
---
| | |
| --- | --- |
| Fri: 08/03/2018 | Topic: Cooling / Heatsinks PermaLink |
If you are looking at this cooler online, and see the $99.99 price, we would quickly pass. Want to find out why?"
---
| | |
| --- | --- |
| Sat: 07/28/2018 | Topic: Cooling / Heatsinks PermaLink |
The Cooler Master Masterliquid 240L RGB is solid and very well thought out, find out what else it has to offer."
---
| | |
| --- | --- |
| Sat: 07/28/2018 | Topic: Cooling / Heatsinks PermaLink |
The Castle 240 promises efficient cooling and high performance thanks to large heat contact areas under the large RGB pump alongside high RPM RGB fans. We also see compatibility with AMDs TR4 socket as well as the mainstream sockets from AMD and Intel.
---
| | |
| --- | --- |
| Fri: 07/27/2018 | Topic: Cooling / Heatsinks PermaLink |
We already tested the current Arctic Accelero Hybrid III 140 graphics card cooler on OCinside.de. Today we are testing the Arctic Accelero Twin Turbo II, an universal graphics card cooler from Arctic. Since the Arctic Twin Turbo II is available for a few years now, we are curious to see if it can still handle current graphics cards like a Palit GeForce GTX 1070 Ti Dual. More about this in the following GPU cooler test report.
---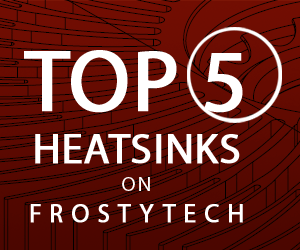 | | |
| --- | --- |
| Mon: 07/23/2018 | Topic: Cooling / Heatsinks PermaLink |
Noctua's long awaited NF-A12x25 fan hits the market with a bang in more ways than one. With more features than I can count with my fingers, all of which have been used to optimize performance and acoustics, it is a fan that makes no excuses about the lack of RGB lighting as it puts up a great showing against the competition.
---
Of the different series, The MasterBox line is the most abundant and features mid-tower models which are aimed at enthusiasts and gamers who are on a tighter budget. One of the most recent additions to this series is the MasterBox K500L – another mid-tower with subtle gamer aesthetics. For the low asking price, this case arrives with a triple fan configuration and support for high-performance kit.
---