| | |
| --- | --- |
| Sat: 06/23/2018 | Topic: Cooling / Heatsinks PermaLink |
XSPC has released yet another triple-fan watercooling kit in the market called the RayStorm Pro X4 Photon AX360 and today it's up to us to check and see just what kind of cooling performance you can all expect from it.
---
| | |
| --- | --- |
| Fri: 06/22/2018 | Topic: Cooling / Heatsinks PermaLink |
The highlight of the GIGABYTE showcase at Taipei 101 was the AORUS Aquarium PC Mod! They literally put a high-end desktop PC into a fresh water aquarium of fishes! Want to know how they created the AORUS Aquarium PC mod? Read on and find out!
---
| | |
| --- | --- |
| Thu: 06/21/2018 | Topic: Cooling / Heatsinks PermaLink |
"So you've got yourself a brand spanking new PC on order and you couldn't be more stoked. This time you went all out. The latest high end desktop processor, flagship motherboard, maxed out memory, m.2s galore, and you even managed to snag a pair of 1080 ti's right out from under a crypto miner's nose. But did you consider cooling when you put that parts list together? That processor has more cores than it knows what to do with and they run hot. Hot like Hawaii growing further out of the Pacific, hot like the forest outside LA last summer. For cpu heat like that there is no other long term solution better than a traditional water cooling loop. And therein lies the problem. Watercooling is a whole new level of technical parts and perceived dangers. Luckily manufactures have realized this; enter the kit. These boxes come complete with all the parts that you need to put together your first loop. The bonus being that you are guaranteed to have compatible parts and if you choose the right kit you get real quality parts that can be used for years to come as you expand and upgrade. Today we are taking a look at one of those kits, the Eissturm Gaming Kit from Alphacool. Alphacool are old pros in the watercooling game hailing from Germany so expectations are high for this 360mm rad equipped loop. Follow along as we find out just how cool this kit can keep your processor."
---
| | |
| --- | --- |
| Tue: 06/19/2018 | Topic: Cooling / Heatsinks PermaLink |
NH-U14S DX-3647: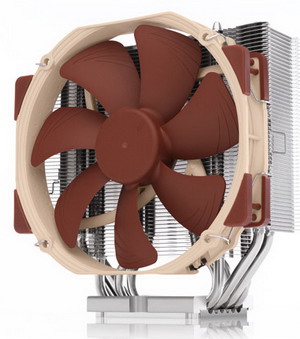 Noctua today introduced three quiet CPU coolers for the LGA3647 socket of Intel's Xeon Scalable (Platinum, Gold, Silver, Bronze) and Xeon-Phi processors. Coming in 140, 120 and 92mm form factors respectively, the new NH-U14S DX-3647, NH-U12S DX-3647 and NH-D9 DX-3647 4U cover all bases from large, ultra-high performance workstations all the way to compact 4U size servers. Thanks to their premium-grade Noctua fans, all three coolers are exceptionally quiet and ideally suited for use in noise-sensitive environments.
"Many people tend to think that high CPU core counts and state-of-the-art performance have to go hand in hand with loud cooling fans" says Roland Mossig (Noctua CEO). "Our new DX-3647 line coolers for Intel's LGA3647 based Xeon processors prove that this does not have to be the case. Whether it's a high-end workstation or a 4U server, these coolers allow massive computational power to be combined with whisper-quiet operation!"
The new DX-3647 line coolers are dedicated, customised solutions for Intel's professional LGA3647 platform, which makes them an ideal fit for both Skylake-SP-based Xeon Scalable CPUs (Platinum, Gold, Silver or Bronze, Purley series) and Xeon-Phi processors (code names Knight's Landing or Knight's Mill). At 70x56mm, the heatsinks' copper contact surface is more than double the size of the standard models. Tailored to fit the enormous integrated heat-spreaders (IHS) of Intel's LGA3647-based processors, this customised design allows an optimal heat flow from the CPU over the base to the heatpipes and on to the cooling fins.
NH-U12S DX-3647: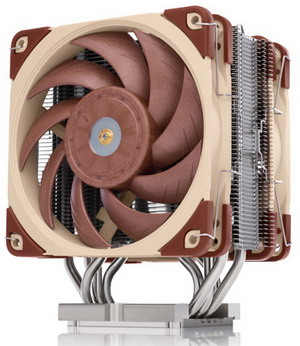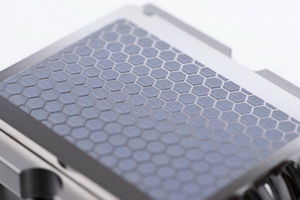 Whereas the large 14cm NH-U14S DX-3647 and 12cm NH-U12S DX-3647 are ideal for tower-style cases and thus lend themselves to use in high-performance quiet workstations, the smaller NH-D9 DX-3647 4U fits 4U cases, which makes it perfect for 4U class rack-mount servers that need to run as quietly as possible. While the 14cm model relies on a single NF-A15 PWM fan to achieve maximum performance, thanks to its large surface area, the 12cm and 9cm models use dual fan configurations with two NF-A12x25 (NH-U12S DX-3647) and NF-A9 HS-PWM (NH-D9 DX-3647 4U) fans to ensure outstanding performance despite their smaller size and surface area.
The heatsinks' SecuFirm2™ mounting system includes two sets of brackets in order to support both square and narrow-type LGA3647 sockets. Thanks to the pre-installed mounting screws and included processor clips (square type and narrow type without Omni-Path fabric connector, with fabric connector on request), the installation procedure is easy, quick and secure. All three DX-3647 coolers come with NT-H1 thermal compound pre-applied, which ensures optimal bond-line thickness and saves precious time during installation.
NH-D9 DX-3647 4U: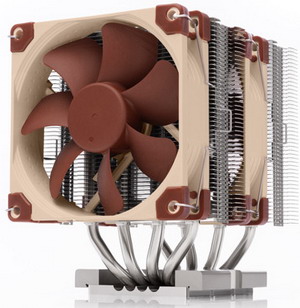 ---
| | |
| --- | --- |
| Tue: 06/19/2018 | Topic: Cooling / Heatsinks PermaLink |
The Silent Loop 360mm is the flagship AIO liquid CPU cooler by be quiet! and just like its smaller siblings it also combines excellent build quality with very good cooling efficiency.
---
| | |
| --- | --- |
| Sun: 06/17/2018 | Topic: Cooling / Heatsinks PermaLink |
Heat is an inevitable byproduct of work. Heat is also prevalent in electronics, and when it comes to graphics cards you can manage it using passive cooling, fans and even water. But when these solutions aren't working, your GPU has one more way to beat the heat: thermal throttling.
---
| | |
| --- | --- |
| Fri: 06/15/2018 | Topic: Cooling / Heatsinks PermaLink |
In this article for Benchmark Reviews, I'll be putting a pair of Noctua NF-A 12X25s against competing AIO fan coolers from SilverStone, Reeven, Corsair, and ID Cooling. How will the NF-A12x25 PWM 120mm cooling fan fair against the competition? Let's find out!
---
| | |
| --- | --- |
| Fri: 06/15/2018 | Topic: Cooling / Heatsinks PermaLink |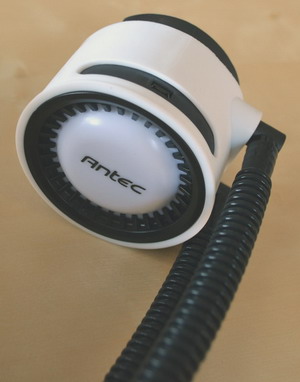 Today a new reader review is published on OCinside.de where Nsp tests the Antec Mercury M240 AIO cooler for us in detail. He had been interested in water cooling before, but found it too complicated to assemble the various components and ensure their correct function permanently and tightly. In the following reader test we will see whether this is easier with the Antec Mercury 240.
---
| | |
| --- | --- |
| Fri: 06/15/2018 | Topic: Cooling / Heatsinks PermaLink |
In our next review we take a look at the new NEW ARK 90 from DeepCool, a product series that not only looks good with a nice dark tempered glass design but is also factory fitted with a 280mm triple fan based liquid cooling solution. You read that right, it's integrated into the chassis. The chassis offers terrific looks and sure, also has RGB fans factory installed, configurable with a handy controller.
---
| | |
| --- | --- |
| Sat: 06/09/2018 | Topic: Cooling / Heatsinks PermaLink |
Noctua Chromax is probably one of the most awaited products from the premium cooler manufacturer. We've said in most of our Noctua reviews, the branding and colour scheme is a marmite issue, love it or hate it, you are basically stuck with it. Last year, Noctua released the Chromax range. A range of products aimed at anyone who loves Noctua, but hates the branding. Or even, maybe for those who love the branding, but want something a little more contemporary.
---
| | |
| --- | --- |
| Thu: 06/07/2018 | Topic: Cooling / Heatsinks PermaLink |
AMD upped the game with the stock CPU coolers it bundled with Ryzen processors and they kicked it up another notch with 2nd-gen Ryzen which come with one of three Wraith models that we are comparing today: the Stealth, Spire and Prism.
---
| | |
| --- | --- |
| Thu: 06/07/2018 | Topic: Cooling / Heatsinks PermaLink |
Here at Hardwaresalve, we have reviewed most of Noctua's Intel CPU coolers from the recent generation of products. We had received a shipment of Noctua's Chromax CPU cooler customer shrouds, fans and coloured accessories and took the opportunity to pick up an NH-U12S to test on its own and with the Chromax range.
---
| | |
| --- | --- |
| Tue: 06/05/2018 | Topic: Cooling / Heatsinks PermaLink |
In the spotlight today is the New Ark 90. First announced at CES earlier in the year, New Ark 90 is a full-tower enclosure which breaks out of convention by supplying a pre-installed liquid cooler straight out of the box. Deepcool has paired this case up with their well-known CAPTAIN series solution, boasting a 280mm radiator and accompanying 140mm RGB cooling fans -this unusual inclusion could simplify the build process for many enthusiasts.
---
| | |
| --- | --- |
| Fri: 05/25/2018 | Topic: Cooling / Heatsinks PermaLink |
Over the last few years, Corsair has released a wave of 'smart' liquid coolers which give you control over things like pump speed, RGB lighting and fan profiles all via software. The H100x we are looking at today, however, is comparatively 'dumb' – there is no software control, no RGB lighting and nothing to play around with. In essence, it is a simple liquid cooler that 'just works'.
---
| | |
| --- | --- |
| Fri: 05/25/2018 | Topic: Cooling / Heatsinks PermaLink |
The AIO water cooling market is hotly contested. Antec tries to settle by moving the pump into the radiator, which makes the CPU cooler very compact. What the Antec K240 water cooler achieved, we have tested in the new review, including a new video and of course again with 360 degrees view.
---
| | |
| --- | --- |
| Fri: 05/25/2018 | Topic: Cooling / Heatsinks PermaLink |
NZXT has released a budget-friendly 120mm rad based Kraken series liquid cooler, meet the M22. This new cooler is compatible with CAM software for that funky LED display and the radiator is armed with one 120mm PWM fans. It looks to be a handy quick drop-in solution, but does it perform and is it silent? let's find out.
---
| | |
| --- | --- |
| Wed: 05/23/2018 | Topic: Cooling / Heatsinks PermaLink |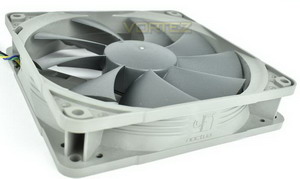 10 years ago, we looked at the Noctua NF-P12, a fan that helped cement Noctua's reputation as a trusted supplier of quality goods. Now, as part of Noctua's Redux range, they've re-issued that fan as the NF-P12 Redux, in a grey colour scheme.
---
| | |
| --- | --- |
| Tue: 05/22/2018 | Topic: Cooling / Heatsinks PermaLink |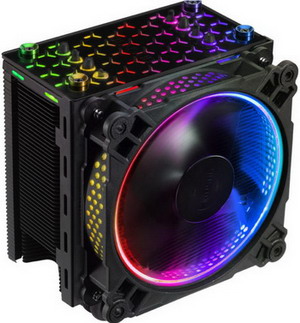 Looking to equip your brand new RGB illuminated HTPC system with an stunning CPU air cooler which would feel right at home? If yes then Jonsbo has you covered with their latest CR-201 RGB model.
---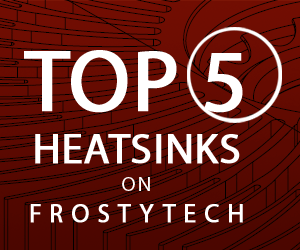 | | |
| --- | --- |
| Tue: 05/22/2018 | Topic: Cooling / Heatsinks PermaLink |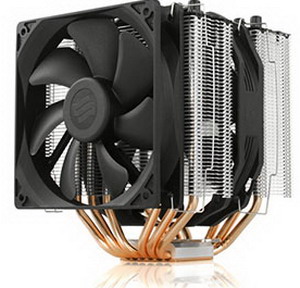 SilentiumPC has of late been focusing on value for money. Enter the Grandis 2 XE1436. This dual tower, dual fan CPU cooler uses a popular tried-and-true design. Size isn't always indicative of performance, however, so let's see just what the Grandis 2 has to offer!
---
| | |
| --- | --- |
| Fri: 05/18/2018 | Topic: Cooling / Heatsinks PermaLink |
The FN-A12x25 uses an ultra-tight tip clearance on the edge of the blades, running only 0.5mm from the inside of the frame, requiring new engineering techniques to be employed. This helps to reduce back pressure by allowing the air nowhere to go other than forwards, affording a more efficient fan. There's also flow acceleration channels, a solid steel and brass hub structure, stepped inlet design and loads of other technologies employed to ensure this fan is as good as currently possible.
---