| | |
| --- | --- |
| Tue: 08/22/2017 | Topic: Cooling / Heatsinks PermaLink |
All-in-one coolers are designed to be convenient, however they lack the flexibility available with custom loops. Even if modders are willing to void the warranty and swap out parts, it is far from ideal since most use an aluminum radiator with copper contact blocks to keep costs down. It works on AIO units since they use a formulated coolant and …
---
| | |
| --- | --- |
| Mon: 08/21/2017 | Topic: CPU / Processors PermaLink |
y expectations I had of a slower and less turbulent late summer and fall for the technology and hardware segments is getting shattered today with the beginning stages of Intel's 8th Generation Core Processors. If you happen to think that this 8th generation is coming hot on the heels of the 7th generation that only just released to the consumer desktop market in January of this year, you'll be on the same page as me. If you are curious how Intel plans to balance Kaby Lake, Coffee Lake, and Cannon Lake, all releasing in similar time frames and still use terms like "generation", then again, we are on the same page.
---
With the Meshify C, Fractal Design has added the next case to their portfolio. The interior strongly reminds of the Define C, which has been available for quite a while now. Apparently the Swedes have reworked the exterior, which is why we're finding an unusual lot of mesh on this case, allowing for excellent airflow. Overall we're curious to find out how this case is going to perform in our review and apart from that we want to know more about the pricing.
---
| | |
| --- | --- |
| Thu: 08/17/2017 | Topic: Cooling / Heatsinks PermaLink |
Thanks to its impressive performance and affordable price tag the latest Hydro Series 280mm H115i Liquid CPU Cooler by CORSAIR is the ideal choice for gamers, enthusiasts and professionals who place cooling efficiency and price before all else.
---
| | |
| --- | --- |
| Thu: 08/17/2017 | Topic: Cooling / Heatsinks PermaLink |
Chassis you can find in many models and designs, chassis for modding, chassis for the DiY enthusiast and testing however are more scarce. Hence I was looking for an easy to use chassis where we can pop on and off hardware components. I ended at the USA based PrimoChill, they have offered the Praxis series wetbench for a number of years now. We test the unit and see if there is more to it than meets the eye. Granted, it's not a suitable product for everybody, but if it applies to you we can wholeheartedly recommend that you check this article out.
---
| | |
| --- | --- |
| Wed: 08/16/2017 | Topic: Cooling / Heatsinks PermaLink |
Deepcool's product line has been incorporating several formerly disparate products into one convenient package. This was seen before with their Deepcool Genome case which integrates a chassis with an all-in-one liquid cooler. The new Captain 240EX RGB on the other hand, is an AIO liquid cooler which comes with an RGB LED controller and RGB LED strip. It is the …
---
| | |
| --- | --- |
| Tue: 08/15/2017 | Topic: Cooling / Heatsinks PermaLink |
Time for Frosytech to build a new synthetic thermal test platform for testing AMD Threadripper heatsinks!!!
Perhaps at a nice toasty 200W?
Sounds good, but the problem is the design of the AMD Socket TR4 processor. While the CPU's integrated heatspreader measures ~69 x 51mm in size, underneath that 2-3mm thick slab of copper are four relatively small, widely spaced silicon rectangles of about 22x9mm in size. But that's not all, on the AMD Threadripper CPU, only two diagonally opposite dies are actual heat-producing CPU dies.
The question at hand -- is it more useful to build a synthetic CPU interface die to match the dimensions of the integrated heat spreader on the AMD socket TR4 Threadripper CPU, or, a synthetic CPU interface die that just matches the outside perimeter of the four silicon dies?
In other words, a socket TR4 synthetic thermal test platform with a 200W slab of copper the same size as A. or a little skinnier like B.?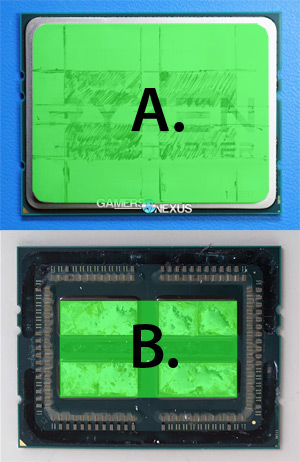 Drop me a line here and let me know your opinion... big test die (A.) or skinny test die (B.)?
*images courtesy of GamersNexus.net and Extremetech.com
---
| | |
| --- | --- |
| Sun: 08/13/2017 | Topic: Cooling / Heatsinks PermaLink |
The Bykski FR-N-GTX1080 is a full-cover water block component from Bykski's high-end FOUR series. It features an anodized aluminum top cover over an acrylic top, nickel-plated copper cold plate with split flow design, an included anodized aluminum back plate, and multiple color options for customizing your build.
---
| | |
| --- | --- |
| Fri: 08/11/2017 | Topic: Cooling / Heatsinks PermaLink |
It's no chart topper, but Scythe's new Byakko SCBYK-1000 CPU air cooler impresses when we take the asking price into consideration."
---
| | |
| --- | --- |
| Thu: 08/10/2017 | Topic: Cooling / Heatsinks PermaLink |
Thermaltake's new Floe Riing 360 TT Premium Edition CPU cooler gets fully examined today. Should it now be the AIO at the top of your list? Probably."
---
| | |
| --- | --- |
| Thu: 08/10/2017 | Topic: CPU / Processors PermaLink |
Today we're reviewing the Ryzen Threadripper 1950X, a 16-core behemoth which supports Simultaneous Multithreading for up to 32 independent threads and is priced at $999. Its MSRP is identical to that of Intel's 10-core, 20-thread Core i9-7900X, making them ideal sparring partners in our tests.
---
| | |
| --- | --- |
| Thu: 08/10/2017 | Topic: Cooling / Heatsinks PermaLink |
Quick video from Hothardware demonstrating how to install and remove the AMD socket TR4 Threadripper CPU and heatsink.
---
| | |
| --- | --- |
| Thu: 08/10/2017 | Topic: CPU / Processors PermaLink |
AMD's HEDT platform has finally arrived with the Ryzen Threadripper 1920X and 1950X. They're designed to go head to head against Intel's i9-7900X but can their performance match up?
---
| | |
| --- | --- |
| Tue: 08/08/2017 | Topic: CPU / Processors PermaLink |
With AMD's new Ryzen Threadripper samples at hand, we wasted no time pulling them out of their box to see how the 12- and 16-core beasts look in the silicon. A processor unboxing may sound like one of the most boring pieces of content possible but it certainly is not. AMD has pulled out all of the stops for making the review samples and retail packaging of its new Ryzen Threadripper processors unique and undeniably premium.
---
| | |
| --- | --- |
| Tue: 08/08/2017 | Topic: CPU / Processors PermaLink |
At the end of July AMD began shipping the Ryzen 3 entry-level Zen processors. While it may not be as exciting as a 16-thread Ryzen 7 or Threadripper, the Ryzen 3 1200 and Ryzen 3 1300X offer surprising value with being quad-core parts priced at just above $100 USD. With Linux users especially craving multi-core systems if running Arch or other distributions where you are frequently compiling your own packages, the Ryzen 3 CPUs can make for a low-cost but practical Linux system. Here are my initial benchmarks of these first two Ryzen 3 processors."
---
| | |
| --- | --- |
| Tue: 08/08/2017 | Topic: Cooling / Heatsinks PermaLink |
The AMD Ryzen 7 processors still use the same AM4 socket, but the mount holes are placed further out. This may mean your existing AM4 cooler may not mount properly on the new Ryzen 7 motherboards. So let's check out what AMD's CPU cooler partners have in store to pair with the AMD Ryzen 7 processors
---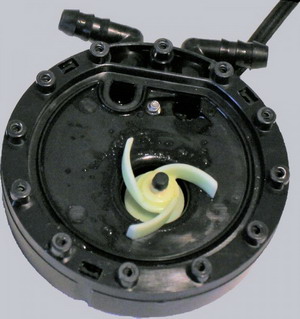 In the third part of our AIO water cooling mod series on OCinside.de, we are now explaining how to maintenance an AIO water cooling system, which has been in operation for a longer time. Deposits and air inclusions resulted in a noisy AIO and poor cooling results. In this AIO refurbish guide, we will show you step by step how to repair the AIO water cooling.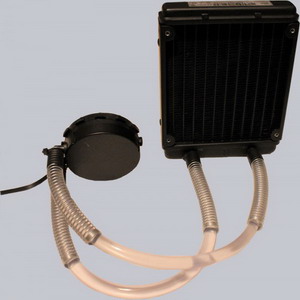 ---
| | |
| --- | --- |
| Tue: 08/08/2017 | Topic: Cooling / Heatsinks PermaLink |
Given its price of just under £85, Antec's Mercury 240 liquid cooler is clearly targeting those after some AIO action without breaking the bank. The addition of two LED fans, plus a LED pump, will certainly help its appeal as well. Whether or not the Mercury 240's performance and noise levels justify the price is another thing, though.
---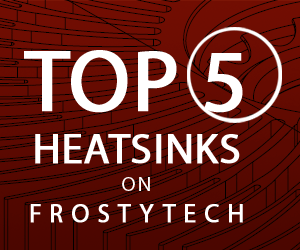 | | |
| --- | --- |
| Tue: 08/01/2017 | Topic: Cooling / Heatsinks PermaLink |
The cuplex kryos NEXT from Aqua Computer is an extremely customizable water block with features including an integrated display with a 32-bit ARM MCU, the ability to fit the block to your particular CPU, an industry-first physical vapor deposited titanium coating, and excellent performance overall to choose from. With over 90 different configurations ranging from $60 to $260, there is something to suit everyone.
---
| | |
| --- | --- |
| Fri: 07/28/2017 | Topic: CPU / Processors PermaLink |
When Dell announced in June that its Alienware gaming division would be the exclusive OEM partner for pre-built 16-core AMD Ryzen Threadripper systems, we figured Alienware would have a jump on the rest of the OEM pack, but we never thought they'd have this much of a head-start. The new Alienware Area-51 Threadripper Edition has beamed down to us and naturally, we fired-up this 16-core multi-shredding beast post haste to get a look at what it's made of and how she rolls...
---