In a sea of gaming PC cases, there are very few that pull the sleek, minimalistic look that many have come to love. I think for me it all started back with the Voodoo Omen that I really started to like cases that were simple, yet did an amazing job housing a powerful system. It seems like some at Cooler Master have the same affinity for a simple design integrated with some forward thinking internal design options. Cooler Master's FreeForm™ modular system is aimed at giving users a new level of flexibility when building their systems. We will see just what the MasterCase has to offer in this review.
---
| | |
| --- | --- |
| Tue: 06/20/2017 | Topic: Cooling / Heatsinks PermaLink |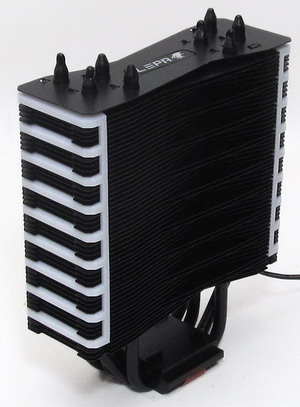 LEPA looks to stand out from the crowd with the NEOllusion CPU cooler. Rather than using fancy RGB LED fans, they opt for an RGB LED heatsink that even has a remote control. Unique, quiet, and downright gimmicky, it's still an interesting contender in a crowded market.
---
| | |
| --- | --- |
| Thu: 06/15/2017 | Topic: Cooling / Heatsinks PermaLink |
"The SILENT LOOP 240mm Liquid CPU Cooler from be quiet! is built in cooperation with Alphacool from high quality components, which can be often found on custom loops. While the installation procedure may be a little tricky for people that haven't got in contact with liquid cooling systems before, all can be performed flawlessly if we do follow the instructions from the manual. Besides the reverse-flow pump and the 277 x 124 x 30 radiator, we do also get two Pure Wings 2 120mm fans which can rotate up to 2000RPM; this model does rely completely on the fan speed regulation of the motherboard, so we may get different results depending on the preset fan curve of each manufacturer."
---
| | |
| --- | --- |
| Wed: 06/14/2017 | Topic: Cooling / Heatsinks PermaLink |
HardwareOverclock.com has just posted another review. Last week we have tested the Enermax ETS-T50 AXE D.F.Pressure cpu cooler. ENERMAX's most powerful CPU air cooler series is now expanded by one new model. In addition to the already well established LED version of the ETS-T50 AXE, a non-LED version (ETS-T50A-DFP) with 12cm D.F. Pressure fan is appended to the high performance CPU cooler series.
---
| | |
| --- | --- |
| Tue: 06/13/2017 | Topic: Cooling / Heatsinks PermaLink |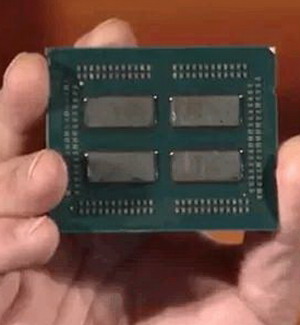 "During the AMD Computex 2017 press conference, AMD revealed details of the AMD Ryzen Threadripper processor. AMD is gearing up to launch the 16-core AMD Ryzen Threadripper processor and Socket TR4 platform this Q3'2017. Paired with the X399 chipset and the new Socket TR4, it will offer quad memory channels and support up to 2 TB of DDR4 memory, as well as 64 PCI Express 3.0 lanes!
-AMD will launch two Threadripper processors on 27 July 2017.
-The top-of-the-line processor will have 16 cores, capable of handling 32 simultaneous threads.
-There will also be a 12-core processor, capable of handling 24 simultaneous threads.
-There will eventually be 14-core and 10-core versions as well.
-All AMD Threadripper processors will support quad DDR4 memory channels and 64 PCI Express lanes.
-They are rumoured to use a solder thermal interface material (TIM).
-TDP is estimated at this time to be 155 Watts.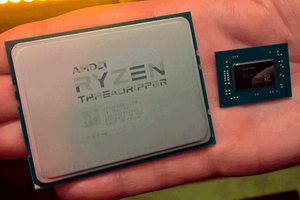 ---
| | |
| --- | --- |
| Mon: 06/12/2017 | Topic: Cooling / Heatsinks PermaLink |
Electrics-cooling has an interesting research paper from a couple years back that I thought timely to bring up for discussion again. With larger CPU heat spreaders on the horizon, decreasing the forces needed to mount a heatsink and reducing the thermal compound gap size are very relevant points to consider. The paper is titled; "Mini- and Microchannels in Thermal Interfaces: Spatial, Temporal, Material, and Practical Significance" by Dr.Brian Smith, Ph.D. It's an interesting read, here's a short excerpt.

"We have shown that paste interfaces can be formed with lower pressure and thinner bondlines by hierarchically nested channel (HNC) structures [5-7]. The reduction in thermal resistance and assembly loads is attractive for automotive, power electronics, optical, RF, and microprocessor packaging; enabling higher-power operation at lower junction temperature.
The channels relieve pressure during the assembly squeeze, offsetting the effective non-Newtonian viscosity increase due to particle loading. The assembly dynamics are described by Stefan (squeeze) flow with a crucial modification: The square interface in electronics packages causes the fluid flow to bifurcate along the diagonal because the flow path to the edge of the interface is shorter (Figure 1). The bifurcation also causes local variation in particle fill factor that leads to spatial keff,TIM variations or electrical resistivity variations for electrically-conductive formulations as the particles may be suspended at the bifurcation lines.
The diagonal ("HNC1") channels reduce the pressure, redistribute the flow field, and create new TIM bifurcations corresponding to flow being distributed either to the edges of the chip or the channels (middle picture, Figure 1). Additional channels ("HNC2") further sub-divide the flow, but the cross section of these second-level channels can be smaller because the maximum local pressure is lower. This leads to the hierarchical nature of the technology ? additional channels carry proportionally less TIM material and can have smaller cross sections. Bondline thickness (BLT) reduction due to the channels must offset the removal of highly-conductive solid material from the system. The hierarchical design ensures that the impact of removing solid is proportionately less for each additional channel "level", corresponding to the proportionately lower impact of additional HNC levels on reducing BLT and assembly pressure.
We have characterized over 20 materials with HNC and found > 20% BLT reduction for up to three HNC levels (HNC3). The technology was first developed as a "TIM1" (silicon chip to lid) solution, but current work suggests even greater benefit on larger interfaces, for example, power electronics modules. On such 100 x larger areas, HNC can improve thermal performance without the effort and expense of qualifying and implementing newer paste formulations.
---
| | |
| --- | --- |
| Fri: 06/09/2017 | Topic: Cooling / Heatsinks PermaLink |
Noctua has sent out this report from Computex 2017 in Taipai, it goes over the companies new products and some innovative fan material technologies. The new socket TP4/SP3 looks like it's going to be huge pain though....

Reports Jakob Dellinger; "At this year's Computex Taipei trade show, Noctua displayed a wide range of upcoming products and prototypes, including its long-awaited 120mm A-series fan and heatsinks for the TR4/SP3 sockets of AMD's upcoming Ryzen Threadripper/Epyc platforms. Noctua's NH-D15 was awarded best CPU cooler of the year by the European Hardware Association.

Among a broad range of exclusive products and prototypes, Noctua's award-winning A-series fans took centre stage: the highlight of this year's line-up was a live performance demonstration of the upcoming 120x25mm model that features a record tight 0.5mm tip clearance and will be manufactured from Noctua's novel Sterrox® liquid-crystal polymer (LCP) compound.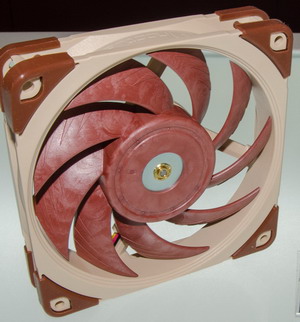 Pitted against two of the renowned NF-F12 fans on an NH-U12S heatsink at a heatload of 190W, just one of the new fans was shown to provide the same or slightly lower temperatures.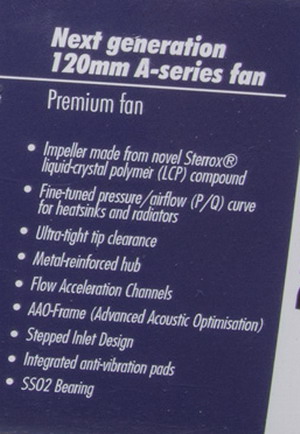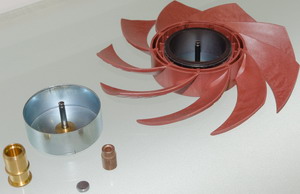 At the same time, the single fan configuration produces lower noise levels and a more pleasant acoustic profile. The new fan is currently undergoing extensive pre-production tests and should be available in Q3/Q4.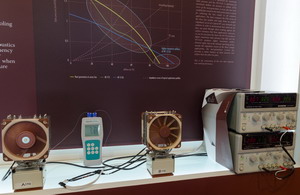 Other A-series fan prototypes included a 140x25mm model following similar design patterns, which will provide further improved performance for 140mm-based high-end CPU coolers and watercooling radiators, as well as slim 140x15, 80x15, 70x15 and 50x10mm models. All of these prototypes are still being fine-tuned and won't be released before the second half of 2018. By contrast, the 60x15mm model has moved from prototype to pre-production stage and should be available in Q1/Q2 2018.
In addition to the new models, Noctua showed 5V versions of the existing 140, 120, 92, 80 and 40mm models running off a USB power bank as well as an upcoming revision of its 24V industrialPPC fans that will be compliant with the Automotive Electronics Council's highly rigorous AEC-Q100 failure-mechanism-based stress test qualification for integrated circuits. The revised industrialPPC models will start selling in September or October and the new 5V versions are scheduled for the end of the year.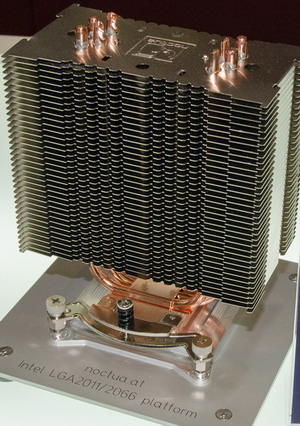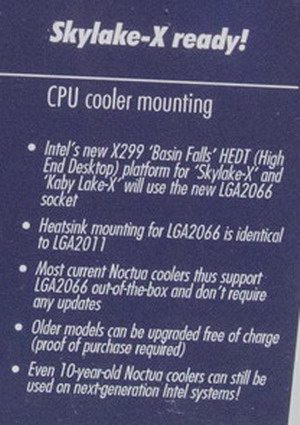 As the new AMD X399 and Intel X299 platforms were on everyone's lips at this year's fair, Noctua demonstrated that all current models are compatible with Skylake-X and Kaby Lake-X out of the box due to the fact that the heatsink mounting mechanism is the same on their new LGA2066 socket as on the previous LGA2011-0 and LGA2011-3.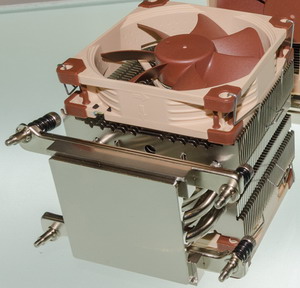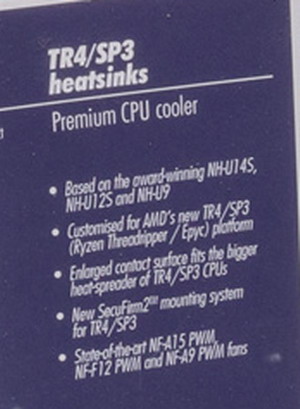 For AMD's Ryzen Threadripper and Epyc platforms (socket TR4/SP3), Noctua displayed upcoming 140, 120 and 92mm size CPU coolers that feature an enlarged contact surface to match the new CPUs' gargantuan heatspreaders.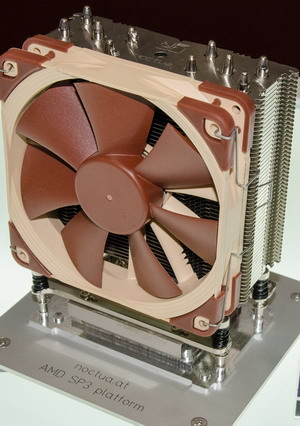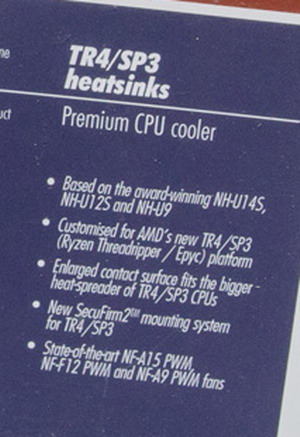 All three models should be available at or shortly after the release of the new platforms. Since the heatspreaders of the new SP3/TR4 CPUs are almost twice as big as the bases of Noctua's normal CPU coolers, it is not possible to use them on these sockets and there will be no upgrade kits.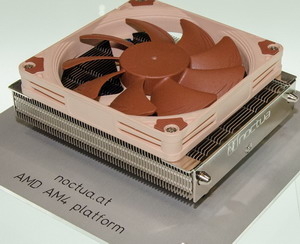 Further heatsink news included an upcoming update of the existing NH-L12 cooler with the new NF-A12x15 PWM fan as well as an AM4 version of the existing NH-L9a low-profile cooler, both of which are scheduled to come to the market in Q4. Last but not least, Noctua exhibited prototypes of future 12cm and 14cm single tower coolers, each using 7 heatpipes and having a further increased surface area as compared to the current NH-U12S and NH-U14S. Whereas the 12cm model is scheduled for the first half of 2018, the 14cm model will not be available before the second half of 2018 due to the fact that the fan is still in prototype stage.
Meeting the continuous demand for colour customization, Noctua is preparing chromax line versions of its award-winning NF-A15, NF-A14, NF-F12 and NF-S12A fans, and coloured fan cables as well as customization accessories for heatsinks. Unlike the existing black high-speed fans of the industrial PPC line, the new chromax line fans feature the same specifications as the standard line models and run just as quietly, but will come in an all-black design and include swappable anti-vibration pads in black, white, red, blue, yellow and green. The release is scheduled for September or October.
Shown at last year's Computex in prototype stage, the chromax line slide-on heatsink covers for the NH-U12S, NH-D15 and NH-D15S have been finalised and will soon allow users to colour-coordinate their heatsinks with popular build colour schemes. The covers should be available before the end of the year and will come in three versions (all black, all white and black with interchangeable inlays in black, white, red, yellow, green, blue).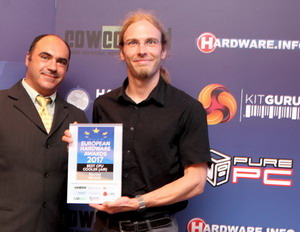 Aside from the busy show floor, Noctua's flagship CPU cooler NH-D15 was voted the best CPU cooler of the year 2017 by the jury of the European Hardware Association, made up of editors of nine leading hardware publications from Europe."
---
| | |
| --- | --- |
| Fri: 06/09/2017 | Topic: CPU / Processors PermaLink |
With two cores and 4.2 GHz clock, the Core i3-7350K is the first unlocked Core i3 CPU from Intel. Let's test it and check if it is a good deal.
---
| | |
| --- | --- |
| Thu: 06/08/2017 | Topic: Cooling / Heatsinks PermaLink |
It isn't very often that Noctua brings out new products. They tend to spend a long time developing everything and they won't bring things out until they are basically perfect. Hell, it's hard to believe that their IndustrialPPC and Redux fans came out 3 years ago. So the new introductions were focused on expanding their A-series of fans with 200mm, 120mm, and 40mm models. Along with those they also introduced a few new accessories including a small fan controller. With the fans, you may notice that this is actually their first 200mm fans and the 120 and 40mm models expand on both of those already existing areas in their product lineup with new thin 120mm fans and higher pressure 40mm fans. I was sold just with the introduction of the new 120mm 15mm thick slim fans, but I reached out to check out the whole range. So today I'm going to check out the new fans to see what Noctua has going on.
---
| | |
| --- | --- |
| Mon: 06/05/2017 | Topic: Cooling / Heatsinks PermaLink |
Noctua today announced that it will provide users of its NH-L9a and NH-L9i CPU coolers with free mounting upgrade kits for the AM4 socket of AMD's Ryzen platform. The new NM-AM4-L9aL9i SecuFirm2™ mounting kit for the NH-L9a and NH-L9i will be available via resellers and free of charge via Noctua's website after uploading a proof of purchase.

"We've been offering the free NM-AM4 and NM-AM4-UxS upgrade kits for our larger cooler models for several months now and the response has been overwhelming – we're proud to have so many customers who want to keep using their trusted Noctua heatsinks on the new AM4 platform," explains Roland Mossig (Noctua CEO). "Just in time for the first AM4 mini-ITX motherboards, we're now also offering an upgrade kit for our popular NH-L9a and NH-L9i low-profile coolers."

After introducing the NM-AM4-UxS kit (for NH-U14S, NH-U12S and NH-U9S) and the NM-AM4 kit that supports most other retail cooler models (NH-C12P, NH-C12P SE14, NH-C14, NH-C14S, NH-D14, NH-D14 SE2011, NH-D15, NH-D15S, NH-D9L, NH-L12, NH-L9x65, NH-U12, NH-U12F, NH-U12P, NH-U12P, SE1366, NH-U12P SE2, NH-U9, NH-U9B, NH-U9B SE2, NH-U9F) in January, the new NM-AM4-L9aL9i kit for the NH-L9a and NH-L9i low-profile coolers completes Noctua's line-up of AM4 upgrade kits. Just like the other two kits, the NM-AM4-L9aL9i has been tailor-designed for the new socket in order to ensure optimal compatibility, perfect contact pressure and easy, straightforward installation. Thanks to the three kits, every Noctua retail CPU cooler manufactured since 2005 can be upgraded to the AM4 socket of AMD's Ryzen platform free of charge.

In addition to the free mounting upgrade kits, Noctua introduced the NH-D15 SE-AM4, NH-U12S SE-AM4 and NH-L9x65 SE-AM4 special edition coolers in February. These models support the AM4 socket out of the box and are therefore the perfect choice for users who purchase a new CPU cooler for their AM4-based systems.

In order to obtain the NM-AM4-L9aL9i kit free of charge via Noctua's website, users are required to upload a proof of purchase (electronic version, scan or photo of the invoice) of an AM4 motherboard or AM4 CPU as well as a Noctua NH-L9a or NH-L9i CPU cooler. Users who have lost the invoice for their Noctua cooler may write their full name and the current date on a piece of paper, take a photo of the paper next to their cooler and upload it as proof of purchase. Depending on the user's location, shipping will usually take 1–4 weeks.

For users who need the kit urgently or do not yet have a proof of purchase of an AM4 CPU or motherboard, the NM-AM4-L9aL9i kit will also be available via selected retailers and e-tailers such as Amazon at a suggested retail price of EUR 7.90/USD 7.90.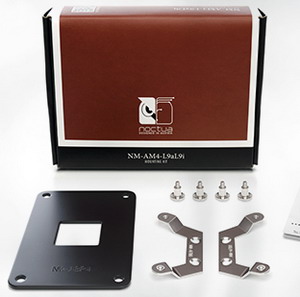 NM-AM4-L9aL9i mounting-kit order form
Detailed compatibility information: http://noctua.at/am4
---
| | |
| --- | --- |
| Mon: 06/05/2017 | Topic: CPU / Processors PermaLink |
In this technology preview we'll have talk a little more about what Intel has announced at Computex, Kaby Lake-x and Skylake-X processors with a spread from 4 to 18 core processors on that new X299 platform.
---
| | |
| --- | --- |
| Fri: 06/02/2017 | Topic: Cooling / Heatsinks PermaLink |
EK today unleashed more affordable liquid cooling for the masses, their new Aluminum CPU & GPU Liquid Cooling kits. Today we test their new flagship EK Fluid Gaming A240G CPU & GPU kit. This is not AIO Liquid cooling, yet your own custom loop. We will test that EK Fluid Gaming A240G on a Core i7 4790K processor and will add a GeForce GTX 1080 as well.
---
| | |
| --- | --- |
| Fri: 06/02/2017 | Topic: Cooling / Heatsinks PermaLink |
Be quiet! has entered the AIO liquid cooler market with the brand new Silent Loop line and the 280mm model which sits at the top has finally made its way to our lab.
---
| | |
| --- | --- |
| Fri: 06/02/2017 | Topic: Cooling / Heatsinks PermaLink |
EKWB has turned back time and gone all aluminum in their latest Fluid Gaming series of watercooling kits. Today, we take a look at the Fluid Gaming 240G kit that promises excellent cooling for all the latest CPUs from Intel and AMD and also includes a full-cover GPU waterblock for the higher-end NVIDIA Pascal GeForce GPUs, all at a price point intended to lower the entry barrier to expandable PC watercooling.
---
| | |
| --- | --- |
| Fri: 06/02/2017 | Topic: Cooling / Heatsinks PermaLink |
At this point, AMD's Ryzen processors have been on the market for nearly 3 months. It's taken a while for some companies to catch up, but we are getting to a position where most, if not all, CPU coolers now support AM4 either out-of-the-box or with an additional bracket. With that being said, we thought it is high time to get some coolers in and see which is best for your Ryzen processor.
---
| | |
| --- | --- |
| Tue: 05/30/2017 | Topic: Tradeshows / Events PermaLink |
As Computex kicks off, Intel is refreshing its high-end desktop platform from top to bottom. We take a first look at the company's Skylake-X and Kaby Lake-X CPUs and the X299 platform.
---
| | |
| --- | --- |
| Tue: 05/30/2017 | Topic: Tradeshows / Events PermaLink |
"In what is a solid response to AMD's Ryzen, Intel unveils its Core X-Series processors and X299 desktop chipset. Game on, PC fans!"
---
| | |
| --- | --- |
| Tue: 05/30/2017 | Topic: Tradeshows / Events PermaLink |
During the its press conference at Computex 2017, Intel has officially announced the upcoming release of an entire new family of HEDT (high-end desktop) processors along with a new chipset and platform to power it. Though it has only been a year since Intel launched the Core i7-6950X, a Broadwell-E processor with 10-cores and 20-threads, it feels like it has been much longer than that. At the time Intel was accused of "sitting" on the market – offering only slight performance upgrades and raising prices on the segment with a flagship CPU cost of $1700. With can only be described as scathing press circuit, coupled with a revived and aggressive competitor in AMD and its Ryzen product line, Intel and its executive teams have decided it's time to take enthusiasts and high end prosumer markets serious, once again.
---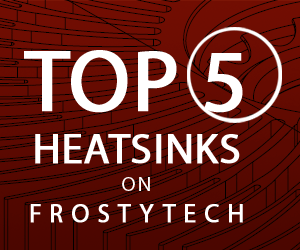 | | |
| --- | --- |
| Tue: 05/30/2017 | Topic: Tradeshows / Events PermaLink |
The Intel Computex 2017 keynote delivered a smorgasbord of new products from the Intel Compute Card to the new Intel X-Series and Intel Core i9 processors!
---
| | |
| --- | --- |
| Tue: 05/30/2017 | Topic: Cooling / Heatsinks PermaLink |
If you search the internet looking for information on your next build, maybe some advice and pointers from the experiences of people in your shoes, you'll probably come away with more questions than answers. Lots of these posts as the same question, "is this ok?" System builders, first timers or experienced, will also read reviews like this one and wonder if this is objective and impartial. The internet is a minefield of fake everything, and real everything too.
---