| | |
| --- | --- |
| Fri: 04/28/2017 | Topic: Cooling / Heatsinks PermaLink |
Noctua will continue to supply customers with its premium-class SecuFirm2 mounting kits for novel platforms free of charge. While most current Noctua heatsinks support the new LGA2066 socket of Intel's 'Basin Falls' X299 platform for 'Skylake-X' and 'Kaby Lake-X' CPUs out of the box, older models can be upgraded with the NM-I2011 or NM-i20xx kits at no additional cost.

"We're determined to provide the best possible support to our customers and, over the years, we've sent many thousands of mounting kits free of charge to users who wanted to upgrade to new platforms", says Roland Mossig (Noctua CEO). "With Skylake-X just around the corner, we're pleased to announce that we'll extend this offer for LGA2066. Owners of older Noctua retail heatsinks that don't support LGA2011/LGA2066 out of the box will be able to upgrade to the new socket free of charge!"

Due to the heatsink mounting mechanism being identical on LGA2011 and LGA2066, Noctua's SecuFirm2 mounting systems for LGA2011 also support Intel's upcoming 'Basin Falls' X299 HEDT (High End Desktop) platform for 'Skylake-X' and 'Kaby Lake-X' processors. Most current Noctua coolers already include SecuFirm2 mounting systems for LGA2011 and can thus be used on LGA2066 motherboards without any upgrades or modifications.

Users of older Noctua retail models that don't include a SecuFirm2 mounting system for LGA2011 can obtain the NM-I2011 kit free of charge on Noctua's website in order to make their heatsinks compatible with LGA2011 and LGA2066. In order to reflect that the NM-I2011 is compatible with both LGA2011 and LGA2066, the kit will be renamed to NM-i20xx and will be sold under this name, starting in Q3/Q4. The kit is compatible with most Noctua retail coolers produced since 2005 except for the NH-L9i and NH-L9a low-profile models.

To order the NM-I2011/NM-I20xx kit, a proof of purchase (electronic version, screenshot, photo or scan of the invoice) of both an eligible Noctua CPU cooler and either an LGA2066 motherboard or LGA2066 CPU will be required. Users who have lost the invoice for their Noctua CPU cooler may write their full name and the current date on a piece of paper, take a photo of the paper next to their CPU cooler and upload this as proof of purchase. The kit can also be purchased in stores for a low service charge.
Compatibility details: http://noctua.at/en/which-noctua-cpu-coolers-are-compatible-with-intel-lga2066
NM-I2011 mounting-kit: http://noctua.at/en/nm-i2011-mounting-kit
---
| | |
| --- | --- |
| Fri: 04/28/2017 | Topic: Cooling / Heatsinks PermaLink |
"Today we have a new air CPU cooler on the test bench today. It comes from Scythe who we know for some pretty impressive CPU coolers in the past. The cooler is the Byakko, which means "White Tiger" in Japanese. The Byakko is designed for ultimate compatibility in all systems as it has a height of only 130 mm. It is your typical tower cooler with three 6 mm heatpipes and a 92 mm fan.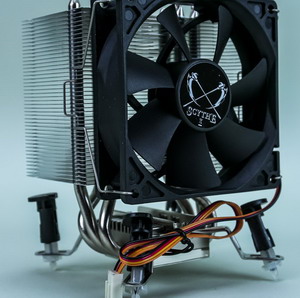 The cooler supports all major sockets from Intel and AMD, but does lack support for Intel's LGA2011 socket. This is likely because this cooler is not really designed to cool HEDT processors. Could this be a good replacement for your stock CPU cooler? Read on as we find out!"
---
| | |
| --- | --- |
| Fri: 04/28/2017 | Topic: Cooling / Heatsinks PermaLink |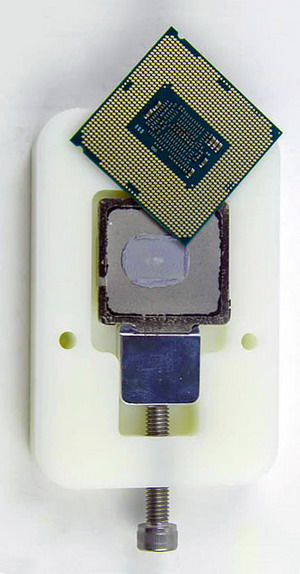 Intel mainstream CPUs have had a bottleneck in cooling due to poor heat transfer from the CPU die to the integrated heat spreader.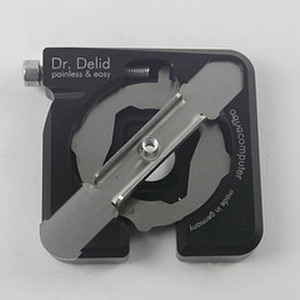 Thanks to new de-lidding friendly tools released recently, it is now easier than ever before to handle this yourself and get a cooler running CPU. We examine two such solutions from Rockit Cool and Aqua Computer today, both of which promise fool-proof de-lidding and re-lidding.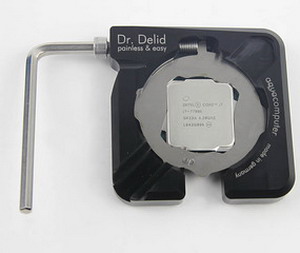 ---
| | |
| --- | --- |
| Fri: 04/28/2017 | Topic: Cooling / Heatsinks PermaLink |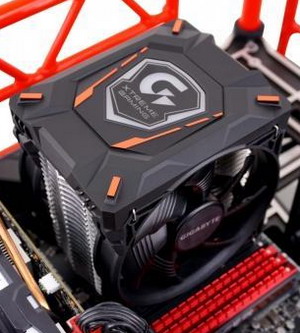 GIGABYTE gets into the CPU air cooler game with its new Xtreme Gaming XTC700. Should you buy? Let's see."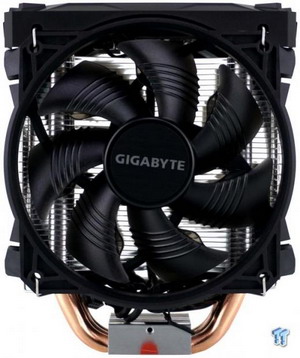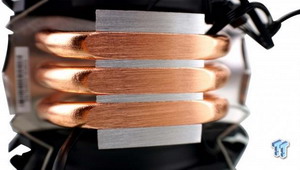 ---
| | |
| --- | --- |
| Fri: 04/28/2017 | Topic: Audio / Sound PermaLink |
Following on from the success of the Cryorig H7 and R1 Ultimate coolers, today we are looking at a different beast entirely – the low-profile C7. Designed to fit in the tightest of spaces, the C7 has a total height of just 47mm, and this makes it ideal for use in SFF cases.
---
| | |
| --- | --- |
| Wed: 04/26/2017 | Topic: Cooling / Heatsinks PermaLink |
Frostytech receives a lot of questions about a where such-and-such heatsink can be purchased, so today we're listing a few north american online computer stores that have a decent selection of heatsinks for sale. European readers, please let me know what stores in your neck of the world are good when it comes to performance heatsink shopping.

Specialty Cooling Shops - just heatsinks and cooling


Overclockers.co.uk




The Big Computer Stores

UK / European Computer Stores

Feel free to contact Frostytech with your suggestions for North American based stores, AND European heatsink retailers.
---
The Dark Base Pro 900 Mid-Tower by be quiet! packs pretty much everything any enthusiast would ever want including plenty of interior space for even XL-ATX sized mainboards, high build quality, tinted tempered glass side panel, RGB LED strips and near silent operation.
---
| | |
| --- | --- |
| Fri: 04/21/2017 | Topic: Cooling / Heatsinks PermaLink |
"CoolerMaster has been a global leader for over 25 years now and has achieved many accolades for their innovative solutions. The MasterLiquid 240 has shown very decent performance on both Intel and AMD platforms. At a price tag of US$89.99 I find the MasterLiquid 240 to be better value for your buck than its older sibling the MasterLiquid Pro 240. You can't go wrong with either of the two models, however the MasterLiquid 240 supports AM4 CPUs off the shelf and costs less while the white illuminated logo adds a professional look to your casing as well."
---
| | |
| --- | --- |
| Thu: 04/20/2017 | Topic: Cooling / Heatsinks PermaLink |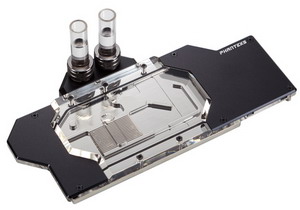 The Glacier GTX 1080 waterblock is among Phanteks' first ever offerings to the DIY watercooling market. It features integrated RGB lighting, an acrylic top with aluminum side covers, nickel-plated copper cold plate, and a split central flow design scheme for low coolant flow restriction.
---
| | |
| --- | --- |
| Thu: 04/20/2017 | Topic: Cooling / Heatsinks PermaLink |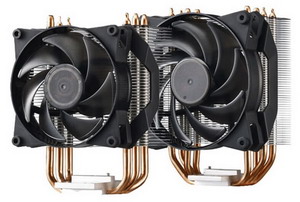 Today is a big day for Cooler Master, as we're taking a look at not one, but two of their latest coolers! The new MasterAir Pro 3 and Pro 4 look set to replace some of the long-standing classics that have been a big part of the Cooler Master catalogue, most importantly their 212X series, as these new CPU coolers fit more in line with their updated naming system and design choices.
---
| | |
| --- | --- |
| Thu: 04/20/2017 | Topic: Cooling / Heatsinks PermaLink |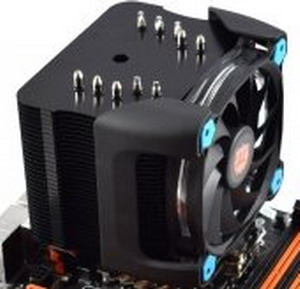 ThermalTake are back with a new air cooler – the Riing Silent 12 Pro. As the name suggests, this cooler comes fitted with one of ThermalTake's own Riing LED fans, something which should be well received as these fans have certainly proved popular with consumers in the past. How does the Riing Silent 12 Pro stack up against the competition?
---
| | |
| --- | --- |
| Wed: 04/19/2017 | Topic: Cooling / Heatsinks PermaLink |
Raijintek are now an established brand in the case and cooling sectors, something which is quite impressive considering they have only been in business since 2013. Today we are looking at the Pallas low-profile cooler, its highlight feature being its size – it boasts a total height of just 68mm. Something like the Pallas will no-doubt appeal to those looking to build HTPC or tiny SFF PCs.
---
| | |
| --- | --- |
| Wed: 04/19/2017 | Topic: Cooling / Heatsinks PermaLink |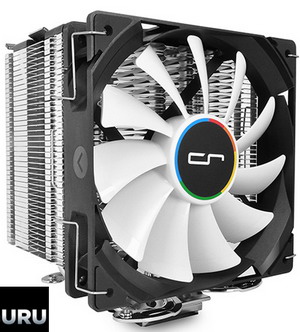 Billed as a 'Hyper 212 EVO' killer, I have been itching to review the Cryorig H7 for a long time now. On the face of it, it does not look that special, measuring just 145mm tall and utilising a mere 3 heatpipes. But is its appearance deceiving? We will find out.
---
| | |
| --- | --- |
| Mon: 04/17/2017 | Topic: Cooling / Heatsinks PermaLink |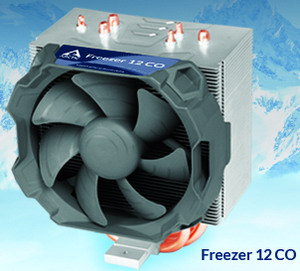 With the Freezer 12 and Freezer 12 CO, ARCTIC now offers two compact CPU coolers, which are multi-compatible and also suitable for the AMD Ryzen AM4 socket. The successors of the Freezer 11 series convince all along the line with regards to noise level, cooling capacity, mounting versatility and transport-proofness. As semi passive coolers, the Freezer 12 and Freezer 12 CO also work extremely efficiently as the fan only starts up at a PWM signal with 40 % pulse width.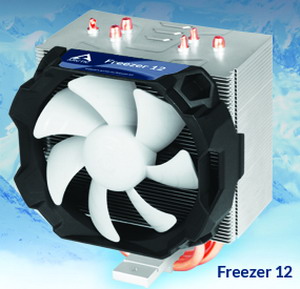 The fan runs only when it is actually needed, i.e. with increased CPU utilization. In combination with the vibration absorption rubber mounts of the fan, this leads to almost silent operation even at its maximum cooling performance of 150 watts. The 92 mm fan provides an improved air flow, three double sided direct touch heat pipes and 45 aluminum fins ensure an optimal heat dissipation and an excellent cooling power. Unlike the predecessor Freezer 11 series, the Freezer 12 and Freezer 12 CO are multi-compatible and fit Intel sockets as well as AMD AM4.

The Freezer 12 CO is specifically designed for continuous operation. With its high-precision dual ball bearing, the cooler lasts five times as long as other coolers with standard bearings

Main Features Freezer 12 / Freezer 12 CO
• Compatible with Intel & AMD socket
• Passive Operation up to 40 % PWM
• Improved airflow for more efficient cooling performance
• Offset heat pipes ensure optimal heat dissipation
• Improved fan controller made in Germany
• Anti-vibration rubbers for quiet operation
• Installation in all four directions possible
• Transport-proof mounting with backplate
• MX-4 thermal paste included
The Freezer 12 and Freezer 12 CO are available in the ARCTIC-Webshop starting at a price of $39.99 MSRP, as well as at Amazon.
---
| | |
| --- | --- |
| Mon: 04/17/2017 | Topic: Cooling / Heatsinks PermaLink |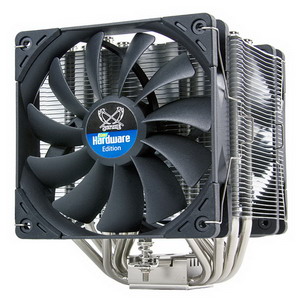 Japanese cooling expert Scythe announces the PCGH Edition of the Mugen 5 CPU Cooler, which has been designed in collaboration with the German "PC Games Hardware" magazine with the aim to supply outstanding performance at significantly decreased noise levels! Mugen 5 PCGH Edition achieves this goal by bundling two instead of one Kaze Flex 120 PWM axial fans with a dynamic fan speed range of 300 to 800 RPM. The performance improvement is reached by using the push/pull principle. The PCGH Edition of Mugen 5 offers compatibility to all modern sockets including the new socket AM4.

The first collaboration between Scythe and the PC Games Hardware magazine was successfully celebrated with the announcement of Mugen 2 PCGH Edition. New Mugen 5 PCGH Edition follows in the footsteps of the predecessor, offering two instead of only one fan. There is more to it, than just bundling two fans. The supplied Kaze Flex 120 PWM models are operating at maximum 800 RPM instead of 1.200 RPM of the regular model. Decreasing the fan speed resulted in much lower noise levels, which could be brought down from 24,9 to mere 14,5 dBA! In addition to the technical tweaks of the fans, visual adjustments have been made as well. The dual-color fan design has been changed to a solid all-black appearance. The fans incorporate Scythe's recently developed self-contained liquid Sealed Precision FDB bearing, which reduces friction and wear significantly and offers average lifespan of 120.000 hours. Special rubber-insulators are attached at the corners, preventing the transfer of vibration from the fan to the heatsink, resulting in greater stability and lower noise levels.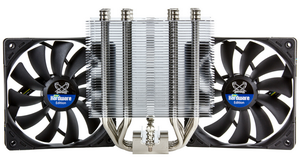 The Mugen 5 PCGH Editions heatsink remains the same, offering 6 high-quality all-copper heatpipes and a big aluminum fin stack. Outstanding memory modules compatibility is achieved thanks to the asymmetrical design. The solid copper base-plate has been slightly shifted for this purpose. Several layers of fins on the back of the heatsink have been shortened, to further increase RAM compatibility. Mugen 5 PCGH Edition is designed to fit into most on-market PC chassis, thanks to its height of only 154,5 mm. All copper-heatpipes as well as the copper-baseplate are nickel-plated, which improves the quality and prevents corrosion of the material.
Scythe is utilizing the second generation of the Hyper Precision Mounting System (H.P.M.S. II) for Mugen 5 PCGH Edition. The mounting system is based on preassembled metal mounting bars with spring-loaded screws and a solid backplate. This has several advantages, such as faster mounting process and more even pressure distribution. The Mugen 5 PCGH Edition supports all the latest CPU sockets, including the Intel® Sockets LGA775, LGA1150, LGA1151, LGA1155, LGA1156, LGA1366 and LGA2011(V3) as well as AMD® Sockets AM2(+), AM3(+), FM1, FM2(+) and new socket AM4. The package contains all required clips for mounting, two fans with fan clips, long screw driver, user-manual as well as a package of thermal grease.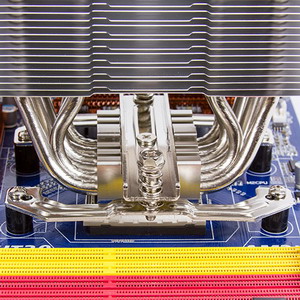 Scythe Mugen 5 PCGH Edition with the model number SCMG- 5PCGH is available as of today on the European market with the MSRP of 47,00€ (VAT/Taxes not included).
---
| | |
| --- | --- |
| Mon: 04/17/2017 | Topic: Cooling / Heatsinks PermaLink |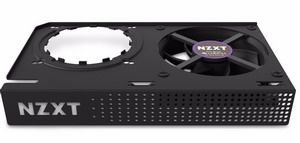 NZXT announces today the Kraken G12 kit, allowing users to use their liquid AIOs to better cool their GPUs. Lower temperatures at lower noise improve both gaming performance and experience. By mounting an AIO, like the NZXT Kraken Series, users can significantly lower their GPU's temperatures compared to its stock cooling, increase overclocking performance, and reduce noise output for an improved gaming experience. An update to the previous Kraken G10, the Kraken G12 allows for easier installation and wider compatibility with more than 30 popular liquid AIOs on the market.

"Being able to play the latest games at the highest settings, without sacrificing performance is something all gamers want. While aftermarket graphic cards have improved lately, most stock cooling systems still can't reach the performance level of liquid cooling. That's why we decided to design the updated Kraken G12 to be easier to install and support the latest liquid AIOs" says Johnny Hou, NZXT's founder, and CEO.


•40% better cooling over stock GPU coolers
•Newly redesigned bracket for easier installation
•Compatible with more than 30 liquid AIOs on the market
•Cooling: 92mm dedicated fan for both memory and VRM, compatible with aftermarket VRM heatsinks
•Support for both reference and non-reference AMD & NVIDIA designs graphic cards
MSRP Pricing: G12 - $29.99 USD, Available in Matte White or Matte Black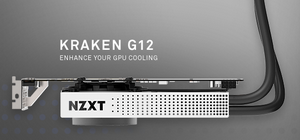 ---
| | |
| --- | --- |
| Mon: 04/17/2017 | Topic: Cooling / Heatsinks PermaLink |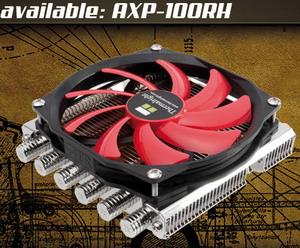 With the AXP-100RH we present a slightly higher version of the popular HTPC cooler to match the AXP-100H Muscle. We would also like to use the opportunity to introduce the Silver Arrow ITX-R, which will become available at the beginning of March.
The AXP-100RH has been designed for users who are looking for maximum cooling capacity at minimal dimensions. The adjustment in height became necessary to match the higher VRM cooler of the most recent ASUS "Republic of Gamers" MAXIMUS motherboard series.
The black and red design of the original AXP-100R was meant as a homage to the "Republic of Gamers" series. In order to use the cooler on the new Mini-ITX motherboards, the height was increased by 7 mm. With its 51 mm (65 mm with the fan), it is the perfect cooler for compact home theater/multimedia systems or minimalistic work stations with a limited height.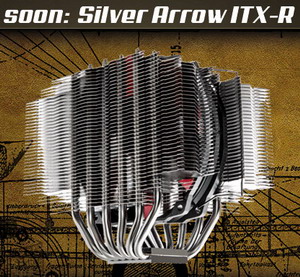 The AXP-100RH is equipped with six 6 mm heatpipes, finished with high-end heatpipe caps. The cooler uses the well-known T-shaped "down draft" design, in which the air flow is directed perpendicular to the mainboard, which allows the cooling of the surrounding motherboard components at the same time. Included is the well-known TY 100R fan.
The included "Enhanced Fan Mount" of the AXP-100RH allows maximum flexibility when installing fan, in order to make best use of the available space in HTC-cases. In addition, the "Enhanced Fan Mount" allows the easy installation of larger fans with 120 mm mounting holes (like the TY 147B) on the cooler.
The Silver Arrow ITX-R succeeds the Silver Arrow ITX and is much more compact than its predecessor. The twin-tower cooler impresses with its reduced dimensions and fits in a lot more Mini-ITX cases, but will also excel on Micro-ATX or ATX systems.
An eye catcher is without a doubt the black high-gloss nickel plating of the heatsink, which in combination with the black and red TY-129 fan underlines the high-quality processing. The fan is installed between the two cooling towers, in order to avoid collisions with RAM modules or VRM coolers.
The cooler comes with six powerful 6 mm copper heatpipes. They are tightly integrated into the nickel-plated cooper base, to allow the most effective heat dissipation. The included TY 129 PWM-fan rotates between 300 and 1,300 rpm. This means during standard operation the fan is virtually unnoticeable from the outside. The air flow of the silent optimized fans ranges from 21.9 and 94.8 m³/h, at a noise level between 21 and 33 dB(A).
The AXP-100RH and the Silver Arrow ITX-R come with the latest universal mounting kit, which allows the installation of the cooler on all current Intel- and AMD-CPU's. Both coolers are explicitly compatible to the new AM4 processors from AMD.
---
| | |
| --- | --- |
| Mon: 04/17/2017 | Topic: Cooling / Heatsinks PermaLink |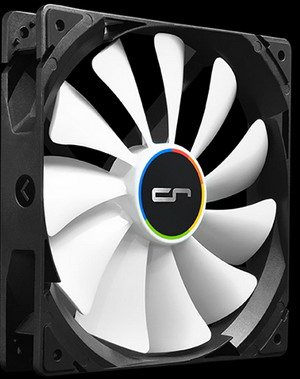 CRYORIG, PC thermal solutions expert has built upon the successful QF120 line of system fans to release the new QF140 Performance and QF140 Silent 140 mm fans. The QF140 like the original QF120 line features CRYORIG proprietary Quad Air Intake™ system. Four strategically placed air intakes are located on the corners of the QF140 fan frame, allowing the static pressure optimized fan blades take in extra air from the sides of the fan frame increasing overall air output. CRYORIG HPLN™ High Precision Low Noise fluid bearing is used again for low noise performance. Integrated rubber Vibration Absorbers also come preinstalled to absorb excess vibration. Both QF140 models are fully PWM capable for advanced user RPM control.
This time the QF140 will be released in two models the QF140 Performance with a fan speed range from 600 to 1.850 RPM and the QF140 Silent with 200 to 1.000 RPM catering directly to specific user needs.
The QF140 Performance with a max 1.850 RPM is perfect for 280 mm radiators or users in need of large system airflow and high static pressure. The QF140 Performance is capable of pumping out 128 CFM at 38 dBA during maximum RPM for extreme performance.
The QF140 Silent has an ultra-low RPM range of 200 to 1,000 RPM. Rated noise levels of 9 to 19,5 dBA is close to being inaudible in most typical PC cases. The 140 mm fan blade will still be able to push 42 CFM of airflow despite being near inaudible.
Both QF140 fans will include molex adapter, mounting screw kit and 6-year extended warranty after registration. The QF140 Performance and Silent has a suggested retail price set at 14,99 EUR (w/o VAT), prices may vary internationally.
---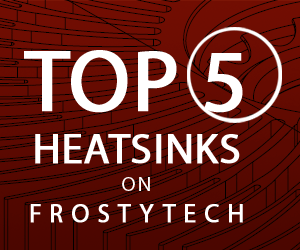 | | |
| --- | --- |
| Mon: 04/17/2017 | Topic: Cooling / Heatsinks PermaLink |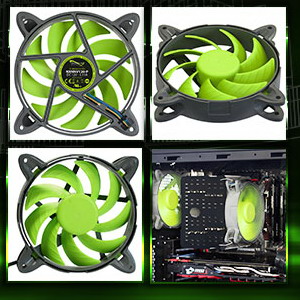 Special N.N.V. fans consist of two different frames. The outer fan frame offers mounting points to install the fan inside a case or on a CPU-cooler. The inner impeller frame holds the rotor and the motor of the fan – it's decoupled from the outer frame by four rubberized dampers. An absolute novelty in the PC business, which allows a very smooth and silent running operation of our fans.
The Special N.N.V. fan series will consist of four 120 mm models. We expect them to become available in stores by the middle of February. The first model to reach us will be the Special N.N.V. Fan 120 PWM. Shortly thereafter the versions with 800, 1,200 and 2,000 rpm will follow. The technical data and the MSRP for all the models can be found below.
---
| | |
| --- | --- |
| Mon: 04/17/2017 | Topic: Cooling / Heatsinks PermaLink |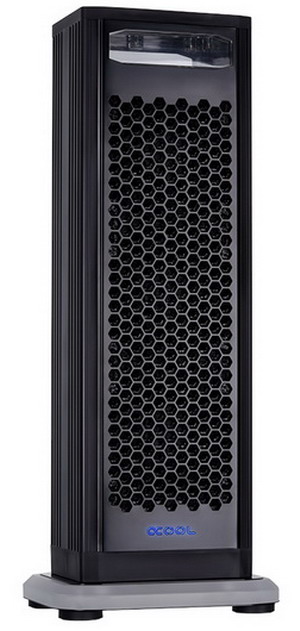 Top of the charts cooling performance yet very easy to install and requires almost zero interior space from your PC case? We are of course talking about the brand new EISWAND 360 External Water Cooling kit by Alphacool.
---