| | |
| --- | --- |
| Tue: 10/14/2014 | Topic: Cooling / Heatsinks PermaLink |
Managing the thermal performance of a graphics card is no easy task, manufacturers extensively research their cooling solutions in a bid to offer the best performance and value vs their competitors products. Most graphics cards are created equal; take the Sapphire R9 270X that we have here today, it features a chip that is pretty much the same as any other R9 270X, but it also features one of the best coolers in its class. The extra cooling performance that Sapphires' Tri-X cooler gives, allows the card to be overclocked for increased performance. Overclocking can make the card more powerful, but this also means it'll generate more heat and you'll have to add a better cooler. By adding a better cooler you reduce the heat of the card and leave more room for overclocking and so the cycle continues. Overclocking is one reason for running a high-end cooler, but there are other benefits, as a more efficient after-market cooler can often run quieter than a stock cooler; lets not forget the fact that keeping your hardware from overheating can improve its lifespan. Today I'm going to be taking the NZXT Kraken G10 graphics card mount, which allows you to connect an Asetek water cooling unit directly to the GPU for improved cooling performance, and today we're going to be doing that with the help of the NZXT Kraken X40 140mm AIO water cooler.
---
| | |
| --- | --- |
| Sun: 10/12/2014 | Topic: Cooling / Heatsinks PermaLink |
Today we are going to take a look at a the Arctic Accelero Hybrid II-120 GPU Cooler, an aftermarket graphics cooling solution which is designed to improve the cooling performance of your graphics card, allowing more overclocking headroom while reducing the noise level.
---
| | |
| --- | --- |
| Sat: 10/11/2014 | Topic: Cooling / Heatsinks PermaLink |
Today we are going to take a look at a the Arctic Accelero Hybrid II-120 GPU Cooler, an aftermarket graphics cooling solution which is designed to improve the cooling performance of your graphics card, allowing more overclocking headroom while reducing the noise level.
---
| | |
| --- | --- |
| Thu: 10/09/2014 | Topic: Cooling / Heatsinks PermaLink |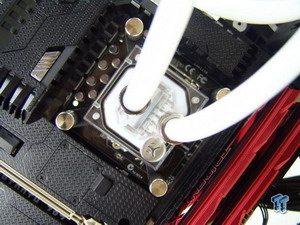 "EKWB drops another block on the market. This time we received the Supremacy EVO, in Clear CSQ form for testing. Here are Chad's full thoughts on it."
---
| | |
| --- | --- |
| Mon: 10/06/2014 | Topic: Cooling / Heatsinks PermaLink |
Raijintek are still fairly new to the consumer market, but over the last couple of years they've come back again and again with products that offer award-winning performance at wallet friendly prices. Following the success of their CPU coolers, Raijintek are now moving into the world of graphics card cooling, starting with the Morpheus GPU cooler which we are reviewing today. The new cooler is compatible with many of today's latest cards ranging from the Nvidia GeForce GTX 650Ti right up to the Nvidia Geforce GTX 780Ti, not forgetting of course the AMD ranges where it'll find a comfortable home with everything from the older 78xx range, the R9 270 range and the high-end R9 290 range. It's those higher models such as the 780 Ti and the 290X that are of particular interest, as these are high performance cards with very demanding cooling requirements; that should be some indication of how capable the Morpheus should be. Today I'll be putting it through its paces on the Sapphire R9 270X Toxic, I've chosen this card due to it featuring one of the best coolers in its class and it represents the level of performance your average high-end consumer is likely to purchase.
---
| | |
| --- | --- |
| Mon: 10/06/2014 | Topic: Cooling / Heatsinks PermaLink |
"Today we look at a very compact cooler in our Silverstone AR06 Review."
---
| | |
| --- | --- |
| Mon: 10/06/2014 | Topic: Cooling / Heatsinks PermaLink |
"The Lepa LV12 CPU cooler is not only aesthetically appealing with its all black appearance, but it is also functional in removing unwanted heat from your processor."
---
| | |
| --- | --- |
| Mon: 10/06/2014 | Topic: Cooling / Heatsinks PermaLink |
"Scythe introduced the first Mugen CPU cooler in 2006 and has been improving the series ever since. Designed for the enthusiast needing a little more cooling potential in a light-weight package capable of fitting into most computer cases without interfering with standard memory modules, the Mugen Max is easily a high performance cooler."
---
| | |
| --- | --- |
| Mon: 10/06/2014 | Topic: Cooling / Heatsinks PermaLink |
Roughly 6 years ago one of my industry contacts (and also a good friend of mine now) told me that custom watercooling kits/loops were a niche product aimed mostly towards enthusiasts and serious overclockers so there wasn't much interest by readers for such reviews. Well back then i have to admit that i did agree with him mainly because such kits used to cost quite a bit (and weren't very easy to find) but nowadays between the much reduced prices of complete kits, the number of companies that make such kits and the large number of people turning towards PC case modding things have obviously changed for the best. Because of that we've decided to focus a bit more on such reviews and as promised a few days ago today with us we have yet another complete watercooling kit the NexXxoS Cool Answer 360 DDC/XT by Alphacool.
---
| | |
| --- | --- |
| Mon: 10/06/2014 | Topic: Cooling / Heatsinks PermaLink |
Dead Silence Cube is the latest case from Aerocool, which in this case features a compact form factor as well as space for mATX motherboards. Despite its small dimensions, there is actually enough space for small high-end gaming systems and therefore it might bit a case that offers some rather interesting options. Apart from the fact, that there is space for high-end graphics cards you'll also be able to install an all-in-on watercooler.
---
| | |
| --- | --- |
| Mon: 10/06/2014 | Topic: Cooling / Heatsinks PermaLink |
"Recently Cooler Master added a new revision of a popular product to their catalogue and today we cover it in our Cooler Master Hyper 612 Ver2 Review."
---
| | |
| --- | --- |
| Mon: 10/06/2014 | Topic: Cooling / Heatsinks PermaLink |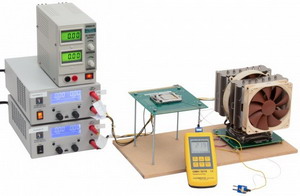 Quote: "The overall winner of this test is the Scythe Mugen 4 PCGH Edition, it is unrivaled in cooling performance, does its job very quiet and is not overly expensive. A cheaper alternative is the Hyper 412S, it is one of our favourites not in the least because of its affordable price. Two high-end coolers clearly stand out above the rest; the Noctua NH-U14S and the Be Quiet Dark Rock Pro 3 both combine excellent cooling performance with a very low noise level. The Noctua is the better performer in terms of cooling, the Be Quiet! takes the win in noise levels and definitely wins in the looks department."
The following coolers are tested in this review:
Be quiet! Dark Rock 3 [BK018]
Be quiet! Dark Rock Advanced C1 [BK014]
Be quiet! Dark Rock Pro 2 [BK017]
Be quiet! Dark Rock Pro 3 [BK019]
Be quiet! Shadow Rock 2 [BK013 ]
Be quiet! Shadow Rock Slim [BK010]
Cooler Master Hyper 103 [RR-H103-22PB-R1]
Cooler Master Hyper 212 Evo [RR-212E-16PK-R1]
Cooler Master Hyper 412 Slim [RR-H412-16PK-R1]
Cooler Master Hyper 412S [RR-H412-13FK-R1]
Cooler Master Hyper TX3 Evo [RR-TX3E-22PK-R1]
Cooler Master V8 GTS [RR-V8VC-16PR-R1]
Cryorig R1 Universal [CR-R1B]
DeepCool Frostwin V2.0 [FROSTWINV20]
DeepCool Gamer Storm Lucifer [LUCIFER]
DeepCool Gammaxx S40 [XDC-GAMMAXXS40]
DeepCool Iceedge 400 XT [ICEEDGE 400 XT]
Enermax ETS-T40-TB [ETS-T40-TB]
Enermax ETS-T40-W [ETS-T40-W]
Gelid GX-7 Rev.2 [CC-GX7-02-A]
Gelid SlimHero [CC-SHERO-01-A]
Gelid Tranquillo Rev.2 [CC-TRANQ-02-A]
Noctua NH-D14 (Socket 2011) [NH-D14 SE2011]
Noctua NH-D15 [NH-D15]
Noctua NH-L9i [NH-L9I]
Noctua NH-U12S [NH-U12S]
Noctua NH-U14S [NH-U14S]
Scythe Ashura [SCASR-1000]
Scythe Grand Kama Cross 2 [SCKC-3000]
Scythe Kotetsu [SCKTT-1000]
Scythe Mugen 4 PCGH Edition [SCMG-4PCGH]
Scythe Mugen 4 [SCMG-4000]
SilverStone Argon AR01 [SST-AR01]
SilverStone Heligon HE01 [SST-HE01]
Thermalright Archon SB-E X2 [ARCHON SB-E X2]
Thermalright Macho Rev. A [100700717]
Thermalright Silver Arrow SB-E Extreme [100700412]
Thermalright Silver Arrow SB-E Special Edition [100700409]
Thermalright True Spirit 90 M [100700538]

---
| | |
| --- | --- |
| Thu: 10/02/2014 | Topic: Cooling / Heatsinks PermaLink |
"Asetek® (ASETEK.OL), the world's leading supplier of computer liquid cooling solutions, today announced that it shipped its 2,000,000th unit in September 2014. Asetek originally designed the first sealed loop liquid cooler in 2003. Due to the inherent drawbacks of traditional kit based liquid cooling (size, reliability, leaks, cost), Asetek invented the All-In-One liquid cooler category.
Since then, Asetek liquid cooling has been adopted into a diverse range of markets. From the enthusiast segment and gaming PCs to enterprise workstations and servers, Asetek has become the most used and most reputable liquid cooling company in the world.
Asetek is the only liquid cooling vendor with an established Tier 1 PC, workstation and server customer base and is using that experience to reach the data center markets. Because much of the technology is shared between the desktop and data center products, every desktop PC liquid cooler Asetek sells serves as validation to the data center markets."
"Crossing the two million units shipped milestone is an incredible achievement that speaks to the quality of our solution as well as the trust that we have built with our customers," said André Sloth Eriksen, Founder and CEO of Asetek. "This success propels us into new areas such as GPU cooling and the data center market where our solutions solve problems that traditional cooling cannot."
Factory filled and sealed for maximum reliability and ease-of-use, Asetek's patented liquid coolers have been thoroughly tested and certified to operate without maintenance for over 50,000 hours."
---
| | |
| --- | --- |
| Thu: 10/02/2014 | Topic: Cooling / Heatsinks PermaLink |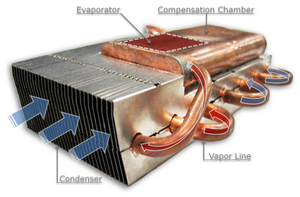 CoolingZone reports: "Cooler Master's heat pipe family includes 1mm thick "Ultra-slim", dual diameter heat pipes and loop heat pipes. The Ultra-slim products are focused on mobile applications where both size and performance are crucial. The dual diameter heat pipes are engineered for applications that require high performance but at a reduced weight. Applications requiring multiple traditional heat pipes can see a 25% reduction in the number of heat pipes when replacing them with Cooler Master Dual-diameter. Cooler Master is working with OEM's in LED, telecommunications, cloud computing and mobile computing with their OEM heat pipe line. "
---
| | |
| --- | --- |
| Thu: 10/02/2014 | Topic: Cooling / Heatsinks PermaLink |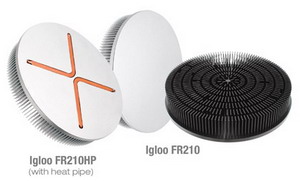 GlacialTech Inc., an experienced technology manufacturer, has launched two new cold forging thermal modules: Igloo FR210 and Igloo FR210HP.
Both the Igloo FR210 and Igloo FR210HP are suitable for 80W applications. The Igloo FR210HP differs from the Igloo FR210 in that it optimized for CoB and spotlight applications. These modules' heatsinks are available in two color options silver and black.
GlacialTech' cold forging thermal solutions lineup includes from 30W to 100W, which is generally the most suitable range for cold forging LED lighting solutions. Cold forging produces heat sinks that have better heat dissipation than die-casting and aluminum extrusion. With the Igloo FR210 and Igloo FR210HP using AL1050 aluminum, thermal conductivity can be increased 2.36x compared to die casting: 96.2 W/mK to 227 W/mK.
---
| | |
| --- | --- |
| Wed: 10/01/2014 | Topic: Cooling / Heatsinks PermaLink |
The Coolermaster Hyper D92 is a moderately sized CPU cooler which stands 147mm tall and weighs 636 grams. The Hyper D92 ships with not a 120mm... or even 140mm fan, but rather a pair of 92mm fans that spin at 2800-800RPM. The fans move upwards of 15-55CFM according to manufacturer specs. Small 92mm fans may seem terribly risky, but Coolermaster have a trick up their sleeves.
---
The rush is on for Haswell-E and X99 boards. Most of them support PCIe x4 lanes for M.2 high speed storage. It`s what you need to take advantage of them."
---
| | |
| --- | --- |
| Sat: 09/20/2014 | Topic: Cooling / Heatsinks PermaLink |
Roughly 5-6 years ago the only people i knew who had custom water cooling kits/loops installed in their systems had either chosen to do so because they wanted to show-off or because they didn't know what to do with their money (i remember a couple who even went out and bought three of the extremely expensive liquid Freon solutions which as some of you are well aware never really made it in the market in large numbers). Today things have changed and so with the advancements in processing power (applies for both CPUs and GPUs) heat has become an even greater problem and so many people including enthusiasts, serious gamers, professionals and overclockers turn both towards AIO liquid CPU coolers and complete water cooling kits for something more in cooling performance. Custom water cooling kits/loops are still at the top of the "food chain" however so today we will be taking a look at yet another such kit and more specifically the EK-KIT L360 by EK WaterBlocks.
---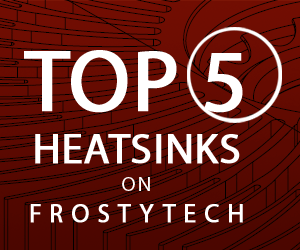 | | |
| --- | --- |
| Fri: 09/19/2014 | Topic: Cooling / Heatsinks PermaLink |
The current LGA2011 and new LGA2011-3 (LGA2011v3) heatsink mounting brackets utilize the same hole spacing (80mm) and threaded studs. The new Intel Core i7 5960X processor has a TDP of 140W, so existing LGA2011 heatsinks will be able to handle its thermal loads, provided the older LGA2011-0 mounting brackets can accommodate the increased Z-height of the new LGA2011-3 CPU package.

The older LGA2011-0 CPU package + ILM has a Z-height of ~8.014mm (plus/minus 0.34mm).
The new LGA2011-3 CPU package + ILM has a Z-height of 8.481mm (plus/minus 0.279mm).
If we compare the maximum Z-heights of both platforms that's potential difference of ~0.4mm. Comparing the average Z-height, the difference is 0.467mm, or ~0.5mm.

Is your existing LGA2011 heatsink compatible on LGA2011-3 motherboards?

I'd say the large majority of heatsinks Frostytech has tested should be compatible, however heatsink mounting brackets which use spring tensioned screws are the most ideal (as they always have been). At least one heatsink manufacturer challenged us on our first post about LGA2011 vs. LGA2011-3 compatibility, asserting that stiff metal clips may exert too much force or permanently deform... I concede that we did overlook the change in Z-heights.

So folks, one simple answer is not going to fit every situation... if you're trying to install an LGA2011-0 heatsink on an LGA2011-3 processor and cannot easily engage all four screw threads, stop. You need to replace that heatsink with a cooler designed specifically for the new LGA2011-3 processors.
---
| | |
| --- | --- |
| Fri: 09/19/2014 | Topic: Cooling / Heatsinks PermaLink |
Noctua today announced that it will continue its tradition of supplying customers with its premium-class SecuFirm2™ mounting kits for novel platforms free of charge. While newer Noctua heatsinks support Haswell-E's LGA2011-3 socket out of the box, older models can be upgraded with the NM-I2011 kit at no additional cost.
"We're determined to provide the best possible support to our customers and over the years, we've sent many thousands of mounting kits free of charge to users who wanted to upgrade to new platforms", says Mag. Roland Mossig (Noctua CEO). "With Haswell-E just around the corner, we're pleased to announce that we'll extend this offer for LGA2011-3. Owners of older Noctua retail heatsinks that don't support LGA2011 out of the box will be able to upgrade to the new socket free of charge!"
Due to the heatsink mounting mechanism being identical on LGA2011-0 and 2011-3, Noctua's previous SecuFirm2™ mounting systems for LGA2011 also support Intel's upcoming 'Haswell-E' X99 platform. The following Noctua coolers already include SecuFirm2™ mounting systems for LGA2011 and can be used on LGA2011-3 mainboards without any upgrades or modifications: NH-D15, NH-D14 SE2011, NH-U14S, NH-U12S.
Users of older Noctua retail models that don't include a SecuFirm2™ mounting system for LGA2011 can obtain the NM-I2011 kit free of charge on Noctua's website in order to make their heatsinks compatible with the new socket. The NM-I2011 kit is compatible with most Noctua retail coolers since 2005.
The NH-L12 features a special variant of the SecuFirm2™ that needs to be updated with the new NM-IPS2 spacers in order to be compatible with LGA2011-3. NH-L12 owners can now request these spacers free of charge at www.noctua.at.
To order the NM-IPS2 spacers (NH-L12 only) or NM-I2011 kit (all other models that do not support LGA2011 out of the box), a proof of purchase (photo, scan or screenshot of the invoice) of both an eligible Noctua CPU cooler and either an LGA2011-3 mainboard or LGA2011-3 CPU are required. The NM-LGA2011 is also available in stores at a low service charge.
For detailed compatibility charts, please refer to: www.noctua.at/socket_compatibility
---