| | |
| --- | --- |
| Fri: 04/25/2014 | Topic: Cooling / Heatsinks PermaLink |
"Major Taiwan-based thermal module makers expect fast growing demand for thin heat-pipes from smartphone and tablet vendors, and are expanding production capacities in preparation to start shipments in the second half of 2014, according to Taiwan-based equipment makers.

Sony Mobile Communications took the initiative to adopt thin heat-pipes for its Xperia Z2 smartphone, and Samsung Electronics and HTC are expected to follow suit, Taiwan-based supply chain makers indicated.

While graphite plates have so far been used to dissipate heat in smartphones and tablets, copper-made thin heat-pipes carry the same production cost but have higher heat-dissipation efficiency, the makers said. As LTE smartphones support higher data transfer capabilities, demand for heat dissipation is accordingly higher, which is the main reason for using heat-pipes, the sources noted."
---
| | |
| --- | --- |
| Fri: 04/25/2014 | Topic: CPU / Processors PermaLink |
The AMD Kaveri A10-7850K APU arrived Technic3D. We will check the new Processor from AMD against the Intel Core i7, i5, AMD 6800K, 5800K and many more on Windows 7. More see you in the following Review."
---
| | |
| --- | --- |
| Fri: 04/25/2014 | Topic: Computer / SFF PCs PermaLink |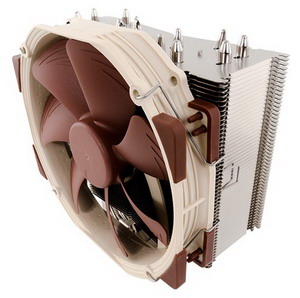 Noctua is an established player in the CPU cooler space, offering high quality solutions that cool your processors without killing your eardrums. Their U-series coolers combine unrivaled cooling performance with an innovative design to ensure quiet operation and motherboard compatibility. The flagship product of this line, the NH-U14S, is composed of a single aluminum-finned radiator with six embedded, nickel-plated copper heat pipes running through a copper base plate. For performance testing of the NH-U14S cooler, we put it up against other high-performance liquid and air-based coolers. With a retail MSRP of $75.99, the NH-U14S CPU cooler has a premium price to match its premium size and cooling potential.

Quote: "After reviewing so many dual-tower CPU air coolers, I had some reservations going into the review. Sure, the NH-U14S' single tower is 150mm wide and almost double the thickness of a standard fan, but the single 140mm fan included just didn't seem like it would be enough. Those thoughts quickly evaporated once I started putting the unit through it paces. Noctua designed the NH-U14S cooler as a high-performance unit that was compatible with any Intel LGA115x or LGA2011, or AMD motherboard. At this, they succeeded amazingly well."
---
| | |
| --- | --- |
| Thu: 04/24/2014 | Topic: Cooling / Heatsinks PermaLink |
"The Antec KÜHLER H2O 1250 Liquid CPU Cooler is a top of the line advanced liquid cooler. It has two 120mm PWM fans, a 240mm aluminum radiator, two large pumps, copper waterblock, durable tubes & RGB LED. It also comes with software so you can control and monitor it."
---
| | |
| --- | --- |
| Thu: 04/24/2014 | Topic: Cooling / Heatsinks PermaLink |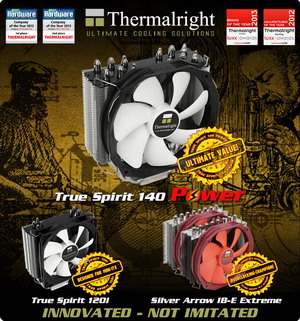 True to the motto "innovated - not imitated" the premium manufacturer Thermalright presents three new, innovative coolers. In addition to the new top model of the "Value" series, the True Spirit 140 Power, these are the True Spirit 120i, especially developed for selected Mini-ITX systems, as well as the Silver Arrow IB-E Extreme, a high performance special-edition of the recently released Silver Arrow IB-E.
The True Spirit 140 "Power" presents itself not only visually updated. Instead of six 6 mm heatpipes as before, the "Power" is equipped with 8 mm thick high end heatpipes. This guarantees the top model from the "Value" series an even better cooling performance.
Especially for fans of compact Mini-ITX systems, Thermalright has developed the True Spirit 120i. In many Z87/H87 boards from Asrock, MSI and Gigabyte, the PCIe slot sits directly next to the processor socket. The True Spirit 120i is equipped with offset cooling fins, making it the only powerful tower heatsink with 120 mm fan that fits on these motherboards.
---
| | |
| --- | --- |
| Wed: 04/23/2014 | Topic: Cooling / Heatsinks PermaLink |
Digitimes reports: "Cooling module makers such as Japan-based Furukawa Electric Group and Fujikura and Taiwan-based Chaun-Choung Technology and Taisol Electronics, are looking to reduce the thickness of their existing 0.6mm heat pipes for smart mobile devices by 25% and the new heat pipe is expected to enjoy a penetration rate of over 15% in the smart mobile device market with orders from tablets and smartphones, according to sources from the upstream supply chain.

The sources pointed out that heat pipes are made by copper and need enough thickness to maintain their shape. They started mass producing 0.8mm heat pipes in 2013 and will start mass productions of 0.6mm one in 2014.

Microsoft's upcoming Surface 3 tablet adopts a 0.6mm heat pipe for cooling, while Sony's Xperia Z2 has adopted ultra-thin heat pipes from Furukawa and Fujikura.

CCI has already started shipping its 0.6mm heat pipes and expects 0.6mm-0.8mm models to become the mainstream cooling modules for mobile devices in 2014. CCI's monthly capacity is expected to reach 1.5-2 million units by the end of May.

CCI pointed out that global heat pipe shipments were about 50 million units in 2013 with 0.8mm models accounting for 10 million units. In 2014, 0.6mm models will take over 0.8mm models' position and also have a chance to reach 10 million units, accounting for 16% of global annual shipments of 60 million units."
---
| | |
| --- | --- |
| Wed: 04/23/2014 | Topic: Cooling / Heatsinks PermaLink |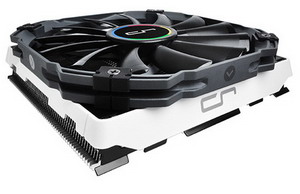 CRYORIG, newcomer in the professional PC cooling solutions market, announces hereby, that the C1 CPU cooler for ITX systems has completed rigorous testing and is now in production. The C1 is CRYORIG's first product for the growing ITX PC ecosystem with a total height of only 7,4 centimeters. "With the increase of APU's and enthusiasts level ITX mainboards and components, ITX systems are no longer limited to under powered components like they used to be.", mentions CRYORIG Co-Founder and Chief Manufacturing Engineer Alex Wang. "ITX systems now are housing high performance, high TDP CPU's and GPU's. Cooling these crucial components is an even greater challenge in these tight spaces. What I think we achieved with the C1 is a solution that has outstanding performance for it's size, and provides a great user experience thanks to its hassle free easy installation and robust accessories. Everything you need is in the box."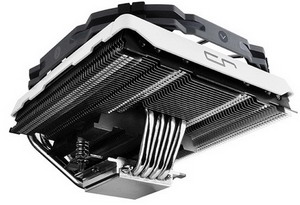 The CRYORIG C1 continues to build on the foundation of the much-acclaimed R1 Ultimate/Universal, by combining multiple technological innovations in a user-friendly package. Thanks to the combination of the DirectCompress™ technology and a silent 140 mm PWM fan, the C1 is able to keep cool High-End CPUs from both Intel© and AMD© with a TDP beyond 140 Watts!
This incredible performance is proof of concept and innovates the ITX cooling solutions market. The C1 is a low-profile Cooler with a total weight of 628 grams (with fan) and the dimensions 144,5 x 74 x 140 millimeters. Furthermore, total of 6 fully sintered pure copper heatpipes have been utilized, including 4 double TDP capacity U-Type heatpipes. Additional performance boost is achieved thanks to the JetFin Acceleration Sytem™ that utilizes varying fin gap layers for faster exhaust airflow. The nickel-plated baseplate is made of pure solid copper and uses the Heatpipe Convex-Align™ technology, which allows the heatpipes to be concentrated directly above the center of the CPU."
The C1 comes with CRYORIG's XT140 140mm Slim Profile PWM fan with 13-millimeter thickness, to assure optimum airflow and cooling capabilities. Pre-installed XT140 features the HPLN™ (High Precision Low Noise) bearing, offering stable and precision movement eliminating excess vibration and noise. Built-in four Acoustic Vibration Absorbers located in the corners, assures low noise operation. In PWM mode, the fan operates at speeds from 700 to 1.300 RPM, which allows it to move 65 cubic feet per minute at silent 28 to 30 dBA. Users, seeking even more performance, are able to mount the stronger and 25,4 mm thick CRYORIG XF140 140 mm PWM fan.
Owners of the CRYORIG C1 are granted the extended warranty of max 6 years, after they have register their product online on the CRYORIG website.
The CRYORIG C1 low-profile CPU Cooler is available from etailers and retailers in Europe and North America starting June and May for Asia.
---
| | |
| --- | --- |
| Wed: 04/23/2014 | Topic: Cooling / Heatsinks PermaLink |
The $99 price tag is reasonable considering this is Noctua's flagship product after all and is competitively priced against similar performing dual-tower coolers such as the Phanteks TC14PE and even the Cooler Master Nepton 140XL we tested in this review. Noctua's NH-D15 has the advantage of a 6-year warranty, longer than any CPU cooler in the market which further adds to its value. For an overall impressive thermal handling capability while performing at a reasonable noise level, topped with the familiar Noctua premium quality, the NH-D15 earns the Hardware-360 approved award.
---
| | |
| --- | --- |
| Wed: 04/23/2014 | Topic: Cooling / Heatsinks PermaLink |
"Today, we reviewed the Cooler Master Blizzard T2 CPU cooler, which features a tower heatsink, two "dual loop" 6 mm heatpipes, and one 92 mm fan. Let's see if this "compact" cooler performs well."
---
Most case manufacturers out there make conventional PC cases, meaning they fit the traditional form factors and are not all that different inside. Well Corsair has changed things up a little bit with their Carbide Series Air 540, which is a cube-style case, but it actually fits a full-sized ATX motherboard and components. This case features a dual-chamber design that not only helpswith better cooling, but makes installation much easier. This case has actually been out for some time, but Corsair recently announced the white version of the case so that is what we are looking at today. Will this be the case for your next build? Read on as we find out..."
---
| | |
| --- | --- |
| Sat: 04/19/2014 | Topic: Cooling / Heatsinks PermaLink |
With the IORI Scior 1000, Scythe has made a low-profile down-draft cooler, that is surprisingly well built, especially if we consider its price of 25 Euro. Other than that it should offer decent cooling capacity, so it's not going to be an issue if you want to overclock your CPU by a few hundred MHz. So far we're rather curious to see what this cooler is capable of.
---
:"The largest Deep Silence chassis that has ever been released is here. Check out what Nanoxia delivers in the DS6. Let's see what Chad thinks of it now."
---
| | |
| --- | --- |
| Thu: 04/17/2014 | Topic: Cooling / Heatsinks PermaLink |
The water cooling market offers up some very fierce competition these days, there are so many great products to choose from that it is becoming harder and harder to find a product that is best for your system. The overall quality and performance of all-in-one water coolers has been increasing steadily over the years and with every company trying their hardest to be the best it's near impossible to buy a poor water cooler, so long as you stick with brand names such as Enermax, Corsair, Cooler Master, Antec, etc. Cooler Master have long been a popular choice for CPU coolers, many of their air and water cooling products have won awards year after year for their performance and that's something we're hoping to see reflected again here today. With a few rival products recently launched the Nepton does have some tough competition on their hands, but the Nepton has proven to be a great product before, and these new ones promise to be even better.
---
| | |
| --- | --- |
| Wed: 04/16/2014 | Topic: Cooling / Heatsinks PermaLink |
We tend to focus on "high end" CPU cooling when we do reviews, but today we have something a bit different. Enermax, known world wide for its overall excellent power supplies, steps foot in the CPU cooling ring with a contender that is very easy on your wallet, weighing in at less than $25. We still have high expectations though!
---
| | |
| --- | --- |
| Wed: 04/16/2014 | Topic: Cooling / Heatsinks PermaLink |
Noctua has always been known for their quality products and high performance air coolers. The issue with tower air coolers is that they often tend to be large, heavy and cover up portions of your motherboard under their bulk. While most companies have shifted their focus to the less intrusive all-in-one liquid coolers, Noctua has stayed true to their air cooling roots. Today we take a look at their NH-U12S performance cooler; a tower cooler in a smaller, more space friendly package that promises the same performance you would get out of larger, bulkier models and run it through our tests. Is the age of air cooling at an end or just in transition? We'll find out.
---
| | |
| --- | --- |
| Wed: 04/16/2014 | Topic: Cooling / Heatsinks PermaLink |
In our Noctua NH-D15 review, we compare it against the D14 along with others from Phanteks, be quiet! and more. Also introducing CoolingMark, a new way to judge cooling performance & noise
---
| | |
| --- | --- |
| Wed: 04/16/2014 | Topic: Cooling / Heatsinks PermaLink |
Corsair new 120mm H75 and 240mm H105 all in one CPU water coolers are meant to breathe new life into their Hydro lineup. Will they be enough to stem the tide against Antec, Cooler Master, NZXT and others?
---
| | |
| --- | --- |
| Wed: 04/16/2014 | Topic: Cooling / Heatsinks PermaLink |
Designed specifically for liquid cooling applications, the CPC LQ6 Series Couplings are the first of their kind, a closed-system design that provides ultra-reliable, dripless connections and disconnections able to withstand long-term, repeated use. Dripless quick disconnect couplings from CPC feature automatic non-spill shutoff valves and integral terminations for safety, ease-of-use and reliability.
---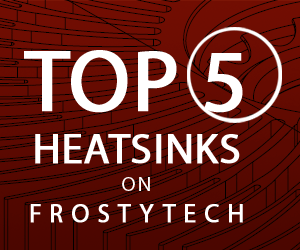 | | |
| --- | --- |
| Wed: 04/16/2014 | Topic: Cooling / Heatsinks PermaLink |
Initially, the H105 might leave you scratching your head. It's listed on Corsair's site with the same $119.99 MSRP as the H100i, and both are 240mm designs featuring the same high performance fans. The similarities end there, however, as the design of the H105 is more akin to Corsair's new 120mm H75 (which we recently reviewed) than to the existing 240mm H100/H100i. With the H75 already a solid price/performance pick in Corsair's lineup - and the various other options still available - it's reasonable to wonder exactly where H105 fits in.

Quote: "The Corsair H105 is a solid performer with tremendous upside. It was able to compete with every other cooling solution at lower fan speeds and noise, but during the most grueling tests it really showed some exceptional cooling performance. The thicker radiator design Corsair has implemented here really pays off, and the H105 is capable of keeping some very high processor overclocks nice and cool."
---
| | |
| --- | --- |
| Wed: 04/16/2014 | Topic: Cooling / Heatsinks PermaLink |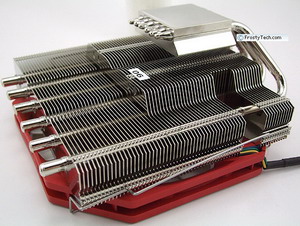 Standing just 69mm tall, the Raijintek Pallas CPU cooler is probably the largest low profile heatsink Frostytech as tested in recent memory. Raijintek's low profile Pallas heatsink is constructed around six 6mm diameter copper heatpipes and a 120x140mm array of nickel-plated...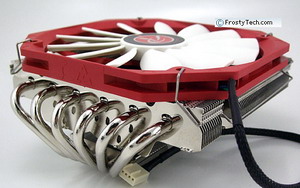 ---