| | |
| --- | --- |
| Mon: 03/11/2013 | Topic: Cooling / Heatsinks PermaLink |
Corsair, once known only for quality enthusiast RAM modules, has successfully diversified its products reaching into cases, power supplies, processor cooling solutions. With the release of the H90 and H110 Hydro Series, we see the first new refresh in its closed loop liquid cooling systems.
---
| | |
| --- | --- |
| Mon: 03/11/2013 | Topic: Cooling / Heatsinks PermaLink |
"Keeping your computer cool should be one of your number one priorities when building or maintaining your system, but sadly for a lot of people it isn't. Many people are more than happy with the stock fans that come with their cases, and sometimes they just don't do the job and even worse they don't do the job and they're loud on top of it. Just because a fan is loud doesn't mean it's moving the amount of air it could be to keep your system cool. Up for review today I have one of Noctuas latest fans, the NF-A14 FLX, which is a 140mm fan and the FLX stands for Flex where the fan can be run at three different speeds depending on your needs and/or preferences. The NF-A14 makes a great fan for cooling your case or system or it can be used with a radiator where you need to move the largest amount of air to make sure things are cool. So read on to learn more about the fan and see how it performs… "
---
| | |
| --- | --- |
| Mon: 03/11/2013 | Topic: Cooling / Heatsinks PermaLink |
Noctua today presented the new, third generation of its signature S12 series quiet case fans, which have received more than 250 awards and recommendations from the international press. Featuring a further refined blade design with Anti-Stall Knobs that works in tandem with the new AAO (Advanced Acoustic Optimisation) frame, the NF-S12A improves the airflow/noise efficiency of its renowned predecessor by up to 8%.

"Introduced in 2006, the original NF-S12 became a cornerstone of our reputation as one of the leading manufacturers of premium quality quiet fans. The second generation NF-S12B, introduced in 2009, continued this tradition with an even better airflow to noise ratio, making it one of our most popular models of all time", says Mag. Roland Mossig, Noctua CEO. "We've been working on the next generation for about three years and now we're thrilled to be able to present a worthy successor with the new NF-S12A: The new Anti-Stall Knobs and our AAO type frame allowed us to squeeze out another 8% in airflow to noise efficiency!"

The NF-S12A's novel Anti-Stall Knobs reduce flow separation phenomena in medium to high impedance situations and thereby increase the fan's stall margin. This means that the NF-S12A is even more versatile than its renowned predecessor and can achieve better performance on heatsinks and radiators. Noctua's AAO (Advanced Acoustic Optimisation) frames feature integrated anti-vibration pads as well as Noctua's proprietary Stepped Inlet Design and Inner Surface Microstructures, both of which further refine the fan's performance/noise efficiency.

Three models will be available upon launch: While the NF-S12A FLX version provides 1200/900/700rpm speed settings via the supplied Low-Noise Adaptors in order to give you full flexibility in fine-tuning the fan for maximum ventilation performance or near-silent operation, the NF-S12A ULN version provides super-slow 800/600rpm speed settings for ultra-low-noise applications and highly noise-sensitive users. The NF-S12A PWM sports Noctua's custom designed NE-FD1 IC for fully automatic speed control via 4-pin fan headers and comes with a Low-Noise-Adaptor to reduce the maximum speed during PWM control from 1200 to 900rpm.

All three models employ the further optimised second generation of Noctua's renowned, time-tested SSO bearing and use CNC milled brass bearing shells in order to guarantee the highest possible degree of manufacturing precision, minimum tolerance and excellent long-term stability. Like all Noctua fans, the NF-S12A models have an MTBF rating of more than 150.000 hours and come with a full 6 years manufacturer's warranty.

Pricing and availability The new NF-S12A fans will be available immediately at recommended retail prices of EUR 19.90 / USD 21.90.
---
| | |
| --- | --- |
| Mon: 03/11/2013 | Topic: Cooling / Heatsinks PermaLink |
SilverStone have created an extensive range of HTPC cases over the past few years and they have also developed CPU coolers to go with those. The NT01 Pro CPU cooler we have here today from SilverStone is a totally redesigned version of the older NT01-E CPU cooler. This cooler is designed to tackle the latest generation of processors in either active or passive modes. The design of the cooler is really something quite unique and yet strange, the NT01 Pro only takes 70mm or 80mm cooling fans so the amount of air you'll be able to move is going to be a lot less than 120mm CPU coolers. SilverStone recommends using this cooler in the GD04, GD05 and GD06 cases because it has been specifically designed to fit in those. Measuring in at 120mm high it certainly isn't very tall although there are several much smaller competing products on the market so this really needs to have the edge on performance.
---
| | |
| --- | --- |
| Mon: 03/11/2013 | Topic: Cooling / Heatsinks PermaLink |
Not that long ago we took a look at Thermalright's excellent Macho Rev.A (BW) CPU cooler. It was the first time we had ever reviewed something from Thermalright and we were blown away by how good the complete product was. Today we are equally as excited to be getting our hands on another Thermalright product, except this time the standards have been set exceptionally high. The product we have here today, the Thermalright Archon SB-E X2, is one of the latest offerings from Thermalright. The Archon SB-E X2 was released in early December 2012 so is only 2 months old. Its name bares a striking resemblance to the "Archon SB-E" but this is actually a very different product.
---
| | |
| --- | --- |
| Mon: 03/11/2013 | Topic: Cooling / Heatsinks PermaLink |
Today we are taking a look at a cpu cooler from Zalman, they sent us their CNPS14X with a huge heatsink and apparently superb cooling performance. How well does it really perform then? Lets find out!
---
Thermaltake is one of the oldest case makers, who is still highly active in the market. The company is offering products for every budget; from entry-level up to the most advanced and sophisticated. Today we are going to talk about the products from different price categories: affordable Commander MS-I, MS-II and MS-III, mainstream Level 10 GTS and a high-end Armor Revo.
---
| | |
| --- | --- |
| Thu: 02/28/2013 | Topic: Cooling / Heatsinks PermaLink |
Deepcool's IceBlade Pro V2.0 heatsink stands 161mm tall and weighs a solid 981 grams. At the heart of this boxy heatsink are four 8mm diameter copper heatpipes, nickel plated along with everything else, including the aluminum fins. The heatpipes are exposed at the base to make direct contact with the processor and ideally, reduce thermal joint resistance.
---
| | |
| --- | --- |
| Tue: 02/26/2013 | Topic: Cooling / Heatsinks PermaLink |
We are back today with another CPU air cooler that is designed for Small Form Factor desktop computer systems. CPU coolers in this niche have come a long ways in terms of performance over the years and SilverStone has pushed forward its new Nitrotgen Series design to be competitive in the market place.
---
"Combined with an Intel NUC mainboard the D1NU series allows to set up extremely efficient, fanless yet powerful computers with a volume of only 1.3 liters. Technically the D1NU is not a case but a heat sink for the built in NUC platform. Two massive aluminium heat sinks are fixed between the front and rear bezel. Lost heat is conducted via a precision milled heat spreader to these heat sinks. As no ventilation holes are required for cooling, the D1NU is suitable for all applications in which noiseless operation, dust protection and low power consumption is required on minimum space.
---
| | |
| --- | --- |
| Thu: 02/14/2013 | Topic: Cooling / Heatsinks PermaLink |
"Inside Server Air Conditioning has been selected by the DoD (Department of Defense) to participate in its TROPEC (Transformative Reductions in Operational Energy Consumption) program. TROPEC is a collaborative Department of Defense (DoD) and Department of Energy (DOE) program that targets game-changing enhanced energy efficiency for critical applications at military forward operations, such as data centers and communications.

ISAC is the next generation of Asetek's RackCDU data center liquid-cooling product line. Unlike the traditional RackCDU products, which can eliminate 80% of server cooling load in the data center, ISAC eliminates the need for active cooling altogether by removing 100% of server heat through Asetek's proprietary liquid-cooling solution. As a result, ISAC offers significant energy savings and enhanced system reliability in harsh operating environments."
---
| | |
| --- | --- |
| Thu: 02/14/2013 | Topic: Cooling / Heatsinks PermaLink |
Asetek has set up a demo room in its San Jose, CA office to showcase the new data center liquid cooling technologies. Here's a quick look at some of the cool technology (excuse the pun).
---
| | |
| --- | --- |
| Wed: 02/13/2013 | Topic: Cooling / Heatsinks PermaLink |
The Flir A5sc is an Infrared Camera Kit designed specifically for thermal bench top testing applications. The compact packaging allows the A5sc to be deployed in locations where size constraints are paramount. Available in a variety of pixel resolutions and to meet the spatial resolution requirements of most applications. Full Specs here. Prices start in the low 5-figures.
---
| | |
| --- | --- |
| Wed: 02/13/2013 | Topic: Cooling / Heatsinks PermaLink |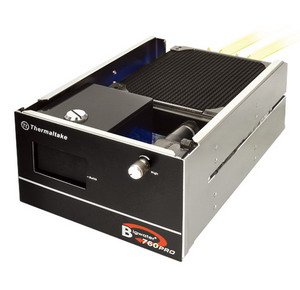 Easy installation and space saving design of Thermaltake Liquid Cooling Systems launching a new highlight with a fresh model series while continuing an exclusive tradition that has repeatedly met with great enthusiasm throughout the history of the Bigwater Series – "The Bigwater 760 Pro", a new breakthrough for CPU liquid cooling system emphasized on its superior performance and more advanced cooling technology.
---
| | |
| --- | --- |
| Wed: 02/13/2013 | Topic: Cooling / Heatsinks PermaLink |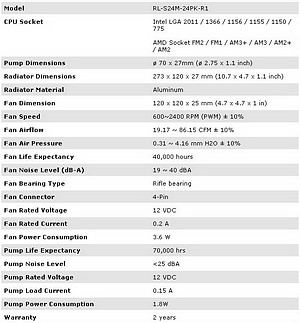 "The Seidon 240M is Cooler Master's latest addition to its incredibly compact watercooling kit line that aims to bring watercooling to the masses. It fits in many cases that support 2 x 120mm fan radiators, is compatible with every available Intel and AMD platform, and is as easy to install as traditional heatsink.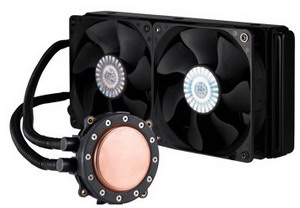 It comes factory filled, sealed and tested with a two year zero maintenance guarantee. Thanks to two 120mm PWM fans with a wide RPM range, Seidon can operate silently or unleash a powerful cooling storm at your command."
---
| | |
| --- | --- |
| Wed: 02/13/2013 | Topic: Cooling / Heatsinks PermaLink |
Trying to regain the title of the most efficient CPU air coolers maker Thermalright stops at nothing. Read our review of their new SilverArrow offering!
---
| | |
| --- | --- |
| Tue: 02/12/2013 | Topic: Cooling / Heatsinks PermaLink |
Today we are going to look at the Corsair H90 which fits into the middle of the Hydro range, in a similar position to the H80i. It is designed to compete directly with the new NZXT Kraken X40 (review forthcoming), boasting a 140 mm radiator to improve performance over standard 120 mm models. We are also going to take another look at the Corsair H110, and see how it compares when cooling an Intel Core i7-3930K processor.
---
| | |
| --- | --- |
| Mon: 02/11/2013 | Topic: Cooling / Heatsinks PermaLink |
The Noctua NH-L9i is a premium heatsink designed for systems where space is an issue and noise control is of utmost importance like a HTPC and SFF (Small Form Factor) PC.
---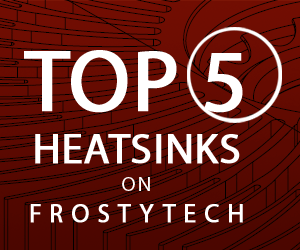 | | |
| --- | --- |
| Mon: 02/11/2013 | Topic: Cooling / Heatsinks PermaLink |
There have been whisperings and rumours about Cooler Master's entry into the water cooling market now for what seems like an age. As far as I can recall, these intensified back at CeBIT 2012 but they were around quite a bit before then. Cooler Master were planning 2012 launches of two different all-in-one water cooling series, the Eisberg and the Seidon. The Eisberg is intended for the ultra high performance and enthusiast market segments while the Seidon is intended for the mid range and enthusiast market segments. The Seidon series has already launched more or less on time but due to what we have heard are "production problems", the Eisberg series is currently delayed and still awaiting its release. Today we have with us the first installation from the Cooler Master Seidon series, the 120M. The Seidon 120M is an all in one liquid CPU cooler with a 120mm one inch thick radiator and 120mm fan. As far as entry level water cooling units go, this is as entry level as you can get. The Seidon 120M is batting in the same field as the Antec Kuhler 620 and Corsair H55 at a highly competitive price point. Specifications for Cooler Master's Seidon 120M CPU cooler can be found here, but without any further ado let us move onto the review.
---
| | |
| --- | --- |
| Mon: 02/11/2013 | Topic: Cooling / Heatsinks PermaLink |
Today we are going to take a look at the Kraken X60 which is NZXT's first attempt at a performance liquid cooler. Over the past few years there have been a number of different companies trying to enter the all-in-one liquid cooling market, following the success of Corsair and Antec. Companies such as Zalman, Cooler Master and now NZXT are all trying to make their mark.
---