| | |
| --- | --- |
| Thu: 04/09/2015 | Topic: Cooling / Heatsinks PermaLink |
"I went into this review with certain hopes. It had been quite a while between model updates from Corsair, and there had been some releases not made by CoolIt or Asetek that had shown some improvements recently. This had me expecting something fresh, and when the initial photos of the units were released I was very impressed."
---
| | |
| --- | --- |
| Thu: 04/09/2015 | Topic: CPU / Processors PermaLink |
"The AMD A10-7800 is a mainstream desktop CPU (or APU, as the manufacturer calls it), altough it is one the most expensive processors available for the platform FM2+. The A-series 7xxx CPUs are codenamed "Kaveri", and they are more energy-efficient than the previous generation, "Richland". The A10-7800 has a 65 W TDP, which can be lowered to 45 W (at expense of a lower maximum clock rate), if the BIOS of your motherboard supports this option. The A10-7800 is based on a microarchitecture called "Steamroller" and, as mentioned, it uses the FM2+ socket."
---
| | |
| --- | --- |
| Mon: 04/06/2015 | Topic: Cooling / Heatsinks PermaLink |
Raijintek is upping their game by entering the all-in-one liquid CPU cooler market with the Triton. Not content with off-the-shelf, self-contained units, they have instead entered the market swinging with an expandable system. Customizable and to be had for a sweet price, the competition might be in for a world of hurt.
---
| | |
| --- | --- |
| Mon: 04/06/2015 | Topic: Cooling / Heatsinks PermaLink |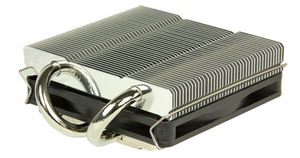 The evolving PC market moves towards yet smaller and faster Computer systems. Scythe reacts to the trend and offers its most compact Top-Flow CPU Cooler, which is focusing on small PCs and Mini-ITX based chassis. Kodati supports the latest platforms of both AMD® and Intel®. Scythe introduces the simplistic E.I.S mounting system with the Kodati, which allows fast mounting without the need for a backplate.
The CPU cooler is amazingly compact with the dimensions of 82,5 x 95 x 34 mm (3.25 x 3.74 x 1.34 inch) and low weight of mere 180 grams (6.35 oz). Thanks to its height of only 34 millimeters and the fan being mounted between the heatsink and the baseplate, it is possible to use the Kodati even in really slim chassis where other heatsinks won't fit.
CPU-Heat is being passed from the copper-baseplate to the aluminum fin-structure using two 6 mm copper-heatpipes. Both the heatpipes and the baseplate have been nickel-plated. Scythe supplies the Kodati CPU cooler with a preinstalled Slip Stream Slim 80 PWM fan. The 80-millimeter fan can be controlled by the motherboard, thanks to the PWM-function, in the range from 800 and 3.300 RPM. Hence allows the fan to move between 6,0 and 24,82 cubic feet per minute (10,2 ~ 42,2m³/h) at a low noise level from 8,2 to 32,5 dBA.
Compatibility to a big variety of sockets has always been a strong point of Scythe CPU Coolers. The new Kodati supports the Intel® sockets LGA775, LGA1150, LGA1155, LGA1156 and LGA1366 as well as AMD® sockets AM2, AM2+, AM3, AM3+, FM1, FM2 and FM2+. Scythe suggests a maximum TDP of 65 watts for the Kodato CPU Cooler. In case of well-cooled PC case environments, CPUs with a maximum TDP of 88 Watt can be cooled as well. The new "Easy Installation with Screw" mounting system has been developed especially for the Kodati, to allow easy mounting without the need of a backplate. All required mounting clips, as well as the user manual and thermal grease are supplied in the Kodati package.
Scythe Kodati CPU Cooler (Model no. SCKDT-1000) is available as of today, whereas the suggested retail price is 18,00 EUR (excl. Taxes).
---
| | |
| --- | --- |
| Mon: 04/06/2015 | Topic: CPU / Processors PermaLink |
Where is Intel Broadwell? Hardware Editors Leo Waldock and Luke Hill discuss Broadwell which is due to be replaced by Skylake in a few months' time. The snag is that Intel hasn't yet released the laptop and desktop versions of Broadwell so the clock is ticking. Or is it tocking?
---
| | |
| --- | --- |
| Mon: 04/06/2015 | Topic: Cooling / Heatsinks PermaLink |
Today we are going to take a look at another of the latest all-in-one water cooling units from Corsair, the Hydro H80i GT. This model has been designed to improve on the existing H80i which has found favour amongst a number of enthusiasts.
---
| | |
| --- | --- |
| Mon: 04/06/2015 | Topic: Cooling / Heatsinks PermaLink |
"On the review bench today we have Scythe's Ashura heatsink; this is a fairly standard tower cooler equipped with a 140mm fan. The Ashura cooler stands 162mm tall, making it suitable for full tower cases where AIO liquid coolers are often too bulky."
---
The Raven RV01 was originally introduced in 2008 as an extreme enthusiast chassis and it's revolutionary 90 degree motherboard position and it's sleek styling made it the envy of many enthusiasts. SilverStone has quietly updated the Raven RV01 but chose to leave the exterior in its original form, some things were just done correctly the first time and need no change. From the moment the Raven lands you will be impressed with the size of the box, then the packaging and when you pull it out of it's fully protective environment the sleek look will set you back on your heels. With its inspiration being a Stealth Fighter Jet you can expect pointed accents and a nose cone like exhaust on the bottom.
---
| | |
| --- | --- |
| Thu: 04/02/2015 | Topic: Cooling / Heatsinks PermaLink |
Japanese cooling-expert Scythe announces the third version of its Kama Thermo thermometer, featuring two individual temperature channel. Unlike its predecessors, new Kama Thermo 3 comes in a solid aluminum chassis, which benefits the sturdiness and lifetime.
The Kama Thermo 3 comes with a built-in screen, which displays the temperature values of two individual temperature sensors both in degrees Celsius and degrees Fahrenheit. Depending on the application, users are able to connect one or two temperature sensors on the rear side of the thermometer. Scythe offers an alternative power source, by adding a USB connector to the rear side of Kama Thermo 3. The alternative power source activates the blue screen illumination in addition. The backlight is deactivated when used with the integrated Button-Cell Battery, in order to allow a long-term stand-alone operation of the thermometer.
Scythe Kama Thermo 3 suits many different applications from measurement of temperatures of PC component to general use in the household thanks to its compact dimensions of 53.5 x 30.5 x 20.5 mm (2.11 x 1.20 x 0.81 in) and lightweight of 35 grams. Wide measurement range from 0 to 100 degrees Celsius (32 to 199,9 degrees Fahrenheit) and the accuracy of 1 degree Celsius (1,8 degree Fahrenheit) are making the thermometer a really useful tool for every purpose and situation. Values are refreshed in the interval of 2 seconds. Kama Thermo 3 is supplied with a built-in button-cell battery, a multi-lingual manual and two temperature sensors.
Kama Thermo 3 (model no. TM03-BK) is available as of today for 8,30 EUR from retails and etailers (excluding Taxes).
---
| | |
| --- | --- |
| Thu: 04/02/2015 | Topic: Cooling / Heatsinks PermaLink |
Wir fahren fort in unserem Round-up um kompakte Wasserkühlungen. Heute präsentieren wir Raijinteks Triton – eine All-in-One-Kühllösung, welche unter Beweis stellt, dass auch mehr möglich ist. Neben einem vorbefüllten Gesamtsystem, welches simpel zu verwenden ist wie ein Luftkühler, gibt es nun hier erstmals mehr. Wir prüfen in unserem Test, was die Triton-Kühlung auszeichnet und wo ihre Schwächen liegen.
---
| | |
| --- | --- |
| Wed: 04/01/2015 | Topic: Cooling / Heatsinks PermaLink |
Today we are going to take a look at one of the latest all-in-one water cooling units from Corsair, the Hydro H100i GTX. This model has been designed to build on the success of the existing Corsair H100i which has proved a massive hit with gamers and enthusiasts worldwide.
---
| | |
| --- | --- |
| Tue: 03/31/2015 | Topic: Cooling / Heatsinks PermaLink |
It's an undeniable fact that the H100i Liquid CPU cooler, which was released two years ago already, was an absolutely giant success for Corsair and continues to be today. Corsair is good at what they do and they will continue to build on their success. Recently Corsair announced and released a refresh of three coolers in the very successful Hydro series, including the H80i GT, H100i GTX, and the H110i GT; we're going to shift our focus strictly on the H100i GTX for this review. This extreme performance cooler features updated features and design, implementing new ideas that they've learned and developed since then. Today we're going to take a look at this cooler and see how it compares to the original H100i and several other coolers.
---
| | |
| --- | --- |
| Tue: 03/31/2015 | Topic: Cooling / Heatsinks PermaLink |
AIO Liquid CPU Coolers may be in the spotlight lately due to the fact that many manufacturers have released several new models but judging by your emails and FB messages it seems that normal CPU Air Coolers are not going anywhere anytime soon. Sure the high-end models are larger which may result in clearance issues with other components and no one can deny that in some cases they are harder to mount compared to AIO Liquid CPU Coolers but at least in terms of performance many CPU Air Coolers still hold their ground while being more affordable and for many consumers out there that's what really matters. The Ashura CPU Cooler by Scythe has been in the market for quite a while and since we recently started working with them again we decided to take it for a spin and see if it too can hold its ground.
---
| | |
| --- | --- |
| Tue: 03/31/2015 | Topic: Cooling / Heatsinks PermaLink |
While Noctua's new NH-U9S and NH-D9L were designed to comply with rack mount system standards, their low profile and horizontal airflow make them a natural choice for SFF and HTPC systems where CPU cooler space is limited. The Noctua NH-U9S meets 4U standards at 125mm tall, while the NH-D9L takes it a step further to meet the 110mm requirement of 3U standard."
---
| | |
| --- | --- |
| Tue: 03/31/2015 | Topic: Cooling / Heatsinks PermaLink |
We review the Cooler Master Hyper D92 CPU cooler, an updated version of the N520 originally released in 2009. The Hyper D92 remains similar in appearance, but features a number of improvements which will allow it to handle the heat from current Intel and AMD processors.
---
| | |
| --- | --- |
| Tue: 03/31/2015 | Topic: Cooling / Heatsinks PermaLink |
In our comparison tables, you can find test results regarding 47 recent air and watercoolers. Furthermore we do not comment the benchmark values. The idea and also the goal is to present to you a market overview which helps you choose the right cooler.
---
| | |
| --- | --- |
| Sat: 03/28/2015 | Topic: Cooling / Heatsinks PermaLink |
Certain limitations are obvious for vertically-challenged heatsinks such as limited thermal management capability but their small size allows for a more flexible compatibility when it comes to fitting in tight spaces. This is why the stock Intel CPU cooler is the default go-to cooler in a DIY SFF/HTPC with its 45mm height. Unfortunately, it is generally louder and not particularly …
---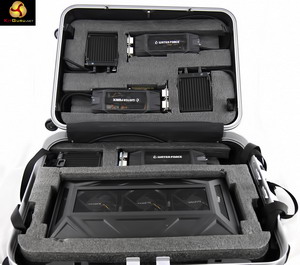 Every single aspect of the Gigabyte WaterForce graphics system is epic. Inside the wheeled suitcase (yes, really) you'll find three water cooled GTX 980 graphics cards, an aluminium casing that sits on top of your PC case to accommodate the three radiators and a handful of accessories.
The idea behind WaterForce is that 4K gaming requires multiple high end graphics cards, however installing a cluster of GTX 980s will give you problems with heat build-up. After all, the 600W+ of power has to go somewhere and the middle graphics card is packed in tightly while the upper graphics card suffers from the physics that says 'heat rises.'
---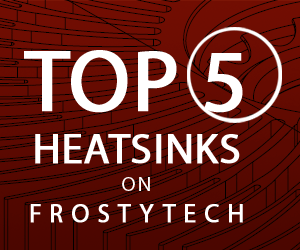 | | |
| --- | --- |
| Sat: 03/28/2015 | Topic: Cooling / Heatsinks PermaLink |
CRYORIG is a relatively new name in regards to cooling products and most of you won't have seen the R1 Ultimate that was released last year. It was quite an impressive product especially as it was their first, however, it wasn't very common in the UK. Most of the people from CRYORIG have previously worked for other large companies such as Phanteks and Thermalright so they do have a lot of experience even though they only officially founded in 2013. We hope that this experience isn't wasted and that they bring us some more products that can bring even more competition to the cooling market.
---
Aquila is the latest case from Xigmatek, which features a compact form factor as well as space for mATX motherboards. Despite its small dimensions, there is actually enough space for small high-end gaming systems and therefore it might be a case that offers some rather interesting options. Apart from the fact, that there is space for high-end graphics cards you'll also be able to install an all-in-on watercooler. In order to make the case more silent, Caseking supplied and installed high quality noise dampening panels, which promises very silent operation.
---