| | |
| --- | --- |
| Tue: 12/12/2017 | Topic: Business / Industry PermaLink |
Taiwan-based cooling fan maker Power Logic is scheduled to be listed on Taiwan Stock Exchange (TSE) on December 28, according to company chairman Hsu Wen-fang.
---
| | |
| --- | --- |
| Mon: 12/11/2017 | Topic: Cooling / Heatsinks PermaLink |
All-in-one coolers have found their way into domestic PCs for several years and we were already able to test dozens of them. Most AIO designs are very similar. Antec is trying to set some accents in the Mercury series with some eye-catching attachments and a very special lighting. We tested the model with the 120mm radiator and show in the current Antec Mercury M120 review how the new CPU cooler performs.
---
The days of the giant ATX gaming system are behind us, surely. A single-slot mITX system is smaller and less expensive than a full-sized ATX system, and modern video card performance precludes the need for SLI or Crossfire X for the vast majority of users. What, then, are we to make of Zalman's massive Z-Machine X7 computer case? This is the largest case Benchmark Reviews has seen since the Cooler Master Cosmos: at x by y by z inches and weighing in at almost 40 pounds empty, this glass and aluminum monster will make its presence known with the help of a plethora of RGB fans and lighting effects.
---
| | |
| --- | --- |
| Fri: 12/08/2017 | Topic: Cooling / Heatsinks PermaLink |
"Noctua makes some of the best air CPU coolers out there. When it comes to Ryzen they were one of the only manufacturers to have a full line of AM4 coolers ready. We've already taken a look at the big boy NH-D15 SE-AM4, with its amazing cooling performance. While the NH-D15 SE-AM4 is one of the best coolers for Ryzen it can be overkill for many people, and its shear size might not make it for everyone. Well Noctua has a smaller cooler made for Ryzen in their NH-U12S SE-AM4, which of course is their very popular NH-U12S with an AM4 mounting bracket. This single tower cooler features 5 large heatpipes and a 120 mm cooling fan. On top of that it has 100% RAM compatibility, so you shouldn't run into any clearance issues."
---
| | |
| --- | --- |
| Thu: 12/07/2017 | Topic: Cooling / Heatsinks PermaLink |
Reeven has offered Benchmark Reviews the opportunity to give some lucky visitor a brand new OKEANOS RC-1402 CPU Cooler. Want to win? All you'll need to do is leave a comment with the CPU and motherboard you'll be using it with, and we'll select a winner at random on December 14th. Drawing open to US shipping addresses only.
---
| | |
| --- | --- |
| Tue: 12/05/2017 | Topic: Cooling / Heatsinks PermaLink |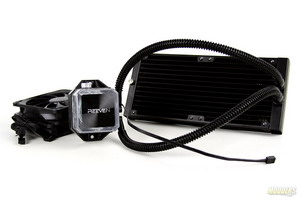 "(Read with action movie voice over guy voice) In a world filled with heartache, turmoil, and strife. A world without direction or promise of a future, many are left with questions. Questions like, 'What should I use to cool my CPU?', 'There are so many AiOs which one is right for me?', and even 'Isn't the cooler that came with it good enough?'. If you find yourself echoing those thoughts you've come to the right place. Today we're taking a look at a brand new AiO from a company just entering this ultra competitive space, Reeven, with their NAIA 240. This interesting first try at a watercooling part stands out with a clear, led backlit, refillable reservoir chamber. Follow along as we find out if this cooler is the right one to solve all your worries and fears."
---
| | |
| --- | --- |
| Mon: 12/04/2017 | Topic: Cooling / Heatsinks PermaLink |
From time to time some water cooled PCs would like to be prepared for presentation purposes. So today we are testing the coolant Aurora by Mayhems on OCinside.de, which wants to attract attention with an unique effect. In addition, there is a new video of the red and blue Mayhems Aurora 2 coolant at our OCinside YouTube Channel.
---
| | |
| --- | --- |
| Sun: 12/03/2017 | Topic: Cooling / Heatsinks PermaLink |
With a height of just 70mm, good cooling efficiency levels and low-noise fan the brand new NH-L12S Low-Profile CPU Cooler by Noctua is the ideal companion for compact mini-ITX cases.
---
| | |
| --- | --- |
| Mon: 11/27/2017 | Topic: Cooling / Heatsinks PermaLink |
The Gentle Typhoon made a comeback recently under the DarkSide brand, and in an all-black color scheme too. It was the fan of choice for PC DIY enthusiasts only a few years ago, and in this review, we will see how it holds up against newer fans and features alike.
---
---
| | |
| --- | --- |
| Sat: 11/25/2017 | Topic: Cooling / Heatsinks PermaLink |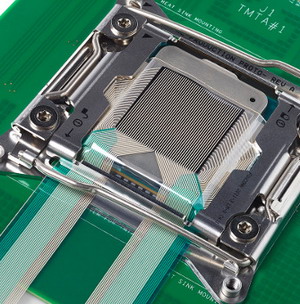 "For the heat sink to function properly, even contact must be achieved between the part being cooled and the heat source. This can be difficult to achieve due to the mechanically "stiff" nature of the heat sink and hard surfaces involved; where contact may be achieved well at one or two points, larger regions of potential contact have gaps. The Tekscan I-Scan pressure mapping system uses patented, paper-thin sensors that can easily be inserted between these two mating surfaces to evaluate and improve the contact."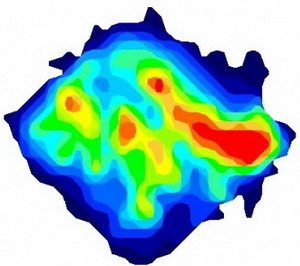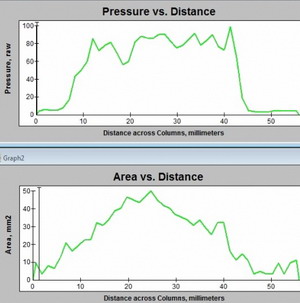 ---
| | |
| --- | --- |
| Sat: 11/25/2017 | Topic: Cooling / Heatsinks PermaLink |
The majority of thermal interface materials used between a heatsink and CPU fall into one of two camps; oxide/nitride-based pastes or soft metal foils with high thermal conductivity that conform to the two mating surfaces (think Indium).
KULR Technology on the other hand offer a new and very unique, carbon fiber-based thermal interface material (FTI). The Fiber based Thermal Interface reportedly has a high bulk thermal conductivity up to 90W/mK, low thermal resistance at below 0.10°C in2/W and requires a little has 5psi contact pressure (20psi for full performance). While paste thermal compounds are applied as thin as possible, the KULR FTI material can be applied in thicknesses up to 1mm.
What does KULR's carbon fiber-based thermal interface material look like?
It looks like fuzz.
---
| | |
| --- | --- |
| Sat: 11/25/2017 | Topic: Cooling / Heatsinks PermaLink |
In this quick test, we look at the all-new ML120 RGB Pro series fans from Corsair, with the ML short for Magnetic levitation. The new kits come with a Commander unit and that means fully programmable RGB with Corsairs Link software.
---
| | |
| --- | --- |
| Fri: 11/24/2017 | Topic: Cooling / Heatsinks PermaLink |
"We are now into the Holiday Season and what better way to celebrate then to give some gear away to you guys! This time we've teamed up with Reeven to give away three of their products! Those products include a Justice CPU Cooler, Polariz Fan Controller, and two (2) EUROS fans. Three great products that would make an awesome addition to any system! Just like our prior contests this one is extremely easy to enter."
---
| | |
| --- | --- |
| Thu: 11/23/2017 | Topic: Cooling / Heatsinks PermaLink |
Scythe is a major player in the air cooling space with a dizzying array of coolers for virtually any application from the Japanese company. In addition to some of the most compact coolers in the business Scythe also offers some of the highest performing - and most quiet - tower coolers available. Two of the largest coolers in the lineup are the new Mugen 5 Rev. B, and the Grand Kama Cross 3 - the latter of which is one of their most outlandish designs.
---
| | |
| --- | --- |
| Wed: 11/22/2017 | Topic: Cooling / Heatsinks PermaLink |
"Successor to the award-winning NH-L12, the NH-L12S is a compact low-profile CPU cooler that combines excellent compatibility, surprising efficiency and remarkable flexibility. Thanks to its NF-A12x15 PWM, slim 120mm fan, the NH-L12S provides even better quiet cooling performance than the previous model with its 92mm fan."
---
| | |
| --- | --- |
| Tue: 11/21/2017 | Topic: Cooling / Heatsinks PermaLink |
Corsair's ML120 Pro RGB fans pair an innovative magnetic-levitation bearing with RGB LED lighting for a fan that's both functional and flashy. We put a trio of these spinners to the test to see whether their performance matches their good looks.
---
| | |
| --- | --- |
| Sat: 11/18/2017 | Topic: Cooling / Heatsinks PermaLink |
The Scythe Mugen 5 Rev B (SCMG-5100) heatsink is a lower-noise tower cooler standing 154mm tall and equipped with a single 120mm PWM fan. The Mugen 5 Rev B is constructed around six 6mm diameter nickel plated heatspipes which are swaged onto an array of raw aluminum cooling fins.
The fins are moderately spaced so as to offer less airflow resistance, meaning a relatively low pressure (1.05mmH2O) fan rotating at 1200-600RPM can be relied upon. For those that prefer dead silent computers, Scythe supply an extra set of wire fan brackets so a second fan can be mounted to the rear of the Mugen 5 Rev B and both fans run at minimum RPM for ultra-quiet operation.
---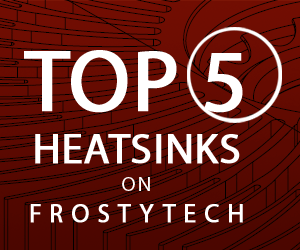 | | |
| --- | --- |
| Fri: 11/17/2017 | Topic: Cooling / Heatsinks PermaLink |
Despite the recent market rumors indicating that Samsung Electronics may stop using heat pipes for its new smartphones in 2018, sources from upstream supply chain players have pointed out that the Korea-based vendor will continue the thermal design and its suppliers have already begun small volume production of related components.
---
Customization is the key to be a successful modder. The more you pay the attention to the details the more your works stands out. be quiet! has been providing PC enthusiasts with quality cooling and power solutions for about ten years now and their product really do stand out in the crowd. As the name suggests …
---