| | |
| --- | --- |
| Thu: 03/12/2015 | Topic: Cooling / Heatsinks PermaLink |
New zipper fin heat sinks from Advanced Thermal Solutions, Inc. (ATS) are protecting thousands of components from the dangers of excess heat at a lower cost than other high fin density heat sink types.
Zipper fins are machined from thin sheet metal, typically aluminum or copper, and are formed into custom shapes. The sheets are designed to interlock with a very narrow space between their layers. The fin assembly is wave soldered to a metal base forming a very rigid, lightweight heat sink.
The zipper fin production process yields a lower cost heat sink than bonded fin designs. This is mainly because bonded heat sinks require more expensive tooling to manufacture. Zipper fin heat sinks can also be made in high aspect ratio fin profiles, enabling taller, thinner and more tightly packed fins for higher cooling performance.
Zipper fin sinks can be designed with integral ducts to contain and optimize cooling airflow. This improves thermal performance, particularly with active sinks that receive airflows from fans and blowers. For many of these designs, the top surface of the heat sink can also be used as a heat spreader for hot components.
Zipper fin heat sinks allow the combined use of copper and aluminum materials. In these designs, the copper base allows for optimal heat spreading while the aluminum fins ensure the heat sink will be lightweight.
With the benefits of higher performance and lighter weight, ATS zipper fin heat sinks can be used to cool LEDs, as well as hot components in telecom, datacom, military and embedded electronics industries.
More information and a video describing zipper fin heat sinks is available on the company website, Qats.com, or by calling Advanced Thermal Solutions at 781-769-2800.
---
| | |
| --- | --- |
| Thu: 03/12/2015 | Topic: Cooling / Heatsinks PermaLink |
"Compared to the models that Noctua succeeded with (as mentioned in on the very front of the box), there are gains. The Flow Accelerations Channels are the real difference here and are likely the reason for the improvements. However, these improvements are not across the board. These fans use more power (still barely enough to even blink at though) and are slightly to a fair bit louder. However, they have higher RPMs, better CFM, and much better static pressure ratings. This still easily constitutes an improvement in my book and simply exemplifies the difficulties present in trying to reduce noise while improving performance."
---
| | |
| --- | --- |
| Thu: 03/12/2015 | Topic: Cooling / Heatsinks PermaLink |
"Noctua call this their flagship model, their premium product, meaning you cannot buy a better air cooling Noctua product. A lofty claim if it wasn't from Noctua themselves, but basing this on their D14 means they might just know what they are talking about."
---
| | |
| --- | --- |
| Thu: 03/12/2015 | Topic: Cooling / Heatsinks PermaLink |
DeepCool was founded in 1996 producing cooling accessories for desktops and servers. With personal computers becoming one of the most important tools of our time, they expanded into AIO liquid cooling, cases and power supplies. In September2014, they introduced the Captain AIO liquid cooler series that features a Patented SS design (Separated Section) that divides the pump and cold plate into two blocks, connected by a unique transparent connection tube makes the water flow visible. The cooler is topped off with an LED light on the top to give it the nuclear-reactor like appearance that the designers were going after.
---
| | |
| --- | --- |
| Wed: 03/11/2015 | Topic: Cooling / Heatsinks PermaLink |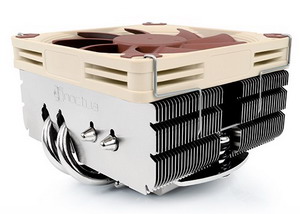 Continuing its recent focus on premium grade cooling components for compact systems such as ITX based gaming or Home Theater PCs, Noctua today released its new NH-L9x65 low-profile cooler and a 4-pin PWM version of its popular NF-A6x25 60mm fan. While the latter adds PWM support for automatic speed control to the proven NF-A6x25 design, the NH-L9x65 is a taller, performance-enhanced version of Noctua's award-winning NH-L9 low-profile coolers.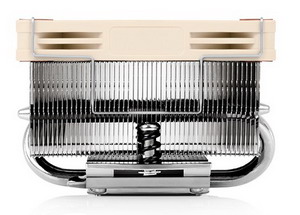 "Our NH-L9 coolers have become a default choice for customers seeking premium grade quiet coolers in the sub-40mm class, but with a height of only 37mm, their performance is inevitably limited", explains Mag. Roland Mossig (Noctua CEO), "The new NH-L9x65 provides the increased performance necessary to cool high end CPUs quietly while still offering excellent case and component compatibility."

Due to its compact heatsink and the renowned 14mm thin NF-A9x14 PWM fan, the NH-L9x65 stands only 65mm tall (the same height as low-profile expansion cards), which makes it ideal for use in compact HTPCs or Small Form Factor cases that offer limited clearance for CPU coolers. With 65 instead of 37mm height and four instead of two heatpipes, the NH-L9x65 is more powerful than its smaller siblings yet retains their 95x95mm footprint, which guarantees 100% RAM and PCIe compatibility on Intel based ITX mainboards and makes the cooler more convenient to work with as it doesn't overhang near-socket connectors.

Topped off with the professional SecuFirm2™ multi-socket mounting system for Intel and AMD, Noctua's renowned NT-H1 thermal compound and 6 years manufacturer's warranty, the NH-L9x65 fuses everything users have come to expect from Noctua's larger coolers into a compact premium package for space restricted systems. "With the trend towards highly compact, ITX based builds, 60mm fans are in demand again", says Mag. Roland Mossig (Noctua CEO), "Since more and more ITX mainboards offer PWM speed control on the case fan header or even multiple PWM headers, we're now providing a 4-pin PWM version of our popular, award-winning NF-A6x25 model." The new PWM version of the NF-A6x25 sports Noctua's custom designed NE-FD1 IC for fully automatic speed control via 4-pin fan headers and comes with a Low-Noise-Adaptor to reduce the maximum speed during PWM control from 3000 to 2300rpm. Its superb running smoothness, SSO2 bearing and Noctua's trusted premium quality make it an elite 60mm choice for the highest demands. Prices and availability The new models are currently shipping and will be available shortly. The manufacturer suggested retail prices are as follows: NH-L9x65: EUR 44.90 / USD 52.90 NF-A6x25 PWM: EUR 14.90 / USD 17.90
---
| | |
| --- | --- |
| Wed: 03/11/2015 | Topic: Cooling / Heatsinks PermaLink |
The Noctua NH-D9L is a cooler designed to meet the demands of the 3U chassis market by giving you a high performance alternative to the Intel OEM cooler.
---
Enthusiasts have been pushing the limits of silicon for as long as microprocessors have existed. Early endeavors involved soldering and replacing crystal clock oscillators, but evolving standards brought options for changing system bus speeds via motherboard DIP switches and jumpers, while some of the most daring would gain boosts through hard modding. These are but a few of the landmark processors revered for their overclocking prowess.
---
| | |
| --- | --- |
| Sun: 03/08/2015 | Topic: Cooling / Heatsinks PermaLink |
Kompakte Wasserkühlungen sind salonfähig geworden. Mit ein Grund, warum immer mehr dieser Kühllösungen im Markt eintreffen und immer mehr Gehäusehersteller hinreichend Befestigungsplätze für die Radiatoren schaffen. Mit der NZXT-Kraken-Reihe starten wir heute ein kleines Round-up um solche Kühllösungen. Das erscheint uns angemessen, nachdem die kleinste Lösung schon einmal beeindrucken konnte. Unser Test präsentiert die Kraken X31, X41 und X61.
---
| | |
| --- | --- |
| Sun: 03/08/2015 | Topic: Cooling / Heatsinks PermaLink |
Hardwareslave is giving away some of our review samples. They maybe slightly tampered with, but you will still enjoy them!
---
| | |
| --- | --- |
| Sun: 03/08/2015 | Topic: Beginners Guides PermaLink |
For our 8th Quiet Gaming PC Build Guide, we take on the challenge of two high-end video cards in an SLI configuration featuring a pair of Zotac GTX 970s in the SilverStone Fortress FT05 case.
---
| | |
| --- | --- |
| Sat: 03/07/2015 | Topic: Cooling / Heatsinks PermaLink |
Reeven are still a fairly new company based in Asia that focus on cooling products and also fan controllers. It's hard to find any Reeven products in the UK as they don't seem to have any resellers over here, which is a real shame. The products really do look very nice and I think there is certainly a place for them here. It's been a while since we have had any products from Reeven, almost 2 years, so it's great to finally get some more to put on our bench and see how the company is evolving and expanding. We have been sent 3 of the latest coolers to come from them and we are going to look at the first one, the Reeven Justice, today.
---
| | |
| --- | --- |
| Fri: 03/06/2015 | Topic: Cooling / Heatsinks PermaLink |
Gelid are one of the leading names in the cooling market, so much so that we extensively use their Gelid Extreme thermal paste in all of our CPU cooler benchmarks for a good reason; as do many other people around the world. Gelid do much more than create thermal paste however, and today we have the Gelid SpeedTouch 6 fan controller at our disposal. The SpeedTouch 6 is designed for those who want to get a better command on their system performance, allowing you to tweak fan levels for maximum cooling performance or minimum noise, while also monitoring internal temperatures of your system components; something that can prove vital for overclocking and maintaining a stable system. There are a fair few fan controllers on the market, so it can be quite tricky to find one that is suitable for your build. That being said, they're often quite similar and a lot of the time it can simply boil down to aesthetic choices when you pick your fan controller. The Gelid SpeedTouch 6 does promise nice aesthetics thanks to a back-lit touch screen panel, but it's also well equipped in general as it comes with long cables, six fan connectors, six temperature sensors and aluminium construction.
---
| | |
| --- | --- |
| Fri: 03/06/2015 | Topic: Cooling / Heatsinks PermaLink |
SilverStone this year, released a new series of coolers called the Argon series, today were going to take a look at one of these; the SilverStone AR06, a low profile CPU cooler. SilverStone are very well well known for their cases such as the iconic TJ07 and TJ11, both excellent cases for system builders and modders alike. They also have a very successful range of power supplies and some AIO coolers. When you think of SilverStone you generally think of quality, good design, usability and when things do occasionally go wrong, good customer service. I'm really looking forward to this one as I recently struggled to find a low profile cooler that worked well, looked good and was cost effective. Let's hope their new range stands up to their high expectations.
---
| | |
| --- | --- |
| Thu: 03/05/2015 | Topic: Cooling / Heatsinks PermaLink |
"It seems smaller and low profile CPU coolers are becoming more popular as many people are building smaller systems for LAN parties. The last CPU cooler we took a look at from Noctua was the NH-U9S. It was a single tower tower cooler with a height of only 125 mm. This time we have Noctua's NH-D9L which is a dual-tower cooler, but is even smaller with a height of only 110 mm. The height of the cooler guarantees full 3U compliance and also makes it perfect for HTPC and small form factor builds. It's 95 x 95 mm footprint clears both the RAM and PCIe slots on all Intel based and most AMD based ITX motherboards. The big question is will this smaller cooler still be able to give us the performance we expect from Noctua? Read on as we find out!"
---
There comes a time when you have to do something outrageous in order to advance yourself. The companies that are always in the forefront are continuously on this edge, pushing and striving for better products. As a consumer we might ask: Why in the world would they make this and who will buy it? Gigabyte has the answer to both of …
---
| | |
| --- | --- |
| Tue: 03/03/2015 | Topic: Cooling / Heatsinks PermaLink |
Corsair Announces Hydro Series H100i GTX 240mm and H80i GT 120mm Liquid CPU Coolers.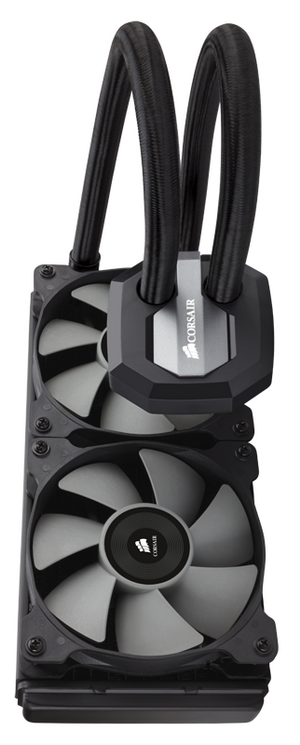 Corsair, a world leader in high-performance PC hardware, today announced the Hydro Series H100i GTX and H80i GT liquid CPU coolers. Like the H110i GT announced in January, the new coolers feature a next generation cooling block that provides more efficient cooling for CPU-intensive applications and super-quiet operation for lighter workloads. Both coolers integrate Corsair Link support to allow users to customize cooling performance, monitor temperature, and change the color of the built-in LED lighting from their desktop.
The Hydro Series H100i GTX incorporates a 240mm radiator while the more compact H80i GT uses a 120mm "double thick" radiator. Both feature high pressure SP120L PWM fans that can be easily controlled through Corsair Link software. The coolers also have a striking new look with logo inserts on the block and radiator in addition to sleeved tubing. And, as with all Hydro Series CPU coolers, the H100i GTX and H80i GT are completely self-contained and require no maintenance or filling.
Hydro Series H100i GTX 240mm Liquid CPU Cooler:
240mm dual-fan radiator
Improved coldplate and pump design
Dual SP120L PWM static pressure fans
Modular, tool-free mounting bracket for faster installation
Built-in Corsair Link support for configuring fan and pump speeds
Use Corsair Link to customize the RGB LED lighting and monitor multiple system temps
User removable/replaceable pump and radiator caps
Support for Intel LGA 115x, 1366, 2011 and AMD AM2, AM3, FM1, FM2 coolers
5-year limited warranty
MSRP: $119.99

Hydro Series H80i GT Liquid CPU Cooler:
Extra-thick 120mm x 49mm radiator
Improved coldplate and pump design
Dual SP120L PWM static pressure fans
Flexible installation – use one fan to save space, or both for extra cooling performance
Modular, tool-free mounting bracket for faster installation
Built-in Corsair Link support for configuring pump and fan speeds
Use Corsair Link to customize the RGB LED lighting and monitor multiple system temps
Support for Intel LGA 115x, 1366, 2011 and AMD AM2, AM3, FM1, FM2 coolers
5-year limited warranty
MSRP: $99.99

Hydro Series liquid CPU coolers will be available in February from Corsair's worldwide network of authorized distributors and resellers.
---
| | |
| --- | --- |
| Tue: 03/03/2015 | Topic: Cooling / Heatsinks PermaLink |
Noctua has responded to the siren call for a more compact CPU cooler with its NH-U9S heatsink. It claims this mid-size cooler has "100% RAM compatibility" and "100% compatibility with PCIe cards on miniITX" motherboards. That's relatively easy to accomplish by sticking to the Intel/AMD thermal design guidelines, but how much thermal performance is sacrificed? The NH-U9S heatsink stands 125mm tall and has a square footprint of 95x95mm. Weighing 618 grams, the heatsink is built around five 6mm diameter copper heatpipes which are soldered to the aluminum cooling fins as well as the copper base plate, in typical Noctua fashion.
---
With the Deep Silence 5 Rev B. Nanoxia have another case in their portfolio, which is optimized towards low noise levels. The Deep Silence 5 is one of the biggest models available from Nanoxia and the case is compatible with E-ATX motherboards and offers plenty of space inside for the management and installation of components. Since we have tested similar cases from other manufacturers we are curious to find out more about the DS5.
---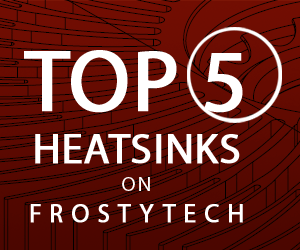 The Nebula is a cube case from Xigmatek with very small dimensions. It allows the installation of mini-ITX motherboards in combination with ATX power supplies. In addition there is enough space in order to create a small HTPC or file server. You could even build a staggering looking little office PC.
---
The NZXT H440 Razer SE Case arrived Technic3D. The Special Edition supports ATX, Mini-ITX and Micro-ATX motherboards and have place for 7x 120mm or 5x 140mm Cooling-Fans. We will check this and many more in the following Review."
---