| | |
| --- | --- |
| Tue: 05/30/2017 | Topic: Tradeshows / Events PermaLink |
"In what is a solid response to AMD's Ryzen, Intel unveils its Core X-Series processors and X299 desktop chipset. Game on, PC fans!"
---
| | |
| --- | --- |
| Tue: 05/30/2017 | Topic: Tradeshows / Events PermaLink |
During the its press conference at Computex 2017, Intel has officially announced the upcoming release of an entire new family of HEDT (high-end desktop) processors along with a new chipset and platform to power it. Though it has only been a year since Intel launched the Core i7-6950X, a Broadwell-E processor with 10-cores and 20-threads, it feels like it has been much longer than that. At the time Intel was accused of "sitting" on the market – offering only slight performance upgrades and raising prices on the segment with a flagship CPU cost of $1700. With can only be described as scathing press circuit, coupled with a revived and aggressive competitor in AMD and its Ryzen product line, Intel and its executive teams have decided it's time to take enthusiasts and high end prosumer markets serious, once again.
---
| | |
| --- | --- |
| Tue: 05/30/2017 | Topic: Tradeshows / Events PermaLink |
The Intel Computex 2017 keynote delivered a smorgasbord of new products from the Intel Compute Card to the new Intel X-Series and Intel Core i9 processors!
---
| | |
| --- | --- |
| Tue: 05/30/2017 | Topic: Cooling / Heatsinks PermaLink |
If you search the internet looking for information on your next build, maybe some advice and pointers from the experiences of people in your shoes, you'll probably come away with more questions than answers. Lots of these posts as the same question, "is this ok?" System builders, first timers or experienced, will also read reviews like this one and wonder if this is objective and impartial. The internet is a minefield of fake everything, and real everything too.
---
| | |
| --- | --- |
| Mon: 05/29/2017 | Topic: Cooling / Heatsinks PermaLink |
CRYORIG is releasing two new CPU cooling projects at Computex 2017. The CRYORIG R5 high-end single tower and the Cu Series of Copper Fin enhanced coolers.

The R5 and Cu Series will both make their debut in the coming Computex 2017 from May 30th to June 3rd at Nangang Exhibition Hall 1 booth i1105.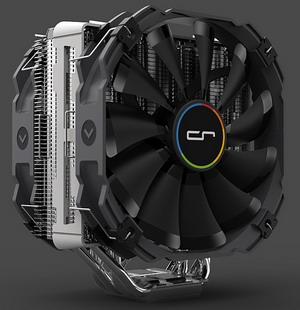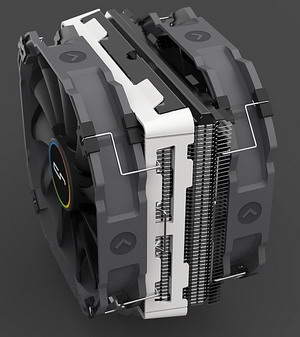 The R5 is the second cooler in CRYORIG's R series of flagship coolers. The R5 is the missing piece to CRYORIG's PC cooling lineup. It is a high-end dual-fan single tower that is designed to stay within the mainboard's CPU Keep-Out-Zone. This means that the CRYORIG R5 has Zero RAM Interference, even on Intel™'s X99/X299 based platforms. Made with performance in-mind the R5 contains multiple CRYORIG cooling innovations including: Convex-Align cooler base optimization, Multi-Seg Quick Mount System, 6 CRYORIG High-end Copper Heatpipes, CRYORIG Dual Fan Fin Optimizations and more. Dual XF140 800 - 1.400 rpm PWM fans will be attached front and back for enhanced performance. The R5 will also see the debut of CRYORIG's brand new Quick Lock Mounting, that promises to simplify the way coolers are mounted.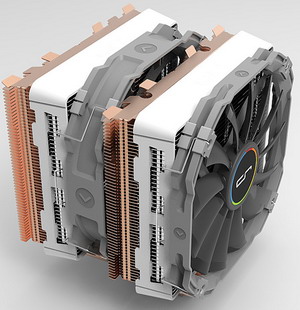 CRYORIG's Cu (Copper) enhanced Performance Edition coolers is a new twist to CRYORIG's award winning CPU coolers. In traditional heatsink fin designs Aluminum provides a good combination of performance, weight and cost. But Copper provides roughly twice the heat conductivity compared to Aluminum.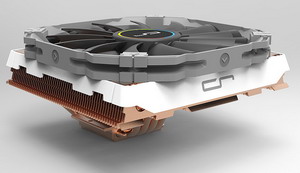 This is why CRYORIG is hand picking some of their most acclaimed coolers and fitting them with brand new pure copper fins. The Cu Series will first make it's debut at Computex 2017. The CRYORIG C7 will be the first cooler to receive the Cu enhanced treatment, with further products to be announced later.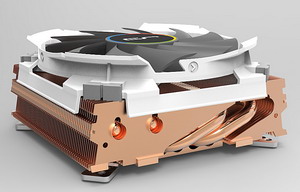 Besides of the R5 and Cu Series, the CRYORIG Taku will also be in exhibition during Computex 2017. CRYORIG's booth is at Nangan Exhibition Hall 1, 1st Floor booth i1105 from May 30th to June 3rd.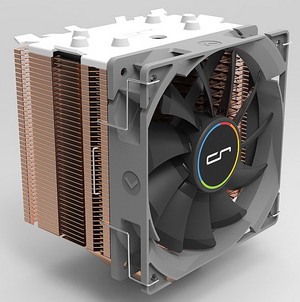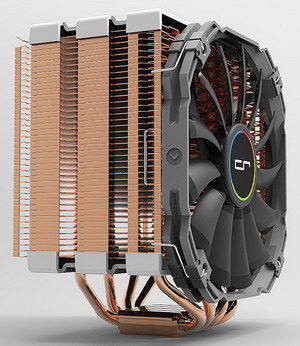 ---
| | |
| --- | --- |
| Mon: 05/29/2017 | Topic: Cooling / Heatsinks PermaLink |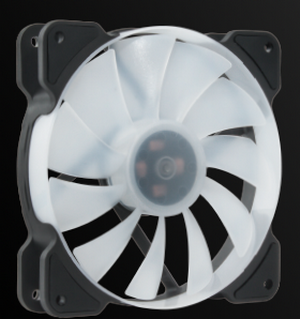 Reeven has let us know it's releasing a new RGB fan called the Reeven KIRAN. The stand-alone, multi-color 120mm PWM fan is engineered for high airflow and long lifespan and output 7 colors and 3 lighting modes for "vibrant colors and vivid animations". The Reeven Kiran fan retails for US$16.99 and will be on display for the first time at Computex 2017.

---
| | |
| --- | --- |
| Mon: 05/29/2017 | Topic: Cooling / Heatsinks PermaLink |
ID-Cooling have previewed several of the new thermal solutions the company will be showcasing at Computex 2017 in Taipei this week. First off the bat is the ID-Cooling Frostflow+ series - AIO watercoolers that come with heat exchangers ranging in size from 120x120 to 280x560mm!
Frostflow+ 120
Frostflow+ 240
Frostflow+ 280
ID-Cooling is also releasing several air coolers for those who don't want to get their feet wet! ;-)
"The newly developed SE-214L Series have bigger heat dissipation area than normal 4 heatpipe CPU coolers. Equipped with world's first 120-130mm fan, SE-214L series provide superior cooling performance. Models below: SE-214L Snow Edition, SE-214L-W, SE-214L-R."
---
| | |
| --- | --- |
| Mon: 05/29/2017 | Topic: Cooling / Heatsinks PermaLink |
ID-COOLING a cooling solution provider focusing on thermal dissipation and fan technology research and production for over 10 years, announced AURAFLOW 240 AIO water cooler, featuring RGB lighting on both the pump and fans at the same time synchronizing with motherboard RGB control.

The pump is designed with a simple C character with an improved light diffuser which can provide smooth and even lighting effect. Copper base contacts CPU to help the heat transfer. Micro fin submerged design increases the heat dissipation surface. The dimension of the whole water block is ?65×36mm.
Solid connectors are used on both ends of the premium sleeved tubing, more reliable & performance efficient. Inside the tubing is self-contained highly efficient and eco-friendly liquid coolant.
AURAFLOW 240 is equipped with a newly developed 240mm radiator with a premium ID-COOLING sticker on the side. Mounted with a pair of RGB SF-12025 high static pressure fans, AURAFLOW 240 is able to deliver the same cooling performance as FROSTFLOW 240L. Fan speed is PWM controlled from 700 to 1800RPM, pushing max. airflow of 74.5CFM each. On four corners are mounted with rubber dampeners to absorb operating vibration. The rings on fans diffuse lighting smoothly.
The lighting from the pump and fans are connected to a RGB connector HUB which then connects to motherboard 12V-G-R-B header to get the software control. Users can set the whole PC lighting using the built-in motherboard RGB control panel. For those who use a normal motherboard, a single color adapter is provided to give user three single colors option: Red, Green or Blue.
Universal mounting brackets are included. The latest AMD Ryzen processors are supported. AURAFLOW 240 is compatible with Intel LGA2011/1366/1150/1151/1155/1156/775 & AMD AM4/FM2+/FM2/FM1/AM3(+)/AM2(+).
MSRP for AURAFLOW 240: 110USD.
---
| | |
| --- | --- |
| Mon: 05/29/2017 | Topic: Computer / SFF PCs PermaLink |
"The 0.5-litre NS02A fanless Android miniPC from Shuttle is able to perform wonderfully for its main intended tasks, which are digital signage and Thin Client applications. It is approved for 24/7 operation, does feature an operation temperature range between 0 and 40 degrees Celsius, while we have to thank the Rockchip RK3368 SoC for the very low power consumption. The Android 5.1.1 distribution is running on the box, which is well optimized and many unnecessary applications have been removed, including the Google Play frameworks."
---
| | |
| --- | --- |
| Sun: 05/28/2017 | Topic: Cooling / Heatsinks PermaLink |
"Noctua makes some of the best air CPU coolers out there. We know this because we've tested many of their coolers over the years. With AMD's Ryzen launch we were brought a new socket (AM4) so Noctua decided to release three Special Edition coolers just for it. These include the NH-D15 SE-AM4, NH-U12S SE-AM4, and NH-L9x65 SE-AM4. We actually have all three coolers on hand, but will be testing the NH-D15 SE-AM4 first. This cooler has a dual-tower, dual-fan design featuring six copper heatpipes, two NF-A15 140mm fans, and Noctua's SecuFirm2 mounting system so installation should be pretty easy. Let's see what this cooler is all about!"
---
| | |
| --- | --- |
| Thu: 05/25/2017 | Topic: Cooling / Heatsinks PermaLink |
HardwareOverclock.com has just posted another review. Last week we have tested the Alphacool Eisblock XPX water cooler. The newest samples are in the clear and satin version.
---
The Cooler Master Cosmos II was launched in 2012 and became one of the brand's most recognizable enclosures. Now, half a decade later, Cooler Master presents the Cosmos II 25th Anniversary edition to celebrate a quarter century in business and to bring the iconic chassis back to a new generation of enthusiasts and gamers.
---
| | |
| --- | --- |
| Thu: 05/25/2017 | Topic: Cooling / Heatsinks PermaLink |
Digitimes reports; "Smartphone vendors have been eager to try out vapor chamber technology to improve heat dissipation efficiency, with Taiwan-based Asustek Computer and China-based ZTE having undertaken small-volume trial use and Apple rumored to be interested in the solution, according to Taiwan-based suply chain makers.

Taiwan-based thermal pipe makers Chaung Choung Technology, Asia Vital Components and TaiSol Electronics as well as Japan-based Furukawa Electric have been developing vapor chamber heat-dissipation solutions for use in smartphones, the sources said.

While most smartphone vendors adopt graphite heat-dissipation modules, Samsung Electronics and LG Electronics have taken the initiative to adopt heat-dissipation metal pipes with diameter of 0.35-0.40mm for their smartphones, with such heat-dissipation pipes mainly supplied by Chaung Choung, Furukawa Electric and Taiwan-based Auras Technology and Delta Electronics, the sources noted.

Vapor chamber solutions are superior to heat-dissipation pipes in efficiency of heat dissipation, the sources said. While thickness of vapor chamber modules stands at 0.38mm currently, Apple reportedly prefers thickness of 0.30mm, the sources noted. However, the small gap of 0.08mm will pose big challenges to technology in product development and yield rate in production, the sources indicated.

Graphite heat-dissipation modules are popular for smartphones mainly due to cost consideration, for the average price for a graphite heat-dissipation module stands at US$0.60-0.70, much lower than that of US$0.90-1.00 for a heat-dissipation pipe, the sources said. However, the latter has much higher heat dissipation efficiency with thermal conductivity K-values of 5,000-8,000 in comparison with K-values of about 1,500 for the former, the sources noted. "
---
| | |
| --- | --- |
| Thu: 05/25/2017 | Topic: Cooling / Heatsinks PermaLink |
"Given the excellent performance of both Eisbaer liquid coolers it becomes easier to justify the price tag, considering the performance is due largely to their premium construction. All-copper radiators, a high-quality pump, and very effective fans combine to make these Eisbaer coolers an impressive pre-built solution. The flexibility to easily add components to the loop using the quick-lock closure, as well as the ability to refill the unit - or even replace any of its parts using off-the-shelf liquid cooling components - make these far more than your typical "all-in-one" liquid CPU cooler."
---
| | |
| --- | --- |
| Thu: 05/25/2017 | Topic: Cooling / Heatsinks PermaLink |
The EVGA Hydro Copper GTX 1080 is a full-cover waterblock that offers integrated lighting with no cable management needed, a six-port I/O port manifold, and an aluminum front cover for aesthetics and rigidity alike. It also aims to simplify installation by incorporating pre-installed thermal pads out of the box.
---
| | |
| --- | --- |
| Wed: 05/24/2017 | Topic: Cooling / Heatsinks PermaLink |
The NZXT Aer F may not take my breath away, but they are a capable and aesthetically customizable set of fans.
---
| | |
| --- | --- |
| Tue: 05/23/2017 | Topic: Cooling / Heatsinks PermaLink |
While you may know FSP as a power supply manufacturer, the company is currently branching out into areas, including air coolers. Today we take a look at the Windale 6 air cooler, with an MSRP of $47.99. Up against stiff competition, how does FSP fair on its air cooling debut?
---
| | |
| --- | --- |
| Mon: 05/22/2017 | Topic: Cooling / Heatsinks PermaLink |
The Fractal Design Celsius S24 is a solid performer, while also allowing one to experiment with added components in the loop if so desired.
---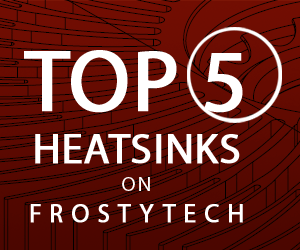 | | |
| --- | --- |
| Sat: 05/20/2017 | Topic: Cooling / Heatsinks PermaLink |
The Fractal Design Celsius S24 is a solid performer, while also allowing one to experiment with added components in the loop if so desired.
---
| | |
| --- | --- |
| Sat: 05/20/2017 | Topic: Cooling / Heatsinks PermaLink |
Should you consider an all-in-one liquid cooler? Initially aimed at enthusiasts seeking to overclock, liquid coolers reduce the load on the motherboard, clear the clutter from around the CPU socket and tend to offer greater performance than the traditional heatsink and fan.
Plenty of promise, but early models were beset with noisy pumps and teething issues that kept mainstream users from coming aboard. Fast forward to today and the wrinkles appear to have been ironed out. The likes of be-quiet!, NZXT and Cooler Master have all impressed with modern liquid coolers, and Fractal Design is attempting to go one better with a new range introduced under the Celsius moniker.
---