| | |
| --- | --- |
| Fri: 05/23/2014 | Topic: Cooling / Heatsinks PermaLink |
On the test bench today we have BeQuiet's Dark Rock 3 heatsink; the "little brother" to the dual-tower Dark Rock Pro 3 CPU cooler Frostytech recently put through the thermal wringer. The Dark Rock 3 stands 159mm tall and weighs in at 976 grams. Built around six, 6mm diameter copper heatpipes and a large aluminum fin stack, the Dark Rock 3 is rated to heat loads up to 190W TDP by the manufacturer.
---
| | |
| --- | --- |
| Mon: 05/19/2014 | Topic: Cooling / Heatsinks PermaLink |
LarKooler was established in 2009 to manufacture cost-effective PC cooling solutions. MadShrimps reviewed their first entry in to the DYI in the end of 2009; while it was not the most high end or best performing kit out there, the total picture was right on track with LarKooler's main objective: provide good cooling performance at an amazing bang for buck ratio. Since a few years AIO units took over a big part in the cooling business, with the most successful being the Corsair Hydro series. Ease of installation is their main trademark, however as most of these are closed loop, there is no option to integrate extra components in the cooling loop. The latter is the strong point of the DIY kits besides being versatile to add extra components they also provide awesome cooling performance at a low noise ratio. The SkyWater 330 kit today is one of those ready to build kits, however price wise it retails at a similar price as the high end 240/280 AIOs. Million dollar question can it beat those in raw performance figures ?
---
| | |
| --- | --- |
| Sun: 05/18/2014 | Topic: Cooling / Heatsinks PermaLink |
We have already seen the be quiet! Dark Rock Pro 3 stamp its authority on the high-end air cooler market. Now the company is aiming for another fight with its single tower Dark Rock 3 CPU cooler. Can a balance between cooling performance and noise make the Dark Rock 3 a worthy contender?
---
| | |
| --- | --- |
| Sat: 05/17/2014 | Topic: Cooling / Heatsinks PermaLink |
This is new.
CapTherm Systems have built what looks like a loop thermosyphon CPU cooler featuring a window to display the coolant boiling. Wonder if it performs better than this did.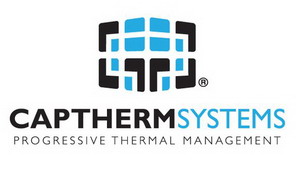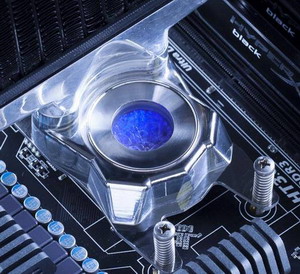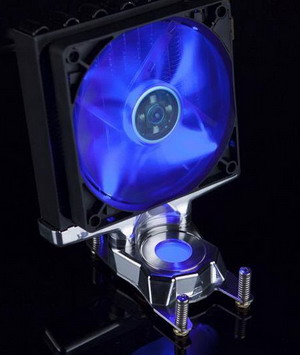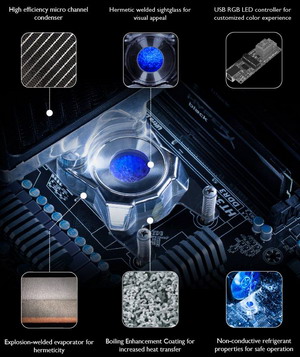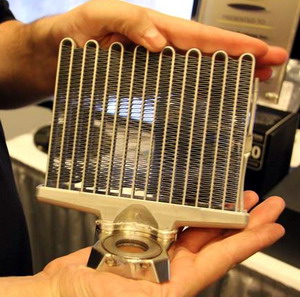 ---
| | |
| --- | --- |
| Thu: 05/15/2014 | Topic: Cooling / Heatsinks PermaLink |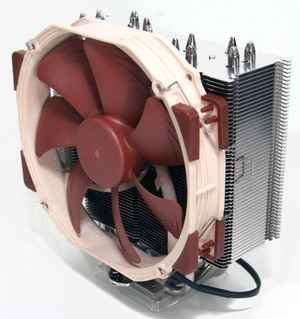 The Noctua NH-U14S is designed with to be a slimmer-bodied heatsink with superior RAM compatibility compared to the dual-towered NH-D14.
---
| | |
| --- | --- |
| Thu: 05/15/2014 | Topic: Cooling / Heatsinks PermaLink |
On the cooling test bench today we have something pretty special, the NoFan CR-80EH. The latest cooler from NoFan, a completely passive CPU cooler that obviously promises silent performance for your computer, but it's also the newer, more budget friendly model of their previous fan-less CPU cooler, the CR-95C which we reviewed two years ago. We were really impressed by the performance of the previous model, it kept our CPU well within the safe zone for your average user and of course it didn't without making so much as a whisper of noise. When it comes to building a HTPC, a silent build can be an incredible tool at your disposal, but it's hard to get the components right. Passive components still need airflow to get the heat out of the chassis and keep the system from overheating, but with careful consideration you can have a rig that won't be humming away in the corner while your watching your favourite movies, leaving you to enjoy the show, not the ambient noises. Prices at just under £40 the CR-80EH is far from expensive, but while I'm certain that I would be able to find many coolers in this price range that offer much better cooling performance, I doubt there are any that will be as quiet. Cooling performance is still important of course, no one wants to cook their CPU in a hurry, but not everyone is trying to overclock the brains out of their system. So long as the CR-80EH can keep a stock i5 within the safe zone, I'll be happy, but I would be foolish to think this will be enough to cool a heavily overclocked chip… but we'll find out about that shortly.
As you can see from the specifications, the cooler is quite large, but no so much that it shouldn't find in most PC cases. It can handle up to 80W, which should be ok for newer high-end or older midrange chips, but keep in mind that some of the older AMD hardware for example can require 125W coolers.
---
| | |
| --- | --- |
| Thu: 05/15/2014 | Topic: Cooling / Heatsinks PermaLink |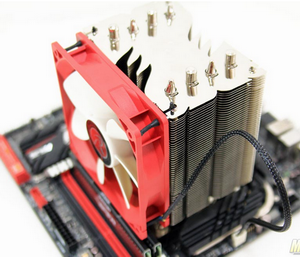 Summary: The Raijintek THEMIS Evo performance is undeniable as displayed in the benchmark results, a fact that is made even sweeter by a $40 USD price tag.
---
| | |
| --- | --- |
| Thu: 05/15/2014 | Topic: Cooling / Heatsinks PermaLink |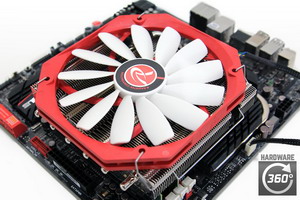 Just like the previously reviewed THEMIS Evo, the Raijintek Pallas showed incredible thermal control at a very good price point. Considering that it can go toe-to-toe with larger tower-style coolers, the Raijintek Pallas is not a typical low-profile cooler just for HTPC use. The design and the build quality is also impeccable with detailed touches not just for aesthetic reasons but for practical functionality as well.
---
| | |
| --- | --- |
| Thu: 05/15/2014 | Topic: Cooling / Heatsinks PermaLink |
When it comes to CPU coolers there are no shortage of options, in fact it can be quite a headache trying to find the right one for your system. With water cooling now cheaper than ever, and air cooling still pushing forward with innovative designs that have pushed performance up and prices down, not to mention the wide range of sizes, shapes and a dozen other factors that can make each one unique from the last. be quiet! have one important focus on their coolers that sets them apart from the crowd, and they're already a world-renowned brand for their ultra quiet performance products. It's their ambition for quiet performance that has earned them a solid reputation among system builders, gamers and many other sections of the PC building / owning world. Offering up some of the quietest products on the market has long been their goal and they've succeeded time and time again, especially since their quiet performance is often backed up by superb cooling capabilities, pretty much the two best qualities you could ask for from a CPU cooler.
---
| | |
| --- | --- |
| Thu: 05/15/2014 | Topic: Cooling / Heatsinks PermaLink |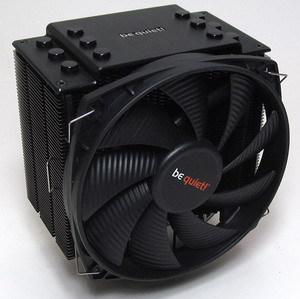 be quiet!'s Dark Rock 3 is a great single-tower cooler as it offers up stylish looks with the performance to back it up. Take into consideration its exceptional build quality and warranty and you have a cooler that might just be best in class.
---
| | |
| --- | --- |
| Thu: 05/15/2014 | Topic: Cooling / Heatsinks PermaLink |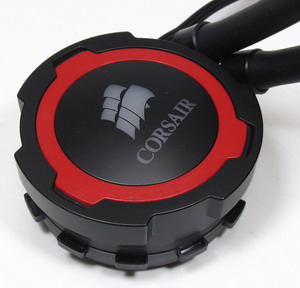 The Corsair Hydro Series H105 has redefined what one can expect from an AIO liquid CPU cooler. Making use of a thicker 38 mm radiator and Corsair's own SP fans designed to deliver high static pressure, this well-engineered cooler makes quick work of the competition.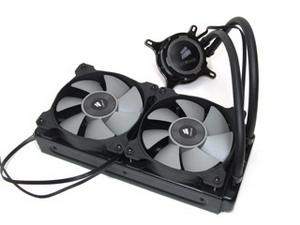 ---
| | |
| --- | --- |
| Thu: 05/15/2014 | Topic: Cooling / Heatsinks PermaLink |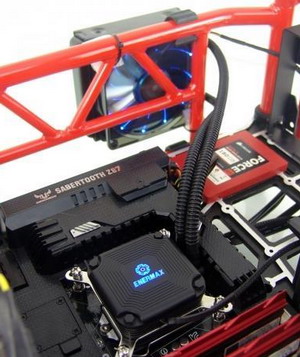 "Enermax throws its hat into the AIO CPU water cooling ring, and delivers the Liqmax 120S for us to test. Let's see what Chad thinks about it right now."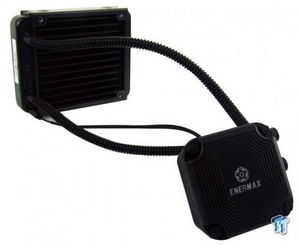 ---
| | |
| --- | --- |
| Thu: 05/15/2014 | Topic: Cooling / Heatsinks PermaLink |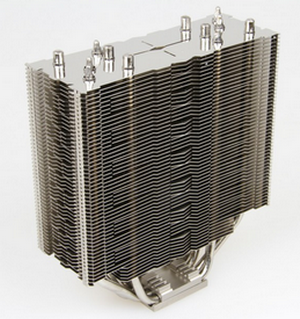 The EKL Alpenföhn Himalaya 2 Cooler arrived Technic3D. See you in the following Review the Himalaya 2 CPU-Cooler with one 140mm PWM-Fan and six x 6mm Heatpipes compared with many other Cooler on a Intel Core i5 2500k CPU."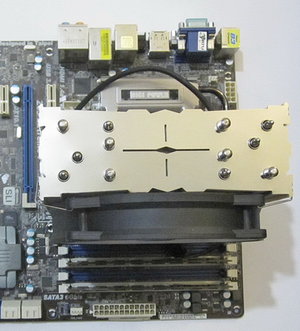 ---
| | |
| --- | --- |
| Wed: 05/14/2014 | Topic: Cooling / Heatsinks PermaLink |
"The running trend today in top-of-the-line CPU cooling performance seems to be water cooling. However, there are those enthusiasts who would rather have peace of mind, knowing that they will never have to worry about one of the lines in a water cooling loop springing a leak or their pump failing on them, destroying their high performance rig. How do you gain maximum performance while minimizing the risk? Spire has released another member of their CPU air cooling line. It's called the X2 Spire Eclipse IV, and we are going to review it for you today."
---
| | |
| --- | --- |
| Tue: 05/13/2014 | Topic: Cooling / Heatsinks PermaLink |
Weighing just over a pound and having only a single 120 mm fan, the Scythe Kotetsu still manages to compete and beat much of the larger competition.
---
| | |
| --- | --- |
| Sun: 05/11/2014 | Topic: Cooling / Heatsinks PermaLink |
"That's right, the Noctua NH-D15 has hit the labs for testing. Let's see if Noctua can claim the top of the heap like its predecessor did in our results."
---
"The Be Quiet! Dark Power Pro 10 750W power supply features sexy styling, a modular setup, an 80Plus Gold certification, and an Overclocking Key (what?!?) that promises to literally change the power delivery inside this unit. We're certainly intrigued, so let's take a closer look at this power supply from Be Quiet! and see if it can deliver the goods to a demanding consumer base."
---
| | |
| --- | --- |
| Wed: 05/07/2014 | Topic: Cooling / Heatsinks PermaLink |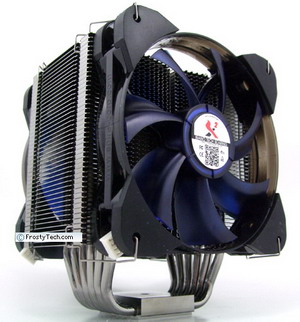 Bearing close resemblance to the Prolimatech Megahalems Frostytech tested a few years back, the Eclipse IV heatsink is a bifurcated-tower cooler from heatsink manufacturer 'X2 Products' a brand offshoot of Spire Corp.
The Eclipse IV heatsink is rated to a maximum cooling capacity of 220W by its makers and at first glance has the gravitas to back that claim up. The cooler ships with two 122mm PWM fans mounted in a push-pull configuration, each spinning at 2000-800RPM. The fans use an interesting, wavy impeller blade geometry that we haven't come across before, too bad neither the translucent fan blades or frame are illuminated.
---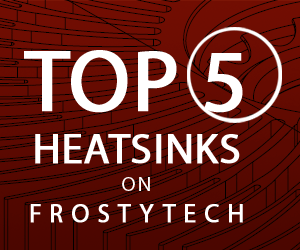 "Zalman delivered the Z3 Plus case in white for review. We're pretty sure Zalman won't be happy with this review, but the show must go on, as they say."

"This may come off as a bit harsh, and maybe even a little "elitist," but reality is what it is in today's market. Being able to sample cases from around the globe gives me access to all sorts of design ideas and what can be had in a mid-tower chassis these days. While Zalman and the Z3 Plus do cover all the basics and most of the features that users need in a chassis, it seems the attempts were a bit weak in design and implementation."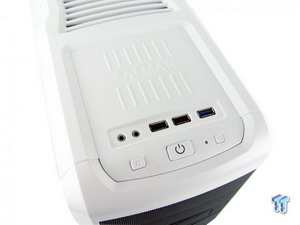 ---
---