| | |
| --- | --- |
| Wed: 08/28/2013 | Topic: Cooling / Heatsinks PermaLink |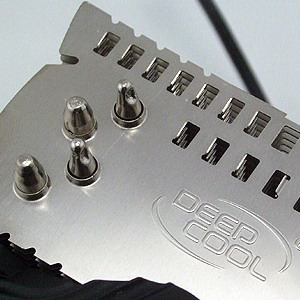 It's nice to once again encounter a heatsink that stands less than 150mm tall and doesn't feature some kind of complicated self contained water cooling heat exchanger... these days it's getting more difficult to find CPU coolers for compact computer systems.
---
| | |
| --- | --- |
| Tue: 08/27/2013 | Topic: Cooling / Heatsinks PermaLink |
"The Cooler Master V8 GTS Air CPU Cooler like the previous V8 line, is a winner. It sports eight 6mm heatpipes, two LED 140mm fans, many aluminum fins and comes with a smooth baseplate with vapor chamber technology. This thing is a beast! " ~3dGameMan.com
---
| | |
| --- | --- |
| Tue: 08/27/2013 | Topic: Cooling / Heatsinks PermaLink |
It has been a long time coming, but finally the king has graced us with its presence! The Noctua NH-D14 was released back on November 2nd 2009 and it has been the benchmark for high performance air coolers ever since that day. Despite that we've never actually gotten around to producing a review of this amazing cooler. So I asked Noctua if they could provide us with one and they duly delivered. With us pushing forward and testing so many CPU coolers it is easy to get lost in the mountain of numbers but what easier way to make it through than with some Noctua NH-D14 results as a signpost. You may be thinking, this review is a bit late, isn't it kind of pointless? Well not really I'd say. Firstly we are reviewing the NH-D14 SE2011, or the "Special Edition". This was released back on November 2nd 2011 - exactly two years after the original Noctua NH-D14 came to market making it around 18 months old. The changes are minimal but it brings LGA 2011 support and some improved fans. Nonetheless the NH-D14 has never been more relevant for high performance CPU cooling and to this day it still probably outsells every other dual tower CPU cooler on the market. That said I think you'll agree that it's about time we gave the Noctua NH-D14 a thorough going over to show you why most enthusiasts regard this as the best air CPU cooler on the market. And let's face it with the NH-D14 selling by the boatload, with Noctua struggling to produce them fast enough, I wouldn't be surprised if we see it last for at least a few more years before a successor is introduced.
---
| | |
| --- | --- |
| Mon: 08/26/2013 | Topic: Cooling / Heatsinks PermaLink |
NEW - An August 2013 Update has been posted here.
The point of this three piece prototype spinning aluminum impeller heatsink from Sandia National Labs is to get rid of boundary layers by exploiting a fairly obscure fluid dynamic effect first discussed in the 1950's, where by boundary layers are substantially thinned above the surface of accelerating bodies (ie. radial fins on a disk rapidly spinning). In this case, the aluminum cooling fins - the fan impeller - are spinning at 2000RPM. According to Sandia Labs, heat is transferred from the processor to the rotating cooling component above, across a very thin 'air bearing' - essentially a metal surface rotating a fraction of a millimeter over a similarly sized stationary surface.

Orientation Agnostic
In the video below you'll see the air bearing heatsink sitting horizontally on a table, yet if you glance at your computer tower you'll know that CPU heatsinks mostly always operate while mounted to a vertical motherboard. The Sandia cooler is orientation agnostic - meaning the air bearing is not affected by gravity and will operate vertically, upside-down or at angle because a compression spring is used to hold the impeller and base together, not gravity.
Watch the entire video on the Sandia air bearing cooler here, it's well shot and explained.
The complete 48 pg PDF from Sandia National Laboratories researcher Jeff Koplow, titled; "A Fundamentally New Approach to Air-Cooled Heat Exchangers" is available here. The project report 'borrows' one of my photos from a Frostytech review without crediting it to Frostytech.com (pg.5, figure 1), but this technology is cool so I'll let it slide. ;) Update - received a nice apology regarding the unattributed image and all is good. :)
---
| | |
| --- | --- |
| Mon: 08/26/2013 | Topic: Cooling / Heatsinks PermaLink |
Prolimatech are a brand that made their name with some seriously high end products. We've already taken a look at a couple of cheaper CPU coolers from Prolimatech – the Samuel 17 and Panther – and we found them to be kind-of average for the price point. Yet we know that Prolimatech are not an average brand and when they make product they are accustomed to making they excel at it. Today we have one of those products from Prolimatech that is renowned throughout the cooling industry – the Megahalems. However, this isn't just any Megahalems because the Megahalems has been out for a while now. This is the special black Megahalems the is specially coated in al all black heatsink design with a black powder coat. Furthermore, Prolimatech have even gone to the trouble of coating the mounting parts as well. Nothing has changed since the original Megahalems in terms of the physical specifications, which you can see below. What has changed is this cooler now looks more awesome than ever and has a slightly higher price tag for the extra work Prolimatech have done to it. Interestingly this is the first time I have looked at Prolimatech's Megahalems so it will be interesting to see what it has in store for us.
---
| | |
| --- | --- |
| Sat: 08/24/2013 | Topic: Cooling / Heatsinks PermaLink |
These four fans are all part of Prolimatech's Vortex series and minus the Ultra Sleek Vortex 14 these fans cover all the fans that Prolimatech make with the only variations being colours and the presence of LEDs. There isn't really too much else to say so we will crack on with the review. If you are interested in seeing individual product specifications and other information then do check out the product pages above.
---
| | |
| --- | --- |
| Fri: 08/23/2013 | Topic: Cooling / Heatsinks PermaLink |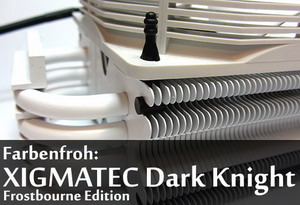 Der Dark Knight bleibt ein treuer Begleiter des Kühlerspezialisten Xigmatek. Hatte der Erfolgskühler bereits 2008 in anderer Version das Licht der Welt erblickt, führten verschiedene Variationen über Jahre hinweg den Erfolgskurs weiter fort.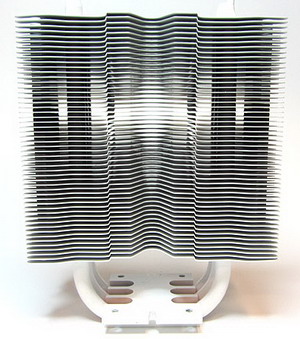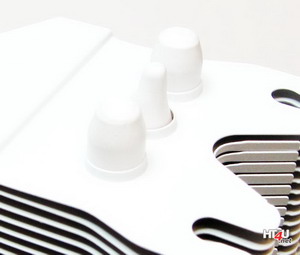 Ende des letzten Jahres fand sich die Night Hawk-Edition im Markt ein, nun folgt die Frostbourne Edition, welche komplett in Weiß gehalten ist. Wie erfolgreich sich der Dark Knight 2013 präsentieren kann, klärt unser Test.
---
| | |
| --- | --- |
| Thu: 08/22/2013 | Topic: Cooling / Heatsinks PermaLink |
Should you be looking for a custom watercooling kit, then you should certainly hop over to Aquatuing and have a look at products they sell. The full line provider has everything you need in its portfolio and there are also ready-made kits for less experienced users. Today it is one of these kits we're having a look at and we're obviously going to tell you what it is capable of.
---
| | |
| --- | --- |
| Wed: 08/21/2013 | Topic: Cooling / Heatsinks PermaLink |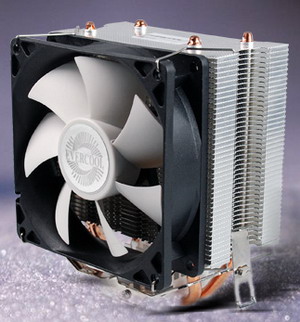 EVERCOOL launching a new compact heatsink called the HPR-9225EA which uses a 90mm silent fan with a maximum speed about up to 2200RPM. The heatsink is pretty simply by today's standards; just a pair of heatpipes and aluminum fins... the thermal solution is aimed at the on-a-budget low profile cooling market. A rear mounted fan can of course be added to Evercool's HPR-9225EA heatsink, if desired. Specs: 2x Ø6mm-U-shape copper heat pipes accelerate heat conductivity, Universal socket support:Intel 1155/1156/775 and AMD K8/AM2/AM3/FM1/FM2, 9225 white designed fan,fan speed up to 2200rpm.efficiently optimizes cooling performance. Option for adding 2nd fan to increase cooling power.
---
| | |
| --- | --- |
| Wed: 08/21/2013 | Topic: Cooling / Heatsinks PermaLink |
Deepcool has officially released its first fanless CPU cooler called 'LUCIFER', under the sub-brand GAMER STORM, which is named after the hero from the well-known and popular video game Defense of the Ancients for Warcraft III. The most important skill of this cooler is to "Devour" the heat massively.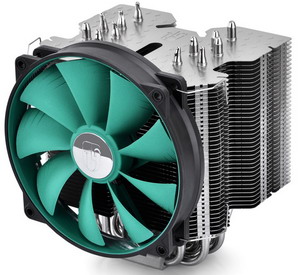 The DeepCool Lucifer CPU cooler is designed to cool the mainstream processors in fanless mode to create a totally silent system; meanwhile, Lucifer is also capable of cooling high-end processors with the help of good airflow inside the case. The bundled 14cm patented rubber fan is able to enhance the cooling capacity of Lucifer up to 300W. And Lucifer also supports push-pull configuration.
There're 6 heatpipes firmly soldered onto the copper base to enhance the heat conductivity from the processor to the heatsink. The heatpipes are specially placed asymmetrically to ensure good compatibility with the memory. The cooler has a massive surface and wide gap between the fins to allow quick heat dissipation in passive mode and fast airflow through in fan mode. The heatsink body is fully nickel plated to prevent from oxidation and increase durability of the product.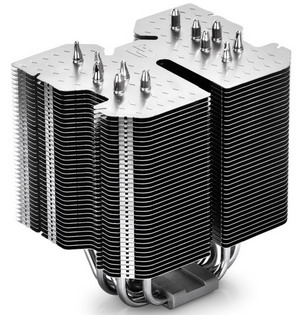 One 14cm PWM rubber fan is bundled in to increase the cooling performance. Users can use this fan as a case fan or use it to push/pull the cool air through the heatsink.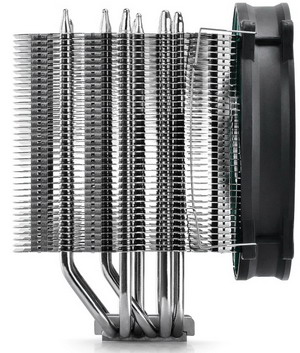 With multiple clips, this cooler can support all mainstream processors including Intel LGA2011/1366/1155/1156/775 and AMD FM2/FM1/AM3+/AM3/AM2+/AM2.
LUCIFER will be available worldwide from August and the availability may differ in different regions. The suggested retail price of this cooler is $60.
For more information, please check here: http://global.gamerstorm.cn/Product/Lucifer/
---
| | |
| --- | --- |
| Tue: 08/20/2013 | Topic: Cooling / Heatsinks PermaLink |
The Assassin is a dual tower cooler that utilizes eight massive heatpipes to cool just about any processor you can imagine.
---
| | |
| --- | --- |
| Tue: 08/20/2013 | Topic: Cooling / Heatsinks PermaLink |
"Raijintek is a name I'm sure most of you are not familiar with. They're a new company to the PC accessory market and have debuted four new CPU coolers – the Aidos, Themis, Themis EVO and the Ereboss – as well as some slim case fans. Raijintek isn't a company which started from nothing though. It's actually a collaboration between some Cooler Master and Xigmatek employees so the company has some serious collaborative knowledge. They also plan on expanding into the chassis and PSU market in the near future. We have their Ereboss CPU cooler to check out, so let's get on with it!"
---
| | |
| --- | --- |
| Tue: 08/20/2013 | Topic: Cooling / Heatsinks PermaLink |
Prolimatech make some of the biggest and meatiest heatsinks on the market (such as the Genesis, Megahalems and so on) but today we have something relatively minuscule from Prolimatech in the form of the Panther CPU cooler. This is a quad 6mm heatpipe with a single 120mm red LED fan. It has been designed to be compact but high performance and it is targeted at the mid range user who values RAM compatibility. The Prolimatech Panther is not that far off your average tower heatsink CPU cooler at 161mm tall but is coming in at around £30 making it a very much value orientated option. It is also one of the very few Prolimatech CPU coolers to actually come bundled with a fan as they often provide only passive heatsinks and allow you to add your own fans.
---
| | |
| --- | --- |
| Tue: 08/20/2013 | Topic: Cooling / Heatsinks PermaLink |
Low profile CPU coolers are taking off in popularity these days as people look to build their own NAS systems, HTPCs and portable gaming rigs. With so many low profile CPU coolers out there it is easy to get overwhelmed but today we are hoping to simplify things a bit as we are taking a look at another low profile CPU cooler this time courtesy of Prolimatech. The Prolimatech Samuel 17 is a low profile CPU cooler boasting six 6mm heat pipes and support for an 120mm fan and it measures in at just 45mm tall before adding a fan. The Samuel 17 is Prolimatech's only low profile CPU cooler that they have ever made and they specifically market it for HTPC systems. With a whole host of competitors to the Prolimatech Samuel 17 (such as the Gelid Slim Hero, Scythe Big Shuriken 2, Noctua NH-L12 and so on) we are really hoping that it can deliver something good because the competition is pretty stiff these days in the low profile CPU cooler market.
---
| | |
| --- | --- |
| Tue: 08/20/2013 | Topic: Cooling / Heatsinks PermaLink |
Zalman is a well known manufacturer of PC Cooling Equipment. In this review we look at the new Zalman Reserator 3 Max Liquid CPU Cooler. The performance is surprisingly good, and the design is excellent. But see for your self in the review.
---
| | |
| --- | --- |
| Tue: 08/20/2013 | Topic: Cooling / Heatsinks PermaLink |
Akasa was founded in 1997, and is a well known manufacturer of PC Cooling Equipment. In this review we look at the new Akasa Venom Medusa CPU Cooler. It's huge, but let us see how it performs in real life.
---
| | |
| --- | --- |
| Sat: 08/17/2013 | Topic: Cooling / Heatsinks PermaLink |
The double thick 120mm radiator makes the Corsair H80i is compact cooler that can fit into most cases, but it still offers enough cooler performance for enthusiasts running their processors at high frequencies and voltages
---
| | |
| --- | --- |
| Wed: 08/14/2013 | Topic: Cooling / Heatsinks PermaLink |
We have already looked at several Cooler Silencio Cases earlier here on Tweak.dk. In this review we look at the new Cooler Master Silencio 650 Pure in Midnight Black. It's packed with features and with room for up to seven 120 / 140 mm fans inside.
---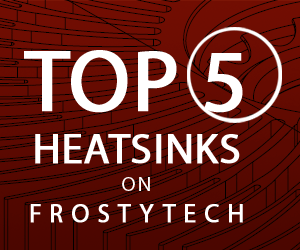 | | |
| --- | --- |
| Wed: 08/14/2013 | Topic: Cooling / Heatsinks PermaLink |
"Antec is a name that anyone in the PC industry is familiar with. Their offerings include PC cases, fans, CPU coolers, laptop coolers, power supplies and the list goes on. Antec has recently added a whole new line of fans to their already impressive arsenal and it's called the True Quiet series. We have a couple of these, the True Quiet 120 LED and a True Quiet Pro on the bench, so let's get to it."
---
| | |
| --- | --- |
| Tue: 08/13/2013 | Topic: Cooling / Heatsinks PermaLink |
Our summer vacation timeout is almost upon us and although it will roughly be just 5-6 days long that doesn't mean that it will be solely fun and pleasure. So during these 3 days all of us will be testing several compact electronic devices (obviously we can't really test PC hardware while on vacations) such as portable battery packs, portable speakers, Wi-Fi sharing drives/devices, action cameras, Bluetooth wireless headsets and of course normal wired headsets since we really don't want to fall back on our review schedule (if we did that would mean more work for us once we get back). However until we take our short leave (should be the 12th of August if all goes according to plan) there are quite a few hardware reviews left to share with all of you including the one regarding the latest CPU Cooler by be quiet! the Shadow Rock 2.
---