| | |
| --- | --- |
| Sun: 02/09/2014 | Topic: Cooling / Heatsinks PermaLink |
" The Dynatron G666 is a 2U server heatsink buit to handle Intel LGA1366 Xeon processors with a TDP of 130 Watts. In this review Frostytech will be testing the 65mm tall Dynatron G666 with a 200 Watt heat load. The heatsink is built with a 60mm fan embedded at the front, directing airflow through a short stack of aluminum cooling fins which are connected to a copper base plate by three 6mm diameter heatpipes. The space before and after the heatpipes is filled with two narrow strips of skived copper fins for added cooling surface area."
---
| | |
| --- | --- |
| Sun: 02/09/2014 | Topic: Cooling / Heatsinks PermaLink |
Deepcool are one of the biggest cooling companies in the world, and while they may not be the leading name here in the UK or America, they are still the largest cooling company in mainland China. The company has been around now since 1996 and literally started out with the company founder making products in his garage, a far cry from the 700 people the company now employs in its 20,000sqm factory. "Ever since the stunning victory of Deep Blue, a program running on an IBM supercomputer, over Gary Kasparov, then world chess champion, in 1997, it has been clear that computers would be the most powerful tool of human being. At that time, we started our computer cooling business. We hoped our products could be as great as Deep Blue. With that in mind came the name Deepcool." – Say Deepcool on their website. From their inspiration, Deepcool have themselves gone on to help in the development of super computers like IBM's Deep Blue, having provided the thermal solutions for two of the world's top 500 super computers, something that has no doubt given them valuable insight in the world of high performance, and of course high-efficiency cooling.
---
| | |
| --- | --- |
| Fri: 02/07/2014 | Topic: Cooling / Heatsinks PermaLink |
Just go here -
- and click on the 'Like' button to follow Frostytech on Facebook.
---
| | |
| --- | --- |
| Thu: 02/06/2014 | Topic: Cooling / Heatsinks PermaLink |
"We have the DeepCool Gabriel CPU Cooler on the bench today and we have installed this massive low profile cooler into a very confined chassis to put the cooling feature to the test. DeepCool isn't as mainstream as some of the other manufacturers in the States, but our past experiences with DeepCool show they have released some very impressive coolers for both budget builders and for the high-end PC enthusiasts."
---
| | |
| --- | --- |
| Thu: 02/06/2014 | Topic: Cooling / Heatsinks PermaLink |
"The Corsair H75 is an entry liquid cooling system for processors. It has a 120 mm radiator with two 120 mm fans in a push-pull configuration. Let's check it out."
---
| | |
| --- | --- |
| Thu: 02/06/2014 | Topic: Cooling / Heatsinks PermaLink |
A new reader review is published today at OCinside.de. This time the current Phanteks PH-TC14PE tower cooler is tested and the cooler made a very good impression. If you are looking for a new CPU cooler, you will literally overwhelmed by the wide selection that is available on the market. Was it in times of 386 processors still safe to use the boxed cooler, so a current CPU generates about 80-120 watts heat output, which can not be easily discharged.
---
| | |
| --- | --- |
| Thu: 02/06/2014 | Topic: Cooling / Heatsinks PermaLink |
About a year ago, Swiftech brought the world an AIO liquid cooler that you could pull apart and retain the factory warranty, which was called the H220. If you wanted to rip apart any other kit on the market, you would have to forfeit your warranty which made this kit awesome to the extreme enthusiast. Unfortunately mid 2013, Swiftech pulled it from the U.S. market due to alleged patent infringement, leaving us folks in the U.S. in the dust. To help cater to the enthusiast, and teaming up with Swiftech, Cooler Master more recently introduced its 240mm liquid cooler that you can expand to more components than just a CPU, calling is the Glacer 240L.
---
| | |
| --- | --- |
| Thu: 02/06/2014 | Topic: Cooling / Heatsinks PermaLink |
The Pallas from Raijintek is a rather interesting new CPU cooler, that features a low-profile form factor. At a first glance manufacturing quality appears to be on a really decent level and judging by the number of heatpipes used as well as the size of the heatsink, it looks like this cooler could also perform quite well. Paired up with a price that is actually payable we're curious to see what this cooler can do.
---
| | |
| --- | --- |
| Mon: 02/03/2014 | Topic: Cooling / Heatsinks PermaLink |
"Like water cooling but are worried about potential problems, so you want to stick with air cooling? Well, Cryorig seems to feel they have a proper solution with the R1 Ultimate CPU Cooler. Designed with the expressed intent of providing the strongest air cooled solution available, we are here to find out if it can provide the cooling performance the enthusiast craves without the mess and maintenance."
---
| | |
| --- | --- |
| Mon: 02/03/2014 | Topic: Cooling / Heatsinks PermaLink |
Much like regular hard disk drives and solid state drives CPU Air Coolers may never get completely replaced by liquid coolers or at least not anytime soon so it's quite normal to see more and more models get introduced all the time. Now I've said it before and i will say it again, you don't have to be a nuclear scientist in order to make a CPU Air Cooler but you do need to have a grasp of the key ingredients of success along with passion for perfection (love for what you do is also important). Unfortunately the vast number of manufacturers out there only copy what they see and although that's always a good way to compete against the ones that do in the end their products are simply not on par. CRYORIG is a brand new CPU Air Manufacturer but the people working there share the traits i mentioned above and on top of that have already worked for the leading manufacturers in the field like Thermalright and Prolimatech so we couldn't wait to test their R1 Ultimate which arrived on our doorstep just a couple of weeks ago.
---
| | |
| --- | --- |
| Mon: 02/03/2014 | Topic: Cooling / Heatsinks PermaLink |
Quote: "So let's talk about performance. It can handle the thermal load of normal daily use. Stock performance is just fine. Overclock and crank up the load, and, well, not so fine. I was expecting it to keep the temps down a little more. Add this to a case that is perhaps a little lacking in the airflow department on a warm summer day, and you may be bouncing off the thermal limits of the CPU. There are other coolers out there that are in the same price range that do a better job of removing the heat."
---
| | |
| --- | --- |
| Mon: 02/03/2014 | Topic: Cooling / Heatsinks PermaLink |
Today I take my first look at a cooling product from Aerocool, over the last couple of years I've seen plenty of great products from the company with their chassis ranges, and more recently I reviewed their first entry in the DS Dead Silence range with the release of the Dead Silence Cube chassis, which won our Gamers Choice award. We absolutely loved the case and we're hoping to see a similar attention to detail and performance with their newest product, the DS Dead Silence fans. These new fans promise to be powerful and silent, it is as simple as that. Aerocool even think they have what it takes to beat out everything else on the market and they aim to do it quieter than brands such as be quiet! So to say that we are eager to put them through their paces would be somewhat of an understatement, if the DS fans live up to their expectations, we could see many system builders investing heavily in what Aerocool have to offer. Of course high performance is not the only thing system builders care about these days, and aesthetics can be a big selling point for many products, fortunately we know that Aerocool have gone all out on this front and created something a little unique to everything else on the market.
---
| | |
| --- | --- |
| Tue: 01/28/2014 | Topic: Cooling / Heatsinks PermaLink |
EK Water Blocks has introduced an Engineered Thermal Interface (ETI) for Intel Core LGA-115x processors. EK-TIM Indigo XS fits neatly between a CPU lid and water block (or heat sink) to keep CPUs cooler. Unlike greases, metallic thermal interface pads or liquid metal alloys, Indigo XS is a self-contained and sealed structure, deploying a Phase Change Metallic Alloy (PCMA) which reflows and fills surface asperities on the CPU lid and heat sink. Indigo XS™ achieves high thermal performance through the optimized deployment of molten, oxide-free PCMA, thereby yielding low contact resistance and low bulk resistance.
Bulk thermal conductivity is 40 W/mK, Gallium-free. Made in USA by Enerdyne Solutions for EKWB d.o.o.
---
| | |
| --- | --- |
| Tue: 01/28/2014 | Topic: Cooling / Heatsinks PermaLink |
Japanese manufacturer Scythe offers innovative and market leading cooling products for 10 years, and is hereby celebrating the anniversary with a special edition of the award winning high-performance Ashura CPU Cooler! Similar to the last special edition, the Ninja Copper, this spe-cial edition is produced in a very limited quantity. The Ashura Shadow CPU cooler has been optimized for better performance and the all-aluminum heatsink has been anodized black - making the CPU cooler a real eye-catcher! One of the key criteria of a CPU Cooler is its performance, which is one of the strong-points of the Ashura Shadow. Scythe supplies the Ashura Shadow with one Glide Stream 140 mm case fan and two sets of fan clips, allowing users to mount an additional case fan for a push-pull constellation. The supplied 140 mm Glide Steam fan model supports the PWM-function, allowing a very wide range of application. When used at the maximum speed of 1.300 rpm, users can rely on the high performance. On the other hand, operation at lowest fan speed of 500 rpm, allows users to create a PC with a very low-noise environment. The noise level of the supplied Glide Stream case fan varies from almost inaudible 13 dBA to 30,7 dBA, while providing sufficient airflow from 37,37 CFM (63,49 m³/h) up to 97,18 CFM (165,10 m³/h).
---
| | |
| --- | --- |
| Sun: 01/26/2014 | Topic: Cooling / Heatsinks PermaLink |
With the announcement of the new Kotetsu CPU Cooler, Japanese cooling expert Scythe is going forth to offer a 120 mm tower model with an aggressive pricing and great cost/performance ratio. Progressive development on field of thermal design and improvement of present technology, allowed Scythe to create a low-weight, yet very powerful tower-type CPU Cooler! Easy and fast mounting procedure is possible thanks to the recently introduced "Hyper Precision Mounting System". By announcing the Kotetsu CPU Cooler, Scythe is able to prove that great performance does not necessarily require the heatsink to be very heavy. Kotetsu is equipped with four high-quality six millimeter copper heatpipes, an optimized aluminum fin-structure and an all-copper base-plate, yet puts up a weight of merely 480 grams. Fast dissipation of heat from the fins is managed by the pre-mounted 120 mm Glide Steam axial fan, which rotates in a range between 400 and 1.400 rpm thanks to the PWM-support. The noise level varies between inaudible 5,3 dBa to still very silent 28,0 dBA. Although being very silent, supplied Glide Stream axial fan is able to move from 63,49 to 165,10 cubic meter per hour, respectively 20,7 to 79,0 cubic feet per minute. Similar to other Scythe CPU Cooler models, Kotetsu can also be equipped with an addition case fan, to create a Push-Pull constellation.
---
| | |
| --- | --- |
| Fri: 01/24/2014 | Topic: Cooling / Heatsinks PermaLink |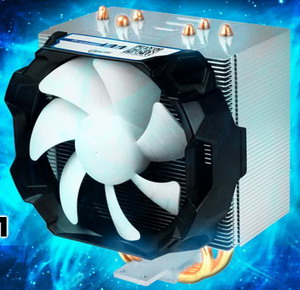 The new ARCTIC Freezer i11/A11 for Intel and AMD leaves his successful forerunner far behind. Airflow, cooling performance, noise level and transport-proofness have been significantly optimized. Whether you are an expert at installing electronics or this is your first time; the Freezer i11/A11 is just a few minutes away from being installed and virtually silent in performance.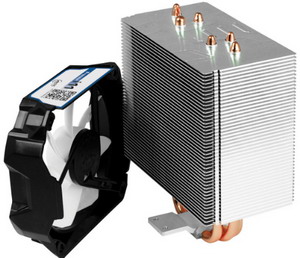 ---
| | |
| --- | --- |
| Fri: 01/24/2014 | Topic: Cooling / Heatsinks PermaLink |
Today we are going to take a look at the latest liquid CPU cooler from Corsair, the Hydro H105. The Hydro H105 differentiates itself from the competition as it has a thicker radiator, which should theoretically improve performance over a standard thickness model.
---
| | |
| --- | --- |
| Fri: 01/24/2014 | Topic: Cooling / Heatsinks PermaLink |
On the heatsink test bench today is a 1U server heatsink for Intel LGA1366 Xeon processors. The Dynatron G199 1U server heatsink is built from a skived copper slab measuring 88x90mm in size and 12mm thick. The remaining 17mm in permissible 1U heatsink height is taken up by the 70mm aluminum squirrel cage fan and aluminum fan shroud. Weighing in at 475grams, Dynatron's G199 1U server LGA1366 heatsink retails for about $50 and includes a pre-applied patch of TIG830SP thermal compound.
---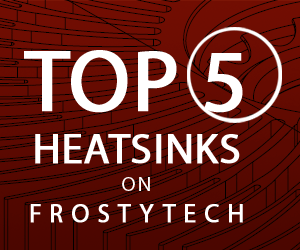 Last week at the Consumer Electronics Show, Corsair announced the Flash Voyager GO USB 3.0 flash drive in 64GB, 32GB, and 16GB capacities. This drive was developed to make it simple to share movies, photos and videos between Android powered devices and the traditional PC. The magic to making this work is that this particular series of flash drives has both a USB and a micro-USB connector on it, so you can easily transfer your data from say a PC or notebook to any device that has a micro-USB port that has OTG support. Read on to see how it works and performs in our latest review."
---
| | |
| --- | --- |
| Tue: 01/21/2014 | Topic: Cooling / Heatsinks PermaLink |
Why use one compact pump, when you can have two mounted on the fans...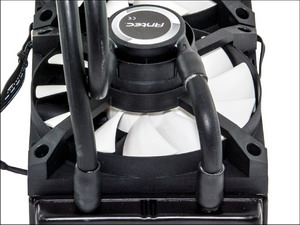 "Antec's Kuhler 1250 is one of the most unique water coolers on the market and it hopes to compete against some of the best being offered by Corsair, NZXT, Cooler Master and others."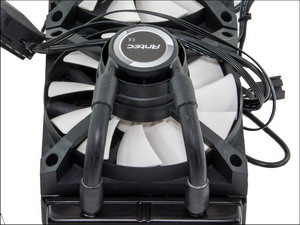 ---