| | |
| --- | --- |
| Mon: 01/19/2015 | Topic: Cooling / Heatsinks PermaLink |
"When I think of be quiet! CPU Cooler their Dark Rock Pro series comes to mind. These coolers are made to handle the highest thermal loads and are quite large. Not everyone is going to need this type of cooling and for that reason be quiet! has released the Pure Rock CPU cooler. This cooler is designed for the essential or entry-level systems to provide a great price-to-performance ratio. The Pure Rock has a single tower design that should not interfere with memory or other components, four 6 mm copper heatpipes and a 120 mm cooling fan. Let's see what this cooler can do!"
---
| | |
| --- | --- |
| Fri: 01/16/2015 | Topic: Cooling / Heatsinks PermaLink |
"Today Chad takes us on a full tour of Thermaltake's latest non-interference CPU cooler, the NiC L32. Come on in and take a look."
---
| | |
| --- | --- |
| Fri: 01/16/2015 | Topic: Cooling / Heatsinks PermaLink |
The Hyper D92 is a compact tower-style cooler with dual 92-mm fans. We tested its performance on stock-clocked and overclocked CPUs to see how it stacks up.
---
| | |
| --- | --- |
| Thu: 01/15/2015 | Topic: Cooling / Heatsinks PermaLink |
The company Antec is mainly known for their high-performance power supplies. Antec recently published this AIO water cooling, which is remarkable for its design. Can the cooling performance satisfy and are all other results of the Antec H2O 1250 Liquid CPU cooler optimally solved ? We will see in this Antec Kuhler H2O 1250 review and even listen to sound examples.
---
| | |
| --- | --- |
| Wed: 01/14/2015 | Topic: Cooling / Heatsinks PermaLink |
Our seventh article in this season's new quiet gaming PC build guide series is our first complete discrete liquid cooled system, featuring the VisionTek CryoVenom R9 290 Limited Edition Graphics Card. This 450W beast of a system gets tamed to a cool, soft purr.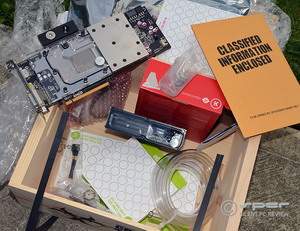 ---
| | |
| --- | --- |
| Wed: 01/14/2015 | Topic: Cooling / Heatsinks PermaLink |
Thermaltake has had one of the most impressive showings at CES 2015 with amazing offerings to consumers and enthusiasts alike. The scope at which Thermaltake is approaching the watercooling market is nothing to ignore, they are offering the entire package with its entire line up of reservoirs, CPU water blocks, custom non-rebrand radiators, and housings for all popular pumps. The fun doesn't stop there, take a look at the new keyboard in the Poseidon lineup with its innovative space-bar touch sensor that is 100% macroable as well as the customization heavy Core X chassis lineup that is perfect for any enthusiast and casual system builder.
---
| | |
| --- | --- |
| Wed: 01/14/2015 | Topic: Cooling / Heatsinks PermaLink |
DeepCool has some crazy plans for their Maelstrom 120; at $75 it's supposed to go head to head against the likes of NZXT's X31 and Corsair's H60. They'll need more than luck to pull that one off.
---
| | |
| --- | --- |
| Wed: 01/14/2015 | Topic: Cooling / Heatsinks PermaLink |
"While Cryorig has been noted for their Enthusiast Class R1 and C1 coolers, the same type of quality is evident in their new H7 Universal, which marks their first delve into the budget friendly category. The H7 Universal shares much of the same technologies that have made Cryorig's higher line pieces so popular, and simply puts them into a smaller form factor that has zero RAM interference."
---
| | |
| --- | --- |
| Wed: 01/14/2015 | Topic: Cooling / Heatsinks PermaLink |

PCPerspective.com video from the floor of CES 2015. Images below are taken from the this video.
Cooler Master, a leading creator, innovator and manufacturer of desktop components and peripherals, and CoolChip Technologies(TM), a leading fabless technology house of thermal management solutions, today announced a partnership to bring kinetic cooling technology to the multi-billion dollar PC gaming and DIY markets.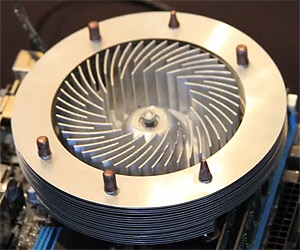 The increasing demand for more powerful devices in ever-smaller form factors creates concentrated heat loads that are difficult to cool, especially in gaming electronics. With the introduction of CoolChip's Kinetic Cooling technology, now there is the opportunity to deliver up to 50% improvement in cooling and achieve a 2x smaller form factor at significantly lower noise levels - critical elements in today's high-density electronics world.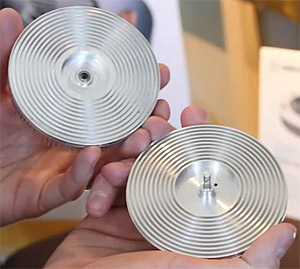 With Kinetic Cooling Engines powered by CoolChip Technologies, Cooler Master is able to develop products that offer critical protection for the underlying electronics that deliver the high-quality computing experience that consumers demand. Cooler Master's retail products will benefit from more efficient, smaller form factors, lower thermal resistance, and reduced noise levels.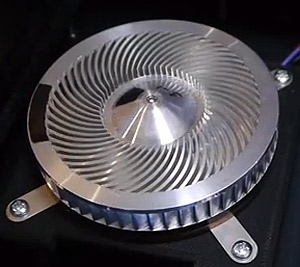 "Over the last four decades, everything in the computing industry has changed exponentially," said Will Sanchez, Co-Founder and CEO of CoolChip Technologies. "However, fan cooling technology simply hasn't kept pace. Today's partnership announcement with Cooler Master is the first step in rendering the traditional heat-sink plus-fan approach obsolete in the power hungry gaming console industry."
"CoolChip Technologies is solving the computing industry's multi-million dollar efficiency problem," said Dr. Howard Lin, head of retail thermal division of Cooler Master. "By using Kinetic Cooling Engines versus traditional cooling methods, consumers will see dramatic improvements in thermal performance at significantly lower noise levels. Additionally, the potential for smaller form factors using Kinetic Cooling Engines will save critical space and allow for design innovation. These benefits ultimately will allow our customers to create products that deliver a superior consumer experience."
-- Demonstrations of the CoolChip Technologies/Cooler Master product will be available at CES at the Palms Hotel from January 6th to January 9th.
To schedule a demo or briefing, please contact Kelly Reeves at Kelly@klrpr.com
About CoolChip Technologies
CoolChip Technologies was founded by Dr. William Sanchez, Steven Stoddard, and Dr. Lino Gonzalez, peers at MIT. They came together with one goal in mind: Transform the electronics cooling space.
CoolChip Technologies is set to disrupt the multi-billion dollar thermal management industry by delivering a state-of-the art Kinetic Cooling Technology to OEMs and ODMs. By partnering with CoolChip Technologies, consumer electronics and enterprise manufacturers now have the opportunity to unleash innovation and deliver next-generation products for their customers. For more information, please visit: www.coolchiptechnologies.com
About Cooler Master
Cooler Master was founded to provide the best thermal solution to our customers worldwide. Since its establishment over two decades ago, we continue to invest in product development in order to provide the leading-edge innovations to people and businesses. Cooler Master's line-up includes heat sinks and fans, chassis, power supplies, and accessories. Cooler Master is headquartered in Taipei, Taiwan, with branch offices located in Europe, America and APAC. For more information on Cooler Master, please visit www.coolermaster.com
---
| | |
| --- | --- |
| Tue: 01/13/2015 | Topic: Cooling / Heatsinks PermaLink |
Reports Electronics-cooling.com; "Typically, heatsinks and CPU Fans can be very large which limits configuration possibilities in the hardware. CoolChip Technologies has solved this problem by introducing a new kinetic cooler with physical restraints that are easier to work with. This product acts as both a heatsink and a CPU fan, but currently does not have a name.

This heatsink-fan product is made of two pieces: a metal fan that sits on top of a metal plate and a bearing which allows the metal fan to spin. Air pockets are created in the device because its parts are made of thinner metal. These air pockets help act as a heatsink by pulling hot air out of the device and blowing it back out."
---
| | |
| --- | --- |
| Mon: 01/12/2015 | Topic: Cooling / Heatsinks PermaLink |
Technology is on a relentless march toward efficiency with each new design an improvement over the previous. Some are small, some are big but it is always moving forward. Even on something as simple as a fan and heatsink, improvements in manufacturing and fan design to balance performance, noise and cooling are expected. Larger coolers were on demand a few …
---
| | |
| --- | --- |
| Mon: 01/12/2015 | Topic: Cooling / Heatsinks PermaLink |
While water cooling has been especially popular over the last few years, there are still a lot of people who would prefer to not deal with the additional risks and installation complication. On top of that, when you are looking for really high end cooling it actually costs a lot more than you think to go water cooling. This is where companies like Noctua come in. You see cheap water cooling doesn't always compete with air cooling, especially when it comes to noise. So Noctua continues to innovate in the air cooling market. Their top dog is called the NH-D15. Well they sent one out a while back and being the slackers that we are it ended up pushed back. Today I will finally have the chance to check out their biggest and best to see just how it compares to the completion both on the air and water cooling sides.
---
| | |
| --- | --- |
| Mon: 01/12/2015 | Topic: Cooling / Heatsinks PermaLink |
Today we are going to take a look at an interesting water cooling product – the Raijintek Triton, an 'all in one' CPU cooler. The Triton has been designed to be user upgradable … in fact Raijintek take things a step further and actively encourage users (who have the necessary skills) to customise their loop.
---
Today at CES 2015, Thermaltake releases its newest case, the Core X9 E-ATX cube chassis. Chad put it through its paces and tells us what he thinks of it."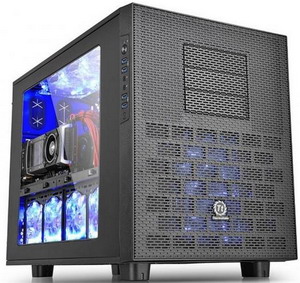 ---
The Silencio series cases from Cooler Master are built for silent operation with sound dampening materials to help eliminate noise while maintaining excellent cooling performance with quiet fans. These cases feature elegant looks along with minimalist aesthetics to complement the silent design. Since the release of the Silencio 652, users wanted something quieter while keeping the same body design. Now, Cooler Master has released the Silencio 652S. Instead of a single 180mm front intake fan, they replaced it with three of their new Silencio FP-120mm fans that run at 1200+200RPM at just 11db; two of which are at the front and one at the rear. Everything else stayed the same, such as the front and top I/O ports, the removable cover for the side vent, and the overall body itself. Let's jump into the features and specifications of the Cooler Master Silencio 652S.
---
| | |
| --- | --- |
| Mon: 01/12/2015 | Topic: Cooling / Heatsinks PermaLink |
CRYORIG, innovator of PC thermal peripherals has released the H7. The next step in CRYORIG's H series heatsink, the H7 holds an even smaller footprint while keeping an extremely high performance efficiency. Keeping almost all award winning features from the larger H5 Universal, the H7 packs great value in it's small size. Featuring series moniker HiveFin™ technology for better air management and also CRYORIG's much renowned Zero RAM Interference design among many others, the H7 will also feature CRYORIG's brand new QF120 Balanced 120 mm 330~1.600 RPM PWM fan with Quad Air Inlet™ technology.
The CRYORIG H7 is the next piece in CRYORIG's quest for PC thermal solution dominance. Targeted at entry and mainstream systems, the H7 brings affordability and CRYORIG innovation to the masses. With a total height of only 145 mm, the H7 is almost certain to fit 99% of all mainstream mid-tower cases. While Zero RAM Interference allow users to use any RAM of choice, with no compatibility issues period.
With the H7, CRYORIG went back to the drawing board for an even simpler mounting system. The brand new X-Bar™ System needs even less individual pieces and even less steps to install. Literally install your H7 within minutes of opening up the box. Multi-platform support for both Intel™ and AMD™ is already included, and does not require separate parts. A dedicated backplate made from fiberglass augmented PBT, for higher tensile strength, resistance to heat and is more easily recyclable than other plastics. The backplate protects the mainboard from excessive stress that may come from the mounted heatsink, and also provides a solid base for your fast and secure installation.
The H7 is an accumulation of years of design and testing all condensed into a total miniature package. CRYORIG's new H7 is scheduled to be released January 12th in the USA, Japan and Taiwan for 34,50 USD, 5,000 JPY and 990 NTD respectably. Other regions in Europe and Asia will soon follow in February 2015.
---
| | |
| --- | --- |
| Mon: 01/12/2015 | Topic: Cooling / Heatsinks PermaLink |
CRYORIG is releasing it's new QF120 line of 120 mm PWM system fans. The new QF120 line features CRYORIG's proprietary Quad Air Inlet™ system. Four strategically placed air intakes line up the corners of the QF120 fan frame, allowing the static pressure optimized fan blades take in extra air from the sides of the fan frame increasing overall air output. HPLN™ High Precision Low Noise bearing from the XF140 line makes a return in the QF120 Series for low noise performance. The fans will cover a wide RPM spectrum with PWM control, allowing users to fine tune it to their liking individually. Integrated rubber Vibration Absorbers also come preinstalled to absorb excess vibration.
The QF120 will be release alongside the H7, scheduled for January 12th in the USA, Japan and Taiwan for 13 USD, 1.700 JPY and 390 NTD respectively. Other regions in Europe and Asia will soon follow in February 2015.
---
| | |
| --- | --- |
| Mon: 01/12/2015 | Topic: Cooling / Heatsinks PermaLink |
SilentiumPC hits it out of the park with the Grandis XE1236, bringing top-tier performance and low noise levels to an unheard-of budget friendly price. With the ability to improve performance even further using a third fan, this heavy-weight CPU cooler towers over its competition.
---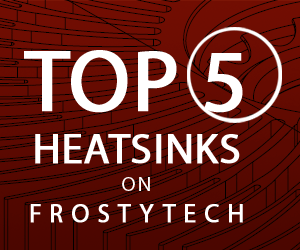 The Nanoxia Deep Silence 5 arrived Technic3D. The Silence 5 supports XL-ATX, E-ATX, ATX, Mini-ITX and Micro-ATX motherboards and have place for 3x 120mm or 6x 140mm Cooling-Fans. We will check this and many more in the following Review."
---
380T is Corsair's latest computer chassis to offer dedicated Mini-ITX support. This dainty computer case is packed with useful features such as a three-speed fan controller, integrated carry handle, and support for high-performance graphics cards and a 240mm radiator. It doesn't end there either, Corsair supply this new offering in a choice of three colours – black, white or yellow.
---