| | |
| --- | --- |
| Fri: 03/14/2014 | Topic: Cooling / Heatsinks PermaLink |
ENERMAX is working hard to improve upon their liquid All-In-One CPU cooler series. The closed-loop LIQMAX 120S-HP & LIQMAX 120S-TAA both provide a DIY water cooling kit solution with ease and performance. Maintenance free water cooling, simple installation and performance is the founded on technological advances.
---
| | |
| --- | --- |
| Fri: 03/14/2014 | Topic: Cooling / Heatsinks PermaLink |
SilentiumPC looks to shock and awe with the affordable Fera 2 HE1224 CPU cooler. Do not let its generic appearance fool you - it has much to offer. Featuring exceptional memory clearance and amazing performance, it sets the bar for what budget coolers should offer.
---
| | |
| --- | --- |
| Fri: 03/14/2014 | Topic: Cooling / Heatsinks PermaLink |
"And finally, let's talk about performance. The Hans RC-1205 can handle the thermal load of normal daily use and stock performance is just fine. Overclock and crank up the load, and the Reeven Hans RC-1205 can meet the demands of heat removal. Reeven gives you great build quality to go along with the attractive styling. Pricing is yet to be released."
---
| | |
| --- | --- |
| Fri: 03/14/2014 | Topic: Cooling / Heatsinks PermaLink |
We have seen the third-generation Dark Rock Pro cooler, but now we have a look at the single tower design in the Dark Rock 3 from be quiet!"
---
| | |
| --- | --- |
| Fri: 03/14/2014 | Topic: Cooling / Heatsinks PermaLink |
be quiet!'s Dark Rock series of coolers has fared well in a fearsome market. In previous generations, a strong balance between noise output and cooling performance has made them desirable products. Can the German company repeat its success with version three of the dual-tower Dark Rock Pro CPU cooler?
---
| | |
| --- | --- |
| Mon: 03/10/2014 | Topic: Cooling / Heatsinks PermaLink |
Antec is an established company and brand-name in the computer component space, offering quality solutions for everything from cases and power supplies to thermal paste and case-mounted fan controllers. Their latest foray is into the world of liquid cooling. The KUHLER H20 1250 is their flagship liquid cooler, featuring an all-in-one dual pump design, a 240mm x 120mm x 25mm aluminum radiator, and hardware monitoring support via the integrated USB cable and the included Antec Grid software. The KUHLER H2O 1250 comes standard with support for all current Intel and AMD CPU offerings. To gage the performance of Antec's flagship cooler, we set it against several other high-performance liquid and air-based coolers. With a retail MSRP of $109.99, the KUHLER H2O 1250 cooler comes at a premium for all the premium features it has to offer.
---
The Elite 130 hits our labs. Let's check out Cooler Master's idea of what a SFF chassis should be. Bonus is that it sells for a great price."
---
| | |
| --- | --- |
| Sat: 03/08/2014 | Topic: Cooling / Heatsinks PermaLink |
"Once again XSPC has unleashed another revision of the RX radiator series. The RX radiator series are the most popular radiator among the water-cooling enthusiasts for the value and performance. Despite this, its design technology is a bit dated and today's modern radiators from competitors have been surpassing the RX radiators. That brings us to today's review. We'll analyze the new and improved version of the RX360 V3 radiator to see how it stacks up to its predecessor and the competition."
---
| | |
| --- | --- |
| Thu: 03/06/2014 | Topic: Cooling / Heatsinks PermaLink |
Cryorig is a name that is quite likely new to our fellow enthusiasts. When the company contacted us and asked us to review its news R1 Ultimate cooler, we took a look at the build design and it got us curious. The R1 Ultimate has an overall design that we have seen many times before, but surely had enough "new" to warrant a review.
---
| | |
| --- | --- |
| Thu: 03/06/2014 | Topic: Cooling / Heatsinks PermaLink |
The ThermoLab ITX30 is the Korean heatsink company's entry into the <30mm CPU cooler market. It allows ultra compact PCs to use relatively fast Intel CPUs
---
| | |
| --- | --- |
| Wed: 03/05/2014 | Topic: Cooling / Heatsinks PermaLink |
Digitimes reports a new AMD socket is forthcoming... "AMD has announced the introduction of its AM1 platform featuring the AMD quad-core and dual-core Kabini APU into the component channel for system builders. Combined with motherboards from manufacturers worldwide, the new AM1 platform will deliver Graphics Core Next (GCN) architecture and AMD Jaguar CPU cores.

The platform also features USB 3.0 and SATA 6GB/s support.

Availability of Kabini desktops and components are slated to be on-shelf in selected regions beginning early April, with global availability expected on April 9. The AM1 platform delivers DirectX 11.2 and Windows 8.1 support to mainstream markets. In addition, motherboard manufacturers including, ASRock, Asustek Computer, Biostar, Elitegroup Computer Systems (ECS), Gigabyte Technology and Micro-Star International (MSI) are poised to deliver a range of next- generation desktop motherboards based on socket FS1b. These motherboards will support the latest specifications of native USB 3.0 and SATA 6GB/s for AMD Athlon and Sempron-series APUs for the AM1 platform, said AMD."
---
| | |
| --- | --- |
| Wed: 03/05/2014 | Topic: Cooling / Heatsinks PermaLink |
"Today we have an enthusiast cooler from GamerStorm attached to our test system. With specifications which are very much enthusiast, on paper, the price is very much budget. So lets find out if the Lucifer can perform as well as GamerStorm claim."
---
| | |
| --- | --- |
| Sun: 03/02/2014 | Topic: Cooling / Heatsinks PermaLink |
"Like water cooling but are worried about potential problems, so you want to stick with air cooling? Well, Cryorig seems to feel they have a proper solution with the R1 Ultimate CPU Cooler. Designed with the expressed intent of providing the strongest air cooled solution available, we are here to find out if it can provide the cooling performance the enthusiast craves without the mess and maintenance."
---
| | |
| --- | --- |
| Fri: 02/28/2014 | Topic: Cooling / Heatsinks PermaLink |
Corsair have provided the industry with many great coolers in recent years, their H80 and H100 all-in-one water coolers have proven to be some of the most popular choices for system builders, capable of cooling overclocked CPU's for a fairly competitive price tag, plus they're rather well designed, and look great in almost any build. From that we've got big expectations of their latest range of coolers and their Hydro Series H75 looks like a promising solution for those looking for a 120mm radiator. With a slim rad, but two 120mm fans, we can get some sweet push/pull action going that should help shift some serious heat from our test system. Priced at around £70 the H75 isn't exactly cheap, but the AIO (all-in-one) water cooling market is fiercely competitive and so long as the performance is there, it'll be worth every penny. For around the same money you can pick up the H2O 950 from Antec and the Zalman Reserator 3 Max, both of which are 120mm radiators and of a similar specification, albeit both come with a hard mounted fan, and a second fan would have to be added at extra cost, so the H75 is already sounding like great value for money given that both of its fans are fully removable and both are included in the box. With support for all major AMD and Intel sockets, as well as a redesigned pump, aluminium radiator, a pair of 2000 RPM, high static pressure PWM fans, and a wonderful five-year warranty mean the H75 is really well equipped right out of the box. I can't wait any longer, so let's get right to it and see what Corsairs latest hardware has to offer.
---
| | |
| --- | --- |
| Thu: 02/20/2014 | Topic: Cooling / Heatsinks PermaLink |
"In this review Frostytech will be testing BeQuiet's newest low noise CPU cooler, the Dark Rock Pro 3 heatsink. The Dark Rock Pro 3 was announced last month at CES 2014 and best of all, it's rated to 250W TDP! The Dark Rock Pro 3 is dual tower, dual fan, low noise CPU heatsink. In other words, if you want a quiet heatsink that handles like a performance cooler AND you have a motherboard which can accommodate it's boxy footprint, you're reading the right CPU heatsink review!"
---
| | |
| --- | --- |
| Thu: 02/20/2014 | Topic: Cooling / Heatsinks PermaLink |
With the Ashura, Scythe has made a single tower cooler, that is surprisingly well built, especially if we consider its price of 39 Euro. Other than that it should offer decent cooling capacity, so it's not going to be an issue if you want to overclock your CPU by a few hundred MHz. So far we're rather curious to see what this cooler is capable of.
---
| | |
| --- | --- |
| Thu: 02/20/2014 | Topic: Cooling / Heatsinks PermaLink |
"CRYORIG comes out of virtually nowhere and now we have the R1 Ultimate to test. It's time to see if this new player has what it takes."
---
| | |
| --- | --- |
| Thu: 02/20/2014 | Topic: Cooling / Heatsinks PermaLink |
Antec and its All-In-One sealed system CPU coolers have been around for a good while now. We still have some of its first series working well here in the HardOCP offices. Today we have Antec's newly designed high end Kuhler model 1250. It has some unique offerings all based on new cold plates and big double fan radiator.
---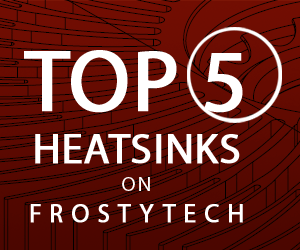 | | |
| --- | --- |
| Wed: 02/19/2014 | Topic: Cooling / Heatsinks PermaLink |
Today I'll be taking a look at one of the latest products from Raijintek, who you may know as one of the coolest new names in the PC industry given that they've not been around very long, but they're already gaining considerable reputation for their high quality, high performance and affordable prices. Their latest coolest, the Pallas is targeted at the low profile market, ideally for those who want a slim HTPC or narrow enclosure to slot into their home entertainment setup. The cooler stands at just 68mm with the fan installed on cooler, which means its going to be compatible with an incredibly amount of HTPC cases and its 140mm design should also ensure that it's cooling performance and acoustics are pretty decent since it users a larger, but lower RPM slim-line 10013 PWM fan. Available for £31.99 + shipping, the Pallas isn't overly expensive, but it's enough to have us expecting solid performance and quality, as there are plenty of slim coolers on the market for less money that do a fairly good job and with the current trend of people building slim SteamBox style systems, there is an increasing demand for high performance, quiet and slim CPU coolers for the new ranges of slim gaming cases that are hitting the market.
---
| | |
| --- | --- |
| Tue: 02/18/2014 | Topic: Cooling / Heatsinks PermaLink |
"The Scythe Ashura Shadow is a dark nickel plated version of the vanilla Ashura heatsink Scythe also has on the market. Scythe's Ashura Shadow weighs 750grams and is built around six 6mm diameter copper heatpipes. The fan supplied with the Ashura Shadow is a reasonably quiet 140mm 'GlideStream' model that spins at 1400-800RPM and moves upwards of 87CFM according to the maker. Scythe's Ashura Shadow heatsink installs onto AMD socket AM2/AM3/FM1/FM2 and Intel LGA2011/1366/115x/775 processors. Retail price is around $45USD/CDN.
<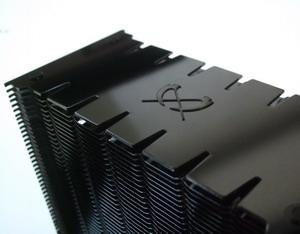 ---