| | |
| --- | --- |
| Thu: 11/09/2017 | Topic: Cooling / Heatsinks PermaLink |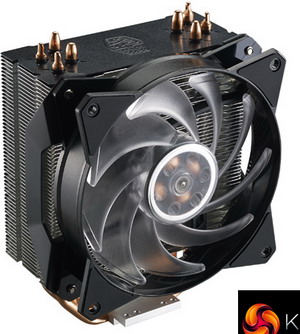 Cooler Master has launched two new RGB air coolers. This review focuses on the MasterAir MA410P - a standard 4 heatpipe air cooler with an included RGB fan.
---
| | |
| --- | --- |
| Thu: 11/09/2017 | Topic: Cooling / Heatsinks PermaLink |
If you'd ask an enthusiast to part out their dream build, most, if not all would include some kind of liquid cooling. However, in the real world, many people are discouraged from water cooling due to its high cost. Also, the thought of mixing liquids and electronics can also put people off. That's not to say that they …
---
Dual tempered glass panels, RGB LED illumination with 4 different effects, 4 pre-installed fans and enough room for up to 3 radiators and the longest graphics cards around are just some of the features found in the brand new Project 7 P7-C0 Pro Mid-Tower by AeroCool.
---
| | |
| --- | --- |
| Mon: 10/30/2017 | Topic: Cooling / Heatsinks PermaLink |
"Intel recently released it's eighth processor generation recently. While Coffee Lake requires a new chipset (Z370), the 1151 socket remains unchanged and thus the compatibility of a large number of ARCTIC coolers is ensured. Amongst others the Liquid Freezer, Freezer 33, Freezer 12 and Freezer 13 Series provide reliable cooling solutions for Intel's i3, i5 and i7. We offer coolers for different requirements ranging from 85 W to 300 W TDP, an overview of all Coffee Lake compatible coolers is available on Arctic's website: www.arctic.ac/lga1151

The Coffee Lake series, especially the K Version, is aimed at gamers and users with high performance requirements, for whom an optimal cooling of their processors is essential. The models of the Freezer 33 series – first of all the powerful Freezer 33 eSports Edition – as well as the Liquid Freezer water coolers are particularly suitable for overclockers. With their powerful cooling performance at minimum noise levels even under full load they create best conditions for overlocking. "
---
| | |
| --- | --- |
| Mon: 10/30/2017 | Topic: Cooling / Heatsinks PermaLink |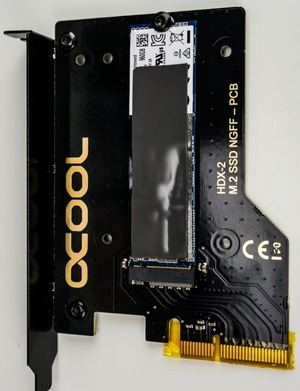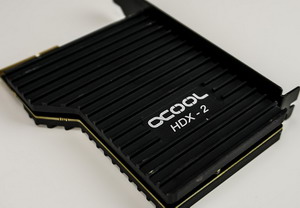 "If there is one thing we've learned about fast M.2 drives over the past year or so is that many of them get hot, very hot. Hot enough that that they will actually throttle and cause slower transfer speeds. We actually saw this in our review of the Kingston KC1000 M.2 drive. Obviously with many major drives (Samsung 950, anything Phison E7-based) having this issue something needed to be done, especially with so many of these drives out there. Well Alphacool has you covered with their Eisblock HDX line of M.2 coolers. There are actually 4 coolers in the line, but we will be mainly concentrating on the HDX-2, which is basically a PCI-Express 3.0 x4 card with an M.2 slot on it and a very large aluminum heatsink. This should definitely solve all of your M.2 throttling issues. Let's take a look!"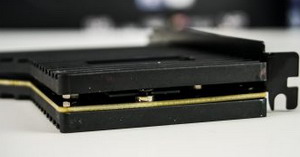 ---
| | |
| --- | --- |
| Sat: 10/28/2017 | Topic: Cooling / Heatsinks PermaLink |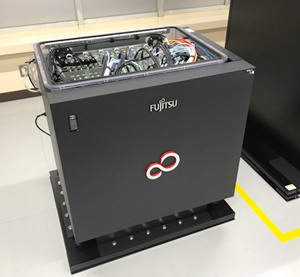 "The cluster system consists of Fujitsu Server PRIMERGY CX2550 M2 x86 servers in PRIMERGY CX400 M1 chassis, as well as a PRIMERGY RX2530 M2 as a management server. The system is cooled by applying a Fujitsu-developed liquid immersion cooling system, in which the servers are directly immersed in a non-conductive fluid with high thermal transport capacity."
---
| | |
| --- | --- |
| Wed: 10/25/2017 | Topic: Cooling / Heatsinks PermaLink |
"Noctua. A name that should be familiar to anyone who has been around the PC building industry for any amount of time. Known for their high-quality products as much as they are for their "unique" fan color scheme that provokes a love/hate response from most users, Noctua is a leader in aftermarket PC accessories. And while Noctua provides many options with regards to standard fan sizes like 120mm x 25mm and 80mm x 25mm, they also offer quire a few fan size options for less common applications."
---
| | |
| --- | --- |
| Tue: 10/24/2017 | Topic: Cooling / Heatsinks PermaLink |
Aerocool bursts onto the all-in-one liquid cooler market with the P7-L240. It features an attractive design, paired with low noise levels and good performance. Also included is RGB LED illumination that can be controlled via motherboard or the separately available P7-H1 Hub.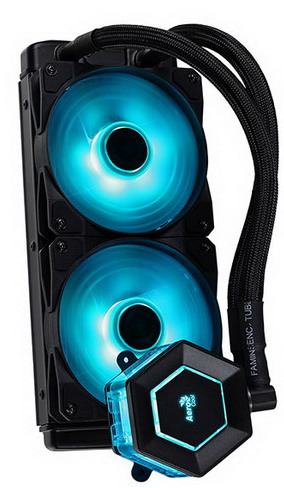 ---
| | |
| --- | --- |
| Tue: 10/24/2017 | Topic: Cooling / Heatsinks PermaLink |
We build an entire PC using EK Water Blocks' new EK Fluid Gaming liquid cooling components. The results? Let's find out."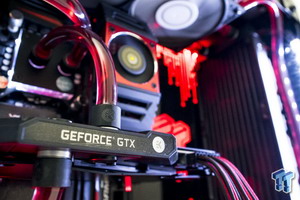 ---
| | |
| --- | --- |
| Tue: 10/24/2017 | Topic: Cooling / Heatsinks PermaLink |
Over the past couple of years we have looked at various Deepcool liquid coolers – from the original Captain 240, to the updated 240 EX as well as the 120 EX. Today we assess the Captain 240 EX RGB, the principal difference (when compared to the previous model) being the RGB lighting. In 2017, what more could you want?
---
| | |
| --- | --- |
| Tue: 10/17/2017 | Topic: CPU / Processors PermaLink |
Intel's Core i7-8700K proved an exceptionally well-rounded chip in our testing, but the company's choice of thermal interface material has left many wondering whether the Coffee Lake flagship will prove a challenge to keep cool. We establish a handy baseline for what might make a chip "difficult" to cool and see whether the Core i7-8700K falls on the wrong side of the line.
---
| | |
| --- | --- |
| Mon: 10/16/2017 | Topic: Cooling / Heatsinks PermaLink |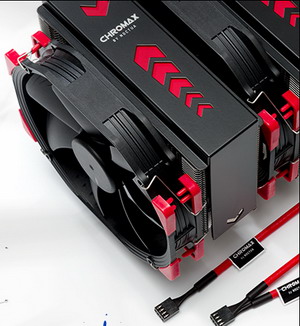 Noctua today introduced the long-awaited chromax editions of its most renowned 120mm and 140mm fan models as well as chromax line cables and heatsink covers for its award-winning NH-U12S and NH-D15 series CPU coolers. All the new chromax line products allow users to colour-customise their Noctua cooling systems in order to match popular build colour schemes.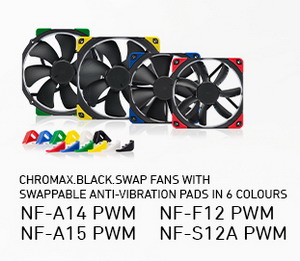 Noctua is an engineering-driven company: we pride ourselves on relentlessly tuning our products for maximum performance and quality rather than putting form before function, but of course we understand that many customers put an emphasis on build aesthetics these days," explains Roland Mossig (Noctua CEO). "With the new chromax line fans, cables and heatsink covers, we now offer a range of products that's ideal for those who care about looks just as much as about quality and performance.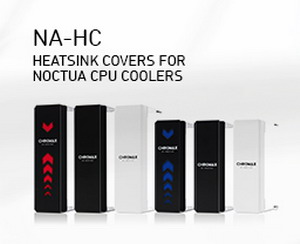 Having received more than 100 awards and recommendations from international hardware websites and magazines, the NF-A15, NF-A14, NF-F12 and NF-S12A are among Noctua's most renowned 140mm and 120mm fans. The new chromax.black.swap edition combines their signature quiet cooling performance with an attractive all-black design and a bundle of swappable red, white, blue, green, yellow and black anti-vibration pads that allow the colour-customisation of the fans to match individual build colour schemes.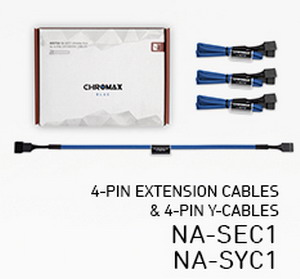 Topped off with Noctua's trusted premium-grade SSO2 bearing, more than 150,000 hours MTTF and a 6-year manufacturer's warranty, the new chromax.black.swap fans are the perfect choice for all users who value individual, focused build aesthetics just as much as class-leading quality and performance.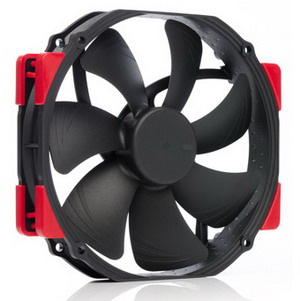 Noctua's new chromax line NA-SEC1 extension cable and NA-SYC1 y-cable sets enable users to take one step further in colour-customising their fans: available with red, blue, green, yellow, black and white sleeving, the cables allow a PC build to be colour-coordinated down to the smallest detail and are an ideal match for the new chromax.black.swap edition fans. While the NA-EC1 30cm extension cables provide extra reach in larger enclosures, the NA-YC1 y-cables make it possible to run two 4-pin PWM fans on a single fan header and to let the motherboard control the speed of both fans simultaneously.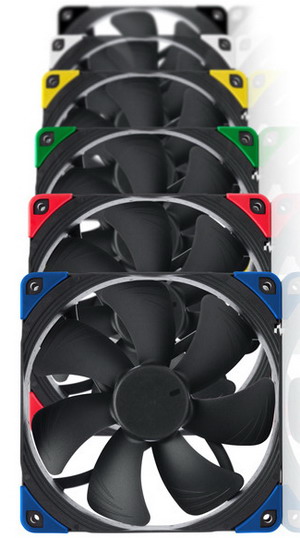 The new NA-HC heatsink covers are add-on accessories for Noctua's award-winning NH-U12S and NH-D15(S) series CPU coolers. Made from high-quality, powder-coated aluminium and available in black (chromax.black), white (chromax.white) and black with swappable inlays in black, white, red, blue, green and yellow (chromax.black.swap), they allow users to colour-customise their coolers in order to coordinate them with popular build colour schemes such as all-black, black and white or black and red. Thanks to the easy, straightforward installation, changing the looks of a Noctua cooler only takes a few minutes and doesn't even require taking it off the CPU.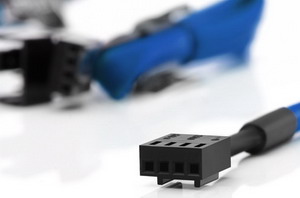 Combined with the new chromax.black.swap edition fans, the NA-HC covers give users endless possibilities to design their very own, individual Noctua coolers that look just as great as they cool!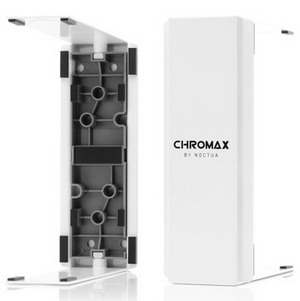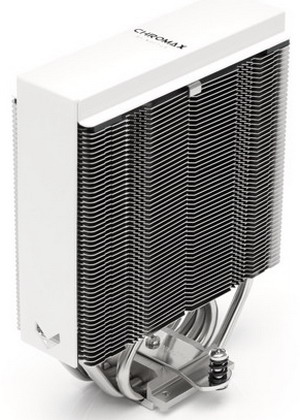 ---
| | |
| --- | --- |
| Mon: 10/16/2017 | Topic: Cooling / Heatsinks PermaLink |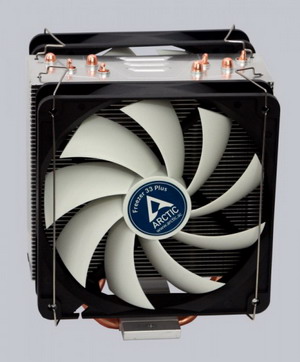 In this review we would like to present a new product from Arctic's portfolio. The Arctic Freezer 33 (Plus) is a development of the previously tested Arctic Freezer i32/A32. Where we can find the innovations and what the cooler does in our test system, we show on the next pages.
---
| | |
| --- | --- |
| Mon: 10/16/2017 | Topic: Cooling / Heatsinks PermaLink |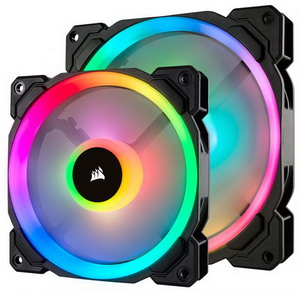 When it comes to releasing relevant, high quality computer peripherals that feature RGB lighting, Corsair has cemented themselves as one of the best in the industry, with a solid lineup of RGB-capable products constantly being released. Today, we are looking at Corsair's latest entry into the RGB fan market, the LL120 RGB case fan, which were shipped in a Triple Pack ($119.99 shipped) that includes the Corsair Lighting Node Pro...
---
| | |
| --- | --- |
| Thu: 10/12/2017 | Topic: Cooling / Heatsinks PermaLink |
Arctic has released a new heatsink for the AMD Ryzen Threadripper CPU called the Freezer 33 TR - this cooler is designed specifically for Threadripper and has been tested by AMD and approved for all versions of 8 to 16 cores.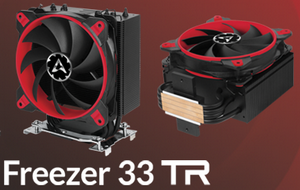 Says Arctic; "The CPU cooler is based on the award-winning Freezer 33 and convinces with a recommended TDP up to 200 watts. The Freezer 33 TR comes in a new design and is equipped with the especially powerful and newly developed BioniX F120 fan. The extremely silent three-phase motor convinces, among other things, through a low coil temperature and cools the up to 180 Watt of the 1900X, 1950X and 1920X processors extremely efficiently."
The Freezer 33 TR is now available in limited quantities in the ARCTIC Webshop at a price of $ 47.99. Compatibility of ARCTIC watercoolers
"For the Ryzen Threadripper processors, the Liquid Freezers 240 and 360 have been confirmed as AMD Ryzen Threadripper compatible CPU coolers up to 180 W TDP and the Liquid Freezer 120 up to 140 W TDP."
---
| | |
| --- | --- |
| Wed: 10/11/2017 | Topic: Cooling / Heatsinks PermaLink |
In this article for Benchmark Reviews, we have Reeven's Naia 240 AIO Liquid Cooler up for review (model RW-2401). Reeven manufactures a variety of air coolers, fans, cases, and a few other things, but this is their first foray into the all-in-one liquid cooler segment. From the looks of things, Reeven is off to a great start with this AIO unit.
---
| | |
| --- | --- |
| Wed: 10/11/2017 | Topic: Cooling / Heatsinks PermaLink |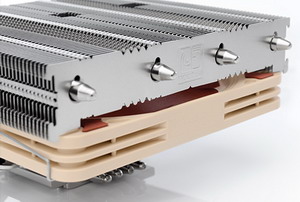 Noctua today presented two updates to its range of quiet low-profile CPU coolers. Successors to the award-winning NH-L9a and NH-L12, the new NH-L9a-AM4 and NH-L12S models now support the AM4 socket of AMD's Ryzen processors. Whereas the NH-L9a-AM4 stands a mere 37mm tall, which makes it ideal for use in compact HTPCs or Small Form Factor cases that offer minimum clearance for CPU coolers, the slightly bigger NH-L12S comes equipped with the new NF-A12x15 PWM fan and combines excellent compatibility, surprising efficiency and remarkable flexibility.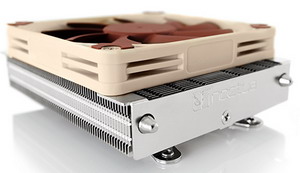 "AMD has made a big impact on the market with its Ryzen architecture and the platform will become even more interesting for compact HTPC builds when the first Ryzen-based APUs are introduced next year," says Roland Mossig (Noctua CEO). "We're thus updating two of our award-winning low-profile models to support Ryzen's AM4 socket."
The new NH-L9a-AM4 is an AM4-specific revision of Noctua's award-winning NH-L9a low-profile CPU cooler. At a height of only 37mm, the NH-L9a is ideal for extremely slim cases and, due to its small footprint, it provides 100% RAM and PCIe compatibility as well as easy access to near-socket connectors, even on tightly packed mini-ITX motherboards. The custom-designed SecuFirm2™ mounting system for the AM4 socket makes installation child's play and, thanks to the highly optimised NF-A9x14 92mm fan that supports fully automatic speed control via PWM, the NH-L9a-AM4 runs remarkably quietly.
The new S-version of the renowned NH-L12 not only adds AM4 support but also gives more flexibility and improved performance in low-profile mode. Thanks to the new NF-A12x15 PWM slim 120mm fan, the NH-L12S provides even better cooling than the previous model with its 92mm fan. At the same time, the NH-L12S is highly versatile: with the fan installed on top of the fins, the cooler is compatible with RAM modules of up to 45mm in height. With the fan installed underneath the fins, the total height of the cooler is only 70mm, making it suitable for use in many compact cases. Topped off with a SecuFirm2™ multi-socket mounting system for Intel LGA115x (LGA1150, LGA1151, LGA1155, LGA1156), LGA20xx (LGA2066, LGA2011-0, LGA2011-3) and AMD (AM2, AM2+, AM3, AM3+, AM4, FM1, FM2, FM2+), the NH-L12S is ideal for both Intel and AMD-based HTPC or SFF builds.
Prices and availability Both models are currently shipping and will be available shortly. The suggested retail prices are EUR 39.90 / USD 39.90 for the NH-L9a-AM4 and EUR 49.90 / USD 49.90 for the NH-L12S.
NH-L12S: http://noctua.at/en/nh-l12s
NH-L9a-AM4: http://noctua.at/en/nh-l9a-am4
General AM4 compatibility information: http://noctua.at/am4
---
| | |
| --- | --- |
| Wed: 10/11/2017 | Topic: Cooling / Heatsinks PermaLink |
Today we have the honor to test the brand new Arctic BioniX case fans for the product launch. More specifically, the Arctic BioniX F120 and Arctic BioniX F140 gaming fans with PWM PST, which are available in various colors. We are anxious to see if Arctic can continue their usual quality and what the fans can afford.
---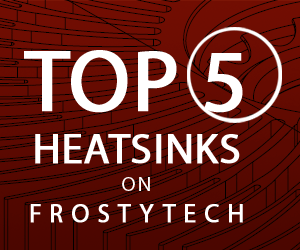 | | |
| --- | --- |
| Wed: 10/11/2017 | Topic: Cooling / Heatsinks PermaLink |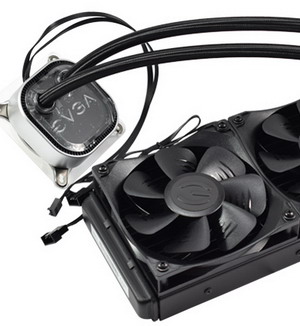 While EVGA may be best known for its graphics cards, motherboards and power supplies, the company has recently ventured into the magical world of liquid coolers. Using 5th generation Asetek hardware, the imaginatively named CLC 240 should provide good cooling, an easy installation process and – of course – RGB lighting. But how does it fare against the competition? Let's find out.
---
| | |
| --- | --- |
| Wed: 10/11/2017 | Topic: Cooling / Heatsinks PermaLink |
This 120mm cooler is bundled with not one, but two of the company's latest BioniX fans. These are PWM blowers with rotation speeds between 200 and 1800 RPM. Colour choices for this specific model are black with either red, yellow, green or white accents. We got yellow but you can't win 'em all - this element is subjective, of course. We feel the black heatsink itself however is a nice design choice. Arctic don't appear to publicise the reasons behind the eSports moniker, but based on the mid-range pricing and available colour schemes it's presumably aimed at these such users.
---