| | |
| --- | --- |
| Mon: 08/18/2014 | Topic: Cooling / Heatsinks PermaLink |
Gute Kühlleistung und Lautstärke bei CPU-Kühlern sind meist die wichtigsten Kriterien. Doch geht dies auch zu attraktiven Preisen? Drei neue Vertreter aus den Häusern Raijintek, Scythe und Thermalright wollen das unter Beweis stellen. Was die Kühler Ereboss, Mugen Max und True Spirit 140 in der Praxis leisten, das klärt unser heutiger Test.
---
| | |
| --- | --- |
| Mon: 08/18/2014 | Topic: Cooling / Heatsinks PermaLink |
Cooling module maker Yen Sun Technology has entered the supply chains of Europe-based car vendors Volkswagen, Daimler AG and BMW, and has already started supplying products, helping the company turn profitable in the second quarter, according to some market watchers.
---
| | |
| --- | --- |
| Mon: 08/18/2014 | Topic: Cooling / Heatsinks PermaLink |
A couple readers have written to ask if Frostytech can test the novel copper foam heatsink used on a new crowd funded silent computer system making the rounds. Well, we can't because it doesn't yet exist.
In case you missed it, this is what all the hoopla is about.... this is the mock-up from SilentPowerPC.de who are looking to raise €45,000.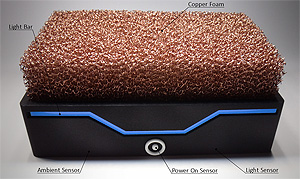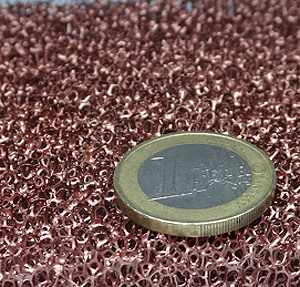 Copper metal foam structure.
The crowd funding project aims to use a slug of copper inside the open cell copper metal foam as the heat spreader, with the metal foam on the outside serving as the "fins" of the heatsink. In this design, airflow is not fan-driven, but by convective air currents (hot air rising) so the system remains completely silent. The project touts such benefits as: "heat is distributed on an up to 500-fold greater surface area."
While open-cell metal foams are routinely used in water blocks and evaporative cooling systems, I can't see the mockup design successfully working as a passive CPU heatsink.
For starters, the random cellular structure of metal foam is going to create significant pressure drop which will styme free airflow. To make matters worse, the base is entirely blocked off by the heat generating components and a solid heatspreader... so air can really only enter the metal foam from the edges. Compare SilentPowerPC.de's thermal design to the prototype heatsinks actually produced by the metal foam industry to promote the application of their products (below).
See the difference? Thin slabs of open cell metal foam to reduce pressure drop and tubing or heatpipes to conduct the heat energy across a large surface area.... and a requirement for high pressure fans to drive airflow through the restrictive material.
The SilentPowerPC.de team would, perhaps, be better to choose a proven fully passive heatsink such as Nofan's CR-80EH, which actually exists. NoFan heatsinks are essentially made from one wound up 'heatpipe', the downside being the volume of space required and a dissipation ceiling of about 90W. Considering that the SilentPowerPC.de crowd funding project aims to squeeze an Intel Core i7 4785T CPU and NVIDIA GTX 760 GPU in the box, I'm skeptical they will build a working prototype with the metal foam heatsink as pictured.
---
| | |
| --- | --- |
| Fri: 08/15/2014 | Topic: Cooling / Heatsinks PermaLink |
"True to its motto "innovated - not imitated" the premium manufacturer Thermalright presents with the Archon IB-E X2 a revised version of one of the most powerful single tower coolers in the world. The Archon IB-E X2 uses a dual-fan design as well, which has been optimized for the needs of the most demanding users.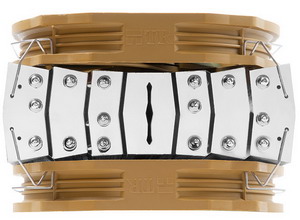 The cooler has been revised in accordance with current customer requirements and makes excessive use of innovative new features to improve an already excellent product even further. The most important innovation of the Archon IB-E X2 is the new layout of the heatsink: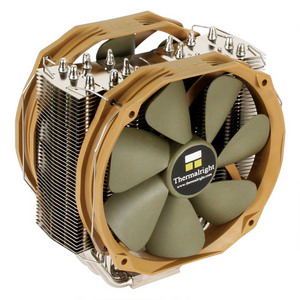 To ensure the best possible compatibility with motherboards and components used, the two aluminum cooling blocks are now arranged asymmetrically. The revised design of the IB-E ensures that the top PCIe slot on ATX motherboards is no longer blocked by the heatsink. In addition, with the overall lower design and the resulting reduction in the total height, a greater compatibility with current cases has been achieved.

In cooperation with the renowned review page Nikktech.com Thermalright starts today a sweepstakes, where the participants can win one of three brand-new Archon IB-E X2 coolers. Further information can be found on the Thermalright Facebook-Page.

The cooler is expected to be available in stores from the end of August; the MSRP is € 64.99, incl. 19% VAT."
---
| | |
| --- | --- |
| Fri: 08/15/2014 | Topic: Cooling / Heatsinks PermaLink |
"Cooler Master wants nothing but the best for our users, even when things aren't going perfectly. In an effort to make things easier, reduce headaches, and provide a better all-around service environment, we've upgraded our support systems.
Starting today, you'll find a new and improved ticket and Live Chat systems through our CM FanZone to make sure you're getting clear and quality support services directly from us.
CM FanZone also provides member exclusive deals, private chat boards, tutorials, and news on the latest Cooler Master products."
See the new Cooler Master FanZone @ https://account.coolermaster.com/
---
| | |
| --- | --- |
| Fri: 08/15/2014 | Topic: Cooling / Heatsinks PermaLink |
Noctua is continuing its tradition of supplying customers with its premium-class SecuFirm2™ mounting kits for novel platforms free of charge. While newer Noctua heatsinks support Haswell-E's LGA2011-3 socket out of the box, older models can be upgraded with the NM-I2011 kit at no additional cost.

"We're determined to provide the best possible support to our customers and over the years, we've sent many thousands of mounting kits free of charge to users who wanted to upgrade to new platforms", says Mag. Roland Mossig (Noctua CEO). "With Haswell-E just around the corner, we're pleased to announce that we'll extend this offer for LGA2011-3. Owners of older Noctua retail heatsinks that don't support LGA2011 out of the box will be able to upgrade to the new socket free of charge!"

Due to the heatsink mounting mechanism being identical on LGA2011-0 and 2011-3, Noctua's previous SecuFirm2™ mounting systems for LGA2011 also support Intel's upcoming 'Haswell-E' X99 platform. The following Noctua coolers already include SecuFirm2™ mounting systems for LGA2011 and can be used on LGA2011-3 mainboards without any upgrades or modifications: NH-D15, NH-D14 SE2011, NH-U14S, NH-U12S.

Users of older Noctua retail models that don't include a SecuFirm2™ mounting system for LGA2011 can obtain the NM-I2011 kit free of charge on Noctua's website in order to make their heatsinks compatible with the new socket. The NM-I2011 kit is compatible with most Noctua retail coolers since 2005.

The NH-L12 features a special variant of the SecuFirm2™ that needs to be updated with the new NM-IPS2 spacers in order to be compatible with LGA2011-3. NH-L12 owners can now request these spacers free of charge at www.noctua.at.

To order the NM-IPS2 spacers (NH-L12 only) or NM-I2011 kit (all other models that do not support LGA2011 out of the box), a proof of purchase (photo, scan or screenshot of the invoice) of both an eligible Noctua CPU cooler and either an LGA2011-3 mainboard or LGA2011-3 CPU are required. The NM-LGA2011 is also available in stores at a low service charge.
---
| | |
| --- | --- |
| Thu: 08/14/2014 | Topic: Cooling / Heatsinks PermaLink |
The AeroCool Dead Silence Fans arrived Technic3D. The Fans at least 14,2 dB(A) and up to 1.200 U/min for your Case or CPU-Cooling can you see in the following Review on Technic3D."
---
Cooler Master has been off the enthusiast radar in terms of computer power supplies for a while now. It simply walked a different line than much of the rest of the field. Today however we have one of Cooler Master's second foray back into the high end with a mid-level PSU rated for operation at 650 watts.
---
| | |
| --- | --- |
| Mon: 08/11/2014 | Topic: Cooling / Heatsinks PermaLink |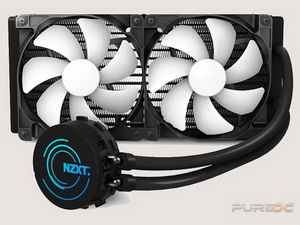 "Today we find a lot of AIO units flooding the market, and selecting the right one can be a hard choice with so many different styles and types readily available. We are putting three new water cooling units on the test bench from NZXT: the KRAKEN X31, X41 and, X61 AIO coolers, setup for 120mm, 140mm, and 280mm designs. Let's see how they perform."
---
| | |
| --- | --- |
| Mon: 08/11/2014 | Topic: Cooling / Heatsinks PermaLink |
Japanese cooling expert Scythe presents a new cooling solution for users seeking a low cost entry-level CPU cooler with great performance. Scythe has used the latest technologies such as the M.A.P.S fin structure and H.P.M.S. mounting system for the new Tatsumi to raise the entry-level bar higher once again. Tatsumi CPU Cooler proves that great cooling performance for latest AMD® and Intel® processors doesn't necessarily needs to cost a fortune. The new addition to the entry-level portfolio of Scythe offers an optimum mix of high built-quality and performance for a reasonable price.
In spite of its low weight of only 450 grams (15.87 oz, incl. fan) and compact dimensions 102 x 146 x 83 mm (4.02 x 5.75 x 3.27 inch, incl. fan), great performance above the market average is provided. Tatsumi CPU Cooler achieves efficient heat dissipation thanks to the utilization of latest technology developed by Scythe over a time period of more than a decade.
The large nickel-plated copper-baseplate matches the CPU heat-spreader perfectly and transfers the heat to the three U-shaped 6 mm copper heatpipes. Heat is being passed on to the aluminum fin structure on top, where a 92 mm case fan provides the perfect airflow to dissipate the heat. Attached Glide Stream 92 mm fan rotates in a range between 300 and 2.500 RPM thanks to PWM control and moves between 11,4 and 94,3 cubic meter per hour (6,70 to 55,55 CFM) at merely audible 7,2 to 31,07 dBA. Scythe equipped the Tatsumi heatsink with the Multiple Airflow Pass-Through Structure (M.A.P.S.) technology to further increase the performance and to reduce air turbulence.
"Hyper Precision Mounting System" (H.P.M.S.) was first introduces with the release of the popular Mugen 4. Scythe passed this very reliable and convenient mounting mechanism on to the Tatsumi. Thanks to the backplate-based mounting system it is no longer necessary to remove the whole motherboard in order to mount or dismount the CPU cooler. Socket compatibility list benefits from this amazing mounting system as well, as it provides compatibility to a huge variety of CPU sockets.
The list includes latest Intel® motherboard sockets, such as the LGA775, LGA 1150, LGA 1155, LGA 1156, LGA 1366 and LGA 2011 as well as AMD® sockets AM2, AM2+, AM3, AM3+, FM1 and FM2. All required mounting clips and screws, a wrench, a multi-lingual manual and quality thermal grease are supplied in the package.

Scythe Tatsumi (model no. SCMGD-1000) is available as of today. Suggested MSRP is 21,60 EUR (excl. taxes)
---
| | |
| --- | --- |
| Mon: 08/11/2014 | Topic: Cooling / Heatsinks PermaLink |
A relatively new brand on the PC market is the company X2 Products, with their headquarter in the Netherlands. The more interesting it will be for all readers, that we are taking a closer look at their first CPU cooler, today. Here at OCinside.de we test today the brand new X2 Products Eclipse IV CPU cooler.
---
| | |
| --- | --- |
| Mon: 08/11/2014 | Topic: Cooling / Heatsinks PermaLink |
Titan is a known brand in the pc hardware and accessories scene. Not only because of their massive aluminum frame fans and various accessories. Meanwhile, the Taiwanese company also produces a wide range of CPU coolers. One of them is the Titan Fenrir Siberia Edition. We will find out in this review, if it remains just as cool as the eponymous Fenris Wolf in the far north.
---
| | |
| --- | --- |
| Mon: 08/11/2014 | Topic: Cooling / Heatsinks PermaLink |
NZXT is again on our test bench today with another new All-In-One a.k.a. AIO CPU liquid cooler system. This time we review the Kraken X41 that provides a single-fan radiator solution. As before we have a variable pump speed which is its new signature feature, but we truly want to know if it will handle a hot overclocked CPU.
---
| | |
| --- | --- |
| Mon: 08/11/2014 | Topic: Cooling / Heatsinks PermaLink |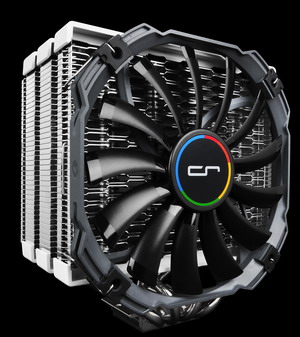 First introduced during the 2014 Taipei Computex, the innovator of PC thermal peripherals CRYORIG is now releasing the H5 Universal as part of a new line of single tower coolers. CRYORIG H Series will for the first time feature CRYORIG's proprietary Hive Fin™ technology. The Hive Fin™ design allows for turbulence reduction of the airflow as well as Jet Fin Acceleration™ for faster hot air exhaust. CRYORIG's H series will fit into the mainstream range within CRYORIG's lineup. Similar to the high-class R1 Universal, H5 Universal will be equipped with CRYORIG's XT140 slim profile fan for zero ram interference on Intel/AMD platforms. With a total height of 160 mm, the H5 Universal will be able to fit into almost all mainstream PC chassis setups.
"With our new H series of heatsinks, we are again trying to bring innovative solutions in improving our products. Our new Hive Fin™ design allows for improved airflow intake as well as better airflow management. Besides innovative optimizations, we truly want the H series to be a cost effect solution. We want to bring the premium build quality and detailed designs of our higher-end product lines to the mainstream user. So you'll find a lot of CRYORIG proprietary tech from our flagship R1 and C1 series on the H5 and the later H series heatsinks. If the H5 Universal is your first CRYORIG product, you'll be surprised by CRYORIG's attention to performance and detail, even more so at this price range." – Alex W. Co-Founder of CRYORIG.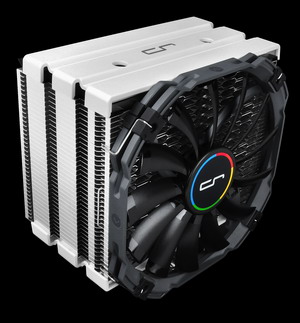 The H5 Universal CPU utilized the XL Surface Area, where the fin surface area is being extended to the back. In result, phenomenal cooling performance can be achieved compared to common Dual Tower coolers and heatsinks. H5 Universal is equipped with four pure copper heatpipes with 6 mm diameter. The nickel-plated baseplate is made of pure solid copper and uses the Heatpipe Convex-Align™ technology, which allows the heatpipes to be concentrated directly above the center of the CPU.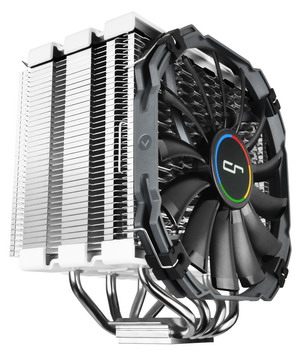 CRYORIG H5 Universal Feature List
Proprietary Hive Fin™ Design.
JetFin Acceleration System™ For Faster Hot Air Exhaust.
Air Turbulence Reduction System.
Heatpipe Convex-Align™.
4x 6 mm Pure Copper Heatpipes.
1x XT140 140 mm Slim Profile PWM Fan With HPLN™ Bearing.
Patent Pending Solder-less Environmental Friendly Manufacturing.
Maximum 6-Year Warranty Upon Product Registration.
---
| | |
| --- | --- |
| Mon: 08/11/2014 | Topic: Cooling / Heatsinks PermaLink |
Cooler Master goes big on water cooling with the Nepton 280L all-in-one kit, featuring a massive aluminum radiator and support for 140mm fans. See if this big boy commands a big enough lead over its more modestly sized (and modestly priced) smaller sibling, the Seidon 120XL, in our review.
---
| | |
| --- | --- |
| Mon: 08/11/2014 | Topic: Cooling / Heatsinks PermaLink |
Enermax comes to us today with its Liqtech 240 AIO liquid cooling system for CPUs sporting healthy list of features including; copper cold plate with patented Shunt-Channel-Technology (SCT), seamless contact radiator fins, non-permeable flexible tubing, and a fan control system offering three cooling modes.
---
| | |
| --- | --- |
| Mon: 08/11/2014 | Topic: Cooling / Heatsinks PermaLink |
As an established manufacturer Cooler Master has already proved several times their experience in many product areas. For some time now, Cooler Master produces AIO water cooling systems and we have already tested their powerful Eisberg Prestige 240L cooler. The latest water cooler model is the Cooler Master Nepton 140XL, at which we will take a closer look today.
---
| | |
| --- | --- |
| Mon: 08/11/2014 | Topic: Cooling / Heatsinks PermaLink |
"Today DaveChaos takes a look at the Liqtech 240 CPU Cooler from Enermax, including benchmark performance results."
---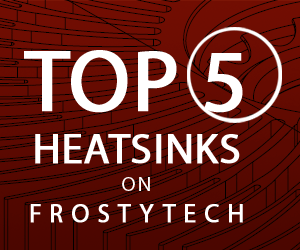 | | |
| --- | --- |
| Mon: 08/11/2014 | Topic: Cooling / Heatsinks PermaLink |
Low-profile CPU Coolers seem to be favored by manufacturers lately a lot more compared to the past most probably because of the somewhat recent explosion of mITX/mATX mainboards and systems in the market. I happen to be much more fond of full tower housed systems (XL-ATX/HPTX) with plenty of interior space and large components (old school i guess) but i do realize that the future lies in tiny low-power eco-friendly systems and although i don't really like the idea i think that in the end we'll all benefit from it. That being said it's not often that we get to test a much promising low-profile CPU Cooler model manufactured by someone other than the usual "suspects" in the market (like Noctua, Thermalright and be quiet!) but todays review is exactly that. So today installed on our LGA2011 test rig is the latest C1 Top-Down CPU Cooler by our friends over at CRYORIG.
---
| | |
| --- | --- |
| Mon: 08/11/2014 | Topic: Cooling / Heatsinks PermaLink |
Raijintek are easily my favourite cooling manufacturer of the moment, while they may be relatively new to the market compared to the established few such as Cooler Master, Thermaltake, be quiet! and more, they've already make a big impact on the industry. Every single one of their products we've reviewed so far has been an award winner, bringing class leading performance, great overall aesthetics and bargain prices; making Raijintek one of the best all round cooling manufacturers on the market. With all that in mind, I'm expecting a lot from the two coolers we have here today, the Themis Evo Pro and the Nemesis. The Themis Evo Pro is targeted at a more budget friendly end of the market since it will only set you back a wallet friendly £27.95, but I wanted to put it against the almost twice as expensive Raijintek Nemesis to find out just how much more you get for your money; it is worth investing in one of their high-end coolers if you only need something like the Evo and of course should you want to overclock, will you need to up your budget for a high-end model like the Nemesis?
---