| | |
| --- | --- |
| Tue: 05/05/2015 | Topic: Cooling / Heatsinks PermaLink |
Summer is approaching us, and with temperatures expecting to get hot it means that Benchmark Reviews is evaluating what CPU cooler manufacturers are bringing forward in 2015. In this article, the spotlight will be on the newest SilverStone Cooler, the Tundra TD03-E, the successor of the TD03, and the smaller brother of the TD02-E. As expected from any SilverStone product, expectations are quite high, even if this is merely the first update to SilverStone's Tundra series, which made it's debut back in 2013.
---
| | |
| --- | --- |
| Tue: 05/05/2015 | Topic: Cooling / Heatsinks PermaLink |
"We've looked at a large portion of AIO coolers from the Fremont, California based hardware manufacturer Corsair. This includes our most recent review the H110i GT which set the bar high as the best performing AIO cooler that we have tested here at ThinkComputers. Of course that isn't the limit of Corsair's capabilities as they offer a full line of coolers for all different needs. Today we'll once again take a look a large AIO cooler, the 240mm rad equipped H100i GTX. Follow along as we find out if this cooler can go punch for punch with it's highly successful bigger brother."
---
| | |
| --- | --- |
| Tue: 05/05/2015 | Topic: Cooling / Heatsinks PermaLink |
In our review of Noctua's latest flagship, the NH-D15, we proclaimed it the king of air coolers, for its massive cooling performance and silent operation. However, while the NH-D15 is the definitive solution where space is not a concern, it is definitely not the end all be all, especially for those looking for a cooler for their small form-factor systems. Mini-ITX users fear not, as Noctua also has a solution such situations as well. The company's NH-L9x65 promises an ultra compact design, as well as Noctua's signature silent operation, but can it keep even the most demanding overclocks cool? Let's find out!
---
| | |
| --- | --- |
| Tue: 05/05/2015 | Topic: Cooling / Heatsinks PermaLink |
APH Networks reviews the HP-12 and HP-14 from Fractal Design. Will it be another silent PC enthusiast's delight?
---
"The Z11 NEO is what the Greek word "NEO" suggest. It's "a new or revived form of" the earlier generations of the Zalman Z11 series of case that have been very popular for quite some time. While the Z11 has been around for a while the Z11 is a much better improved updated and redesigned NEO looks better and gives more with a price that in earlier days would have cost a builder three times what this case costs now. What really sets off the Zalman Z11 series is the puff out serviceable gills on the sides that make it look like a stealth fighter bomber or a high dollar Lambo theme case. The case has a cockpit like window on the side that makes it even more appealing in a man vs. machine sort of way. The Z11 NEO in big letters on the side harkens some back to the days of the older Zalman LQ-1000 Z machine series that made it look serious on anyone's work space. The branding lets onlookers know that your computer is something different than the average everyday work a day business machine. Having the Z11 NEO is an Artistic statement as much as a very well built case, so let's take a look at what the NEO brings out in the new and revived version of the Zalman Z11."
---
| | |
| --- | --- |
| Tue: 05/05/2015 | Topic: Cooling / Heatsinks PermaLink |
Up and until a few years ago most CPU cooler manufacturers didn't pay much attention to all the consumers around the world who asked for new heatsink designs that wouldn't interfere with tall memory modules and mainboard components. Now i don't really blame the people who designed those CPU coolers since back then size was what would sell to gamers and overclockers alike and if you happen to recall the huge V10 by CoolerMaster (or even the V8) then you know what i mean. Well the arrival of the AIO liquid CPU coolers changed all that since they offered zero clearance issues without asking nearly as much as custom water cooling kits. This "forced" manufacturers to take a new approach towards CPU coolers so in the past 2 years we've seen many models claim to offer zero clearance issues with your memory modules and mainboard components (and most actually deliver what they promise). The TRUE Spirit 140 BW Rev.A is the latest CPU cooler by Thermalright to feature a "slim" heatsink to allow use of even the tallest memory modules and today we're taking it for a ride.
---
We have been sent the LT version of this memory to review, and it's part of an ever growing DDR4 market from Crucial and indeed from the mainstream manufacturers, who are boosting all their ranges in 2015. Crucial are a cornerstone of memory manufacturing, so we should expect solid performance and products, so let's do some testing and see what the LT can do."
---
| | |
| --- | --- |
| Mon: 05/04/2015 | Topic: Cooling / Heatsinks PermaLink |
"Noctua has once again made a product with considerable thought and care. The NH-U9S fills that gab between the low performance stock coolers from both Intel and AMD, and provides something that can dissipate a large volume of heat within small confinement. I often run into this problem when reviewing chassis, where I find it to be great, but lack the height to install a decent size aftermarket cooler. This is where Noctua comes in! While All-In-One (AIO) coolers are great, it doesn't always fit within the users build preference or budget. It's also true that not every consumer wants to overclock, but do like the idea of lower temperatures compared to stock coolers. The NH-U9S fits perfectly within the socket specifications for Intel or AMD. This is great for small form factors like ITX or M-ATX motherboards."
---
| | |
| --- | --- |
| Mon: 05/04/2015 | Topic: Cooling / Heatsinks PermaLink |
Für dieses Jahr haben wir versprochen, dass wir mehr auf die fertigen Wasserkühlungen eingehen, und das tun wir auch. Nach den zwei beliebtesten Modellen in der 240 mm Kategorie wollen wir euch diesmal eine 280 mm Lösung vorstellen, den NZXT Kraken X61. AIO Wasserkühlungen erfreuen sich immer größerer Beliebtheit und die Hersteller reagieren natürlich mit immer neueren und besseren Modellen darauf. Vor 3-4 Jahren waren die Komplettlösungen noch völlig unausgereift. Die Pumpenleisten war zu schwach, nebenbei waren sie viel zu laut. Es steckte eben noch in den Kinderschuhen.
---
| | |
| --- | --- |
| Mon: 05/04/2015 | Topic: Cooling / Heatsinks PermaLink |
Corsair's new H100i GTX all-in-one water cooling system is the latest evolution of the H100 series of dual 120 mm cooling systems. This version adds Corsair link capability, improved cold plate and pump performance for better thermal efficiency and throws in a cosmetic update as well. In this article, Benchmark Reviews takes the new Corsair H100i GTX out for a test drive and compares its performance against a few other popular all-in-one cooling solutions.
---
| | |
| --- | --- |
| Mon: 05/04/2015 | Topic: Cooling / Heatsinks PermaLink |
"Noctua, like always, continues to make its products with considerable thought and care. The NH-D9L fills a even greater gap than the NH-U9S, while still covering the basics by focus on the low performance stock coolers from both Intel and AMD and provides something that can dissipate a large volume of heat within small confinement. The extra bit difference here is the D9L is 3U compatible allowing for a even smaller footprint reaching only 110mm. This is where I often run into this problem with a chassis, where I find it to be great, but lack the height to install a decent size aftermarket cooler. A great example would be Cooler Master Stacker series with its ITX chassis. That chassis was a rough sell considering the zero extra space. This is where Noctua comes in!"
---
| | |
| --- | --- |
| Mon: 05/04/2015 | Topic: Cooling / Heatsinks PermaLink |
The Thermaltake Frio Silent 12 Cooler arrived Technic3D. See you in the following Review the Silent 12 with one 120mm PWM-Fan and three 8mm Heatpipes compared with many other Cooler on a Intel Core i5 4670K CPU."
---
| | |
| --- | --- |
| Mon: 05/04/2015 | Topic: Cooling / Heatsinks PermaLink |
Thermaltake, an industry leader in computer chassis, thermal solutions, and power supply units, introduces the full range of Pacific RL (over 50mm thickness) and R Series (under 50mm thickness) radiators.
Designed for the most demanding and hardcore enthusiasts, the Thermaltake Pacific Radiator Series is optimized for maximum heat dispatching. The radiators are designed without compromise, with high-quality German aerospace-grade materials and constructed with zinc, a powerful anti-corrosion agent.
An exceptional manufacturing process using high temperature brazing at 1022?/550? sets Pacific Radiators in a class of their own. Integrated G1/4" threads make it easy to install, while rigid connections ensure they are leak-resistant. With an ideal mounting, fitting and flow set-up, the Thermaltake Pacific Radiator Series is guaranteed to go above and beyond your current cooling standards.
RL Series
Pacific RL560
Pacific RL480
Pacific RL420
Pacific RL360
Pacific RL280
Pacific RL240
Pacific RL140
Pacific RL120
Pacific R Series
Pacific R360
Pacific R240
Pacific R120
The Pacific RL Series is an ultra-thick radiator (over 50mm thickness) with a dual-row 13-set flat tube design to increase heat transfer. Water flows down on one side, and then passes through the bottom chamber before being circulated back to the other side of the radiator. Choose from: 120mm, 140mm, 240mm, 280mm, 360mm, 420mm, 480mm, and 560mm radiator lengths to provide easier fitting installation and loop management. The Pacific R Series is a slim radiator (under 50mm thickness) with only a single 13-set flat tube design This series is available in 120mm, 180mm, 240mm, 360mm, and 540mm sizes and is guaranteed to provide exceptional performance in a slimmer, sleeker design.
The Pacific Radiator Series delivers an average heating load of 32?-35? (90-95?) on each radiator. After brazing, the fin and tube connect to form a joint, thereby creating more uniform heat transference. By efficiently pulling heat away from the power-dissipating components, the radiators ensure component reliability.
Fin density is optimally designed to accommodate high air pressure. The cooling performance improves significantly with increased fan speed, offering exceptional cooling performance during operation.
German-Made Anti-Corrosion Materials The radiators are designed to reduce electronic conductivity and can withstand scratches to the zinc layer. The corrosion potential of aluminum alloy combined with zinc is reduced by 55.6% after brazing.
High-Quality Manufacturing Process: Brazing The radiators are baked through a controlled-atmosphere brazing line. The materials melt into each other to achieve optimal thermal transfer from the tubes to the actual fins in order to attain better overall heat evacuation and dispatching.

Pacific RL Series
: Pacific RL560
: Pacific RL480
: Pacific RL420
: Pacific RL360
: Pacific RL280
: Pacific RL240
: Pacific RL140
: Pacific RL120
Pacific R Series
: Pacific R360
: Pacific R240
: Pacific R120

---
| | |
| --- | --- |
| Thu: 04/30/2015 | Topic: Cooling / Heatsinks PermaLink |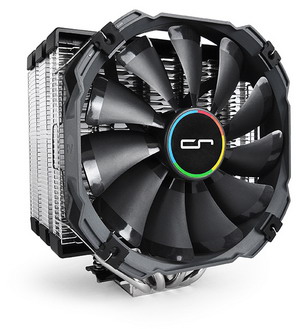 Based on the acclaimed H5 Universal, CRYORIG has extended the successful Hive Fin™ based H series line with the CRYORIG H5 Ultimate. The H5 Ultimate features the same award winning features as the original H5 Universal, but with a larger XF140 140 mm fan and new jet-black heatsink covers. The larger XF140 increases the H5 Ultimate's TDP from 160 to 180 Watt, putting the proprietary Hive Fin™ system to work. Together with the acclaimed MultiSeg™ mounting system, the H5 Ultimate will be the strongest single tower solution CRYORIG has up to date. "The CRYORIG H5 Ultimate is the natural evolution of the H5 Universal. It follows our strategy of offering two different styles of products for our models. The Universal line focuses on the best compatibility on the market, and the Ultimate line, which is about pure performance. The PC DIY Modding and Overclocking crowd is a smart bunch of people who know what they need and want. We at CRYORIG believe that giving extra options and choices ultimately allows for users to find and chose what they need, instead of having the brands choose for them. Choice of customization is key." – Alex W. Co-Founder of CRYORIG.
The included XF140's air flow rating comes in at 76 CFM, around 17% more than the H5 Universal. Along with the H5 Ultimate's moniker Hive Fin™ optimized air flow system, the H5 Ultimate boosts its overall TDP wattage to 180 Watt, enough for almost all modern CPU platforms. The H5 Ultimate is scheduled to be released this summer, MSRP set at 46,99 USD in North America and 39,99 Euros in Germany, other regions may vary.
---
| | |
| --- | --- |
| Thu: 04/30/2015 | Topic: Cooling / Heatsinks PermaLink |
It is safe to say that hardware enthusiasts are concerned with cooling and is one reason why there are lengthy discussions on what cooler is best. Keep in mind that "the best" cooler is a bit of a misnomer in that a cooler appropriate for overclocking might not work well if you are building a super stealthy system. Likewise, going with inexpensive coolers for the sake of replacing an OEM heatsink isn't the right approach either as it may not be sized properly to give adequate performance. In this review we will be looking at the Noctua NH-D9L D-Type heatsink. This is a cooler we got to see last year at Computex and were rather amazed that they would attempt a smaller heatsink given their prevalence for 140mm+ designs. The purpose here is to complement the push for smaller form factor machines and still deliver superior cooling performance with near silent operation.
---
| | |
| --- | --- |
| Thu: 04/30/2015 | Topic: Cooling / Heatsinks PermaLink |
Quoting Anandtech.com: "It appears that Moneaul's multi-million dollar fraud will not be driving Zalman to bankruptcy after all. Word comes that the Korean courthouse handling the case has decided that Zalman, which was a child company of Moneaul, was not involved in the fraud and holds no responsibility for the actions of the parent company. We should remind you that Moneaul instigated a major financial scandal in Korea, implicating many major banks and causing a direct financial damage of nearly 3.2 Trillion Korean Won (about three billion US dollars).

The Korean courthouse decided that Zalman should be severed from Moneaul and continue to operate under their oversight and jurisdiction. As a result Zalman has been allowed to restructure the company, doing so under the supervision of the Korean justice system.

What does that mean for Zalman's customers? Zalman will not need to file for bankruptcy nor liquefy any of their assets. The company will continue to operate normally and all post-purchase support and warranties remain valid. In some ways the company hasn't even skipped a beat, recently announcing the release of a new product, the Z11 Neo case."
---
| | |
| --- | --- |
| Thu: 04/30/2015 | Topic: Cooling / Heatsinks PermaLink |
After hearing about 5 GHz overclocks from pre-production fourth-generation Core processors (that's Haswell, for fans of code names), enthusiasts were despondent to hear that retail parts would be far less friendly. Angelini even went so far as to poll folks with hundreds of retail processors for his launch coverage in The Core i7-4770K Review: Haswell Is Faster; Desktop Enthusiasts Yawn. The consensus was that stability at 4.5 and 4.6 GHz on air was extremely rare, that most enthusiasts should expect to top out at 4.3 GHz or less using 1.2 V, and that heat is the most likely culprit.
---
| | |
| --- | --- |
| Thu: 04/30/2015 | Topic: Cooling / Heatsinks PermaLink |
Noctua's NH-L9i has been on the market for a long time, and it works reasonably well as a Mini-ITX cooler that's compatible with a lot of motherboards. The issue with it, however, is that it only performs "reasonably" well, and many users would like a little more cooling oomph for their Mini-ITX systems, as the motherboards are capable of supporting very powerful CPUs.
---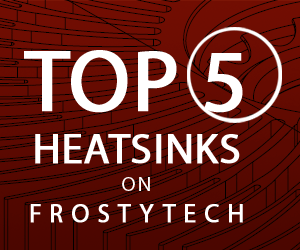 | | |
| --- | --- |
| Thu: 04/30/2015 | Topic: Cooling / Heatsinks PermaLink |
Galax decided that it's time for some water cooling and has taken its niche HOF design to a liquid platform.
---
| | |
| --- | --- |
| Thu: 04/30/2015 | Topic: Cooling / Heatsinks PermaLink |
We've seen several versions of Thermalright's HR-02 Macho since 2011, including the smaller Macho 120 and the huge HR-22. We tested the latest iteration, which sports a new base plate optimized for Intel's LGA...
---