| | |
| --- | --- |
| Thu: 10/10/2013 | Topic: Cooling / Heatsinks PermaLink |
"The Spire Gemini Rev.3 CPU Air Cooler is impressive with 52 aluminum fins, six 6mm heatpipes, direct touch heat-pipe base & two 120mm fans with included speed controller. Also, the heatsink itself looks great with black-nickel coating. As well, the fit and finish is good and comes with a 5 year warranty. It's an all around excellent CPU Air cooler." ~3dGameMan.com
---
| | |
| --- | --- |
| Wed: 10/09/2013 | Topic: Cooling / Heatsinks PermaLink |
"The Spire Swirl III CPU Air Cooler stands out and is nickel plated. It has 45 aluminum fins, 3 heatpipes, smooth base, 60mm LED fan & fits current Intel and AMD sockets. While this cooler isn't big on performance, it does much better than the stock cooler at default speeds." ~3dGameMan.com
---
| | |
| --- | --- |
| Thu: 09/26/2013 | Topic: Cooling / Heatsinks PermaLink |
"We're throwing the new 200W Frostytech Mrk.III Intel LGA2011 test platform thermal test platform into the mix today! Silverstone's Argon AR01 is constructed around three beefy 8mm diameter copper heatpipes which are exposed at the base of the cooler. Putting the heatpipes in direct contact with the top of the processor makes for a very thermally efficient path with a minimum of thermal joint resistance."
---
| | |
| --- | --- |
| Wed: 09/25/2013 | Topic: Cooling / Heatsinks PermaLink |
"The Noctua NF-A14 PWM Fan is a premium quiet 140mm fan that's perfect for a case, cooler or radiator. Since it sports a SSO2 bearing, flow channels, stepped inlet design and inner surface microstructures it's quiet, performs well and has a long lifespan. You can't go wrong with this fan!" ~3dGameMan.com
---
| | |
| --- | --- |
| Mon: 09/23/2013 | Topic: Cooling / Heatsinks PermaLink |
"Like the SF-17, the Cooler Master CM Storm SF-15 Gaming Notebook Cooler is a top notch product that comes with a large fan, but this one is a little smaller at 160mm. Even so, it will have no problem cooling any powerful gaming laptop up to 15.6". It also has a 4 USB hub, fans on/off button, red LEDs, rubber supports & 2 height adjustments." ~3dGameMan.com
---
| | |
| --- | --- |
| Sun: 09/22/2013 | Topic: Cooling / Heatsinks PermaLink |
"The Be Quiet! Shadow Rock 2 CPU Air Cooler is well crafted, comes with four 8mm heatpipes, has a smooth copper base & 51 aluminum fins. Also, the included 4pin SlientWings 120mm fan and the turbulence-reducing wave design on fins reduces noise generation resulting is a quiet cooler." ~3dGameMan.com
---
Zalman is well know for their Coolers and Cases. The product we are looking at today is something else - it is the 750W Zalman GoldRock Power Supply Unit. Let us see if their Power Supply Units can live up to the expectations.
---
| | |
| --- | --- |
| Thu: 09/19/2013 | Topic: Cooling / Heatsinks PermaLink |
Akasa is a smaller thermal solution company that does have a solid reputation. The Venom Medusa CPU air cooler is a massive unit that promises better cooling with eight high capacity heatpipes, dual 14cm "Viper" fans that promise more airflow, most of all we get promised it is a "Monster of All Extremes." Does it have a place in your next build?
---
| | |
| --- | --- |
| Mon: 09/09/2013 | Topic: Cooling / Heatsinks PermaLink |
Well here's something a little different. SilverStone Technology has released their first line of all-in-one liquid coolers, part of the Tundra series. Sporting a patented fin design with claims of 40% higher cooling efficiency, new 120mm fans in a push/pull arrangement on a 45mm thick radiator and a custom water block, the SilverStone SST-TD03 All-In-One Liquid CPU Cooler that Benchmark Reviews has received for testing is a refreshingly unique addition to the growing and popular all-in-one water-cooling segment.
---
| | |
| --- | --- |
| Mon: 09/09/2013 | Topic: Cooling / Heatsinks PermaLink |
Zalman is a well known manufacturer of PC Cooling Equipment. In this review we look at the new Zalman FX-100 CPU Cooler. The design is special, but the performance is goodS. ee for your self in the review.
---
The MSI GTX 780 Lightning graphics card is the newest offering, targeted at achieving the highest overclocks possible. The MSI GTX 780 Lightning offers a graphics card with the GK110 GPU at its core, with MSI`s TriFrozr Thermal design. The TriFrozr design offers a cooling solution with three PWM fans that can be independently controlled. The architecture also includes an all-digital PWM control and triple level signals to show load using different colors. The overclocking features don`t stop there. Two separate BIOS chips are present on the 10 layer PCB. One is tuned for gaming performance out of the box, while the other is specifically tuned and unlocked for LN2 overclocking. In addition the card has 16 GPU phases of power and three memory phases, and the ability to add a GPU Reactor behind the GPU for more overclocking stability. The GPU reactor is designed to offer up to 300% more power capacity and to stabilize power noise. The Lightning card doesn`t skimp on quality either utilizing MSI`s Military class 4 components, consisting of DrMOS 4, CopperMOS, Hi-c CAP, Super Ferrite Core, and Dark Solid Caps./"
---
| | |
| --- | --- |
| Sun: 09/08/2013 | Topic: Cooling / Heatsinks PermaLink |
An often overlooked but always important side of PC building, we must admit our knowledge on the latest aftermarket CPU cooler offerings was a little dated, so it felt like the perfect time for a roundup. We test 10 of the best CPU coolers in the market including top units from Noctua, Thermalright, Xigmatek, Silverstone and Thermaltake.
---
| | |
| --- | --- |
| Sat: 09/07/2013 | Topic: Cooling / Heatsinks PermaLink |
"You may well be familiar with Cooler Master's "V" series of engine-themed CPU coolers. It consists of the V6, V6 GT, V8 and the TEC-cooled V10. Cooler Master has added another cooler to this award-winning lineup, dubbed the V8 GTS. It brings eight heat pipes and Cooler Master's horizontal vapor chamber to the table. The entire lineup of V series coolers has been very impressive thus far. Can the V8 GTS live up to the standards set by its predecessors? Let's find out."
---
| | |
| --- | --- |
| Fri: 09/06/2013 | Topic: Cooling / Heatsinks PermaLink |
be quiet! Shadow Rock 2 CPU Cooler Mini Review be quiet! are a brand that we believe are one of the best in the world, and based on their success in Germany as the leading power supply manufacturer, they also have a big focus on cooling products too. This stemmed from previous models including the Shadow Rock Pro and Shadow Rock Top Flow, as well as their amazing Dark Rock series of coolers and now their new Shadow Rock 2 CPU cooler. The Shadow Rock 2 is a premium CPU cooler based on award-winning technology that be quiet! are known for by offering quiet operation and extremely high performance. Couple all of this with an amazing price point, you won't be disappointed. In terms of its high performance, you'll find a total of four 8mm heatpipes and a 180W TDP allowing it to keep even the most extreme, overclocked CPU's at a comfortable temperature level. With its specially designed cooling fins and 120mm be quiet! PWM based fan, even when working at its peak, the unit will remain almost silent with a 25.4dBA noise level at 100% fan load.
---
| | |
| --- | --- |
| Fri: 09/06/2013 | Topic: Cooling / Heatsinks PermaLink |
GLEID is well know for their cooling products. In this review we look at their new Gelid GX-7 Rev. 2 CPU Cooler. The CPU Cooler is equipped with seven power heat pipes, packed with thin aluminium fins and mounted with two fans by default.
---
| | |
| --- | --- |
| Thu: 09/05/2013 | Topic: Cooling / Heatsinks PermaLink |
Ever wonder how ultra portable notebooks and tablets stay cool? There's not much space for traditional fan based heatsinks, so manufacturers have to turn to more advanced materials. One perennial favourite is pyrolytic graphite sheet, made by companies like eGraf. While reviewing a new ultrabook on Frostytech's sister site we came across a sheet of the material, so here's what it looks like; the dark gray sheet of material.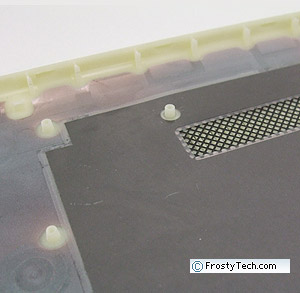 Pyrolytic Graphite Sheet has a thermal conductivity of between 800W/mK and 1600W/mK in the a-b plane.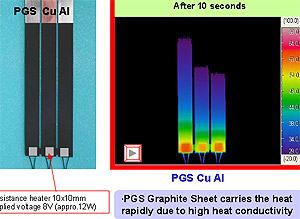 For a good introduction on PGS, have a look at this presentation.
---
| | |
| --- | --- |
| Tue: 09/03/2013 | Topic: Cooling / Heatsinks PermaLink |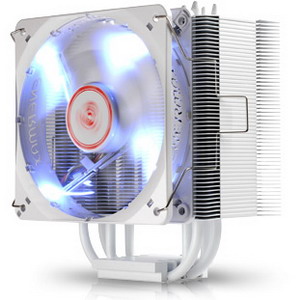 After the successful launch of the ETS-T40 series, Enermax now presents the new CPU Coolers of ETS-T40-Black Twister (ETS-T40-BK) and ETS-T40-White Cluster (ETS-T40-W). The new lineup inherits the superior performance of ETS-T40 series with the patented technologies and features the attractive heatsink with eye-catching colors, increasing the appeal of the ETS-T40 series family.
Black Twister and White Cluster come in a sleek black or an arctic white color respectively. Both models use a unique TCC (Thermal Conductive Coating) to create better velocity of thermal transference and prevent oxidation on the contact surface. ETS-T40-Black Twister features a circular blue LED PWM fan for an eye-catching presentation. On the other hand, ETS-T40-White Cluster is equipped with the white LED fan with the unique PWM APS (Adjustable Peak Speed) control which offers 3 peak RPM options to satisfy the diverse needs of consumers.
Enermax is committed to continually develop new and innovative cooling solutions. Both Black Twister and White Cluster feature several Enermax's patented technologies--- the VGF, SEF, and VEF. The VGF (Vortex Generator Flow) helps increase air convection in-between the radiator fins; the SEF (Stack Effect) enhances heat transference from the bottom up; the VEF (Vacuum Effect) optimizes airflow inside the cooler. Furthermore, ETS-T40 employs four Ø6mm heat pipes with HDT (Heat-pipe Direct Touch) structure to shorten the distance between CPU and CPU Cooler, which greatly improves the thermal conduction
Haswell support
Enermax ETS-T40 series CPU coolers come with a universal bracket for Intel® LGA 775 / 1150 / 1155 / 1156 / 1366 / 2011 and AMD®AM2 / AM2+ / AM3 / AM3+ / FM1 / FM2 platforms. All Enermax CPU Coolers are Haswell compatible!
ETS-T40-Black Twister and ETS-T40-White Cluster is now available at MSRP of US$49.99. For more information, please view it on the Enermax YouTube channel at:
http://www.youtube.com/watch?v=gmTcVnACz94&feature=youtu.be
Or visit the Enermax website at: www.enermax.com
---
| | |
| --- | --- |
| Tue: 09/03/2013 | Topic: Cooling / Heatsinks PermaLink |
Though it's now been delayed nearly a year, we're pleased to say the last critical component for Frostytech's 200W Intel LGA2011 thermal test platform has finally materialized! What this means is you'll shortly see a flood of self-contained liquid cooling systems reviewed at a heat load which makes them sweat!
Given recent claims of "300W heat capacity" by some heatsink manufacturers I'll admit we were tempted to increase our test capacity to challenge those assertions... However, seeing as flagship CPUs from Intel and AMD have typical Thermal Design Power (TDP) capped off in the 130W-150W range, there's hardly a need, even with overclocking.
Although Frostytech's latest synthetic platform is designed around the 80x80mm Intel LGA2011 mounting system, the 38x38mm Integrated Heat Spreader (IHS) of this class of processor almost exactly matches the IHS dimensions of AMDs chips. In other words, AMD users will also get a sense of how CPU coolers for AMD FX processors handle at elevated heat loads. :-)
---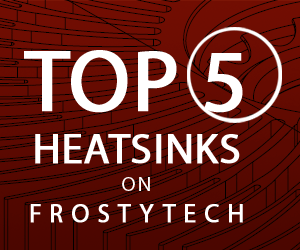 | | |
| --- | --- |
| Sat: 08/31/2013 | Topic: Cooling / Heatsinks PermaLink |
Silverstone is stepping in to the sealed all-in-one CPU cooler market which is far from deserted. Silverstone is however bringing some features to the segment which some others do not have. It is touting better radiator designs and builds as well as a better water block design. Will these features make a difference to the end user?
---
| | |
| --- | --- |
| Thu: 08/29/2013 | Topic: Cooling / Heatsinks PermaLink |
"The Be Quiet! Dark Rock 2 CPU Air Cooler comes with a super quiet 135mm fan, many aluminum fins, copper baseplate, seven 6mm heatpipes. Also, the overall fit and finish on the heatsink is out if this world and the performance is great." ~3dGameMan.com
---