| | |
| --- | --- |
| Thu: 01/01/2015 | Topic: Beginners Guides PermaLink |
Our third quiet mini-ITX gaming build guide features the widely acclaimed BitFenix Prodigy, a largish chassis that can accommodate a variety of larger components.
---
| | |
| --- | --- |
| Thu: 01/01/2015 | Topic: Cooling / Heatsinks PermaLink |
We have tested a number of quality GPU coolers in previous months, including both air and liquid cooled models. We are excited to see how the Raijintek Morpheus compares to other models from more established players in the market. We are particularly interested to see how it compares to the Accelero Xtreme IV, the flagship cooler from Arctic Cooling.
---
If you're a regular reader here at KitGuru, then you know that one of our favourite things to do is put some of the world's best hardware up for grabs for those willing to perform some simple task. Well today is no different, as we've teamed up with the fine folks over at be quiet! to offer their latest range of Straight Power 10 power supplies for you to win. All you have to do is answer one of those oh-so-simple questions.
---
Although this is Be Quiet!'s first case the company not only applied what it learned about high-quality cooling and fan solutions in the past, it also brought in world renowned case experts. The Silent Base 800 was designed in-house from the ground up emphasizing form over function with a goal of achieving the best cooling performance possible at ultra low noise levels while still offering ample space for high-end components.
---
be quiet! are an industry leader when it comes to creating high-end components. They've won countless awards from technology publications around the world for their ultra-quiet, high-performance CPU coolers, fans and power supplies; a fair few of those awards came from us here at eTeknix. It's with this award-winning performance in mind that I'm extremely excited about the product we have in for review today; the very first be quiet! chassis. The be quiet! Base 800 is their first attempt at the chassis market and while there are plenty of chassis on the market to choose from already, be quiet! are eager to show the world what they can do. Naturally the clue is in the name, be quiet! are dedicated to creating computer components that run super quiet; their chassis looks set to continue that trend. Equipped with Silent Wings fans, anti-vibration fittings, dust filters, sound dampening materials and durable panels, the Base 800 looks set to be one of the best chassis' on the market. So let's get right to it and take a closer look at what it has to offer.
---
CM Storm hardware made a very good impression- from its performance to its built quality. I'll be honest, CM Storm tend to be under-rated products, hidden away below piles of similar products made by other brands. CM made an impression that they listen to people's feedback. That's the impression that I've got from Rapid-i mechanical keyboard. …and then comes CM Storm Novatouch TKL.
---
Thanks to mini-ITX motherboards, AIO coolers and low-profile CPU coolers, modular/semi-modular power supplies and even SSDs, case manufacturers can make significantly smaller-yet-space efficient case designs. CM Elite 130 is a case that meant to be small and compliment the mini/low profile components that it can house within. One has to be honest, case makers tend to keep such cases up for a premium price. Its another story when such premium could be justified. BitFenix made Colossus mATX- a pretty large case, but still something you'll love to keep on your desk rather than hide it away from some corner.
---
| | |
| --- | --- |
| Thu: 01/01/2015 | Topic: Cooling / Heatsinks PermaLink |
Closed-loop (All-in-One) CPU water coolers seem to be a dime a dozen these days, but they're far from identical to each other. Each cooler will serve its purpose, whether you're cooling an HTPC or your monster gaming rig. AIO coolers become the ultimate cooling solution to those who want to toy with their system, or just cool it more efficiently than what air can, but don't really want to mess around with building a custom water cooling loop. Cooler Master is a well-known player in the cooling market, and today we're going to take a look at their 280mm Nepton 280L AIO cooler, which was released earlier this year.
---
| | |
| --- | --- |
| Wed: 12/31/2014 | Topic: Cooling / Heatsinks PermaLink |
When CES 2015 drops next week, you're going to start hearing the term "3D Vapour Chamber" being talked about by the Cooler Master gang, a lot. Before the chaos of CES is unleashed, let's take a moment to examine one commercially available 3D Vapour Chamber technology and explain how it differs from everyday heatpipes and vapour chambers currently used in heatsinks.
For starters, a standard heatpipe would be considered a 1-dimensional heat transfer device - a 1D vapour chamber if you will. This is because in a heatpipe, heat is transferred along the length of the tube; the X axis.
The current crop of flat vapour chamber plates (single or multi-stage) can be considered 2-dimensional heat transfer devices. These devices conduct heat energy in the X axis and Y axis - which is why vapour chambers make absolutely excellent heat spreaders compared to a solid chunk of copper or aluminum metal.
A "3D Vapour Chamber" is conceptually like taking a flat vapour chamber plate and combining it with many heatpipes. Everything is joined together so heat energy can transfer in all 3-dimensions; across the X axis, Y axis and Z axis.
This is one example of what a 3-dimensional vapour chamber looks like, when formed into a 384 well PCR microwell plate for analytical research of liquid samples in a clinical diagnostic testing laboratory.
Image courtesy

inheco.com.

INHECO Industrial Heating & Cooling GmbH out of Germany makes what it terms the "Vapour Chamber Mount (VCM) Technology". The specs are tantalizing:

Thermal conductivity >3000 [W/mk] vs. silver ca. 430 [W/mK]
Conductibility of temperature VCM® > 2300 [10-6 m2/s] vs. silver ca. 174 [10-6 m2/s]
stable well-to-well uniformity within one or two seconds vs. up to 15 seconds with current silver mounts
Images courtesy
thermacore.com
Another variant from Thermacore applies the "3D Vapour Chamber" nomenclature to a series of 2-dimensional vertical vapour chambers joined at right angles to a base vapour chamber. The prototype below was tested up to 1250 Watts, the complete report is available here.
---
Every now and then I wonder who reads Frostytech - in the past I've seen geographic locations from truly remote locations like Antarctica (btw, if you're in Antarctica now and reading this, say hi!) and possibly even once, the International Space Station... though I can't back that one up with stats. Today, out of curiosity I looked in on Frostytech's Google Analytics stats... and sure enough, in the past year we've received two visits from North Korea!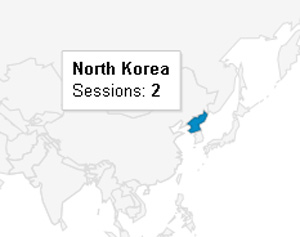 Those sessions spanned about 4 pages, so perhaps Frostytech's heatsink reviews didn't pass muster or the individual wasn't fluent in English. Still, just when you think the internet is old hat, you're reminded that words written here can be read anywhere on the globe. That's still pretty amazing.
Happy 2014 everyone, here's to a great 2015!
---
| | |
| --- | --- |
| Mon: 12/29/2014 | Topic: Cooling / Heatsinks PermaLink |
Revolution is an interesting word. On one hand it can mean a sweeping change and a dramatic break from a pattern but it can also mean a circular loop trapped in an orbit; traveling far but returning to where it started only to repeat the voyage once again. With every exciting new product announcement, an enthusiast expects it to be …
---
mATX and mITX systems may be quite popular nowadays especially amongst people who are looking to build an small and silent HTPC system but most of the people i know who build new systems or upgrade old ones still strongly believe that midi and full towers are the way to go. Personally many of you know that i always prefer our systems to be housed inside the largest PC cases possible since i enjoy swapping hardware components with ease. However lately we've seen quite a few midi towers that have very little to be jealous from full towers not only in terms of interior space but features as well. Today with us we have one such midi tower and more specifically the brand new Core V51 by Thermaltake.
---
| | |
| --- | --- |
| Sun: 12/28/2014 | Topic: Cooling / Heatsinks PermaLink |
While all in one liquid cooling units continue to dominate the high end CPU cooling space, there is still plenty of room left in the market for a good old fashioned air cooler. Today we will be taking a look at the Frio 14 from Thermaltake. This CPU cooler promises minimal noise output at an affordable price but, does it deliver? Let's find out…
---
| | |
| --- | --- |
| Sat: 12/27/2014 | Topic: Cooling / Heatsinks PermaLink |
CRYORIG launches onto the CPU cooler market with a bang. Their R1 cooler is build to cool down the hottest of CPU out there, weighing over 1000 gram and equipped with 2x140mm fans this product means business, let's see how it does!
---
| | |
| --- | --- |
| Thu: 12/25/2014 | Topic: Cooling / Heatsinks PermaLink |
BitFenix has been making enclosures for the PC market since 2010 (with the massive Colossus E-ATX case), and came to prominence a couple of years later with the introduction of the Prodigy enclosure. While the company has expanded to produce power supplies and peripherals they are still primarily a case manufacturer, as evidenced by the now 31 different models on their product page. Not content to iterate on their existing designs, BitFenix has consistently introduced new chassis ideas for different form-factors and needs.
---
The company SilentiumPC was established in 2007 in Warsaw, Poland. Their main objective is to offer quality products at a very affordable price level; the latter is achieved by applying cost-cutting in banners, promo gear, packaging... however not in the quality of the product itself. The SilentiumPC lineup consists of cases, CPU air coolers, power supplies, fans, notebook cooling and other accessories. Today we introduce you to the SilentiumPC Aquarius X90: a mid-tower case, designed specifically for the liquid cooling enthusiasts in mind. SilentiumPC labels it as the ultimate choice for high-end gaming systems with compact dimensions and at an amazing value.
---
| | |
| --- | --- |
| Thu: 12/25/2014 | Topic: Cooling / Heatsinks PermaLink |
Frostytech receives a lot of questions about a where such-and-such heatsink can be purchased, so today we're listing a few north american online computer stores that have a decent selection of heatsinks for sale. European readers, please let me know what stores in your neck of the world are good when it comes to performance heatsink shopping.

Specialty Cooling Shops - just heatsinks and cooling


Overclockers.co.uk




The Big Computer Stores

UK / European Computer Stores

Feel free to contact Frostytech with your suggestions for North American based stores, AND European heatsink retailers.
---
This $100 enclosure from Cooler Master can house an ATX motherboard along with a generous assortment of storage drives and and cooling contraptions. It's also got acoustic foam a go-go, and it ships with plastic covers to block up unused vents. Is it the case to get for enthusiasts with golden ears?
---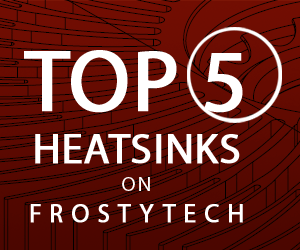 The be quiet! Silent Base 800 uses a steel chassis with plastic panels that carry plenty of sound deadening material. At the front of the case there are stealth doors that cover the optical drive bays and main air filter.
---
| | |
| --- | --- |
| Wed: 12/24/2014 | Topic: Cooling / Heatsinks PermaLink |
Noctua have been around for 9 years now and from the very start they have been producing cooling hardware for enthusiast rigs across the world. Their cooling fans are instantly recognisable due to their unique colour scheme, often a topic of conversation. We already have some Noctua gear in our Home server in the shape of a Noctua NH-L12 Low Profile Cooler and we are very pleased with its performance. Noctua pride themselves in making the humble cooling fan and taking the detail to the extreme. The result tends to be top quality in ways you would not imagine. Today we are reviewing three versions of the same fan the NF-S12A. We have the PWM, FLX and ULN, here is some information from the Noctua website"
---