| | |
| --- | --- |
| Thu: 04/23/2015 | Topic: Cooling / Heatsinks PermaLink |
We put Corsair's Hydro H110i GT and NZXT's Kraken X61 in a head-to-head battle. Both closed loop coolers utilise 280mm radiators and dual 140mm cooling fans, but who will be crowned the winner?
---
| | |
| --- | --- |
| Mon: 04/20/2015 | Topic: Cooling / Heatsinks PermaLink |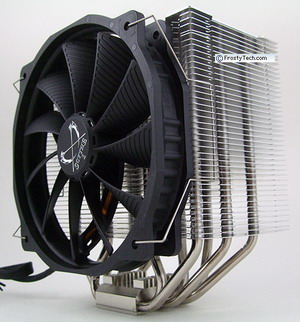 Scythe's Mugen Max heatsink weighs 870grams and stands 166mm tall. The heatsink is constructed around six 6mm diameter copper heatpipes which are soldered to a 2mm thick nickel plated copper base plate. The heatpipes are swaged into a 113x145x84mm aluminum fin stack which is roughly broken up into four nearly-separate cooling towers.
---
| | |
| --- | --- |
| Mon: 04/20/2015 | Topic: Cooling / Heatsinks PermaLink |
"In the past, we have seen some pretty unique air coolers from Phanteks. With features from beefy tower style coolers to color matching heatsinks, Phanteks has a style that fits everyone's needs. Today, we're looking at two new coolers which not only look aesthetically pleasing, but have price points that can fit anyone's budget. We have for you today the Phanteks PH-TC12LS and Phanteks PH-TC14S."
---
| | |
| --- | --- |
| Sun: 04/19/2015 | Topic: Cooling / Heatsinks PermaLink |
Noctua NH-L9x65 CPU cooler is a taller version than the L9i that was reviewed a long time ago, but still maintains the low profile footprint for those who want something better to put in their mini PC and HTPC setups. With an excellent track record about CPU coolers so far, I am curious to know how good the performance is.
---
| | |
| --- | --- |
| Thu: 04/16/2015 | Topic: Cooling / Heatsinks PermaLink |
Ahh, FLIR. Is there anything you can't make awesome?

"FLIR had the opportunity to capture some great footage at GAMMA Racing Day 2014. Using a FLIR x6580sc infrared camera>, FLIR were able to capture in high speed, the Infiniti Red Bull car's tires heating up as the driver burned rubber. Other thermal cameras used were the FLIR T650sc and the FLIR B660."
---
| | |
| --- | --- |
| Thu: 04/16/2015 | Topic: Cooling / Heatsinks PermaLink |
In this review Frostytech is testing the Phanteks PH-TC12LS heatsink, a top-down low profile heatsink that stands 74mm tall and weighs in at 500grams. The PH-TC12LS has a footprint about the size of the 120mm PWM fan that rests atop its black-painted aluminum fins. The cooler itself is built around six 6mm diameter nickel plated copper heatpipes which run the length of the fin stack, take a 180 degree turn and terminate in a thick copper heatspreader at the base - no exposed heatpipes here. The fan is mounted on little rubber pads to cut down on errant vibrational noises and it spins at 1800-500RPM, moving 53CFM at 1.72mmH2O according to manufacturer specs.
---
| | |
| --- | --- |
| Thu: 04/16/2015 | Topic: Cooling / Heatsinks PermaLink |
The best cooling performance is achieved by using the Corsair H100i, a water cooling kit that can be controlled to the smallest of details by enthusiasts thanks to the included Corsair Link software. The NZXT Kraken X61 cools about the same - better when used on a Socket 1155 - and can work significantly quieter than the H100i. Therefore, the X61 is in our opinion the real winner: obviously better maximum cooling performance than the best air coolers, but it still performs well even with limited noise production. Because the X61 has a 280mm radiator, it only fits in a limited amount of cases; it's also an expensive kit. The best 240mm kit that can perform the 30 dB(A) test and performs only slightly worse than the X61 is the Thermaltake Water 3.0 Extreme. Both are awarded a Gold award, the H100i is awarded Silver.
---
| | |
| --- | --- |
| Thu: 04/16/2015 | Topic: Cooling / Heatsinks PermaLink |
Today we review the Cooler Master Nepton 240M, another AIO (all-in-one) liquid cooling solution from the manufacturer. It features a 240mm radiator, improved pump and water block, updated 120mm fans, and support for the current range of Intel and AMD sockets. The Nepton 240M comes in the lower price rage of under $130, potentially making it a value-oriented option for users with the space for an AIO setup featuring a 240mm radiator.
---
| | |
| --- | --- |
| Wed: 04/15/2015 | Topic: Cooling / Heatsinks PermaLink |
With the Pure Rock, be quiet! has a rather compact tower cooler in its portfolio, which comes combined with a 120 millimeter PWM fan. Apart from that this cooler features a very attractive price tag and it looks like be quiet! is about to increase the heat in the lower mid-range segment for aftermarket coolers.
---
| | |
| --- | --- |
| Wed: 04/15/2015 | Topic: Cooling / Heatsinks PermaLink |
Cooler Master has updated their C-type GeminII S524 CPU cooler to version two, now equipped with CM Silencio FP PWM fans, similar to the ones used on the Nepton 120XL and 240M liquid coolers for lower noise operation without sacrificing air pressure. For more photos and details on the updated GeminII S524 ver. 2 heatsink, check out the official press …
---
| | |
| --- | --- |
| Wed: 04/15/2015 | Topic: Cooling / Heatsinks PermaLink |
Steven tells us all about Seek's XR Thermal Camera for Android devices in today's review. If you need to take thermal images, read on."
---
| | |
| --- | --- |
| Wed: 04/15/2015 | Topic: Cooling / Heatsinks PermaLink |
What makes this liquid cooling unit unique is the room for expansion. Users can either use this cooling unit as it is, or expand on it with additional radiators and GPU blocks. The 240mm radiator uses a high fin density design, which results in better cooling potential overall. To top it off, three color coolant dyes are included in the packaging for further customization (only available for Triton / Triton Core editions). Benchmark Reviews is excited to receive a sample of the Raijintek Triton for this review. Let's take a look at what this AIO liquid cooling unit has to offer against the competition.
---
| | |
| --- | --- |
| Wed: 04/15/2015 | Topic: Cooling / Heatsinks PermaLink |
Corsair's Hydro H100i GTX and H80i GT represent huge improvements over their predecessors but can they compete with some of today's best alternatives?
---
| | |
| --- | --- |
| Wed: 04/15/2015 | Topic: Cooling / Heatsinks PermaLink |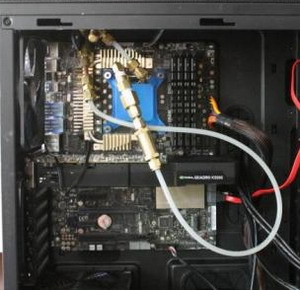 During NVIDIA GTC 2015, we had an opportunity to head over to SEMI-THERM 31 to see QuantaCool's MHP (Microchannel Heat Pipe) cooling technology demo they had setup. QuantaCool displayed several different types of setups at this event that you can see in the news release, QuantaCool displays its cooling systems at SEMI-THERM 31.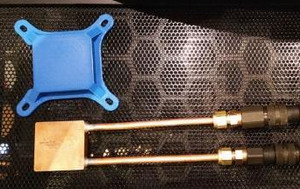 QuantaCool is a startup company which has developed a patented MHP (Microchannel Heat Pipe) technology that is used to passively transfer heat from a heat source to a cooling medium. As they summarize it, "Passive 2-phase cooling - no pumps, and no water".
---
| | |
| --- | --- |
| Mon: 04/13/2015 | Topic: Cooling / Heatsinks PermaLink |
Are you running with a reference AMD or Intel cooler? Are you feeling in the mood to upgrade? For those who have never done it before – how hard is it and is it worth the hassle? Kitguru TV Guru Leo Waldock takes a look at the process and just how much cooler the processor will run with a good third party cooler fitted. If you are still running with a stock cooler and want to make the move then our video should help!
---
| | |
| --- | --- |
| Mon: 04/13/2015 | Topic: Cooling / Heatsinks PermaLink |
When searching for quality coolers or fan controllers one is often finding products from the company Scythe. One more reason to test a performance Scythe CPU cooler after the recent test of the Scythe Kaze Master II fan controller. Today, we take a look at the Limited Edition of Ashura Shadow CPU cooler, that Scythe has released for their 10th anniversary. If this cooler put all other coolers in the shade, is tested in the following review.
---
| | |
| --- | --- |
| Mon: 04/13/2015 | Topic: Cooling / Heatsinks PermaLink |
Noctua today announced three new 92mm class CPU coolers. Whereas the NH-U9S and NH-D9L are retail models that suceed the popular NH-U9B SE2, the NH-D9DX i4 3U targets Intel Xeon LGA2011 based workstations and servers. All three models use the recently announced NF-A9 PWM 92mm premium fan to achieve class-leading quiet cooling performance.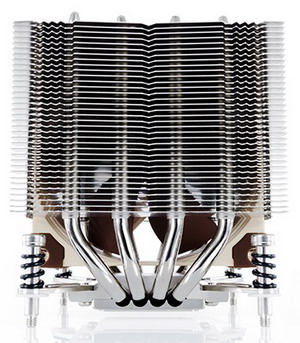 "Providing a great balance between high efficiency and compact size, the NH-U9B SE2 is still one of our most popular models", says Mag. Roland Mossig (Noctua CEO). "The NH-U9S and NH-D9L stay true to this proven formula but now offer even better performance, better compatibility and PWM support for automatic fan speed control."
Continuing the renowned legacy of Noctua's award-winning NH-U9 series, the NH-U9S is a premium quality quiet CPU cooler in classic 9cm size. Its asymmetrical design with 5 heatpipes not only provides even better cooling performance than the previous generation but also improves compatibility: Thanks to its 95x95mm footprint, the NH-U9S clears the RAM and PCIe slots on all Intel and most AMD based mainboards, including µATX and ITX.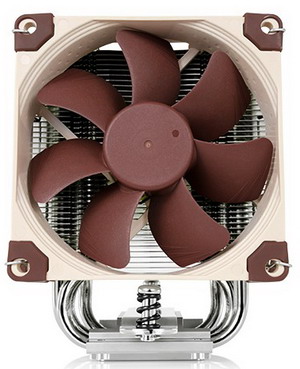 The NH-D9L features 4 heatpipes and is 15mm lower than classic 9cm coolers such as the NH-U9 series (110mm vs. 125mm), which doesn't only guarantee full 3U compliance but also makes the NH-D9L ideal for compact HTPC and Small Form Factor cases that have airflow paths parallel to the mainboard. Like the NH-U9S, the NH-D9L has a 95x95mm footprint and thus provides 100% RAM and PCIe compatibility on all Intel and most AMD based mainboards. The NH-D9DX i4 3U is the same heatsink as the NH-D9L but comes with LGA2011 mounting for both Square ILM and Narrow ILM Xeon platforms as well as support for LGA13x6. "Our DX i4 series are renowned among builders of LGA2011 based Intel Xeon systems and one of the few available quiet cooling solutions for Narrow ILM platforms", explains Mag. Roland Mossig (Noctua CEO). "With the new NH-D9DX i4 3U model, we can now offer a cooler for 3U cases that offers similar performance as the previous 4U model NH-U9DX i4." All three new models come with the new NF-A9 PWM for further improved quiet cooling performance. Topped off with the trusted, pro-grade SecuFirm2™ mounting systems, Noctua's proven NT-H1 thermal compound and full 6 years manufacturer's warranty, the NH-U9S, NH-D9L and NH-D9DX i4 3U are premium grade solutions through and through. Prices and availability All three models are currently shipping and will be available shortly. The manufacturer suggested retail prices are as follows: NH-U9S: EUR 54.90 / USD 59.90 NH-D9L: EUR 49.90 / USD 56.90 NH-D9DX i4 3U: EUR 56.90 / USD 59.90
---
| | |
| --- | --- |
| Mon: 04/13/2015 | Topic: Cooling / Heatsinks PermaLink |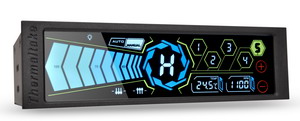 Thermaltake has launched a 5.5" touch screen fan controller called the "Commander FT Touch Screen Fan Controller". The Commander FT allows users to monitor and control the fan speed and system temperature of five fans at the same time. The expansive 5.5" touch screen-one of the largest available-makes interaction easy, and the auto, manual, performance and silent operating modes give users comprehensive control over the fan's cooling performance, making temperature and noise control easy.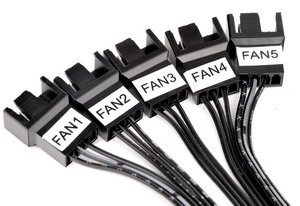 To install, all you need is an empty 5.25" driver bay. The controller can operate in both an Auto and Manual Mode; Auto mode is intelligently tuned to automatically adjust all fans based on thermal sensor temperature readings. Manual mode is completely customizable, allowing individual fan speed adjustments; user settings will be recorded and maintained even after reboot. The Commander FT supports up to five independent fans, with each channel delivering up to 10W to drive all types of fan efficiently.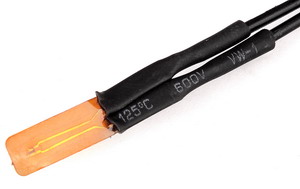 Tap from '1' to '5' on the central fan display to easily adjust fan speeds independently. Displays selected fan speed (RPM) data, temperature in Celsius or Fahrenheit. Comes with cables to connect up to five fans with a standard 3-pin or PWM connector.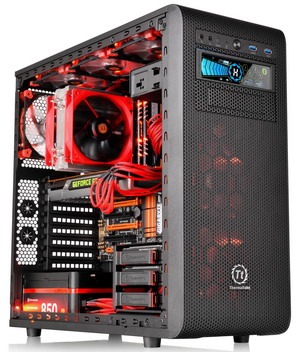 ---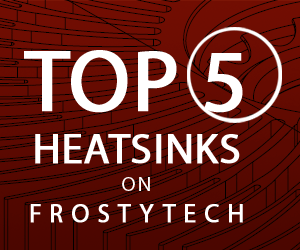 | | |
| --- | --- |
| Mon: 04/13/2015 | Topic: Cooling / Heatsinks PermaLink |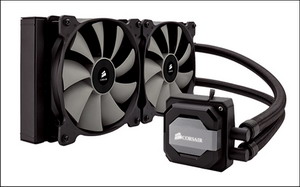 Quote: The Hydro H110i GT is meant to be Corsair's newest flagship CPU cooler and with a pair of high performance 140mm fans, it attains some amazing numbers.
---
| | |
| --- | --- |
| Sun: 04/12/2015 | Topic: Cooling / Heatsinks PermaLink |
The Phanteks PH-TC14S heatsink stands 161mm tall and weighs 740grams. It's built around six 6mm diameter heatpipes, a chunky nickel plated copper heatspreader and two black painted aluminum cooling fin towers, each 19mm wide. At the center of the heatsink is a 140mm PWM fan that operates at 1600-500RPM, producing upwards of 47dBA according to our real world noise measurements. The fan itself moves 68CFM at 1.62mmH2O, according to manufacturer specs.
Phanteks' PH-TC14S heatsink installs onto AMD socket AM2/AM3/FM1/FM2 and Intel LGA2011/1366/115x/775 processors. Retail price is around $49USD/CDN.
---