| | |
| --- | --- |
| Fri: 12/16/2016 | Topic: Cooling / Heatsinks PermaLink |
EKWB are a well-known brand in the enthusiast PC market. Their custom watercooling gear looks amazing and is of top quality – but for a beginner, building a custom loop can be a daunting and confusing process. That is why EKWB have released their Predator 280 all-in-one cooler – it is an easy way to get custom EKWB components in your build at a reasonable cost.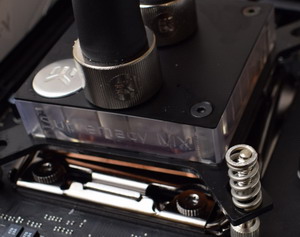 It even allows you add in your graphics card to the loop, too, thanks to the use of Quick Disconnect fittings.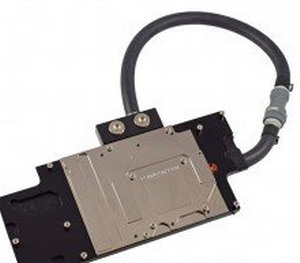 ---
| | |
| --- | --- |
| Thu: 12/15/2016 | Topic: Cooling / Heatsinks PermaLink |
Following clear acrylic, carbon and brass HardTubes, the "Eisrohr" Satin tubes are the next step in HardTubes. The surface looks like ice, which fits the general "Eis" family. With the "Eisrohr", you effectively change the look of your system. You can especially see its true effects after refilling the system. The water has the appearance of frosted ice. With clear HardTubes, when the system is lit by LEDs, you see the reflection of each individual LED very clearly. Not so with the "Eisrohr". Instead, the light is diffused and you get a softer, better illumination.
Anyone looking for something extraordinary in their system needs to take a look at the "Eisrohr" Satin.
Available sizes: 80cm 16/12mm 80cm 13/10mm
---
| | |
| --- | --- |
| Thu: 12/15/2016 | Topic: Cooling / Heatsinks PermaLink |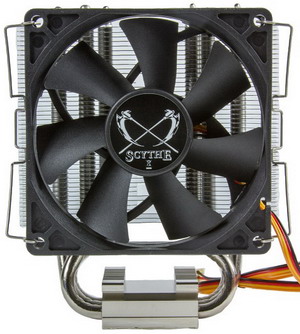 Japanese cooling expert Scythe announces a new addition to the tower-design CPU cooler line-up. Scythe Byakko is a compact cooling solution with a total height of mere 130 millimeters, which fits in virtually every PC case. Great compatibility is assured thanks to the asymmetric alignment of the base-plate and the heatsink. Byakko is equipped with Scythes Slip Stream 92 PWM fan, offering a wide speed range for different purposes. User friendly and fast mounting of Byakko on both Intel® and AMD® Sockets is accomplished thanks to the supplied mounting clips.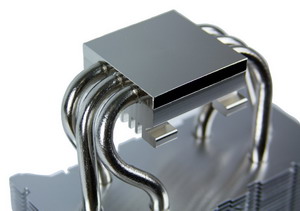 Scythe Byakko was designed with the aim to fit into most PC cases on the market and to offer maximum compatibility to tall memory modules as well as VRM heatsinks. All this is possible thanks to the compact dimensions of 102 x 130 x 84 mm (W x H x D) and the new asymmetric design of the heatsink. Three high-quality copper heatpipes with 6 millimeter diameter are connecting the solid copper base-plate and the aluminum fins-stack heatsink. Both the copper-heatpipes and the copper-baseplate are nickel-plated in the final process, in order to avoid corrosion and to improve the quality.
The new heatsink comes with a pre-installed Slip Stream 92 PWM (SY9225SL12M-P) axial-fan, which offers flexible speed range, starting at ultra-silent 300 RPM and going up to 2.300 RPM for best performance. This speed range allows steady airflow from 11,38 to 79,09 m³/h, respectively 6,70 to 46,55 CFM.
Byakko is equipped with a simple yet versatile mounting system, allowing secure and fast mounting process on various CPU sockets. The list of compatible CPU Sockets is long and covers all major sockets, such as the Intel® Sockets LGA775, LGA1150, LGA1151, LGA1155, LGA1156, LGA1366 as well as the AMD® Sockets AM2, AM2+, AM3, AM3+, FM1, FM2 and FM2+. The package includes all required clips for mounting, a user-manual as well as a package of thermal grease.
Scythe Byakko with the Model-No. SCBYK-1000 is available as of today on the European market with the MSRP of 20,50 € (VAT/Taxes not included).
---
| | |
| --- | --- |
| Thu: 12/15/2016 | Topic: Cooling / Heatsinks PermaLink |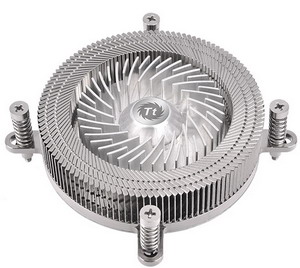 Thermaltake Technology, a global leader and innovator in the PC DIY market, and CoolChip TechnologiesTM, the pioneer and worldwide leader in Kinetic CoolingTM, today announced a partnership to introduce the Engine 27.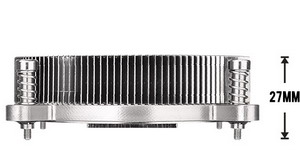 "We at Thermaltake always believe that behind a good brand is a great product, and the better the product the better the brand. This is also the reason why we set our brand mission as delivering the perfect user experience.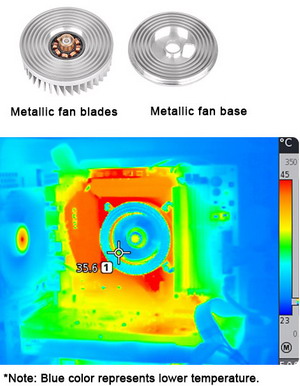 We believe CoolChip's innovative technology is revolutionary and will enable us to continue to deliver the best products for our users. Although now we mainly focus on developing new liquid-cooling products, air coolers still play an important role in our product portfolio. Particularly, we applied Kinetic Cooling to develop the Engine 27 regardless of the compact fan design or the unique aluminum alloy made structure. We took every detail seriously to produce the best low-profile CPU cooler, eventually achieve our mission", announced Kenny Lin, Thermaltake CEO and Chairman.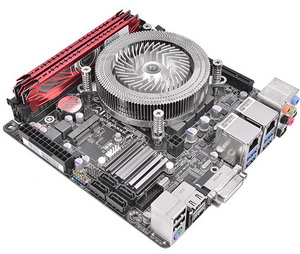 "To make a perfect balance between cooling performance and noise level, forty fan blades are engineered to generate large volume of air passing through the heatsink at any angle. Additionally, the metallic blade rotation will create a centrifugal force on ambient air. In the meanwhile, the centrifugal forces will expel hot air so that heat can easily be taken away from the fan blades. Most importantly, this cooling technique can reduce the blade's noise and vibration because hot air expelled will create a vacuum, and then fresh cooling air will be drawn in the heatsink. The Engine 27 is specially designed with metallic radial fins to accelerate the thermal transfer process. Especially, the radial arrangement with 119 fin design can minimize the gap between the fan and the fins, thus, hot air can be exhausted more rapidly and efficiently. "
---
| | |
| --- | --- |
| Thu: 12/15/2016 | Topic: Cooling / Heatsinks PermaLink |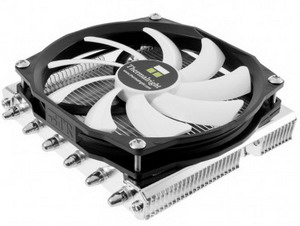 "With the AXP-100H Muscle, Thermalright offers a slightly modified version of the HTPC "Value" cooler, which is aimed primarily at price-sensitive fans of compact coolers. The AXP-100H Muscle has been heightened a little bit in order to ensure, that it fits for example on the Asus "Republic of Gamers" Maximus VIII Impact motherboard, with its higher VRM-coolers.
Due to the higher distance between base and heat sink, the cooler is only 7 mm higher than its predecessor. Still, the AXP-100H "Muscle" is just 51 mm high (or 65 mm with the fan included). The most striking feature of this powerful cooler thus remains the particularly low profile. As such– due to the higher distance between base and heat sink. The compact cooler is predestined for HTPC systems or minimalistic work computers.
The design of the cooler is based on the proven "Downdraft" layout, which vertically deflects the airflow to the motherboard and thus also provides efficient cooling for the surrounding components. Six 6 mm heatpipes in combination with the special design of the 40 aluminum fins allow for a very good cooling performance for a cooler of its size.
Now available in the accessory category is the Narrow ILM mounting kit. It can be used for almost all our coolers – with the exception of the Macho Direct and the True Spirit 140 Direct. It's compatible to narrow ILM Intel LGA 2011/2011-3 and AMD AM2/AM2+/AM3/AM3+/FM2/FM2+ motherboards.
Outstanding news have reached us in regards to the new True Spirit 140 Direct. After the first have been released, the cooler already has won a variety of awards. Hardwareluxx gave it the Price-Performance Award, Hardwaremax both the Gold and the Price-/Performanceaward. CrazyPC from Romania even rewarded the cooler with the "Hall of fame" award – which is only given to the best coolers in its price range. Gamezoom gave the HDT cooler its Price-Tip award. Additional awards came from Xtremesystems and Mod-Your-Case. Further reviews are expected to be posted shortly.
Both the AXP-100H Muscle and the Narrow ILM kit are now available in stores. The MSRP for the AXP-100H Muscle is 39.99 Euro, the Narrow ILM kit has a MSRP of 4.99 Euro. All prices including 19% VAT."
---
| | |
| --- | --- |
| Thu: 12/15/2016 | Topic: Cooling / Heatsinks PermaLink |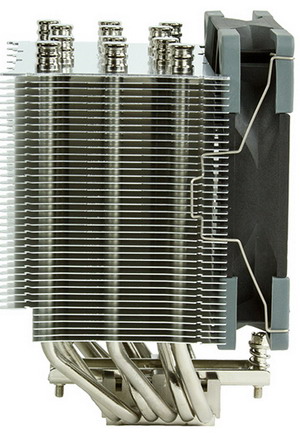 Japanese cooling expert Scythe presents the fifth version of the Mugen CPU Cooler, which has been fitted with significant improvements. The Mugen has been one of the most popular CPU coolers on the market for a long time. Scythe was able to ramp up the performance even further with Mugen 5 and at the same time equip the heatsink with a unique new fan. Supplied Kaze Flex 120 PWM fan features noise reduction rubber-insulators in the corners, dynamic fan speed range from 300 to 1.200 rpm as well as a brand-new Sealed Precision FDB bearing, allowing smooth and silent operation at all times.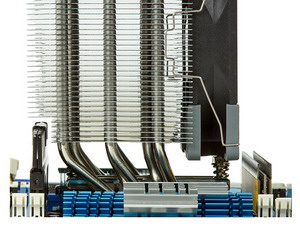 Scythe's engineering team took the user feedback and applied it on the revamped design of Mugen 5! The heatsink of the Mugen 5 is based on 6 high-quality all-copper heatpipes and a solid aluminum fin stack. Great compatibility to tall memory modules is achieved thanks to the new asymmetrical design of Mugen 5. The solid copper base-plate has been placed slightly shifted for this purpose, instead of centered. In addition to that, several layers of the fin stack on the back of Mugen 5 have been shortened, to further increase RAM compatibility. Mugen 5 can easily fit into most PC chassis on the market, thanks to the total height of only 154,5 mm. In order to avoid corrosion and to improve the quality, all copper-heatpipes and the copper-baseplate are nickel-plated.
Another highlight and big improvement is the newly developed Kaze Flex 120 PWM Fan. This fan model incorporates Scythe's new self-contained liquid Sealed Precision FDB bearing, which reduces friction and wear significantly and offers average lifespan of 120.000 hours! This fan model supports PWM and offers flexible fan control from ultra-silent 300 RPM up to moderate 1.200 RPM. This speed range allows steady airflow from 28,2 to 86,93m³/h, respectively 16,6 to 51,17 CFM. The Kaze Flex 120 PWM Fan is equipped with rubber-insulators at the corners, which prevent the transfer of vibration from the fan to Mugen 5 heatsink, resulting in greater stability and lower noise levels. Mugen 5 comes with a second fan clip set, for users that prefer to use a push-pull setup with two fans.
Mugen 5 is equipped with the second generation of the Hyper Precision Mounting System (H.P.M.S. II). The small yet powerful improvements make the mounting process more user-friendly and simple at the same time. The preassembled metal mounting bar is used in combination with a solid backplate and assures solid and safe fit. Spring-loaded screws prevent uneven distribution of pressure. The Mugen 5 supports all important CPU sockets, including the Intel® Sockets LGA775, LGA1150, LGA1151, LGA1155, LGA1156, LGA1366 and LGA2011(V3) as well as AMD® Sockets AM2(+), AM3(+), FM1 and FM2(+). The package contains all required clips for mounting, two fan clip sets, long screw driver, user-manual as well as a package of thermal grease.
Scythe Mugen 5 with the Model-No. SCMG-5000 is available as of today on the European market with the MSRP of 40,50 € (VAT/Taxes not included).
---
| | |
| --- | --- |
| Thu: 12/15/2016 | Topic: Cooling / Heatsinks PermaLink |
"Any normal case priced at $249.99 would be tough to recommend considering the competition, but the GENOME is different: it really is unlike anything I have previously reviewed.
It has a lot in common with a barebones system, rather than merely an empty enclosure. This means a loss of control and flexibility, but it also translates into an easier build experience; and if the performance and cost make sense, I have no problem with a pre-configured solution like this. The GENOME provided a dead-simple build that looks great and performed admirably, and my only real complaint is a lack of front intake fans, as these will be essential to keep a powerful GPU cool (and GPU load noise down)."
---
| | |
| --- | --- |
| Thu: 12/15/2016 | Topic: Cooling / Heatsinks PermaLink |
"The Cooler Master MasterLiquid Pro 240 Cooler arrived Technic3D. See you in the following Review the Pro 240 CPU-Cooler with two 120mm PWM-Fans compared with many other Cooler on a Intel Core i5 4670k CPU."
---
| | |
| --- | --- |
| Thu: 12/15/2016 | Topic: Cooling / Heatsinks PermaLink |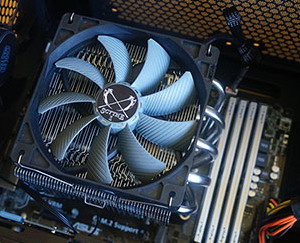 Today we are back with another CPU cooler from our friends at Scythe. The Kabuto 3 is a refined version of their very popular Kabuto 2 top-flow CPU cooler. Scythe has designed this cooler to deliver uncompromised performance with compact dimensions and maximum compatibility. They have taken extensive customer feedback on the previous version of the cooler and hope to make it better not only performance-wise, but also to improve user experience. The Kabuto 3 is a top-flow CPU cooler which sets the heatsink stack in a horizontal position rather than a vertical one like we see in tower coolers. This design is great for small form factor builds as it is not as tall as tower coolers. Sitting on top of the cooler is one of Scythe's GlideStream 120 mm cooling fans. Let's jump in and see what this cooler can do!"
---
| | |
| --- | --- |
| Thu: 12/15/2016 | Topic: CPU / Processors PermaLink |
It is time to share a thing or two about the new AMD ZEN based processors. Meet RYZEN and more precise information and specifications in this editorial. Last week in Sonoma we got briefed on a number of things, time to share our take on it in a quick 2 page overview.
---
| | |
| --- | --- |
| Thu: 12/15/2016 | Topic: CPU / Processors PermaLink |
Up next from the 2016 AMD Tech Summit is the AMD Ryzen desktop processor, formerly known as Summit Ridge. Check out our complete coverage of the new CPU! Get your full briefing here!
---
| | |
| --- | --- |
| Thu: 12/15/2016 | Topic: Cooling / Heatsinks PermaLink |
Recently at KitGuru, we have reviewed a number of (pricey) all-in-one liquid coolers. While AIOs typically offer good performance and funky visuals, there are several valid reasons why you may not want to go with a liquid cooler. Because of that, today we look at the Arctic Freezer i32 air cooler. Priced at around the £30 mark, is the Freezer i32 a good option for an air cooler on a budget?
---
| | |
| --- | --- |
| Mon: 12/12/2016 | Topic: Cooling / Heatsinks PermaLink |
That's right, a FABRIC heatsink. The authors of this research paper from Donghua University have investigated the heat transfer properties of a "new heat sink with woven fabric structure, called fabric pin fin heat sink. Effect of the fin length and the material types made of heat sink on the thermal structure response of the pin fin was investigated under forced convection." The fabric heatsink looks somewhat similar to the prickly side of a Velcro strip, but with longer loops more widely space apart. The researchers tested fabric heatsinks made from Copper, Aluminum and Continuous Carbon Fiber Polymer. "Fin" lengths of 10mm to 30mm were compared against a more traditional pin-fin metal heatsink.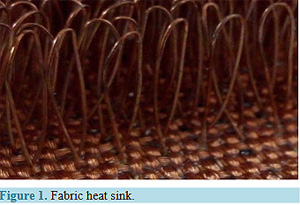 You can read the entire paper which is titled; "Evaluation on Heat Transferring Performance of Fabric Heat Sink by Finite Element Modeling", written by Huashuai Zhang, Jiyong Hu, Xudong Yang and Yuling Li of Shanghai's Donghua University, here.
---
| | |
| --- | --- |
| Mon: 12/12/2016 | Topic: Cooling / Heatsinks PermaLink |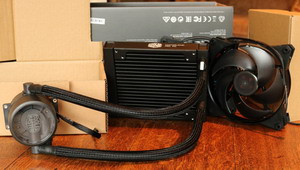 The Cooler Master MasterLiquid Pro 140 is a sweet liquid cooler for your rig that performs very well as long as you do not run into any compatibility issues.
---
| | |
| --- | --- |
| Thu: 12/08/2016 | Topic: Cooling / Heatsinks PermaLink |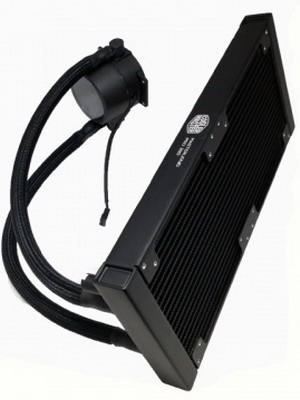 "Cooler Master listened to customer feedback and incorporated some attractive braided sheathing to the cooling lines (and pump power cable). The MasterFan Pro 140 Air Balance fans can really move the air and they do so without sounding like a jet engine. Plus you get the ability to select three different speed ranges. How many fans out there can do that? So when you consider all of these features, I would agree that the FlowOp Technology does give this cooler an edge over other similarly priced units. I also have to mention that I liked the clear hardware organizing tray in the hardware kit. Installation was also a breeze."
---
| | |
| --- | --- |
| Tue: 12/06/2016 | Topic: Cooling / Heatsinks PermaLink |
Ever wondered where to get a heatsink made? Came across a company called MyHeatSinks.com today that essentially fullfills that role.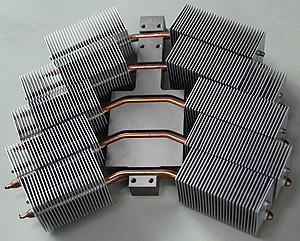 The companies' website has a neat video of skivved heatsinks being cut along with tons of resources in their learning center, including this fin heatsink calculator. Fantastic resource for general understanding of modern heatsink design methods... the company even covers standard heatsink mounting hardware.

Video of Skivved Heatsink fins being cut
"MyHeatSinks is a Singapore and China-based heat sink manufacturer that design and develops high performance heat sinks, heat pipes and advanced thermal solutions. Headquartered in Singapore, MyHeatSinks have a manufacturing facility in Guangzhou, China. The industries we serve include semiconductor, electronics, computer, telecommunication, automotive, aerospace, LED lighting and medical equipment.
We have a highly-skilled engineering team consisting of thermal, mechanical and manufacturing engineers...many of our engineers have advanced engineering degrees and/or training certificates from Mentor Graphics (FloTHERM) and Ansys (Icepak)."
---
| | |
| --- | --- |
| Tue: 12/06/2016 | Topic: Cooling / Heatsinks PermaLink |
Noctua – This is a brand that you have likely heard of throughout the years, but if not, you really need to look into them more. Noctua is well known for their highly successful and high quality CPU coolers, cooling fans, and thermal pastes. It has been a while since we've looked at a product from Noctua, so today we're going to take a look at a cooler that is nearly identical to one that we previously reviewed, but with a couple revisions. This particular cooler, the NH-D15S, was originally released on August 28, 2015, so it has been around for a while, but still performs like a king. Take a look!
---
"The MasterBox 5t is an attention getter - just walk by a row of cases at your local electronics store and you will definitely notice the red and black two-tone theme. It is not overwhelming, but you can't miss it. The red LED bar is another cool feature that makes the case stand out. Stick three 120mm red LED fans in the front and it becomes almost irresistable. And the red motherboard tray - just wow! OK, yes I am a big fan of the red and black theme. Can you guess what series of motherboards I use? If you guessed the familiar red and black ASUS ROG series, then you'd be correct. They would definitely look sweet in this case. Alright, enough on the red and black. Let's move on!"
---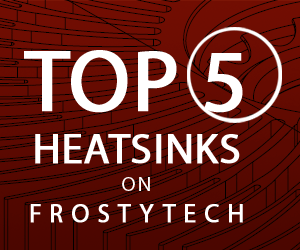 In this review I looked at the Cooler Master MasterCase Maker 5t. This is a Mid-Tower case built on the popular MasterCase Series chassis and really pushes the limit on factory modded PCs. Normally a pre-mod might include a side window or maybe some decorative trim but with the 5t things have been pushed, just a little bit.
---
| | |
| --- | --- |
| Thu: 12/01/2016 | Topic: Cooling / Heatsinks PermaLink |
Heat does many things to metal, and none of them are good when it comes to gun barrels. Throat erosion will ultimately cause degradation of accuracy after thousand(s) of rounds are fired, but depending on how fast they're fired heat can change your point of impact in just a few minutes. Whether you're a sportsman, competitor, or recreational shooter, everybody wants to extend the life of their rifle and maintain the highest level of accuracy. BarrelCool, the battery-powered chamber fan tested in this article for Benchmark Reviews, was designed to cut barrel cooling time in half and promote safety.
---