The Asus Republic Of Gamers GX700 is the world's first liquid cooled production laptop. We're only using the word 'production' as you know there will be a modder out there saying 'Nope, I liquid cooled mine years ago.' So, ROG GX700 is a gaming laptop with Skylake Core i7 CPU and GTX 980 GPU that comes with an external water cooling dock and is actually available for purchase.
---
| | |
| --- | --- |
| Thu: 04/21/2016 | Topic: Cooling / Heatsinks PermaLink |
With the Tundra TD02 Lite SilverStone has an all-in-one watercooler in its portfolio, which comes with the a slim radiator and two 120 millimeter fans. At a first look the design is good looking and you get a black radiator and fans with white fan blades. At this point we're curious to find out how this cooler performs.
---
| | |
| --- | --- |
| Wed: 04/20/2016 | Topic: Cooling / Heatsinks PermaLink |
ID-COOLING Releases ICEKIMO 120W Pure White Water Cooler ID-COOLINGhas been continuously trying to develop some innovative products in computer cooling. ICEKIMO 120W pure white water cooler is just one more example. ICEKIMO 120W includes a square white water block, white tubing, painted white radiator and a white LED fan. The water block is 68*68*35.6mm, lightened up by a white LED under the cover. The SF-12025 LED version fan operates between 700 and 1500RPM, with optimal airflow of 62CFM. The EPDM tubing is 315mm long.
Universal mounting brackets are included. ICEKIMO 120W is compatible with Intel LGA2011/1366/1150/1155/1156 & AMD FM2+/FM2/FM1/AM3(+)/AM2(+). The MSRP for ICEKIMO 120Wis $59.99.

Specifications:

Compatibility Intel LGA2011/1150/1151/1155/1156/1366
AMD FM2+/FM2/FM1/AM3+/AM3/AM2+/AM2
TDP 150W
Radiator Dimension 154×120×27mm
Radiator Material Aluminum
Tube Material EPDM Rubber
Tube Length 315mm
Waterblock Dimension 68×68×35.6mm
Cold Plate Material Copper
Pump Current 0.25A
Pump Speed 2500RPM
Pump Bearing Ceramic Bearing
Pump Life Expectancy 50,000 Hrs
Pump Noise Level 25dB(A)
Fan Dimension 120×120×25mm
Included Fans 1pcs
Fan Speed 700~1500±10%RPM
Max. Air Flow 62CFM
Max. Static Pressure 1.78mmH2O
Noise 18~26.4dB(A)
Rated Voltage 12VDC
Operating Voltage 10.8~13.2VDC
Started Voltage 7VDC
Rated Current 0.18A
Power Input 2.16W
Bearing Type Hydraulic Bearing
---
| | |
| --- | --- |
| Tue: 04/19/2016 | Topic: Cooling / Heatsinks PermaLink |
Advanced Thermal Solutions now provides the base-and-stem Candlestick sensor for simultaneously measuring air temperature and velocity when characterizing thermal conditions inside electronic systems. The ATS Candlestick sensor is narrow and low profile, in heights of 9, 12 and 20mm. These features minimize the disturbance of airborne heat flow in the test domain for more precise measurements.
The use of a single sensor to measure both temperature and velocity eliminates errors that can occur when airflow is non-isothermal. Multiple ATS Candlestick sensors can be used to thoroughly map an entire system's thermal and airflow conditions. The sensors' robust nature allows for continuous repositioning and reading. Their all plastic design prevents electronic shorting.
Candlestick sensors are calibrated for low (natural convection) and high velocity flows. They are capable of temperature measurements ranging from -20° to +120°C, ±1°C. Velocity measurements range from 0 to 50m/s (0 to 10,000ft/min), ±2%, depending on the particular model of sensor. The base diameter for all Candlestick sensor models is 9.5mm. The stem diameter is 0.5mm and bead diameter is 1.1mm. Double-sided adhesive is available for long term mounting. Wire lengths are available up to 30 meters. More information on Candlestick sensors is available on the Advanced Thermal Solutions website, Qats.com or by calling 1-781-769-2800.
---
| | |
| --- | --- |
| Tue: 04/19/2016 | Topic: Cooling / Heatsinks PermaLink |
The Thermalright Macho 120 SBM Cooler arrived Technic3D. See you in the following Review the new Macho with one 120mm PWM-Fan and five 6mm Heatpipes compared with many other Cooler on a Intel Core i5 4670K CPU."
---
| | |
| --- | --- |
| Tue: 04/19/2016 | Topic: Cooling / Heatsinks PermaLink |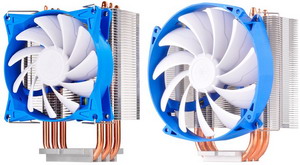 SilverStone is back on eTeknix again today, with their new AR07 and AR08 CPU coolers. Both coolers are designed to be affordable, quiet, stylish and pack great value for money performance. We're going to be putting both of them on our test bench today, and while we're expecting the bigger AR07 to offer up better performance, we're still eager to see what the smaller and more affordable AR08 is capable of.
---
| | |
| --- | --- |
| Tue: 04/19/2016 | Topic: Cooling / Heatsinks PermaLink |
It may not be a new member in the low-profile CPU cooler family but thanks to its very good price/performance ratio the Shuriken Rev.B by Scythe is still a solid choice.
---
| | |
| --- | --- |
| Mon: 04/18/2016 | Topic: Cooling / Heatsinks PermaLink |
Six years ago, we reviewed the original CM Storm SF-19. Now we have the SF-19 V2. What has changed during this time?
---
| | |
| --- | --- |
| Thu: 04/14/2016 | Topic: Cooling / Heatsinks PermaLink |
"You've done it all so far, designed and built your first loop, upgraded and expanded that loop to include your GPU but still you've got a desire to watercool more. Well rather than building a whole new rig, there are options out there to take your watercooling to a whole new level. This is where things get sort of technically difficult and you are going to be voiding some warranties as well. After CPU and GPU blocks the next most popular would be Memory and Motherboard blocks. Both of these require you to remove the stock heat spreaders and can potentially damage parts and just as often voids your warranty. For our rig, there is no motherboard block available, instead we are going to go ahead and demonstrate how to install water blocks on your memory."
---
| | |
| --- | --- |
| Thu: 04/14/2016 | Topic: Cooling / Heatsinks PermaLink |
Finding white hardware components for a new PC build may not be the easiest thing to do but at least DeepCool has your CPU covered with their CAPTAIN 240 AIO liquid cooler model.
---
| | |
| --- | --- |
| Mon: 04/11/2016 | Topic: Cooling / Heatsinks PermaLink |
Six years ago, we reviewed the original CM Storm SF-19. Now we have the SF-19 V2. What has changed during this time?
---
| | |
| --- | --- |
| Sun: 04/10/2016 | Topic: Cooling / Heatsinks PermaLink |
"Noctua's low profile NH-L9x65 heatsink stands just 64mm tall and has a very compact footprint of only 95x95mm. The NH-L9x65 is designed to cool some fairly intensive Intel sockets, along with the full spectrum of AMD processors and APUs. Compact CPU coolers can be a little tricky to install, but Noctua long ago laid down the framework of an excellent motherboard mounting system, so the NH-L9x65 is a breeze to work with."
---
| | |
| --- | --- |
| Sun: 04/10/2016 | Topic: Cooling / Heatsinks PermaLink |
"The Noctua NH-D9DXi4-3U is a mid-sized heatsink designed specifically for lower noise cooling of Intel Xeon processors in 3U height computer/server chassis. It's compact stature makes it ideal for rack mounted computers in a recording studio, video editing suite, operations control center, office environment or anywhere Xeon-based computers have typically had to be relegated to the 42U rack. The NH-D9DXi4-3U heatsink stands 111mm tall and has a footprint of just 95mm square, ensuring it won't overhang adjacent memory slots or interfere with PCI Express cards. "
---
| | |
| --- | --- |
| Sun: 04/10/2016 | Topic: Cooling / Heatsinks PermaLink |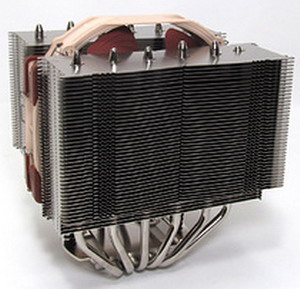 With a simple design change, Noctua has reinvented the NH-D15. The new NH-D15S has that same awful color scheme, but now features better memory and expansion-slot clearance, all thanks to its new asymmetrical design.
---
| | |
| --- | --- |
| Sun: 04/10/2016 | Topic: Cooling / Heatsinks PermaLink |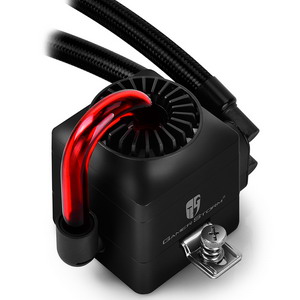 DEEPCOOL DEEPCOOL is a company that built with the vision of providing best thermal solutions for worldwide customers by constantly seeking for innovative breakthroughs. To meet the increasingly high demand from global market, DEEPCOOL launches a newly upgraded liquid cooler series, CAPTAIN EX, under its sub-brand: GAMER STORM.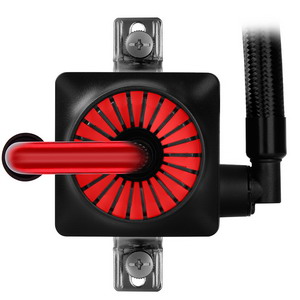 CAPTAIN EX Series is an all-in-one water cooling solution for desktop PCs, which has 120mm, 240mm and 360mm versions, all of them feature several innovative techniques, e.g., patented SS design (Separated Section), steam punk appearance, visible liquid flow and LED lightening. Moreover, new features like upgraded high-density water micro-channel, anti-explosion rubber, unique silent TF 120 double-blade fan, as well as tooling free installation solution will bring users new exciting cooling performance.
Highly efficient liquid cooling & outstanding durability
Thanks to the application of new patented technology, every drop of coolant within the optimized self-governed circulation channel will be fully used and take the heat away in a most efficient way. Meanwhile, with the adoption of anti-explosion rubber, which also features anti-corrosion, crush resistance and thermo stability, the safety and stability of the self-governed circulation channel will be greatly guaranteed.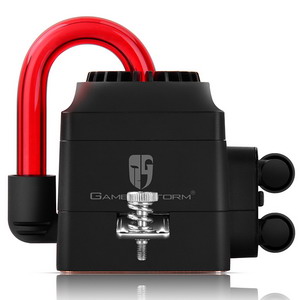 Excellent performance/noise ratio & easy installation
By equipping unique silent TF 120 double-blade fan with anti-shock pad, CAPTAIN EX Series can not only offer a higher air pressure for radiator to take the heat away efficiently, but also maintain an extremely low noise environment as de-vibration rubber will absorb most operating noise.
The advanced detachable blade design and built-in 3-proof functions (Dustproof, Waterproof, Oil-leakage proof) of TF120 fan will satisfy your DIY enthusiasm to build a unique rig. What's more, upgraded tooling free installation solution, combined with 100% solid metal material clip, makes a simplified installation but a firmer structure.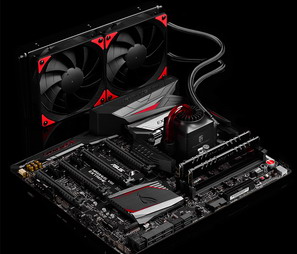 Available in April, 2016 MSRP: CAPTAIN 120 EX: 79.99 USD CAPTAIN 240 EX: 109.99 USD CAPTAIN 360 EX: 139.99 USD

---
| | |
| --- | --- |
| Fri: 04/08/2016 | Topic: Cooling / Heatsinks PermaLink |
In a world now filled with All-In-One CPU coolers, Thermaltake takes it old school with a water cooling kit that has everything you need from A to Z. If cutting your hose to length and perfecting the layout and presentation of your cooling loop appeals to you, Thermaltake makes it easy with a one stop shop.
---
| | |
| --- | --- |
| Wed: 04/06/2016 | Topic: Cooling / Heatsinks PermaLink |
AMD currently doesn't show CPU innovations ? You're wrong ! According to rumors the new AMD A11 8800 processor is build with four integrated nano fans. We show first pictures today on OCinside.de, but you should watch necessarily today.
---
| | |
| --- | --- |
| Mon: 04/04/2016 | Topic: Cooling / Heatsinks PermaLink |
Up for grabs today we have three combos consisting of the brand new Fuma CPU Cooler, SlipStream 120 DB fan and the Thermal Elixer 2 Thermal Grease by Scythe.
---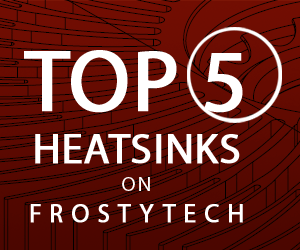 Over the past eight years of reviewing, even with all of the different heatsinks and water cooling options we have covered there has been one constant. In nearly every build or test bench if we weren't going with water cooling Noctua coolers have been at the top of our list. Recently as far as full sized builds go everything that wasn't a test bench has been water cooled, but the small form factor builds have nearly all been sporting Noctua NH-L9i's. This has partially been because I like Noctua's low noise but more than anything the NH-L9i just kept them all cool and took up less space than even a stock cooler. Recently though I have been working on building a new Lunchbox project build, we have been collecting parts and covering them in various reviews. Well when I got everything together the NH-L9i just couldn't handle the higher heat output that the i7-6700K was putting out. This wasn't a big shock given the coolers 65 watt cooling rating and the heat issues that same CPU gave us even with a full sized cooler on our test bench. So this gave me the chance to test out the slightly larger NH-L9x65 from Noctua. Today I'm going to talk about how it performed and run through its features. You can also get a sneak peek at our upcoming build!
---
| | |
| --- | --- |
| Mon: 04/04/2016 | Topic: Cooling / Heatsinks PermaLink |
The Fuma heatsink stands 148mm tall and features twin 120mm PWM fans arranged in push-pull configuration. Even with dual fans, it manages to maintain a relatively compact footprint of 130x130mm. Both fans operate at 1400-600RPM, moving upwards of 79CFM at 1.56mmH20 static pressure according to manufacturer specs. As with most Scythe heatsinks, the Fuma is designed primarily as a lower noise thermal solution; in our real word sound tests noise output topped out at a moderate 49.1dBA.
---