| | |
| --- | --- |
| Wed: 01/06/2016 | Topic: Cooling / Heatsinks PermaLink |
"Scythe has really made a name for themselves in the DIY PC cooling market since being founded back in 2002. Over the years they have had some really great CPU coolers, many which we have reviewed. The Ninja series has primarily been reserved for the top of the line coolers from Scythe and the cooler we have on the review block today definitely fits that bill. It is the Ninja 4, which is the 4th major revision of the famous Ninja cooler. This very large CPU cooler features 4 heatsink stacks, 6 heatpipes, and a 120 mm cooling fan. Can it compete with some of the other larger CPU coolers out there? Read on as we find out!"
---
Personalization and innovation, this is the vision of Cooler Master by bringing you the MasterCase 5. This ATX mid-tower is appealing from the box in. The concept brought to us in the MasterCase is that Cooler Master wants your chassis to look and function under your complete control. In our opinion it's a big step in the right direction.
---
| | |
| --- | --- |
| Tue: 01/05/2016 | Topic: Cooling / Heatsinks PermaLink |
" Now let's talk about performance. It does not matter how nice a cooler looks if it can't tackle the heat. You need the combination of a properly sized heat sink and an efficient, capable fan. The Justice RC-1204 works well with the thermal load of normal daily use. The stock performance is just fine. The Justice RC-1204 can also handle the heat that accompanies overclocking and it keeps the temps under control. Fan noise is pretty much nonexistent - especially when the case fans spool up. If you are looking for this cooler in the U.S., it is somewhat difficult to find. In fact, I could not find it on Amazon, Newegg, TigerDirect, NCIX, or MicroCenter. List price is a very reasonable $54, but you may have to go to Europe to find one."
---
| | |
| --- | --- |
| Tue: 01/05/2016 | Topic: Cooling / Heatsinks PermaLink |
"If you're looking to fit an All In One Liquid CPU cooler in a small case, the SilverStone Tundra TD03-Slim would be an excellent option. Measuring in at only 37mm thick with the fan installed and having a 120mm form factor opens up many possibilities when space is at a premium." ~3dGameMan.com
---
| | |
| --- | --- |
| Mon: 01/04/2016 | Topic: Cooling / Heatsinks PermaLink |
With their Predator 240 EK Water Blocks have a pre-assembled watercooling unit in their portfolio, which is entirely based on custom parts from their extensive line-up. This makes the Predator 240 powerful and at the same time easily expandable. At this point we're very curious to find out how this watercooler performs and wheter it's a convincing product or not.
---
With its vast experience of case building, Corsair must have foreseen that the Carbide 600C we reviewed last month wouldn't appeal to everyone with its inverted ATX layout, so its counteroffer seems premeditated. The new The Carbide 400 series is a more traditional approach that still maintains the clean lines and curved solid-steel exterior of the 600 series for a great minimalist look.
---
| | |
| --- | --- |
| Mon: 01/04/2016 | Topic: Cooling / Heatsinks PermaLink |
"Of all the myriad ways to cool a PC perhaps none is more elegant than the all in one liquid cooler. The AiO traces it's lineage back to the elite world of PC water cooling where money and time are thrown haphazardly at a project in an attempt to perfect this science and art. Each of these self contained units are an elegant, fully sealed solution using the thermal properties of water to draw heat away from the processor. But of course like all things, not all AiOs are created equal and the past year of 2015 has been no exception. And so as this year draws to a close and we begin to plan excitedly for 2016, join us as we pick out the very Best AiO Coolers of 2015 reviewed here at ThinkComputers.org."
---
| | |
| --- | --- |
| Mon: 01/04/2016 | Topic: Cooling / Heatsinks PermaLink |
In this review Frostytech is testing the Gelid Solutions Antarctica CPU heatsink. This is a pretty standard 160mm tall tower cooler, built around five nickel plated copper heatpipes that join a substantial copper heat spreader to a stack of swaged-in-place aluminum fins. The aluminum fins lack fancy dimples or other surface features to disrupt laminar air flow and improve heat transfer, but the copper base plate is a significant design choice.
---
| | |
| --- | --- |
| Mon: 01/04/2016 | Topic: Cooling / Heatsinks PermaLink |
DeepCool's Gamer Storm Lucifer K2 heatsink is a revised version of the original Gamer Storm Lucifer heatsink, which Frostytech tested about a year back. The Lucifer K2 heatsink only differs in that it's not nickel plated and ships with a slim profile (20mm thick)120mm fan which makes the heatsink a little more accommodating on confined motherboards. As with the previous incarnation, the Lucifer K2 heatsink very much resembles a passive thermal solution at first glance, owing to its boxy footprint and aluminum fins being so widely spaced apart. The heatsink isn't a passive cooler though, a single 120x20mm fan is very much required to keep the Lucifer from overheating when faced with a toasty CPU (or in our case, synthetic CPU die).
---
| | |
| --- | --- |
| Mon: 01/04/2016 | Topic: Cooling / Heatsinks PermaLink |
DeepCool's Maelstrom 240 is a self contained CPU liquid cooling system consists of a dual fan, 240mm wide aluminum heat exchanger and combination pump head / skived copper waterblock. With Frostytech's synthetic thermal test platforms applying up to a 200W heat load, only we can accurately rank how the Maelstrom 240 liquid cooler stacks up against the other all-in-one CPU liquid coolers!
---
| | |
| --- | --- |
| Fri: 01/01/2016 | Topic: Cooling / Heatsinks PermaLink |
Turn lite into slim: Even the fans are low profile with SilverStone's Tundra TD02-SLIM.
---
| | |
| --- | --- |
| Wed: 12/30/2015 | Topic: Cooling / Heatsinks PermaLink |
" The SilverStone Tundra TD02-Slim is the perfect option for anyone requiring a 240mm all-in-one liquid CPU cooler in a case with limited space. It comes with a thin 240mm aluminum rad, two slim 120mm fans, durable/flexible rubber tubes, a great pump and a smooth copper cold plate. All at an excellent price! " ~3dGameMan.com
---
By far one of the most spacious and modular cases we've reviewed in a while. This chassis was built for those who do things a little different from the norm. Extremely customizable and fun to build with, buckle up while we talk about Thermaltake's new Suppressor F31 case.
---
| | |
| --- | --- |
| Sat: 12/26/2015 | Topic: Cooling / Heatsinks PermaLink |
"Well we've designed our loop, spent hours searching the web comparing parts and twiddling our thumbs nervously before clicking the submit order button. And why shouldn't you be nervous? You just added enough gear to your cart to buy a crappy car! But it's done, funds have been exchanged, time has slowly and painfully ticked by, and the tracking number has been checked hundreds of times (does the refresh button even work anymore?). Finally the status is green, the package has been delivered, our parts have arrived from Aquatuning.us, Phanteks, and ThermalTake! What did we get you ask? Follow along as we unbox and check out our glorious shiny new water cooling gear. Welcome to Water Cooling 101: Episode 3!"
---
"Minimalist style" and "minimalist noise," is how Corsair describes its new Carbide Series 600Q computer chassis. While some might prefer a case that looks like it was designed by Voltron, Corsair goes the opposite direction with the 600Q and is looking to check all the boxes that make a chassis desirable; easy to use, quiet, and cool.
---
| | |
| --- | --- |
| Thu: 12/24/2015 | Topic: Cooling / Heatsinks PermaLink |
The Tundra line of coolers by SilverStone is about to get larger…by getting slimmer? Well, at least two of them are: the TD03 Slim and TD02 Slim. Containing aesthetics from the Tundra Lite coolers and coupling them with a slim radiator and fan (with a total rad/fan package height of 37mm), this AIO cooler seems custom-built for slim cases or anywhere where space is at a premium. Benchmark Reviews has the opportunity to investigate the cooling potential of the 120mm TD03 Slim – will it survive the cooling testbed? We'll also see how this cooler performs in one of its "intended use" cases: the slim Fortress FTZ01.
---
| | |
| --- | --- |
| Thu: 12/24/2015 | Topic: Cooling / Heatsinks PermaLink |
Many PC enthusiasts count on tower-cooler when it comes to CPU cooling, because they usually promise the most air-cooling performance. Thermaltake wants to show that also relatively low built coolers like their BigTyp Revo can handle bigger amount of excess heat. We will show in our review on OCinside.de if this big type can really hold up to its name.
---
| | |
| --- | --- |
| Thu: 12/24/2015 | Topic: Cooling / Heatsinks PermaLink |
I may not enjoy using small PC systems mainly because I've gotten used to working with the largest towers available in the market for as far back as i can remember but most people i know have no problem with that and since they care not about serious overclocking nor do they care about high-end CPU performance they almost always turn towards low-profile CPU cooling solutions. Now as you all know in the market currently there are the medium sized low-profile CPU coolers which are not very smaller compared to regular tower coolers and are aimed towards small ATX cases and the really compact low-profile CPU coolers which are targeted towards mini-ITX and mini-ATX cases. Be quiet! released the medium-sized Shadow Rock LP low-profile CPU cooler a few months back and since many of you asked for it we decided to check and see how it compares against other low-profile models.
---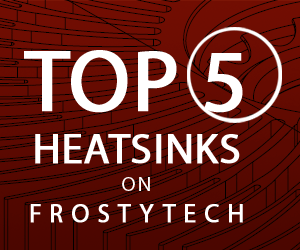 | | |
| --- | --- |
| Tue: 12/22/2015 | Topic: Cooling / Heatsinks PermaLink |
I've always wanted to try making a heatpipe myself, but I've yet to find a good method to make the wick structure... mesh is probably the most realistic choice, but sintered copper or grooves would be more effective. In any case, stumbled across this short video by Sam Bekkers and Geoff Giese today, who made a full size heatpipe for their ME412: Heat Transfer Lab class from common copper pipe and fittings. I was interested to hear what they used for the wick structure in the heatpipe stack, but I don't think they address this specifically.

How well did they do? Delta T for their heatpipe was 26.5C.
---
| | |
| --- | --- |
| Tue: 12/22/2015 | Topic: Cooling / Heatsinks PermaLink |
Indium Corporation announces a soft metal alloy thermal interface material (SMA TIM) that offers high and uniform thermal resistance at lower applied stresses in compressed interfaces.
---