| | |
| --- | --- |
| Thu: 07/09/2015 | Topic: Cooling / Heatsinks PermaLink |
The GeminII series from cooler master has a very unique design that allows not only the CPU to be cooled, but also the memory and power delivery components located near the socket of the motherboard. Another key point of the GeminII series is compatibility, the Cooler Master S524 Version 2 borrow from it's predecessor by keeping ram compatibility with modules up to 47.06 mm in height, as well as with cases that allow for 105.4 mm of height, making the GeminII S524 Version 2 adequate for small cases like the Haf Stacker 915F.
---
| | |
| --- | --- |
| Tue: 07/07/2015 | Topic: Cooling / Heatsinks PermaLink |
Corsair revamped the Hydro Series of all-in-one liquid CPU coolers once again with the H80i GT. This new design takes the thick 120 mm radiator design a step further with an ultra-thick radiator. Add in a new look, full Corsair Link support, and exceptional performance, and it is another top AIO from Corsair.
---
Corsair's popular Carbide 500R is a prototypical performance case placing a heavy emphasis on compatibility and airflow. Critical to its success is a monstrous 20 cm side fan bathing the graphics card and other components in cool air from outside.
---
The Zalman Z11 Neo's unique look is part of a bold attempt to deliver most of the usual trappings of a modern ATX tower in an affordable yet attractive package.
---
The Phanteks Enthoo Evolv ITX is a bulky mini-ITX tower with enthusiast grade features including support for thick 240/280 mm radiators, mounting points for a reservoir and pump, and a monstrous 200 mm front fan.
---
| | |
| --- | --- |
| Mon: 07/06/2015 | Topic: Cooling / Heatsinks PermaLink |
With their LV12, Lepa has a tower-cooler in their portfolio, which catches our attention with its matte black color. Other than that, this neat looking cooler comes with four heatpipes, as well as high quality fan. Apart from that even the price tag is on a very competitive level and it looks like this could be an insider's tip.
---
| | |
| --- | --- |
| Mon: 07/06/2015 | Topic: Cooling / Heatsinks PermaLink |
Thermalright looks to improve upon the ever-popular Macho series with the new Macho Revision B. This revision offers an offset design for better memory compatibility while sticking with a massive single tower. Offering fantastic performance for the price when compared to ultra high end solutions, it could very well be just what you are looking for.
---
| | |
| --- | --- |
| Mon: 07/06/2015 | Topic: Cooling / Heatsinks PermaLink |
If there is one thing to be said about Beijing based hardware manufacturer DeepCool, it would be their tenacity for pushing the limits of their own design while creating new and inspiring pieces of tech. While company has been around and creating cooling solutions since 1996, it hasn't been until recently that they have thrust themselves onto the global enthusiast stage. Since we have been reviewing their products we have moved from simple air coolers to the very steampunk inspired AiO that we are taking a look at today. The Captain 240 is the middle of their Captain line of AiO coolers and really sets itself apart with it's aesthetics. Read on as we find out if the design is just a veneer or if this cooler really has what it takes to be one of the best."
---
The Signature S10 may mark a dramatic resurgence in the PC market for Antec. This beast of a tower features thick aluminum side doors, a separate drive compartment to improve cooling, and a lofty $499 price.
---
| | |
| --- | --- |
| Mon: 07/06/2015 | Topic: Cooling / Heatsinks PermaLink |
Will the SilverStone Tundra TD02-E bring the tundra climate right into your PC?
---
| | |
| --- | --- |
| Mon: 07/06/2015 | Topic: Cooling / Heatsinks PermaLink |
CPU air coolers versus AIO Liquid CPU coolers is a subject many of us have seen discussed in various forums around the internet and although it's a valid "question" it's really not very hard to answer since each solution fits specific circumstances. For example if you own a tower with very good airflow levels, plenty of space and you care not about any possible clearance issues then a large CPU air cooler should do the trick for you a lot better than a single 120/140mm AIO model would. On the other hand if you don't own a large PC case and thus you have limited airflow levels and space an AIO liquid CPU cooler regardless of size will outperform any CPU air cooler that fits. A few months back we had the 360mm CAPTAIN model by DeepCool on our test rig but since its size is not something the majority of towers in the market can accommodate today we're taking a closer look at the 120mm variant.
---
| | |
| --- | --- |
| Mon: 07/06/2015 | Topic: Cooling / Heatsinks PermaLink |
Low profile does not mean low performance. Here is how this Noctua cooler compares.
---
| | |
| --- | --- |
| Mon: 07/06/2015 | Topic: Cooling / Heatsinks PermaLink |
"The Ashura is aesthetically pleasing and Scythe gives you a two-year warranty, great performance, and great build quality. The Ashura comes with a single GlideStream 140mm PWM fan that can handle the heat of normal use and overclocking. The offset of the fin stack makes getting to your RAM a breeze and the offset also allows you to use RAM with tall heat spreaders. If you are looking for a cooling solution that is a significant step above stock cooling, the Ashura has you covered - it is indeed a solid performer. The Ashura has a retail list price of $48.95 and I have seen it on Amazon for a few dollars less."
---
| | |
| --- | --- |
| Mon: 07/06/2015 | Topic: Cooling / Heatsinks PermaLink |
Legit Reviews has worked with Corsair to bring you a chance to win not one, but two of the best CPU water coolers that they make! The grand prize for this giveaway will be the Corsair H100i GTX Extreme Performance Liquid CPU Cooler! We didn't just want to give just one Corsair water cooler away, so we talked Corsair into letting us give another model away! For 2nd place we'll be giving away a Corsair Hydro Series H80i GT water cooler... The drawing ends in just five days!
---
PC Chassis come in all sorts of shapes, sizes, styles, price ranges, and with just about anything you may need. Much of it depends on what you want out of the case and what you want to spend on a case. Features should be price dependent, but quality shouldn't be. Today Legit Reviews has the opportunity to look at a new case from Corsair, the Corsair Carbide 100R Silent Edition. The Corsair Carbide 100R Silent Edition is a very budget friendly case retailing for only $59.99...
---
| | |
| --- | --- |
| Mon: 07/06/2015 | Topic: Cooling / Heatsinks PermaLink |
Corsair has nailed it again with the release of the HG10 A1 GPU bracket, which is recycling the stock blower fan for optimal VRM cooling and combines it with the usage of one of the available AIO CPU coolers in order to bring excellent cooling performance for our 290/290X R9 card from AMD. Depending on the water cooler selection, we would also be able to use a CrossFire setup which will take minimal amount of space in term of occupied slots. The only limitation for this design is the fact that it only works with OEM, original PCB AMD-designed cards and not with custom versions but we can always check the full compatibility list on the Corsair web page to see if our card is included.
---
| | |
| --- | --- |
| Mon: 07/06/2015 | Topic: Cooling / Heatsinks PermaLink |
Silverstone's two newest all in one water coolers -the Tundra TD02-E & TD03-E- are meant to go head to head against some of today's biggest players. But can these two AiO's manage to achieve the high performance and low acoustics necessary for domination?
---
| | |
| --- | --- |
| Mon: 07/06/2015 | Topic: Cooling / Heatsinks PermaLink |
Compatible with all of the current Intel and AMD sockets, the be quiet! Shadow Rock LP has an interesting (but not necessarily unique) design for a low profile heatsink cooler."
---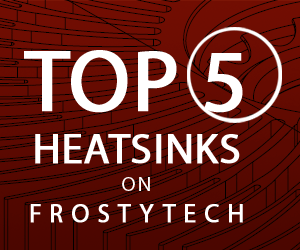 When it comes to power supplies there are always a few names I always recommend and Corsair is typically at the top of my list. I still find it quite impressive that Corsair has transitioned from a memory to producing some of the best cases, power supplies, AiO watercoolers and more. Corsair's HXi Series power supplies and designed with gamers and enthusiasts in mind. Each HXi model features 80PLUS Platinum certification, Corsair Link compatibility, and a Zero RPM fan which means it will not even spin up at medium and low loads. Today we will be taking a look at the flagship unit the HX1200i, which if you can guess is the 1200W unit. Let's jump in!"
---
| | |
| --- | --- |
| Fri: 07/03/2015 | Topic: Cooling / Heatsinks PermaLink |
Aside from the inclusion of a variable speed pump, the NZXT Kraken X41 improves from it's predecessor, the Kraken X40, by adding a thicker radiator with a more dense fin array which accounts for 36% more surface area. NZXT has also given the Kraken X41 extended tubing to ensure compatibility with all installation environments. Included with the Kraken X41 is a FX140 V2 PWM fan which according to NZXT is more powerful, quite, and durable than it's predecessor. Most importantly, the Kraken X41 has a 6 year warranty, which just goes to prove how confident NZXT is of the Kraken line.
---