| | |
| --- | --- |
| Thu: 09/07/2017 | Topic: CPU / Processors PermaLink |
"AMD introduces its new Ryzen Threadripper 1900X processor along with some other changes to the X399 platform such as NVMe RAID."
---
| | |
| --- | --- |
| Wed: 09/06/2017 | Topic: Cooling / Heatsinks PermaLink |
Having recently experienced an older Corsair CPU watercooler literally pop it's hose and spray coolant shmoo all over the box and leak across the floor (wasn't even installed!) I'm leaning back towards air coolers these days. This failure analysis of a Swiftech H220 on LinusTechTips.com from a few years back highlights that age old ism... the more complicated you make it, the easier it is to break/fail. Thankfully, when air coolers fail, they at least kind of fail-safe. If they're still partially attached, the metal can still dissipate some heat.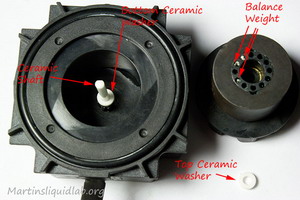 ---
| | |
| --- | --- |
| Wed: 09/06/2017 | Topic: Cooling / Heatsinks PermaLink |
The idea behind the Corsair Commander Pro control unit is pretty straightforward. If you build a new PC with a bunch of Corsair peripherals that use the Corsair Link ecosystem you will find you are spoiled for choice. You could well use a Hydro All In One liquid cooler on your CPU (and perhaps another Hydro on your graphics card), a handful of HD120/HD140 RGB fans, a Link enabled power supply and a few Node lighting strips. Add that lot together and you may well run out of USB headers on your motherboard, and will also have a bunch of extra cables and control units to install and keep tidy. This is where the Corsair Commander Pro comes into the equation. You simply connect the captive USB 2.0 cable on the Commander Pro to an internal header on your motherboard and power the device with the captive SATA cable. Both cables are long enough to give a good degree of flexibility when you install the Commander Pro inside your PC. Install the latest version of Corsair's Link software and you're ready to start connecting your accessories.
---
| | |
| --- | --- |
| Tue: 09/05/2017 | Topic: Cooling / Heatsinks PermaLink |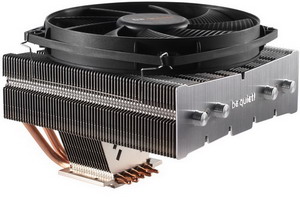 Thanks to its low height, very good performance and almost inaudible noise levels the brand new Shadow Rock TF 2 Top Down CPU Cooler by be quiet! should be your number one choice for use in compact cases where size is an issue.
---
| | |
| --- | --- |
| Tue: 09/05/2017 | Topic: Cooling / Heatsinks PermaLink |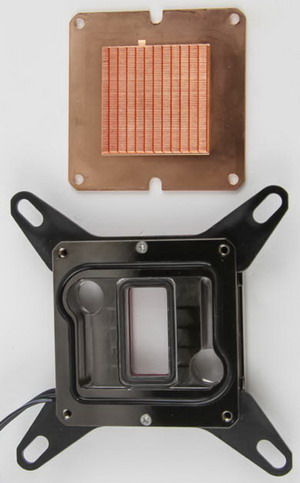 The Swiftech Apogee SKF "Heirloom Series" is a flagship CPU water block featuring hundreds of customization options, built-in addressable RGB lighting with a dedicated controller, and industry-new 125 micron thick fins. It is aimed at modders and enthusiasts alike and has the performance to back it up.
---
| | |
| --- | --- |
| Sun: 09/03/2017 | Topic: Cooling / Heatsinks PermaLink |
The Noctua NF-A Series is a comprehensive line up of fans that will be great addition to many system environments.
---
| | |
| --- | --- |
| Fri: 09/01/2017 | Topic: Cooling / Heatsinks PermaLink |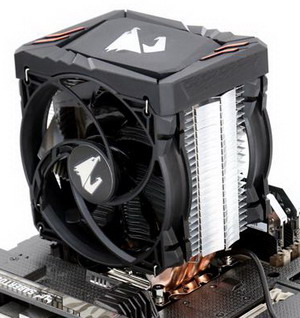 We test and review the Gigabyte ATC700 AORUS processor cooler. The cooler is setup in a robust push-pull configuration and has three massive direct contact heatpipes as well as being RGB lighting configurable.
---
| | |
| --- | --- |
| Fri: 09/01/2017 | Topic: Cooling / Heatsinks PermaLink |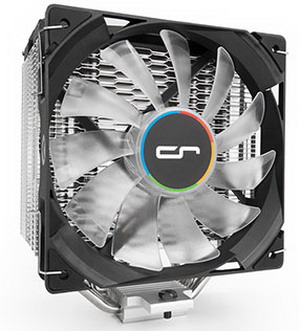 CRYORIG joins the RGB craze with the H7 Quad Lumi. Based on the wildly popular and successful H7 cooler, this new offering keeps everything you love about the original while improving performance and making it light up the night.
---
| | |
| --- | --- |
| Fri: 09/01/2017 | Topic: Cooling / Heatsinks PermaLink |
"I found both of FSP's first CPU coolers to be outstanding products, with capable cooling performance enhanced greatly by very low noise output. Indeed, my only complaint with them was the slightly inconvenient nature of the rubber-like fan mounts after heatsink installation on the CPU - though these did seem to cut down on vibration noise based on my results with both coolers. FSP's mounting hardware is outstanding, resulting in a secure fit, and I'll add that AM4 support out of the box is a plus as well."
---
| | |
| --- | --- |
| Fri: 09/01/2017 | Topic: Cooling / Heatsinks PermaLink |
HardwareOverclock.com has just posted another review. Last week we have tested the Noctua NH-U12S SE-AM4 CPU cooler. This cooler is one of three coolers from the Noctua AM4 special edition. We have tested the cooler on a ryzen 7 1700 system.
---
| | |
| --- | --- |
| Tue: 08/29/2017 | Topic: Cooling / Heatsinks PermaLink |
Eric Strebel hacks an old extruded aluminum Dell heatsink to mount onto the back of his Panasonic Lumix GF7 camera, which he says was overheating enough during extended photo shots that it would turn itself off.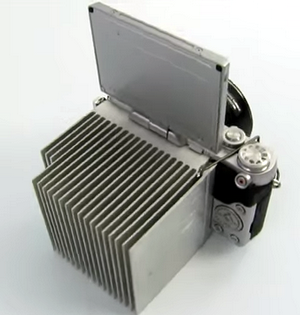 It's a simple approach using the materials available on hand, so I don't want to come across as overly critical here.... but
- Thermal gap filler would help bridge the void between the plastic(?) shell of the Lumix GF7 camera and the extruded aluminum heatsink base. Arctic make a 50x50mm thermal pad for $12 that would work well in this application. Not a fan of Amazon at all, but you can find it there.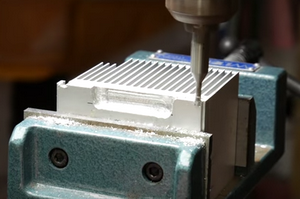 - Using a drill press as a cheap milling machine. I've tried this with a X-Y vise stage too... what ends up happening is the side-load forces from the milling cutter loosen the drill chuck's morse taper to the point the entire chuck and endmill falls out of the drill press. If this is your only option, stop every now and then and re-seat the chuck firmly with a wooden block. Only take very light cuts.
---
AMD's new Radeon RX Vega 64 Liquid Cooled Edition, and the air-cooled RX Vega 56 are in-house... UNBOXING TIME"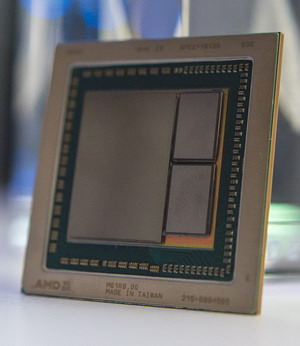 ---
| | |
| --- | --- |
| Mon: 08/28/2017 | Topic: Cooling / Heatsinks PermaLink |
Thermaltake has improved something which
makes absolutely no difference to the cooling performance of a processor liquid cooling system... sorry folks, if it doesn't improve cooling in some manner, it's worth a big resounding "meh."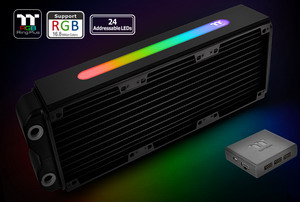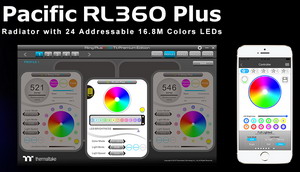 coeThermaltake, a leading brand in PC cooling solutions, today introduced the latest Pacific RL360 Plus RGB Radiator for advanced watercooled gaming systems. This high-performance 360mm radiator is built for 120mm high-static pressure fans, and utilizes the cutting-edge thermal technique with a 16.8 million colors LED strip. The radiator is manufactured from premium-quality German zinc alloy aluminum and aerospace-grade materials that provide exceptional performance, unrivalled reliability. The exclusively designed LED strip comes with 12 addressable LEDs sets (two single LEDs per set) that are controlled by the Riing Plus RGB Software. Functions within the software also allow users to monitor fan performance and track CPU temperature. Most importantly, the integrated G1/4" threads are optimized for easy installation, while rigid connections ensure leak-resistant measures are in place. With an ideal mounting, fitting and flow set-up, the radiator meets your cooling needs in every way. Thermaltake Pacific RL360 Plus RGB Radiator is now available for purshase on the TT Premium online shop.
---
| | |
| --- | --- |
| Mon: 08/28/2017 | Topic: Cooling / Heatsinks PermaLink |
With the introduction of the CPU-390 series blocks, Koolance improved on their CPU-380 series block design. The CPU-390 was designed with a different flow design in it top cap with the inlet port closer to the block center. Further, the micro-channel design in the base plate was enhanced with finer grain channels, dramatically increasing the surface area through which the coolant pass through the baseplate. The block under review is their Intel CPU-390CI water block, featuring a factory installed Intel mounting kit as well as a full nickel-plated copper top. With an MSRP of $89.99, the CPU-390CI waterblock comes at a premium price for the premium performance it offers.
---
| | |
| --- | --- |
| Sat: 08/26/2017 | Topic: Cooling / Heatsinks PermaLink |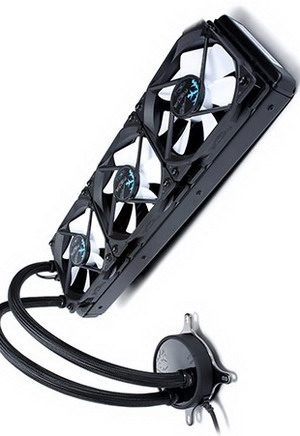 Fractal Design looks to take another stab at the expandable all-in-one liquid cooler market with the Celsius S36. Offering a 360 mm radiator and all-new features, like a built-in fan hub, it certainly has a lot to offer.
---
| | |
| --- | --- |
| Fri: 08/25/2017 | Topic: Cooling / Heatsinks PermaLink |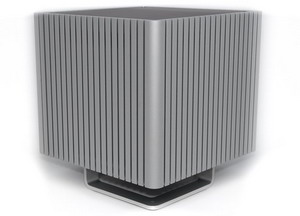 The sound of silence -- there's nothing like it, especially when it comes to a media PC. The last thing anyone wants while binging on the new season of Game of Thrones is the distracting drone of a fan or whir of a hard drive. Silence is precisely what the Streacom DB-4 chassis we'll be featuring here has to offer.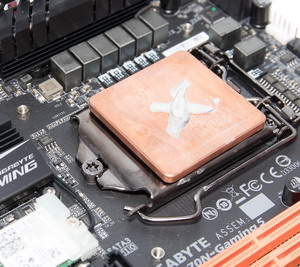 The DB-4 is not your average computer case. It houses precisely zero cooling fans. Streacom exchanges a traditional CPU heatsink and fan for a copper CPU block and heat pipes with aluminum heat sink mounts to whick away heat...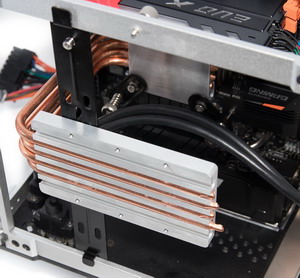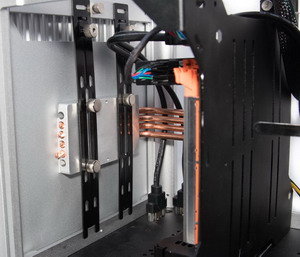 ---
| | |
| --- | --- |
| Fri: 08/25/2017 | Topic: Cooling / Heatsinks PermaLink |
"Generally speaking we PC users, hardware enthusiasts, nerds, like to have the highest performing parts we can get our hands on.
If I need a new GPU, I sort results by most expensive. Upgrading to HEDT, you bet we want that i9-7900X; at least until that i9-7980XE is available. And when it comes to keeping these parts cool, once again we find ourselves reaching for that custom watercooling loop or at least a big 360 rad AIO.
This pattern of excess is basically the hallmark of the hardware enthusiast and there is nothing wrong with it. On the other hand there are the occasional times where maybe all that over the top performance isn't required or maybe there are certain limits like budget or space holding you back. Today we're going to check out one of those products, the Cooler Master MasterLiquid Pro 140. While not the big gun feature item of the CM lineup, we are still quite curious to see just how this dual fan equipped 140mm AiO liquid cooler performs."
---
| | |
| --- | --- |
| Fri: 08/25/2017 | Topic: Cooling / Heatsinks PermaLink |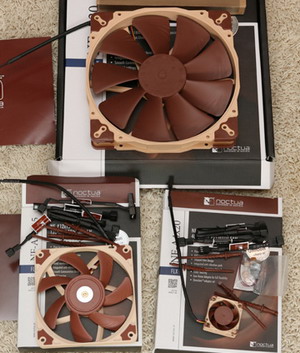 Very good quality fans, but I've heard plenty of (not so positive) comments about the plastic colour choice....
"The Noctua NF-A Series is a comprehensive line up of fans that will be great addition to many system environments."
---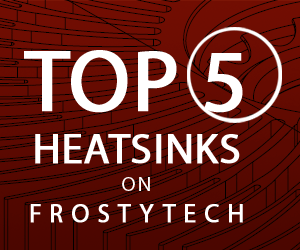 | | |
| --- | --- |
| Fri: 08/25/2017 | Topic: Cooling / Heatsinks PermaLink |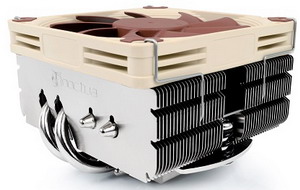 Was kann man über den kleinen Kühler sagen? Der NH-L9x65 ist ein kompakter, leiser Low-Profile Kühler, der für die Verwendung in kleinen Gehäusen und HTPC-Umgebungen entwickelt wurde. Dieses Modell wurde schon als NH-L9x65 vor knapp 2 Jahren vorgestellt und wurde für den AM4 etwas überarbeitet, von der Halterung kompatibel zum genannten Sockel gemacht. Der Kühler verfügt über eine in seiner Klasse hervorragende Kühlleistung, ist jedoch nicht für Overclocking geeignet und sollte auf Prozessoren mit mehr als 95W TDP (Thermal Design Power) nur mit Vorsicht eingesetzt werden. Da wir die AM4 Plattform mit einem Ryzen 7 1700 bestückt haben, eignet sich dieser Winzling hervorragend dafür.
Als Lüfter hat man hier einen kleinen 90 mm Lüfter verbaut, der sich NF-A9x14 PWM nennt. Dieser ist nur 14 mm stark und verwendet einen Regelbereich zwischen 600 ~ 2500 RPM ±10 %. Trotz der Platzsparenden Bauweise scheffelt der Kühler satte 57,5 m³/h bei nur 2.52 Watt Leistungsaufnahme. Der statische Druck beträgt gute 2.11 mm H2O. Wer mit der hohen Drehzahl nichts anfangen kann, hat die Wahl, den LNA Adapter zu verwenden. Dann dreht der Lüfter mit maximalen 1800 U/Min. Dank der kompakten Abmessungen kommt man so auf eine Gesamthöhe von nur 65 mm. Diese Höhe wurde bewusst gewählt, denn genauso hoch sind Low-Profile Erweiterungskarten. Damit eignet sich der Kühler ideal für den Einsatz in kompakten HTPCs oder Small Form Faktor Gehäusen, die wenig Raum für CPU Kühler bieten.
---
| | |
| --- | --- |
| Thu: 08/24/2017 | Topic: Cooling / Heatsinks PermaLink |
"Scythe is a company we've been covering for a while now and they make some of the best air-cooled CPU coolers out there. We consider them right at the top with Noctua and Cryorig in that regard. Today we are checking out one of their larger cooler in the Mugen 5. It has a single tower heatsink design with six large copper heatpipes and a 120 mm cooling fan. The actual heatsink of the cooler is quite larger as the heatsink fins are almost double the size of what we typically see these days. Will this cooler be able to match some of the top air CPU coolers we've tested in the past? Read on as we find out!"
---