| | |
| --- | --- |
| Fri: 04/19/2013 | Topic: CPU / Processors PermaLink |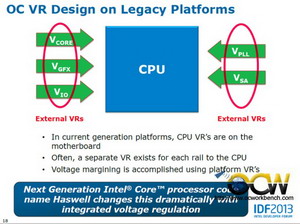 "At Beijing IDF, Intel gave a glimpse of the overclocking features of Haswell. It is quite a difference from the current Core i5 3rd gen series."
---
| | |
| --- | --- |
| Fri: 04/19/2013 | Topic: Cooling / Heatsinks PermaLink |
Antec sit alongside Corsair as one of the big-boys in the All-In-One liquid CPU cooling market. They have been around for a long time and were one of the first to mainstream the trend of AIO CPU coolers. Their Kuhler series is renowed for its reliability, simplicity and good bang-for-buck. Today we have with us the latest exciting addition to the Kuhler H20 series, the Kuhler H20 1220. Why is this exciting you may be wondering? Well this is the first review in the world of the Antec Kuhler H20 1220 and to us a world exclusive is pretty exciting. In terms of the design of this product, the innovation is probably not as exciting as you'd hope. The Antec Kuhler H20 1220 is essentially a 240mm Asetek AIO unit featuring a 27mm wide radiator, a standard Asetek pump unit and the flexible rubber tubing we see on the latest Asetek OEM designs. All Antec have done is branded the product with its Kuhler series branding, added a pair of their fans and offered up some basic fan control software. However, the fact this product carries the Antec branding and is part of the Kuhler series means you can expect quality, reliability and good performance.
---
| | |
| --- | --- |
| Wed: 04/10/2013 | Topic: Cooling / Heatsinks PermaLink |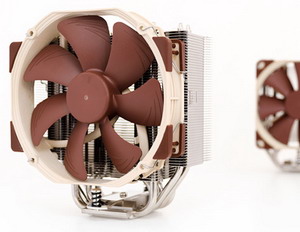 "Representing the next generation of this venerable legacy, the new NH-U12S and NH-U14S are the result of almost 10 years of continuous development and optimization. Both models mark a significant improvement in performance, convenience and compatibility," Mag. Roland Mossig, Noctua CEO, said.
---
| | |
| --- | --- |
| Wed: 04/10/2013 | Topic: Cooling / Heatsinks PermaLink |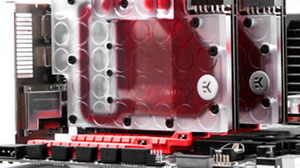 "EK-FCS10000 is a high performance full-cover water block for AMD® FirePro S10000 series dual-processor professional/server graphics cards. This water block directly cools both GPUs, RAM as well as both VRMs (voltage regulation module) as water flows directly over these critical areas thus allowing the graphics card and it's VRM to remain 100% stable under any given workload. EK-FCS10000 water block also features a high flow design therefore it can be easily used in liquid cooling systems using weaker water pumps."
---
| | |
| --- | --- |
| Sun: 04/07/2013 | Topic: Cooling / Heatsinks PermaLink |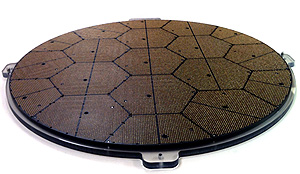 "Haswell is just around the corner and LGA1150 comes with it. Chris takes a look at Socket H to see what changes, what stays the same and what Haswell means to enthusiasts."
"LGA1150 for Haswell isn't much different than LGA1155. The only real change is to the processor Z-Height, Haswell is 0.04mm shorter, or roughly around the height of two hairs stacked on top of each other. The reduced height shouldn't affect most aftermarket CPU cooler installations at least those with spring pressure plates."
---
Palit GeForce GTX 650 Ti Boost Overclock Edition Graphics Card Video Review @ HardwareHeaven.com Earlier this week NVIDIA launched the GeForce GTX 650 Ti Boost, at launch we reviewed the Palit GTX 650 Ti Boost Overclock Edition with our usual full coverage of the latest games including the FPS numbers, minimum framerate charts, and the new addition to our reviews latency charts. Now Kaeyi Dream gets hands on with this same card in her latest video review."
---
| | |
| --- | --- |
| Sat: 04/06/2013 | Topic: Cooling / Heatsinks PermaLink |
The Noctua NH-L9i fits a very specific niche - to silently cool Intel CPUs when used in ultra low profile enclosures without sacrificing performance. Is it worth the upgrade over an Intel stock cooler? Read on to find out!
---
| | |
| --- | --- |
| Fri: 04/05/2013 | Topic: Cooling / Heatsinks PermaLink |
Corsair's new Hydro Series H110 is a monster of a cooler with its 280 mm radiator, but is bigger always better? It is time to put the H110 to the test and see what all the hype is about.
---
| | |
| --- | --- |
| Fri: 04/05/2013 | Topic: Cooling / Heatsinks PermaLink |
Hexus is giving away Coolermaster swag!

"Each of the three winners will receive a bag with the following six prizes: a JAS PRO aluminium stand for Macbooks (worth £60); a NotePal U2 PLUS laptop cooling pad; a Cube Stand for tablets (worth £35); an Aluminium Bumper for iPhone 5; a Wake Up Folio - Carbon Texture for iPad (worth £30); and a NotePal A200 laptop cooler!"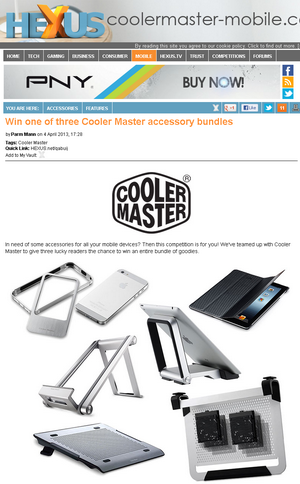 ---
| | |
| --- | --- |
| Fri: 04/05/2013 | Topic: Cooling / Heatsinks PermaLink |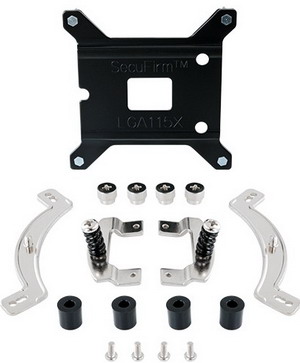 Noctua today announced that it will continue its tradition of supplying customers with its premium-class SecuFirm2™ mounting kits for novel platforms free of charge. While newer Noctua heatsinks support Haswell's LGA1150 socket out of the box, older models can now be upgraded with the new NM-i115x kit at no additional cost.
"We're determined to provide the best possible support to our customers and over the years, we've sent many thousands of mounting kits free of charge to users who wanted to upgrade to new platforms", says Mag. Roland Mossig (Noctua CEO). "With Haswell just around the corner, we're pleased to announce that we'll extend this offer for LGA1150. Owners of older Noctua retail heatsinks that don't support LGA 115x out of the box will be able to upgrade to the new socket free of charge!"
Due to the spacing of the mounting holes being identical on LGA1150, LGA1155 and LGA1156, Noctua's previous SecuFirm2™ mounting systems for LGA115x also support Intel's upcoming 'Haswell' platform. The following Noctua coolers already include SecuFirm2™ mounting systems for LGA115x and can thus be used on LGA1150 mainboards without any upgrades or modifications: NH-C14, NH-D14, NH-C12P SE14, NH-L12, NH-L9i, NH-U12P SE2, NH-U9B SE2.
Users of older Noctua retail models that don't include a SecuFirm2™ mounting system for LGA115x can now obtain the new NM-i115x kit free of charge on Noctua's website in order to make their heatsinks compatible with the new socket. The NM-i115x kit has been tailor-made for LGA115x and features a new, sturdy one-piece backplate with fixed struts that has been specifically designed to facilitate installation on LGA115x sockets. Due to the fixed struts, it's now even easier to align the backplate and to attach it to the mainboard.
To order the NM-i115x kit, a proof of purchase (photo, scan or screenshot of the invoice) of both an eligible Noctua CPU cooler and either an LGA115x mainboard or LGA115x CPU are required. The NM-i115x mounting kit is compatible with most Noctua retail coolers since 2005 and will also be available in stores at a low service charge.
---
| | |
| --- | --- |
| Wed: 04/03/2013 | Topic: Cooling / Heatsinks PermaLink |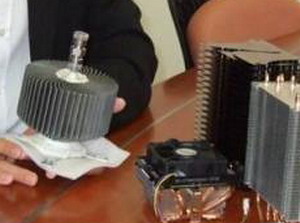 "The team has developed a prototype for dispersing heat that is far more compact than those currently available and significantly out performs them -- by 15 per cent. As their invention (with two US patents pending) is much less bulky than existing ones, more can be inserted into an equipment for greater cooling. "
According to Gatekeeperlabs.com, within the cooler is an integrated enhanced surface vapour chamber which encourages nucleate boiling, providing a dramatic improvement in heat transfer compared to heat pipe heatsinks of the same size. "In contrast to traditional heat pipes which face the prospect of a catastrophic "drying out" at high temperatures, Gatekeeper's enhanced boiling two phase core actually welcomes the higher temperatures, achieving even greater efficiencies with higher heat loads. Gatekeeper's enhanced core offers designers a better cooling performance at lower temperatures and with a smaller footprint."
---
| | |
| --- | --- |
| Wed: 04/03/2013 | Topic: Cooling / Heatsinks PermaLink |
Thermaltake is not a new comer to the water-cooling market. Unlike the majority other companies currently that are selling All-in-one (AiO) water-coolers. Thermaltake has had their Bigwater water cooler on the market for some time, and they still do. However, they have also moved into the AiO market, and produced their own coolers, the Water 2.0 series.
---
| | |
| --- | --- |
| Tue: 04/02/2013 | Topic: Cooling / Heatsinks PermaLink |
The Noctua NH-L9i low profile CPU cooler is a low profile, small form factor, ready made solution. If you have a need for a low clearance, low wattage cooling solution, this is what you need to be looking for! The unit tested here is the "i" variety, designating it for the Intel CPU's, socket 1150/1155/1156. If you have the "a" variety, you would have an AMD compatible CPU solution.
---
| | |
| --- | --- |
| Mon: 04/01/2013 | Topic: Cooling / Heatsinks PermaLink |
"The cooling fan is an integral part of any computer system, and not all are created equal. I personally prefer a quiet yet cool system and finding that balance is hard to do, thankfully Noctua makes it a bit easier with their award winning fan designs. The latest fan I have for review from Noctua is the NF-A14 ULN where ULN stand for Ultra Low Noise. This fan, at stock, runs at only 800 RPM but yet still manages to move quite a bit of air around your case but remaining virtually silent. If 800 RPM isn't quiet enough for you, then you can use the supplied Low Noise Adapter and slow the fan down even further to only 650 RPM and yet still move almost the same amount of air. So read on to learn more about the fan and see some test results… "
---
| | |
| --- | --- |
| Mon: 04/01/2013 | Topic: Cooling / Heatsinks PermaLink |
In 2009, the NF-S12B series was announced as the 2nd generation of NF-S12 series. As expected, it was better than 1st generation NF-S12 and silent PC enthusiasts were crazy about it. 1st and 2nd generations of Noctua NF-S12 have received a stunning 250 awards for all these years. Now, after 3 years of R&D work Noctua released the new 3rd generation – NF-S12A silent case fans. Size is again 120mm and manufacturer says that it will have better airflow and noise rates than 1st and 2nd generation by up to 8%.
---
| | |
| --- | --- |
| Mon: 04/01/2013 | Topic: Cooling / Heatsinks PermaLink |
Enermax's entrance in to the all in one water cooling market is one that interests many. This is primarily because unlike most other competitors, they have not opted for the traditional Asetek or CoolIT route. Instead they have opted to go with Asia Vital Components (as far as I know anyway). Even if AVC are not their chosen partners, it is still clear they are not working with Asetek or CoolIT. What this means is that performance will probably differ a lot to Asetek and CoolIT units, potentially for the better or for the worse - only testing will reveal this. Today we have with us the Enermax ELC 240 and as the name would suggest this product uses a 240mm radiator along with a pair of Enermax 120mm fans. With the ELC 240 Enermax are bundling two T.B. Silence 120mm cooling fans. Unlike the Enermax ELC 120 which comes with a choice of T.B or T.A fans, the ELC 240 is only available with T.B fans meaning you cannot have an LED option. Other than that key bit of information, the rest of the main specifications can be seen below. Enermax's ELC 120 and 240 CPU coolers were released well back in mid-late 2012, nearly 4-5 months ago now. In that time the core design of the ELC series has remained the same, the only difference is that Enermax have resolved some key issues with the pump that they had on the first batch of engineering samples. However, my concern is that in those 6 months we have seen new generations of AIO liquid coolers from Asetek and CoolIT. This would suggest that, unless Enermax have produced something really excellent, we could easily see this product fall behind the newly updated competition which these Enermax coolers weren't designed to compete with six months ago. The Enermax ELC 240 was probably designed to compete with the last generation of AIO coolers, namely Corsair's H100. However, in that time period we have seen the H100 upgraded to the H100i and with that upgrade came a significant improvement in performance at the same price point. Here's to hoping that Enermax's ELC 240 is still able to compete with the latest generation of Asetek and CoolIT AIO liquid coolers.
---
The ZM500-GS, which is the cheapest 500W power supply that we've tested, is a true budget PSU. It has a good ripple and is relatively quiet. It's not very efficient, however, less than 80% on average, and the voltage is too low at 500 watts.
---
| | |
| --- | --- |
| Mon: 04/01/2013 | Topic: Cooling / Heatsinks PermaLink |
Aiming to stamp its authority in another segment of the CPU cooling market, Phanteks has released a mid-range model in the PH-TC12DX. Does the dual fan PH-TC12DX have what it takes to shine in an overly-cramped market?
---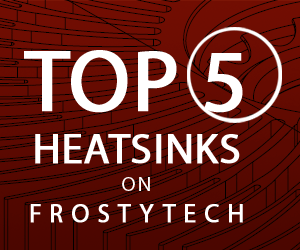 | | |
| --- | --- |
| Mon: 04/01/2013 | Topic: Cooling / Heatsinks PermaLink |
The Zalman FX100 was first introduced in November last year, at this year's CES it was officially unveiled, and soon it will hit stores. The new CPU cooler from the Korean manufacturer can be entirely passive and is intended for Ivy Bridge processors. Is this the perfect cooler for the silent crowd?
---
| | |
| --- | --- |
| Mon: 04/01/2013 | Topic: Cooling / Heatsinks PermaLink |
We continue discussing mass production closed-loop liquid-cooling systems. Today we will introduce to you the top four products from the leading manufacturers – Corsair, Thermaltake and Zalman.
---