| | |
| --- | --- |
| Wed: 01/11/2017 | Topic: Cooling / Heatsinks PermaLink |
Cooler Master's MasterLiquid Maker 92 is a unique liquid CPU cooler that fits all of its parts into one cluster atop the processor, and does it with a clever, hinged construction that allows it to be switched from an upright to a horizontal position at will. While the Maker 92 only occupies about as much space as a large tower air cooler in its upright position, the ability to fold it down provides both enhanced clearance and the option of directing airflow down to help cool motherboard components. But the big question for this cooler is just how effective can a closed-loop system be when it's this compact? We're about to find out!
---
| | |
| --- | --- |
| Tue: 01/10/2017 | Topic: CPU / Processors PermaLink |
"AMD today announced 16 cutting-edge high-performance AM4 motherboards from five manufacturers. In addition, AMD exhibited Ryzen processor-based "extreme performance" PC designs from 17 top system integrators across the globe as well as innovative third-party CPU cooler designs, demonstrating a ready and robust ecosystem for Ryzen CPUs. AMD also expects Ryzen-based designs from all top global PC OEMs, with more information on systems to be revealed at launch.
AMD and its motherboard partners today debuted a wide array of new motherboards from ASRock, Asus, Biostar, Gigabyte, and MSI, all built upon two upcoming desktop chipsets for AMD Ryzen processors: the X370 and X300. X370 chipset-based motherboards are designed for those who need the most performance, cutting-edge features, and superior I/O connectivity from their PCs including support for overclocking1, and dual graphics. For users looking for performance in a more compact size, the X300 chipset also features an AMD Ryzen-ready AM4 socket while utilizing the mini-ITX size ideal for small form factor PCs.
For enthusiasts and PC builders focused on a premium, quiet, and effective cooling solution or wishing to overclock, AMD is working with 15 top cooler manufacturers and vendors to create an array of aftermarket CPU coolers for AM4 processors. For ultra-quiet air cooling, Noctua will offer both its NH-D15 and its slimmer counterpart the NH-U12S. In, addition, EKWB will offer AM4 support for its custom water cooling solutions.
AMD Ryzen processor-based PCs, AM4 motherboards, and compatible cooling solutions are expected to be available in Q1 2017.
---
| | |
| --- | --- |
| Tue: 01/10/2017 | Topic: Cooling / Heatsinks PermaLink |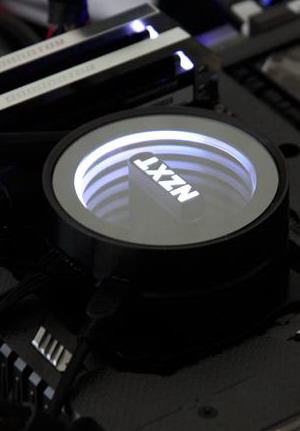 We review the very impressive NZXT Kraken 62 Series Liquid cooler. An all-in-one liquid CPU cooler for cases with 280 mm radiator mounts. This updated revision CPU cooler is compatible with NZXT CAM software. This allows you to program, customize and monitor this all-in-one liquid cooling solution for your processor.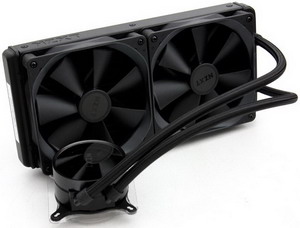 ---
| | |
| --- | --- |
| Sat: 01/07/2017 | Topic: Cooling / Heatsinks PermaLink |
We are often told by online pundits that you have to use a static pressure fan for your heatsink or radiator, and that you have to use an airflow fan to intake or exhaust air from your chassis. In another fact-finding mission, I want to find out if the first claim is true – does it really matter if you want to put an airflow fan on your heatsink, not a static pressure model?
---
| | |
| --- | --- |
| Sat: 01/07/2017 | Topic: Cooling / Heatsinks PermaLink |
When I built my first PC a few years back, I used the excellent Cooler Master Hyper 212 EVO to cool the processor. However, I remember feeling very confused about how I should mount the fan to the heatsink – some people said 'just stick it on any way', while some online pundits were certain that I HAD to use two fans in a push/pull configuration or else my PC would burst into flames at any moment.
---
| | |
| --- | --- |
| Fri: 01/06/2017 | Topic: Cooling / Heatsinks PermaLink |
Here at KitGuru we get through a lot of CPU cooler reviews. Accordingly, I have tested my fair share of top-end liquid coolers - such as the £195 EKWB Predator 280 (HERE) - as well as budget-oriented air coolers costing less than £20. With that being said, picking the right cooler for your needs can be a complicated process. In this article, I explain how to make the decision depending on a few specific factors.
---
| | |
| --- | --- |
| Thu: 01/05/2017 | Topic: Cooling / Heatsinks PermaLink |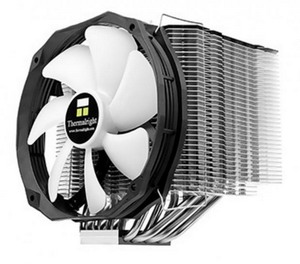 Thermalright's Le Grand Macho is one of the best CPU air coolers we've tested in a long time. You need to take a look at this one."
---
| | |
| --- | --- |
| Thu: 01/05/2017 | Topic: Cooling / Heatsinks PermaLink |
NZXT has been at the AiO game for about as long as anyone else. Over the years they have released many coolers of varying degrees of efficiency, but always using Asetek hardware, and always with a little twist to add that special NZXT flavor to the mix. Always the trendsetter rather than follower, year in and out we are treated to unique, well informed parts from the Los Angeles based company. Today's product is no exception. Taking color and lighting to the next level, the Kraken X52 is one 240mm AiO that at the very least is going to turn heads. Follow along as we dig in and find out if the performance matches the aesthetics."
---
| | |
| --- | --- |
| Thu: 01/05/2017 | Topic: Cooling / Heatsinks PermaLink |
The Scythe Mugen 5 is the latest iteration of Scythe's flagship CPU cooler. Through the years, the Mugen series has had many refinements to the original which came out a decade ago; even more than the "5" implied in the name as there have been several revisions and alternate edition Mugen coolers along the way. The latest Scythe Mugen cooler …
---
The Raijintek Styx is a larger variant of the Metis. It offers the ability to hold an mATX board and comes with 240 mm radiator support. Thanks to the slightly larger size, you may also go for bigger components, like GPUs and air coolers, and up to five hard-drive bays and a slimline ODD bay. Just like the Metis, the Styx is available in a large number of colors - so take your pick!
---
| | |
| --- | --- |
| Wed: 01/04/2017 | Topic: Cooling / Heatsinks PermaLink |
Very rarely in the world of PC tech does a product come along and win universal acclaim. The original Cooler Master Hyper 212 EVO is one such product, having built up a legendary status over the past few years. It has won our KitGuru Reader Award for best CPU air cooler for the last two years running, and is generally considered the 'go-to' product for an air cooler on a budget. Now Cooler Master have tried to improve perfection with the new Hyper 212 LED.
---
| | |
| --- | --- |
| Wed: 01/04/2017 | Topic: Cooling / Heatsinks PermaLink |
NZXT Kraken X52 Closed Loop Water Cooler Review
---
The Cooler Master MasterBox 5t is a solid case with a new flare that allows you to truly "Make it Yours" in as many ways as you choose.
---
| | |
| --- | --- |
| Sun: 01/01/2017 | Topic: Cooling / Heatsinks PermaLink |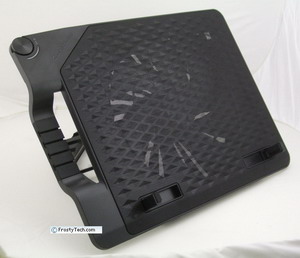 Technically speaking, the Coolermaster Ergostand III supports laptops with footprints up to 15" wide and 11" deep at an angle of 3.5°or as high as 50° vertical. At the rear of the unit is an integrated 4-port USB 2.0 hub which draws power from one of the notebooks' USB ports to power the hub and built in 215mm diameter cooling fan. The notebook stand has a metal mesh top so it's not always necessary to always run the fan, in many situations just having a little bit of airflow around the notebook base can be sufficient. When extra cooling is required, the large, quiet fan can be adjusted from 500-800RPM by virtue of the Ergostand III's dial fan speed control.
---
| | |
| --- | --- |
| Tue: 12/27/2016 | Topic: Cooling / Heatsinks PermaLink |
ENERMAX, the maker of high-performance PC hardware components, presents the ETS-T50 AXE series, the flagship air cooler equipped with 5x Ø6mm heat pipes. This high performance cooler lineup features 7 unique patents and supports 250W TDP.
Incredible 7-patent blizzard master
1. Patented Dust Free Rotation (DFR) technology for a self-cleaning solution of the fan and the radiator
2. Patented Pressure Differential Flow (PDF) design to increase 15% more airflow
3. Patented Vortex Generator Flow (VGF) design increases air convection in-between the fins
4. Patented Heat-pipe Direct Touch (HDT) technology improves thermal conductivity and removes the CPU hotspots rapidly
5. Patented Air Guide design with 360o rotatable grill for preferred airflow direction adjustment
6. Patented Twister Bearing fan technology for silent operation and longer lifespan
7. Patented Circular-type LED fan for the utmost eye-catching effect
ETS-T50 AXE, the high-performance CPU cooler, is available in two colors, black and white. The black T50 (ETS-T50A-BVT) comes with ENERMAX patented VEGAS fan with 3-color LED, featuring Thermal Conductive Coating (TCC) in black. On the other hand, the white T50 (ETS-T50A-WVS) with TCC in white incorporates with ENERMAX VEGAS fan with white LED.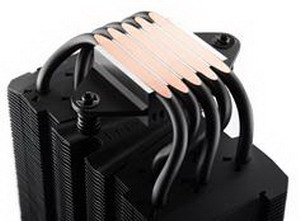 ---
| | |
| --- | --- |
| Tue: 12/27/2016 | Topic: Cooling / Heatsinks PermaLink |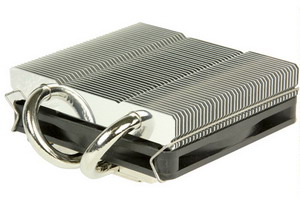 Japanese cooling expert Scythe announces a new revision of its Kodati CPU Cooler. Scythe is one of the first manufacturers to announce a special solution to the market for the socket AM1 (FS1b). Users have finally the chance to exchange the stock AM1 CPU cooler against the much more powerful Kodati Rev. B. The new revision furthermore inherits the socket support to the common sockets from AMD™ and Intel™, which is very typical for Scythe products.
Scythe Kodati CPU Cooler aims specifically at the HTPC and Mini-ITX market, where size and weight is crucial. Thanks to its total heights of mere 34 millimeters and weight of 180 grams, Kodati Rev. B CPU cooler is able to fit to basically every compact system. This has been achieved by implementing the Stealth Fan Mounting Structure (S.F.M.S), where the pre-installed fan is located between the aluminum fin-structure and copper-baseplate. Fast heat dissipation is assured thanks to the two copper-heatpipes with 6 mm thickness. Users are able to control the supplied 80 mm fan in the range between 800 and 3.300 RPM thanks to the PWM support. The airflow varies between 10,2 and 42,2 m3/h (6,0~24,82 CFM), depending on the fan speed. The specified noise level during operation starts at inaudible 8,2 dBA and goes up to merely audible 32,5 dBA.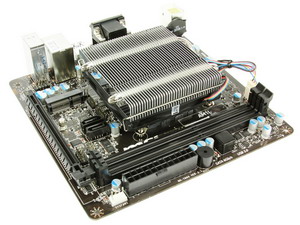 The socket compatibility list features AM1(FS1b), AM2+, AM2+, AM3, AM3+, FM1, FM2 and FM2+ from AMD™ as well as sockets LGA775, LGA1150, LGA 1155 and LGA1156 from Intel™. Scythe utilizes the Easy Installation with Screw (E.I.S) mounting system for Kodati Rev. B, which allows easy and solid screw-based mounting without the need of back-plates. All mounting clips as well as thermal grease and a manual are supplied with the Kodati CPU Cooler. Scythe Kodati Rev. B (Model No. SCKDT-1100) CPU Cooler is available as of today. Suggested retail price is set at 19,70 EUR (excl. Taxes).
---
| | |
| --- | --- |
| Mon: 12/26/2016 | Topic: Cooling / Heatsinks PermaLink |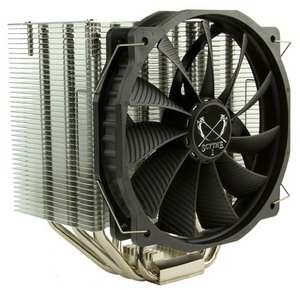 Japanese manufacturer Scythe innovated the cooling market with it's first Mugen CPU cooler in the past. The cooling-expert is introducing the new Mugen MAX, aiming for users seeking maximum performance for their PC system. Mugen Max has received various optimizations, such as the re-designed heatsink for increased performance and the shifted base-plate for improved compatibility to memory modules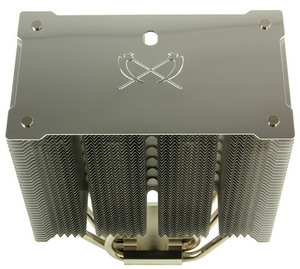 After releasing several compact mainstream models, Scythe now presents a real performance highlight. The performance increase of the Mugen MAX has been achieved by implementing a new heatsink-design and six highly efficient copper-heatpipes. Scythe has used an asymmetric layout for the hetasink, where the copper baseplate is slightly shifted. It allows the Mugen MAX to be used with RAM modules, which are equipped with very large heat-spreaders. In addition, it is no longer necessary to remove the CPU cooler to access the memory modules.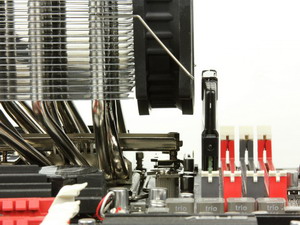 Scythe Mugen MAX stands out with its low weight of only 720 grams (25,40 oz, without fan) in a market segment, where heatsinks easily go beyond 1.000 grams. Further surprising is that the overall dimension 145 x 86 x 161 mm (5,71 x 3,39 x 6,34 inch, without fan) is only slightly exceeding the one from Mugen 4. Hence assures, that Mugen MAX can be fitted into virtually every PC case available on the market. Scythe implemented the well-proven Three-dimensional Multiple Airflow Pass-Through Structure (T-M.A.P.S.) fin structure for its heatsink, which increases the airflow passing in between the fins. The distance between the fins has been increased to 2,6 millimeters (0,10 inch), resulting in reduced flow resistance and improved cooling performance at low fan speeds.
Almost every CPU cooler form Scythe has been supplied with an axial-fan, matching the designated purpose of the product. To match the wide purpose range of Mugen MAX, one 140-millimeter PWM model of the Glide Stream series has been bundled. Fan speed can be controlled conveniently by the PWM controller of the mainboard in a range from 500 to 1.300 RPM, which allows airflow between 63,5 and 165,1 m³/h (37,37 ~ 97,18 CFM). Hence allows it to operate virtually inaudible at 13 dBA at lowest speed or really silent at 30,7 dBA when running at maximum. Enthusiasts, seeking even higher performance are able to use the second fan clip set, which is supplied, to attach a second fan and create a "push-pull" constellation!
---
| | |
| --- | --- |
| Sun: 12/25/2016 | Topic: Cooling / Heatsinks PermaLink |
"As 2016 comes to a close, it is time for me to talk about the top three coolers. After reviewing many coolers throughout the year, the line blurs and it is really hard to pick, since they are all quite so good. None of them are bad, and it often comes down to price or maybe a certain color scheme that gets my attention. Testing coolers is fun - you get to see what the various manufacturers are doing to set themselves apart from each other. Sometimes it is a new pump design or maybe some new ultra-quiet fans. Fancy lighting effects seem to be the thing now, and I have to say I like every one I have seen. Regardless, let's take a run though the OCC Top 3 Cooler list for 2016 and see if any of them catch your eye."
---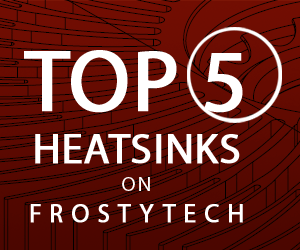 | | |
| --- | --- |
| Sun: 12/25/2016 | Topic: Cooling / Heatsinks PermaLink |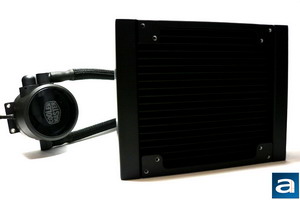 The Cooler Master MasterLiquid Pro 140 is a sweet liquid cooler for your rig that performs very well as long as you do not run into any compatibility issues.
---
| | |
| --- | --- |
| Sat: 12/24/2016 | Topic: Cooling / Heatsinks PermaLink |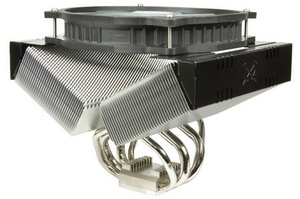 Japanese cooling expert Scythe announcing the third version of it's "Grand Kama Cross" Top-Flow CPU cooler. New Scythe Grand Kama Cross 3 is based on the same extraordinary X-Structure concept as the predecessor, allowing especially efficient cooling of both the CPU and the surrounding components such as VGA cards, VRMs or RAM.
Scythe engineers redesigned the Grand Kama Cross 3 with the goal to significantly improve the overall performance. Instead of using regular 6-millimeter copper-heatpipes, Scythe has exchanged the two copper-heatpipes in the center against two with 8-millimeter diameter. Fine-tuning the manufacturing process allowed to further increase the efficiency of the heat transfer between the copper baseplate and the copper-heatpipes. Another difference to the predecessor is that both the copper baseplate and the four copper-heatpipes have been completely nickel-plated for the Grand Kama Cross 3. The engineers have re-designed the two aluminum-fins blocks and fitted the fins with a special saw tooth tread design. The new design has lowered both the operating noise at higher fan speed ranges and the air resistance, resulting in improved cooling performance.
Grand Kama Cross 3 comes with a pre-installed 140 mm axial-fan from the GlideStream series. Thanks to its larger diameter and PWM-support, sufficient airflow between 29,90 and 97,18 CFM at noise levels from 12,5 to 30,7 dBA is assured. Fan speed can be adjusted individually according to the CPU temperature by the motherboard stepless in the range from 400 to 1.300 RPM. The special grooved blade design of the GlideStream 140 case fan benefits the top flow design of Grand Kama Cross 3 CPU cooler.
Even more easy and secure mounting is achieved thanks to the re-worked backplate-based mounting system. Further advantage is the support for latest Intel sockets, such as LGA1151, and LGA1150, LGA1155 as well as LGA 775, 1156, 1366, and LGA2011(v3). The list of compatible AMD sockets includes AM2(+), AM3(+), FM1and FM2(+). All the required mounting clips and screws are supplied with the Scythe Grand Kama Cross 3, as well as a wrench, screw driver, multi-lingual manual and quality thermal grease.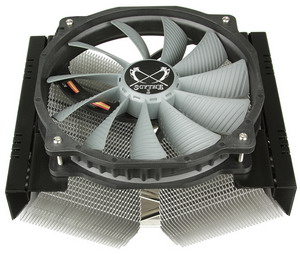 Scythe Grand Kama Cross 3 CPU Cooler (Model No. SCGKC-3000) is available as of today. Suggested retail price is set at 36,50 EUR (excl. Taxes).
---