| | |
| --- | --- |
| Sun: 03/16/2014 | Topic: Cooling / Heatsinks PermaLink |
While we have a lot of love for huge, powerful and overclocked gaming rigs here at eTeknix, it's not always the best way to approach each system build. Sometimes you need to wind back the scale of your system and go for something compact and sleek, and that's where products like the Silverstone AR04 comes into play. Designed for ultra-low profile chassis designs, the AR04 is ideal for compact builds such as HTPCs , integrated systems used for advertising, NAS builds and even low-power office systems. There are many reasons why you may need a slim chassis or suffer an internal height restriction, especially on M-ITX Slim motherboards and it's for these systems that Silverstone have designed the AR04.
---
| | |
| --- | --- |
| Sat: 03/15/2014 | Topic: Cooling / Heatsinks PermaLink |
The be quiet! Dark Rock 3 promises the complete package, with outstanding looks, and enthusiast level cooling at extremely low noise levels. The be quiet! Dark Rock 3 uses a 160mm tall single tower design featuring six 6mm heatpipes and their acclaimed 135mm Silent Wings fan to combine for superior cooling. The six-pole design of the 1400rpm fan makes for silent mechanical operation with lower vibration, and is capable of 67.8 cfm at a miniscule 21.1 dBA."
---
| | |
| --- | --- |
| Sat: 03/15/2014 | Topic: Cooling / Heatsinks PermaLink |
In the past the Korean company Thermolab has been able to surprise with high quality products, which were able to compete with the best in corresponding product categories. With the ITX30 the company has been working on a small cooler for mini ITX builds, like for instance HTPCs, and at a first glance this is a rather interesting little cooler, since it has been made entirely from copper.
---
| | |
| --- | --- |
| Fri: 03/14/2014 | Topic: CPU / Processors PermaLink |
Back at CES earlier this year, we came across a couple of interesting motherboards that were neither AM3+ nor FM2+. These small, sparse, and inexpensive boards were actually based on the unannounced AM1 platform. This socket is actually the FS1b socket that is typically reserved for mobile applications which require the use of swappable APUs. The goal here is to provide a low cost, upgradeable platform for emerging markets where price is absolutely key.
---
| | |
| --- | --- |
| Fri: 03/14/2014 | Topic: Cooling / Heatsinks PermaLink |
SilverStone Technology is a well known brand in the computer component space, offering high quality solutions for everything from cases to case-mounted fan controllers and displays. Their CPU air-coolers are some of the best in the industry with the latest incarnation being part of the Argon Series. The Argon Series AR01 CPU cooler is made for optimal cooling of your Intel socket 115X or AMD-based systems, comprised of a single aluminum radiator tied to a copper base-plate via a set of copper heat pipes with a 120mm fan for heat dissipation.
---
| | |
| --- | --- |
| Fri: 03/14/2014 | Topic: Cooling / Heatsinks PermaLink |
With their Radeon R9 280X DirectCU II, ASUS has an interesting graphics card in its portfolio, which features their capable DirectCU II cooler. In the following article we're going to find out what difference a full-cover water block can make when put on this very card. In this regard we're having a look at the new EK-FC R9-280X DCII waterblock and it will be interesting to see what is going to be possible with this block on a R9 280X DCII.
---
| | |
| --- | --- |
| Fri: 03/14/2014 | Topic: Cooling / Heatsinks PermaLink |
ENERMAX is working hard to improve upon their liquid All-In-One CPU cooler series. The closed-loop LIQMAX 120S-HP & LIQMAX 120S-TAA both provide a DIY water cooling kit solution with ease and performance. Maintenance free water cooling, simple installation and performance is the founded on technological advances.
---
| | |
| --- | --- |
| Fri: 03/14/2014 | Topic: Cooling / Heatsinks PermaLink |
SilentiumPC looks to shock and awe with the affordable Fera 2 HE1224 CPU cooler. Do not let its generic appearance fool you - it has much to offer. Featuring exceptional memory clearance and amazing performance, it sets the bar for what budget coolers should offer.
---
| | |
| --- | --- |
| Fri: 03/14/2014 | Topic: Cooling / Heatsinks PermaLink |
"And finally, let's talk about performance. The Hans RC-1205 can handle the thermal load of normal daily use and stock performance is just fine. Overclock and crank up the load, and the Reeven Hans RC-1205 can meet the demands of heat removal. Reeven gives you great build quality to go along with the attractive styling. Pricing is yet to be released."
---
| | |
| --- | --- |
| Fri: 03/14/2014 | Topic: Cooling / Heatsinks PermaLink |
We have seen the third-generation Dark Rock Pro cooler, but now we have a look at the single tower design in the Dark Rock 3 from be quiet!"
---
| | |
| --- | --- |
| Fri: 03/14/2014 | Topic: Cooling / Heatsinks PermaLink |
be quiet!'s Dark Rock series of coolers has fared well in a fearsome market. In previous generations, a strong balance between noise output and cooling performance has made them desirable products. Can the German company repeat its success with version three of the dual-tower Dark Rock Pro CPU cooler?
---
| | |
| --- | --- |
| Mon: 03/10/2014 | Topic: Cooling / Heatsinks PermaLink |
Antec is an established company and brand-name in the computer component space, offering quality solutions for everything from cases and power supplies to thermal paste and case-mounted fan controllers. Their latest foray is into the world of liquid cooling. The KUHLER H20 1250 is their flagship liquid cooler, featuring an all-in-one dual pump design, a 240mm x 120mm x 25mm aluminum radiator, and hardware monitoring support via the integrated USB cable and the included Antec Grid software. The KUHLER H2O 1250 comes standard with support for all current Intel and AMD CPU offerings. To gage the performance of Antec's flagship cooler, we set it against several other high-performance liquid and air-based coolers. With a retail MSRP of $109.99, the KUHLER H2O 1250 cooler comes at a premium for all the premium features it has to offer.
---
The Elite 130 hits our labs. Let's check out Cooler Master's idea of what a SFF chassis should be. Bonus is that it sells for a great price."
---
| | |
| --- | --- |
| Sat: 03/08/2014 | Topic: Cooling / Heatsinks PermaLink |
"Once again XSPC has unleashed another revision of the RX radiator series. The RX radiator series are the most popular radiator among the water-cooling enthusiasts for the value and performance. Despite this, its design technology is a bit dated and today's modern radiators from competitors have been surpassing the RX radiators. That brings us to today's review. We'll analyze the new and improved version of the RX360 V3 radiator to see how it stacks up to its predecessor and the competition."
---
| | |
| --- | --- |
| Thu: 03/06/2014 | Topic: Cooling / Heatsinks PermaLink |
Cryorig is a name that is quite likely new to our fellow enthusiasts. When the company contacted us and asked us to review its news R1 Ultimate cooler, we took a look at the build design and it got us curious. The R1 Ultimate has an overall design that we have seen many times before, but surely had enough "new" to warrant a review.
---
| | |
| --- | --- |
| Thu: 03/06/2014 | Topic: Cooling / Heatsinks PermaLink |
The ThermoLab ITX30 is the Korean heatsink company's entry into the <30mm CPU cooler market. It allows ultra compact PCs to use relatively fast Intel CPUs
---
| | |
| --- | --- |
| Wed: 03/05/2014 | Topic: Cooling / Heatsinks PermaLink |
Digitimes reports a new AMD socket is forthcoming... "AMD has announced the introduction of its AM1 platform featuring the AMD quad-core and dual-core Kabini APU into the component channel for system builders. Combined with motherboards from manufacturers worldwide, the new AM1 platform will deliver Graphics Core Next (GCN) architecture and AMD Jaguar CPU cores.

The platform also features USB 3.0 and SATA 6GB/s support.

Availability of Kabini desktops and components are slated to be on-shelf in selected regions beginning early April, with global availability expected on April 9. The AM1 platform delivers DirectX 11.2 and Windows 8.1 support to mainstream markets. In addition, motherboard manufacturers including, ASRock, Asustek Computer, Biostar, Elitegroup Computer Systems (ECS), Gigabyte Technology and Micro-Star International (MSI) are poised to deliver a range of next- generation desktop motherboards based on socket FS1b. These motherboards will support the latest specifications of native USB 3.0 and SATA 6GB/s for AMD Athlon and Sempron-series APUs for the AM1 platform, said AMD."
---
| | |
| --- | --- |
| Wed: 03/05/2014 | Topic: Cooling / Heatsinks PermaLink |
"Today we have an enthusiast cooler from GamerStorm attached to our test system. With specifications which are very much enthusiast, on paper, the price is very much budget. So lets find out if the Lucifer can perform as well as GamerStorm claim."
---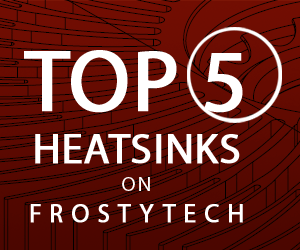 | | |
| --- | --- |
| Sun: 03/02/2014 | Topic: Cooling / Heatsinks PermaLink |
"Like water cooling but are worried about potential problems, so you want to stick with air cooling? Well, Cryorig seems to feel they have a proper solution with the R1 Ultimate CPU Cooler. Designed with the expressed intent of providing the strongest air cooled solution available, we are here to find out if it can provide the cooling performance the enthusiast craves without the mess and maintenance."
---
| | |
| --- | --- |
| Fri: 02/28/2014 | Topic: Cooling / Heatsinks PermaLink |
Corsair have provided the industry with many great coolers in recent years, their H80 and H100 all-in-one water coolers have proven to be some of the most popular choices for system builders, capable of cooling overclocked CPU's for a fairly competitive price tag, plus they're rather well designed, and look great in almost any build. From that we've got big expectations of their latest range of coolers and their Hydro Series H75 looks like a promising solution for those looking for a 120mm radiator. With a slim rad, but two 120mm fans, we can get some sweet push/pull action going that should help shift some serious heat from our test system. Priced at around £70 the H75 isn't exactly cheap, but the AIO (all-in-one) water cooling market is fiercely competitive and so long as the performance is there, it'll be worth every penny. For around the same money you can pick up the H2O 950 from Antec and the Zalman Reserator 3 Max, both of which are 120mm radiators and of a similar specification, albeit both come with a hard mounted fan, and a second fan would have to be added at extra cost, so the H75 is already sounding like great value for money given that both of its fans are fully removable and both are included in the box. With support for all major AMD and Intel sockets, as well as a redesigned pump, aluminium radiator, a pair of 2000 RPM, high static pressure PWM fans, and a wonderful five-year warranty mean the H75 is really well equipped right out of the box. I can't wait any longer, so let's get right to it and see what Corsairs latest hardware has to offer.
---