| | |
| --- | --- |
| Sun: 03/27/2016 | Topic: Cooling / Heatsinks PermaLink |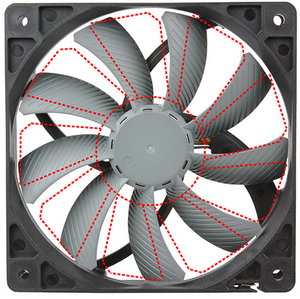 Japanese cooling expert Scythe extends the GlideStream series by announcing a brand new model with PWM-support and built-in fan controller. Scythe's GlideStream 120 fan series is based on further development of the very popular Scythe Slip Stream fan series. The new GlideStream 120 PWM SC fan combines the outstanding advantages of the GlideStream series such as the "small hub & large blades" concept for increased airflow at low fan speeds and new features, including PWM support and the innovative 3-step switch.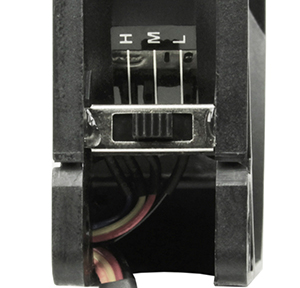 Scythe took a very different approach when developing the GlideStream 120 PWM SC fan. The new fan offers not only the support of PWM-signal based fan control, but provides users with the unchallenged opportunity to switch between one of the three possible options for maximum fan speed. Scythe attached a 3-step switch to the fan, which limits the fan speed to either 800, 1.150 or 1.500 RPM. The PWM curve is adjusted according to the set position on the fan without the necessity to adjust the applied voltage. Thanks to this feature, GlideStream 120 PWM SC can be used for very silent operation in the fan speed range between 300 and 800 RPM and switched to more powerful mode anytime, when it is required. This way Scythe was able to combine the fan speed ranges of three different case fans in only one model without compromising the PWM support!
GlideStream 120 PWM SC utilizes the unique features of the GlideStream series, including the grooved blade design, which reduces air resistance and therefore achieving lower operating noise and the "small hub & large blades" design. Transfer of vibrations from the fan to the PC Case can be reduced thanks to the supplied insulating rubber mounters. To further ease the installation process and increase the compatibility, Scythe Glide Stream 120 PWM SC is utilizing installation holes without tunnels and comes with a 3-pin to 4-pin adapter.
---
The Deepcool Genome is an ATX case supplied with a 360mm liquid cooling system that is already installed. The integrated nature of Genome speeds up the process of your PC build however that is only part of the story as the helix liquid reservoir is clearly visible at the front of the case and helps Genome stand out from the crowd of ATX cases on the market.
---
| | |
| --- | --- |
| Wed: 03/23/2016 | Topic: Cooling / Heatsinks PermaLink |
Stumbled across an interesting post by Ben Krasnow on CitizenScienceQuarterly.com tonight, that covers how to build a DIY Liquid Nitrogen generator! This is not for the faint of heart, but I'll bet there are a few Frostytech readers with a spare Stirling Cooler kicking around who could give this a try. Enjoy!
"Nearly all large-scale liquid nitrogen is made by compressing, cooling, and expanding air. This process removes heat from the air and can be repeated until the air liquefies. The condensing gasses are then separated using fractional distillation. This process cannot be easily scaled down because it relies on maintaining a complex, large distillation column to separate nitrogen from the other gasses in air. To avoid using a distillation column, one could use a nitrogen separation device to strip out the nitrogen from air at room temperature. Then, the room temperature nitrogen can be liquefied via the standard compression and expansion method.
I purchased the Superfilter on eBay and extracted the cryocooler. In order to test the device, I attached a small heatsink to the cooler's cold tip, placed the tip into a household vacuum flask, and powered up the unit. After 30 minutes, I took the cryocooler out of the flask, and noticed a small amount of liquid air had collected at the bottom. Inspired by this success, I continued construction of a more complete liquid nitrogen generator. I already owned a 30-liter dewar (large vacuum flask) and fabricated an acrylic plate that would seal the top of the dewar while the cryocooler was also mounted to the plate with its heatsink hanging down into the neck of the flask. I also removed the cryocooler's finned heatsink on its heat rejection area and replaced it with a liquid- cooling manifold. Liquid cooling lowered the heat rejection area temperature more effectively than forced air cooling, and this ultimately lead to higher system efficiency...."
---
| | |
| --- | --- |
| Tue: 03/22/2016 | Topic: Cooling / Heatsinks PermaLink |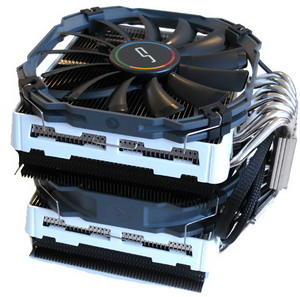 CRYORIG is new to us here at APH Networks. How will their mega sized heatsink fare in our tests?
---
| | |
| --- | --- |
| Tue: 03/22/2016 | Topic: Cooling / Heatsinks PermaLink |
The new IndustrialPPC NF-F12 and NF-A14 fans are 24V DC operated though they can operate at 12v which PC systems typically provide. The tradeoff is that it will operate at reduced RPMs. How could you get a 24v power on a desktop system when typical power supplies don't supply anything more than 12v? One of the better options is to use a 12/24v fan and pump controller, like a Koolance CTR-SPD1224M 12v/24v Pump/ Fan controller. After researching in multiple tech forums, one of the common suggestion is either to use +12v and -5v together thus providing 17v or +12v and -12v together for 24v.
---
Today we are looking at one of the new power supplies from leading German brand be quiet! The new Pure Power 9 range is a dual 12V rail design which has achieved 80 Plus Silver certification. The new design adopts a 120mm noise optimised fan and is modular, with high grade flat cables set to aid the appearance of the final system build.
---
| | |
| --- | --- |
| Mon: 03/21/2016 | Topic: Cooling / Heatsinks PermaLink |
Maybe you've been using your first basic loop for a while now and feeling like it's time to expand or maybe the need to upgrade has struck right away. Either way you've reached the most inevitable situation for nearly all of us who use water cooling. Upgrade day! But what to upgrade and how to go about doing it? Follow along as we take you on the next step of evolution for our loop!"
---
| | |
| --- | --- |
| Mon: 03/21/2016 | Topic: Cooling / Heatsinks PermaLink |
With the NH-C14S Noctua has a predecessor of it's former flagship down-draft cooler in its portfolio. The NH-C14S is equipped with one fan which measures 140 mm in diameter. Meanwhile standard with Noctua coolers is the extensive delivery, including mounting kits offering wide compatibility.
---
| | |
| --- | --- |
| Mon: 03/21/2016 | Topic: Cooling / Heatsinks PermaLink |
CRYORIG is new to us here at APH Networks. How will their mega sized heatsink fare in our tests?
---
Professional system builders are usually obsessed with silence and cooling. Custom cooling solutions are some of the biggest differentiators in pre-built systems. And one of the chief selling points of aftermarket cooling gear for enthusiasts is noise output, usually listed in decibels. There are even companies, like "be quiet!" for example, that focus on noise output as a main selling point for entire line-ups of cases, power supplies, and heat sinks. CPUs and GPUs are typically what get the most attention when it comes to aftermarket cooling. Stock coolers on GPUs usually do an adequate job, but there exists a decent aftermarket for GPU coolers, usually reserved for overclockers who like to jack their GPU frequencies up as high as possible. But many users seek out aftermarket coolers to quiet down their graphics cards as well, which is what we set out to do...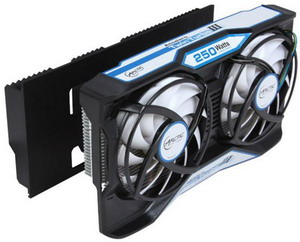 ---
| | |
| --- | --- |
| Sat: 03/19/2016 | Topic: Cooling / Heatsinks PermaLink |
Picking the right cooler for your system can be tricky, but when it comes to sticking a high-performance CPU in a compact gaming system, your choices are often quite limited to a range of low-profile air coolers. Corsair is looking to solve this issue with the new Corsair H5 SF Hydro Series Low Profile Liquid CPU Cooler, an AIO unit that's small enough to mount over the top of a mini-ITX motherboard! Unlike most AIO that must be mounted on a 120/140mm fan fitting, this cooler is a similar shape and size to a 5.25? drive and comes with a special bracket that mounts it above the CPU like you would expect an air/tower cooler to install.
---
| | |
| --- | --- |
| Sat: 03/19/2016 | Topic: Cooling / Heatsinks PermaLink |
At first sight, the Coolermaster Silencio FP 120 PWM fan is made for the crowd that doesn't want bells and whistles followed by LED lighting of any kind. But after using it for a couple of months, that impression has changed a bit. At first glance, the CM Silencio FP 120 PWM looks pretty ordinary until you take a closer look at the shape of the sickle-type fan blades.
---
| | |
| --- | --- |
| Wed: 03/16/2016 | Topic: Cooling / Heatsinks PermaLink |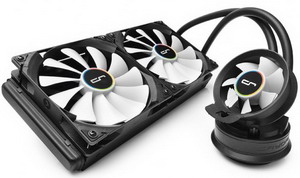 Even though they have only been around since 2013, thanks to their solid product lineup in the PC cooling arena, Cryorig has quickly become a popular company with hardcore PC enthusiasts. The Cryorig A80, which we are reviewing today, features a 280 mm radiator and is the highest performance unit in the Cryorig lineup. Read on to see how it performs when we put it to the test!
---
| | |
| --- | --- |
| Wed: 03/16/2016 | Topic: Cooling / Heatsinks PermaLink |
Reports Digitimes; "Heat-sink pipe and thermal module maker Chaun-Choung Technology has increased yield rates for all product lines to more than 90% by using automation equipment, the company said at a March 15 investors conference.

Chaun-Choung has also begun to produce micro heat-sink pipes for smartphones in 2016 and has obtained orders from South Korea-based smartphone vendors.

Chaun-Choung has expanded monthly production capacity at its factory in northern Taiwan from two million heat-sink pipes in January 2016 to 3.5 million units currently. The monthly production capacity at the company's factory in Kunshan, eastern China, can be increased from five million heat-sink pipes based on one shift a day to 7-8 million units based on two shifts a day. In addition, Chaun-Choung is setting up a factory in Chongqing, western China, mainly for production of micro heat-sink pipes and notebook-use thermal modules.

Chaun-Choung recorded consolidated revenues of NT$6.044 billion (US$184 million), gross margin of 24.59%, net operating profit of NT$801 million, net profit of NT$671 million and net EPS of NT$7.77 for 2015 and plans to distribute a cash dividend per share of NT$5.50."
---
| | |
| --- | --- |
| Wed: 03/16/2016 | Topic: Cooling / Heatsinks PermaLink |
NZXT is also moving some of its AIO cooler strategy into the realm of making it smaller and more efficient. The Kraken X31 ticks that checkbox plus a few others, such as software control, variable pump speed, 16 inch tubing leads, and a six year warranty. (Place your own "Release the Kraken," joke here.)
---
| | |
| --- | --- |
| Tue: 03/15/2016 | Topic: Cooling / Heatsinks PermaLink |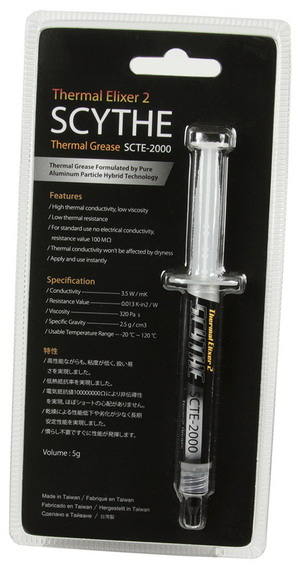 "Japanese cooling expert Scythe presents the second version of its Thermal Elixer high performance thermal grease. After collecting the user's feedback and experience with the first Thermal Elixer, Scythe engineers created an improved thermal grease solution. Thermal Elixer 2 utilizes the Pure Aluminum Particle Hybrid Technology and is based on high quality components. Thanks to this combination a significant reduction of thermal resistance to 0,013 K/W has been achieved. In spite of the improved performance, no compromise has to be made in terms of easy appliance.
Scythe was especially careful in the development process of the Thermal Elixer 2. The goal was to create an extremely powerful, yet easy to use solution that omits electrical conductivity. All the aforementioned advantages are combined in the final product. Thermal Elixer 2 offers very low dry-out characteristics and is made for long term use. The thermal grease can be used for both CPU and GPU in the temperature range from -20 to 120 degrees Celsius. Similar to the predecessor, the new solution comes in a user-friendly plastic syringe tube but offers 5 grams of thermal grease instead of 3,5 grams. There is no burn-in period required, which means that Thermal Elixer 2 is reaching its maximum potential within a short time after appliance.
The new Scythe Thermal Elixer 2 (SCTE-2000) thermal interface material solution is available as of today at the MSRP of 4,60 EU (w/o VAT/TAX)."
---
| | |
| --- | --- |
| Tue: 03/15/2016 | Topic: Cooling / Heatsinks PermaLink |
"Swiftech's new H220 X2 AIO kit; the new model adds in LED lighting and a visible reservoir."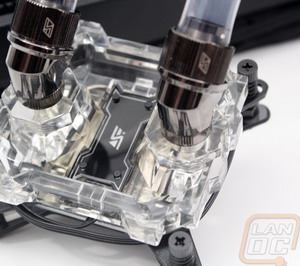 "...there are two potential flaws. For one if you look down from the top the design does cover up a lot of the airflow room behind the radiator. There is a gap below them so it doesn't completely block it but I would be shocked if there wasn't a little restriction, especially when installed in a traditional case. The other issue that concerned me was the black plastic right angled connection for the top coolant line..."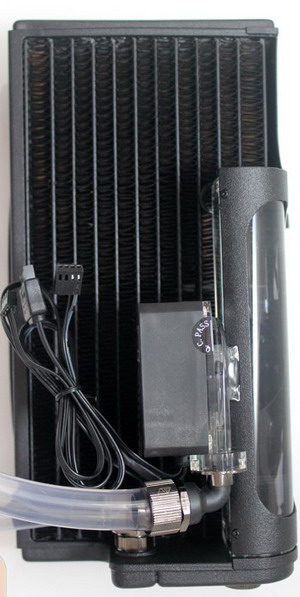 ---
| | |
| --- | --- |
| Tue: 03/15/2016 | Topic: Cooling / Heatsinks PermaLink |
"The Arctic Freezer i30 Heatsink arrived Technic3D. See you in the following Review the Freezer with one 120mm PWM Fan and four 6mm Heatpipes compared with many other Cooler on a Intel Core i5 4670K CPU."
---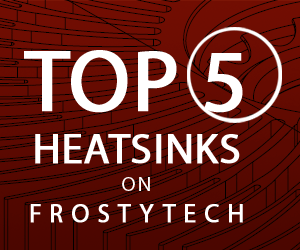 | | |
| --- | --- |
| Tue: 03/15/2016 | Topic: Cooling / Heatsinks PermaLink |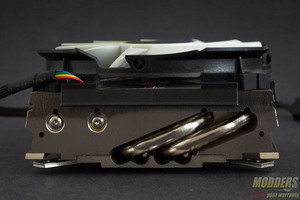 At a height of only 47mm, CRYORIG's C7 is a compact cooling solution compatible across all current AMD and Intel 115x motherboards. The flexibility of this compatibility extends toward component clearance as well for the CRYORIG measures a scant 97 x 97mm square so that there is no RAM or PCI-E mounting interference. Priced at $29.99, the CRYORIG C7 also carries a 3-year warranty should it ship with a defect out of the box, lost parts or should the built-in 92mm slim fan stop working.
---
| | |
| --- | --- |
| Mon: 03/14/2016 | Topic: Cooling / Heatsinks PermaLink |
"Since the Airtop PC was announced back in January there has been a lot of interest in this passively-cooled, high-performance line of PCs by the folks at CompuLab. The Airtop isn't some low-end, passively cooled PC but rather can be equipped with a Core i7 or Xeon CPU and a discrete graphics card to deliver very capable performance while having a completely silent PC. Some have been skeptical about the cooling and performance claims of the Airtop PC, but our review sample arrived this morning and have begun testing out this very interesting PC."
---