| | |
| --- | --- |
| Wed: 05/08/2013 | Topic: Cooling / Heatsinks PermaLink |
Cooling module demand from tablets is rising in 2013 as average power consumption of ARM-based processors has increased significantly from 3W in the past to 6-7W currently and heat pipes are now required for products consuming more than 7W of power, according to sources from cooling module makers.
---
| | |
| --- | --- |
| Wed: 05/08/2013 | Topic: Cooling / Heatsinks PermaLink |
The be quiet! Dark Rock Pro 2 is ready to make a splash in North America, where it will compete with the Noctua NH-D14 and Phanteks PH-TC14PE.
---
| | |
| --- | --- |
| Wed: 05/08/2013 | Topic: Cooling / Heatsinks PermaLink |
"Up for review today I've got another cooling fan from Noctua, the NF-S12A ULN, and yes the fan is very similar to the FLX one that I just reviewed. The fan looks exactly the same, but the main difference is the speed of it. ULN stands for Ultra Low Noise and the fan runs at 800rpm but can be slowed down to 600rpm. This fan is truly silent, it won't add any additional noise to your system but, thanks to the design, it still moves a lot of air. If you're looking for a way to keep your system running as quiet as possible then this is the fan you need…. "
---
| | |
| --- | --- |
| Wed: 05/08/2013 | Topic: Cooling / Heatsinks PermaLink |
Noctua NF-A14 FLX and ULN 140mm Case Fan Review Cooling enthusiasts will be familiar with the name Noctua as being one of the premier companies dedicated to creating high quality cooling gear and takes pride in knowing they are also the quietest.
---
| | |
| --- | --- |
| Wed: 05/08/2013 | Topic: Cooling / Heatsinks PermaLink |
"The Cooler Master Notepal A200 Laptop Cooler has an aluminum top, two USB 2 ports and two 140mm fans which can be adjusted in speed. It also can be tilted up to 8 degrees. The overall build quality and styling is excellent and it's affordable. This would be a perfect cooler for anyone who's pushing their laptop to the limit." ~3dGameMan.com
---
| | |
| --- | --- |
| Wed: 05/08/2013 | Topic: Cooling / Heatsinks PermaLink |
Late last year Cooler Master surprised friend and foe alike with the TPC-800, a CPU cooler with six heatpipes and a Vertical Vapor Chamber (basically a large, flattened heatpipe). The TPC-800 cooled really well, and combined with the right fan it was very quiet. It made such a good impression we gave the TPC-800 the Hardware.Info Gold Award at the time. It was expensive, however, so now Cooler Master comes with the TPC-612.
---
| | |
| --- | --- |
| Wed: 05/08/2013 | Topic: Cooling / Heatsinks PermaLink |
Evercool designed a cooler with a dual-array tower heatsink and one unique peculiarity. However, this wasn't the reason why we really liked it. Read our review to find out why!
---
| | |
| --- | --- |
| Wed: 05/08/2013 | Topic: Cooling / Heatsinks PermaLink |
After previously testing the impressive Neptwin cooler from this brand, we received six more. A couple of these provide very good value for your money.
---
| | |
| --- | --- |
| Wed: 05/08/2013 | Topic: Cooling / Heatsinks PermaLink |
The Phanteks PH-TC14PE is a behemoth of a CPU cooler that looks ready to maul the competition. This anodized aluminum and nickle-plated copper beast has twin cooling towers and five 8 mm heatpipes. Are the giant towers and fleshed-out pipes enough to deliver top tier performance?
---
| | |
| --- | --- |
| Thu: 05/02/2013 | Topic: Cooling / Heatsinks PermaLink |
Just go here -
- and click on the 'Like' button to follow Frostytech on Facebook.
---
| | |
| --- | --- |
| Thu: 04/25/2013 | Topic: Cooling / Heatsinks PermaLink |
"Airflow is driven by a single 120mm PWM fan whose snow white 7-bladed impeller rotates at your basic 2200RPM to 800RPM. Noise output is moderate. Because computer enthusiasts tend to be picky bunch, Evercool have tossed in one extra set of wire fan clips."
---
| | |
| --- | --- |
| Wed: 04/24/2013 | Topic: Cooling / Heatsinks PermaLink |
Noctua's premium range of fans is vast and we have looked at many of their fans, you can see our reviews below. They produce fans that cater for cases, heatsinks and radiators in a variety of sizes and speeds to suit almost every need. Most importantly though is that they all live up to the same high quality standards, feature silent operation, an extensive bundle and long warranties with excellent customer service. Today we have with us a set of three different fan types from Noctua's case fan series, the NF-S12A fans. They come in three different variants, the ULN, FLX and PWM. We have all three to test and without any further ado let us get straight into having a look at the products.
---
| | |
| --- | --- |
| Wed: 04/24/2013 | Topic: Business / Industry PermaLink |
ATTN Heatsink Manufacturers: "NineSigma, representing a global manufacturing company, invites proposals for novel approaches and/or designs that enable better heat dissipation from a flat electronic device having several 20W-100W hotspots." Total heat load is 600W, volume limit is 15 litres, fans are not allowed so cooling system must be passive in nature. The manufacturer is looking for 200K units / year. The Deadline Date for this RFP is 05/24/2013. Find the full text of Request For Proposal #69345 here.
---
| | |
| --- | --- |
| Wed: 04/24/2013 | Topic: Cooling / Heatsinks PermaLink |
The Swiftech H220 is particularly unique for a few reasons. First is that it features an integrated pump is derived from the custom loop Apogee Drive II pump. The second is that the Swiftech H220 is fully-expandable. Finally, it is a custom design not made by Asetek or CoolIT. This custom design uses copper fins on the radiator, compared to the industry standard of aluminium heat exchanger fins as used with success by Asetek and CoolIT units.
---
| | |
| --- | --- |
| Tue: 04/23/2013 | Topic: Cooling / Heatsinks PermaLink |
While our CPU cooler reviews of late have mainly be concerned with high performance heatsinks, it is still important for us to remember that it is the budget offerings which sell the most and get used the most. That said, today we have a $30 heatsink courtesy of Evercool and it is their brand new Venti (HPQ 12025) CPU cooler. We already brought you the news of this product back in December last year, and promised we would have a review for you. Today, we duly deliver on that promise. On the face of things a $30 heatsink may not be particularly exciting but I think seeing how much performance you can get for such a low cost heatsink is actually pretty exciting - especially when you have cheaper heatsinks punching amongst much more expensive heavy-weights. Let's hope that Evercool's Venti can do exactly that today as we put it through the heat eTeknix heat treatment. For those of you who are interested the outline of the specifications can be found in the below table. If you're looking for extra information then read the above product page or news article, both have a lot of extra information you may find enriching to know before seeing the performance figures.
---
| | |
| --- | --- |
| Mon: 04/22/2013 | Topic: Cooling / Heatsinks PermaLink |
Cooler Master's Seidon 120M impressed us a while back with its solid price to performance ratio, offering similar performance to the competition at a price that was quite a bit lower. The Seidon 240M promises to do a similar thing, although this is very much a "budget" attempt at a premium product - so while the Enermax ELC 240, Corsair H100i and Thermaltake Water 2.0 Extreme all cost £88, £92 and £105 respectively, the Cooler Master Seidon 240M promises to come to market at around £80 which is about 10-20% cheaper than the competition. Like most 240mm All-In-One products in the market the design is relatively standardised - A pair of standard thickness 120mm PWM fans, a 27mm thick 240mm aluminium radiator, a standard looking pump that is similar to the Asetek core design (as signalled by the fact Asetek are taking Cooler Master to court over it) and some standard length tubing. Cooler Master aren't bringing anything ground-breaking to market here but what they are looking to do is offer the best value for money 240mm AIO unit on the market.
---
| | |
| --- | --- |
| Fri: 04/19/2013 | Topic: Cooling / Heatsinks PermaLink |
The NZXT GRID is a 10-port fan hub. With the inclusion of an integrated fan hub, the Switch 810 and the Phantom 630 chassis offer users unbeatable airflow and cable management capabilities according to NZXT.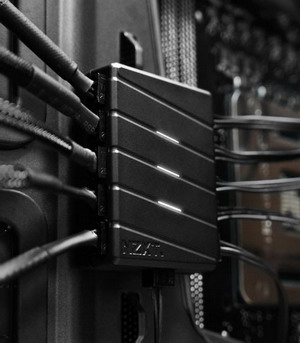 ---
| | |
| --- | --- |
| Fri: 04/19/2013 | Topic: Cooling / Heatsinks PermaLink |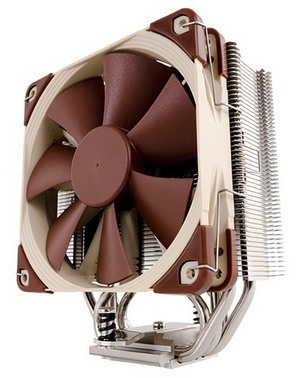 Noctua today presented the latest models of its award-winning NH-U series of quiet single tower CPU coolers: Whereas the NH-U12S comes equipped with the renowned NF-F12 120mm fan and succeeds the highly popular NH-U12P SE2, the NH-U14S is the series' first 140mm model and uses the new NF-A15 140mm fan. Both models feature a new, slim design that ensures easy RAM access and maximum compatibility with tall memory modules.
"The original NH-U12 and NH-U9 were the first Noctua products we brought to the market and the NH-U series has been a cornerstone of our success ever since", explains Mag. Roland Mossig (Noctua CEO). "Representing the next generation of this venerable legacy, the new NH-U12S and NH-U14S are the result of almost 10 years of continuous development and optimisation. Both models mark a significant improvement in performance, convenience and compatibility."
Due to its fine-tuned design and the class-leading NF-F12 120mm FocusedFlow™ fan, the NH-U12S further improves the renowned quiet cooling performance of the NH-U12P SE2. The NH-U14S features a large, six heatpipe design and comes equipped with the NF-A15 140mm fan. This allows it to best the quiet cooling performance of all other U-series coolers, making it Noctua's most efficient single tower cooler to date.
Both the NH-U12S' NF-F12 and the NH-U14S' NF-A15 fan support PWM for convenient automatic speed control through the mainboard. In addition, the maximum fan speed can be reduced from 1500 to 1200rpm using the supplied Low-Noise Adaptor for even quieter operation.
The NH-U12S and NH-U14S feature a new, slim layout that has been conceived to provide maximum RAM compatibility: With a fin depth of only 45mm, the NH-U12S will not overhang the RAM slots even with two fans installed. This gives the user full access to the memory modules on all current CPU sockets and guarantees 100% compatibility with tall heatspreaders or optional memory fans. The NH-U14S features a 52mm slim design tailor-made for LGA2011 and does not overhang the RAM slots on this platform.
Topped off with the trusted, pro-grade SecuFirm2™ multi-socket mounting system, Noctua's proven NT-H1 thermal compound and full 6 years manufacturer's warranty, the NH-U12S and NH-U14S are complete premium quality solutions that combine superb performance, high compatibility and quiet operation.
Pricing and availability The NH-U12S and NH-U14S will be available shortly at suggested retail prices of EUR 59.90 / USD 64.90 (NH-U12S) and EUR 69.90 / USD 74.90 (NH-U14S).
---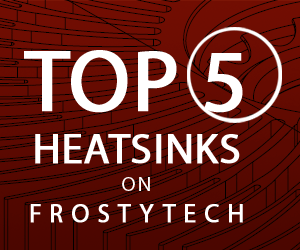 | | |
| --- | --- |
| Fri: 04/19/2013 | Topic: Cooling / Heatsinks PermaLink |
Japanese manufacturer Scythe, known for high performance CPU Coolers and innovative PC accessories, is hereby announcing the brand new Ashura CPU Cooler. Scythe Ashura is featuring a versatile mounting mechanism for latest CPU sockets and a very slim tower heatsink design to deliver high performance at low noise levels. Hence allows efficient cooling of latest six-core CPUs as well as almost inaudible operation especially with low consumption CPUs in silent systems. Furthermore it is equipped with a Scythe Glide Steam axial-fan, which was recently introduced with Scythe Kabuto II.
To further maximize the cooling performance and increase the airflow at lower fan speeds, Scythe Ashura CPU Cooler capability can be further enhanced with two fans in the push-pull-setup. The supplied 140-millimeter PWM axial-fan from the new Glide Stream series allows the fan speed to be controlled between 500 and 1.300 RPM thanks to the PWM support. In addition a second fan clip set is supplied, to allow the dual-fan operation.
Scythe's Engineers focused on designing a very slim, yet powerful heatsink and achieved the overall dimensions of 145 x 161 x 65 mm (W x H x D). The height being restricted to 161 mm, lets the Ashura CPU Cooler fit into most mainstream tower PC Cases compared to other competing 14 cm fan models. Thanks to this asymmetric heatsink design users are able to even use memory modules with tall heatsinks. Excellent heat transfer is accomplished by utilizing total of six 6-millimeter copper-heatpipes, which connect the solid copper base plate and the aluminum fins. To avoid oxidation, Ashura CPU Coolers base plate has been nickel-plated in addition.
---
| | |
| --- | --- |
| Fri: 04/19/2013 | Topic: Cooling / Heatsinks PermaLink |
The SilverStone HE02 is SilverStone's first entry into the passive CPU cooler market and comes at a time where SilverStone has recently been releasing a number of new products in their CPU cooler lineup (a product line that sat dormant for a number of years before coming back to life). The HE02 is compatible with all current Intel and AMD platforms and also carries a very reasonable price for the true silence it offers.
---