| | |
| --- | --- |
| Sun: 11/30/2014 | Topic: Cooling / Heatsinks PermaLink |
Noctua's NH-D15 is one of the largest CPU coolers on the market but with comparably-priced AIO water coolers around, it may face some insurmountable competition.
---
| | |
| --- | --- |
| Mon: 11/24/2014 | Topic: Cooling / Heatsinks PermaLink |
We tested Antec's latest high performance water cooler here at APH Networks. Spoiler alert: It really cools.
---
| | |
| --- | --- |
| Mon: 11/24/2014 | Topic: CPU / Processors PermaLink |
Mit dem NZXT Kraken X31 tritt die nächste kompakte Wasserkühlung in unseren Teststand. Dabei will NZXT natürlich in allen Bereichen punkten. Kühlleistung, Lautstärke und Temperaturverhalten sollen in Verbindung mit der Preisgestaltung eben überzeugen und den Anwender zum Kauf bewegen. Ob sich der Kraken X31 besser schlägt, als der kürzlich gezeigte Thermaltake Water 3.0 Ultimate, verrät unser Test.
---
| | |
| --- | --- |
| Mon: 11/24/2014 | Topic: Cooling / Heatsinks PermaLink |
Regular CPU Air Coolers may hold the first place in what most casual users and gamers use to keep their systems cool but AIO (All In One) liquid CPU Cooling Solutions are not really that far behind largely thanks to the continuous appearance of such products in the market. Now as you may have seen in our charts some entry-level AIO solutions are not as good as some high-end CPU Air Coolers while the ones that are better are not by very much so no one's saying that AIO solutions are the only way to go if you're after good cooling efficiency. Still we also can't deny that AIO solutions appeal more to people who're after serious performance with low noise levels and zero clearance issues with mainboard components and memory modules. SilverStone has been in the AIO market for quite some time now but we were just now able to get their Tundra TD02 liquid CPU cooling solution and as expected we wasted no time strapping it on our primary test rig to test its performance.
---
| | |
| --- | --- |
| Thu: 11/20/2014 | Topic: Cooling / Heatsinks PermaLink |
Although the AMD Radeon R9 290X is blisteringly fast it also has a problem with heat. Board partners solved this issue for the most part with massive heatsinks riddled with copper heatpipes cooled by a battery of fans. But what if you want a 290X that is even faster and at the same time much quieter? Seems like a dream, but HIS has been working hard to make it a reality with the HIS Radeon R9 290X Hybrid IceQ 4GB.
---
| | |
| --- | --- |
| Wed: 11/19/2014 | Topic: Cooling / Heatsinks PermaLink |
Noctua today announced three new 92mm class CPU coolers. Whereas the NH-U9S and NH-D9L are retail models that suceed the popular NH-U9B SE2, the NH-D9DX i4 3U targets Intel Xeon LGA2011 based workstations and servers. All three models use the recently announced NF-A9 PWM 92mm premium fan to achieve class-leading quiet cooling performance.
"Providing a great balance between high efficiency and compact size, the NH-U9B SE2 is still one of our most popular models", says Mag. Roland Mossig (Noctua CEO). "The NH-U9S and NH-D9L stay true to this proven formula but now offer even better performance, better compatibility and PWM support for automatic fan speed control."
Continuing the renowned legacy of Noctua's award-winning NH-U9 series, the NH-U9S is a premium quality quiet CPU cooler in classic 9cm size. Its asymmetrical design with 5 heatpipes not only provides even better cooling performance than the previous generation but also improves compatibility: Thanks to its 95x95mm footprint, the NH-U9S clears the RAM and PCIe slots on all Intel and most AMD based mainboards, including µATX and ITX.
The NH-D9L features 4 heatpipes and is 15mm lower than classic 9cm coolers such as the NH-U9 series (110mm vs. 125mm), which doesn't only guarantee full 3U compliance but also makes the NH-D9L ideal for compact HTPC and Small Form Factor cases that have airflow paths parallel to the mainboard. Like the NH-U9S, the NH-D9L has a 95x95mm footprint and thus provides 100% RAM and PCIe compatibility on all Intel and most AMD based mainboards.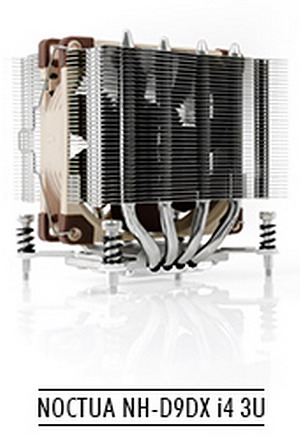 The NH-D9DX i4 3U is the same heatsink as the NH-D9L but comes with LGA2011 mounting for both Square ILM and Narrow ILM Xeon platforms as well as support for LGA13x6.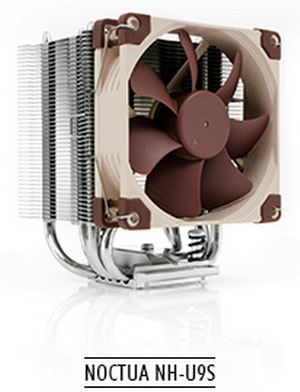 "Our DX i4 series are renowned among builders of LGA2011 based Intel Xeon systems and one of the few available quiet cooling solutions for Narrow ILM platforms", explains Mag. Roland Mossig (Noctua CEO). "With the new NH-D9DX i4 3U model, we can now offer a cooler for 3U cases that offers similar performance as the previous 4U model NH-U9DX i4."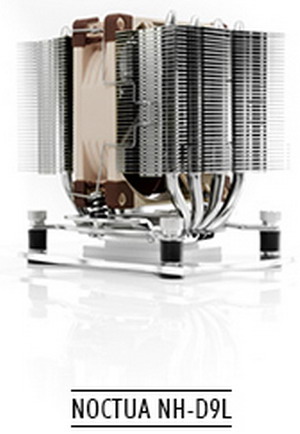 All three new models come with the new NF-A9 PWM for further improved quiet cooling performance. Topped off with the trusted, pro-grade SecuFirm2™ mounting systems, Noctua's proven NT-H1 thermal compound and full 6 years manufacturer's warranty, the NH-U9S, NH-D9L and NH-D9DX i4 3U are premium grade solutions through and through.

Prices and availability
All three models are currently shipping and will be available shortly. The manufacturer suggested retail prices are as follows:
NH-U9S: EUR 54.90 / USD 59.90
NH-D9L: EUR 49.90 / USD 56.90
NH-D9DX i4 3U: EUR 56.90 / USD 59.90

---
| | |
| --- | --- |
| Wed: 11/19/2014 | Topic: Cooling / Heatsinks PermaLink |
The Nepton 240M is a big liquid cooler with a price to match. We strapped it to TR's Casewarmer to see whether it could take the heat.
---
| | |
| --- | --- |
| Tue: 11/18/2014 | Topic: Cooling / Heatsinks PermaLink |
Just like it's predecessor, the D92 has two fans offset to cover the dead zones. These are rifle bearing Xtra Flow PWM fans and actually remind me of the Blade Masters found on the Hyper 212 series. Each of the fans are 4pin PWM compatible and ship with a Y-connector to enable single header control. The D92 in the name actually makes sense given the 92mm fans.
---
| | |
| --- | --- |
| Mon: 11/17/2014 | Topic: Cooling / Heatsinks PermaLink |
When I think of Xigmatek, M-ATX and ITX cases such as the "Nebula" or the "Aquila" spring to mind. These are both really nice compact cases which are competitively priced. They don't just do cases though, Xigmatek are a vastly expanding company with a large range of products credited to them, including power supplies, fans, a range of accessories and of course coolers. Xigmatek are back with an update of their Gaia aptly named the Xigmatek Gaia II. The original Gaia was cheap, performed well for the price and was acoustically pleasing. Hopefully the Gaia II will be able to do the same. As you can see from the specification below, the cooler supports a range of sockets for both Intel and AMD sockets. It comes with a 120mm 4pin PWM fan and features H.D.T technology.
---
| | |
| --- | --- |
| Mon: 11/17/2014 | Topic: Cooling / Heatsinks PermaLink |
In this review we looked at the extreme performance Morpheus cooler from Raijintek. This cooler takes a no compromises approach to aftermarket GPU cooling and would be a good alternative any OEM heatsink.
---
| | |
| --- | --- |
| Fri: 11/14/2014 | Topic: Cooling / Heatsinks PermaLink |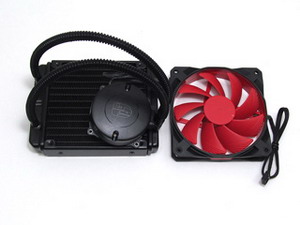 Deepcool looks to grab a share of the all-in-one liquid CPU cooler market with the affordable Maelstrom 120. It features a red and black theme, a single fluid dynamic bearing 120 mm fan, and solid performance. So if looks, memory clearance, or space are an issue, the Maelstrom 120 from Deepcool has you covered.
---
| | |
| --- | --- |
| Fri: 11/14/2014 | Topic: Cooling / Heatsinks PermaLink |
Alphacool is expanding its pump series by falling back on proven technology from Laing. The new DDC pump lowers power consumption as well as noise levels to a minimum. This results in an adequate flow capacity and a low noise level.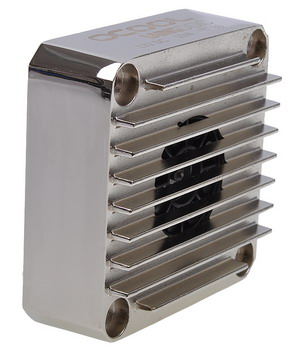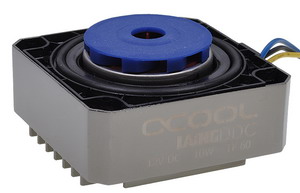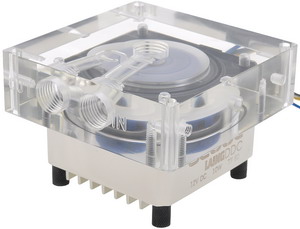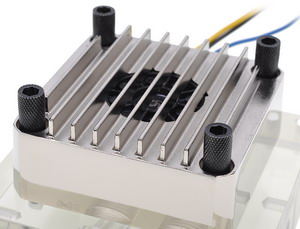 -Dimensions: (WxDxH) 61x60x21mm
-Motor design: Electronically commutated ball motor
-Nominal voltage: 12 V DC voltage
-Nominal power consumption: 10 Watt
-Fluids: water, water / glycol mixtures
-Maximum system temperature: 60 ° C
-Wetted parts: Stainless steel 1.4571, PPS-GF40, EPDM O-rings, Aluminium oxide, hard coal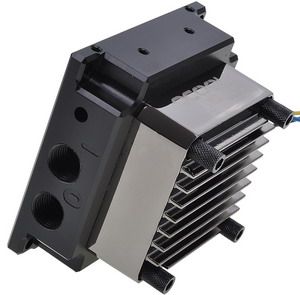 Alphacool further provides the technically adapted DDC pump with an all new housing, which will be available in the variants Nickel Silver and Black Nickel. The cover made of brass not only serves as a noble dwelling for the Alphacool DDC, it also conduces as a heatsink. This is achieved by a thermal pad, which is connected to the pump. The new housing will be also compatible with all other Laing DDC pumps and could represent a meaningful upgrade for many users.
In addition to the new DDC combinations, Alphacool will offer a solid POM and acrylic top. The top will be massive enough to act contrary to the pumps vibrations. Furthermore the acrylic version of the Alphacool top could be additionally illuminated with some 5 mm LEDs. Of course, the DDC pump, the housing and the top can be bought in a set or individually. The pricing will be fair and should satisfy most of the buyers.

Alphacool Laing DDC310 - Single Edition: 44,95€
Alphacool Laing DDC310 - Complete Edition: 54,95€
Alphacool Laing DDC metal bottom: 16,95€


More info on the Alphacool DDC pump.
---
| | |
| --- | --- |
| Fri: 11/14/2014 | Topic: Cooling / Heatsinks PermaLink |
Many times when we get to test one of the latest CPU air coolers to hit the market i always point out that it's not really hard for a manufacturer to sit down and design one since the same basic concept has been used for well over two decades now. True the size and shape of a cooler may change but in the end performance is always tied with the total surface of a cooler and of course the supplied fan or fans that accompany it. What happens however when a manufacturer aims to release a completely passive CPU cooler? Well we've seen quite a few attempts in that field by some manufacturers but it wasn't until the excellent HR-22 (HighRiser series) by Thermalright that we really felt that you can have a small HTPC beast in your living room without having to worry about noise. Well today we'll be taking a closer look at what seems to be the successor to the HR-22 the Macho Zero
---
| | |
| --- | --- |
| Fri: 11/14/2014 | Topic: Cooling / Heatsinks PermaLink |
With the Nepton 240M, Cooler Master has an all-in-one watercooler in its portfolio, that comes with a rather slim radiator and two 120 millimeter fans in the delivery. At a first look the design is looking good while you get a completely black solution. Overall we're now rather curious to find out what this cooler can do in terms of cooling and noise levels
---
| | |
| --- | --- |
| Fri: 11/14/2014 | Topic: Cooling / Heatsinks PermaLink |
erStone this year, released a new series of coolers called the Argon series, today were going to take a look at one of these; the SilverStone AR06, a low profile CPU cooler. SilverStone are very well well known for their cases such as the iconic TJ07 and TJ11, both excellent cases for system builders and modders alike. They also have a very successful range of power supplies and some AIO coolers. When you think of SilverStone you generally think of quality, good design, usability and when things do occasionally go wrong, good customer service. I'm really looking forward to this one as I recently struggled to find a low profile cooler that worked well, looked good and was cost effective. Let's hope their new range stands up to their high expectations.
---
| | |
| --- | --- |
| Thu: 11/13/2014 | Topic: Cooling / Heatsinks PermaLink |
The last of the Kraken trilogy, the NZXT Kraken X31, brings forth the only 120mm version thus far, and a more budget friendly price tag."
---
| | |
| --- | --- |
| Thu: 11/13/2014 | Topic: Cooling / Heatsinks PermaLink |
SilentiumPC operate on offering the best products they can for gamers on a tighter budget, but as many of you will know, the low-cost end of the market is fiercely competitive with the likes of Cooler Master, SilverStone and Raijintek offering incredible price vs performance products in the lower ranges. So I'm eager to find out where SilentiumPC fit into the equation. "Being a PC enthusiast or a gamer on a budget is an uneasy task, choosing all those high-end components, loads of RAM and powerful graphics usually leaves you with only a small amount of money to spend on a decent case or power supply. Having such experience ourselves we were confident we can design products that combine ultimate functionality with best value for money and aesthetically pleasing design."
---
| | |
| --- | --- |
| Thu: 11/13/2014 | Topic: Cooling / Heatsinks PermaLink |
Today we are going to take a look at the latest all-in-one liquid CPU cooler from Cooler Master – the Nepton 240M. While Cooler Master may not be the first manufacturer that comes to mind when you think of all-in-one water coolers, they are starting to build a range of different product options in this category.
---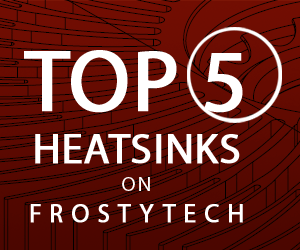 | | |
| --- | --- |
| Thu: 11/13/2014 | Topic: Cooling / Heatsinks PermaLink |
"The redux line is for cost conscious users who want the performance and reliability of Noctua fans, but don't want or need the accessories that typically come with the standard model lineups. The industrial line is a new series with enhanced cooling and ingress protection for heavy industrial applications or the PC enthusiast wanting more performance, and is also packaged for the cost conscious."
---
| | |
| --- | --- |
| Thu: 11/13/2014 | Topic: Cooling / Heatsinks PermaLink |
Everyone who is looking for a performance air cooler, have already heard the name - Noctua. Its predecessor NH-D14 was regularly in the upper echelons of cooler charts. However, the Austrian company will not rest, and now publish the successor of this great cooler, the Noctua NH-D15. We like to clarify in this review, if this Noctua NH-D15 builds on the successes of its predecessor.
---