| | |
| --- | --- |
| Mon: 07/11/2016 | Topic: CPU / Processors PermaLink |
AMD launched a new version of the six-core FX-6350 CPU, with the Wraith cooler. Let's see if is it a good choice.
---
| | |
| --- | --- |
| Mon: 07/11/2016 | Topic: Cooling / Heatsinks PermaLink |
One of the good things about AIO CPU coolers is that you do not have to worry about component clearance for the most part on your motherboard. Since memory manufacturers have all but given up making sensibly sized RAM heatspreaders the standard, AIO's have become the cooler of choice for many. While it provides plenty of clearance around the pump/block …
---
| | |
| --- | --- |
| Mon: 07/11/2016 | Topic: Cooling / Heatsinks PermaLink |
"I am a pretty big fan of Scythe CPU coolers. While the company is not all that well known here in the United States their coolers perform quite well and are priced quite aggressively compared to some of the other big name cooling companies out there. Today on the review block we have the Scythe Fuma CPU Cooler. This is a dual-tower cooler that features two of Scythe's own Slip Stream 120 mm PWM fans, six 6 mm copper heatpipes, and Scythe's Hyper Precision Mounting System. Is this the CPU cooler for your next build? Read on as we find out!"
---
Like most case manufacturers, Cooler Master is constantly looking at the enthusiast's to see what the next big trend in computer cases will be. Last year, Cooler Master came out with their MasterCase line, designed at making a modular case. Purchase one model, and then purchase add-on parts to modify and customize the case. With the success of that line, they are now expanding their maker series with the MasterBox, where "You Decide the Inside". Where the MasterCase allowed for a high degree of customization both inside and out, the MasterBox looks to simplify the customization of the interior. Today, we take a closer look at the Cooler Master MasterBox 5!
---
| | |
| --- | --- |
| Mon: 07/11/2016 | Topic: Cooling / Heatsinks PermaLink |
We had the Reeven Euros cooling fan review and we liked it, it's a good fan and makes a difference to your system's airflow. Now we have the Reeven Coldwing series, namely the Coldwing 12 and Coldwing 14. Just like the Reeven Euros, there are several models in the range, we have the Coldwing 12 RY1225S15B-RP and the Coldwing 14 RM1425S17B-P.
---
| | |
| --- | --- |
| Mon: 07/11/2016 | Topic: Cooling / Heatsinks PermaLink |
"Primochill has a well-designed kit on their hands with the Praxis WetBench. They definitely did their homework going into its design, building a viable alternative to their original version WetBench. The most drastic differences are in the Praxis' structural design with its base structure constructed of a powder coated steel frame with acrylic accents instead of the original's fully acrylic design. The steel structure, while adding weight to the unit, adds stability and strength to the structure and kit as a whole."
---
| | |
| --- | --- |
| Fri: 07/08/2016 | Topic: Cooling / Heatsinks PermaLink |
We reviewed the Phanteks PH-TC12LS CPU Cooler and liked it. It has some good qualities at a good price and will give the owners of small form factor systems another good option for cooling their CPUs. We also received the Phanteks PH-TC14S CPU Cooler at the same time and have reviewed them pretty much back to back. The PH-TC14S is a completely different cooler however, not intended for small form factor systems but instead normal system application.
---
| | |
| --- | --- |
| Fri: 07/08/2016 | Topic: Cooling / Heatsinks PermaLink |
Following on from our round-up of SilentiumPC air coolers – which you can read HERE – we decided to take the next logical step and do the same for some AIO watercoolers on the market. We were sent 6 different AIOs from 5 different companies – which one comes on top when it comes to performance and value for money?
---
| | |
| --- | --- |
| Fri: 07/08/2016 | Topic: Cooling / Heatsinks PermaLink |
Phononic's HEX 2.0 CPU cooler goes under the chopping block today. But it sports one major difference to most; it uses thermoelectric technology."
---
| | |
| --- | --- |
| Tue: 07/05/2016 | Topic: Cooling / Heatsinks PermaLink |
For this review today, SilentiumPC sent us 6 different air coolers from their product catalogue. We decided to put them head-to-head and see which cooler comes out on top in regards to performance and value for money. The coolers range greatly in terms of size and weight, while some have 2 heatpipes and a single 100mm fan compared with others that have 6 heatpipes and dual-120mm fans.
---
| | |
| --- | --- |
| Tue: 07/05/2016 | Topic: Cooling / Heatsinks PermaLink |
We welcome back Scythe to the Hardwareslave office with the Grand Kama Cross 3, a cooler with a bit of a difference to it. We haven't tested a Scythe product since the Scythe Mugen MAX CPU cooler review last year and we gave that a good score, 4.4 out of 5 to be exact. So we were happy to get another one on the test bench and give it a good going over.
---
The Asus Republic of Gamers GX700 is the world's first mass-produced watercooled laptop. By now you are probably thinking; 'hang on a minute, that sounds very familiar… you've already reviewed this laptop!' True – in April we did release a full video review of the pre-release GX700. However, we can now present our final review of the retail GX700 with full benchmark scores – exactly as it would be if you went out and bought one yourself.
---
AMD's next generation GCN GPU is here! We review the AMD Radeon RX 480 and find out what kind of gaming experience it provides at 1080p and 1440p. We compare apples-to-apples with four other video cards to find out how it compares at both resolutions. We even find out how high it will overclock! Waited for benchmarks, right?
---
| | |
| --- | --- |
| Tue: 06/28/2016 | Topic: Cooling / Heatsinks PermaLink |
A40 is not only a German Autobahn but also a so called all-in-one watercooler by manufacturer Cryorig. These kind of coolers are a real trend for CPU cooling for a few years now. It is promised a water cooling without the often maintenance and installation with a cheaper purchase price. Cryorig is known as an innovative manufacturer of CPU coolers and has detected as a weak point of such systems that compared with air cooling systems often the surrounding components not be cooled. That's why Cryorig has decided to integrate an additional fan above the CPU for their Cryorig A40 all-in one cooler. This also applies to the big brother Cryorig A80, which is available with a larger radiator. We have checked if and how that affects in practice, in the following Cryorig AIO test at OCinside.
---
| | |
| --- | --- |
| Tue: 06/28/2016 | Topic: Cooling / Heatsinks PermaLink |
Eisbaer? What!? Try pronouncing it like 'Ice Bear' and it'll make a whole lot more sense! It could be written as Eisbär, to confuse native English speakers more, but thankfully it is not. It translates to 'Polar Bear' in German, which Germany is exactly where Alphacool is stationed. First shown off at Computex 2016, today Alphacool is taking the wraps off of the Eisbaer AIO Liquid CPU Cooler and we have one for review!
---
| | |
| --- | --- |
| Tue: 06/28/2016 | Topic: Cooling / Heatsinks PermaLink |
Alphacool looks to change the way we think of all-in-one liquid CPU coolers with the Eisbaer 240. Offering expandability at closed-loop prices, it takes things a step further with its all copper design. With good specs and extra features, Alphacool may have just what it takes to sink the competition.
---
| | |
| --- | --- |
| Tue: 06/28/2016 | Topic: Cooling / Heatsinks PermaLink |
With so many AIO liquid CPU coolers in the market today it's really hard for any manufacturer to release one that stands out from the crowd but Alphacool did exactly that with their latest Eisbaer line launched yesterday.
---
| | |
| --- | --- |
| Mon: 06/27/2016 | Topic: Cooling / Heatsinks PermaLink |
In this round up we'll be taking a look at three coolers from Silverstone. The Argon AR06 Argon AR07 and Argon AR08 to find out which is best for your application.
---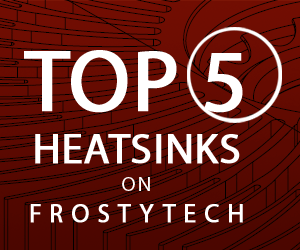 The story of Cooler Master is an easy one; they want to be the company that meets your needs. Regardless if you are a casual user, hobbyist, gamer or filmmaker they want to seem like the perfect fit for you. As you may have seen in the past with our review of the MasterCase 5 from December of last year, they are all about becoming modular. This is great as everyone has their own style and when you're building your computer you should always have a bit of your personality put into it.
---
| | |
| --- | --- |
| Wed: 06/22/2016 | Topic: Cooling / Heatsinks PermaLink |
Following on from our Cryorig H7 CPU Cooler review, we have an even smaller and lower price CPU cooler from Cryorig. This is the Cryorig M9i CPU cooler, and the "i" means Intel. Cryorig do have an AMD version, the M9a but we will be focusing on the Intel version today.
---