Zalman just released a new PSU series with 80 PLUS Gold certified models. The ZM1000-EBT we test today is based on a Sirfa platform and promises good performance, along with reliable operation.
---
The Nanoxia Deep Silence 1 Rev. B is a much-needed update of the popular original silent chassis, with a great price-to-performance ratio and excellent build quality. We take a close look at the updated version to see if its new features are actually worth the refresh.
---
| | |
| --- | --- |
| Wed: 11/04/2015 | Topic: Cooling / Heatsinks PermaLink |
he second new Arctic all in one liquid CPU cooler is the $129USD Arctic Liquid Freezer 240 pictured below.
The larger Liquid Freezer 240 unit ships with two 120mm fans mounted to a 120x272x38mm heat exchanger with a rated capacity of up to 350Watts. The system supports Intel sockets 2011(-3), 1150, 1151, 1155, 1156 and AMD sockets AM2(+), AM3(+), FM1, FM2(+) processors. This unit is also covered by a two year warranty.
---
| | |
| --- | --- |
| Wed: 11/04/2015 | Topic: Cooling / Heatsinks PermaLink |
Arctic has released a couple new all in one liquid CPU coolers, the first of which is the $99USD Arctic Liquid Freezer 120 pictured below.
The Liquid Freezer 120 supports Intel sockets 2011(-3), 1150, 1151, 1155, 1156 and AMD sockets AM2(+), AM3(+), FM1, FM2(+). The cooling capacity of the 120x49x155mm heat exchanger which is cooled by two 120mm fans, is pegged at a peak of 300W. The unit is covered by a two year warranty.
---
| | |
| --- | --- |
| Tue: 11/03/2015 | Topic: Cooling / Heatsinks PermaLink |
Be Quiet! has been one of Europe's best kept secrets for almost a decade now despite winning PC Games Hardware's "Manufacturer of the Year" award repeatedly. A company known for reliable and silent operating power supplies, Be Quiet! also boasts a respectable product portfolio when it comes to PC cooling solutions and even have recently begun venturing into offering silent-oriented …
---
| | |
| --- | --- |
| Tue: 11/03/2015 | Topic: Cooling / Heatsinks PermaLink |
The SilverStone Tundra TD03-LITE is $20 cheaper than the TD03-E. Will the cost savings justify the difference in performance?
---
| | |
| --- | --- |
| Mon: 11/02/2015 | Topic: Cooling / Heatsinks PermaLink |
The SilverStone Tundra TD03-LITE is $20 cheaper than the TD03-E. Will the cost savings justify the difference in performance?
---
| | |
| --- | --- |
| Mon: 11/02/2015 | Topic: Cooling / Heatsinks PermaLink |
Noctua today celebrated its 10-year anniversary. Since the introduction of the first generation NH-U12 heatsink in October 2005, Noctua's products have received more than 6000 awards and recommendations from leading international hardware websites and magazines, making them a default choice for quiet cooling enthusiasts all over the world.

"Our products have come a long way since we launched our first cooler in 2005 and our first fan in 2006," says Roland Mossig (Noctua CEO), "but we're still driven by the same passion to create the best quiet cooling solutions money can buy."

Noctua's first-generation NH-U12 and NH-U9 tower coolers were launched in October 2005 and took the international quiet cooling market by storm. Today, ten years and four generations of NH-U coolers later, the current NH-U12S, NH-U9S and NH-U14S are built to the same strict quality standards and, like their predecessors, are widely recognized to be among the best quiet single-tower coolers on the market. At the same time, Noctua's dual-tower coolers (following the legendary NH-D14), as well various other models such as the popular L-type low-profile coolers, have established themselves as leaders in other market segments. Over the years, the initial two-cooler line-up has grown into a family of 17 models that range from the tiny NH-L9i to the huge NH-D15 flagship and to the DX and DO lines of server and workstation coolers.

While the continuous optimisation and progress in heatsink technology gives the latest models a healthy performance lead over their older siblings, Noctua's unique service of providing mounting upgrades free of charge makes it possible to keep using older models on the latest platforms.

"It makes us proud that there are still a lot of people out there who use Noctua coolers that are eight, nine or ten years old and who have updated the mounting kit several times in order to make them compatible with the latest hardware," says Roland Mossig (Noctua CEO). "I think this is a great example of what we are trying to achieve when we strive to combine premium quality products with premium quality service!"

Noctua first provided free mounting kit upgrades when AMD introduced the AM2 socket in 2006 and continued to do so with the advent of Intel's various LGA115x variants, LGA1366 and LGA2011. As a result, even 10-year-old NH-U12 and NH-U9 coolers can still be used on Intel's latest LGA1151 platform.

In mid-2006, Noctua introduced its first fan, the NF-S12, which was the first 120mm PC fan developed for low-speed quiet cooling applications from the ground up and the first fan to feature Noctua's signature SSO bearing technology. In the meantime, Noctua has introduced the third iteration of the successful S-series design, complemented its 120mm range with pressure-optimised models and expanded its overall line-up with fans ranging from 40mm to 140mm diameter. Last year, Noctua launched its new industrialPPC line of ruggedised high-speed fans, catering for its growing base of industrial clients, as well as the more affordable redux line that reissues some of Noctua's classic, most popular models with a fresh new look.

"Fan technology has seen significant progress since the very first NF-S12, but it's a great testimony to its design and the reliability of our SSO bearings that there are still thousands of them being used today. It's our methods that have evolved since the development of the first S12, not our goals," explains Roland Mossig (Noctua CEO). "While our current fan developments are infinitely more complex and elaborate than 10 years ago, even our most ambitious project of introducing fans with integrated Active Noise Cancellation is still following the same idea of continuously pushing the envelope in performance-to-noise efficiency."

In addition to its long-term Active Noise Cancellation project, Noctua is researching various other innovative technologies such as flock-coating and novel bearing systems in order to stay true to its legacy of being one of the driving forces in quiet cooling technology. Impending product launches include 24V versions of Noctua's industrialPPC fans as well as the new "chromax" project that will allow users to colour-customise their industrialPPC fans in order to create PC builds with specific, focused aesthetics.

"Last but not least, we would like to use this anniversary as an opportunity to say thank you to our loyal customers," says Roland Mossig (Noctua CEO). "We're proud that we have managed to win the hearts of so many enthusiast users around the world over the last 10 years and we'll be honoured to keep supplying you with state-of-the-art quiet cooling equipment for the decade to come!"

PS. see the first Noctua heatsink Frostytech reviewed, the NH-U12 Cooler back in February of 2006, right here!
---
| | |
| --- | --- |
| Mon: 11/02/2015 | Topic: Cooling / Heatsinks PermaLink |
The all in one water cooling market is a cluttered place but the EKWB Predator sets itself apart by offering insane performance and one of the most robust designs around.
---
| | |
| --- | --- |
| Thu: 10/29/2015 | Topic: Cooling / Heatsinks PermaLink |
DEEPCOOL is a company that built with vision of providing best thermal solutions for worldwide customers by constantly seeking for innovative breakthroughs.
After the success of CAPTAIN series, DEEPCOOL launches a new WHITE & BLACK version liquid CPU cooler under its CAPTAIN series. The new Innovative and creative cooler has been named as CAPTAIN 240 WHITE.
CAPTAIN 240 WHITE is an all-in-one water cooling solution for desktop PCs, which features several innovative techniques. Patented SS design (Separated Section) divides the powerful pump and cold plate into two blocks, connected by a unique transparent connection system makes the water flow visible, together with LED on top formed a nuclear-reactor like kit. 100% pure copper base and precision-machined 0.2mm high-density water micro channel ensure the unit to transfer heat quickly and efficiently; Moreover, long radiator and metal sheet maximize heat dissipation.
Operating between 600 and 2200 RPM, 120mm PWM silent fan provides unbelievable performance/noise ratio; Moreover, patented detachable fan impeller offers an easy way to clear dust and add lubricating.
The bracket of these kits is compatible for all Intel and AMD processors, includes latest Intel LGA2011-V3. It only takes a few simple steps to install. Quality control is always a crucial program of DEEPCOOL, the pump and radiator of the product tested with strict standards, and anti-evaporation tubes minimize the loss of pre-filled coolant from the kit.
Available in November, 2015 for an MSRP of $115.99 USD
---
| | |
| --- | --- |
| Thu: 10/29/2015 | Topic: Cooling / Heatsinks PermaLink |
Advanced Thermal Solutions, Inc. ATS, now uses advanced die casting technology to produce heat sinks that cool stadium lighting and other large scale outdoor lighting systems. At the site of the 2015 Super Bowl (XLIX) in Glendale, Arizona, cast metal heat sinks from ATS helped cool the high output LED lighting around the University of Phoenix Stadium.
The University of Phoenix Stadium was the first NFL field to be lit using only LEDs. The new lights draw approximately 310 kilowatts of energy compared with the 1,240 kilowatts required by the stadium's former halide system, a savings of about 75%. To realize these benefits, the LEDs needed a thermal management solution that could meet the cooling needs of the lighting as well as perform in the high heat of Arizona. The solution was a custom, 2-part, die cast aluminum heat sink designed by Advanced Thermal Solutions. Die casting allowed the heat sink to meet exacting tolerances required in the lighting design. Painted and installed, the aluminum sinks fit the stadium's modern design look while providing the essential cooling solution. With advanced die casting processes, larger heat sinks can be produced to bring thermal management to modern heat problems. An ATS die casting was used to create the heat sink structures used on LED-based city street lights in an urban setting. Another ATS die cast sink helps cool an LED canopy lighting system for gas station fuel pump areas. The stated needs for this passive heat sink included proper functioning in the presence of hornet nests. Die casting can yield complex, precise, rigid cast parts with smooth surfaces that don't need intense secondary machining. The casting process allows for much higher aspect ratios while fulfilling the requirements of small inter-fin spacing. Die casting is a practical way to produce high volumes of precision parts, especially for large solutions in applications that require unique shapes for accommodating the electronics.
---
| | |
| --- | --- |
| Thu: 10/29/2015 | Topic: Cooling / Heatsinks PermaLink |
Most people we know may be serious gamers, overclockers, enthusiasts and professionals who are pretty much always after high-performance when it comes to their PCs but there are also quite a few who are just looking to build a cost-effective system which they can use as an HTPC or just for basic functions like downloading, web surfing and casual gaming. With that into account PC case manufacturers have focused a lot lately in the design and manufacture of small m-ITX and m-ATX PC cases (even 3 liter ones) which as expected really are nowhere near as spacious as regular ATX compatible models and thus require to be fitted with low-profile hardware components. Noctua is one of the very few manufacturers to have released a good number of m-ITX and m-ATX compatible CPU coolers recently and today with us we have their latest NH-L9x65 model which is based on their award winning NH-L9.
---
| | |
| --- | --- |
| Sun: 10/25/2015 | Topic: Cooling / Heatsinks PermaLink |
Founded in 2013, Cryorig are a company you may not have heard of just yet, but they seem to be trying to make a big splash, as every new company would. A major difference seems to be that they have actually been around, or in the making since the early 2000's, a little like ourselves. They have stated openly on their website that members of staff have directly, or indirectly, worked for brands such as Thermalright, Prolimatech and Phanteks.
---
| | |
| --- | --- |
| Wed: 10/21/2015 | Topic: Cooling / Heatsinks PermaLink |
Slim is in but large air coolers refuse to be fat-shamed out of relevance, adapting smarter implementations to ease their installation to match the convenience of smaller heatsinks. The Noctua NH-D15 released last year is one such cooler, fighting back against the trend of All-in-One liquid cooling systems and winning the hearts of many who prefer a more silent solution. …
---
Nanoxia's Deep Silence 5 is the second-biggest chassis in the "DS" line of enclosures. It comes with affordable pricing, a long list of functional features and has the ability to swallow a huge XL-ATX board as well.
---
| | |
| --- | --- |
| Tue: 10/20/2015 | Topic: Cooling / Heatsinks PermaLink |
"The Enermax Liqtech 120X and Liqmax II 120S arrived Technic3D. See you in the following Review the CPU-Cooler with one or two 120mm Fan and 120mm Radiator compared with many other Cooler on a Intel Core i5 4670k CPU."
---
| | |
| --- | --- |
| Tue: 10/20/2015 | Topic: Cooling / Heatsinks PermaLink |
Today we will test the Enermax ETS-T40F-BK tower cooler on OCinside.de. You find countless CPU coolers, at the moment 310 of 675 total listed models have the so called tower design. This makes it hard for the consumer to choose the right one and for the manufacturer to stand out against others. We will check closely if Enermax achieved that with its model ETS-T40F-BK. In this cryptic label the F stand for fit and the BK for black, we will clarify what that means for you later in this review.
---
| | |
| --- | --- |
| Tue: 10/20/2015 | Topic: Cooling / Heatsinks PermaLink |
Not that long ago we took a look at Noctua's NH-D15S CPU cooler. It was a revised version of the original NH-D15 which was made to be more compatible with memory modules and PCI-Express cards. Well Noctua has done the same thing with their flagship C-type cooler as well. Today we are going to be checking out the NH-C14S, which is a new revision of the award winning NH-C14 that offers better memory clearance, an offset design that gives better clearance for PCI-Express cards, and offers both a low-profile mode and a high clearance mode. Will these changes affect how well the cooler performs? Or do we have another winner on our hands? Let's get this cooler installed and see!"
---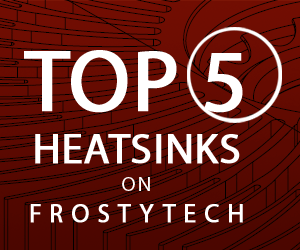 | | |
| --- | --- |
| Tue: 10/20/2015 | Topic: Cooling / Heatsinks PermaLink |
The SilverStone Tundra TD02-LITE is thinner and priced lower than the TD02-E. But how will it compare in performance?
---
| | |
| --- | --- |
| Tue: 10/20/2015 | Topic: Cooling / Heatsinks PermaLink |
HardwareOverclock.com has just posted another review. Last week we have taken a look at 3 different Noctua fans on Corsair H80i GT. All in one watercooler are currently very popular, but the installed default fans are not allways the best choice. We've tried 3 alternative fans from Noctua, was there an improvement?
---