| | |
| --- | --- |
| Sat: 06/06/2015 | Topic: Cooling / Heatsinks PermaLink |
Ahead of the coming 2016, Computex in June computer cooling innovation brand CRYORIG is introducing multiple new products and even multiple completely new product lines. This will be CRYORIG's biggest Computex showing ever, introducing a total of 7 new products, 6 new product lines and four new product categories. Full products at the booth J1318 in Nangang hall will include: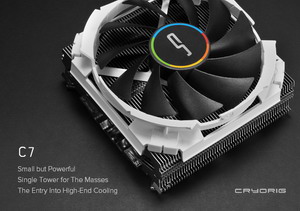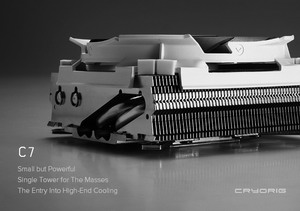 Cryorig C7 heatsink
The C7 is designed to be a "fit anywhere, cool anything" low profile cooler. Thanks to it's total height of under 53mm, it is just as small as the Intel stock cooler, but comes with so much more. With stagger total of four 6 mm copper heatpipes and a full proprietary 92 mm 600~2500 RPM PWM fan with Quad Air Inlet™ technology, it may be small but has all the making of a high-end CRYORIG cooler. The C7 fits both Intel 115x and modern AMD sockets, and basically any case on the market. If the system can fit the stock Intel/AMD cooler, then it will not only fit the C7, it should be upgraded to the C7 immediately.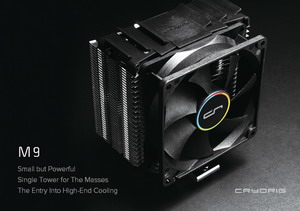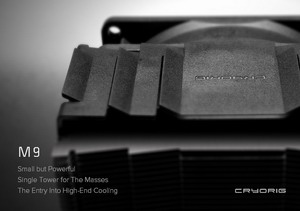 Cryorig M9i/M9a heatsink
Continuing where the CRYORIG H series left off, the CRYORIG M line features even more choices for entry level PC's or systems with size constraints. The M9 features three high quality U-Type nickel-plated copper heatpipes. The M9 will come in two flavors, the M9i is for Intel 115x systems and the M9a for modern AMD sockets. The M9 is targeted at budget systems or slim systems which need the cooling power of a tower cooler. It is a good balance of price, performance and size.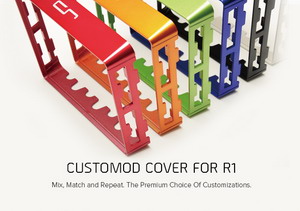 CUSTOMOD Covers for R1
CUSTOMOD line of colored heatsink covers offers unprecedented customization options for critically acclaimed R1 Universal and R1 Ultimate heatsinks. The CUSTOMOD Cover for R1 will initially come in 6 different colors, Red, Blue, Green, Orange and the original Black and White. Each CUSTOMOD Cover pack comes with two covers for you to match your R1 series heatsink with your PC rig.

CRYO-Paste
Also being released during Computex will be three new CRYO-Paste thermal interface products, the CP5, CP7 and CP15. Each will feature different characteristics, and will be leveled based on Thermal Performance, Spread Ease and Particle Density.

There will also be sneak previews of the following new product lines.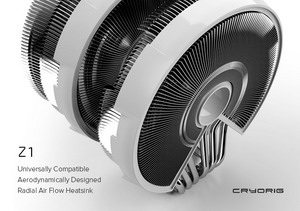 Cryorig Z1 Universal heatsink
Focused on both high-end performance and memory compatibility, the Z1 Universal features memory compatibility for both front and back rows and the Intel X99/X79 platform. The Z1 Universal is the first round shaped cooler with CRYORIG's 2nd Gen. Radial Jet Fin Acceleration™ tech that mimics the fin alignment of a turbine engine, and is optimized to catch and accelerate fan exhaust airflow. The Z1 Universal will allow for a RAM height limit of 63 mm on the back DIMM slots and has Zero Ram Interference on the front DIMM slots.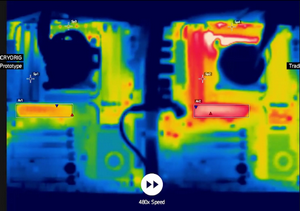 Other Previewing Product Lines includes CRYORIG A40/ A40 Ultimate/ A80 Cooler Line and CRYORIG's Pi line of innovative power supply units.
Thermal Imaging of the A40 "Hybrid Prototype" on the Intel X79 platform.)
**********************************************
Thermal Imaging Video of the A40
**********************************************

---
| | |
| --- | --- |
| Fri: 06/05/2015 | Topic: Cooling / Heatsinks PermaLink |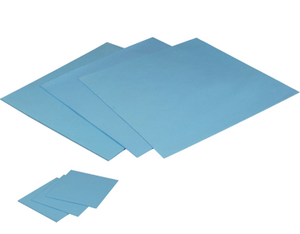 After multiple awards with its thermal pastes, ARCTIC is now offering thermal pads as well. As perfect gap filler the Thermal Pad provides an optimal heat transfer and bridges even large height differences and uneven surfaces.
Often it is troublesome to cool diverse components like memory chips, CPUs, MCUs, DSPs and other ICs densely packed. Different heights prevent a proper contact to the heatsink and thus make it useless. The thermal pad is perfect to close even large spaces completely. Due to its low hardness this silicon pad adapts ideally to uneven surfaces, also at low pressure and thus ensures the best possible heat dissipation.
In the comparison test the Thermal Pad with its special filler and a high thermal conductivity can demonstrate its performance and leaves the competitors behind.

That's maximum performance at a minimum effort, since the installation of the Thermal Pad is child's play – perfect for beginners. It does not contain any metallic particles, is electrically isolating and not capacitive. The handling is safe as contact with any electrical trace would not result in damage of any sort.
QUICK FACTS Thermal Pad High Performance Gap Filler
Electrically non-conductive
Thermal conductivity 6.0 W/mK
Safe and easy handling
Measures:
50 x 50 x 0,5 mm | x 1 mm | x 1.5 mm
145 x 145 x 0,5 mm | x 1 mm | x 1.5 mm

The Thermal Pad is now available starting at a price of 4,99 $ at ARCTIC and at Amazon.
---
| | |
| --- | --- |
| Fri: 06/05/2015 | Topic: Cooling / Heatsinks PermaLink |

Corsair Announces Hydro Series H110i GTX liquid CPU cooler and HG10 GPU cooling brackets for latest NVIDIA GeForce GPUs including GeForce Titan X, GTX 980 Ti, GTX 980, and GTX 970
Corsair®, a world leader in high-performance PC hardware, today announced the all-in-one Hydro Series™ H110i GTX, the company's most advanced and customizable liquid CPU cooler yet, as well as new Hydro Series HG10 GPU cooling brackets for NVIDIA® GeForce® GTX Titan X, GTX 980, GTX 980 Ti and GTX 970 graphics cards.
Hydro Series H110i GTX Liquid CPU Cooler
The Hydro Series H110i GTX liquid CPU cooler pairs two 140mm fans with a 280mm radiator for extreme CPU cooling that is superior to stock CPU air coolers, delivering lower temperatures and quiet operations for both processor-intensive applications or light PC loads. The self-contained design of the H110i GTX makes it easier to install than stock air coolers and requires no filling or maintenance. The H110i GTX features a new generation, high-efficiency cooling block with a striking new look, including Titanium-colored logo inserts on the block and radiator. An optional kit with both red and blue inserts will be sold separately.
The H110i GTX has Corsair Link software control built in which allows advanced customization and monitoring by simply attaching the included cable to a motherboard USB header and downloading the software. Users can then customize and monitor temperatures, fan speed, pump speeds, and the RGB LED logo on the cooling block.
280mm dual-fan radiator: more surface area for superior cooling performance
Improved coldplate and pump design: better efficiency gives you lower temperatures with less noise
Dual SP140L PWM fans: better high-static pressure air delivery and customizable speed
Built-in Corsair Link software control: monitor CPU and coolant temperature, adjust fan speed, and customize lighting directly from the desktop
Support modern desktop CPUs: Support for Intel LGA 115x, 1366, 2011 and AMD AM2, AM3, FM1, FM2
5-year limited warranty
MSRP: $139.99
Hydro Series H110i GTX liquid CPU cooler:
https://www.youtube.com/watch?v=FCYU2KqkfVE

Hydro Series HG10 N980 and N970 GPU Cooling Brackets
The Hydro Series HG10 GPU liquid cooling brackets allow users to connect a Corsair Hydro Series liquid CPU cooler (not included) to graphics cards to increase graphics performance at lower noise levels than stock graphics card coolers. The new HG10 N980 and N970 versions can be easily installed on reference design NVIDIA GeForce GTX Titan X, GTX 980 Ti, GTX 980, and GTX 970 graphics cards. The HG10's combined with a Corsair Hydro Series CPU liquid cooler can reduce the GPU's temperature up to 45° C, and works with the graphics card automatic temperature control to lower the speed of its onboard fan for quieter operation. The HG10 bracket also helps cool the GPU's main processor and VRAM and VRMs, helping extend the life of the GPU and providing more overclocking headroom.
Seamlessly pairs any Corsair Hydro Series CPU cooler to your NVIDIA GeForce GTX graphics card
Reduces GPU temperature for more overclocking headroom, providing as much as 25% clock speed increase
Integrated mounting bracket cools the main GPU processor without transferring heat onto other components
Included low-noise blower fan cools VRMs and VRAMs quietly and effectively
Compatible with reference design cards for NVIDIA GeForce GTX Titan X, GTX 980, GTX 980 Ti, GTX 970, and GTX 760. See corsair.com for a full compatibility list.
2-year limited warranty
MSRP: $39.99
Hydro Series HG10 liquid GPU cooling brackets:
https://www.youtube.com/watch?v=k_NpKlxu9Q0

Availability
The Hydro Series H110i GTX and Hydro Series HG10 N970 will be available in July from Corsair's worldwide network of authorized distributors and resellers. Hydro Series HG10 N980 will be available in August.
---
| | |
| --- | --- |
| Wed: 06/03/2015 | Topic: Cooling / Heatsinks PermaLink |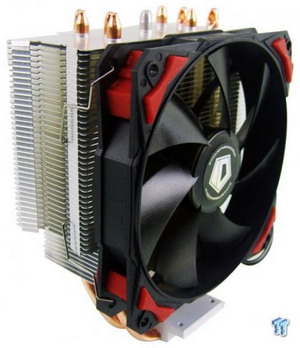 Today Chad tells us about ID-Cooling's SE 214X CPU air cooler. It may be old school in design, but Chad is impressed about what you get for the price."
---
| | |
| --- | --- |
| Wed: 06/03/2015 | Topic: Cooling / Heatsinks PermaLink |
With the Archon IB-EX2, Thermalright has an impressive, high-quality single tower cooler in its portfolio. Equipped with six heatpipes and two 150 millimeter fans in the delivery, this cooler means serious business. Apart from that Thermalright decided to provide this cooler with a great looks, which makes it even tastier.
---
| | |
| --- | --- |
| Wed: 06/03/2015 | Topic: Cooling / Heatsinks PermaLink |
The Dark Rock TF is be quiet's latest top-flow CPU cooler which seeks to offer the perfect blend of silence and performance. Accompanying this sleek heatsink are two SilentWings 135mm cooling fans which use 6-pole motors to achieve superb airflow and low-noise. Dark Rock TF utilises a dual-heatsink design which in essence should provide us with good results.
---
| | |
| --- | --- |
| Wed: 06/03/2015 | Topic: Cooling / Heatsinks PermaLink |
When building a brand new computer choosing the right components is directly tied to the type of use ment for it so obviously you wouldn't use the same ones you'd use with the office system as you would with the one in your living room. Needless to say the same applies for the CPU cooler since a gaming oriented system would need one with a much higher cooling efficiency compared to that of an office system or even a HTPC. The downside however with really powerful CPU coolers is their massive size so if you wanted to place one inside a mITX/mATX case chances are you'd be out of luck. Well manufacturers know this all too well so for the past 2-3 years many of them have focused a lot in the design of compact CPU coolers with impressive cooling potential (for their size always). Noctua has already released several such models in the market but with their latest NH-D9L D-Type Tower Cooler they seem to be taking things one step further.
---
| | |
| --- | --- |
| Tue: 06/02/2015 | Topic: Cooling / Heatsinks PermaLink |
If you are the type of person that prefers to buy products from experienced companies then you won't be hard-pressed by the manufacturer of the product in this review. Scythe has been around since 2002, that is thirteen years that sets them as one of the oldest and most experienced companies in the DIY PC market. This week, they have allowed Benchmark Reviews to take a look at some of their latest high performance coolers and today the spotlight falls on the Scythe Ashura, a compact 120 mm cooler which Scythe claims will pass our tests with flying colors.
---
| | |
| --- | --- |
| Tue: 06/02/2015 | Topic: Cooling / Heatsinks PermaLink |
"Looking back into the not too distant past I can remember when the original Corsair H80 AIO cooler come out. I had started out my overclocking adventures a little while before that using an H70 and remember thinking how cool it would be to step up to the bigger more powerful H80. It had a much thicker radiator than my cooler and dual fans as well! Flash forward half a decade and here we are with the newest iteration of that cooler. While many things have changed, some things such as the dual fans and super thick radiator have stayed the same. The H80 was an excellent entry level cooler for those looking for higher performance back then; lets check out the latest version the H80i GT and see if the same is still true today."
---
| | |
| --- | --- |
| Sun: 05/31/2015 | Topic: Cooling / Heatsinks PermaLink |
With the Triton, Raijintek has a first all-in-one watercooler in its portfolio. In this case you can get an AiO with 240 millimeter aluminium radiator and two PWM fans for 84 Euro. This makes us hope for lots and lots of cooling performance. Apart from that the manufacturer decided to ship this expandable unit with coolant in three different colors. This is definitely nice to have and shows that Raijintek is taking that extra step.
---
| | |
| --- | --- |
| Sat: 05/30/2015 | Topic: Cooling / Heatsinks PermaLink |
"The be quiet! Daek Rock TF Cooler arrived Technic3D. See you in the following Review the new TF with two 135mm PWM-Fan and six 6mm Heatpipes compared with many other Cooler on a Intel Core i5 4670K CPU."
---
"Corsair continues its flow of liquid cooler releases..."
---
| | |
| --- | --- |
| Wed: 05/27/2015 | Topic: Cooling / Heatsinks PermaLink |
While the NH-L9x65 is much more compact than the typical CPU cooler, it isn't as small as many others. The key benefit of coolers like the ITX30 and NH-L9i comes from their height... I would not be able to fit the NH-L9x65 in to the Mini-ITX cases that I use (Minibox M350), but the other two (as well as the Titan cooler) do fit. If I had a system with just enough room for a 65mm cooler and demanded the best cooling, the NH-L9x65 would be the choice among those tested.
---
| | |
| --- | --- |
| Wed: 05/27/2015 | Topic: Cooling / Heatsinks PermaLink |
"We have had a few Noctua coolers on the bench over the last year or so, but this low profile cooler has just been released and looks like it is making a name for itself. We have had this for a while now and have used it to test a mid range or maybe even a Server build, but certainly a set up that requires a low profile cooler."
---
| | |
| --- | --- |
| Tue: 05/26/2015 | Topic: Cooling / Heatsinks PermaLink |
Today Chad tells us about ID-Cooling's SE 214X CPU air cooler. It may be old school in design, but Chad is impressed about what you get for the price."
---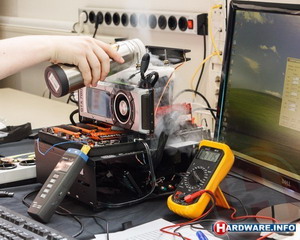 ASUS, ASRock, Gigabyte and MSI all claim that they have the ultimate motherboard for extreme overclockers. Hardware.Info wanted to see what board is actually the best, so last year we locked Hardware.Info Pro OC members Joost 'Rsnubje' Verhelst and Bauke 'Nedernakker' Caspers in our test lab for 48 hours with a Intel Core i7 4790K "Devil's Canyon" processor, gallons of liquid nitrogen and the motherboards that lay claim to being the best at overclocking from all four manufacturers. Their mission was to find our which of these motherboards is actually the best at overclocking and, more importantly, which motherboard is the easiest to overclock with?
---
| | |
| --- | --- |
| Tue: 05/26/2015 | Topic: Cooling / Heatsinks PermaLink |
"We have another cooler for review and today it is a bit special (at least for me!). On the bench today is the Scythe Mugen MAX CPU Cooler, and why is that important? Well, they are a name that has been around for a very long time, and before everyone got their act together, Scythe were ahead of the game."
---
| | |
| --- | --- |
| Tue: 05/26/2015 | Topic: Cooling / Heatsinks PermaLink |
With the Kraken X61, NZXT has an all-in-one watercooler in its portfolio, which comes with the a rather slim radiator and two 140 millimeter fans. At a first glance the design is looking good while you get a black radiator and fans with white rotor. Overall we're now curious to find out what this cooler can do in terms of cooling and noise levels.
---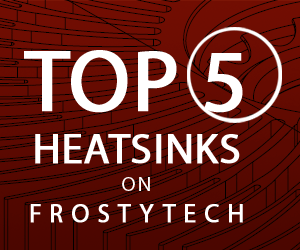 | | |
| --- | --- |
| Tue: 05/26/2015 | Topic: Cooling / Heatsinks PermaLink |
The Dark Rock TF heatsink is built around six 6mm diameter heatpipes which link a large primary aluminum fin stack and smaller secondary set of aluminum cooling fins to a chunky copper heatspreader below. The 135mm PWM fans are arranged in a push-pull configuration, exhausting downwards so related motherboard CPU VRM components benefit from the cooling air flow.
---
| | |
| --- | --- |
| Mon: 05/25/2015 | Topic: Cooling / Heatsinks PermaLink |
The Hydro Series H80i GT is a closed loop cooler which adheres to the 120mm specification. This CPU cooler is supplied with two SP120L fans and is configured to offer digital functionality via Corsair LINK software – allowing the user to modify performance, noise and LED lighting.
---