| | |
| --- | --- |
| Fri: 04/29/2016 | Topic: Cooling / Heatsinks PermaLink |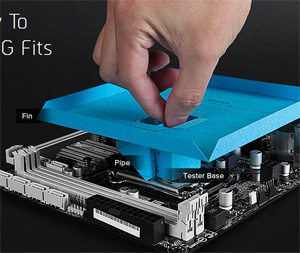 Now this is a clever idea! Cryorig has come up with a innovative way of helping users solve the question eternal "Will it fit in my motherboard?" question.
The ORIGAMI COMPATIBILITY TESTER! All you need is a printer, some A4 sized paper, a ruler, and a pair of scissors to make one.
---
| | |
| --- | --- |
| Fri: 04/29/2016 | Topic: Cooling / Heatsinks PermaLink |
"Now, we've known that most CPUs equipped with an IHS — all desktop models for a decade — are either flat or have slight concavity. We've discussed this in the forums and in many of our heatsink reviews (like the one mentioned above). Thermalright is named explicitly by this contact, but many other heatsinks have slightly convex bases as well. They include models from Prolimatech, Phanteks, Scythe and a few from Noctua. Some of these heatsinks feature mounting mechanisms capable of very high pressure. All, not surprisingly, have had models that performed very well on our 1366 test platform. Our LGA1366 CPU has taken them all on; the implication is that it must be more concave than it was when new. "
---
| | |
| --- | --- |
| Thu: 04/28/2016 | Topic: Cooling / Heatsinks PermaLink |
Today we'll be putting CRYORIG's A40 Ultimate under the spotlight. The A40 Ultimate is a 240mm all-in-one liquid CPU cooler which has the added bonus of arriving with a supplementary 70mm airflow fan designed to assist with easing off those temperatures for the motherboard MOSFETs or memory. This liquid cooler also benefits from Asetek's 5th generation pump so we're anticipating good things from today's observation.
---
| | |
| --- | --- |
| Thu: 04/28/2016 | Topic: Cooling / Heatsinks PermaLink |
Do you want to build your first custom watercooled system? then watch Part 2 of our guide today - its 48 minutes long but it goes into some detail on tubing, how to cut it, shape it and the tools you need to create some amazing system builds.
---
"The In Win 805 is the next PC-Case in the Technic3D Office. The 805 supports ATX, Mini-ITX and Micro-ATX motherboards and have place for 5x 120mm Cooling-Fans or 4x 140mm Fans. We will check this and many more in the following Review."
---
| | |
| --- | --- |
| Thu: 04/28/2016 | Topic: Cooling / Heatsinks PermaLink |
"CRYORIG burst on to the cooling scene not that long ago and every cooler we've seen from them has been pretty impressive. The coolers we've reviewed from CRYORIG have been their high performance coolers, but what about someone who just needs a basic cooler? Something better than the stock cooler that comes with their processor? When it comes to a basic cooler there are a few things we believe it needs to have. First and most importantly it needs to have better performance than a stock CPU cooler that ships with the processor. Secondly it needs to be easy to install, no one wants a complicated install process, especially a first time builder. And finally, it needs to be affordable. CRYORIG thinks that they have a cooler that fits these specifications in their M9 CPU Cooler. They say it is 33% cooler than the Intel stock cooler, it shouldn't take more than a few minutes to install, and currently the cooler is selling for $25.99 at our favorite online retailer. Seems too good to be true? Let's jump in and see what the M9i is all about!"
---
| | |
| --- | --- |
| Thu: 04/28/2016 | Topic: Cooling / Heatsinks PermaLink |
The brand new Macho 120 SBM CPU cooler by Thermalright lands right between the older Macho 120 Rev.A and the newer Macho Zero models in terms of size so it should offer a way out for consumers looking for a mid-sized model to fit in their rig.
---
| | |
| --- | --- |
| Tue: 04/26/2016 | Topic: Cooling / Heatsinks PermaLink |
The FiercePC Imperial Stormer is a gaming PC that squeezes a custom-built water-cooling loop and some very nifty lighting effects into a rather svelte Corsair Chassis. This enables a mighty 4.7GHz overclock for the Intel Core i7-6700K, which coupled with a GeForce GTX 970 – delivers some very good performance results.
---
| | |
| --- | --- |
| Mon: 04/25/2016 | Topic: Cooling / Heatsinks PermaLink |
Rumours of the AMD FX processor's death has been greatly exaggerated. Five years old and still going — ancient by typical CPU-age metrics but have newfound relevance with the rise of VR. Both the AMD FX 6350 and FX 8350 pass the SteamVR performance test with flying colors, scoring high when paired with a GeForce GTX 970 or a Radeon …
---
| | |
| --- | --- |
| Fri: 04/22/2016 | Topic: Cooling / Heatsinks PermaLink |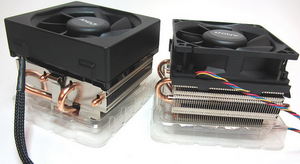 "On der uns gelieferten Schachtel findet sich damit neben dem Prozessor natürlich auch der neue Kühler mit Namen Wraith. Der steigt in den Maßen und Gewicht an und blickt auf etwa 18 x 10 x 8 Zentimeter (B x L x H). Das Konstrukt besteht wie üblich aus Aluminiumfinnen und Kupferbodenplatte, allerdings auch zwei Heatpipes des 6-mm-Standards, und bringt rund 450 Gramm Gewicht auf die Waage. Die Belüftung übernimmt ein 90-mm-Fan, welcher als Topblower oben auf dem Kühler aufsitzt und mit maximal 3.200 Umdrehungen pro Minute arbeiten könnte. Der Lüfter kommt mit einem 4-Pin-Molex-Anschluss daher und wird über die Steuerungen moderner Hauptlatinen damit in seiner Drehzahl geregelt."
---
| | |
| --- | --- |
| Fri: 04/22/2016 | Topic: Cooling / Heatsinks PermaLink |
With the Kraken X41, NZXT has an all-in-one watercooler in its portfolio, that comes with the a rather slim radiator and one 140 millimeter fan in the delivery. At a first look the design is looking good while you get a black radiator and a fan with white rotor. Overall we're now rather curious to find out what this cooler can do in terms of cooling and noise levels
---
| | |
| --- | --- |
| Thu: 04/21/2016 | Topic: Cooling / Heatsinks PermaLink |
Heat is the enemy, and extreme performance requires serious cooling power. The Thermaltake Pacific RL240 Watercooling kit is purpose built and brings quality and excellent design to enthusiasts everywhere. There are many kits on the market, but today we get to test one of the best we have gotten our hands on. Thermaltakes Pacific RL240 is the icing on the cake, the real deal in water cooled kits. This Limited Edition kit comes with a 240mm dual-fan radiator, a PT40 D5 w/Silent Kit reservoir/pump combo, W1 CPU waterblock, 2 Luna Red 12-LED fans, and more. The RL240 is not for the water cooling newbie, though it could be installed, we recommend you have some experience or have someone to help you who has had experience. Directions are light and minimalist as you would expect with a custom kit of this caliber. Thermaltake includes some necessary tools you will need that they have custom created for their kit. Let's talk about what you get.
---
The Asus Republic Of Gamers GX700 is the world's first liquid cooled production laptop. We're only using the word 'production' as you know there will be a modder out there saying 'Nope, I liquid cooled mine years ago.' So, ROG GX700 is a gaming laptop with Skylake Core i7 CPU and GTX 980 GPU that comes with an external water cooling dock and is actually available for purchase.
---
| | |
| --- | --- |
| Thu: 04/21/2016 | Topic: Cooling / Heatsinks PermaLink |
With the Tundra TD02 Lite SilverStone has an all-in-one watercooler in its portfolio, which comes with the a slim radiator and two 120 millimeter fans. At a first look the design is good looking and you get a black radiator and fans with white fan blades. At this point we're curious to find out how this cooler performs.
---
| | |
| --- | --- |
| Wed: 04/20/2016 | Topic: Cooling / Heatsinks PermaLink |
ID-COOLING Releases ICEKIMO 120W Pure White Water Cooler ID-COOLINGhas been continuously trying to develop some innovative products in computer cooling. ICEKIMO 120W pure white water cooler is just one more example. ICEKIMO 120W includes a square white water block, white tubing, painted white radiator and a white LED fan. The water block is 68*68*35.6mm, lightened up by a white LED under the cover. The SF-12025 LED version fan operates between 700 and 1500RPM, with optimal airflow of 62CFM. The EPDM tubing is 315mm long.
Universal mounting brackets are included. ICEKIMO 120W is compatible with Intel LGA2011/1366/1150/1155/1156 & AMD FM2+/FM2/FM1/AM3(+)/AM2(+). The MSRP for ICEKIMO 120Wis $59.99.

Specifications:

Compatibility Intel LGA2011/1150/1151/1155/1156/1366
AMD FM2+/FM2/FM1/AM3+/AM3/AM2+/AM2
TDP 150W
Radiator Dimension 154×120×27mm
Radiator Material Aluminum
Tube Material EPDM Rubber
Tube Length 315mm
Waterblock Dimension 68×68×35.6mm
Cold Plate Material Copper
Pump Current 0.25A
Pump Speed 2500RPM
Pump Bearing Ceramic Bearing
Pump Life Expectancy 50,000 Hrs
Pump Noise Level 25dB(A)
Fan Dimension 120×120×25mm
Included Fans 1pcs
Fan Speed 700~1500±10%RPM
Max. Air Flow 62CFM
Max. Static Pressure 1.78mmH2O
Noise 18~26.4dB(A)
Rated Voltage 12VDC
Operating Voltage 10.8~13.2VDC
Started Voltage 7VDC
Rated Current 0.18A
Power Input 2.16W
Bearing Type Hydraulic Bearing
---
| | |
| --- | --- |
| Tue: 04/19/2016 | Topic: Cooling / Heatsinks PermaLink |
Advanced Thermal Solutions now provides the base-and-stem Candlestick sensor for simultaneously measuring air temperature and velocity when characterizing thermal conditions inside electronic systems. The ATS Candlestick sensor is narrow and low profile, in heights of 9, 12 and 20mm. These features minimize the disturbance of airborne heat flow in the test domain for more precise measurements.
The use of a single sensor to measure both temperature and velocity eliminates errors that can occur when airflow is non-isothermal. Multiple ATS Candlestick sensors can be used to thoroughly map an entire system's thermal and airflow conditions. The sensors' robust nature allows for continuous repositioning and reading. Their all plastic design prevents electronic shorting.
Candlestick sensors are calibrated for low (natural convection) and high velocity flows. They are capable of temperature measurements ranging from -20° to +120°C, ±1°C. Velocity measurements range from 0 to 50m/s (0 to 10,000ft/min), ±2%, depending on the particular model of sensor. The base diameter for all Candlestick sensor models is 9.5mm. The stem diameter is 0.5mm and bead diameter is 1.1mm. Double-sided adhesive is available for long term mounting. Wire lengths are available up to 30 meters. More information on Candlestick sensors is available on the Advanced Thermal Solutions website, Qats.com or by calling 1-781-769-2800.
---
| | |
| --- | --- |
| Tue: 04/19/2016 | Topic: Cooling / Heatsinks PermaLink |
The Thermalright Macho 120 SBM Cooler arrived Technic3D. See you in the following Review the new Macho with one 120mm PWM-Fan and five 6mm Heatpipes compared with many other Cooler on a Intel Core i5 4670K CPU."
---
| | |
| --- | --- |
| Tue: 04/19/2016 | Topic: Cooling / Heatsinks PermaLink |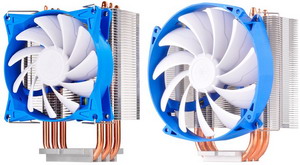 SilverStone is back on eTeknix again today, with their new AR07 and AR08 CPU coolers. Both coolers are designed to be affordable, quiet, stylish and pack great value for money performance. We're going to be putting both of them on our test bench today, and while we're expecting the bigger AR07 to offer up better performance, we're still eager to see what the smaller and more affordable AR08 is capable of.
---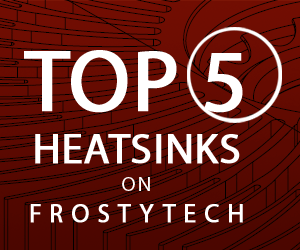 | | |
| --- | --- |
| Tue: 04/19/2016 | Topic: Cooling / Heatsinks PermaLink |
It may not be a new member in the low-profile CPU cooler family but thanks to its very good price/performance ratio the Shuriken Rev.B by Scythe is still a solid choice.
---
| | |
| --- | --- |
| Mon: 04/18/2016 | Topic: Cooling / Heatsinks PermaLink |
Six years ago, we reviewed the original CM Storm SF-19. Now we have the SF-19 V2. What has changed during this time?
---