| | |
| --- | --- |
| Tue: 04/01/2014 | Topic: Cooling / Heatsinks PermaLink |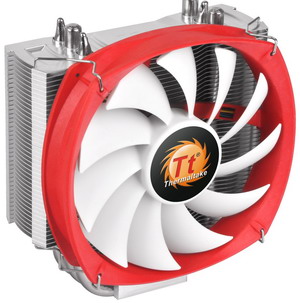 Thermaltake has just released the NiC L31 and NiC L32 CPU coolers, inspired from its name "non-interference cooler". These two heatsinks are fully compatible with motherboards of all kinds, ideally for power users who fill their RAM slots with taller high-end overclocked RAM. This also brings the air cooler industry another level towards silence, performance and compatibility.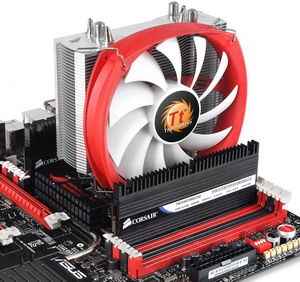 The Thermaltake NiC L31/ NiC L32 heatsink solves the problem that high performance RAM and CPU coolers cannot co-exist. The Tt heatsinks do this by allowing RAM clearance. Furthermore, three 8mm Direct Contact Heat-pipes conduct the heat effectively, supportting heat loads of up to 160W (L32:180W). This ensures the best possible heat dissipation performance conducting heat effectively.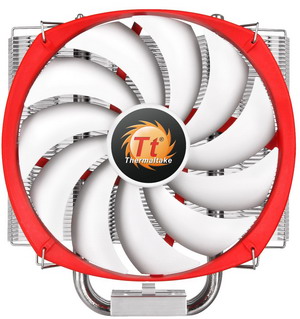 Opening on the fins are designed not only for its distinctive looks but also for performance. The opening of the top fin extends to the opening of the bottom fin creating an even dissipation surface. The slim-looking fan frame is designed to avoid interference with other components on the motherboard achieving a low total height of only 140mm (L32:160mm). Spin speed from 500 - 1800rpm automatically. Additional fan can be added.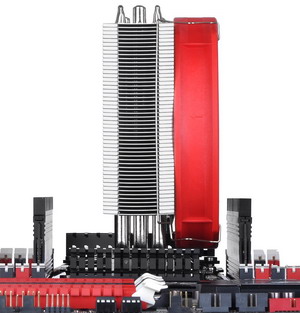 NiC Series, the all new CPU air cooler design which features a slim tower side flow design, low profile PWM Fan, efficiently optimizes cooling performance while allowing optimized compatibility with RAM of all kinds and also enabling the user to adjust the fan speed more conveniently.
For more details:
Thermaltake NiC L31 heatsink - http://www.thermaltake.com/products-model.aspx?id=C_00002246
Thermaltake NiC L32 heatsink - http://www.thermaltake.com/products-model.aspx?id=C_00002247
---
| | |
| --- | --- |
| Tue: 04/01/2014 | Topic: Cooling / Heatsinks PermaLink |
Water cooling has rapidly become the #1 choice for high end performance systems, be that custom loops that cost hundreds, even thousands of pounds to create, or simple and easy to use all-in-one units that just bolt right into your system. No matter which format you choose, it is common knowledge these days that water cooling units can beat air cooling into oblivion when it comes to improving system temperatures, reducing noise and improving overall system performance. Having a good water cooler can allow for extreme overclocking, or even just help keep your stock system running cooler and quieter, while also helping improve the lifespan of components such as your CPU. Put simply, water cooling is awesome. Corsair have long been dominant in the all-in-one water cooling market, their Hydro series is very successful thanks to its high end performance, not too crazy price tags and clean and tidy overall design, all of which have proved popular with system builders. Their latest effort is the H105, a 240mm design that features room for four fans (two included in the box), a sleek pump design and great flexibility thanks to its extensive CPU support and ease of use. Water cooling can be trick, but all-in-one units are no more difficult to fit than a tower air cooler, just screw it to your CPU, screw the fans and the radiator to the chassis, hook up the fans and you're good to go. Can something so simple really be so great? With a price tag of around £90 / $110 / EUR 122, we certainly hope so. The specifications are pretty straight forward, a 240mm radiator that can hold two 120mm fans on each side, support for all major AMD and Intel socket types of recent years and a promise of high end performance, what's not to love about that! So let's get right to it and see what else the H105 has to offer.
---
| | |
| --- | --- |
| Tue: 04/01/2014 | Topic: Cooling / Heatsinks PermaLink |
Cooler Master's Nepton 280L is their broadside into the dual 140mm All in One CPU cooler segment. Against the likes of Corsair and NZXT, the Nepton does surprisingly well.
---
Taking the countless ITX demands from their beloved community and ceremoniously discharging them from the windows, NZXT is proud to announce the latest member in the H family, the H4400.
For almost a decade now, NZXT has consistently challenged the status quo to push innovation to the next level. After seeing the trend towards smaller form factor systems, NZXT has decided to do the unthinkable and release the next big thing. As the biggest chassis to ever hit the market, the H4400 measures in at an astounding 65" tall, 30" wide and 30" deep. With phenomenal support for literally any piece of computer hardware and even weeks-old leftovers, fresh produce and copious amounts of beverages, the H4400 is versatile enough to suit the needs of anybody.
Designed from the ground up for the best cooling performance possible, we've fully integrated an innovative refrigeration cooling system never before seen in the computer case industry directly into the chassis. Intuitive shelving rack shelving promotes astoundingly high airflow and intricate cable management solutions. The incredibly deep form factor allows graphics cards up to 30" or up to four gallons of milk in a row. Our patented PureTouch satin finish makes the H4400 incredibly soft to the touch.
The H4400 is available for preorder directly through NZXT Armory, for $1,999 USD.
---
| | |
| --- | --- |
| Tue: 04/01/2014 | Topic: Cooling / Heatsinks PermaLink |
Microcool is an Italian company which make bench tables and the Banchetto 101 is one of the best bench tables out there for hardware testing labs as well as extreme overclockers. It features all the possibilites for testing and benching hardware and an ability to mount hardware components directly out of the box is one of the main bench table features.
---
| | |
| --- | --- |
| Tue: 04/01/2014 | Topic: Cooling / Heatsinks PermaLink |
Just in time for CES, Corsair announced to the world their latest edition to their Hydro liquid CPU cooling line – The H105. What makes this cooler special in comparison to their other offerings? This AIO cooler is still 240mm in size, but it is thicker than the rest. Corsair's H105 is their first 240mm AIO cooler that measures 38mm thick versus the traditional 25-27mm thickness in other coolers. The results from the increased thickness should provide superior heat dissipation, which means this cooler should theoretically be an overclocker's best friend...
---
| | |
| --- | --- |
| Sat: 03/29/2014 | Topic: Cooling / Heatsinks PermaLink |
If absolute performance is required, then I suggest replacing the fan with a much higher static pressure variety although if ultimately lower temperatures are really the priority, then getting a different cooler such as the higher-end Dark Rock Pro might be a better choice. Certain concessions have obviously been made to keep the price tag under $50 USD while delivering certain premium necessities that would facilitate a balanced silence oriented performance such as the lack of side padding inside the box and the use of a rifle bearing fan instead of FDB bearing fan. These are minor issues compared to the high quality product that you get out of the box.
---
| | |
| --- | --- |
| Fri: 03/28/2014 | Topic: Cooling / Heatsinks PermaLink |
It was just over a year ago that Enermax first entered the water cooling market with their ELC 240 and 120 all-in-one water coolers and while we loved their overall performance, Enermax needed to be just that little bit more competitive to take the crown from the slightly better Corsair range at that time. Since then, the water cooling market has become saturated with great products and some impressive budget ranges that make finding the best product harder than ever.
Their new Liqtech range looks set to take the premium end of the all-in-one water cooling market by storm. Everything has been tweaked and improved to offer a high quality, high performance product. The only downside of it being targeted at the upper end of the market is that the new coolers are not cheap. However, paying a little extra is no problem, so long as the actual quality and performance are there to ease the burden of the price tag. The Liqtech 120X will set you back around £79.90, which the Liqtech 240 should be priced around £99.90.
Air cooling is more than enough for most users, even for an overclocked high-end i5 or i7 CPU you can get do just fine with a product that costs no more than £40 and still get great temperatures, acoustics and performance. Water cooling, especially custom loop water cooling, can cost hundred of pounds to get all the required components and requires a lot of maintenance and a fair bit of skill to install. The advantage of an all in one unit such as the Liqtech is that it requires almost no knowledge of water cooling, you just bolt it into your chassis, attach the block to the CPU and you're good to go. Minimal maintenance, easy installation and a much lower cost than custom loops are just some of the reasons that all in one units are so attractive to system builders. While I know I said you can get great performance from air cooling, water coolers typically offer even greater cooling performance and nine times out of ten, significantly quieter acoustics.
---
| | |
| --- | --- |
| Fri: 03/28/2014 | Topic: Cooling / Heatsinks PermaLink |
The evolving PC market moves towards yet smaller and faster Computers. Scythe reacts to the trend and offers a compact Top-Flow CPU Cooler, which is especially developed for Mini- and Micro-ATX systems. Iori supports the latest platforms of both AMD® and Intel®. But it gets even better: Thanks to the low-weight of the heatsink, an improved version of the Push-Pin mounting mechanism has been used, allowing fast heatsink mounting on virtually every motherboard.
In spite of its compact dimensions of 107 x 92 x 136 mm and its low heatsink weight of only 400 grams, Scythe Iori is able to cool latest CPUs from both Intel® and AMD®. Scythe achieved this by utilizing three 6 mm copper-heatpipes, which are crossing the heatsink twice, and the use of a custom-made PWM axial-fan. Fan speed of the supplied 100-millimeter model can be controlled by the motherboard thanks to the PWM-function between 300 and 1.800 RPM. Hence allows the fan to move between 7,3 and 43,74 cubic feet per minute (12,4 ~ 74,3m³/h) at a low noise level between 4,5 and 26,7 dBA. The custom-made axial-fan is equipped with common 92 mm mounting holes.

The fact, that the Iori CPU Cooler is a compact and low-weight solution with a really convenient mounting system, makes it a perfect CPU Cooler for both Gaming and Home-Theatre-PCs. Being a Top-Flow Cooler, Scythe Iori is able to use the airflow of the 100-millimeter fan to additionally cool surrounding components such as chipset, memory and voltage regulator modules.

Compatibility to a big variety of sockets has always been a strong point of Scythe CPU Coolers. The Iori CPU Cooler supports the Intel® sockets LGA1150, LGA1155, LGA1156, LGA1366 and LGA775 as well as AMD® sockets AM2, AM2+, AM3, AM3+, FM1, FM2 and FM2+. All required mounting clips, as well as the user manual and thermal grease are supplied in the Iori package.

Scythe Iori CPU Cooler (Model no. SCIOR-1000) is available as of today, whereas the suggested retail price is 24,50 EUR (excl. Taxes).
---
| | |
| --- | --- |
| Fri: 03/28/2014 | Topic: Cooling / Heatsinks PermaLink |
Corsair expanded from a known presence in the memory space to well-respected entity in the component market, offering everything from cases to all-in-one water coolers. Their newest cooler, the Hydro Series™ H75 Liquid CPU Cooler, features a 120mm x 25mm radiator with dual fans and a copper-based water block. The H75 unit includes mounting support for all current Intel and AMD processor offerings. To gage the performance of the cooler, we set it against several other high-performance liquid and air-based coolers. With a retail MSRP of $84.99, the Hydro Series™ H75 cooler is priced to be competitive.
---
| | |
| --- | --- |
| Fri: 03/28/2014 | Topic: Cooling / Heatsinks PermaLink |
As I'm sure we are all aware overclockers, enthusiasts, professionals and even gamers always like to spend as much as possible when building and/or updating their systems to ensure the best possible performance and endurance through time. Some may focus mostly on processing power, others on available memory and others on the graphics but what they all have in common is the extra weight when picking the right CPU cooling system. However the largest segment of the market is actually taken by casual users who are not really interested in spending lots of money for a system and that makes things a bit harder since price/performance is always an issue. There are of course countless low-cost entry level CPU coolers in the market of every size and type but with a few exceptions performance is not something they excel at. Today we will be taking a look at one such solution and more specifically the Fera 2 HE 1224 by SilentiumPC.
---
| | |
| --- | --- |
| Fri: 03/28/2014 | Topic: Cooling / Heatsinks PermaLink |
Cooler Master is known in the enthusiast community for their innovative designs with product offerings ranging from cases to desktop and laptop cooling implements. Like many other manufacturers, Cooler Master offers its own line of all-in-one liquid cooling solutions. Unique to their Glacer 240L cooler is the ability to easily add additional cooling blocks into the base loop. The Glacer 240L has an fill port integrated into the base of the radiator for drain and refill and uses removable clamps on all connections for easy maintenance and tube reconfiguration. To measure the performance of the Glacer 240L, we set it against several other high-performance liquid and air-based coolers. With a $139.99 MSRP, the Glacer 240L comes at a premium price.
---
| | |
| --- | --- |
| Fri: 03/28/2014 | Topic: Cooling / Heatsinks PermaLink |
With their ETS-T40, Enermax have a new tower-cooler in their portfolio, which catches our attention with its white color. Other than that this good looking cooler comes with four heatpipes, as well as a fan from Enermax too, which comes with a special feature. It allows you to change rpm modes make the fan rotate wit speeds between 800 and 2200 rpm. Overall we're curious to see if this cooler is capable of performing well and we also want to know wheter it is well built or not.
---
| | |
| --- | --- |
| Fri: 03/28/2014 | Topic: Cooling / Heatsinks PermaLink |
After we've had a look at Thermolab's ITX30 cooler, we're now reviewing the LP53. Both coolers are compact and mainly suitable for HTPC builds. Thermolab is known for producing high quality products, and at the first glance, this full-copper cooler perfectly fits into the company's line-up. So far we're rather curious to see what this little thing can do.
---
| | |
| --- | --- |
| Thu: 03/27/2014 | Topic: Cooling / Heatsinks PermaLink |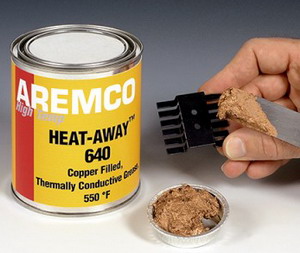 "Heat-Away 640 is a single-part, 100% solids, copper-filled, thermally conductive, silicone grease used in heat transfer applications from –60 to 550 ºF (-51 to 288 ºC). Heat-Away™ 640 is formulated as a thick paste that will not flow after application and the viscosity remains stable over the entire temperature range. The thermal conductivity is 4.68 W/m-K."
---
---
| | |
| --- | --- |
| Fri: 03/21/2014 | Topic: Cooling / Heatsinks PermaLink |
The new cooler from Raijintek seems to have everything it takes to be one of the best: a huge dual-section heatsink, two 140 mm fans, thick heat pipes, and a reliable multi-platform retention mechanism...
---
| | |
| --- | --- |
| Wed: 03/19/2014 | Topic: Cooling / Heatsinks PermaLink |
Das Konzept ist allerdings nicht mehr zeitgemäß bei leistungsfähigen Prozessoren, und bereits seit Jahren finden sich im Markt für separate CPU-Kühler meist Turmbauformen (Tower) ein. Waren die ersten Modelle auf die Aufnahme von 80- oder 92-mm-Lüftern ausgelegt, weitet sich dieses Feld inzwischen immer weiter aus. Typisch sind Bauformen für 120-mm-Ventilatoren, und nicht selten sind eben die Top-Klassen mit 140-mm-Lüftern. Das zweite gezeigte Bild zeigt also einen Hybridkühler in Tower-Bauform, welcher ebenfalls aus einer Kombination aus Kupfer- und Aluminiumteilen besteht. Die Aluminiumteile sind dabei die Lamellen, auf welchen der Lüfter aufgebracht ist. Diese sind sehr dünn gestaltet und sollen in Verbindung mit den Kupferbauteilen die Wärme deutlich schneller ableiten können und damit zu einer höheren Kühlleistung führen.
---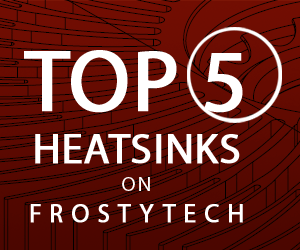 | | |
| --- | --- |
| Sun: 03/16/2014 | Topic: Cooling / Heatsinks PermaLink |
While we have a lot of love for huge, powerful and overclocked gaming rigs here at eTeknix, it's not always the best way to approach each system build. Sometimes you need to wind back the scale of your system and go for something compact and sleek, and that's where products like the Silverstone AR04 comes into play. Designed for ultra-low profile chassis designs, the AR04 is ideal for compact builds such as HTPCs , integrated systems used for advertising, NAS builds and even low-power office systems. There are many reasons why you may need a slim chassis or suffer an internal height restriction, especially on M-ITX Slim motherboards and it's for these systems that Silverstone have designed the AR04.
---
| | |
| --- | --- |
| Sat: 03/15/2014 | Topic: Cooling / Heatsinks PermaLink |
The be quiet! Dark Rock 3 promises the complete package, with outstanding looks, and enthusiast level cooling at extremely low noise levels. The be quiet! Dark Rock 3 uses a 160mm tall single tower design featuring six 6mm heatpipes and their acclaimed 135mm Silent Wings fan to combine for superior cooling. The six-pole design of the 1400rpm fan makes for silent mechanical operation with lower vibration, and is capable of 67.8 cfm at a miniscule 21.1 dBA."
---