| | |
| --- | --- |
| Wed: 11/20/2013 | Topic: Cooling / Heatsinks PermaLink |
Brief:: The Noctua L9 coolers may be small in size but they are excellent for their primary purpose of silence and issue-free clearance. Quality and design is typical Noctua, engineered with precision and of impeccable caliber.
---
| | |
| --- | --- |
| Wed: 11/13/2013 | Topic: Cooling / Heatsinks PermaLink |
"GE's device name, DCJ has the following specifications, making it a powerful option for thermal management applications almost immediately:
•4mm tall height
•It consumes less than 1/2 the power of a comparable fan or CPU cooler.
•Can be applied to a variety of form factors,
•No moving parts "
---
| | |
| --- | --- |
| Tue: 11/12/2013 | Topic: Cooling / Heatsinks PermaLink |
Oliver over at FanlessTech.com just sent us word about an new 80W TDP NoFan heatsink called the CR-80EH that should be released shortly. Nofan Corporation is the brainchild of Sang Cheol Lee, the engineer who started Zalman back in the day with his patented Fan-Heatsink-designs.
NoFan make completely fanless heatsinks - they don't need fans and don't require fans in the computer chassis blowing their way. The NoFan heatsinks are unique because the entire CPU cooler is essentially made from really long loop heatpipe - what the company terms a 'Fluid Dynamic Pipe'. Whereas traditional heatsinks use heatpipes to conduct heat from the base of the cooler to the fins, a heatsink such as the new NoFan CR-80EH uses the loop heatpipe as both 'cooling fins' and the means to conduct heat energy from the processor. It's an efficient, convection cooled design originally pioneered by S.C. Lee for industrial LED lighting (the current thermal growth industry). With in the acceptable thermal design limits, NoFan heatsinks work extremely well given they are completely passive devices.
Check it out...
---
---
| | |
| --- | --- |
| Sat: 11/09/2013 | Topic: Cooling / Heatsinks PermaLink |
Lapping the CPU in a heatsink test platform is probably a controversial move that's bound to provoke reactions. Funny thing is, it was done a year ago, and photos of the CPU showing the copper top exposed by the lapping have been featured in many of our reviews. Yet, not a single comment. This article goes through the problems, investigations and explorations that led us to lap our Core i7-965 Extreme test CPU, and analyzes the results and implications.
---
| | |
| --- | --- |
| Thu: 11/07/2013 | Topic: Cooling / Heatsinks PermaLink |
It's been over ten years since I've last reviewed a Lamptron product on DV Hardware! Back then the company was primarily known for its CCFL products, but now Lamptron is best known for its fan controllers and some of its other modding products. The subject of this review is the Lamptron FC10 Special Edition, a unique four-channel fan controller that uses vintage Nixie tubes!
---
| | |
| --- | --- |
| Thu: 11/07/2013 | Topic: Cooling / Heatsinks PermaLink |
So you're ready to take the dive into a full custom liquid-cooling setup – awesome. Where to start now? What radiator should I get? What reservoir? What pump? What tubing and fittings? What fans? Yes, there is a lot to learn in the world of PC water cooling and if it's your first time getting your CPU wet it can be very intimidating. Luckily XSPC has you covered with their new RayStorm D5 Photon AX360 WaterCooling Kit. The kit comes with everything you need to setup a complete liquid system in one box. XSPC was kind enough to send us over the Raystorm/D5/Photon/AX360 kit to review so let's get to it!
---
| | |
| --- | --- |
| Thu: 11/07/2013 | Topic: Cooling / Heatsinks PermaLink |
All-in-one (AiO) CPU cooling systems are all the rage these days. They offer the performance of a custom liquid loop with the ease of installation and low maintenance of a standard air cooler. All of the big manufacturers have gotten in on the AiO craze and most use similar-looking units with different logos but SilverStone decided to go a different route with their Tundra series of AiO coolers. SilverStone's TD02 and TD03 coolers are a wholly new design with fresh thinking for the AiO market. SilverStone was kind enough to send us a TD02 240mm AiO unit to check out so let's get to it!
---
| | |
| --- | --- |
| Wed: 11/06/2013 | Topic: Cooling / Heatsinks PermaLink |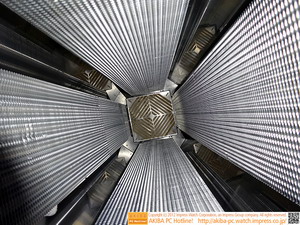 More cooling news from the folks at Akiba... Weighing 15.6kg and standing 960mm tall, the aqua computer airplex GIGANT 3360 has a footprint of 310mm×310mm!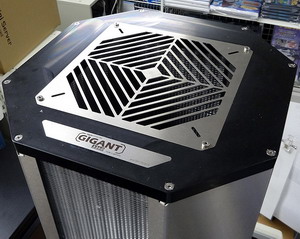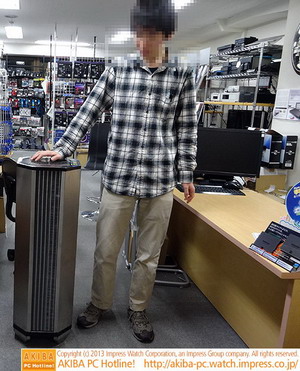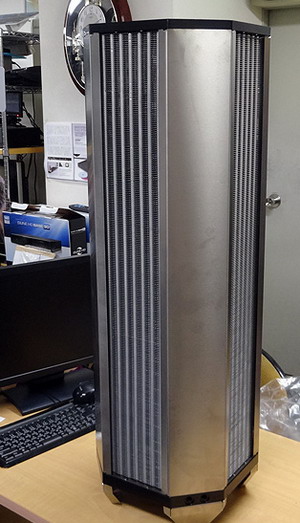 ---
| | |
| --- | --- |
| Wed: 11/06/2013 | Topic: Cooling / Heatsinks PermaLink |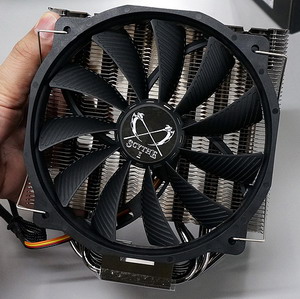 First look at the Scythe ASHURA SHADOW EDITION(SCASR-1000SE) heatsink on Akiba. This tower cooler is compatible with LGA2011/115x/775/Socket AM3+/FM2 processors. By the looks of it a single 140mm fan comes with the dark nickel plated heatsink.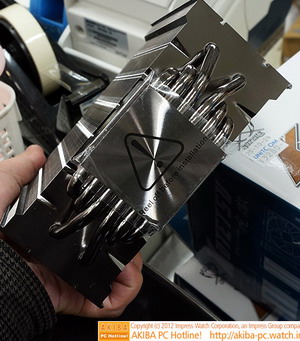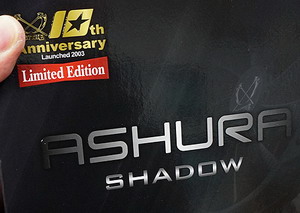 ---
| | |
| --- | --- |
| Wed: 11/06/2013 | Topic: Cooling / Heatsinks PermaLink |
The Thermalright HR-22 is a substantially bulked up version of the HR-02, weighing in at 1,170 grams. A plastic air duct is included to create a quasi-passive cooling solution. Is it worth a cool $100.00 dollars?
---
| | |
| --- | --- |
| Mon: 11/04/2013 | Topic: Cooling / Heatsinks PermaLink |
"Noctua's low profile NH-L9i heatsink stands 36mm tall so it will fit into the smallest of small form factor chassis. The NH-L9i is designed to cool Intel socket LGA115x (1155/1156/1150) processors only, which is a departure from the one-size-fits-all approach we're used to from heatsink manufacturers. The Noctua NH-L9i heatsink weighs 420 grams and is built around a large, triangular copper base plate, two 6mm diameter copper heatpipes and aluminum fins. Every part of this heatsink has been nickel plated so all the joints are soldered to maintain low thermal joint resistance. "
---
Seeing the notebook industry suffering from weak demand, Taiwan-based cooling fan maker Sunonwealth Electric Machine Industry has turned its focus to non-PC product businesses with the notebook cooling fan business currently accounting for just 30% of revenues, according to the company.
---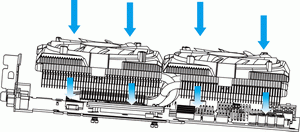 The "Rev. 2 ICY VISION" cooler contains 5 power heatpipes in a unique heatpipe constellation. The heatpipes are interlaced into 85 optimized high-quality Aluminium fins. Together with a flat stack fin soldered Copper base, they enable the most efficient heat transmission and dissipation from GPU core in its class. Besides the heatsink, two 92mm UV-reactive fans with 11 blades in S-shape generate 20% additonal air flow than traditional fans. The fan contains a high-quality ball bearing to ensure a longer lifetime in high temperature environments.
---
The main difference is that the Z87X-OC Force is equipped with a PLX PEX8747 chip that can double the 16 PCI-Express 3.0 lanes from the CPU. Because of that, the four orange PCI-Express slots can be configured 16/0/16/0, 16/0/8/8 and 8/8/8/8 which supports 4-way SLI and 4-way Crossfire. The black PCI-Express x16 slot is directly connected to the CPU, so if you have one video card you want to overclock you have 0 extra latency. It's a clever solution we've seen before with MSI and ASRock.
---
| | |
| --- | --- |
| Sun: 11/03/2013 | Topic: Cooling / Heatsinks PermaLink |
The NH-U14S is a new single tower cooler by Noctua, who have made some breakthroughs in their designs. Find out why the NH-U14S won our Editor's Choice award!
---
| | |
| --- | --- |
| Wed: 10/30/2013 | Topic: Cooling / Heatsinks PermaLink |
"Nearly every good-looking build project has two things in common: great cable management and a good cooling solution. These cooling solutions usually involve multiple fans in multiple locations. One of the easiest ways to ensure a clutter-free setup is by using a fan controller. Thermaltake has been making fan controllers and other cooling solutions for some time now, so I am not surprised to see them with a new model. The Thermaltake Commander F5 aims to offer a cost effective flexible and easy to use fan controller for the masses."
---
"The CM Storm SF-17 Gaming Notebook Cooler looks to be an impressive addition to the CM Storm notebook cooling pad family. It endeavors to meet typical PC gamers needs for excellent cooling performance while limiting the noise of operation. Equipped with a 180 MM fan, 4 port USB hub, height adjustment bar and a bright red LED light, let's see how impressive the $60 SF-17 turns out to be."
---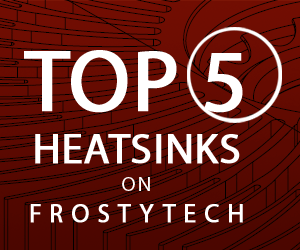 | | |
| --- | --- |
| Wed: 10/30/2013 | Topic: Cooling / Heatsinks PermaLink |
"Taiwan-based heatpipe makers have indicated that although they are able to make 0.6mm heatpipes for use in smartphones, smartphone vendors prefer 0.4-0.5mm models and therefore they have cooperated to develop such products.

Smartphones adopting heatpipes for cooling may not become available in the first quarter of 2014 as originally expected.

Currently, most smartphone vendors have adopted graphite cooling solutions for their products due to mature designs and manufacturing. As for pricing, graphite cooling solutions are priced around US$1-2, while ultra-thin heatpipes are priced between US$1.20-2. However, heat dissipation from heatpipes is 13 times more efficient than graphite cooling solutions, despite their low yield rates, the sources noted."
---
| | |
| --- | --- |
| Tue: 10/29/2013 | Topic: CPU / Processors PermaLink |
"Deepcool is a name that's been around for some time now and we've reviewed their CPU coolers in the past with great results. They've added the Gamer Storm line to their brand focusing on high-end gaming coolers for both CPU and VGA. It's from this new Gamer Storm lineup that our latest Deepcool CPU cooler came – the Lucifer. The Lucifer is touted as being a silent cooling powerhouse for today's high-end CPUs and also as a completely silent passive solution to today's mainstream CPUs. We've got it on the bench, so let's get to it!"
---