| | |
| --- | --- |
| Tue: 05/24/2016 | Topic: Cooling / Heatsinks PermaLink |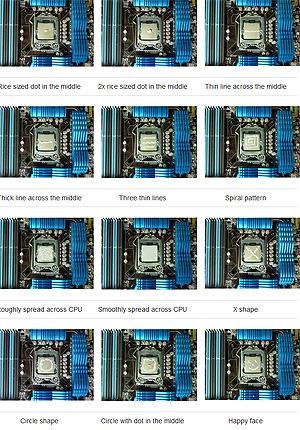 "Smoothly spreading the thermal paste takes time and effort to get exact, however, so the fact that our testing shows a simple X shape performing even better is absolutely great news. Not only is it a much simplier application technique, it is also much easier to keep consistent. And for those that are wondering, it works just as well on larger CPUs like the Intel socket 2011 CPUs. The thickness of the line just needs to be very slightly increased, and the X shape should be extended to cover the entire face of the CPU."
---
| | |
| --- | --- |
| Tue: 05/24/2016 | Topic: Cooling / Heatsinks PermaLink |
Liquid Series from PC Specialist is a new range of PCs that employ a custom loop liquid cooling system to deliver maximum performance along with stunning visual appeal. The LS-M02 we have for review is an example of the way Liquid Series works and uses a mainstream gaming specification with a price that comes in just under £2,000. If you decide to configure your own PC you have the choice of Z170/Skylake or X99/Haswell-E hardware (Intel only, no AMD) and can select from a choice of 16 cases, four different cooling systems, as many as three graphics cards and a huge number of other options. The permutations are almost limitless so it makes a good deal of sense to select a pre-configured PC such as LS-M02.
---
| | |
| --- | --- |
| Tue: 05/24/2016 | Topic: Cooling / Heatsinks PermaLink |
There are many AIO liquid coolers in the market currently but the new hybrid line by CRYORIG stands out and after testing the very good A80 model today with us we have its smaller brother the A40.
---
| | |
| --- | --- |
| Tue: 05/24/2016 | Topic: Cooling / Heatsinks PermaLink |
Not everyone needs or can fit in the best CPU cooler into their build, which is where Enermax comes in with its TS-N30R-HE and ETS-N30R-TAA coolers."
---
Today we have the Nanoxia CoolForce 2 chassis for review. We have already seen the Deep Silence 1 Rev.B chassis from Nanoxia and we recommended it, it's a very high quality chassis. The CoolForce 2 is aimed at a similar audience, with a number of the Nanoxia design cue's and features, it's another enthusiast level chassis with the watercooler fan in mind.
---
| | |
| --- | --- |
| Mon: 05/16/2016 | Topic: Cooling / Heatsinks PermaLink |
Most will watercool for aesthetics and Internet points while others may build elaborate loops for the thermal benefits.
---
| | |
| --- | --- |
| Mon: 05/16/2016 | Topic: Cooling / Heatsinks PermaLink |
Cooler Master has just announced their new MasterLiquid series of CPU coolers, built using a special "FlowOp" technology that analyzes how heat is absorbed and dissipated to construct a better cooling solution than the competition. The end result was a dual chamber design that did both improve the cooling performance, but also dramatically extended the product's functional lifetime. In this preview article, Benchmark Reviews covers some of the finer points that separate the MasterLiquid cooler series from everything else on the market.
---
| | |
| --- | --- |
| Sun: 05/15/2016 | Topic: Cooling / Heatsinks PermaLink |
"The industrialPPC 140mm fans are very well built and can be used for both industrial and PC chassis applications; the 24V versions are ideal as case fans because they produce little to no noise at half the voltage they receive inside a computer chassis, but if you are also planning on replacing the fans on the water cooling radiators, you have to get the 12V models. The 12V industrialPPC 140mm PWM fans will be ran at higher speeds in order to cool the radiator fins properly, while keeping the noise levels as low as possible thanks to the integrated technologies."
---
| | |
| --- | --- |
| Sat: 05/14/2016 | Topic: Cooling / Heatsinks PermaLink |
SilentiumPC is on top of their game with the release of the Fortis 3 HE1425. Available in both a standard and Malik Customs edition, it offers exceptional bang-for-the-buck performance with the option of extra customization.
---
| | |
| --- | --- |
| Thu: 05/12/2016 | Topic: Cooling / Heatsinks PermaLink |
In the last 16 years OCinside has tested several CPU coolers. Today, we have published this CPU Cooler Comparison Chart with selected coolers from Antec, Cooler Master, Cryorig, Enermax, Intel, Noctua, Phanteks, Raijintek, Scythe, Titan and X2 Products, which we have tested on an Intel Core i7 system. So you can easily find the right CPU cooler for your Intel Core i7 PC and compare the cooling results in one chart.
---
| | |
| --- | --- |
| Tue: 05/10/2016 | Topic: Cooling / Heatsinks PermaLink |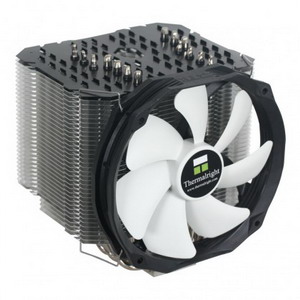 "With the Le Grand Macho RT we offer an actively cooled version of our famous semi-passive flagship. Thanks to the silent-running TY 147 B with fluid dynamic bearing, the Le Grand Macho RT can cool up to 280 watt.
The design of the heat sink has not been changed and is still asymmetrical. This offers the highest possible compatibility to the most recent motherboards. Thus it is guaranteed that the Le Grand Macho RT neither blocks the RAM spaces, nor the top-most PCIe slot on current ATX-boards.
Visually, the Le Grand Macho RT is top of the line. The heatsink shines in silver nickel plating and features a black anodized top fin, combined with the black and white fan.
Also available in stores now are the TY 127 – for users who want to install a second fan on their cooler – as well as the TY 141SV, a slightly upgraded version of the TY 141. Both fans make use of side vents, just like the TY 147 B, in order to reduce the noise of the fan even further. At 14 – 21 dB(A) the TY 141 SV is even more silent than its predecessor.
For fans of retro coolers the original HR-02 is now available again. The cooler, which has been introduced in 2010 for the first time, was the inspiration for our Macho cooler and is still one of the most powerful coolers of its kind. The cooler comes with the VX-II bolt-through kit included, which can be used to mount the HR-02 on all current Intel- and AMD-CPUs. Our screwdriver and the Chill Factor III thermal compound are included as well.
All coolers are now available in stores. The MSRP of the Le Grand Macho RT is 69.99€, that of the TY 127 is 8.99€ and finally the MSRP for the TY 141SV is set at 15.99€. The HR-02 is available for 54.99€"
---
| | |
| --- | --- |
| Tue: 05/10/2016 | Topic: Cooling / Heatsinks PermaLink |
HardwareOverclock.com has just posted another review. Last week we have taken a look at the Watercool Heatkiller IV R9 Fury-X. This water water block is compatible with any AMD Radeon R9 Fury X and AMD Radeon Fury in reference design. Only high-quality materials such as high purity electrolytic copper or the original PLEXIGLAS GS of EVONIK is used in HEATKILLER IV VGA series
---
There is perhaps no other company devoted to silence than German manufacturer be quiet!. Their entire product line revolves around the idea of having the most silent operating PC components around and they are resolutely focused on that goal. With plenty of award-winning coolers and power supplies in their stable, they have launched their first full-tower case in 2014, dubbed …
---
| | |
| --- | --- |
| Mon: 05/09/2016 | Topic: Cooling / Heatsinks PermaLink |
Do not be fooled by its size: The Cooler Master GeminII S524 Ver.2 may be smaller, but it is quiet and delivers on cooling.
---
| | |
| --- | --- |
| Fri: 05/06/2016 | Topic: Cooling / Heatsinks PermaLink |
The Silverstone Argon series of heatsinks comprise of value-minded CPU air cooling solutions available in tower-style or heatpiped low-profile models. Of the three that use a low-profle design, the Argon AR06 is the more capable cooler equipped with four heatpipes compared to the dual-heatpiped AR05 and AR04. With a 92mm fan designed for quiet operation, the Argon AR06 fits well …
---
| | |
| --- | --- |
| Thu: 05/05/2016 | Topic: Cooling / Heatsinks PermaLink |
Figuring out which component is compatible with which electronically is hard enough as it is for casual system builders that the last thing one needs is to find out that their heatsink does not fit with their case or RAM module heatspreader physically after all parts have been purchased. That is why clearance compatibility information is essential in a cooler …
---
| | |
| --- | --- |
| Wed: 05/04/2016 | Topic: Cooling / Heatsinks PermaLink |
We review the P360 Performance custom loop Liquid Cooling from EK, consisting out of all components needed to assemble and design your own liquid cooling loop. In this review we will build a performance class PC and test this kit on a Core i7 6700K processor. The end result is a setup that is surpassing any AIO kit in both performance and low noise levels. Even overclocked the results are terrific!
---
| | |
| --- | --- |
| Fri: 04/29/2016 | Topic: Cooling / Heatsinks PermaLink |
"The NH-C14S takes the already great design of the NH-C14 and refines it to a new level. What does the NH-C14S bring to the table? It gets the job done with a single, more powerful fan, and the new offset of the fin stack provides clearance for the first PCIe slot on your motherboard. The C-type design gives you a much lower profile that lets you build your system in most HTPC-style cases. You still get the options of using either Low Profile mode or High Clearance mode. And of course, all that air the NF-A14 moves through the cooler gets directed down across the RAM modules, VRM, and other motherboard components. That amounts to extra cooling for free. The SecuFirm2™ mounting system is just the greatest thing. Installing a cooler really can't be much easier. It really needs to be an industry standard in my opinion."
---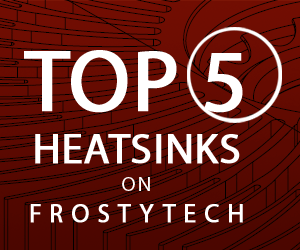 | | |
| --- | --- |
| Fri: 04/29/2016 | Topic: Cooling / Heatsinks PermaLink |
The weight and bulk of water cooling systems as well as the need to ensure water-tight connections have, so far, kept them from ever being used in a latop. That changes with the ROG GX700 – the world's first liquid-cooled gaming laptop.
---
| | |
| --- | --- |
| Fri: 04/29/2016 | Topic: Cooling / Heatsinks PermaLink |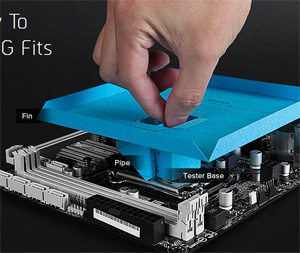 Now this is a clever idea! Cryorig has come up with a innovative way of helping users solve the question eternal "Will it fit in my motherboard?" question.
The ORIGAMI COMPATIBILITY TESTER! All you need is a printer, some A4 sized paper, a ruler, and a pair of scissors to make one.
---