| | |
| --- | --- |
| Sat: 03/28/2015 | Topic: Cooling / Heatsinks PermaLink |
CRYORIG is a relatively new name in regards to cooling products and most of you won't have seen the R1 Ultimate that was released last year. It was quite an impressive product especially as it was their first, however, it wasn't very common in the UK. Most of the people from CRYORIG have previously worked for other large companies such as Phanteks and Thermalright so they do have a lot of experience even though they only officially founded in 2013. We hope that this experience isn't wasted and that they bring us some more products that can bring even more competition to the cooling market.
---
Aquila is the latest case from Xigmatek, which features a compact form factor as well as space for mATX motherboards. Despite its small dimensions, there is actually enough space for small high-end gaming systems and therefore it might be a case that offers some rather interesting options. Apart from the fact, that there is space for high-end graphics cards you'll also be able to install an all-in-on watercooler. In order to make the case more silent, Caseking supplied and installed high quality noise dampening panels, which promises very silent operation.
---
| | |
| --- | --- |
| Fri: 03/27/2015 | Topic: Cooling / Heatsinks PermaLink |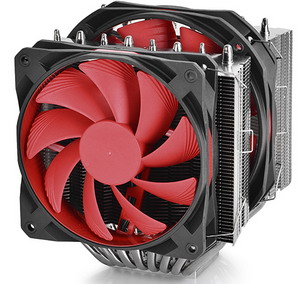 ASSASSIN II retains key features of the first generation: Nickel-plated heatsink, 8 high-performance heatpipes and mirror finished copper base.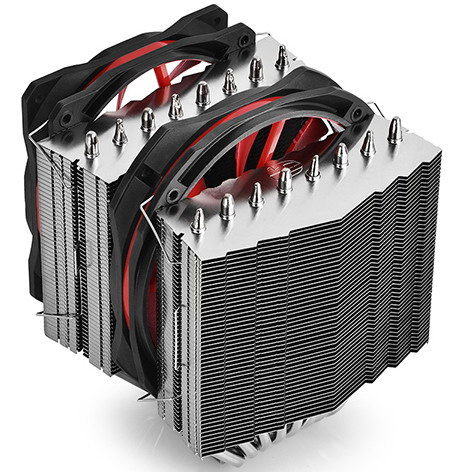 Also technological upgrades have been put on the newest CPU cooler, asymmetric twin-tower design offers great heat dissipation efficiency, and new flagship fan GF140 for excellent performance-noise ratio. It would be the best air cooler from DEEPCOOL, the 20 years' PC cooling company has ever built, and it is definitely on the top tier of aftermarket CPU cooler.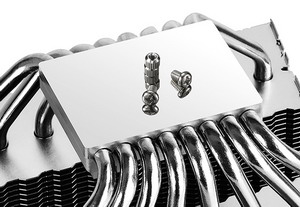 Asymmetric Heatsinks & 8 High-performance Heatpipes - Twin-tower heatsink with optimal heatpipe array ensures the ultimate cooling performance; the sound bend design enhances thermal efficiency. Asymmetric twin-tower heatsink with shark teeth shape provides massive airflow.

Dual FDB bearings and rubber-covered fans with PWM function result in longer lifetime and lower noise level. In addition, both fans are 300RPM Min., which offers a perfect and absolute quiet operation.

The mirror finished base ensures heat spreads evenly to all heatpipes, and after being nickel-plated, the whole cooler is corrode-proof.
Spec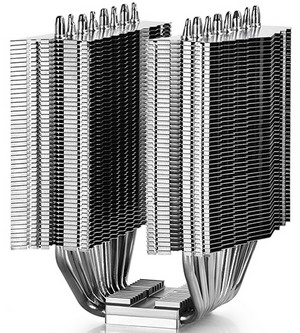 Overall Dimension 143X158X167mm
Net Weight 1479g
Fan Dimension 140X140X26mm120X120X26mm
Fan Weight 173g152g
Fan Speed 300±150~1200±10%RPM 300±150~1400±10%RPM
Rated Current 0.11±10%A(MAX)0.09±10%A(MAX)
Power Input 1.32W1.08W
Max. Air Flow 70.08CFM68.06CFM
Noise 17.8~26.5dB(A)17.8~27.3dB(A)
Rated Voltage 12VDC
Operating Voltage 10.8?13.2VDC
Starting Voltage 7VDC
Bearing Type Fluid Dynamic Bearing
Sockets LGA2011 -V3/LGA2011/1366/1156/1155/1150/775 and AMD FM2/FM1/AM3+/AM3/AM2+/AM2.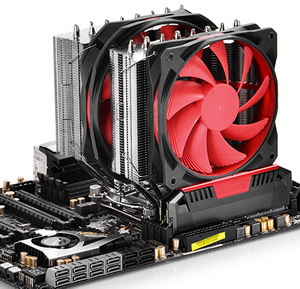 ASSASIN II will be available globally on early April 2015.
MSRP: $89.99
http://www.deepcool.com

---
Water cooling is a great way to remove heat from PC components. There are various types of water or liquid cooling solutions available such as the popular All-in-One (AIO or Closed loop) units, DIY liquid cooling kits, as well as fully customizable water cooling loops. As the name implies, a custom loop option is highly configurable and allows users to...
---
| | |
| --- | --- |
| Wed: 03/25/2015 | Topic: Cooling / Heatsinks PermaLink |
Pre-built all-in-one water coolers for today's hot running CPU's are all the rage offering good cooling with none of the hassle of custom loop water cooling. Days gone by about all that was to be had been single radiator 120mm single fan that were little better than mid range air cooling systems. Things have changed with the introduction of the SIlverStone Tundra TD03-E all in one liquid cooler. The SilverStone TD03-E is a single radiator with two PWM fans water cooling solution that will have you raising your eyebrows wondering how it cools so well.
---
| | |
| --- | --- |
| Wed: 03/25/2015 | Topic: Cooling / Heatsinks PermaLink |
In our comparison tables, you can find test results regarding 44 recent air and watercoolers. Furthermore we do not comment the benchmark values. The idea and also the goal is to present to you a market overview which helps you choose the right cooler.
---
| | |
| --- | --- |
| Mon: 03/23/2015 | Topic: Cooling / Heatsinks PermaLink |
"Cooling capacity is dependent on air flow and the Ultimate has you covered. You have close to 300CFM of air at your command, so expect to notice the fans when you crank up the heat and with a cooler this size, a little fan noise just goes with the territory. Thermaltake has refined a few components to make the installation about as easy as it can be. The low profile Asetek pump looks good and is quiet. Even at a 4.5GHz overclock, the Ultimate still has some thermal room if your chip can handle a higher overclock."
---
| | |
| --- | --- |
| Mon: 03/23/2015 | Topic: Cooling / Heatsinks PermaLink |
Today we spend time getting acquainted with Noctua's NH-D9L CPU cooler. It may not set any temperature records, but it has plenty of solid features."
---
| | |
| --- | --- |
| Sat: 03/21/2015 | Topic: Cooling / Heatsinks PermaLink |
The Noctua NH-U9S is a tall cooler with a small 95x95mm footprint for greater case, RAM and PCIe compatibility, even on micro ATX and ITX motherboards. We put put it to the test to see if its asymmetrical heatsink design featuring 5 heatpipes makes for improved cooling performance that can stand with the cooler's bigger brothers.
---
| | |
| --- | --- |
| Thu: 03/19/2015 | Topic: Cooling / Heatsinks PermaLink |
After my recent review of the Phanteks Enthoo Evolv ITX I felt that I wasn't quite done with the review. What good is a case designed for watercooling with all air cooling installed? And aside from that travesty, I felt that in order to properly test Phanteks' made for watercooling mini-ITX case I should actually do a proper install. With that in mind follow along with this guide as I install a full custom loop in the Enthoo Evolv ITX."
---
| | |
| --- | --- |
| Thu: 03/19/2015 | Topic: Cooling / Heatsinks PermaLink |
Noctua always made a very good impression- from build quality to installation and even performance. NH-U9S makes the same impression as one would expect. Quality that a lot of users appreciates. I've said it before and will say it again. Even though Noctua CPU coolers hold a certain premium- from the CPU brackets and screws, down to the quality of finishing of the heatbase and even detailed TDP/Motherboard compatibility list, they always give the money's worth. Oh yeah, they're probably the only ones out there giving 6 years warranty period and premium retail fan(s) and an NT-H1 thermal paste pre-bundled with their units. I know, I am saying this at the cost of sounding like a fanboy, but that's Noctua for you.
---
| | |
| --- | --- |
| Thu: 03/19/2015 | Topic: Cooling / Heatsinks PermaLink |
Dual-Tower heatsink designs are very impressive- both when it comes to size and performance. It's another part of the story that (depending on the CPU Cooler manufacturer, the motherboard manufacturer and memory kit manufacturer) may make it in a way that something may come in the way. I am not a real believer that tall memory heatspreaders have real value when it comes to heat dissipation. Depending on the design, they do look at. And also it helps to cover the chips used in the kits. Alas, we don't have a proper equipment to evaluate that… yet!!
---
| | |
| --- | --- |
| Thu: 03/19/2015 | Topic: Cooling / Heatsinks PermaLink |
92mm CPU coolers are making a comeback- and this is probably my second time mentioning it. Coolermaster Hyper D92 arrived few months ago at a very appropriate times. The TDP of modern mainstream processors going lower, with systems getting smaller. In a way, air CPU coolers have to compete with liquid cooling counterparts. They still do have its usefulness. It's cheaper, the fear of liquid coolers potentially going back is non-existent and many of them look good. I know, I haven't started testing liquid CPU coolers, and probably I'll have a different set of lines when I do. That's because I really need to have a proper test bench as my Lian Li A70F doesn't have the top mounts for longer radiators. There are some plans made, and I hope to see the light at the end of the tunnel. Hyper D92. The CPU Air cooler that looks neat but looks tall enough to be mistaken for a full tower design from a certain distance. How do these 92mm units perform???
---
| | |
| --- | --- |
| Thu: 03/19/2015 | Topic: Cooling / Heatsinks PermaLink |
"While beige and brown provide a unique aesthetic that clearly defines the Noctua brand, it hardly fits in most color schemes that builders decide on for their rigs. Just when all hope was lost that we would ever see anything different, Noctua decided to give us two new colors in their arsenal of fans; a grey scheme for the Redux line and a black/brown scheme for their Industrial line. Let's continue our closer look in this Part II Roundup of Noctua fans."
---
The GeForce Titan X is a processing powerhorse, with its GM200 chip carrying six graphics processing clusters, 24 streaming multiprocessors with 3072 CUDA cores. Combined with six 64-bit memory controllers (384-bit) for a total 12GB of GDDR5 memory clocked at 7GHz, that's 50% more cores and memory bandwidth than today's single-GPU king, the GeForce GTX 980, released only six months ago. With those numbers we're eager to see what this card is capable of.
---
Today we are going to take a look at one of the latest cases in the Corsair range, the Carbide 100R Silent Edition. We have commended products from the Carbide range in the past as we have found that they are a great option for those looking to build a quality system on a tight budget.
---
| | |
| --- | --- |
| Wed: 03/18/2015 | Topic: Cooling / Heatsinks PermaLink |
This is a smaller heatsink designed for their NF-A9 92mm cooling fan and positioned as a high performance OEM replacement for the 3U MiniITX and MicroATX system market.
---
| | |
| --- | --- |
| Wed: 03/18/2015 | Topic: Cooling / Heatsinks PermaLink |
Initially conceived of as a convenient and more affordable alternative to building a custom liquid-cooling loop, the first generation self-contained all-in-one CPU cooler units did not succeed in their attempt; performing poorly, costing a lot and if you were one of the unlucky ones, damaged your entire system after it started leaking. It took a while but manufacturers have successfully...
---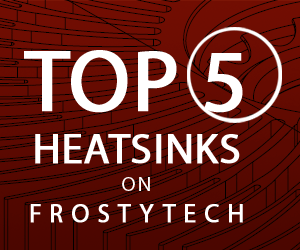 Raijintek is quickly establishing a reputation for being one of the best chassis manufacturers around. Time and time again they've shown us that they can make fiercely competitive products, that are packed full of features, with great esthetics and build quality, while maintaining a very affordable price point. Raijintek have set such a good standard for themselves, so I have very high expectations of their latest product, the Aeneas Micro-ATX chassis. The Aeneas is the latest addition to the booming cube-style chassis market. There's a lot of great chassis' now available in this form factor, catering to the growing demand of consumers and gamers, for powerful desktop systems. Just like the boom in Mini-ITX chassis after the release of the BitFenix Prodigy, Micro-ATX cube-style chassis' are now growing in demand as system builders want more space for the latest generations of high-end graphics cards, multi-GPU configurations and of course, room for water cooling, especially with the increasing popularity of custom loop cooling.
---
| | |
| --- | --- |
| Wed: 03/18/2015 | Topic: Tradeshows / Events PermaLink |
In exactly 2 days NikKTech will be 3 years old so we decided to do a really special giveaway for all of you out there and what better than to give away three of the best PC cases Nanoxia makes? More specifically we're giving away a Deep Silence 1 Revision B Midi Tower, a Deep Silence 5 Revision B Big Tower and a Deep Silence 6 Revision B Big Tower (winners can choose the color from the available ones).
---