| | |
| --- | --- |
| Thu: 07/16/2015 | Topic: Cooling / Heatsinks PermaLink |
Whenever i get a few free minutes between reviews i always like to visit forums and Reddit to read the hottest topics and although lately the usual AMD vs NVIDIA flame (all over again this time because of the new Radeon Fury and GeForce 980 Ti cards) leads the pack once again there are many people out there who wonder which is the best solution for their systems, AIO liquid CPU coolers or CPU Air Coolers. The answer has much to do with what kind of case/tower you own and the amount of airflow inside but generally AIO liquid CPU coolers are easier to "optimize" compared to regular CPU air coolers since they can be configured to suck air from the outside and thus provide even better cooling results. One such solution is in our test bench today and more specifically the first complete 240mm AIO liquid CPU cooler by Alphacool called the Eisberg.
---
| | |
| --- | --- |
| Thu: 07/16/2015 | Topic: Cooling / Heatsinks PermaLink |
Aside from the inclusion of a variable speed pump, the NZXT Kraken X61 improves from it's predecessor by including a massive 280 mm radiator with a desner fin array which accounts for 36% more surface area. NZXT has also given the Kraken X61 extended tubing to ensure compatibility with all installation environments. Included with the Kraken X61 are two FX140 V2 PWM fan which according to NZXT are more powerful, quite, and durable than the inclusions of it's predecessor. Most importantly, the Kraken X61 has a 6 year warranty, which just goes to prove how confident NZXT is of the Kraken line.
---
| | |
| --- | --- |
| Thu: 07/16/2015 | Topic: Computer / SFF PCs PermaLink |
Despite palm-sized proportions, Intel's NUC5i7RYH mini-PC is loaded with a 28W Broadwell processor, multiple storage bays, and connectivity galore. We've taken the small-form-factor system for a spin to see how well it handles—and whether it can play games. You might be surprised by what this little thing can do.
---
KitGuru had a sneak preview of the be quiet! Silent Base 800 Window at Computex and now we have got our hands on the finished case (we're still waiting to see the Silent Base 600, however). The quick take is that the Silent Base 800 is unchanged, the windowed panel is substantial and well engineered and the price has been increased to account for the new feature. We wondered whether be quiet! might have made the odd tweak to the hardware but in fact we have no surprises to unveil. You get an ATX tower with seven expansion slots, four optical drive bays, seven storage drive bays, two front 140mm fans and a rear 120mm fan.
---
One glance at the Mini ITX Deepcool GamerStorm Tristellar makes it clear this isn't a run-of-the-mill PC case. In fact you might struggle to tell it is a PC case at all.
---
| | |
| --- | --- |
| Tue: 07/14/2015 | Topic: Cooling / Heatsinks PermaLink |
Mitte Mai 2015 erreichte uns eine Pressemitteilung über zwei neue CPU Kühler aus dem Hause Noctua, wobei der Begriff "Neu" weniger zutrifft als eher optimiert. Die neuen Modelle NH-C14S und NH-D15S wurden kompatibler und kompakter gemacht, so dass sie mit nur einem Lüfter auskommen und nicht so viel Platz in Anspruch nehmen. Einen der Beiden haben wir euch schon gezeigt, den Top-Flow-Kühler. Diesmal sehen wir uns den neuen Doppel-Turm-Kühler NH-D15S etwas genauer an. Dieser basiert auf dem bekannten und vielfach ausgezeichneten NH-D15 CPU Kühler, den man als Basis für weitere Verbesserungen genommen hat.
---
| | |
| --- | --- |
| Tue: 07/14/2015 | Topic: Cooling / Heatsinks PermaLink |
Noctua is a name that I bet the majority of our readers have heard of, being that they make a vast array of highly successful and quality cooling fans, CPU coolers, and thermal pastes. Noctua's premium products are aimed at those who seek reliable coolers that provide extreme and quiet performance, so the cooler that we're going to review today has some high expectations. Designed off of the highly successful NH-D14 cooler, the NH-D15 was born and tweaked for improved performance...
---
| | |
| --- | --- |
| Sun: 07/12/2015 | Topic: Cooling / Heatsinks PermaLink |
Noctua is an Austrian company most commonly known to enthusiasts for making class leading silent cooling solutions which is not normally what we expect from a small cooler, as they are usually the opposite. The Noctua NH-L9x65 is a step forward in Noctua's line of small profile coolers and thus it comes into this review with high remarks.
---
| | |
| --- | --- |
| Thu: 07/09/2015 | Topic: Cooling / Heatsinks PermaLink |
Enthusiasts, hardcore gamers, overclockers and professionals may all belong in different segments of the market but they do share some similarities one of which is that they usually spend quite a bit in order to get one of the many CPU cooling solutions in the market from regular air coolers and A.I.O systems up to custom watercooling kits and in some extremely rare cases even external Freon units. The same however doesn't apply for casual users who're always looking for a regular CPU air cooler with the best possible balance between value and performance. Luckily compared to even just 5 years ago there's a vast number of such models in the market currently and one of the most recent ones is the H7 by Cryorig.
---
| | |
| --- | --- |
| Thu: 07/09/2015 | Topic: Cooling / Heatsinks PermaLink |
We tested the Corsair H100i GTX, a high-end sealed liquid cooling system for CPUs, with a 240 mm radiator cooled by two 120 mm fans.
---
| | |
| --- | --- |
| Thu: 07/09/2015 | Topic: Cooling / Heatsinks PermaLink |
"Be quiet! has grown in leaps and bounds in the cooling field over the last couple of years, and the Dark Rock TF may be their crowning achievement at the moment. Following the rather awkward and disappointing Shadow Rock TF, my expectations weren't all that high, and I couldn't have been any further off the mark."
---
| | |
| --- | --- |
| Thu: 07/09/2015 | Topic: Cooling / Heatsinks PermaLink |
"The Fractal Design Kelvin T12 AiO-Cooler arrived Technic3D. See you in the following Review the T12 with two 120mm PWM-Fans and 120mm Radiator compared with many other Cooler on a Intel Core i5 4670K CPU."
---
| | |
| --- | --- |
| Thu: 07/09/2015 | Topic: Cooling / Heatsinks PermaLink |
The GeminII series from cooler master has a very unique design that allows not only the CPU to be cooled, but also the memory and power delivery components located near the socket of the motherboard. Another key point of the GeminII series is compatibility, the Cooler Master S524 Version 2 borrow from it's predecessor by keeping ram compatibility with modules up to 47.06 mm in height, as well as with cases that allow for 105.4 mm of height, making the GeminII S524 Version 2 adequate for small cases like the Haf Stacker 915F.
---
| | |
| --- | --- |
| Tue: 07/07/2015 | Topic: Cooling / Heatsinks PermaLink |
Corsair revamped the Hydro Series of all-in-one liquid CPU coolers once again with the H80i GT. This new design takes the thick 120 mm radiator design a step further with an ultra-thick radiator. Add in a new look, full Corsair Link support, and exceptional performance, and it is another top AIO from Corsair.
---
Corsair's popular Carbide 500R is a prototypical performance case placing a heavy emphasis on compatibility and airflow. Critical to its success is a monstrous 20 cm side fan bathing the graphics card and other components in cool air from outside.
---
The Zalman Z11 Neo's unique look is part of a bold attempt to deliver most of the usual trappings of a modern ATX tower in an affordable yet attractive package.
---
The Phanteks Enthoo Evolv ITX is a bulky mini-ITX tower with enthusiast grade features including support for thick 240/280 mm radiators, mounting points for a reservoir and pump, and a monstrous 200 mm front fan.
---
| | |
| --- | --- |
| Mon: 07/06/2015 | Topic: Cooling / Heatsinks PermaLink |
With their LV12, Lepa has a tower-cooler in their portfolio, which catches our attention with its matte black color. Other than that, this neat looking cooler comes with four heatpipes, as well as high quality fan. Apart from that even the price tag is on a very competitive level and it looks like this could be an insider's tip.
---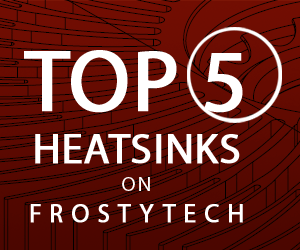 | | |
| --- | --- |
| Mon: 07/06/2015 | Topic: Cooling / Heatsinks PermaLink |
Thermalright looks to improve upon the ever-popular Macho series with the new Macho Revision B. This revision offers an offset design for better memory compatibility while sticking with a massive single tower. Offering fantastic performance for the price when compared to ultra high end solutions, it could very well be just what you are looking for.
---
| | |
| --- | --- |
| Mon: 07/06/2015 | Topic: Cooling / Heatsinks PermaLink |
If there is one thing to be said about Beijing based hardware manufacturer DeepCool, it would be their tenacity for pushing the limits of their own design while creating new and inspiring pieces of tech. While company has been around and creating cooling solutions since 1996, it hasn't been until recently that they have thrust themselves onto the global enthusiast stage. Since we have been reviewing their products we have moved from simple air coolers to the very steampunk inspired AiO that we are taking a look at today. The Captain 240 is the middle of their Captain line of AiO coolers and really sets itself apart with it's aesthetics. Read on as we find out if the design is just a veneer or if this cooler really has what it takes to be one of the best."
---