| | |
| --- | --- |
| Fri: 09/19/2014 | Topic: Cooling / Heatsinks PermaLink |
XT had a great success story with the X40 and X60 CPU coolers, but since they launched we've seen several rivals come in and steal their thunder, so NZXT have gone back to the drawing board, adding new features and tweaking the specifications of their popular Kraken range to bring them back into the game. I'm a big fan of NZXT coolers, I personally use their Kraken X60 280mm all-in-one water cooler on my own CPU and I'm very happy with the performance it offers. So I'm eager to find out how well these new models perform and what new features NZXT have to offer. The biggest change for the new Kraken coolers is the pump; they're the first consumer model all-in-one coolers to features Aseteks new variable speed pump, something often associated with custom loop water cooling and yet another indication of how far all-in-one cooler technology has been progressing.
---
| | |
| --- | --- |
| Thu: 09/18/2014 | Topic: Cooling / Heatsinks PermaLink |
"Physically, the old and new enthusiast processors are the same size. Their ball pattern pitch is the same, too. But Intel keys its Core i7-5000-series CPUs differently than the -4000s or -3000s, so you can't accidentally drop an LGA 2011 model into LGA 2011-3, and vice versa."
---
| | |
| --- | --- |
| Tue: 09/16/2014 | Topic: Cooling / Heatsinks PermaLink |
This is not a standard SPCR heatsink review. It is a reader's roundup of the most affordable coolers, with an emphasis on perceived noise and performance, supported by acoustic test data from SPCR, collected with our usual high standards. If you're seeking an effective and really inexpensive cooler, Andrew's roundup is a must read.
---
| | |
| --- | --- |
| Tue: 09/16/2014 | Topic: CPU / Processors PermaLink |
If you thought Haswell-E was something, wait til you get a load of the EP variant. This server-grade monster has up to 18 cores and 45MB of L3 cache, plus quad DDR4 memory channels and loads of high-speed I/O. We've taken a closer look at the new Xeon family and tested a dual-socket workstation loaded with the 10-core E5-2687W v3 derivative.
---
| | |
| --- | --- |
| Tue: 09/16/2014 | Topic: Cooling / Heatsinks PermaLink |
"If take into consideration the size of the Mugen Max, and its weight, overall mounting was very easy, with one exception. The back plate installed easily, and the mounting hardware to secure the bracket in place which holds down the heat sink was also a breeze."
---
| | |
| --- | --- |
| Tue: 09/16/2014 | Topic: Cooling / Heatsinks PermaLink |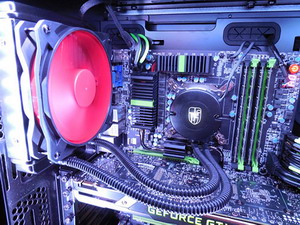 If you haven't heard of DeepCool by now we really can't blame you. This start up out of Beijing, China has only recently started hitting shelves in the US. However, if you are an avid ThinkComputers.org reader you will no doubt have seen several excellent performing CPU coolers come across our pages from DeepCool. Since then DeepCool has really started to step up their game by branching into the case, power supply, and as you'll see today, the AIO CPU cooler market. With the market so flooded with AIO's, the hottest cooling item of today, can DeepCool's Maelstrom 120 even make a splash? And can it possibly keep up with the years of R&D other companies have in the AIO spectrum? Read on to find out!"
---
| | |
| --- | --- |
| Tue: 09/16/2014 | Topic: Cooling / Heatsinks PermaLink |
When we were at the Gigabyte IDF LN2 overclocking event we spotted that Hicookie was using the Gigabyte GA-X99-SOC Force LN2 motherboard, which hasn't been announced just yet! Gigabyte has already released the Z97-SOC FORCE LN2 motherboard for socket LGA1150 processors, but this is a new board using the Intel X99 Express chipset that has been engineered specifically for the most hardcore overclockers that need a board that can handle LN2. This board is very interesting to use because it uses a non-standard CPU socket that has more pins in it for better overclocking.
---
| | |
| --- | --- |
| Sun: 09/14/2014 | Topic: Cooling / Heatsinks PermaLink |
The Noctua NH-D15 arrived Technic3D. See you in the following Review the NH-D15 CPU-Cooler with two 140mm Fans and six 6mm Heatpipes compared with many other Cooler on a Intel Core i5 4670K CPU."
---
| | |
| --- | --- |
| Sun: 08/31/2014 | Topic: Cooling / Heatsinks PermaLink |
Armed with pleasant-sounding fans, extra long tubing, and new management software, the NZXT Kraken X31 and X41 seek to leave a more favorable impression on us than previous CPU water coolers.
---
| | |
| --- | --- |
| Thu: 08/28/2014 | Topic: Cooling / Heatsinks PermaLink |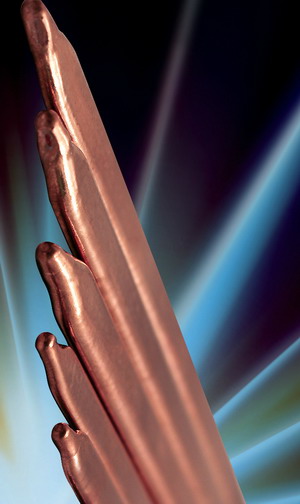 Advanced Thermal Solutions, Inc., ATS, has introduced a series of copper heat pipes for transporting power dissipation away from hot electronic components. Thirty-three round and flat profile heat pipes are available to meet application needs.
The new ATS heat pipes transfer component heat to heat sinks with minimal temperature difference. They also distribute heat efficiently across the length of heat spreaders. Liquid in the heat pipe turns to vapor by absorbing heat and removing thermal energy from hot component surfaces. The vapor travels to the cold end of the pipe where it releases latent heat and condenses back to liquid. The liquid returns to the hot interface along an internal copper wick to provide continuous thermal management.
The cold end of the copper heat pipe attaches easily to most heat sinks, providing effective cooling when a heat sink can't be applied directly on a heat source. All heat pipes are easily hand or machine-shaped to meet application needs. They can be friction fit, clamped, soldered, or adhesively attached.
Each model in the new heat pipe series has been characterized by ATS for both thermal resistance and maximum heat transport capability. The transport property is determined as a function of the working temperature and the pipe's angle of inclination.
Every heat pipe consists of a sealed copper tube, internal copper wick structure, and distilled water as its working fluid. Round profile heat pipes come in lengths from 200-300 mm and diameters from 4.0-8.0 mm. Flat profile heat pipes range in length from 100-250 mm, widths from 8.2-10.5 mm, and heights from 2.5-4.5 mm. Weights range from 8-33 grams. They are effective in temperatures ranging from 30-120°C. Other fluids and sizes can be accommodated with custom heat pipe designs by ATS.
The heat pipes are available separately from ATS or in thermal solutions integrating the company's widely-used Push Pin and maxiFLOW heat sinks The new heat pipes have no moving parts and require no maintenance. They can be ordered online at Qats.com or by calling Advanced Thermal Solutions: 781-769-2800.
---
"Today, we have chance to look at a uniquely designed SFF PC chassis that can operate in complete silence. We have on our test table today the Streacom FC8 Evo Fanless Chassis. Also, when we refer to it being silent, we really mean it, because the Streacom FC8 Evo case features a completely fanless design. Perhaps its sleek aesthetics will prove to be a talking point of your entertainment center. Let's review it and find out."
---
Lots of folks are looking towards a high end desktop computer system with a much smaller footprint. Mini-ITX motherboards have gotten to such a good quality level over the last few years, putting a gaming and overclocking behemoth in a small case is a possibility and Thermaltake wants to take it to the next level.
---
| | |
| --- | --- |
| Sun: 08/24/2014 | Topic: Cooling / Heatsinks PermaLink |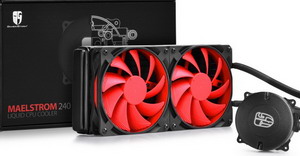 There's no denying that CPU air coolers are the weapon of choice for the vast majority of consumers but since there's a steadily growing number of people who prefer to use closed loop AIO (All In One) liquid CPU coolers it's only natural to see more and more manufacturers add such solutions in their product lines. Of course as mentioned in the past most AIO liquid CPU cooling solutions are currently rebranded ones made by the three major names in the OEM industry namely Asetek, CoolIT and AVC (Asia Vital Components) with Asetek holding the 1st place since they are responsible for roughly 70% of such products. Recently DeepCool also decided to jump on the AIO wagon with their Maelstrom product line which includes two 120mm (single fan) and one 240mm models (dual fan) and as revealed by the title we decided to take the largest one for a ride to see how it handles.
---
Cooler Master have earned a solid reputation as one of the leading providers of power supplies in the desktop and enthusiast market, and rightly so. Unlike some PSU vendors Cooler Master do not tend to stick with the same OEM and have used CWT, Enhance and Seasonic to ensure they always get the best balance between price and performance depending on the product they are making. Today we are looking at a power supply that is produced for Cooler Master by Enhance, one of Cooler Master's favoured OEMs of late. We have also seen the Enhance OEM used in many of Cooler Master's Silent Pro Hybrid series power supplies. On the bench for this review is Cooler Master's brand new V750 power supply. Boasting 750W of 80 Plus Gold Rated power with a low RPM fan and a semi modular design Cooler Master's V750 looks like a very nice offering. It also comes in an incredibly compact form factor being just 5.5 inches in length and better still it has a very reasonable MSRP of $110. So without any further ado let's proceed into this review and see how it performs!
---
| | |
| --- | --- |
| Mon: 08/18/2014 | Topic: Cooling / Heatsinks PermaLink |
Gute Kühlleistung und Lautstärke bei CPU-Kühlern sind meist die wichtigsten Kriterien. Doch geht dies auch zu attraktiven Preisen? Drei neue Vertreter aus den Häusern Raijintek, Scythe und Thermalright wollen das unter Beweis stellen. Was die Kühler Ereboss, Mugen Max und True Spirit 140 in der Praxis leisten, das klärt unser heutiger Test.
---
| | |
| --- | --- |
| Mon: 08/18/2014 | Topic: Cooling / Heatsinks PermaLink |
Cooling module maker Yen Sun Technology has entered the supply chains of Europe-based car vendors Volkswagen, Daimler AG and BMW, and has already started supplying products, helping the company turn profitable in the second quarter, according to some market watchers.
---
| | |
| --- | --- |
| Mon: 08/18/2014 | Topic: Cooling / Heatsinks PermaLink |
A couple readers have written to ask if Frostytech can test the novel copper foam heatsink used on a new crowd funded silent computer system making the rounds. Well, we can't because it doesn't yet exist.
In case you missed it, this is what all the hoopla is about.... this is the mock-up from SilentPowerPC.de who are looking to raise €45,000.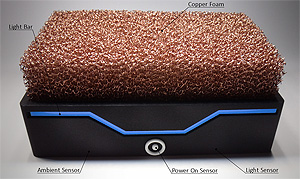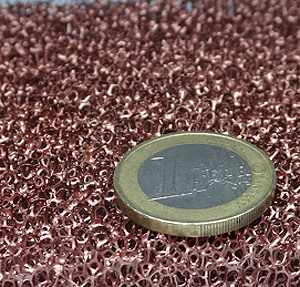 Copper metal foam structure.
The crowd funding project aims to use a slug of copper inside the open cell copper metal foam as the heat spreader, with the metal foam on the outside serving as the "fins" of the heatsink. In this design, airflow is not fan-driven, but by convective air currents (hot air rising) so the system remains completely silent. The project touts such benefits as: "heat is distributed on an up to 500-fold greater surface area."
While open-cell metal foams are routinely used in water blocks and evaporative cooling systems, I can't see the mockup design successfully working as a passive CPU heatsink.
For starters, the random cellular structure of metal foam is going to create significant pressure drop which will styme free airflow. To make matters worse, the base is entirely blocked off by the heat generating components and a solid heatspreader... so air can really only enter the metal foam from the edges. Compare SilentPowerPC.de's thermal design to the prototype heatsinks actually produced by the metal foam industry to promote the application of their products (below).
See the difference? Thin slabs of open cell metal foam to reduce pressure drop and tubing or heatpipes to conduct the heat energy across a large surface area.... and a requirement for high pressure fans to drive airflow through the restrictive material.
The SilentPowerPC.de team would, perhaps, be better to choose a proven fully passive heatsink such as Nofan's CR-80EH, which actually exists. NoFan heatsinks are essentially made from one wound up 'heatpipe', the downside being the volume of space required and a dissipation ceiling of about 90W. Considering that the SilentPowerPC.de crowd funding project aims to squeeze an Intel Core i7 4785T CPU and NVIDIA GTX 760 GPU in the box, I'm skeptical they will build a working prototype with the metal foam heatsink as pictured.
---
| | |
| --- | --- |
| Fri: 08/15/2014 | Topic: Cooling / Heatsinks PermaLink |
"True to its motto "innovated - not imitated" the premium manufacturer Thermalright presents with the Archon IB-E X2 a revised version of one of the most powerful single tower coolers in the world. The Archon IB-E X2 uses a dual-fan design as well, which has been optimized for the needs of the most demanding users.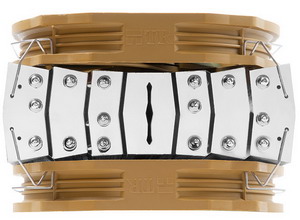 The cooler has been revised in accordance with current customer requirements and makes excessive use of innovative new features to improve an already excellent product even further. The most important innovation of the Archon IB-E X2 is the new layout of the heatsink: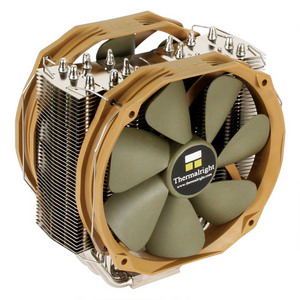 To ensure the best possible compatibility with motherboards and components used, the two aluminum cooling blocks are now arranged asymmetrically. The revised design of the IB-E ensures that the top PCIe slot on ATX motherboards is no longer blocked by the heatsink. In addition, with the overall lower design and the resulting reduction in the total height, a greater compatibility with current cases has been achieved.

In cooperation with the renowned review page Nikktech.com Thermalright starts today a sweepstakes, where the participants can win one of three brand-new Archon IB-E X2 coolers. Further information can be found on the Thermalright Facebook-Page.

The cooler is expected to be available in stores from the end of August; the MSRP is € 64.99, incl. 19% VAT."
---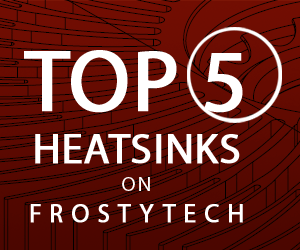 | | |
| --- | --- |
| Fri: 08/15/2014 | Topic: Cooling / Heatsinks PermaLink |
"Cooler Master wants nothing but the best for our users, even when things aren't going perfectly. In an effort to make things easier, reduce headaches, and provide a better all-around service environment, we've upgraded our support systems.
Starting today, you'll find a new and improved ticket and Live Chat systems through our CM FanZone to make sure you're getting clear and quality support services directly from us.
CM FanZone also provides member exclusive deals, private chat boards, tutorials, and news on the latest Cooler Master products."
See the new Cooler Master FanZone @ https://account.coolermaster.com/
---
| | |
| --- | --- |
| Fri: 08/15/2014 | Topic: Cooling / Heatsinks PermaLink |
Noctua is continuing its tradition of supplying customers with its premium-class SecuFirm2™ mounting kits for novel platforms free of charge. While newer Noctua heatsinks support Haswell-E's LGA2011-3 socket out of the box, older models can be upgraded with the NM-I2011 kit at no additional cost.

"We're determined to provide the best possible support to our customers and over the years, we've sent many thousands of mounting kits free of charge to users who wanted to upgrade to new platforms", says Mag. Roland Mossig (Noctua CEO). "With Haswell-E just around the corner, we're pleased to announce that we'll extend this offer for LGA2011-3. Owners of older Noctua retail heatsinks that don't support LGA2011 out of the box will be able to upgrade to the new socket free of charge!"

Due to the heatsink mounting mechanism being identical on LGA2011-0 and 2011-3, Noctua's previous SecuFirm2™ mounting systems for LGA2011 also support Intel's upcoming 'Haswell-E' X99 platform. The following Noctua coolers already include SecuFirm2™ mounting systems for LGA2011 and can be used on LGA2011-3 mainboards without any upgrades or modifications: NH-D15, NH-D14 SE2011, NH-U14S, NH-U12S.

Users of older Noctua retail models that don't include a SecuFirm2™ mounting system for LGA2011 can obtain the NM-I2011 kit free of charge on Noctua's website in order to make their heatsinks compatible with the new socket. The NM-I2011 kit is compatible with most Noctua retail coolers since 2005.

The NH-L12 features a special variant of the SecuFirm2™ that needs to be updated with the new NM-IPS2 spacers in order to be compatible with LGA2011-3. NH-L12 owners can now request these spacers free of charge at www.noctua.at.

To order the NM-IPS2 spacers (NH-L12 only) or NM-I2011 kit (all other models that do not support LGA2011 out of the box), a proof of purchase (photo, scan or screenshot of the invoice) of both an eligible Noctua CPU cooler and either an LGA2011-3 mainboard or LGA2011-3 CPU are required. The NM-LGA2011 is also available in stores at a low service charge.
---