| | |
| --- | --- |
| Fri: 11/27/2015 | Topic: Cooling / Heatsinks PermaLink |
Nowadays it almost feels that wherever i look i see manufacturers doing their best to cover even the last person in the market with their products. Take AIO liquid CPU coolers for example. As i type these lines in the market there are numerous such models from a large number of manufacturers not only with different length (120/140/240/280/360mm) and thickness (25/27/30/32/38/43/45/49mm) radiators but also with different type of tubes (rubber/FEP) and various performance pumps (2400/2500/2600/2800/2900/3600/3800RPM). This of course is not the same as custom tailoring a AIO liquid CPU cooler for your system but with the amount of available models right now things have gotten really close to that. SilverStone recently updated their Tundra TD02 line to include three new models the TD02-E, TD02-Slim and the TD02-Lite which we have here with us today.
---
| | |
| --- | --- |
| Fri: 11/27/2015 | Topic: Cooling / Heatsinks PermaLink |
You might be surprised by the news that EKWB has entered the All In One liquid cooling market with the Predator 240 and Predator 360 systems. After all, EKWB (Edvard Konig Water Blocks) is a specialist liquid cooling company that sells components for custom cooling loops, rather than full systems, so why would they try to compete with the likes of Corsair, NZXT, Antec, Alpenfohn, Cooler Master, Fractal Design and the rest?
---
| | |
| --- | --- |
| Thu: 11/26/2015 | Topic: Cooling / Heatsinks PermaLink |
Gigabyte's GTX 980 Ti Xtreme Gaming comes with a watercooling solution onboard which provides excellent temperatures and low noise. In our testing the card turns out to be the fastest GTX 980 Ti we ever tested, and with $720, it's not as expensive as the MSI GTX 980 Ti Lightning either.
---
| | |
| --- | --- |
| Mon: 11/23/2015 | Topic: Cooling / Heatsinks PermaLink |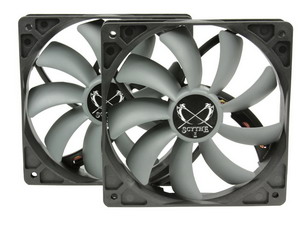 Japanese cooling expert Scythe announces the availability of it's new Fuma Twin-Tower CPU-Cooler. The new model combines a compact Twin-Tower design with total height of mere 149 millimeters and impressive cooling performance. The compact tower-design allows the Scythe Fuma to easily fit into most on-market PC chassis, making it a great choice for both enthusiast and gaming systems. Fuma is supplied with two Scythe Slip Stream 120-mm PWM fans and another fan clip set for a third fan.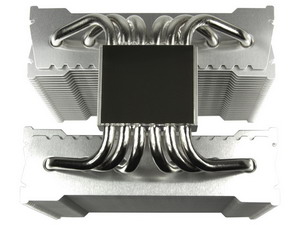 Scythe Engineers successfully created a compact but powerful Twin-Tower heatsink with a total height of 149 millimetres. The new Fuma utilizes 6 high-quality-copper-heatpipes with 6-millimeter diameter. Scythe has soldered the heatpipes to the solid copper-baseplate and the small cooler-block, to increase contact area and maximize the heat-transfer. Both copper-heatpipes and copper-base-plate have been nickel-plated in a final step.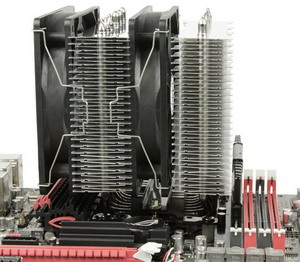 In order to offer great performance at low noise levels, two Slip Stream 120 mm fans with PWM-support are delivered with Scythe Fuma. The fans are offering a really wide fan speed range from 300 up to 1.400 RPM. Thanks to this wide range, a system using Fuma Twin-Tower CPU Cooler can be tuned to operate really silent or to boost the performance to the maximum, whenever it is required. Users are able to mount a third fan using the supplied third fan clip set, making the Fuma an amazingly versatile CPU cooler. In spite of being a Twin-Tower heatsink attached with two fans, Scythe Fuma is reaching a total weight of only 920 Grams.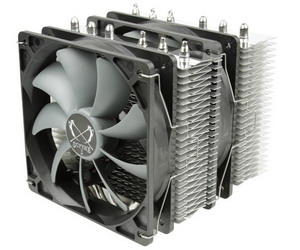 New Fuma utilizes the approved back-plate based Hyper Precision Mounting System (H.P.M.S) for firm mounting and easy installation process. The socket compatibility list features AM2, AM2+, AM3, AM3+, FM1, FM2 and FM2+ from AMD™ as well as sockets LGA775, LGA1150, LGA1151, LGA1155, LGA1156, LGA1366, LGA2011 and 2011(-v3) from Intel™. Scythe supplies the Fuma with all required mounting clips, one wrench, three sets of fan clips, one Y-fan-adapter as well as thermal grease and a manual.
Scythe Fuma (Model No. SCFM-1000) CPU Cooler is available as of today. Suggested retail price is set at 39,00 EUR (excl. Taxes).
---
| | |
| --- | --- |
| Thu: 11/19/2015 | Topic: Cooling / Heatsinks PermaLink |
"Finally, let's talk about performance. It does not matter how nice a cooler looks if it can't remove the heat. You need the combination of a properly sized heat sink and an efficient, capable fan. The Hans RC-1205 works well with the thermal load of normal daily use. The stock performance is just fine. The Hans RC-1205 also handles the demands of overclocked heat removal and keeps the temps under control while the fan noise is pretty much nonexistent - especially when the case fans spool up. If you are looking for this cooler in the U.S., it is somewhat difficult to find. In fact, I could not find it on Amazon, Newegg, TigerDirect, NCIX, or MicroCenter. I could only find it on a German website for 29.95 Euros, which translates to roughly $32, which is a reasonable price, but then there is, of course, shipping from Germany. Anyone up for a European vacation?"
---
| | |
| --- | --- |
| Thu: 11/19/2015 | Topic: Cooling / Heatsinks PermaLink |
We've got a great change of pace for you today, as we've broken away from the standard motherboard form factors for something a little more compact. I am of course talking about the Intel NUC motherboards, which may be tiny, but still pack a huge range of features, high-end processors such as the i5 and i7 ranges and enough connectivity to satisfy the needs of a whole range of usage scenarios.
---
Starting off with this mega round-up of 39 power supplies, ranging from 750 to 850 watts.

It's hard to buy a bad PSU these days, as long as you stick to trusted brand names, but that doesn't mean there aren't better and best models in addition to the merely good ones. We tested a whole bunch to see which is which – you can read that here:
---
| | |
| --- | --- |
| Tue: 11/17/2015 | Topic: Cooling / Heatsinks PermaLink |
The DeepCool Gamerstorm Captain 240 arrived Technic3D. See you in the following Review the CPU-Cooler with two 120mm Fan and 240mm Radiator compared with many other Cooler on a Intel Core i5 4670k CPU."
---
| | |
| --- | --- |
| Tue: 11/17/2015 | Topic: Cooling / Heatsinks PermaLink |
The Gelid Antarctica CPU Cooler is from Gelid Solutions Gamer range of CPU coolers and is marketed as a tall aluminium heatsink with a silent fan. It's compatible with all the mainstream and current CPU's, including the LGA1151 CPU from Intel. You'll need an adapter for the LGA2011-3 however. That aside, the CPU cooler market isn't left wanting for a choice in cooler, and there are enough good coolers out there to pick a relatively good one.
---
| | |
| --- | --- |
| Mon: 11/16/2015 | Topic: Cooling / Heatsinks PermaLink |
It may be true that the technology behind CPU air coolers hasn't changed that much over the past two decades (we've witnessed some innovations over the years but so far nothing has really taken off) but we really can't say the same about their size and design. I mean just look what's available currently in the market compared to past and even most current ISF solutions that ship with boxed CPUs. We don't just have both U-type (tower) models and C-type (top-down) models to choose from but those also come in many different sizes aimed towards pretty much every consumer out there from casual and HTPC users up to gamers, enthusiasts, overclockers and yes even professionals. So even though technology remains basically the same people have countless more choices right now offered by a much larger number of companies compared to even just 10 years ago. DeepCool may not be amongst the really old players in the market but in just a few years they've released a good number of CPU coolers (amongst others) one of which was the very good GamerStorm Assassin which has been succeeded by the new Assassin II.
---
| | |
| --- | --- |
| Mon: 11/16/2015 | Topic: Cooling / Heatsinks PermaLink |
So when I began looking for a low-profile air cooler for my own use recently one of the options that cought my eye was this Gabriel, part of DEEPCOOL's Gamer Storm line. The Gabriel had the advantage of being just $34.99 on Newegg when I picked it up, making it less expensive (and less tan and brown) than the Noctua. At 60 mm tall with its 120 mm fan installed, the Gabriel should fit in most low-profile enclosures, considering even half-height expansion cards are a bit taller at about 69 mm. The Gabriel also offers an understated look with a grey (well, mostly grey) fan. Of course appearances mean nothing unless it's well made and cools effectively, and for myself the question became, is this going to rival the experience of a Noctua (long my preferred brand) CPU cooler?
---
| | |
| --- | --- |
| Mon: 11/16/2015 | Topic: Cooling / Heatsinks PermaLink |
"Water cooling while extremely effective and often times beautiful to look at can be entirely overwhelming especially if you are new to the hobby obsession. Fortunately we here at ThinkComputers have your back! We will be imparting our years of water cooling knowledge and experience to you in a series we're calling: Water Cooling 101. Follow along and we'll help you pick out the best parts for you, show you how to install those parts, and have your own loop up, running, and free of air bubbles in no time. Welcome to Water Cooling 101!"
---
| | |
| --- | --- |
| Sun: 11/15/2015 | Topic: Cooling / Heatsinks PermaLink |
The NZXT Grid+ V2 is a voltage regulated, 30W digital fan controller fits in practically any case (it's about the size of two SSDs stacked on top of each other) and adds digital fan control capability for up to eight fans across six separate channels. Join Benchmark Reviews as we take a quick look at the capabilities NZXT's GRID+ V2 digital fan controller will bring to your build.
---
| | |
| --- | --- |
| Sat: 11/14/2015 | Topic: Cooling / Heatsinks PermaLink |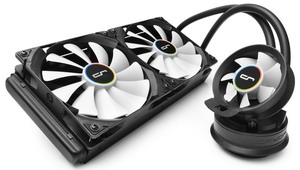 Cryorig A80
CRYORIG, PC cooling solution innovator releases the much speculated and also anticipated A Series of Hybrid Liquid Coolers. First unveiled in June at Computex 2015, the CRYORIG A Series Hybrid Liquid Cooler or HLC has been under much speculation from the PC cooling market. The CRYORIG's A40/A40 Ultimate and A80 HLC units are built on the base of Asetek's 5th Generation Pump and CPU Cold Block technology with a small but obvious twist. With an additional adjustable and detachable Airflow fan, the CRYORIG A Series HLC is capable of lowering the temperatures of the components surrounding the CPU by up to 20%.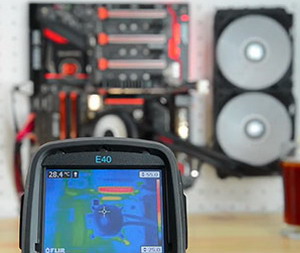 This major drop in heat buildup effectively improves system stability, component lifespan and overall system temperatures. The CRYORIG A Series will come in three models based on radiator size, beginning with the A40's 240 mm radiator, the A40 Ultimate with a 240 mm by 1.5" thick radiator and the A80 with a 280 mm radiator.
Live demoed at Computex 2015 with a professional Flir E40 Thermal Imager, the CRYORIG A40 turned heads with it's simplicity of innovation and effectiveness. With just one additional fan strategically angled and placed on top of the CPU block, the A40 fixed one of the most problematic issues of AIO liquid cooling products, stagnant heat build up around the CPU. CRYORIG's proprietary Airflow Fan is also adjustable in both push and pull configurations, as well as being able to change directions based on how you mount the CPU Cold Block. Adjust the Airflow fan to best match your system airflow for maximum affect. The 70 x 25 mm 1.500~3.000 RPM Airflow fan is PWM controlled and matches the fan speed percentage of the dual QF120 or QF140 PWM controlled radiator fans on the A80.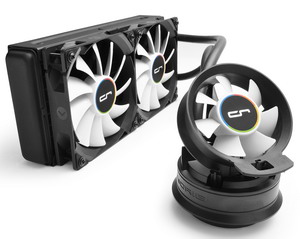 Cryorig A40 Ultimate
Built on Asetek's 5th Generation Pump and CPU Cold Block design, the A Series Hybrid Liquid Coolers also includes CRYORIG's acclaimed MutliSeg backplate system. The MultiSeg's robust metal backplate as well as easy to install mechanics, makes it an ideal match for the high-end A Series HLCs. With other CRYORIG innovation and proprietary technologies such as the QF120/QF120 radiator fans with Quad Air Inlet technology and HPLN bearings, makes the CRYORIG A Series HLC units a formidable competitor for the highly competitive AIO liquid cooling market. The CRYORIG A40, A40 Ultimate and A80 will first release in Japan on November the 5th, and released between mid to late November worldwide. MSRP of the A40, A40 Ultimate and A80 is $100 USD, $110 USD and $120 USD (excl. VAT) respectably in North America, and 99,95 Euro, 109,95 Euro, 119,95 Euro (incl. VAT) in Germany.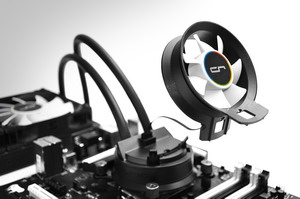 Cryorig A40
---
| | |
| --- | --- |
| Fri: 11/13/2015 | Topic: Cooling / Heatsinks PermaLink |
Of the all the reservoir types available in the market, the tube res has always been preferred mainly due to its large visibility and ease of installation. However, for the most part the design hadn't changed much until a couple years ago compression style reservoirs emerged into the market. Monsoon has developed their own compression style reservoir that has just …
---
| | |
| --- | --- |
| Thu: 11/12/2015 | Topic: Cooling / Heatsinks PermaLink |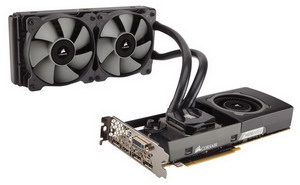 Seamlessly pair any Corsair Hydro Series CPU cooler to your NVIDIA GeForce NVIDIA® GeForce® GTX GTX 980 Ti, Titan X, GTX 980 and GTX 970
Corsair®, a world leader in high-performance PC hardware, today announced the immediate availability of its new Hydro Series HG10 GPU N980 and HG10 N970 cooling brackets for NVIDIA® GeForce® GTX GTX 980 Ti, Titan X, GTX 980 and GTX 970 graphics cards. Easy to install and compatible with any Corsair Hydro Series liquid CPU cooler (sold separately), the HG10 N970 and N980 help to substantially reduce your GPU's temperature, allowing for greatly increased overclocking headroom and providing as much as a 25% clock speed increase.
Designed to work with any stock PCB layout NVIDIA GeForce GTX 980 Ti, Titan X, GTX 980 or GTX 9701, the HG10 N970 and HG10 N980 replace the existing air cooling of the graphics card with a precision engineered aluminium bracket, allowing users to them fit a Corsair Hydro Series liquid CPU cooler directly to the GPU. With modern graphics cards outputting over 250W of heat, a liquid cooling system is a more efficient and powerful way to keep your graphics card cool. Lower temperatures mean users can overclock their GPU with fewer thermal limitations, allowing for improved performance and higher frame rates, all while running quieter than a standard air-cooler.
The HG10 N980 and N970's aluminium bracket and integrated 70mm low-noise blower fan also work to actively cool your GPU's other heat producing components. The HG10 N980 actively cools both the card's memory and VRMs, while the HG10 N970 actively cools the VRMs. Whichever one you use, The HG10 ensures quiet and efficient two-stage cooling for the whole graphics card, not just the GPU.
Compatibility and Availability
The HG10 N980 is compatible with any stock PCB layout NVIDIA GeForce GTX 980 Ti, GTX Titan X or GTX 980, while the HG10 N970 is compatible only with stock NVIDIA GeForce GTX 970 GPUs. Both are fully compatible with Corsair's complete range of Hydro Series Liquid coolers and are available immediately from Corsair's world-wide network of authorized distributors and resellers. Both are backed with a limited 2-year warranty and Corsair's excellent customer service and technical support.
For a full list of compatible GeForce GTX 980 Ti, GTX Titan X and GTX 980 see:
http://www.corsair.com/en-us/hydro-series-hg10-n980-gpu-liquid-cooling-bracket
For a full list of compatible GeForce GTX 970 see:
http://www.corsair.com/en-us/hydro-series-hg10-n970-gpu-liquid-cooling-bracket
---
| | |
| --- | --- |
| Thu: 11/12/2015 | Topic: Cooling / Heatsinks PermaLink |
Since the year 2001 OCinside.de followed the question, which CPU cooler can be used for which motherboard. With this interactive fit for fan guide one can find out exactly this with a few clicks, by moving the desired CPU cooler virtually on the selected motherboard. You can not only see if CPU cooler fits on the motherboard and how much space is left for the remaining components, but also listen to the fan sound, check the current price and read a review. Now also with Intel LGA1151 motherboards and many new CPU coolers !
---
| | |
| --- | --- |
| Thu: 11/12/2015 | Topic: Cooling / Heatsinks PermaLink |
Noctua is a well respected manufacturer in the highly competitive CPU cooler space, offering products optimized for high efficiency and low-noise. The newest members of their S series coolers, the NH-D15S and NH-C14S, are based on known designs tweaked for maximum compatibility to ensure proper fit on your hot new Haswell, Haswell-E, or Skylake supported motherboard. Both coolers come standard with Noctua's SecuFirm2™ mounting mechanism, ensuring a secure mount between the cooler and CPU.
---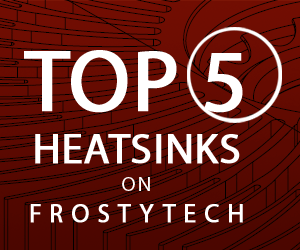 Nanoxia are a name you should know, and their Deep Silence chassis already has a following out there in modders land. With that said, it's hard for a designer and manufacturer of system chassis and other cooling components to make a name for themselves in the shadow of the mainstream corporations.
---
Be Quiet! is a well-respected brand, particularly in Europe, for PC power supplies and they are continuing to expand their product offering to include high-end ATX mid-tower enclosures. Be Quiet! introduced the Silent Base 800 mid-tower case last year and they have released the Silent Base 600 mid-tower case in 2015. As you might expect, the Silent Base Series is designed for very quiet operation while still offering excellent performance and cooling. We will be taking a detailed look at the new Silent Base 600 Window enclosure in this review.
---