| | |
| --- | --- |
| Wed: 01/15/2014 | Topic: Cooling / Heatsinks PermaLink |
Shane Higgins has done a great little tear down and comparison article on four self contained CPU watercooling systems over at LegitReviews.com that you'll really enjoy. He disassembles and compares the various tubing, fluid volume, pump design, copper cold plate design and electronics of the four systems side by side. Destroyed in the making of this article are the Zalman Reserator 3 Max and LQ315, Scythe APSALUS II and Cooler Master Seidon 120M. It's 8 pages & worth your time to read.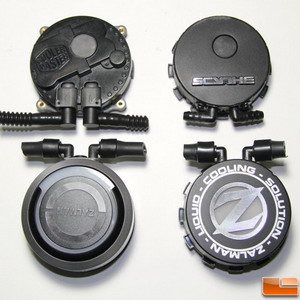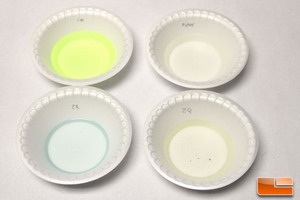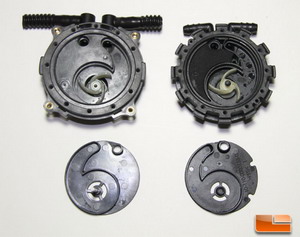 ---
| | |
| --- | --- |
| Wed: 01/15/2014 | Topic: Cooling / Heatsinks PermaLink |
Zalman introduced a couple interesting CPU coolers at this past weeks CES 2014 show in Las Vegas. What caught our eye were the Zalman FX70 passive heatsink, Reserator 3 Max Dual self contained liquid cooling solution and ZM-DF12 dual blade vaneaxial fan.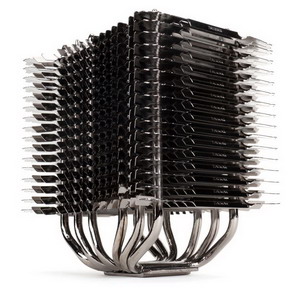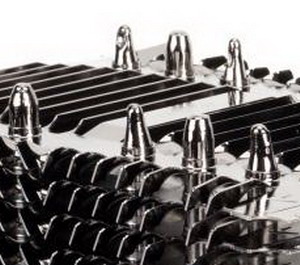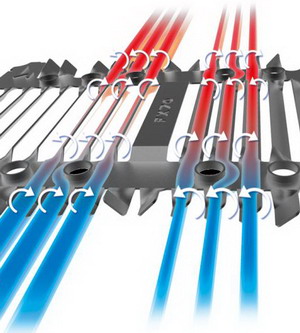 First up is Zalman's FX70 fanless CPU cooler. The dark nickel plated tower heatsink is built around six heatpipes and features a unique aluminum fin geometry which is intended to enhance natural convection air currents regardless of heatsink orientation. Tellingly, the heatsink is accompanied by 120mm fan brackets, for users that wish to add a single or back-to-back 120mm fans. Weight is 530g, dimensions: 158x110x140. The Zalman FX70 is compatible with Intel socket LGA2011/1366/115x/775 processors and AMD socket AM2/AM3/FM1/FM2 CPUs.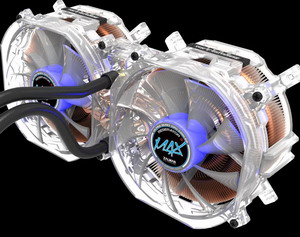 Zalman's latest entry into the competitive self contained CPU watercooler arena is the flagship Zalman Reserator 3 Max Dual. This a basically a re-spun Reserator 3 Max with twin 120mm circular heat exchangers this time around. The radial heat exchangers are made from copper tube and fins and are unique as much of the industry has adopted rectangular plate-and-fin automotive heat exchangers. The waterblock/pump head uses a micro skived copper base plate and the system is compatible with Intel socket LGA2011/1366/115x/775 processors and AMD socket AM2/AM3/FM1/FM2 CPUs.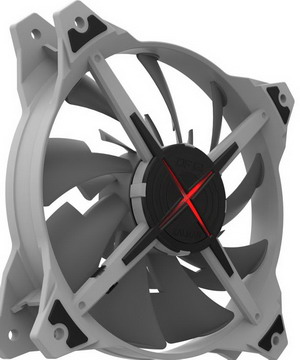 Zalman's ZM-DF12 fans are a unique entry. The fans have the usual assortment of anti-vibration pads and low noise bearings, what's different this time is the second set of vestigial fins on the vaneaxial impeller hub. The fans operate at 1500-800RPM, airflow is not specified however.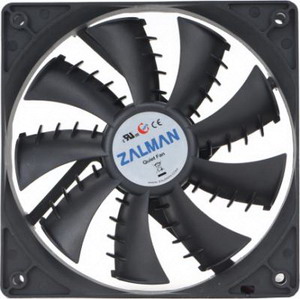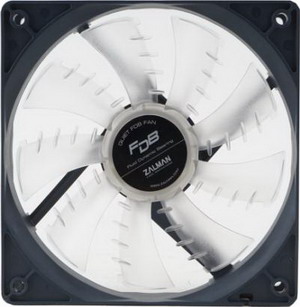 Shark Fin fan blades have come out from a number of manufacturers, in various forms. It's difficult to say how well these fans work, but it's good to see industry innovating on fan impeller design none the less. Zalman ZM-F1 Plus, ZM-F2 Plus and ZM-F3 Plus fans come in 80mm, 92mm and 120mm sizes.
---
| | |
| --- | --- |
| Wed: 01/15/2014 | Topic: Cooling / Heatsinks PermaLink |
Even though the Hydro H105 has just been officially presented to the masses at the CES 2014 Trade Show, MadShrimps is already introducing you to this latest sibling of the CORSAIR Hydro series. The H105 is manufactured for CORSAIR by Asetek and looks at first glance as a beefed up version of a Hydro H75 with a 240mm radiator. Over the years CORSAIR keeps on innovating in the AIO segment. The CORSAIR LINK software unleashed extra end-user tuning possibilities with the Hydro series. The included Static Pressure Fans allow for better cooling performance at lower noise levels. The Hydro H90 and H110 got equipped with 140mm Fans. So what's new with the Hydro 105? The biggest improvement for the H105 is the thicker 240 radiator, now measuring 38mm instead off the regular 25mm. How it all will perform will become more clear on the following pages...
---
| | |
| --- | --- |
| Tue: 01/14/2014 | Topic: Cooling / Heatsinks PermaLink |
"Coolermaster's Seidon 120V is an economical all-in-one liquid cooling solution that's especially suited to small PC cases and media centers. The compact 120mm aluminum heat exchanger ships with a single 120mm fan, so it doesn't take up too much space and make mounting to a rear/top fan vent cumbersome. The waterblock / pump is connected to the heat exchanger via 30cm of small diameter FEP tubing and installs easily onto the full range of Intel socket LGA775/115x/1366/2011 and AMD socket AM2/AM3/FM1/FM2 processors. The waterblock features a micro skived copper base plate for good metal-to-liquid heat conduction and the 120mm heat exchanger is made from aluminum"
---
| | |
| --- | --- |
| Tue: 01/14/2014 | Topic: Cooling / Heatsinks PermaLink |
The NoFan CR-80EH heatsink is dead silent.It doesn't rely on case fans, it works purely off convective cooling (hot air rising).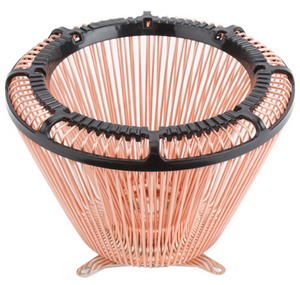 The copper CR-80EH heatsink is made from something called an "IcePipe", which is sort of a trade name for a fluid dynamic heat pipe loop. Put more plainly, the entire heatsink is essentially one wound up 'heatpipe'. Heatpipes conduct heat energy very efficiently compared to solid metal, which means as heat is conducted away from the processor, the body/fins/everything on the CR-80EH passive heatsink rapidly reach thermal equilibrium. It's really an elegant approach.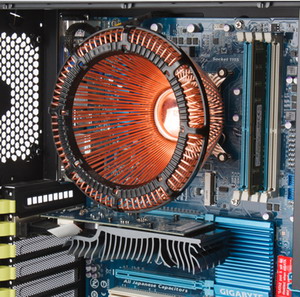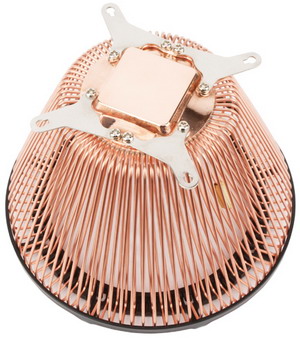 The only downside with this technology is that it's very picky about CPU Thermal Design Power. The Nofan CR-80EH is designed for energy efficient sub-80W TDP processors. Stay within that thermal envelope and use the CR-80EH passive heatsink in a chassis with good top and bottom venting and you'll be fine (based on what Frostytech has witnessed testing NoFan's earlier models). The heatsink will silently keep the CPU within a comfortable operational temperature range.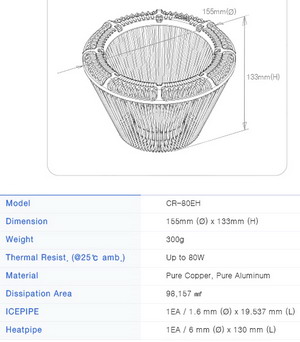 ---
| | |
| --- | --- |
| Tue: 01/14/2014 | Topic: Cooling / Heatsinks PermaLink |
I'm glad someone is still selling phase change coolers like this Cooler Express 2013 Super Single. Frostytech tested the ECT Prometia Mach II GT years ago and it was pretty fantastic. Not often you see a thermal test platform running at -48°C! Expect to fork out $900 for this bad boy.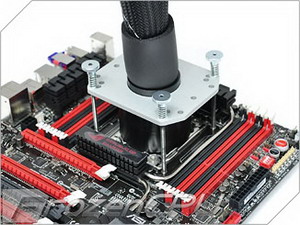 Quoting FrozenCPU: "The Cooler Express 2013 Design Super Single Evaporator CPU Cooling Unit is the all new 2013 model - featuring compatibility with all modern sockets, a simple, single CPU cooler design and extreme cooling (-48°C)!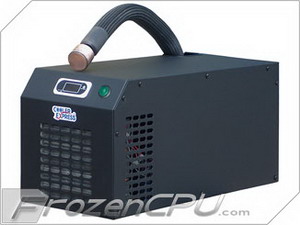 The unit attaches to the bottom of your case and the evaporator tube snakes through the bottom of your case (after a hole has been added) and mounts directly to the CPU. With temperatures way below freezing, you can overclock your CPU far beyond what is possible even with the best water cooling!

Simplicity and ease of use were incorporated into the new units. These new 2013 units have a modern sleek design and have eliminated the control board which most users found a nuisance. A front power button was incorporated to make powering on the unit easier as well. The compressor is a larger more robust version with a 180W - 200W dissipation rating. Some reviews have seen up to 280W! "
---
| | |
| --- | --- |
| Sun: 01/12/2014 | Topic: Cooling / Heatsinks PermaLink |
Aside from a few flaws the Thermaltake Water 2.0 Extreme is one hell of a self-contained water cooler. It offers all the performance equal to AiO coolers with larger 280mm radiators, but it has the ability to fit into any chassis that can accommodate dual 120mm fans in one area. The cooler can also be found for as low as $59.99 right now after mail-in-rebates, making it an absolute steal.
---
| | |
| --- | --- |
| Sun: 01/12/2014 | Topic: Cooling / Heatsinks PermaLink |
"The Antec KÜHLER H2O 950 Liquid CPU Cooler is virtually identical to the 650, except the 950 comes with an extra 120mm fan, thicker radiator and GRID software. The 950 costs a little more than the 650, but it still affordable considering what's included. It performs very well, has a great pump, smooth copper waterblock, flexible tubes and a 120mm aluminum radiator." ~3dGameMan.com
---
| | |
| --- | --- |
| Fri: 01/10/2014 | Topic: Cooling / Heatsinks PermaLink |
"In a market which is quickly becoming saturated with a great selection of All-In-One (AIO) water cooling systems, it is becoming increasingly difficult to distinguish yourself from the rest of the crowd. After all, there's only so much innovation to be had before you've exhausted all of the possibilities of the specific form factor that these products really have to take. Antec believes that there is some unexplored territory left in this realm and have answered the call to be different with the introduction of their new lineup of AIO CPU coolers. Today we're looking at the middle child of the bunch, the Kuhler H2O 950. Will its unique design and feature set enable it to stand out in the crowd, or does it fall flat and just blend in with everything else? Let's find out."
---
| | |
| --- | --- |
| Fri: 01/10/2014 | Topic: Cooling / Heatsinks PermaLink |
The be quiet! Shadow Rock TOPFLOW is a German designed silent CPU cooler intended for smaller enclosures. Check out our review and installation video!
---
| | |
| --- | --- |
| Fri: 01/10/2014 | Topic: Cooling / Heatsinks PermaLink |
"Frostytech's Top 5 Liquid Cooling Heatsinks Charts rank the best self-contained liquid cooling thermal solutions we've tested, by lowest temperature and lowest noise output.Quickly discover the current Top 5 Self-Contained Liquid Cooling Heatsinks according to FrostyTech.
---
| | |
| --- | --- |
| Fri: 01/10/2014 | Topic: Cooling / Heatsinks PermaLink |
We review two CPU air coolers from none other than Noctua, the NH-U12S and NH-U14S which come bundled with the manufacturer's 120mm NF-F12 and 140mm NF-A15 fans, respectively. If you know Noctua, you'll know they're all about being big on quality and performance while being as little as possible on the fan noise during operation, so we knew how to put these two coolers to the test!
---
| | |
| --- | --- |
| Fri: 01/10/2014 | Topic: Cooling / Heatsinks PermaLink |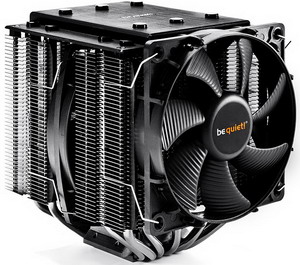 CPU coolers aren't always the most exciting PC components, but they're often among the most striking. That's certainly the case with Be Quiet's new Dark Rock Pro 3 air tower, which wouldn't look out of place inside Darth Vader's PC.
---
| | |
| --- | --- |
| Wed: 01/08/2014 | Topic: Cooling / Heatsinks PermaLink |
"The CryoVenom R9 290 is truly a remarkable feat of creative product development that draws upon our two decades of graphics card development experience," said Mark Bilson, Executive Vice President of VisionTek. "It solves any speed and noise concerns, eliminates overclocking guesswork, sets a new standard in performance, and costs less than the previous fastest Radeon graphics card available. Then, add in that we back its reliability with a one year warranty and we hope our fans will recognize our commitment to their ultimate performance and user experience satisfaction."
Specifications, Pricing and Availability
The CryoVenom R9 290 is available for immediate ordering at $550 MSRP directly from VisionTek's graphics card product category at their ecommerce portal, www.visiontekproducts.com. The complete specifications are as follows:
Graphics Engine: RADEON R9 290
Video Memory: 4GB GDDR5
Memory Interface: 512-bit
DirectX® Support: 11.2
Bus Standard: PCI Express 3.0
GPU Core Speed: Up to 1175MHz (stock is 947MHz)
Memory Speed: Up to 1450MHz (stock is 1250MHz)
DVI Output: 2 x Dual Link DVI
HDMI Output:1 x HDMI (video/audio)
DisplayPort Output: 1 x DisplayPort
---
| | |
| --- | --- |
| Wed: 01/08/2014 | Topic: Cooling / Heatsinks PermaLink |
The new ATS ethermVIEW liquid crystal thermographic analysis system provides optical temperature measurements of active PCBs and components by the color response of thermochromic liquid crystals.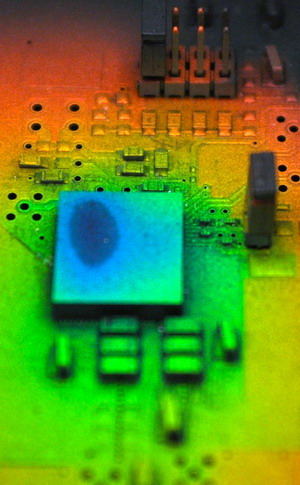 Developed by Advanced Thermal Solutions, Inc., the ethermVIEW system includes a solid-state color camera for macroscopic inspection of boards and components coated with heat-sensitive liquid crystals. Starting price for the ethermVIEW thermographic analysis system is US $15,000.
Liquid crystals used with ethermVIEW reflect incident light at visible wavelengths based on the surfaces temperatures where they're applied. The camera captures the reactive TLC colors to reveal hot spots and defects for more effective thermal management.
In contrast to infrared thermography systems, the ethermVIEW TLC method is not affected by ambient temperatures. It provides more precise temperature measurements – within +/- 0.1°C accuracy. The ethermVIEW system can also be purchased for less than one third the cost of a typical IR thermography system.
The camera features a flicker-free white light source for clear viewing of dark surfaces and partially concealed features. It links to a PC by Firewire. The system includes thermSOFT software used in other ATS thermal analysis devices, for image processing and management.
ATS provides a choice of TLC-100 liquid crystals formulated to respond visually to specific temperatures. TLC-100 crystals are specifically designed for mapping heat fields on PCBs and components. The crystals change color at a specified temperature starting at red, changing to green then blue. The ethermVIEW system can also be calibrated to use any standard thermochromic liquid crystals. ATS provides four calibrations at no cost during the first year of ownership of an ethermVIEW system.
Complete speces are available here, or by calling ATS 1-781-769-2800.
---
| | |
| --- | --- |
| Wed: 01/08/2014 | Topic: Cooling / Heatsinks PermaLink |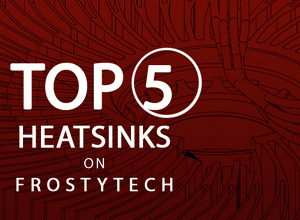 Frostytech's Top 5 Heatsinks Chart has just bee updated! Based on your feedback, we've rolled out a new format which ranks ONLY air cooled heatsinks. I've also added placeholders for the watercoolers to keep it informative and created a separate Top 5 Liquid Cooler Chart just for the AIO water coolers. Enjoy!
---
| | |
| --- | --- |
| Tue: 01/07/2014 | Topic: Cooling / Heatsinks PermaLink |
Cut from aircraft-grade aluminum, the FrostByte is the newest model of durability and functionality. The new FrostByte heatsink utilizes our new vortex thermal design to dissipate and control accumulated heat while maximizing PC performance.
An ideal solution for computer enthusiasts and gamers, the heatsink's diamond cut design will definitely turn heads. The FrostByte heatsink will begin rolling out in February 2014 on Redline and Blackline performance memory module offerings.
---
| | |
| --- | --- |
| Tue: 01/07/2014 | Topic: Cooling / Heatsinks PermaLink |
Shown are the upcoming Thermaltake NiC L31 and Thermaltake NiC L32 tower heatsinks.
---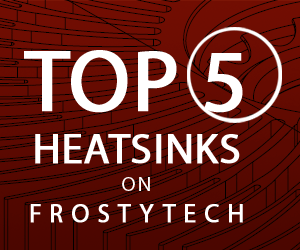 | | |
| --- | --- |
| Tue: 01/07/2014 | Topic: Cooling / Heatsinks PermaLink |
Corsair's New Hydro Series H105 Liquid CPU Cooler is equipped with a 38mm thick 240mm radiator, greatly increasing radiator surface area and improving heat dissipation. Fitted with a pair of high-performance SP120L PWM 120mm fans designed to balance static pressure and noise levels, the H105 pushes liquid cooling performance to the next level in the 240mm category.
The H105 also benefits from Corsair's new tool-free CPU mounting block, making installation easier than ever. The low-profile CPU cooling block also includes an LED backlit logo and replaceable color ring, allowing PC enthusiasts to co-ordinate their CPU cooler to match their other system components.
Connecting the cooling block and 38mm-deep 240mm radiator are a pair of sealed and kink-resistant rubber tubes, with a high-quality on-board ceramic-bearing pump providing reliable flow and heat transfer away from the CPU. As with all Hydro Series CPU coolers, the H105 is completely self-contained, requires no maintenance or filling and is supported by a five year warranty.
The H105 supports a wide range of Intel and AMD CPU sockets and is available immediately for $119.99.
240mm aluminum radiator: 270mm x 120mm x 38mm
Two SP120L PWM 120mm high static pressure fans: 120mm x 25mm
800-2700 RPM (+/- 10%) at up to 73 CFM, maximum 37.7  dBA
PWM fan control for customizable fan speeds through BIOS
Support for AMD and Intel CPUs: AM2, AM3, FM1, FM2, LGA 1156, 1155, 1150, 1366, 2011
Advanced copper cold plate and manifold design
Sealed all-in-one design, pre-filled and maintenance free
5-year limited warranty
More details here.
Corsair at CES 2014 in Las Vegas
Corsair will be showcasing the Hydro Series H105 coolers at CES 2014 in Las Vegas from January 7-10. The product will be shown by appointment only in Corsair's press suite at the Venetian.
---
| | |
| --- | --- |
| Sun: 01/05/2014 | Topic: Cooling / Heatsinks PermaLink |
The Zalman LQ315 ships fully assembled, plumbed and filled with a coolant. It installs onto Intel socket LGA115x/1366/2011 and AMD socket AM2/AM3/FM1/FM2 processors. It uses a 120mm wide aluminum heat exchanger equipped with a single 120mm PWM fan that operates at 2000-900RPM. The pump/waterblock is built around a novel micro-skived copper base plate that is connected to the heat exchanger via a 30cm length of flexible rubber tubing. Zalman's LQ315 water cooler retails for about $91 USD / CDN. In this review Frostytech will take the extra step of testing the LQ315 with a second fan attached to the rear of the radiator.

---