| | |
| --- | --- |
| Sat: 02/13/2016 | Topic: Cooling / Heatsinks PermaLink |
AMD's Wraith cooler purports to offer much-improved noise levels compared to the stock heatsink the company includes with many of its CPUs. We put the Wraith to the test to see whether it lives up to those claims.
---
| | |
| --- | --- |
| Thu: 02/11/2016 | Topic: Cooling / Heatsinks PermaLink |
The "Swiftech H220 X2 Prestige" looks to one-up the competition by offering more customization options. The only question is whether you can you overlook its price?
---
| | |
| --- | --- |
| Thu: 02/11/2016 | Topic: Cooling / Heatsinks PermaLink |
There isn't a one solution fits all product when it comes to CPU coolers. Folks with spacious full tower PCs might favor massive tower style coolers, but even if you have the space, some prefer to prioritize volume over temperatures... and if air cooling comes off as unadventurous, an all-in-one liquid cooler may be your best bet.
---
| | |
| --- | --- |
| Wed: 02/10/2016 | Topic: Cooling / Heatsinks PermaLink |
One obstacle that often stands in the way of adding an AIO to your system is space to do so. In a smaller computer chassis, many times the thickness of the radiator can be an issue. Silverstone is looking to solve your space issues with a new Tundra series All-In-One cooler that is specific to this footprint need.
---
| | |
| --- | --- |
| Mon: 02/08/2016 | Topic: Cooling / Heatsinks PermaLink |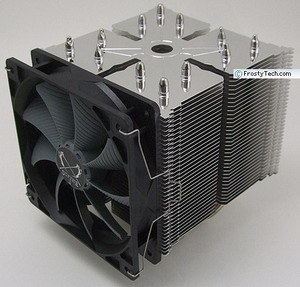 While Scythe doesn't overtly market its heatsinks as "silent", the company has typically produced CPU coolers which do meet the quiet esthetic. In this review Frostytech will be testing out the new Scythe Ninja 4 heatsink - a 156mm tall boxy looking thermal solution which is designed for lower noise cooling.
---
| | |
| --- | --- |
| Fri: 02/05/2016 | Topic: Cooling / Heatsinks PermaLink |
Noctua is one of the leading cooling manufacturers in the world. Time and time again they've proven that they can deliver the highest quality products, with class leading and award winning cooling and acoustic performance. Of course, more often than not, this premium performance and quality come with an equally premium price tag, but as the saying goes "you get what you pay for."
---
| | |
| --- | --- |
| Fri: 02/05/2016 | Topic: Cooling / Heatsinks PermaLink |
Antec is one of the biggest names in the PC component market, with many years of experience in creating chassis, cooler, power supplies and more. With Antec having created so many products over the years, it's more than likely you've owned a few of their components over the years, so it's great to see them continue to push the limits. Antec has been a little behind in the cooling market recently, as their last range of Kuhler H20 products didn't exactly capture the imaginations of the market, but their latest versions, the H1200 Pro and the H600 Pro look set to change that.
---
| | |
| --- | --- |
| Fri: 02/05/2016 | Topic: Computer / SFF PCs PermaLink |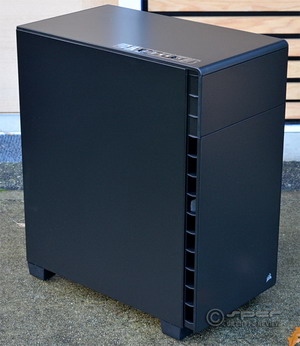 Our latest quiet PC build guide is optimized for 4K gaming and features an Intel Core i7-6700K processor, an Asus GTX 980 Ti Strix OC graphics card, and a Corsair Carbide 600Q tower case. Can we achieve silent (sub-15 dBA@1m by our definition) operation?
---
"No one ever said a gaming PC cannot be small and pretty." - big words from SilentiumPC when it comes to the tiny Gladius Q50 chassis. We take a really close look to see if it can deliver on this promise.
---
| | |
| --- | --- |
| Wed: 02/03/2016 | Topic: Cooling / Heatsinks PermaLink |
"It has been quite a while since we've reviewed a product from Reeven so we were quite excited when they told us they would be sending over their flagship Okeanos (RC-1402) CPU cooler. This cooler features a pretty large dual tower design, two cooling fan, six hefty copper heatpipes, and a pretty sleek look. Reeven tells us that this cooler was designed with gamers and overclockers in mind so it should be able to handle some pretty hefty thermal loads as well. Let's see if Reeven brings the entire package with the Okeanos."
---
| | |
| --- | --- |
| Wed: 02/03/2016 | Topic: Cooling / Heatsinks PermaLink |
AMD officially launched the AMD Wraith cooler, which the company claims delivers better cooling with less noise.... than? AMD also announced a new AMD 95 W quiet cooler. Let's take a look!
---
| | |
| --- | --- |
| Wed: 02/03/2016 | Topic: Cooling / Heatsinks PermaLink |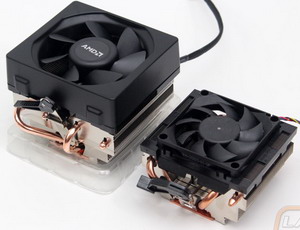 With both AMD and Intel, the stock coolers that they bundle with their CPUs seem like they have been the same forever. There have been changes in the Intel cooler over the years but AMD has stuck with it, mostly because their mounting system has been consistent forever. Well this year at CES AMD announced changes in theirs. They brought their new Wraith cooler to CES and were showing off the performance. Well last week they sent out their new cooler along with the AMD FX 8370 CPU. We have tested the FX 8370 before but it does give me a chance to see how the new cooler performs. So today I'm going to test the new coolers cooling and noise performance as well as the old AMD cooler to see how they compare.
---
| | |
| --- | --- |
| Wed: 02/03/2016 | Topic: Cooling / Heatsinks PermaLink |
HardwareOverclock.com has just posted another review. Last week we have taken a look at the Scythe Fuma cpu cooler. Fuma is made of two towers connected via six heatpipes to the baseplate. The twin-tower structure prevents mutual heating of the heatpipes while enhancing heat dissipation to the fins.
---
| | |
| --- | --- |
| Wed: 02/03/2016 | Topic: Cooling / Heatsinks PermaLink |
All-in-one (AIO) water cooling units have brought the performance and silence of water cooling to the masses with the simplicity of installing an air cooler. AIOs offer simple installation without the need to bleed the loop. Simply attach the hardware and power cables and you are all set. Recently, water cooling component manufacturers have upped the ante a bit by …
---
| | |
| --- | --- |
| Tue: 02/02/2016 | Topic: Cooling / Heatsinks PermaLink |
Why does it say "super slim" on the package? Because it is. The SilverStone Tundra TD03-SLIM does not only have a slim radiator, but also a slim fan.
---
| | |
| --- | --- |
| Tue: 02/02/2016 | Topic: CPU / Processors PermaLink |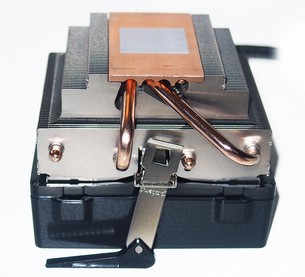 As it turns out, AMD wasn't done making announcements back at CES 2016. Today we've got news of some more new APUs, processors, fansink coolers, motherboard updates, and we've gotten our hands on an AMD Wraith cooler for some in-house testing.
In addition to the A10-7890K announced at CES, AMD also has a trio of additional APUs / processors coming down the pipeline -- the A10-7860K, the A6-7470K, the Athlon X4 845 and even a new cooler dubbed "Wraith" as well...
---
| | |
| --- | --- |
| Tue: 02/02/2016 | Topic: Cooling / Heatsinks PermaLink |
We have the A40 AIO CPU cooler from the Cryorig A-Series for review today. We are not going to beat around the bush, we really like these guys, they are trying to rock the boat and the consumer always wins out in this situation. Either from Cryorig getting it right, which they are gaining a reputation for, or due to the competition improving what they do, as stated, either way you win.
---
"The Cooler Master MasterCase Pro 5 arrived Technic3D. The MasterCase supports ATX, Mini-ITX and Micro-ATX motherboards and have place for 6x 120mm or 6x 140mm Cooling-Fans. We will check this and many more in the following Review."
---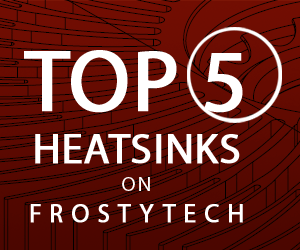 | | |
| --- | --- |
| Fri: 01/29/2016 | Topic: Cooling / Heatsinks PermaLink |
I've always wanted to test one of these out... for the moment you'll have to make do with Phoronix's look at the Seek Thermal Imaging Camera.

"If you have ever wanted a thermal imager to get an idea for the hottest areas of your PC, look how to improve the thermal efficiency of your server room or house, or other purposes, you've likely noticed how thermal imagers are generally quite expensive. A lower-cost solution that's also very versatile is the Seek Compact Thermal, which can attach to your Android smartphone or tablet and turn it into a thermal imaging solution paired with the ease of use of being able to save the captured video or still images to your device."
---
| | |
| --- | --- |
| Wed: 01/27/2016 | Topic: Cooling / Heatsinks PermaLink |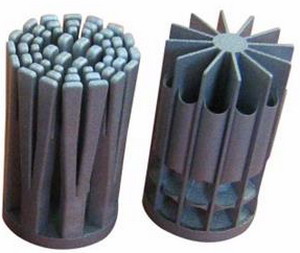 "Tim Plunkett, has recently used its wealth of additive manufacturing expertise to produce a range of superior quality heat-sinks... The revamped 3D printed components possess complex internal architectures, which could not be replicated using other manufacturing processes."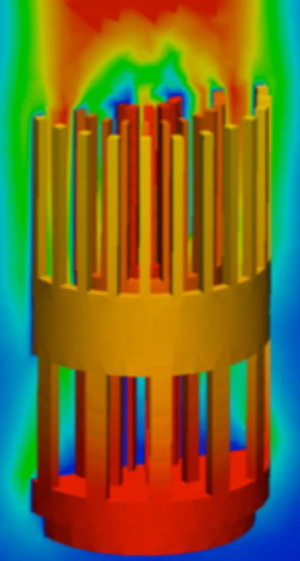 "As part of the Technology Strategy Board funded SAVINGs project, Plunkett Associates turned to the Direct Metal Laser Sintering (DMLS) process in order to engineer the perfect heat-sink geometry. The company produced a range of 3D printed designs based on the unique characteristics of the DMLS process. Each heat-sink was first produced in virtual form and simulated using Computational Fluid Dynamics (CFD) software, in order to assess efficacy.

Once virtual testing was complete, the top five heat-sinks were then built by 3T RPD using DMLS and physically tested to confirm the accuracy of the virtual tests. All five models showed a significant improvement over a standard extruded heat-sink.

The success of the heat-sink project demonstrates yet another important industrial application of 3D printing technology."
---