| | |
| --- | --- |
| Thu: 05/15/2014 | Topic: Cooling / Heatsinks PermaLink |
When it comes to CPU coolers there are no shortage of options, in fact it can be quite a headache trying to find the right one for your system. With water cooling now cheaper than ever, and air cooling still pushing forward with innovative designs that have pushed performance up and prices down, not to mention the wide range of sizes, shapes and a dozen other factors that can make each one unique from the last. be quiet! have one important focus on their coolers that sets them apart from the crowd, and they're already a world-renowned brand for their ultra quiet performance products. It's their ambition for quiet performance that has earned them a solid reputation among system builders, gamers and many other sections of the PC building / owning world. Offering up some of the quietest products on the market has long been their goal and they've succeeded time and time again, especially since their quiet performance is often backed up by superb cooling capabilities, pretty much the two best qualities you could ask for from a CPU cooler.
---
| | |
| --- | --- |
| Thu: 05/15/2014 | Topic: Cooling / Heatsinks PermaLink |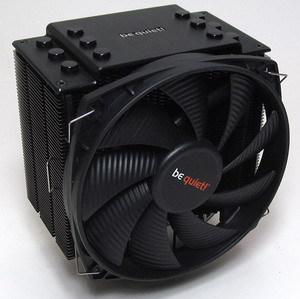 be quiet!'s Dark Rock 3 is a great single-tower cooler as it offers up stylish looks with the performance to back it up. Take into consideration its exceptional build quality and warranty and you have a cooler that might just be best in class.
---
| | |
| --- | --- |
| Thu: 05/15/2014 | Topic: Cooling / Heatsinks PermaLink |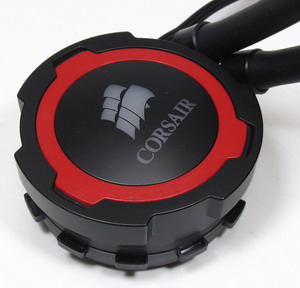 The Corsair Hydro Series H105 has redefined what one can expect from an AIO liquid CPU cooler. Making use of a thicker 38 mm radiator and Corsair's own SP fans designed to deliver high static pressure, this well-engineered cooler makes quick work of the competition.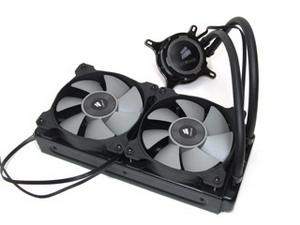 ---
| | |
| --- | --- |
| Thu: 05/15/2014 | Topic: Cooling / Heatsinks PermaLink |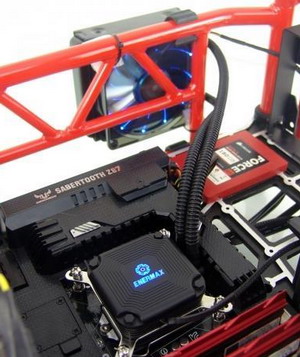 "Enermax throws its hat into the AIO CPU water cooling ring, and delivers the Liqmax 120S for us to test. Let's see what Chad thinks about it right now."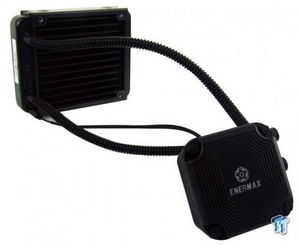 ---
| | |
| --- | --- |
| Thu: 05/15/2014 | Topic: Cooling / Heatsinks PermaLink |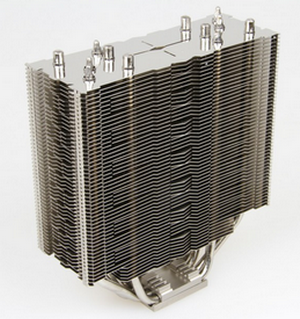 The EKL Alpenföhn Himalaya 2 Cooler arrived Technic3D. See you in the following Review the Himalaya 2 CPU-Cooler with one 140mm PWM-Fan and six x 6mm Heatpipes compared with many other Cooler on a Intel Core i5 2500k CPU."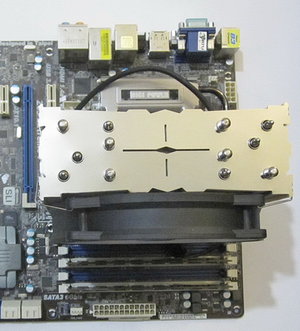 ---
| | |
| --- | --- |
| Wed: 05/14/2014 | Topic: Cooling / Heatsinks PermaLink |
"The running trend today in top-of-the-line CPU cooling performance seems to be water cooling. However, there are those enthusiasts who would rather have peace of mind, knowing that they will never have to worry about one of the lines in a water cooling loop springing a leak or their pump failing on them, destroying their high performance rig. How do you gain maximum performance while minimizing the risk? Spire has released another member of their CPU air cooling line. It's called the X2 Spire Eclipse IV, and we are going to review it for you today."
---
| | |
| --- | --- |
| Tue: 05/13/2014 | Topic: Cooling / Heatsinks PermaLink |
Weighing just over a pound and having only a single 120 mm fan, the Scythe Kotetsu still manages to compete and beat much of the larger competition.
---
| | |
| --- | --- |
| Sun: 05/11/2014 | Topic: Cooling / Heatsinks PermaLink |
"That's right, the Noctua NH-D15 has hit the labs for testing. Let's see if Noctua can claim the top of the heap like its predecessor did in our results."
---
"The Be Quiet! Dark Power Pro 10 750W power supply features sexy styling, a modular setup, an 80Plus Gold certification, and an Overclocking Key (what?!?) that promises to literally change the power delivery inside this unit. We're certainly intrigued, so let's take a closer look at this power supply from Be Quiet! and see if it can deliver the goods to a demanding consumer base."
---
| | |
| --- | --- |
| Wed: 05/07/2014 | Topic: Cooling / Heatsinks PermaLink |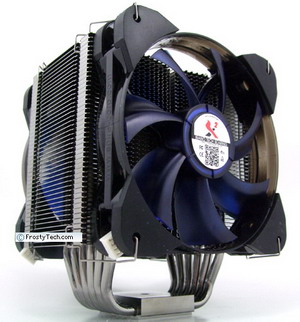 Bearing close resemblance to the Prolimatech Megahalems Frostytech tested a few years back, the Eclipse IV heatsink is a bifurcated-tower cooler from heatsink manufacturer 'X2 Products' a brand offshoot of Spire Corp.
The Eclipse IV heatsink is rated to a maximum cooling capacity of 220W by its makers and at first glance has the gravitas to back that claim up. The cooler ships with two 122mm PWM fans mounted in a push-pull configuration, each spinning at 2000-800RPM. The fans use an interesting, wavy impeller blade geometry that we haven't come across before, too bad neither the translucent fan blades or frame are illuminated.
---
"Zalman delivered the Z3 Plus case in white for review. We're pretty sure Zalman won't be happy with this review, but the show must go on, as they say."

"This may come off as a bit harsh, and maybe even a little "elitist," but reality is what it is in today's market. Being able to sample cases from around the globe gives me access to all sorts of design ideas and what can be had in a mid-tower chassis these days. While Zalman and the Z3 Plus do cover all the basics and most of the features that users need in a chassis, it seems the attempts were a bit weak in design and implementation."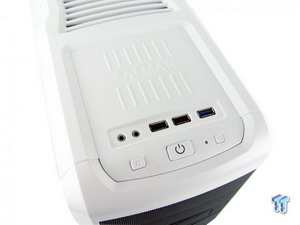 ---
---
| | |
| --- | --- |
| Sat: 05/03/2014 | Topic: Cooling / Heatsinks PermaLink |
"The Enermax AeroOdio CP-006 notebook cooling pad features a 220mm fan and incorporates their signature DreamBass® audio chip. The AeroOdio can support up to 17" laptops and uses a large metal mesh surface for wide area cooling with their 220mm fan. The CP-006 has a manual fan speed control that varies between 620-720 RPM while keeping at a relatively quiet 17-24 dBA. The AeroOdio only weighs 3.3lbs and has a plastic edging that houses the integrated speaker with DreamBass® audio chip, dual USB 2.0 inputs, power in, volume control, and fan speed control switches."
---
| | |
| --- | --- |
| Sat: 05/03/2014 | Topic: Cooling / Heatsinks PermaLink |
Banchetto K is the starting point for overclockers and those who want to expose their system. The solution from Microcool offers plenty of room to install components and you can even mount E-ATX motherboards. Banchetto K is made of polyurethane, which makes it robst and at the same time lightweight.
---
| | |
| --- | --- |
| Fri: 05/02/2014 | Topic: Cooling / Heatsinks PermaLink |
In the past the Korean company Thermolab has been able to surprise with high quality products, which were able to compete with the best in corresponding product categories. With the Bada 2010 the company has been working on a compact tower cooler and we're rather curious to find out how well this model actually performs.
---
| | |
| --- | --- |
| Thu: 05/01/2014 | Topic: Cooling / Heatsinks PermaLink |
"The Antec KÜHLER H2O 1250 Liquid CPU Cooler is a top of the line advanced liquid cooler. It has two 120mm PWM fans, a 240mm aluminum radiator, two large pumps, copper waterblock, durable tubes & RGB LED. It also comes with software so you can control and monitor it."
---
| | |
| --- | --- |
| Wed: 04/30/2014 | Topic: Cooling / Heatsinks PermaLink |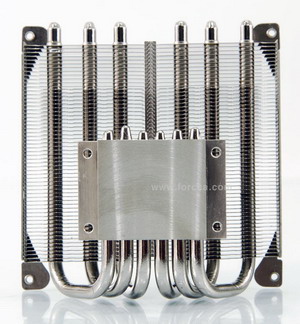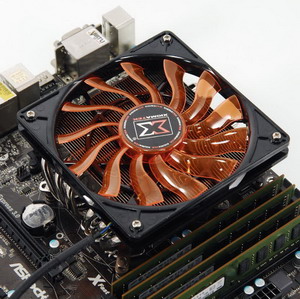 This is a new heatsink review of the Xigmatek Janus low profile cooler.
---
| | |
| --- | --- |
| Tue: 04/29/2014 | Topic: Cooling / Heatsinks PermaLink |
Just go here -
- and click on the 'Like' button to follow Frostytech on Facebook.
---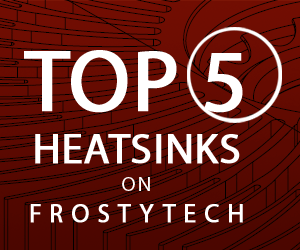 | | |
| --- | --- |
| Tue: 04/29/2014 | Topic: Cooling / Heatsinks PermaLink |
Alphacool International GmbH has announced the launch of a custom GPU service. Until recently the high cost of developing specialised full cover watercooling blocks for graphics cards has forced manufacturers to focus only on producing blocks for the higher end cards. Alphacool now have the ability to fill this gap in the market by producing full cover waterblocks for any non-reference or lower end graphics card. The graphics card cooler comprises of three parts as shown in the image below.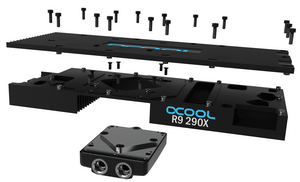 Firstly the waterblock is designed around the 'core concept' but is used in conjunction with the custom made base plate that is made specifically for each type of GPU ensuring a perfect fit. A custom made back plate is also included in the package at no extra cost.

A specially designed cooling block will serve two uses, first to cool the core of the GPU and secondly to cool the copper plate which is fixed to the aluminimum base (no water is in contact with the aluminimum at any point). The mosfets on the card will be cooled to the same level as they would be on an air cooled graphics card running its fan at full speed while the core and ram would see a temperature drop in the region of 30-40C.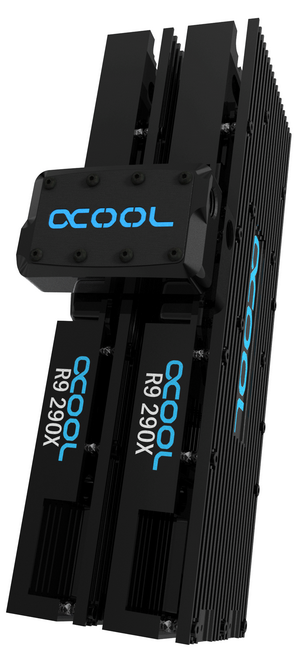 The block is designed to work universally, so when you upgrade your card you will be able to buy just the plates you need. Alphacool will be launching this range based on any Nvidia card 7XX or above or any AMD card 2XX or above. Nvidia 750 Ti Solutions for reference cards will be available at launch for 59€ including the back plate. Nvidia Titan Black solutions will also be available for 79€ including back plate.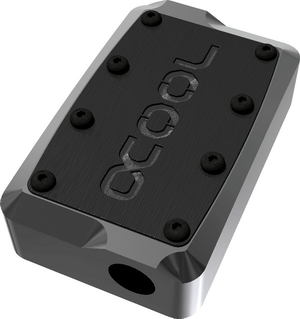 For customers looking for blocks for non-reference cards or cards that we have not already covered with the standard blocks there is now the option to send your card into Alphacool. By using state of the art 3D scanning technology to measure your GPU Alphacool can custom make you a cooling plate. As a reward for sending the card in Alphacool will send the customer a free cooling set for their GPU (Plate, block and back plate). The GPU cooler will also be added to the product range so other customers with the same card can also purchase the block.
Alphacool will also be producing a unique "multi-bridge" connection system for customer's with more than one GPU. The bridge will effortlessly connect the waterblocks as well as letting the customer illuminate the Alphacool logo with 5mm LED's.
To support the modding community Alphacool will be publishing the dimensions of the "multi-bridge" cover so you have the ability to make your own. Also if there is enough demand for a specific brand or logo Alphacool will be making custom covers available.
If you are interested in taking part in the scheme please contact Alphacool directly at www.Alphacool.com
---
| | |
| --- | --- |
| Tue: 04/29/2014 | Topic: Cooling / Heatsinks PermaLink |
The Silverstone Tundra TD03 is one of the most unusual 120mm water coolers I've seen, it stands out in a market that is crowded by Asetek water coolers that are all pretty much identical. Silverstone have a legendary reputation for their engineering prowess and there's no way they're going to import a 3rd party design for their cooler. It was this unique design that meant I had to get one in for review, I wanted to see what all the fuss was about and I really wanted to see if Silverstones design was better than all the other models that are available on the market these days. Water cooling is big business these days, what was once the plaything of the enthusiast system builder can now be bought as an off-the-shelve product, installed with ease thanks to the closed loop / all-in-one designs and in many cases you can find a good 120mm water cooler for less than a high-end air cooler. Water cooling has a lot of benefits, it can often cool more efficiently, it's got great potential for overclocking and many water-cooled systems are quieter than their air-cooled counterparts.
---