| | |
| --- | --- |
| Sat: 12/06/2014 | Topic: Cooling / Heatsinks PermaLink |
HardwareOverclock.com has just posted another review. Last week we have taken a look at the Alpenföhn Peter 2 vga cooler tested on a GTX 970 video card.
---
| | |
| --- | --- |
| Fri: 12/05/2014 | Topic: Cooling / Heatsinks PermaLink |
I remember just over 5 years ago at CES was the first time I had ever seen a sealed water cooling system. At the time, it seemed a little crazy. How would it fit various PCs? What about maintenance? At that time the only real options were custom setups using parts designed for fish tanks. That company introduced their kit later on (Cool-It's Domino), it had its share of problems, not to mention trying to convince people you weren't crazy when you said you want to put water inside of their PC. Years later it feels like everyone has gotten into the market and those designs have improved year after year. Cooler Master for the last few years has been trying there hand at it. Today I have the chance to dig in check out their latest model, the Nepton 240M. They have had a few Nepton models before but this is the first 240mm model.
---
| | |
| --- | --- |
| Fri: 12/05/2014 | Topic: Cooling / Heatsinks PermaLink |
Raijintek is a relatively new company, established last year in Europe they are still quite a small company. Having said that, they already have a range of air coolers, such as the TISIS, a few liquid coolers like the TRITON and a VGA cooler. They also have made a range of cases such as the AENEAS and the METIS and are looking to expand into power supplies and other products in the coming years. We have our hands on Raijinteks Zelos today, its the smallest cooler that Raijintek with a low profile of only 44mm and has a tiny footprint of 94cm square so it will fit in the tightest of spaces. Let's take a look at it and see what it looks like as well as see how well it performs.
---
"The Aerocool Dead Silence (or simply DS) is a unique computer case, not following any known form factor. It is not a mid-tower case, nor it is an SFF one. It is described as a "cube gaming case," but it is actually a case compatible only with microATX (and smaller) motherboards, where the motherboard is installed horizontally. Let's take a good look at it."
---
| | |
| --- | --- |
| Fri: 12/05/2014 | Topic: Cooling / Heatsinks PermaLink |
Silverstone are known for their amazing cases such as the TJ11 or TJ07, if you want a chassis that is simply a modders dream then these are for you. Silverstone don't only do Chassis though, they also have some amazing power supplies such as the platinum rated fan-less NJ520, completely silent with great performance. If this isn't enough for you, Silverstone are also experts in cooling. This is the category we are going to concentrate on today and unusually it's a notebook cooler rather than a CPU or GPU cooler that we going to put through its paces.
---
New keyboards are a fairly common thing in this industry, I see wave after wave of mechanical and membrane switch keyboards come through the office each year. However, very few of the keyboards I review have had me as excited as the NovaTouch TKL. The NovaTouch has been a long time coming, we've seen it at trade shows around the world for over two years now, but it's finally here and ready for consumers! Cooler Master has ditched the usual choices of Cherry, Kailh or any other brand of mechanical switch for this keyboard, instead opting for hybrid capacitive switches from Topre. "Built to impress, the NovaTouch TKL utilizes exclusive Hybrid Capacitive switches which are exceptionally quiet and suitable for heavy-duty typing or gaming. The actuation force is precision-tuned to the strength of your fingers, while an ultra smooth, tactile key process makes NovaTouch the best feeling keyboard on the market" – CM Storm The NovaTouch switches are a patented design, which use a spring mounted switch with an electrostatic capacitive sensor. Combined they offer a unique typing sensation that removes the key bounce associated with mechanical switches such as the Cherry MX range, while offering smooth and linear key travel. Cooler Master say this keyboard is ideal for gaming and typing, no doubt designed with the PC enthusiast in mind. Can this really be one of the best keyboards in the world? There's only one way to find out.
---
| | |
| --- | --- |
| Wed: 12/03/2014 | Topic: Cooling / Heatsinks PermaLink |
In our comparison tables, you can find test results regarding 33 recent air and watercoolers. Furthermore we do not comment the benchmark values. The idea and also the goal is to present to you a market overview which helps you choose the right cooler.
---
| | |
| --- | --- |
| Wed: 12/03/2014 | Topic: Cooling / Heatsinks PermaLink |
While Cyrorig is a relative newcomer to the well-establish CPU heatsink market, their flagship R1 Ultimate/Universal has all the trappings of a top-tier cooling solution.
---
Metis is an aluminium computer case which is primarily designed for Mini-ITX configurations. This computer chassis is super-compact, lightweight and comes in a variety of different colours. With such a low-cost offering, has Raijintek cut any corners? Let's find out!
---
| | |
| --- | --- |
| Tue: 12/02/2014 | Topic: Cooling / Heatsinks PermaLink |
"As I wrap up the Okeanos RC-1402 cooler review, I have to say that the Okeanos definitely left a positive impression. The performance was on par with coolers that are much more expensive. The dual size heat pipe design along with the way the pipes are oriented in the fin stack, are perhaps the key to the great performance. The 140mm and 120mm PWM fans move plenty of air, which makes the Okeanos a top performer."
---
| | |
| --- | --- |
| Mon: 12/01/2014 | Topic: Cooling / Heatsinks PermaLink |
"Swiftech recently released the Komodo R9 LE and Komodo NV GTX9, which match the aesthetics of their Apogee XL. The Komodo blocks offer similar illumination effects to the Apogee XL, with changeable color scheme between red, blue, green and white. The base is manufactured of copper that has been chrome plated instead of the more commonly used nickel and the housing is acetal with transparent window."
---
| | |
| --- | --- |
| Mon: 12/01/2014 | Topic: Cooling / Heatsinks PermaLink |
Alpenföhn are a very well established name in the CPU cooling business, created in 2008, by EKL AG , they have been able to establish themselves in a very tough and competitive market. Alpenföhn concentrate solely on cooling, whether it its VGA, CPU or case cooling they have got you covered. They also have a small line of accessories such as fan controllers and thermal paste. With products such as the very successful K2- Mount Doom, the Brocken and Brocken 2 on their list you should always be expecting a good product. Today we are going to be looking at the Alpenföhn Brocken ECO, basically a slimmed-down, cheaper version of the Brocken series. With a price difference of around £13 lets see if it doesn't lose performance with the price loss.
---
| | |
| --- | --- |
| Sun: 11/30/2014 | Topic: Cooling / Heatsinks PermaLink |
Noctua's NH-D15 is one of the largest CPU coolers on the market but with comparably-priced AIO water coolers around, it may face some insurmountable competition.
---
| | |
| --- | --- |
| Mon: 11/24/2014 | Topic: Cooling / Heatsinks PermaLink |
We tested Antec's latest high performance water cooler here at APH Networks. Spoiler alert: It really cools.
---
| | |
| --- | --- |
| Mon: 11/24/2014 | Topic: CPU / Processors PermaLink |
Mit dem NZXT Kraken X31 tritt die nächste kompakte Wasserkühlung in unseren Teststand. Dabei will NZXT natürlich in allen Bereichen punkten. Kühlleistung, Lautstärke und Temperaturverhalten sollen in Verbindung mit der Preisgestaltung eben überzeugen und den Anwender zum Kauf bewegen. Ob sich der Kraken X31 besser schlägt, als der kürzlich gezeigte Thermaltake Water 3.0 Ultimate, verrät unser Test.
---
| | |
| --- | --- |
| Mon: 11/24/2014 | Topic: Cooling / Heatsinks PermaLink |
Regular CPU Air Coolers may hold the first place in what most casual users and gamers use to keep their systems cool but AIO (All In One) liquid CPU Cooling Solutions are not really that far behind largely thanks to the continuous appearance of such products in the market. Now as you may have seen in our charts some entry-level AIO solutions are not as good as some high-end CPU Air Coolers while the ones that are better are not by very much so no one's saying that AIO solutions are the only way to go if you're after good cooling efficiency. Still we also can't deny that AIO solutions appeal more to people who're after serious performance with low noise levels and zero clearance issues with mainboard components and memory modules. SilverStone has been in the AIO market for quite some time now but we were just now able to get their Tundra TD02 liquid CPU cooling solution and as expected we wasted no time strapping it on our primary test rig to test its performance.
---
| | |
| --- | --- |
| Thu: 11/20/2014 | Topic: Cooling / Heatsinks PermaLink |
Although the AMD Radeon R9 290X is blisteringly fast it also has a problem with heat. Board partners solved this issue for the most part with massive heatsinks riddled with copper heatpipes cooled by a battery of fans. But what if you want a 290X that is even faster and at the same time much quieter? Seems like a dream, but HIS has been working hard to make it a reality with the HIS Radeon R9 290X Hybrid IceQ 4GB.
---
| | |
| --- | --- |
| Wed: 11/19/2014 | Topic: Cooling / Heatsinks PermaLink |
Noctua today announced three new 92mm class CPU coolers. Whereas the NH-U9S and NH-D9L are retail models that suceed the popular NH-U9B SE2, the NH-D9DX i4 3U targets Intel Xeon LGA2011 based workstations and servers. All three models use the recently announced NF-A9 PWM 92mm premium fan to achieve class-leading quiet cooling performance.
"Providing a great balance between high efficiency and compact size, the NH-U9B SE2 is still one of our most popular models", says Mag. Roland Mossig (Noctua CEO). "The NH-U9S and NH-D9L stay true to this proven formula but now offer even better performance, better compatibility and PWM support for automatic fan speed control."
Continuing the renowned legacy of Noctua's award-winning NH-U9 series, the NH-U9S is a premium quality quiet CPU cooler in classic 9cm size. Its asymmetrical design with 5 heatpipes not only provides even better cooling performance than the previous generation but also improves compatibility: Thanks to its 95x95mm footprint, the NH-U9S clears the RAM and PCIe slots on all Intel and most AMD based mainboards, including µATX and ITX.
The NH-D9L features 4 heatpipes and is 15mm lower than classic 9cm coolers such as the NH-U9 series (110mm vs. 125mm), which doesn't only guarantee full 3U compliance but also makes the NH-D9L ideal for compact HTPC and Small Form Factor cases that have airflow paths parallel to the mainboard. Like the NH-U9S, the NH-D9L has a 95x95mm footprint and thus provides 100% RAM and PCIe compatibility on all Intel and most AMD based mainboards.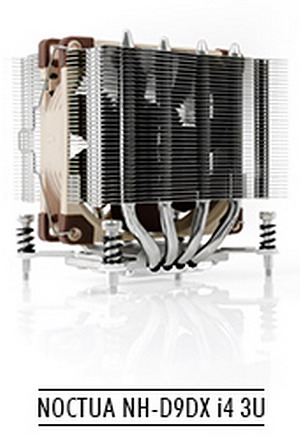 The NH-D9DX i4 3U is the same heatsink as the NH-D9L but comes with LGA2011 mounting for both Square ILM and Narrow ILM Xeon platforms as well as support for LGA13x6.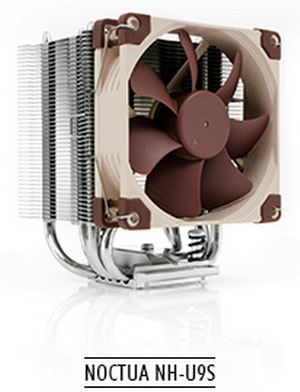 "Our DX i4 series are renowned among builders of LGA2011 based Intel Xeon systems and one of the few available quiet cooling solutions for Narrow ILM platforms", explains Mag. Roland Mossig (Noctua CEO). "With the new NH-D9DX i4 3U model, we can now offer a cooler for 3U cases that offers similar performance as the previous 4U model NH-U9DX i4."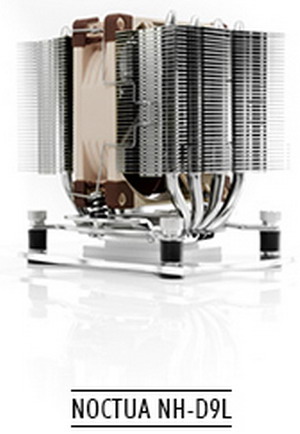 All three new models come with the new NF-A9 PWM for further improved quiet cooling performance. Topped off with the trusted, pro-grade SecuFirm2™ mounting systems, Noctua's proven NT-H1 thermal compound and full 6 years manufacturer's warranty, the NH-U9S, NH-D9L and NH-D9DX i4 3U are premium grade solutions through and through.

Prices and availability
All three models are currently shipping and will be available shortly. The manufacturer suggested retail prices are as follows:
NH-U9S: EUR 54.90 / USD 59.90
NH-D9L: EUR 49.90 / USD 56.90
NH-D9DX i4 3U: EUR 56.90 / USD 59.90

---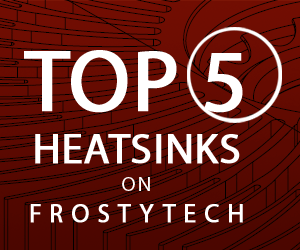 | | |
| --- | --- |
| Wed: 11/19/2014 | Topic: Cooling / Heatsinks PermaLink |
The Nepton 240M is a big liquid cooler with a price to match. We strapped it to TR's Casewarmer to see whether it could take the heat.
---
| | |
| --- | --- |
| Tue: 11/18/2014 | Topic: Cooling / Heatsinks PermaLink |
Just like it's predecessor, the D92 has two fans offset to cover the dead zones. These are rifle bearing Xtra Flow PWM fans and actually remind me of the Blade Masters found on the Hyper 212 series. Each of the fans are 4pin PWM compatible and ship with a Y-connector to enable single header control. The D92 in the name actually makes sense given the 92mm fans.
---