| | |
| --- | --- |
| Mon: 08/24/2015 | Topic: Cooling / Heatsinks PermaLink |
Continuing on from the Noctua NH-C14S review, we have another revision of another Noctua cooler. This time the flagship NH-D15 gets the treatment in the form of the NH-D15S. The Noctua NH-C14S is a really impressive cooler and a typical Noctua design, unusual but sublime in its execution."
---
| | |
| --- | --- |
| Fri: 08/21/2015 | Topic: Cooling / Heatsinks PermaLink |
Today I'll be taking a look at the Reeven Okeanos RC-1402 CPU cooler, which I'll admit straight away, it doesn't have the catchiest name ever, but then again, I don't know many people who've heard of Reeven, let alone Okeanos. Of course, all that could change soon enough, as this certainly isn't our first Reeven review and it was only a few months back that we awarded our Editor Choice Award to the Reeven Brontes RC-1001 Low-Profile CPU cooler. We've seen a few products from Reeven over the years, some won awards, some didn't, but that's nothing out of the ordinary for any brand and, of course, I'm hoping to see an award-winning performance from the Okeanos today.
---
| | |
| --- | --- |
| Fri: 08/21/2015 | Topic: Cooling / Heatsinks PermaLink |
Xigmatek may not be everyone's first thought when you ask them to name cooling manufacturer, but they've been around for many years, creating some incredible chassis products, CPU coolers and more. With that in mind, I've got high expectations of the LOKI II. Of course, this is only a budget friendly, and rather small CPU cooler, so it's not about to break any world records. However, the budget end of the market is fiercely competitive and not everyone needs a super high-end custom loop water cooling system; actually, very few people do. What most people need is something that doesn't suck as bad as the stock CPU cooler that came with their chip and more often than not, they don't want to spend a lot of money.
---
| | |
| --- | --- |
| Thu: 08/20/2015 | Topic: Cooling / Heatsinks PermaLink |
If you are reading this, then maybe you are ready to make the jump into subzero benchmarking or just interested in a simple how to. Subzero benchmarking is where you use LN2 (Liquid Nitrogen), DICE (Dry Ice), Phase change units or even, for those daring enough, LHE (Liquid Helium). The main focus of this guide is to show you what you need to start of on LN2 or DICE. We will look at what is needed and some terminology on CPU and Graphics subzero overclocking and benchmarking.
---
| | |
| --- | --- |
| Thu: 08/20/2015 | Topic: Cooling / Heatsinks PermaLink |
With Mini-ITX becoming ever more popular, the demand for low-profile heatsinks has exploded. Enter be quiet!'s Shadow Rock LP with a maximum height of just 75.4 mm. Its low-profile design allows it to fit where traditional tower coolers cannot.
---
| | |
| --- | --- |
| Wed: 08/19/2015 | Topic: Computer / SFF PCs PermaLink |
The Raptor is a watercooled gaming system from DinoPC that combines an unlocked Haswell-E Core i7 with dual GTX 980Ti graphics cards. That's an overclocked CPU with an extra Gigahertz of grunt and two overclocked graphics cards, each running at 1220MHz instead of the usual 1000MHz.
---
| | |
| --- | --- |
| Tue: 08/18/2015 | Topic: Cooling / Heatsinks PermaLink |
CRYORIG's H5 Universal is an interesting design as it offers 90% of the R1 Universal's surface area with a single 140 mm x 13 mm fan. While it may seem a bit silly to pair such a slim fan with a large heatsink, the results don't lie. The H5 Universal offers maximum memory clearance, low noise levels, and solid performance.
---
| | |
| --- | --- |
| Tue: 08/18/2015 | Topic: Cooling / Heatsinks PermaLink |
"When it comes to the "Big Boy's" of air cooling cooling there are a few names that come to mind, but one that always comes up in discussions is Noctua. There are known for their massive air coolers and their distinctive brown fans. It seems every time we review a Noctua product we are impressed and each product is designed for a specific scenario. This time we have the new NH-D15S, which is much like the NH-D15 that we reviewed about a year ago. The main difference between the two is the NH-D15S has a new offset asymmetrical design that makes more room for memory and PCI-Express card compatibility. Noctua has also removed one of the two fans so you have a center-mounted 140mm cooling fan. The fact that you don't have a fan on the front or back also helps with compatibility with memory modules. Will these changes affect performance or do we have another winner from Noctua? Read on as we take a look!"
---
| | |
| --- | --- |
| Tue: 08/18/2015 | Topic: Cooling / Heatsinks PermaLink |
HardwareOverclock.com has just posted another review. Last week we have taken a look at the Alphacool NexXxoS GPX R9 290 M01 gpu block.
---
| | |
| --- | --- |
| Tue: 08/18/2015 | Topic: Cooling / Heatsinks PermaLink |
"The load temperatures for stock and overclock were excellent. That monster base and eight heat pipes give the Assassin II the ability to keep the heat down, and the spread between stock and overclocked load performance was a rather narrow four degrees Celsius. The overclocked load temp of 74 °C is well within the range of liquid cooling and in fact the Assassin II performed better than two of the liquid coolers I have tested. It is also quiet under a load. The fans spool up, but the sound is not annoying or excessive. Deepcool definitely has the right combination with the Assassin II."
---
Without doubt, one of the most unusual chassis we have ever seen in the KitGuru Labs is the Deepcool Tristellar. It combines unique styling with solid engineering and the ability to comfortably integrate proper gaming hardware – for a price. But this sort of chassis shouldn't be restricted to reviewers and those with deep pockets, so KitGuru has teamed up with Deepcool to give you the chance to win one of these impressive cases yourself, as well as a PSU and liquid CPU cooler to match!
---
Using a good power supply unit in your brand new system configuration or even your old one is always the right thing to do not only because that way your system is pretty much guaranteed to function as it should and you may also save some of your hard earned money in electricity bills but also because you will never have to worry about something bad happening to your systems hardware components. Unfortunately many people seem to "judge" a PSU solely based on its output power something which really couldn't be more wrong since there are many mediocre (at best) brands out there that even carry 1KW models (some even higher than that) in their product lines (just recently a friend of mine got a 1200W model by one such company and it nearly fried his entire system). DeepCool luckily doesn't belong in that category and so today we're going to take a look at their latest DQ750 EVO Quanta 750W PSU model.
---
| | |
| --- | --- |
| Tue: 08/18/2015 | Topic: Cooling / Heatsinks PermaLink |
In 2015 you need to be in the know about CPU coolers, there's so many of them, you could get lost when choosing a good, compatible and cost effective product. Then add in the unsympathetic nature of the internet, and the trolling and flaming you will receive if you have not chosen the biggest and the best in line with all opinions!"
---
| | |
| --- | --- |
| Tue: 08/18/2015 | Topic: Cooling / Heatsinks PermaLink |
Enermax are one of my all time favourite brands, as they've created some really unique chassis designs over the years, some stunning power supplies and most importantly to myself, their AIO water coolers still dominate the top of our charts, giving us some truly incredible cooling performance that would make you think twice about needing a custom loop. Their latest cooler, the LiqMax II 240mm All-in-One Liquid CPU Cooler is certainly something I've been looking forward to testing, especially so given the performance of their LiqTech coolers and I'm eager to see how this one compares.
---
| | |
| --- | --- |
| Sun: 08/16/2015 | Topic: Cooling / Heatsinks PermaLink |
Noctua's NH-L9x65 is the "taller" low profile CPU cooler designed for improved thermal performance compared to its predecessor, the NH-L9 series. Measuring 65mm in height, it's still compact enough to work in smaller form factor setups like HTPCs which typically have low clearance for CPU coolers. The NH-L9x65 promises "100 percent" compatibility with RAM and PCIe cards in Intel-based ITX motherboards. We review the NH-L9x65 to see if the heatsink (and its included NF-A9x14 PWM premium fan) can deliver ideal cooling performance for cramped system interiors.
---
| | |
| --- | --- |
| Thu: 08/13/2015 | Topic: Cooling / Heatsinks PermaLink |
You cannot really judge how capable a CPU cooler is just by looking at it. If it well-made enough, even size can be deceptive which is good news for those who do not want the bulk of a tower style cooling solution and prefer to save some vertical space, although the question still remains. Which one to get? Recently established …
---
| | |
| --- | --- |
| Thu: 08/13/2015 | Topic: CPU / Processors PermaLink |
As a gamer and hardware enthusiast that spends a lot of time in various PC gaming communities, one of the longest on-going debates has been the best choice for CPU when it comes to gaming; Intel or AMD.
---
| | |
| --- | --- |
| Thu: 08/13/2015 | Topic: Cooling / Heatsinks PermaLink |
We first reviewed the Silverstone TD03 just over a year ago, and I was thoroughly impressed with its build quality, performance and overall design. The TD03 is one of the best coolers in its class, but the only downside that I can see is that it was a little expensive; although you get what you pay for. Today, I'll be taking a look at the TD03-Lite, a cooler that takes what we knew about the original, but for a much lower price and to reflect that, a few of the design features have been cut back to keep the cost down, offering the product to a much wider market, but has this had an effect on the performance? Let's find out!
---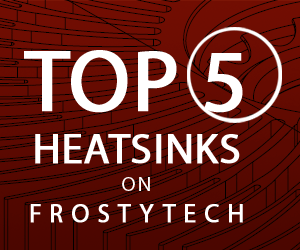 | | |
| --- | --- |
| Thu: 08/13/2015 | Topic: Cooling / Heatsinks PermaLink |
HardwareOverclock.com has just posted another review. Last week we have take a look at the EK-FC Titan X (Original CSQ) GPU block. EK-FC Titan X is a high performance full-cover water block for nVidia reference (NVA-PG600) design GeForce GTX Titan X and GTX 980 Ti series graphics cards. We have tested the cooler on a GTX 980 Ti reference card.
---
| | |
| --- | --- |
| Thu: 08/13/2015 | Topic: Cooling / Heatsinks PermaLink |
"Before we even look at the performance, you have to be amazed at the sheer chameleon-like quality that EK has given the Supremacy EVO. With ten different top options in seven different colors, choice of copper or nickel and tuned inserts and jet plates, the Supremacy EVO is by far the most flexible CPU block we have seen to date."
---