| | |
| --- | --- |
| Sat: 08/10/2013 | Topic: Cooling / Heatsinks PermaLink |
Raijintek is a new manufacturer of high end CPU Coolers. They released the four Ereboss, Themis, Aidos and Themis Evo Coolers. The one we will review here, is the Raijintek Aidos CPU Cooler with four copper heat pipes and a 92 mm 48,6 CFM fan.
---
| | |
| --- | --- |
| Fri: 08/09/2013 | Topic: Cooling / Heatsinks PermaLink |
Raijintek is a new manufacturer of high end CPU Coolers. They released the four Ereboss, Themis, Aidos and Themis Evo Coolers last month, and we are now ready with a review of the largest of the four. It is Raijintek Ereboss with six copper heat pipes and a large 140 mm 56,55 CFM, and even with space to mount a second fan if needed.
---
The Deep Silence 2 has an average price of just below 100 euros, and two fairly unique qualities. It's big enough for E-ATX motherboards, which is rare for this price segment. It's also designed to fit a radiator for liquid cooling. And like the Deep Silence 1, silence is supposed to be paramount.
---
| | |
| --- | --- |
| Wed: 08/07/2013 | Topic: Cooling / Heatsinks PermaLink |
Silverstone is much more than Cases and Power Supply Units. In this review we are looking at the new Silverstone Tundra TD03 Water Cooling Kit. It is a compact kit with a 120 mm fan, radiator and a CPU block with built in 12 volt pump.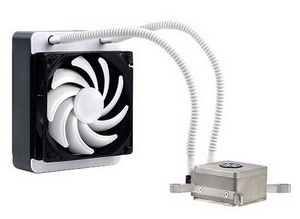 ---
| | |
| --- | --- |
| Wed: 08/07/2013 | Topic: Cooling / Heatsinks PermaLink |
"Since the beginning of the PC evolution, fans have been a critical component used for cooling. Today we are looking at fan products from Noctua. Noctua has built a solid reputation by supplying some of today's best performing CPU air coolers. We have several of Noctua's newest editions in their fan sector in for testing. Let's take a closer look at these new models and see what they have to offer."
---
| | |
| --- | --- |
| Wed: 08/07/2013 | Topic: CPU / Processors PermaLink |
Having already taken a look at quite a few Alpenfohn products recently it has become quite apparent that they punch well above their weight in times of how much they deliver at their price point. Today we take a look at another Alpenfohn product, the Brocken, and we hope that in continue Alpenfohn's trend of producing high performance CPU coolers at an excellent price point. The Brocken is a very industrial looking CPU cooler but is your typical 120mm fan high performance tower heatsink. This product is definitely closer to the Noctua NH-U12S as opposed to the Cooler Master Hyper 212 Evo as it packs a very thick heatsink and four 8mm not 6mm heat pipes. This Alpenfohn CPU cooler is capable of taking on most modern CPU sockets/platforms although it does lack LGA 2011 support which is why Alpenfohn released the Brocken 2 to support that higher TDP platform.
---
| | |
| --- | --- |
| Wed: 08/07/2013 | Topic: Cooling / Heatsinks PermaLink |
Designed for demanding server applications, the Dynatron R25 heatsink uses an innovative vapor chamber to bring forth superior thermal performance via radiant heat transfer over that of solid copper and heatpipe designs. The R25 is an ideal thermal solution for low-profile high-density application with small heat source surface.
For superior airflow an 80x15 mm in diameter, aluminum PWM blower powers the R25 providing unmatched heat dissipation to push Intel® Sandy Bridge Socket LGA 2011 Narrow ILM Processors cooling performance to new levels. The Dynatron R25 heatsink is specifically engineered to have a lightweight design to ensure it meets mechanical shock and vibration requirements in 1U server applications.
Dynatron's R25 server CPU cooler provides a maximum of 160W TDP cooling power for 1U server solution and allows airflow up to 22.28 CFM with full 7000RPM fan speed. The R25 features pre-printed Shin-Etsu G751 high conductivity thermal compound to make installation easy and to ensure perfect
contact between the copper base and CPU for excellent heat conduction.
Specifications:
• CPU Socket: LGA2011 (Narrow Type, 56 x 94mm mounting pitch )
• Supports Intel Sandy Bridge ES-2600 & 4600 Series Processors up to (for Narrow ILM Mounting Only ) up to160 Watts
• 1U server solution
• Dimensions: 106.0 x 84.0 x 27.5 mm
• Weight: 470 Grams
• Copper based material with vapor chamber heatsink and copper stacked fin
• Fan dimension 80 x15mm diameter
• Speed at duty cycle; 20%: 1000 RPM, 50%: 3500 RPM, 100%: 7000 RPM
• Pre-printed thermal compound: Shin-Etsu G751
---
| | |
| --- | --- |
| Wed: 08/07/2013 | Topic: Cooling / Heatsinks PermaLink |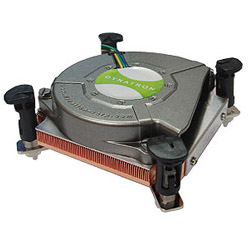 With the increased popularity of small form factor and low profile PCs for HTPC and media center applications, Dynatron launched the K2 Mini-ITX CPU cooler to provide DIY builders good cooling in a small foot print. Dynatron's K2 heatsink features an all copper heat sink, support for Intel Socket LGA1155, LGA1156 and LGA1150, and an all-aluminum 75x15mm diameter PWM blower to move 11.9CFM of air at a maximum of 4000RPM for optimal, yet quiet cooling. For easy installation, the K2 comes pre-printed with TIG830SP high conductivity thermal compound to ensure proper contact with the CPU.
Specifications
• CPU Socket: 1155/1156/1150
• Supports LGA1155: Intel® Core™ i5-2000, i3-2000 Processor Series; LGA 1156: Intel® Core™ i3
Processor I3-530, I3-540; Core™ i5 Processor I5-650, 660, 670, 680; & Core™ i7-2600S;
Pentium® Desktop Processor G6950; Intel® Haswell LGA 1150 up to TDP73 Watts
• Mini-ITX form factor solution
• Overall dimensions: 82.6 x 81.0 x 27.8 mm
• Weight: 380 Grams
• Copper heat sink material
• Fan dimensions: 75 x 15 mm diameter
• Speed at duty cycle; 20%: 1000 RPM, 50%: 2500 RPM,100%: 4000 RPM

---
| | |
| --- | --- |
| Wed: 08/07/2013 | Topic: Cooling / Heatsinks PermaLink |
Dynatron's R17 workstation CPU Cooler dissipates up to 160 watts TDP. With a minimalist footprint to provide compatibility with the majority of high profile RAM options, the Dynatron R17 features four heat pipes in a form factor that measures 91 x 91 x 110mm.
The R17's four-heat pipe design eliminates thermal resistance by instantly pulling heat up the all aluminum cooling fins for fast and effective dissipation. Powered by Dynatron's newest 92 mm long lasting double ball bearing fan, with built in PWM functionality; the R17 proves silence is still golden by quietly providing a maximum airflow of 43.36 CFM at only 31.92 decibels. The Dynatron R17 offers easy cooler installation with captive mounting screws, enthusiast grade pre-printed Shin-Etsu G751 thermal compound, and built in rubber grommets for tool-less fan assembly.
Specifications:
• CPU Socket LGA2011 (Square Type, 80 x 80mm mounting pitch)
• Supports Intel® Sandy Bridge Romley-EP/EX Processors up to TDP 160 Watts overclocking
• Dimensions: 91.0 x 91.0 x 110.0 mm
• Weight: 530 grams
• Aluminum fins with four heat pipes with H.C.C. Technology
• Fan dimensions: 92 x 25 mm diameter
• Fan speeds at duty cycle; 20%: 1000 RPM, 50%: 1800 RPM, 100%: 2500 RPM
• Airflow at duty cycle; 20%: 17.34 CFM, 50%: 31.21 CFM, 100%: 43.36 CFM
• Noise level at duty cycle; 20%: 17.0 dBA, 50%: 24.78 dBA, 100%: 31.92 dBA
• Air pressure at duty cycle; 20%: 0.48 mm-H20, 50% 1.55 mm-H20, 100%: 3.0 mm-H20
• Lead wire pin out; Pin1- (-), Pin2- (+), Pin3- (Techometer/Signal Output), Pin4- (PWM)
---
| | |
| --- | --- |
| Tue: 08/06/2013 | Topic: Cooling / Heatsinks PermaLink |
"Corsair got into the AiO cooler market a few years ago with the H50. It was a great cooler for an initial offering, and despite being a thin 120mm radiator, it performed admirably well. Things have come a long way since the original H50, though. The radiators are thicker and longer, the tubing is larger, and the fans are quieter. Fast forward to today and you'll notice that Corsair's new H100i has "all that and then some" in an effort to keep your system cool and quiet. Let's take a look."
---
| | |
| --- | --- |
| Mon: 08/05/2013 | Topic: Cooling / Heatsinks PermaLink |
The Corsair H100i is among the best close-looped water coolers on the market, but its integration with Link software, unique visual style and inclusion of two high performance SP120L fans makes it a step above most of the Asetek clones on the market. The price of the H110i is also right on with the performance and the build quality is top notch. Just make sure you don't use the fans at their highest setting because they are too loud when above 2000RPM.
---
| | |
| --- | --- |
| Mon: 08/05/2013 | Topic: Cooling / Heatsinks PermaLink |
Overall performance was better than we had expected on a stock running Sandy Bridge. During this test the heatsink performed great with very little fan noise.
---
| | |
| --- | --- |
| Sun: 08/04/2013 | Topic: Cooling / Heatsinks PermaLink |
Alpenfohn are still a bit of an obscure brand name these days in English speaking countries but they are definitely up and coming thanks to hugely successful products like the "K2 Mount Doom". Their name is much more prevalent across mainland Europe as Alpenfohn originate from Germany. Yet in the UK we are seeing them pop up more and more with Overclockers UK and CaseKing working really hard to spread their products. Alpenfohn are dark horses in the cooling market producing some really high quality "German-engineered" products at a very affordable price point. Today we are looking at their Matterhorn Pure CPU cooler which is a rather large tower heatsink cooler ventilated by a 120mm fan yet packs a very modest £30 price point. The specifications are pretty impressive too and I haven't really seen six 6mm heat pipes on such a low cost unit before so it will be interesting to see whether this bodes any advantage for our test system. Though what tends to happen on LGA 1155 is because the CPU die is so small that only 4-5 heat pipes can actually make contact with the IHS and move heat, so having six versus four heat pipes is only a really big advantage for LGA 2011.
---
| | |
| --- | --- |
| Fri: 08/02/2013 | Topic: Cooling / Heatsinks PermaLink |
Alpenfohn may be a brand more associated with their high performance products but today we are examining their Alpenfohn Sella CPU cooler, this is Alpenfohn's attempt at making a much more budget friendly CPU cooler option. The Alpenfohn Sella is a 92/90mm fan based CPU cooler, similar to products like the SilverStone AR02 and the Cooler Master Hyper TX3. With three 6mm heat pipes, a 900 to 2200 RPM 92mm fan and a pretty thick heatsink – the Alpenfohn Sella promises punchy performance without a premium price point coming in at the sub-£20 region. With the Alpenfohn Sella we have compatibility with the main sockets on the market such LGA 115X (0/5/6), LGA 775, AM2(+) and AM3(+). There is no official support for FM1 or FM2 (but FM1/2 are AM3(+) inter-compatible) APUs as far as I am aware and LGA 2011 and LGA 1366 are not supported. Though you can buy an LGA 2011 specific version (which they do make). Despite this the Alpenfohn Sella covers the main bases, that is socket LGA 115X and AM3(+)/FM(1/2) so most users will find this suits their platform. Without any further ado let us now proceed through the review and see what this budget CPU cooler from Alpenfohn can offer us.
---
| | |
| --- | --- |
| Fri: 08/02/2013 | Topic: Cooling / Heatsinks PermaLink |
An array of performance focused products from Phanteks has taken the high-end CPU cooling market by storm. Can Phanteks replicate its success when diverging into the low profile, SFF CPU cooling market?
---
| | |
| --- | --- |
| Fri: 08/02/2013 | Topic: Cooling / Heatsinks PermaLink |
Prolimatech's Genesis CPU cooler has been out for a while now and I myself have read a tonne of reviews on this rather freakish looking CPU cooler from Prolimatech. Put simply they've been a mixed bag, some people have raved about how innovative the design is and how good the performance is while others have called it out for being over-priced and lacking performance for its size. Today I am hoping to give you my own take on the Prolimatech Genesis, and we've got the slightly newer black variant in for testing. I will be putting the Prolimatech Genesis through the usual battery of tests and then seeing at the end of it all if I think it deserves one of our awards. These days I seem to be becoming increasingly stingy with my awards and I really look for something special so the Prolimatech Genesis is going to have to pull something good out of the bag.
---
| | |
| --- | --- |
| Thu: 08/01/2013 | Topic: Cooling / Heatsinks PermaLink |
The CoolingZONE 2013 Thermal Management Summit is happening the 21st-23rd of October 2013 at the Granite Links Golf Course and Conference Center, Boston, MA. If you are a thermal engineer or work designing heatsinks this may be right up your alley and a good chance to learn something new and meet with industry peers. CoolingZone are offering a 15% registration discount for Frostytech readers. The discount code is CZ2013-MSPS41 and it's valid until September 21st.
Here's what you need to know about this thermal solution summit:
"CoolingZONE's 2013 Thermal Management Summit will feature expert speakers in thermal management, electronics cooling, energy transport and heat transfer. It is ideal for all engineers engaged in dealing with the various thermal challenges in the design of electronics. The summit will offer participants:
•Opportunities to learn about the upcoming challenges in thermal management - see what is coming so you can be prepared.
•Learn about new technologies being developed and brought to market to meet the future cooling requirements.
•Opportunities to gain a valuable and extensive network of contacts to serve as an excellent source of advice and technical knowledge.
•In depth conversations with leading experts in the field.
•The complete speaking agenda is posted here.
You can see the Summit web site here. Registration for coolingZONE-13 is $995.00 per person attending. Use the discount code we mentioned earlier in this post to get 15% off the attendance price for readers of FrostyTech.
Some of the Keynote highlights include
"Galinstan-Based Liquid Cooling of Microelectronics" by Marc Hodes, Ph.D., Associate Professor, Department of Mechanical Engineering Tufts University.
"High Performance, Energy Efficient Oblique Fin Liquid Cooling Technology for the Effective Thermal Management of EV/HEV Battery Pack and Power Electronics" by PS Lee, Ph.D., CEO, GCore Labs.
"Advances in Miniaturized Vapor Compression Electronics Cooling" by Jim Burnett, Director, Government Business Development, Aspen Systems.
"The Commercial Use of Diamond Heat Spreader Material for Thermal Management/Heat Transfer Challenges" by Bill Pfeifer, Director of Sales, sp3 Diamond
"Driving Towards 0.1 Degree C per Watt in Compact Air Cooled Systems: Advancements in Flow Management and Air Jet Impingement Cooling" by Camil Ghiu, Ph.D, Member of Technical Staff III-Researcher, Advanced Thermal Solutions, Inc.
---
| | |
| --- | --- |
| Thu: 08/01/2013 | Topic: Cooling / Heatsinks PermaLink |
On our review bench today are a trio of Noctua 120mm cooling fans from the award-winning S12 series. The S12A fans we'll be looking at represent the third generation of Noctua's S12 silent case fans and feature fan blades with "Anti Stall Knobs" and the new AAO (Advanced Acoustic Optimisation) frame. Together this one-two punch promises to improve airflow/noise efficiency over the S12A's predecessors by up to an advertised 8 percent.
---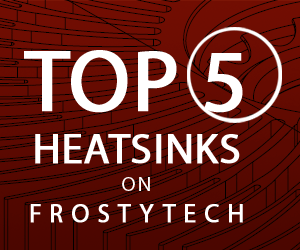 | | |
| --- | --- |
| Thu: 08/01/2013 | Topic: Cooling / Heatsinks PermaLink |
The CPU Coolers are getting more and more effective, and there are thousands of different coolers to chose from. In this Round Up, we look at four new CPU coolers, all based on heat pipes. It is the ThermalRight Archon SB-E X2, ThermalRight Macho 120, ThermalTake Frio, Extreme og CoolTek CoolForce 1.
---
| | |
| --- | --- |
| Thu: 08/01/2013 | Topic: Cooling / Heatsinks PermaLink |
"The SilverStone Tundra TD02 Liquid Cooler is an all-in-one cooler that looks great, is maintenance free, well constructed, has a large 240mm aluminum radiator, quiet pump, comes with a copper waterblock and includes two 120mm fans. This all-in-one cooler rocks!" ~3dGameMan.com
---