AMD's next generation GCN GPU is here! We review the AMD Radeon RX 480 and find out what kind of gaming experience it provides at 1080p and 1440p. We compare apples-to-apples with four other video cards to find out how it compares at both resolutions. We even find out how high it will overclock! Waited for benchmarks, right?
---
| | |
| --- | --- |
| Tue: 06/28/2016 | Topic: Cooling / Heatsinks PermaLink |
A40 is not only a German Autobahn but also a so called all-in-one watercooler by manufacturer Cryorig. These kind of coolers are a real trend for CPU cooling for a few years now. It is promised a water cooling without the often maintenance and installation with a cheaper purchase price. Cryorig is known as an innovative manufacturer of CPU coolers and has detected as a weak point of such systems that compared with air cooling systems often the surrounding components not be cooled. That's why Cryorig has decided to integrate an additional fan above the CPU for their Cryorig A40 all-in one cooler. This also applies to the big brother Cryorig A80, which is available with a larger radiator. We have checked if and how that affects in practice, in the following Cryorig AIO test at OCinside.
---
| | |
| --- | --- |
| Tue: 06/28/2016 | Topic: Cooling / Heatsinks PermaLink |
Eisbaer? What!? Try pronouncing it like 'Ice Bear' and it'll make a whole lot more sense! It could be written as Eisbär, to confuse native English speakers more, but thankfully it is not. It translates to 'Polar Bear' in German, which Germany is exactly where Alphacool is stationed. First shown off at Computex 2016, today Alphacool is taking the wraps off of the Eisbaer AIO Liquid CPU Cooler and we have one for review!
---
| | |
| --- | --- |
| Tue: 06/28/2016 | Topic: Cooling / Heatsinks PermaLink |
Alphacool looks to change the way we think of all-in-one liquid CPU coolers with the Eisbaer 240. Offering expandability at closed-loop prices, it takes things a step further with its all copper design. With good specs and extra features, Alphacool may have just what it takes to sink the competition.
---
| | |
| --- | --- |
| Tue: 06/28/2016 | Topic: Cooling / Heatsinks PermaLink |
With so many AIO liquid CPU coolers in the market today it's really hard for any manufacturer to release one that stands out from the crowd but Alphacool did exactly that with their latest Eisbaer line launched yesterday.
---
| | |
| --- | --- |
| Mon: 06/27/2016 | Topic: Cooling / Heatsinks PermaLink |
In this round up we'll be taking a look at three coolers from Silverstone. The Argon AR06 Argon AR07 and Argon AR08 to find out which is best for your application.
---
The story of Cooler Master is an easy one; they want to be the company that meets your needs. Regardless if you are a casual user, hobbyist, gamer or filmmaker they want to seem like the perfect fit for you. As you may have seen in the past with our review of the MasterCase 5 from December of last year, they are all about becoming modular. This is great as everyone has their own style and when you're building your computer you should always have a bit of your personality put into it.
---
| | |
| --- | --- |
| Wed: 06/22/2016 | Topic: Cooling / Heatsinks PermaLink |
Following on from our Cryorig H7 CPU Cooler review, we have an even smaller and lower price CPU cooler from Cryorig. This is the Cryorig M9i CPU cooler, and the "i" means Intel. Cryorig do have an AMD version, the M9a but we will be focusing on the Intel version today.
---
| | |
| --- | --- |
| Tue: 06/21/2016 | Topic: Cooling / Heatsinks PermaLink |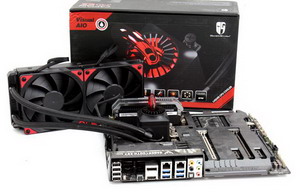 We test and review the DeepCool Captain 240 EX, this updated All-in-One Liquid cooling kit is very decent in performance for an AIO with a 240mm rad. These liquid cooling kits are pre-fitted with a single loop and ready to install straight out of the box. Armed with pretty nice looks and an attractive price, DeepCool managed to keep up with similar competing product.
---
| | |
| --- | --- |
| Mon: 06/20/2016 | Topic: Cooling / Heatsinks PermaLink |
"The FX 6350 Black Edition processor provides 1.5 times the multithreading capacity over the Intel Core i3 and over thrice the total cache. AMD's FX-8370, 8350, and 6350 processors are now available packaged with AMD's "Wraith" cooler to provide an out-of-the-box enthusiast level cooling solution."
---
| | |
| --- | --- |
| Mon: 06/20/2016 | Topic: Cooling / Heatsinks PermaLink |
Something a little more sane now than all the Nvidia GTX 1080 and AMD RX 480 noise and hype, and we genuinely mean little. We have tested a lot of flagship or large size CPU coolers but every so often we get a cooler that is designed and aimed for the low to mid-range of CPU's and motherboards. This doesn't mean a reduction in quality or performance, at least it shouldn't, but a more focused and compatible cooler for the mid-range specialist that wants something a little special without breaking the bank.
---
| | |
| --- | --- |
| Mon: 06/20/2016 | Topic: CPU / Processors PermaLink |
These days there are basically two different groups of customers who demand lots of processing power: content creators and gamers, while this 2D performance comparison is targeting content creators. After having had a look at the following pages you'll have an overview on how fast recent CPUs are in regarding a variety of programs, may it be video encoding, rendering, ...
---
| | |
| --- | --- |
| Thu: 06/16/2016 | Topic: Cooling / Heatsinks PermaLink |
"Thermalright gehören zum fixen Bestandteil am Kühler Markt. Deswegen versuchen wir immer ihre aktuellen Modelle in unser Testlabor zu bekommen. Ihr neuestes Werk nennt sich Le Grand Macho RT, den wir euch heute etwas näher vorstellen wollen. Wir können uns noch an ihren ersten Macho erinnern, den HR-02 Macho. Das ist mittlerweile knapp 4 Jahren her, damit hat alles begonnen. Mittlerweile können sie auf eine erfolgreiche Serie zurück blicken, die kaum einer Optimierung bedarf. Nun hat man einen neu entwickelten Lüfter, den TY 147 B, als Anlass genommen, den Le Grand Macho als RT noch einmal auf den Markt zu bringen, eben als Kombination mit Lüfter. Somit hat man nicht nur einen wuchtigen Passivkühler, sondern auch gleich einen optimierten Lüfter dazu.
Das Kühlkörper-Design des Le Grand Macho wurde nicht angetastet. Der Le Grand Macho RT ist ca. 3 mm niedriger als ein Macho und passt somit auch in Gehäuse, für die ein Macho schon zu hoch ist. Das asymmetrische Kühlkörperdesign – das mittlerweile auch bereits von anderen Herstellern kopiert wird – garantiert dem Kühler dabei eine maximale Kompatibilität zu aktuellen Mainboards. Der Le Grand Macho RT blockiert somit nicht den obersten PCIe Steckplatz, ein häufiges Problem bei Tower-Kühlern."
---
| | |
| --- | --- |
| Tue: 06/14/2016 | Topic: Cooling / Heatsinks PermaLink |
In this review I took a rather detailed look at the Pacific PR22-D5 pump reservoir from Thermaltake. The concept of a pump res combo is quite old and in fact having the two located in close proximity is extremely important.
---
| | |
| --- | --- |
| Sun: 06/12/2016 | Topic: Cooling / Heatsinks PermaLink |
With processors running faster, and overclocking an everyday event for a lot of enthusiasts, the use of watercooling to cool processors is becoming a more common method than ever before. EKWB builds some of the best kits and AIO watercoolers in the business. While other manufacturers tie you to a non-expandable AIO kit, EKWB is busy building expandable kits that allow you to add VGA loops, larger pumps and customize the watercooling loop to your needs.
---
| | |
| --- | --- |
| Thu: 06/09/2016 | Topic: Cooling / Heatsinks PermaLink |
"A special unit within Dell that makes custom tech for operators of the world's largest data centers, has designed a water-based system for cooling custom server chips it developed together with Intel Corp. and eBay itself.
The system is different from typical liquid cooling solutions, however. It brings water from the facility's cooling towers directly to every chip inside server chassis. There are no central distribution units, which typically sit between cooling towers and server racks in liquid-cooled data centers."
"Another atypical aspect of the design, codenamed Triton, is its ability to use water that's warmer than usual. The system, now deployed at one of eBay's data centers, uses water that's 33 degrees Celsius – because the customized CPUs run at very high frequency – but if Triton is used with lower-power CPUs, supply water temperature can be as high as 60 degrees Celsius"
"Water in the system travels from the cooling tower to the rack, and individual pipes bring it inside every chassis and to a cold plate that sits on top of every CPU. The only pumps in the system are the facility pumps that push water between the cooling towers and the building."
"Dell addressed the common worry about bringing water into expensive electronics with "extreme testing" of the welded copper pipes, using high-pressure simulations in which it pumped water at more than 350 PSI. The system's normal supply-water PSI is 70.

Each server, chassis, and rack has a leak-detection mechanism and an emergency shut-off device. The system borrows a dripless disconnect design from military applications, according to Dell."
---
| | |
| --- | --- |
| Thu: 06/09/2016 | Topic: Cooling / Heatsinks PermaLink |
Known for its signature brown colour as well as its silent performance, Noctua's fans come easily recommended for those with thermal concerns but a bit of a hit-or-miss when it comes to system aesthetic integration. Many are not too fond of the brown and flesh color-scheme which sharply contrasts with mostly black and loud red or blue component pieces. The … Read more.
---
| | |
| --- | --- |
| Thu: 06/09/2016 | Topic: Cooling / Heatsinks PermaLink |
Silverstone Technologies has made quite a career making cooling solutions for the PC DIY market. Their solutions are also quite often a unique alternative with out-of-the-box oriented ideas and far from having a "me too" design philosophy. With the all-in-one liquid cooling solution's popularity, Silverstone also has thrown their hat in the ring with alternatives from the typical Asetek OEM …
---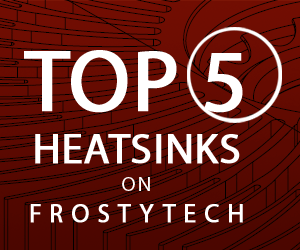 | | |
| --- | --- |
| Thu: 06/09/2016 | Topic: Cooling / Heatsinks PermaLink |
It's no surprise that Cooler Master is reinvigorating itself by introducing the Maker series. Previously, we reviewed their Master Case 5 which is aimed towards those who would like to expand their needs with the add-ons that they sell separately (and for modding). We have many tried and tested thermal compounds in the market for mainstream and high-performance systems. Artic Cooling MX2 was the default choice here in India for many users until multiple PC cooling manufacturing companies starting making thermal pastes. There is one company that makes CPU coolers and cases, but not a thermal paste. No prize for guessing which one it is.
---
| | |
| --- | --- |
| Thu: 06/09/2016 | Topic: Cooling / Heatsinks PermaLink |
" Nach dem FUMA CPU Kühler melden wir uns zurück mit einem neuen Modell aus dem Hause Scythe, dem Kabuto 3. Dieser Kühler ist nun in der dritten Generation angekommen und bringt viele Neuerungen mit sich. So ist der Kabuto 3 nicht nur größer und schwerer geworden, sondern fast von Grund auf ein neuer Kühler entstanden. Die einzige Gemeinsamkeit ist, dass es ein kompakter Topflow Kühler ist. Der letzte Kabuto Kühler liegt immerhin schon fast 4 Jahre her und so konnte man die Zeit nutzen und viele Neuerungen einplanen.
Kabuto steht für den verzierten Helm japanischer Samurai und setzt die Reihe der erfolgreichen Top-Flow CPU Kühler aus dem Hause Scythe fort. Das japanische Sprichwort "Ziehe den Halteriemen des Kabuto nach einem Sieg fester" entspricht in seiner Bedeutung in etwa dem deutschen "sich nicht auf seinen Lorbeeren ausruhen" und ist bei diesem Kühler Programm, stellt er doch eine konsequente Weiterentwicklung aller bereits von Scythe produzierten Top-Flow Kühler dar.
Wenn man sich die Vorgänger-Version ansieht, so erstrahlt der neue Kabuto in vollem Glanz. Die Lamellen wurden neu strukturiert und enger zusammen gesetzt. Die fünf 6 mm Heatpipes sind aus Kupfer und vernickelt. Sie haben eine Länge von 40 cm und verlaufen oben bei Lamellen, runter zu der Bodenplatte, die ebenfalls vernickelt ist, und wieder zurück zu der Lamellen-Unterseite. So erzielt man einen besseren Abtransport der Temperatur und kann diese effektiver abkühlen."
---