| | |
| --- | --- |
| Sat: 01/31/2015 | Topic: Cooling / Heatsinks PermaLink |
HardwareOverclock.com has just posted another review. Last week we have taken a look at tree Mini-ITX coolers, the Noctua NH-U9S, NH-D9L and Alpenföhn Ben Nevis.
---
| | |
| --- | --- |
| Fri: 01/30/2015 | Topic: Cooling / Heatsinks PermaLink |
HardwareOverclock.com has just posted another review. Last week we have taken a look at the EK-Supremacy EVO Nickel CSQ watercool block. This is one of the mostbeautiful cooler we have ever seen. Also the performance is great. So more about the comparison between older EK blocks and an IO solution.
---
| | |
| --- | --- |
| Wed: 01/28/2015 | Topic: Cooling / Heatsinks PermaLink |
Fractal Design is one of those companies that always make me a little excited. Instantly I think of clean edges, simplistic looks, sleek style and quality. Fractal Design is a Swedish company which look to their Scandinavian roots to create not just quality products, but products that people actually want to look at. Cases such as the Define R5 White are a perfect example of what I mean, it looks great, yet it is also functional. As well as cases, Fractal Design also manufacture power supplies and now AIO water cooling products. The new Kelvin Series has a single, dual and triple fan coolers which all look stunning, but let's see how they do on our test bench.
---
| | |
| --- | --- |
| Wed: 01/28/2015 | Topic: Cooling / Heatsinks PermaLink |
"Raijintek are a relatively new company, established in 2013, a late comer to the PC component market. They have come into a market with well-established household names such as Corsair and Noctua, so what do you do? As a start, have some well-designed and performing products. Know your market and have an interesting product range. Raijintek certainly have an interesting range of CPU coolers including the Themis CPU Cooler, one of nine CPU coolers in their range. We are going to review the Themis CPU cooler today, a standard sized ATX range cooler. So if you have a need for a standard size CPU and one from an emerging manufacturer, read on."
---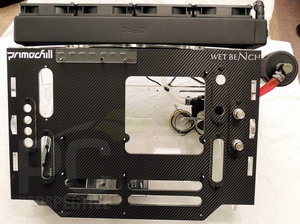 The Wet Bench open-air test bench is Primochill's premier case offering. This acrylic-based enclosure features an innovative design allowing for easy access to the motherboard and PCIe cards without the hassle of removing case panels and mounting screws associated with a typical case motherboard change out. With a starting MSRP of $139.95, the Wet Bench is priced competitively in light of the configurability and features offered with the case.
---
| | |
| --- | --- |
| Wed: 01/28/2015 | Topic: Cooling / Heatsinks PermaLink |
"The quest for silence is an ultimate goal among the elite of computer enthusiasts. Some people take this quest to the extreme in having fanless computers, but even the slightest airflow can be inaudible while making a huge difference in temperatures. That's exactly where SilverStone comes into the picture with their new series of Ultra-Quiet PWM fans. Rather than trying to break airflow records, these tools are designed to operate at a such a low level that you won't be able to tell if they're spinning unless you look at them."
---
| | |
| --- | --- |
| Tue: 01/27/2015 | Topic: Cooling / Heatsinks PermaLink |
On the test bench today we have BeQuiet's
Pure Rock heatsink - a 155mm tall tower cooler built around four 6mm diameter copper heatpipes and paired with one of BeQuiet's 'Pure Wings 2' low noise 120mm fans. The Pure Rock heatsink has a relatively narrow footprint of 121x89mm so it should fit most motherboards where the memory slots are tight against the CPU socket. The heatsink ships with a single 120x25mm fan that spins at 1500RPM, moving up to 51CFM at 1.25 mm/H2O according to manufacturer specs.
---
| | |
| --- | --- |
| Mon: 01/26/2015 | Topic: Cooling / Heatsinks PermaLink |
be quiet! is a PC component brand owned by German company Listan GmbH & Co. KG, who manufactures power supply units, CPU coolers, PC chassis and chassis fans. be quiet! started out in life rebranding and manufacturing power supply units until more recent years when coolers and chassis started to appear on the market. We think most enthusiasts will know of them, and more than likely have previously owned, own or will own a Be quiet! product.
---
| | |
| --- | --- |
| Mon: 01/26/2015 | Topic: Cooling / Heatsinks PermaLink |
The All-in-One liquid CPU cooler market is bursting with coolers with so many brands to choose from. In case you did not know however, most of the liquid CPU coolers are manufactured by a single company called Asetek. Not that Asetek makes a bad product, their products work fine but the fact that most are OEMed by one company means
---
There's no shortage of gaming keyboard on the market, but one brand in particular has always stood out for me personally, Cooler Master. They've proven time and time again that they can make a great keyboard, with excellent performance and some of the best build quality in the business, which is why I was eager to test out their very popular Quickfire Ultimate. It's no secret that this keyboard has been on the market for a while now, but it's still a big seller for Cooler Master and I wanted to see what all the fuss was about; although given their past successes in our reviews, I have a pretty good idea. The Quickfire Ultimate is available in a range of Cherry MX switches and LED backlighting configurations. The model at my disposal today is the Cherry MX-Brown with Red LED backlighting (SGK-4011-GKCM1). Cherry switches are world renowned for their exceptional performance and build quality, so we can expect the same high performance from them as you would in any other Cherry equipped mechanical keyboard. The keyboard packs a few interesting bonus features too, such as the 1000 Hz/1ms polling rate, full N-key rollover, high quality ABS key caps, a rubber grip coated chassis, multimedia control keys (via F-shift), Win lock and a removable braided cable.
---
| | |
| --- | --- |
| Mon: 01/26/2015 | Topic: Cooling / Heatsinks PermaLink |
You would have thought there was only a certain few ways to cool a CPU but apparently there is not. We have a second small form factor CPU cooler on test from Noctua and we didn't hold back testing on this one either. Just like the NH-D9L it is a 95mm fan which comes in a single fan configuration, with capability of a second fan if required.."
---
| | |
| --- | --- |
| Mon: 01/26/2015 | Topic: Cooling / Heatsinks PermaLink |
Cooler Master are well known for their cases, power supplies and of course cooling products and with over 20 years experience it's no surprise that they are a market leader in all of these areas. It's always nice to see companies that are passionate about their products designing and developing new ones and more importantly see how they compare to whats currently on the market. One of the new products from Cooler Master is the Nepton 240M and we are going to look at it today. The Nepton 240M is a closed loop AIO cooling solution which promises high performance, good quality and an excellent user experience. With more and more AIOs hitting the market it will be interesting to see how this one compares. Cooler Master have promised a lot with this one so let's see how well it does on our test bench and see if it can hold its own.
---
| | |
| --- | --- |
| Sun: 01/25/2015 | Topic: Cooling / Heatsinks PermaLink |
"A novel technology to improve the heat transfer of high-power heat sinks used in aerospace for military applications. We integrated an array of self-oscillating reeds (SORs) in between the channels of a heat sink in order to improve thermal performance.
Figure 4 shows several images of the 2.5mm x 10mm reeds before and after integration in a full scale heat sink – click for video. The reeds are fabricated using laser micro-machining techniques out of polyester because of its low density and ability to flutter using only a small amount air. The SOR is mounted and constrained as a cantilever beam. As air passes over them, they flutter creating turbulence which minimizes the boundary layer and increases the heat transfer coefficient. "
---
| | |
| --- | --- |
| Sat: 01/24/2015 | Topic: Cooling / Heatsinks PermaLink |
"unlike tradition vapor chamber that spread across the base, heatpipes are connected to the heatsink for the cooler master variation."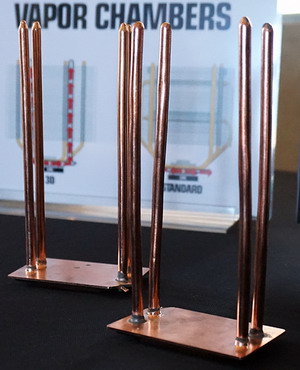 ---
| | |
| --- | --- |
| Sat: 01/24/2015 | Topic: Cooling / Heatsinks PermaLink |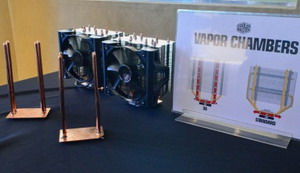 "The Kinetic cooler uses solid metal rotating heatsinks to dissipate heat, essentially combining fan and heatsink into one. CoolChip representatives were on hand to demonstrate that their Kinetic cooler prototype is not only quieter, but much more efficient than a traditional heatsink+fan combination of the same physical footprint. It can also be implemented anywhere where a traditional fan is used today.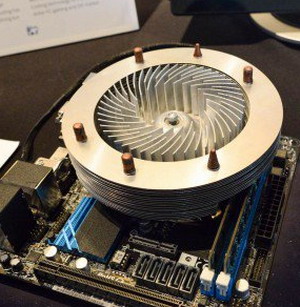 Next to the CoolChip demo bench, Cooler Master also showed off their new 3D Vapor Chamber. Compared to today's vapor chamber designs where the heated vapor stays at the base of the cooler, Cooler Master's new 3D vapor chamber lets the vapor rise all the way to the top of the heatpipe."
---
| | |
| --- | --- |
| Sat: 01/24/2015 | Topic: Cooling / Heatsinks PermaLink |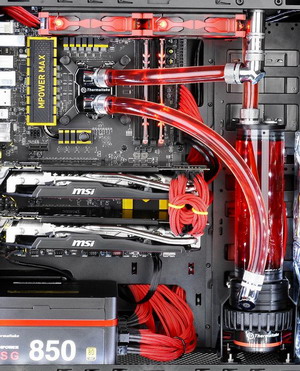 Thermaltake, an industry leader in computer chassis, thermal solutions, and power supply units, has unveiled a spread of highly engineered DIY liquid cooling solutions at the world-renowned International Consumer Electronics Show 2015. As part of its 'hardcore' spirit towards the ultimate in custom PC water cooling configuration, Thermaltake has launched the new Pacific RL240 Water Cooling Kit, a limited-edition LCS combo unit, the kit consists of CPU water block, D5 pump and reservoir, 240mm radiator, fittings, Luna 12 LED red fan, tube, coolant, and other accessories. Also, Thermaltake will release a full collection of LCS components such as D5 pump, T Series reservoirs, PT Series pump with tube reservoir set, and various sizes of radiators and fittings – compressions, fill ports and plugs, ID barbs extenders, and rotary adapters – in chrome and black, allowing enthusiasts to build up superior water cooling system from an aesthetic standpoint as well as incorporate externally-modular upgrades for their chassis. Together, these provide exceptional performance, unrivalled reliability, and styling to DIY enthusiasts.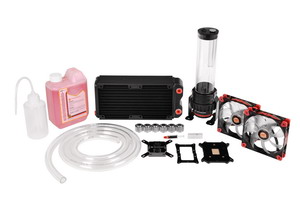 ---
The invention of the HIS R9 290X Hybrid IceQ was likely inspired by AMD's reference design for the R9 295X2 which featured a similar closed-loop liquid cooling system. The results are just as impressive, as we have ended up with a high-end Radeon that overclocks well and stays relatively cool while generating almost no noise.
---
| | |
| --- | --- |
| Thu: 01/22/2015 | Topic: Cooling / Heatsinks PermaLink |
"While the Pure Rock comes in at a lower price point, it still includes an award winning Pure Wings 2 120mm fan. The PWM Pure Wings 2 offers 51 cfm at 1500 rpm, while emitting only 26.8 dB while mounted on the cooler. The body of the of the Pure Rock uses four 6mm heatpipes through an aluminum fin array with an overall height of 155mm."
---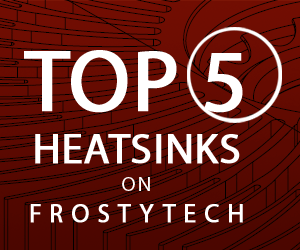 The C3 is a small case from Cooltek and it has been made from aluminum entirely. It allows the installation of mATX as well as miniITX motherboards in combination with ATX power supplies. In addition there is enough space in order to create a small HTPC, file server or even a small gaming system with "mini" cards.
---
"The Carbide 330R has a ton of great features, some of which is necessary to be considered a good chassis. None the less, let me cover a few major selling points and explain the difference between the Titanium and original edition. First up, having support for nearly every aftermarket CPU cooler is a major advantage. I have time and time again given advice for purchasing a cooler, only to find out that a height limit is an issue. At 175mm and a good amount of surrounding space, there isn't much that will not fit. Going along with the CPU cooler; having space up to 450mm for a single video card allows for any video card to fit. Installing a second card is limited because of the inability to remove the hard drive cage. Have no fear though, since the space is enough for any standard video card on the market today."
---