| | |
| --- | --- |
| Thu: 05/21/2015 | Topic: Cooling / Heatsinks PermaLink |
The Versa H15 is the latest case from Thermaltake, which features a compact form factor as well as space for high-end graphics card. Despite its small dimensions, there is actually enough space for a custom watercooling setup and therefore it might be a case that offers some rather interesting options. The street price of the Versa H15 in quiet interesting and is only 35 euro.
---
| | |
| --- | --- |
| Tue: 05/19/2015 | Topic: Cooling / Heatsinks PermaLink |
It is always great to hear about small companies making the headlines in the computer market, but we have seemed to miss a note here. Although Benchmark Reviews has been around long enough to review cooling solutions from most manufacturers in the market, this is the first time we look at a product from Cryorig; a company that has gotten a lot of momentum since it's first release back in 2013. Today, we take a look at the Cryorig R1 Ultimate, Cryorig's first attempt of impressing us with a product they claim is an accumulation of years of design and research.
---
| | |
| --- | --- |
| Tue: 05/19/2015 | Topic: Cooling / Heatsinks PermaLink |
The NZXT formula for creating the Noctis 450 appears to be quite straightforward. Take the impressive H440 (which was built primarily for low noise), enhance the LED lighting with the Under Glow strip lights we saw on the H440 Razer edition and finish the whole thing off with front and top panels that have been lifted from the NZXT Phantom.
---
| | |
| --- | --- |
| Tue: 05/19/2015 | Topic: Cooling / Heatsinks PermaLink |
All-in-one liquid coolers, while being an incredibly easy way to get to liquid cool your CPU, are also generally boring when it comes to aesthetics, offering not much more than a plain black radiator and pump design. However, the subject of this review seems to breakaway from the norms.
---
| | |
| --- | --- |
| Tue: 05/19/2015 | Topic: Cooling / Heatsinks PermaLink |
Not that long ago CRYORIG sent us their flagship R1 Ultimate CPU cooler, which not only impressed us, but had a lot of cool technologies and other things we had never saw on a CPU cooler before. Now we are moving on to their H5 Universal CPU cooler, which as the name suggest is a cooler that will give you 100% memory clearance on mainstream sockets. While the R1 Ultimate was a dual-tower cooler, the H5 Universal has a single tower, but still retains much of the surface area of the R1 with its large fin design. The cooler itself features CRYORIG's Hive Fin structure design, Jet Fin Acceleration System, Heatpipe Convex-Align System, and XT140 140mm cooling fan. Will this cooler be able to live up to the performance of the R1 Ultimate? Let's get it in our system and find out!"
---
| | |
| --- | --- |
| Tue: 05/19/2015 | Topic: Cooling / Heatsinks PermaLink |
Noctua today announced two new additions to its portfolio of premium-quality, quiet CPU coolers with 140mm fans. Whereas the NH-D15S is a high-compatibility single fan version of the elite-class dual tower model NH-D15, the NH-C14S replaces the proven top-flow cooler NH-C14. Both the NH-D15S and NH-C14S feature an asymmetrical layout in order to avoid blocking the …
---
| | |
| --- | --- |
| Tue: 05/19/2015 | Topic: Cooling / Heatsinks PermaLink |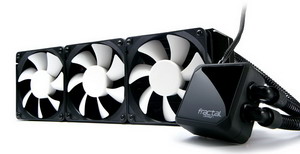 Swedish Fractal Design already revealed its upcoming Kelvin CPU water cooling series way back at CeBIT 2014 in Hannover. At last year's Computex we saw the same prototypes again, scheduled for a summer release. Finally in December 2014 the retail versions popped up; Fractal Design added three AIO models to their Kelvin AIO line-up: a 120mm radiator T12 Kelvin, the S24 being the 240 radiator version and the flagship S36 as the triple fan version. Today we have a look at the latter version, the Kelvin S36. The AIO market is already pretty saturated with versions from Antec, Corsair, Cooler Master, Enermax and Swiftech. What makes this Fractal Design S36 stand out from the crowd? Time to explore the Sweed's high end product.
---
| | |
| --- | --- |
| Mon: 05/18/2015 | Topic: Cooling / Heatsinks PermaLink |
Spring signals the fore-coming of summer, but to Benchmark Reviews, it also means time for some cooler reviews. The first manufacturer in our 2015 list is SilverStone. Last week, we reviewed the SilverStone TD03-E, a 120mm all-in-one CPU cooler which served as an update to the already aging TD03. Today we take a look at it's bigger brother, the SilverStone Tundra TD02-E, an astonishingly stylish 240 mm all-in-one CPU cooler.
---
| | |
| --- | --- |
| Mon: 05/18/2015 | Topic: Cooling / Heatsinks PermaLink |
CPU air coolers may not have evolved much during the last few years and there's indeed not much room for improvement (some manufacturers have tried with not much success) but some models can actually offer enough cooling efficiency to rival and in some cases even surpass many AIO (All In One) liquid CPU coolers. What really stands out in the CPU cooling industry however is the continuously growing number of new manufacturers who offer competitive products at very appealing prices something which benefits consumers quite a bit since in a way that "forces" all the old manufacturers to lower their prices and further improve their products. REEVEN is a very new player in the market and today we're taking a look at one of their top CPU coolers the Ouranos RC-1401.
---
Zalman has been a favorite of PC enthusiasts in the past, so it will be interesting to look at their latest offering in the case market, the Z11 Neo. The Zalman Z11 Neo Mid Tower Computer case is a new revision of the Z11 that originally came out in 2012. Read on to see how our build went in this new case.
---
| | |
| --- | --- |
| Mon: 05/18/2015 | Topic: Cooling / Heatsinks PermaLink |
"The Thermaltake Water 3.0 Ultimate is a high-end liquid cooling system for processors. It has a 360 mm radiator with three 120 mm fans. Let's see if this huge watercooler is as powerful as it looks."
---
| | |
| --- | --- |
| Mon: 05/18/2015 | Topic: Cooling / Heatsinks PermaLink |
be quiet! is launching their newest addition to their PSU line-up: Dark Power Pro 11. And there are no launches without a competition. We teamed up with the company and have some nice prizes for you: The 850W model of the flagship power supply along with the high-end CPU cooler Dark Power Pro 3!
---
| | |
| --- | --- |
| Mon: 05/18/2015 | Topic: Cooling / Heatsinks PermaLink |
Fractal Design has taken an innovative approach with the Define S. This ATX case bears a strong resemblance to the Define R5 but when you take a look inside you find … nothing. It is almost entirely empty apart from a 140mm fan at the front and another 140mm fan at the rear. At first glance there are no storage drive bays and certainly there is no optical drive bay on the front of the case, and while the design looks clean and tidy it appears to be missing something or other.
---
| | |
| --- | --- |
| Mon: 05/18/2015 | Topic: Cooling / Heatsinks PermaLink |
be quiet! looks to take over the entry level cooler market with their new Pure Rock heatsink. Offering the exceptional build quality you know and love and a top-notch silent fan, it has the specifications and features you'd expect. Its relatively tame price just improves its value for those looking for good, quiet, and affordable cooling.
---
This new take on the Z11 design features a new exterior design, mounts for water cooling and filtered intakes, along with the sleek, jet-inspired exterior design from the original Z11. In this article for Benchmark Reviews, I will cover the Zalman Z11 Neo and discuss the changes Zalman has made from the Z11 Plus before delivering my final rating.
---
| | |
| --- | --- |
| Mon: 05/18/2015 | Topic: Cooling / Heatsinks PermaLink |
Scythe has been making CPU coolers for quite a long time and today we have another one of their CPU coolers to review. The Scythe Ashura's main goal is user-friendliness and a compact heatsink design while not sacrificing efficient cooling performance. The Ashura is designed as a single-tower cooler with six copper heatpipes and a 140 mm cooling fan. The cooler is compatible with all modern sockets on both the Intel and AMD side. Will this cooler be easy to install? And more importantly will it be able to compete with other tower coolers out there? Read on as we find out!"
---
| | |
| --- | --- |
| Fri: 05/15/2015 | Topic: Cooling / Heatsinks PermaLink |
So you find yourself needing a better cooling solution in your home theatre PC (HTPC) or your small form factor (SFF) case, all while being relatively quiet and looking sleek? This is where the be quiet! Shadow Rock LP comes into play, as it was designed to fit specifically into these types of cases – cases that generally don't have a lot of room. Read on to find out how the Shadow Rock LP performs!
---
| | |
| --- | --- |
| Thu: 05/14/2015 | Topic: Cooling / Heatsinks PermaLink |
Summer is coming (or better yet it's already here) so whether we all like it or not the time of the year when our precious systems get pushed to their limits because of increased ambient temperatures is here and as expected many of our friends have already begun looking around for new and improved CPU coolers. Of course we don't really need to point out the fact that the largest percentage of consumers are not looking to get the best CPU cooler out there but rather one that can produce better results compared to their previous one (or the stock cooler) and if possible with less noise. Be Quiet! is amongst a handful of companies that aim to design and manufacture high quality CPU coolers (and power supplies in their case) with performance and low noise levels as their primary selling points and today we're taking a look at their latest Pure Rock model.
---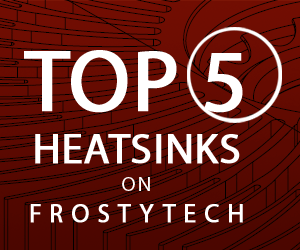 Welcome to another Case Mod Friday showcase! This week we have Snef's "Gold Wings" build. Here is what he had to say about it, "I named this one Gold Wings, the theme of this one is ancient Egypt. The color theme will be white and gold, I know, white, but this one will be special, with a special paint job from the paint magician Hanoverfist. I will not make hieroglyphs everywhere. I very excited to do this build, specially because working on a limited edition case.""
---
| | |
| --- | --- |
| Mon: 05/11/2015 | Topic: Cooling / Heatsinks PermaLink |
HardwareOverclock.com has just posted another review. Last week we have taken a look at the NZXT Kraken G10 GPU Bracket. This mounting kit was made for videocards in combination with all in one watercooling solutions.
---