| | |
| --- | --- |
| Tue: 08/20/2019 | Topic: Cooling / Heatsinks PermaLink |
For as long as PC enthusiasts have been building water loops the question of "what liquid they should use" has been at the forefront. Should you use Distilled Water? or something a little more extreme?? Duh, go Extreme but stay away from Milk!!
---
| | |
| --- | --- |
| Tue: 08/13/2019 | Topic: Cooling / Heatsinks PermaLink |
Continuing our coverage of CORSAIR's Hydro X custom water cooling products, we take a look at the XG7 RGB GPU water block. It features integrated dRGB lighting, a flow indicator, backplate and pre-applied thermal pads and paste. Pricing is solid, offering good value for your money.
---
| | |
| --- | --- |
| Thu: 08/08/2019 | Topic: Cooling / Heatsinks PermaLink |
"Advanced Thermal Solutions, Inc. has expanded its line of flat and round copper heat pipes.
Round profile heat pipes come in lengths from 200-300 mm and diameters from 4.0-8.0 mm. Flat profile heat pipes range in length from 100-250 mm, widths from 8.2-10.5 mm, and heights from 2.5-4.5 mm. Weights range from 8-33 grams. They are effective in temperatures ranging from 30-120°C. Other fluids and sizes can be accommodated with custom heat pipe designs by ATS. The heat pipes are available from ATS distributors, including Digi-Key, Mouser, Master Electronics, Online Components, Arrow Electronics, Richardson RFPD, and New Yorker Electronics."
---
| | |
| --- | --- |
| Thu: 08/08/2019 | Topic: Cooling / Heatsinks PermaLink |
"During the development process, Samsung trimmed down key components to ensure that the smartphones would cut an especially slim profile. Included among these are the S Pen itself, which now features a sleek and durable unibody design that's lighter and more rounded than previous editions, as well as a vapor chamber cooling system that's the slimmest in the world. Measuring just 0.35mm thick, this innovative technology optimizes performance by boosting GPU efficiency – helping ensure that the Galaxy Note10 stays cool during heavy use."
---
| | |
| --- | --- |
| Thu: 08/08/2019 | Topic: Cooling / Heatsinks PermaLink |
Digitimes reports on the expected growth of Heat Pipes for 5G mobile devices, according to thermal solutions manufacturer, Auras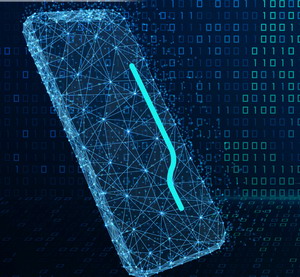 "Demand for vapor chambers (VCs) from smartphone vendors will grow exponentially in the next few years to support high heat-sinking performance required for 5G smartphones, according to YS Lin, chairman of Taiwan-based thermal solutions provider.
Auras reportedly is a VC supplier for Samsung handsets.
Auras has invested heavily in the production of handset-use VCs since the fourth quarter of 2018, seeking to vie for more orders from handset vendors, according to Lin, who added that his company will determine how to carry out its capacity expansion plans by the end of August at the earliest in accordance with customer demand.
Auras now operates four plants in Guangzhou, Kunshan, Chongqing and Hefei, all in China. The Guangzhou plant boasts the largest monthly production capacities of six million cooling modules, 10 million heat pipes and six million VCs, compared to 1-4 million cooling modules at the other plants.
Lin continued that to meet the fast heat dissipation requirement for 5G smartphones, VCs will become indispensable components for the new-generation handsets and materials such as graphite sheet and graphene will be needed for VCs to further enhance heat dissipation.
Auras saw its July revenues surge 35.87% on month to NT$903 million (US$28.80 million), and its revenues for the first seven months of the year soared 32.29% on year to NT$5.57 billion. The company expects its 2019 revenues to increase 30% from a year earlier."
---
| | |
| --- | --- |
| Tue: 08/06/2019 | Topic: Cooling / Heatsinks PermaLink |
Cooler Master goes all-in when it comes to RGB lighting with the MasterLiquid ML240P Mirage. This latest all-in-one liquid cooler comes with an illuminated, transparent pump design alongside a healthy assortment of lighting modes to go with its low-noise operation and solid performance.
---
| | |
| --- | --- |
| Thu: 08/01/2019 | Topic: Cooling / Heatsinks PermaLink |

Thermaltake has released a premium water cooling kit - Pacific CL360 Max D5 Hard Tube Water Cooling Kit is now available on the market. The Pacific CL360 Max D5 Hard Tube Water Cooling Kit features a premium-quality combo kit which is ready to be controlled by the TT RGB PLUS software; it also supports the Razer Chroma and Amazon Alexa Voice Service. The Pacific CL360 Max D5 Hard Tube Water Cooling Kit includes the Riing Duo 12 RGB Radiator Fans, a Pacific W5 RGB CPU Water Block, Pacific PR22-D5 Plus Pump/Reservoir Combo, Pacific CL360 Plus RGB Radiator, a bottle of T1000 Coolant Pure Clear, eight C-Pro G14 PETG 16mm OD Compressions, eight V-Tubler PETG Tubes and other accessories. Every component in the Pacific CL360 Max D5 Water Cooling Kit is carefully selected by the Thermaltake PC DIY experts. The kit takes away the hassle of researching and selecting the many complex cooling components, and provides an easy cooling solution for beginners stepping into the PC DIY liquid cooling field. The Pacific CL360 Max D5 Water Cooling Kit is the one stop for enthusiast's looking to build a powerful and high-tech liquid cooling system!
---
Thermaltake has released its WaterRam RGB Liquid Cooling DDR4 Memory 3600MHz 32GB, followed by WaterRam RGB 3200MHz 32GB &16GB, now are all available on the market.
This is the world's first two-way cooling DDR4 memory that offers ultimate flexibility for cooling options, users can either choose liquid cooling or heatsink convection heat dissipation with ease; whilst, enjoying 16.8M RGB colors across 12 super-bright addressable LEDs for stunning RGB illumination. Built with the highest quality of components to the highest of standards, the WaterRam RGB delivers outstanding gaming performance with stunning RGB lighting effects for effortless sync with 5V header motherboards from ASUS, GIGABYTE, MSI and AsRock to maximize your RGB ecosystem.
---
| | |
| --- | --- |
| Thu: 08/01/2019 | Topic: Cooling / Heatsinks PermaLink |
We have deemed Antec's PRIZM Cooling Matrix the 'next evolution in cooling', as it has a sleek design, awesome ARGB lights and fantastic performance."
---
| | |
| --- | --- |
| Thu: 08/01/2019 | Topic: Cooling / Heatsinks PermaLink |
While you may know Thermaltake for its series of eye-catching and often outlandish cases, the company also manufacturers a range of liquid coolers as well. The product in question today, the Floe DX RGB 360 Premium Edition, is a new top-of-the-line AIO with plentiful RGB lighting and even support for Amazon Alexa. Is it worth the £219.99 asking price?
---
| | |
| --- | --- |
| Thu: 08/01/2019 | Topic: Cooling / Heatsinks PermaLink |
The Thermaltake Water 3.0 120 ARGB Sync TT Premium Edition uses an RGB pump enclosure and a single 120mm Thermaltake Pure ARGB Sync radiator fan, both of which offer full 5V support for RGB lighting control via ASUS Aura Sync, GIGABYTE Fusion Sync, MSI Mystic Light and ASRock RGB lighting on compatible motherboards.
---
| | |
| --- | --- |
| Thu: 08/01/2019 | Topic: Cooling / Heatsinks PermaLink |
OCC has a new video review, covering how to fix a broken AIO CPU cooler that you're unable to RMA.
---
| | |
| --- | --- |
| Mon: 07/29/2019 | Topic: Cooling / Heatsinks PermaLink |

"SilentiumPC, presents its newest line-up of enthusiast-level all-in-one CPU liquid cooling solutions with major improvements and addressable RGB illumination! The Navis EVO ARGB series distinguishes itself from the Navis RGB series by providing an all new ceramic bearing, sleeved tubes and superb lighting effects thanks to addressable RGB LEDs. In addition to these premium upgrades, the Navis EVO ARGB comes with an extended 3 years warranty to further underline the quality of the series. Enthusiasts are going to love the Navis EVO ARGB even more, as the models with 240, 280 and 360 radiators offer socket TR4 support for AMD™ Threadripper™ Processors out of the box.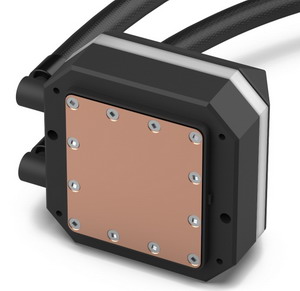 With the ambitious goal to make the much acclaimed Navis RGB AIO even better for enthusiasts, SilentiumPC combined all the enhancements in the new Navis EVO ARGB series. Improvements have been made to the water block, which is now based on a 9-pole motor pump with professional-grade ceramic bearing and offers amazing color gradients thanks to addressable RGB LEDs. The long and flexible tubes have been wrapped in high-quality sleeves for better esthetics. Users have now even more options, when choosing the right AIO for their system, since the Navis EVO ARGB series is available with radiator sizes 120, 240, 280 and 360. The combination of the very efficient water block with copper-baseplate and the all-aluminum radiators with densely packed fin-matrix, allows for superb cooling efficiency with high overclocking potential. Yet another advantage of the Navis EVO ARGB 240, 280 and 360 models is the out-of-the-box support for AMD™ Threadripper™ Processors.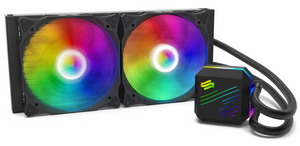 SilentiumPC assures optimum heat dissipation thanks to the equipped Stella HP ARGB fans. The specially shaped blades are able to deliver high static pressure, while the durable hydraulic bearing guarantees smooth and silent operation. Stella HP ARGB fans support PWM control, allowing convenient and automated control of fan speed, depending on the temperature of the CPU. Stunning visual effects and color gradients are realized by the nine addressable RGB LEDs, which are embedded in the in rotor of the fans.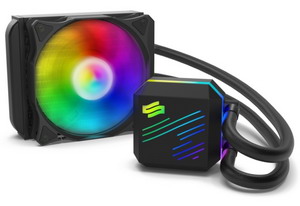 Choosing both colors as well as effects is managed by using the included Nano-Reset ARGB controller or by connecting the fans and the pump to a standardized 3-pin ARGB connector of compatible motherboards. Among the compatible ARGB systems are Asus™ Aura, ASRock™ Polychrome Sync, MSI™ Mystic Light and Gigabyte™ RGB Fusion.
All the Navis EVO ARGB units come pre-assembled, filled with liquid and ready for simple installation, without the need for further maintenance. The package includes the Pactum PT-2 (5.0W/m.K) thermal compound and the mounting clips for the Intel™ sockets LGA 2066, LGA 2011, LGA 1150, LGA 1151, LGA 1155, LGA 1156 as well as AMD™ sockets AM4, AM3(+), AM2(+) and TR4 (except 120 version)."
---
| | |
| --- | --- |
| Mon: 07/29/2019 | Topic: Cooling / Heatsinks PermaLink |
The new Fractal Design Blackout version of the Celsius water cooling system finally offers users all the advantages of silent operation, expandability and clean installation with the choice of a uniform all-black color scheme. The Celsius Blackout allows you to manage fan and pump speeds either through motherboard PWM output or using the temperature-controlled automatic mode same as in previous models, but now comes prepackaged with Dynamic X2 PWM Black Edition fans for a darker, more uniform look.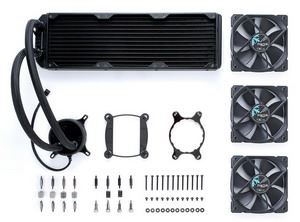 The Celsius series uses a combination of cutting-edge technology and premium sound damping materials to deliver extreme cooling performance with minimal noise output.
An intelligent temperature-controlled auto mode adjusts fan and pump speeds in real-time for optimum balance of cooling performance and silence, while PWM mode enables precision manual tuning for any usage situation.
Included Fractal Design Dynamic X2 PWM Black fans offer a wide speed adjustment range from 500 to 2,000 RPM allowing for near-silent operation under lighter loads and maximum airflow during heavy usage.
An integrated fan hub with concealed cable routing simplifies cable management for a clean installation.
Radiator fittings use standard G ¼" thread maximum compatibility and expandability with standard do-it-yourself components. Easily add and integrate a GPU block of your choice to eliminate noisy graphics card fans so the only sound you hear is the sound of your game.
---
| | |
| --- | --- |
| Mon: 07/29/2019 | Topic: Cooling / Heatsinks PermaLink |
Noctua has released new fan and heatsink accessories as part of its chromax line that allows colour-configuring Noctua products in order to coordinate them with individual build colour schemes. Complementing the existing NA-SAVP1 anti-vibration pads in black, blue, green, red, white and yellow, the new NA-SAVP1 chromax.grey anti-vibration pads are a perfect fit for the light and dark grey colour scheme of Noctua's 140 and 120mm redux line fans. The new NA-HC5 chromax.black.swap, NA-HC6 chromax.black and NA-HC6 chromax.white are add-on heatsink covers for the popular NH-U14S, NH-U14S TR4-SP3 and NH-U14S DX-3647 CPU coolers.
---
| | |
| --- | --- |
| Mon: 07/29/2019 | Topic: Cooling / Heatsinks PermaLink |
"The TRUE Spirit 120M Rev.B is equipped with four 6 mm strong high-end heat pipes which are optimally positioned to discharge the absorbed processor heat to the 46 aluminum fins. The particular angled design of the cooling fins is designed to minimize air resistance and contributes measurably to the efficient heat dissipation. The TY-121G fan speeds up to 600~1800 and with the best TF4 thermal paste to make an epic cooling speed now."
---
| | |
| --- | --- |
| Mon: 07/29/2019 | Topic: Cooling / Heatsinks PermaLink |
The Macho 120 Rev. B is based on the innovative design of the 30 cooling fins in combination with the use of 5 high-end 6 mm copper heatpipes.
---
| | |
| --- | --- |
| Mon: 07/29/2019 | Topic: Cooling / Heatsinks PermaLink |
"Thermaltake liquid and air cooling solutions are able to help gaming enthusiasts and content creators break their processing limits by achieving maximum heat transfer and thermal dissipation with the all-new Ryzen 3000 series processors. All coolers are 3rd Gen Ryzen series processor ready. Choose from Thermaltake's strong lineup of liquid and air coolers."
---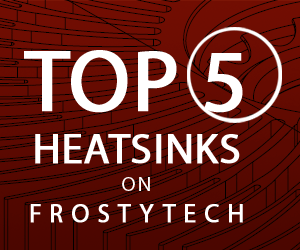 | | |
| --- | --- |
| Mon: 07/29/2019 | Topic: Cooling / Heatsinks PermaLink |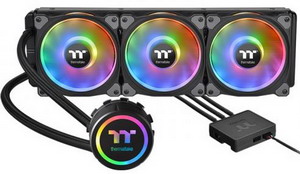 Thermaltake, the leading PC DIY premium brand for Cooling, Gaming Gear and Enthusiast Memory solutions, announced that their top-end liquid CPU cooler Floe DX RGB Series TT Premium Edition has already hit the store shelves. Available in 240mm, 280mm, and 360mm, the Floe DX RGB Series is an all-in-one cooler with a vivid-colored LED waterblock and digitally-controlled Riing Duo RGB high-static pressure fans. This new cooler series by TT Premium features fantastic cooling performance, exceptional quality, and addressable LEDs.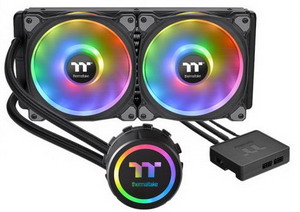 Both the waterblock and the fans are equipped with multiple addressable LEDs that can be controlled by the exclusively designed software. Functions within the software allow users to personalize colors for each LED, monitor fan performance and track CPU temperature.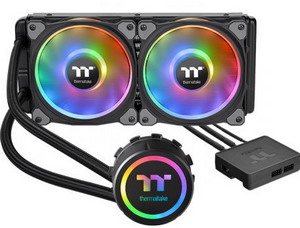 ---
| | |
| --- | --- |
| Mon: 07/29/2019 | Topic: CPU / Processors PermaLink |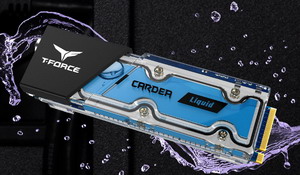 "Teamgroup has released a Liquid water cooling M.2 PCI-e SSD called the T-FORCE CARDEA. This is the world's first solid state drive that combines water cooling and M.2. This innovative new product uses self-circulation cooling to lower the temperatures effectively.
The T-FORCE CARDEA LIQUID is specially built for gaming and high performance PC. The crystal-clear outer casing structure and T-FORCE LOGO's metal trim and the sliding rail design are the perfect combination of craftsmanship and style. After TEAMGROUP laboratory's testing and burn-in tests, by using the concept of self-circulation cooling effect, this product is proven it can effectively lower the temperature down 10 degrees. T-FORCE CARDEA LIQUID has PCIe Gen3 x4 high speed interface. The read/write speed is up to 3400/3000 MB/s, and random read/write speed is up to 450K/400K IOPS. In addition to the effective cooling effect which can keep the system stable, its excellent performance is also reliable. "
---