The heatsink below at left is AVC's "Triceratops" Prescott FMB2 heatsink. Along with a 4600RPM fan belting out 63CM, the cooler uses a rather interesting combination of copper block, heat pipes, aluminum extrusion and stacked aluminum fins.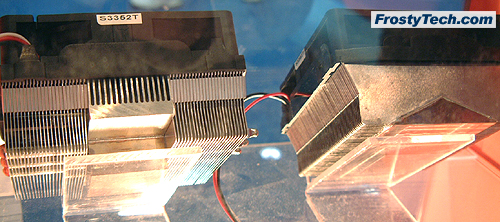 The AVC socket 775 "Triceratops" Prescott FMB2 heatsink and AVC socket 775 Prescott FMB2 "Abrams-M1" heatsink.
The Prescott FMB2 heatsink on the right is called the "Abrams-M1," and it also incorporates a 4600RPM 90mm fan which moves 63CFM of air over a triangular shaped copper base soldered to stacked aluminum fins. The triangular base design is an element we have seen used very successfully in other thermal designs from companies like the Korean manufacturer Tocools.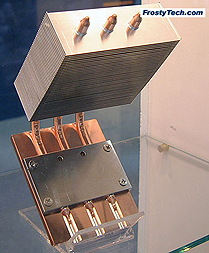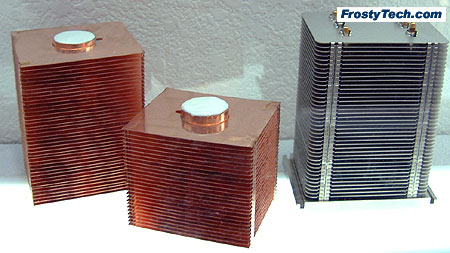 AVC also displayed an assortment a proof-of-concept prototype heatsinks that caught our attention. Low noise generation and accommodating the restrictions of a small formfactor system can make effective heatsink design and implementation quite challenging. Both sets of heatsinks made predominate use of heat pipes (the latter a heat column) in their construction. With wattages on the increase it's safe to assume heatsink manufacturers are having a more difficult time achieving low C/W values without massive increases in the cost per heatsink.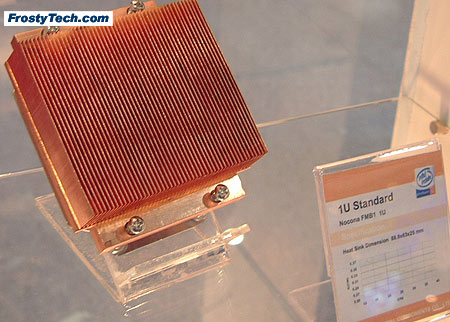 The AVC "1U Standard" Noconna FMB1 1U copper passive heatsink for use with forced air cooling in a rack enclosure.
It's difficult to find good 1U server heatsinks, and so there has been a lot of movement towards one-piece skived copper solutions which have a lot of positive benefits. With an appropriate air duct over the heatsink, and steady forced airflow, heatsinks like this AVC Noconna FMB1 unit can keep even high-power Xeon chips running cool.