Abstract: In the following pages you'll see every imaginable shape, material, and size of cooling system and heatsink.


On the AMD Athlon64 front Thermaltake had a good assortment of coolers ready, including some combination socket 754/939/940 and socket 478 heatsink retention frames - thus opening up the possibility of using you good old Pentium 4 heatsinks on the Athlon64, or vice versa.
The Thermaltake K7 Volcano and SilentBoost K8 heatsinks. Both are made from copper stacked fins and a copper base, with the only real difference the clipping mechanism and fan. The K7 Volcano has a monster fan, while the K8 uses a much quieter fan.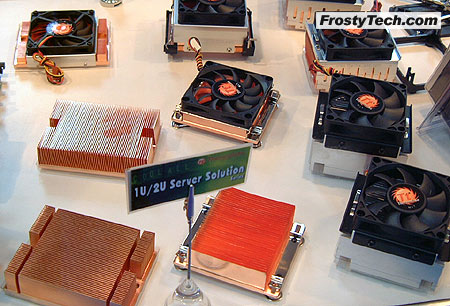 Given Thermaltake's focus on the end user, it is hard to believe that the companies heatsinks would be used in 1U/2U servers. Nevertheless, there are an assortment of thermal solutions for passive forced air, and active cooling situations.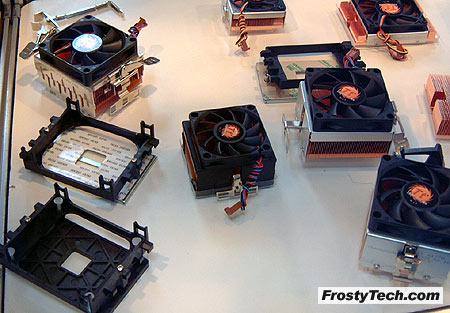 Multi-socket designed heatsinks may save a consumer a few dollars here, but such designs are never optimized well enough in our opinion.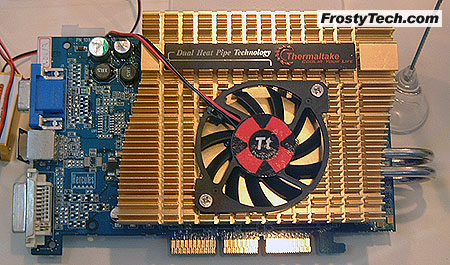 Thermaltake is well known for taking other companies ideas and reselling them as its own. In this case Zalman introduced the silent videocard heatsink with heatpipes. Thermaltake added the fan.
Thermaltake Technology Co.
Corporate Address:
8F, No.27, Lane 155, SEC.3, Pei Shen Road, Saen Keng Hsiang, Taipei Hsiang, Taiwan R.O.C
Webpage:
http://www.thermaltake.com
Telephone:
886 2-2662-6501
Fax:
886 2-2662-6510
Company Background: Established in 1998, Thermaltake has quickly risen as a respected leader in computer thermal solutions technology. Thermaltake has increasingly enjoyed the adoption of its thermal strategies by OEM & ODM companies worldwide. Our engineering staff are masters of airflow analysis, material conductivity and efficiency design. Thermaltake's devotion to quality and customer satisfaction has earned its products the approval of computer enthusiasts everywhere.
Further Info: Heatsink Industry Directory - General Heatsink Mfg'r Web Index








Websites you may also like:
PCSTATS


Time stamped: 11:48AM, 12.15.2018