The really interesting heatsink from Thermaltake is the SilentTower Intel socket 478/775 and AMD Athlon64 Socket 754/940/A heatsink.
The Thermaltake SilentTower was one of the first P4/SocketT/K7/K8 heatsinks. Though as with any all in one unit, the cooler tends to be biased towards one particular processor over that of the others. Hopefully in the case, the Thermaltake SilentTower will turn out to be optimized for the heatspreader packing P4, FMB2-Presscott, and Athlon64 processors over that of the aging K7 package.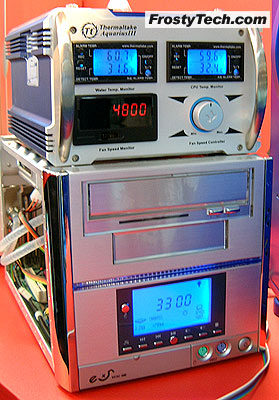 The Thermaltake Aquarious III self contained SFF watercooling system was modeled on the Corsair Hydrocool (produced by Delphi).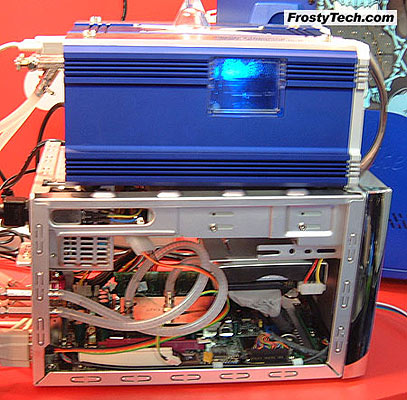 The Thermaltake Aquarious III has a visible reservoir so users can easily glance at fluid levels. The case is made from heavy extruded aluminum sections.
Watercooling has come into its own, and consumers see it as viable way of keeping their systems cool quietly. It's not surprising to find more mainstream heatsink manufacturers producing liquid cooling systems of their own. Thermaltake call this system the Aquarius III.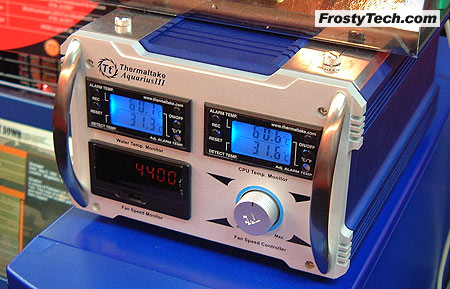 The unit has multiple temperature sensors, a fan speed control and monitor, alarms, and lots of blinking lights.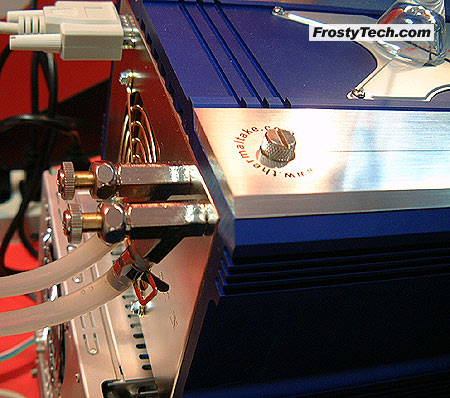 The Aquarious III is a good concept, but suffers from poor implementation and choice of materials for the watercooling circuit.
Looking at the Thermaltake Aquarious III, it's clear that aside from the case being very nicely constructed of thick extruded aluminum sections, Thermaltake don't build particularly good good watercooling units. The tubing material is sub-standard, kinks, and is of too small an inner diameter. The fittings are rough and subject to galvanic corrosion with the materials in the waterblock, and the heat exchanger is undersized and hidden within the body of the unit where airflow is not always ideal.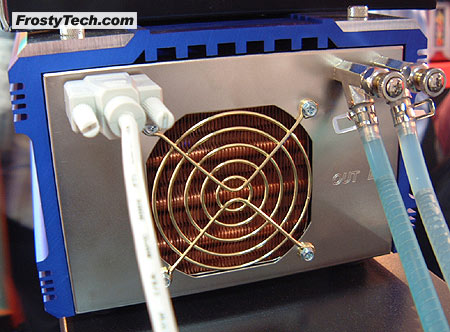 Rear view of the Thermaltake Aquarious III water cooling unit.