Thermal Integration brought the overclocking world the original Thermoengine heatsink , and the company has yet to abate when it comes to ingenuitive cooling solutions. FrostyTech caught up with Thermal Integration at its booth during a recent Computex for a look at some new heatsinks the company is producing.
One interesting piece of hardware on display is the AMD socket 754/939 test bed, a slab of PCB with socket and connections for thermally testing heatsinks for the Athlon64 platform. According to AMD documentation in the AMD Thermal Design Guidelines, this apparatus is also used with load cells to measure the clipping force applied by the processor heatsink. The Athlon64 guidelines require a heatsink which applies upwards of 75lbs pressure on the heat spreader; which explains why it is crucial to use the back stiffener plate to ensure there is no PCB warping.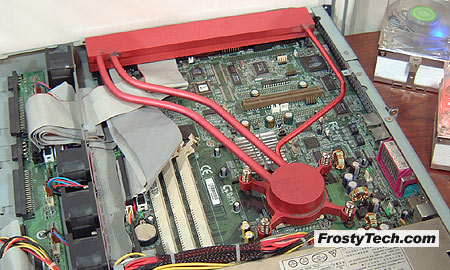 Heatpipes of several shapes and applications were on display by Thermal Integrations at this particular event, including a 1U server configuration. The large red 'octopus' heatpipe system is configured for a Xeon processor in this example. The unit is a prototype for demonstrating Thermal Integration's manufacturing capabilities, it is not commercially available.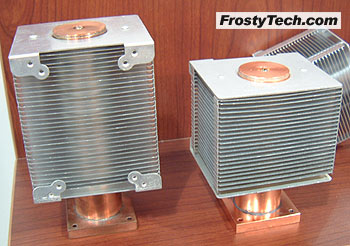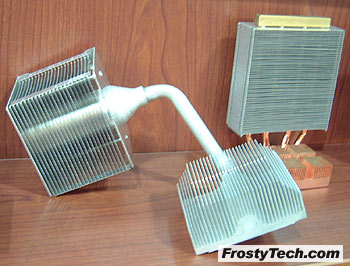 These two heatpipe based units on the left are configured for what will eventually become socket 478 heatsinks, the rather large heatsink on the right could be useful for a small formfactor computer where the heat exchanging fins are passively cooled outside of the outside of the SFF case. So far, we have not seen any production ready units available from Thermal Integration.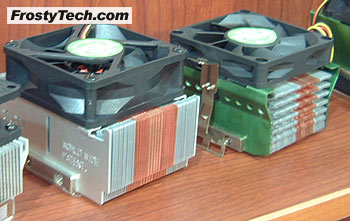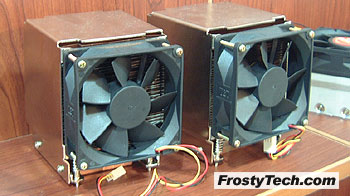 The TI-A8736N Pentium 4 and TI-A8641L AMD AthlonXP heatsink on the left are each made from a bundle of punched out sheets of thin copper or aluminum metal. Both heatsinks are currently available from Thermal Integration, and in testing have proved to be very capable coolers. A internal triangular-shaped base design is used in the Pentium 4 heatsink in an effort to improve performance levels.
Thermal Integration
Company Background: Established in 2H 2001, Thermal Integration Technology Inc. (T.I.T.I.) is a professional thermal solution provider. By offering wide range of thermal products, T.I.T.I. fulfills the strict requirement on thermal solution for both computing and IA industries. The elite staffs from respective fields, T.I.T.I. continuously introduce more value-added products to market. We strive to be the customer oriented thermal solution provider.
Further Info: Heatsink Industry Directory - General Heatsink Mfg'r Web Index