Rise Above Ambient Temp. (c)
Mfg.
Model
27mm large copper block
15mm small copper block
27mm large copper block
15mm small copper block
50W
50W
100W
100W
Swiftech
MCW462-U
8.8
15.8
18.1
29.4
Thermal Integration
TI-V77N
16.7
17.7
32.1
35.8
Sibak
AC02625B
18.1
35.8
20.0
41.5
Swiftech
MCXC370
16.9
22.0
32.1
44.3
Vantec
CCK-6027D
18.0
22.2
37.5
46.0
Tocools
Crown
15.6
30.0
24.7
47.0
Dynatron
DY1206BH-625
16.8
31.9
24.4
47.2
Swiftech
MCX370
19.7
23.8
38.0
53.3
Zalman
CNPS6000-Cu
21.6
29.0
40.8
53.4
Taisol
CGK760092
19.3
37.8
27.9
54.1
AVC
112AM1
21.8
28.1
45.3
54.8
GlacialTech
Igloo 2310
21.4
43.2
30.2
57.3
Thermaltake
Volcano 6cu+
13.8
28.8
32.1
57.9
Zalman
CNPS6000AlCu
23.4
31.4
47.3
61.1
JMC Products
400023
21.3
42.0
32.1
62.0
Sibak
AT01515B
22.1
41.6
37.1
72.2
50W
50W
100W
100W
Well the numbers speak for themselves really. Liquid cooling Swiftech style is damn fine, and has produced some of the lowest rise above ambient temperatures yet. Of course it took nearly $400USD worth of equipment to get these thermal results but, boy are those temperature measurements low.
Conclusions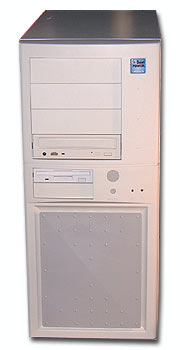 Swiftech's Quiet Power liquid cooled computer is an easy way to enter the liquid cooled computer world with a minimum of fuss and frustration. The components used in this special case are pretty much all top of the line for their class. While I would be tempted to source out a more exotic heat exchanger than the radiator Swiftech chose there really isn't anything else I would alter.
There are a few additions which I think would be good to add to a case such as this, but these are not necessities, and really ought to be things the end user does should he or she want to. A fluid tank would be one item I think Swiftech may want to consider adding to this case, but then again that may serve no real thermal benefit.
We've been playing around with this case and cooling system in the lab for a couple weeks and have a pretty good feel for it now, and where we will be taking it with some planned mods. The care and attention to detail you can see in this extreme overclocking solution are evident in the components chosen and the level of user the Quiet Power system is attempting to satisfy.
The illustrated instructions are obviously a must read for anyone with this system, but in all honesty there isn't too much to it. Swiftech have taken the difficult part sourcing, the a hours of construction time, and the pile of tools it would require to assemble this system and distilled it into a one-off solution with superb expandability.
The price for the Quiet Power system with everything you saw here is not within every ones grasp but it is fair considering the time and expense it would cost someone to produce this on their own. With the growing need for quieter running, better cooling computer solutions, the self contained liquid cooled computer we saw here is a very attractive solution for those who can afford it.