Ehiem Centrifugal Pump
Some of the other notable equipment which comes with the Swiftech Quiet Power liquid cooled barebones is an Eheim pump. Made by Eheim GmBH out of Germany, the pumps are designed to operate reliably with aquariums with a MTBF of 100,000 hours. The inline centrifugal pump is a very robust design, and the 1048 model Swiftech have opted for moves about 600 litres an hour (158 gallons/hour) through 1/2" fittings.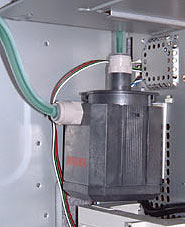 You can even remove the head on the Ehiem 1048 and have a look inside the pump which consumes about 10W, and runs on 120V AC. Inside there is a small impeller connected to a magnetic core which sits loose in a hole going through the center of the pump. As current passes through the motor, the magnetic core is induced to rotate and this is how the pump moves fluid.
There is really only one moving part and very few ways for the pump to break, other than wear and tear. If you have an aquarium you will know that failure in pumps like this is usually the result of a stuck impeller, damaged bearing, or because of a build-up of grit in the fluid.
With processors, especially those from AMD, such failure can cause catastrophic damage to the chip and even the motherboard. Unless you are using a motherboard which safeguards the AMD processor by taking thermal measurements from the on-core thermal diode there is no way to trigger a shut down.
Intel processors are a lot more forgiving in this regard, but the Quiet Power system still remains external to thermal events. PCstats recently reviewed the Soltek SL-75DRV5 motherboard which features internal AMD thermal diode monitoring which would be a good candidate to use with a liquid cooled computer such as this.
Aluminum Radiator
One of the biggest stumbling blocks we encountered when constructing our original self contained liquid cooled computer was around the radiator. We were lucky enough to find two really thin copper and aluminum radiators which worked very well with a low amount of air flow.
The only set back was that they were very fragile and like any air conditioner radiator, were easily damaged by careless fingers. Swiftech bolt a much more robust black radiator onto the back of the Quiet Power case, but I think a more efficient heat exchanger could be found with a little digging.
In any case, the stock Swiftech radiator measures 11" x 5-7/8" x 4" by 3/4" thick and is constructed of black anodized aluminum plates and fins. It almost looks as though it was designed for use on a motor cycle, but it's hard to say for sure.
The nice part about a heat exchanger of these dimensions is that fans can be positioned behind it for low-noise cooling. It is very robust and sturdy compared to what we originally used when we built our liquid cooled computer.
As the radiator is mounted on the outside of the case, Swiftech have cut two large 120mm holes, and used a gasket to optimize the seal between the fans and outside world. The cooling tubes must pass from the inside of the case to reach the radiator, so rubber grommets are used to prevent damage from sharp edges to the tubing.