OCZ Dominator Microfin Heatsink Review
---
Microfin or Skived heatsinks are some of the newest and best performing heatsink technologies on the cooling marketplace. Given the level of performance they can offer, it's difficult to see why anyone would want to still use an extruded heatsink. OCZ, who are an online retailer of computer bits and pieces have recently brought out the Dominator, their solution to performance cooling.
Fancy names aside, the Dominator is combination of two specific components that equate to better than average cooling capabilities. With a 38mm focused flow series Delta fan and a custom Dynatron series microfin base it is easy to see that this heatsink will not be a slouch. The only other question remaining, is how high can the Dominator go? Does it have the stuff to out perform the recently announced Thermal Integration TI-V77L?
Heatsink Specsheet:

Model: Dominator
Fan: Delta FFB0612SHE, 7000 rpm, 43CFM, 12V, 0.83A.
Fan Dim: 38x60x60mm
Heatsink Dim: 77x70x62mm
HS Material: Skived Aluminum
Mfg by: OCZ / Dynatron
Cost: ~$20 USD


Sold By: OCZ Tech
I've always considered one of the quickest ways to see the level of quality put into a heatsink is to check the finish of the base. Of the base is unfinished or rough then chances are not a lot of effort has been put into making the heatsink a good performer.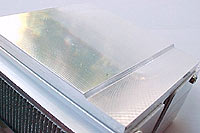 If on the other hand the base is finely finished, either by milling or by lapping then you can make a good bet that the heatsink is of better quality. Of course this quick litmus test does not hold true in every case, but it works most of the time.
As we turn over the Dominator over a shiny face milled base stares back at us. A quick check with the straight edge confirms that the base is perfectly flat, and very smooth.
The angles in the original aluminum extrusion are indicative of a Dynatron fin component, but the fin design is custom to the OCZ's offering.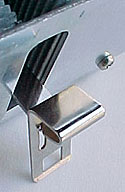 The difference between clips that absolutely require the use of a flat head screwdriver, and those that can be operated by hands alone has always been a point of contention. On one hand you have ease of access, and on the other you have better leverage - but danger of a slipped tool doing damage to the motherboard itself.
The Dominator sides with the latter and doesn't require any special tools to engage on the socket.
Additionally the pivoting clip head makes it possible to keep the entire heatsink flat on the processor core while being clipped down. This should hopefully help to limit the amount of damage a careless user will do to his or her processor during installation.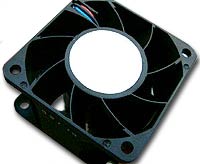 The Delta FFB0612SHE 38mm focused flow fan is something relatively new to the cooling world. The fan is thicker than your standard 25mm fan and also features nine fins that direct airflow at the base of the fan. The seven bladed impeller is standard fare however.