I have been dieing to strap this IMC Magnetics vane-axial fan onto a heatsink for about two years now.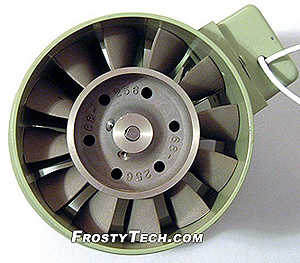 It's just about the perfect size to fit a Zalman CNPS7700-cu heatsink... and the prospect of 200CFM of air coursing through 60 copper fins could be quite fun. :-) As far as 120mm grade fans go, you aren't likely to see another fan pulled from a Boeing aircraft used to cool a CPU for some time.
And yet I have to wonder, is there any purpose to testing heatsinks with multiple fans, or conducting a fan round up for that matter? What happens in Frostytech's lab is removed from a computer system and entirely dependent on you having exactly the same fan and heatsink combination. See my point? What good are fan round ups, or testing heatsinks with any fan other than the one it sells with?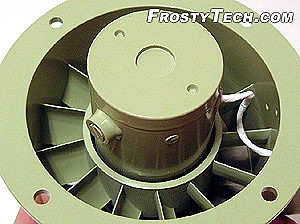 Take this IMC Magenetics fan here. It has a beastly finger chopping 12-bladed cast aluminum impeller that spins at 6000 RPM, generates an ear squashing 85.6 dBA at full tilt, but operates quite well in the 2000RPM range relatively quietly. Frostytech could set it in front of the Thermalright Ultra 120 Extreme heatsink with spectacular thermal results, but you won't be able to find model no. 04320-BD2510V at Newegg.
What do you think?