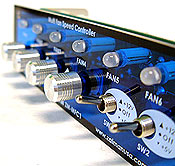 The Zalman ZMMFC1 is made with a blue translucent front panel that hides the electronics, but also shows the circuitry off. The blue plastic panel is labeled with white descriptions and the tips of the 6 LED's poke out from behind.

However, the Zalman ZMMFC1 offers some flexibility that other similar 5.25" bay fan speed controllers don't.

Namely, the ZMMFC1 comes with four fan speed channels and a side of two extra channels that operate auxiliary devices at either 12V or 5V. We'll get to those in just a second, but getting back to the four fan speed controllers we find each one with a three-pin connector, dial control (rheostat) and blue LED indicator light.