Albatron's Silver PX845G / E
Albatron Technology, a manufacturer of Motherboards and Adaptor Cards announced the sleek, new 'Silver' Mainboards, the PX845G and the PX845E. Both of these products have surfaces that are coated with pure silver improving heat dissipation and reducing EMI emission. These two products provide the end user with the best performance, the best value, and the highest efficiency Mainboards available on the market today.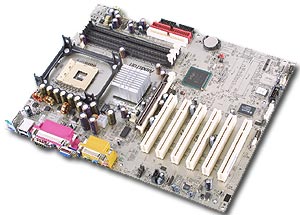 These mainboards use a new plating technology to apply the silver coating to the board. Silver plating can be very efficient in dissipating heat and reducing EMI emission but it is also a highly conductive material capable of shorting the copper elements on the PCB if not applied correctly. The plating technology used at Albatron technology ensures that the board optimizes heat and EMI reduction while protecting the sensitive copper conductors and ensuring the integrity and efficiency of the system.