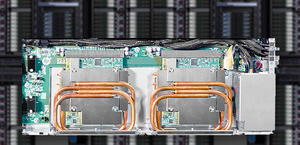 "Hewlett-Packard has introduced a new supercomputer server system cooled by warm water. HP describes its Apollo 8000 as "the world's first water-cooled supercomputer with dry-disconnect servers, delivering liquid cooling without the risk."
The technology is based on work HP did with the National Renewable Energy Lab (NREL) on the Peregrine supercomputer.
Water cooling is 1,000 times more efficient than air. According to HP, compared to air-cooled systems the Apollo 8000 can provide up to 4 times more teraflops per sq ft, 40 percent more FLOPS/watt and save more than 3,800 tons of CO2 annually."