Alphacool International GmbH has announced the launch of a custom GPU service. Until recently the high cost of developing specialised full cover watercooling blocks for graphics cards has forced manufacturers to focus only on producing blocks for the higher end cards. Alphacool now have the ability to fill this gap in the market by producing full cover waterblocks for any non-reference or lower end graphics card. The graphics card cooler comprises of three parts as shown in the image below.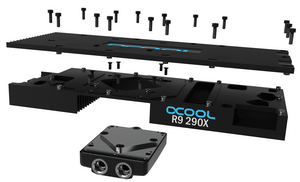 Firstly the waterblock is designed around the 'core concept' but is used in conjunction with the custom made base plate that is made specifically for each type of GPU ensuring a perfect fit. A custom made back plate is also included in the package at no extra cost.

A specially designed cooling block will serve two uses, first to cool the core of the GPU and secondly to cool the copper plate which is fixed to the aluminimum base (no water is in contact with the aluminimum at any point). The mosfets on the card will be cooled to the same level as they would be on an air cooled graphics card running its fan at full speed while the core and ram would see a temperature drop in the region of 30-40C.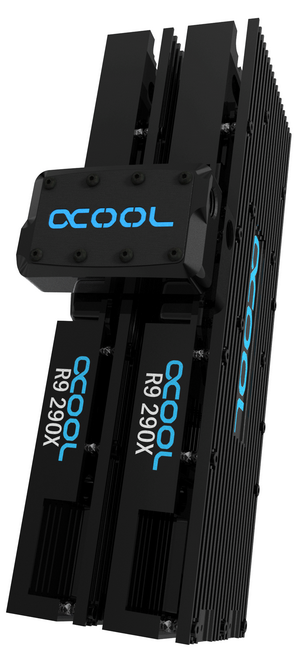 The block is designed to work universally, so when you upgrade your card you will be able to buy just the plates you need. Alphacool will be launching this range based on any Nvidia card 7XX or above or any AMD card 2XX or above. Nvidia 750 Ti Solutions for reference cards will be available at launch for 59€ including the back plate. Nvidia Titan Black solutions will also be available for 79€ including back plate.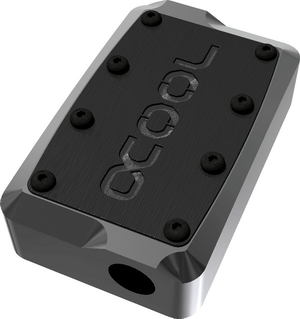 For customers looking for blocks for non-reference cards or cards that we have not already covered with the standard blocks there is now the option to send your card into Alphacool. By using state of the art 3D scanning technology to measure your GPU Alphacool can custom make you a cooling plate. As a reward for sending the card in Alphacool will send the customer a free cooling set for their GPU (Plate, block and back plate). The GPU cooler will also be added to the product range so other customers with the same card can also purchase the block.
Alphacool will also be producing a unique "multi-bridge" connection system for customer's with more than one GPU. The bridge will effortlessly connect the waterblocks as well as letting the customer illuminate the Alphacool logo with 5mm LED's.
To support the modding community Alphacool will be publishing the dimensions of the "multi-bridge" cover so you have the ability to make your own. Also if there is enough demand for a specific brand or logo Alphacool will be making custom covers available.
If you are interested in taking part in the scheme please contact Alphacool directly at www.Alphacool.com