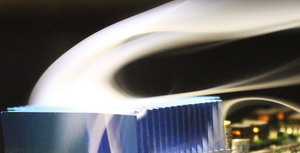 Norman Quesnel reports that; "Advanced Thermal Solutions is now providing design engineering services for companies doing business with Digi-Key, through their Design Services Provider network." ATS offers comprehensive thermal analysis, along with analytical, computational and empirical methods using proprietary tools and CFD software.
Said Digi-Key of the partnership, "We are aware of problems facing electronic design engineers. One of the most common is heat management. We are proud to carry standard ATS thermal relief products and delighted to expose ATS heat management engineering prowess to our customers as a design service."
"Thermal management is a critical junction point for the successful launch of any kind of electronics product," said Kaveh Azar, Ph.D., President and CEO of Advanced Thermal Solutions, Inc. "Being included in Digi-Key's Design Services Provider Program allows us to make available our 30 years of experience in thermal design and mechanical packaging of electronics to Digi-Key's customers to ensure that the thermal portion of the design cycle is addressed right-on-time-the-first-time."