The new Fractal Design Blackout version of the Celsius water cooling system finally offers users all the advantages of silent operation, expandability and clean installation with the choice of a uniform all-black color scheme. The Celsius Blackout allows you to manage fan and pump speeds either through motherboard PWM output or using the temperature-controlled automatic mode same as in previous models, but now comes prepackaged with Dynamic X2 PWM Black Edition fans for a darker, more uniform look.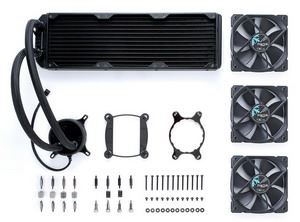 The Celsius series uses a combination of cutting-edge technology and premium sound damping materials to deliver extreme cooling performance with minimal noise output.
An intelligent temperature-controlled auto mode adjusts fan and pump speeds in real-time for optimum balance of cooling performance and silence, while PWM mode enables precision manual tuning for any usage situation.
Included Fractal Design Dynamic X2 PWM Black fans offer a wide speed adjustment range from 500 to 2,000 RPM allowing for near-silent operation under lighter loads and maximum airflow during heavy usage.
An integrated fan hub with concealed cable routing simplifies cable management for a clean installation.
Radiator fittings use standard G ¼" thread maximum compatibility and expandability with standard do-it-yourself components. Easily add and integrate a GPU block of your choice to eliminate noisy graphics card fans so the only sound you hear is the sound of your game.