UPDATE: The "SilentPowerPC.de" website is no longer active, looks like this project ceased operation without having ever produced a working product. (The URLs has been removed from this story since it now points at a click farm.)

A couple readers have written to ask if Frostytech can test the novel copper foam heatsink used on a new crowd funded silent computer system making the rounds. Well, we can't because it doesn't yet exist.

In case you missed it, this is what all the hoopla is about.... this is the mock-up from SilentPower PC who are looking to raise €45,000.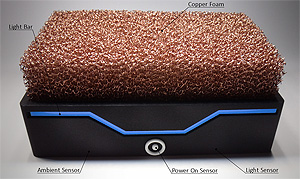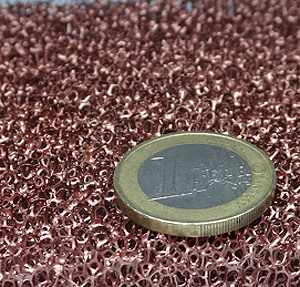 Copper metal foam structure.
The crowd funding project aims to use a slug of copper inside the open cell copper metal foam as the heat spreader, with the metal foam on the outside serving as the "fins" of the heatsink. In this design, airflow is not fan-driven, but by convective air currents (hot air rising) so the system remains completely silent. The project touts such benefits as: "heat is distributed on an up to 500-fold greater surface area."
While open-cell metal foams are routinely used in water blocks and evaporative cooling systems, I can't see the mockup design successfully working as a passive CPU heatsink.
For starters, the random cellular structure of metal foam is going to create significant pressure drop which will styme free airflow. To make matters worse, the base is entirely blocked off by the heat generating components and a solid heatspreader... so air can really only enter the metal foam from the edges. Compare SilentPowerPC.de's thermal design to the prototype heatsinks actually produced by the metal foam industry to promote the application of their products (below).
See the difference? Thin slabs of open cell metal foam to reduce pressure drop and tubing or heatpipes to conduct the heat energy across a large surface area.... and a requirement for high pressure fans to drive airflow through the restrictive material.
The SilentPowerPC.de team would, perhaps, be better to choose a proven fully passive heatsink such as Nofan's CR-80EH, which actually exists. NoFan heatsinks are essentially made from one wound up 'heatpipe', the downside being the volume of space required and a dissipation ceiling of about 90W. Considering that the SilentPowerPC.de crowd funding project aims to squeeze an Intel Core i7 4785T CPU and NVIDIA GTX 760 GPU in the box, I'm skeptical they will build a working prototype with the metal foam heatsink as pictured.