I'm glad someone is still selling phase change coolers like this Cooler Express 2013 Super Single. Frostytech tested the ECT Prometia Mach II GT years ago and it was pretty fantastic. Not often you see a thermal test platform running at -48°C! Expect to fork out $900 for this bad boy.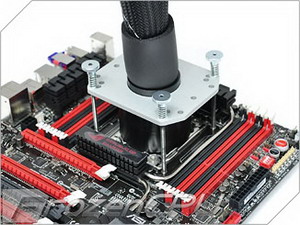 Quoting FrozenCPU: "The Cooler Express 2013 Design Super Single Evaporator CPU Cooling Unit is the all new 2013 model - featuring compatibility with all modern sockets, a simple, single CPU cooler design and extreme cooling (-48°C)!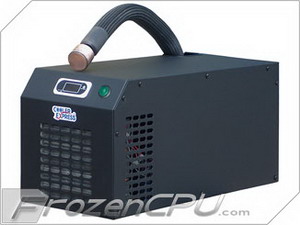 The unit attaches to the bottom of your case and the evaporator tube snakes through the bottom of your case (after a hole has been added) and mounts directly to the CPU. With temperatures way below freezing, you can overclock your CPU far beyond what is possible even with the best water cooling!

Simplicity and ease of use were incorporated into the new units. These new 2013 units have a modern sleek design and have eliminated the control board which most users found a nuisance. A front power button was incorporated to make powering on the unit easier as well. The compressor is a larger more robust version with a 180W - 200W dissipation rating. Some reviews have seen up to 280W! "