Electronics Cooling magazine mentioned a new graphite sheet material with thermal conductivity of 1700WmK from Panasonic. Details and a brief specs for the PGS material are below, but what I want to know is where I can find a complete computer chassis wrapped in Pyrolytic Graphite Sheet to help dissipate heat from internal components / power supply over a larger surface? I've never much liked computer cases with lots of fans, they don't survive very long in dusty environments. Perhaps Zalman or Coolermaster or Antec will introduce a computer case built around Pyrolytic Graphite sheet for true, passive, thermal management at the case level?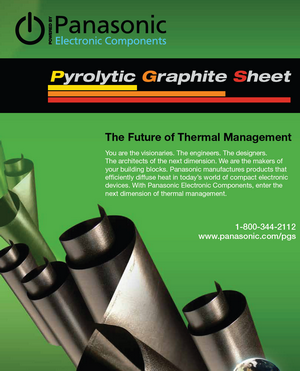 "Pyrolytic Graphite Sheet is an ultra-thin, lightweight, graphite film with a thermal conductivity high enough to release and diffuse the heat generated by heat sources such as CPU's, processors, power amplifiers and cameras. Developed by Panasonic engineers, this synthetically made material was named Pyrolytic Graphite Sheet or PGS. With a thermal conductivity up to four times greater than copper, PGS is extremely pliable and can be applied to heat-source shapes even in highdensity mounting situations."
Pyrolytic Graphite Sheets offer Thermal Conductivity: 700 to 1750 W/(m-K), are flexible and easy to cut or trim, withstand repeated bending and are lightweight: specific gravity of 0.85 to 2.1 g/cm3."