Abstract: While aluminum is not as thermally conductive as copper it still offers some very good performance characteristics. And hey, the CV Chill has a nice thick aluminum base.



Home > Reviews > Page:

Conclusions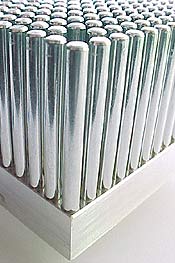 The CV Chill makes use of the very effective pin-based cooling design and uses it in a pure aluminum set up. While the performance of the heatsink was quite good on the large copper die template, the smaller copper die template exhibited less cooling potential than we would have liked to have seen. Perhaps the 12.5mm thick aluminum base is too thick to promote correct thermal spreading when mounted on the current class of small dies.

What ever the cause, the CV Chill still managed to bring in some fairly good performance numbers overall. While there are an abundance of copper-clad heatsinks on the market which can out perform the CV Chill head on, the design still offers some good cooling for those who are interested in it. The only poor aspect of the cooler that we could see was the less than ideal surface finish on the base - it could really do with a bit of polishing.

The CV Chill is available from e-compuvision for $76.00 CDN, and comes with two sets of copper shims.




Websites you may also like:
PCSTATS
Time stamped: 4:40AM, 02.19.2020