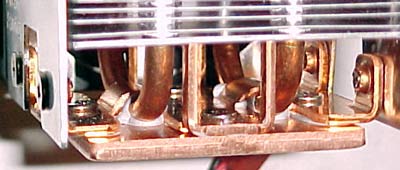 In the case of the Coolermaster CH5-5K12, a 3mm thick copper plate forms the base of the heatsink. The two heatpipes are equally spaced on the base and kept in place by a thinner 1.5mm copper strap which also holds the aluminum shroud in place. The heatpipes make intimate contact with the base by means of some thermal epoxy (as opposed to solder).
Despite all this copper sitting above the processors' core, none of it has much to do with cooling, but rather the heat is moved up to the aluminum cooling fins via the two heatpipes. Each heatpipe is bent up into a "U" shape so that a total of four points move up into the fin area.
While this may seem to be heatsink design suicide - that being to use such a small path for all that heat energy, it works rather well in practice. The heatpipes quickly move the heat away from the copper base plate and disperse it across the many aluminum fins where air from the fan continuously passes and heat is easily exhausted into the environment.
FrostyTech Synthetic Temperature Test Platform:
The FrostyTech Synthetic Temperature Test Platform consists of an aluminum block heated by a 120V 250Ohm precision resistor producing 50W of heat. That heat is transmitted to the heatsink via the aluminum block and up through special copper die templates with thermistors embedded directly in them.
A temperature reading for a particular heatsink is taken once the temperature stabilizes in the copper die template. Since each of the die templates have the surface area of either a silicon topped or heatspreader-topped processor the flow of heat to the base of the heatsink accurately mimics a real life configuration.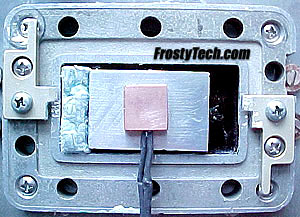 Shown with the copper die template for a silicon-topped processor, the synthetic heatsink test apparatus awaits a coating of AOS29KY non-silicon thermal compound and the Coolermaster CH5-5K12 heatsink. A slightly larger copper die template was used to test the effective cooling ability of the CH5-5K12 atop a heatspreader-based processor like an overclocked PGA Celeron processor.