Once the lapping was finished the Frosty ACPsink was done. A quick dip in some pickling solution to clean it up and a few seconds under a buffing wheel and there it sat all nice and shinny. The four mounting holes were tapped to accept a set of stainless steel screws. Those screws would hold our test Athlon on securely. Two 60mm fans were also mounted to the front of the heatsink via the copper pipes.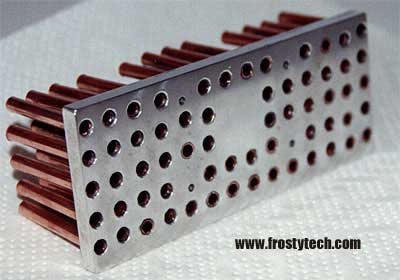 The final ACPsink in all its shinny glory.Without fans or a processor strapped to its back it looks kinna cool, but with those two components would it be able to cool?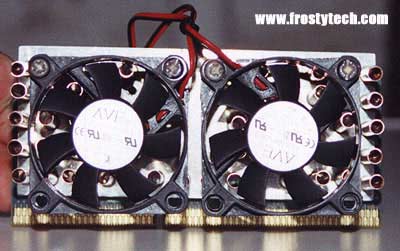 Two ball bearing 60mm fans blow cool air onto the ACPsink and the base plate. Our hope was that the perforated design of this heatsink would aid processor cooling, but there would be no way to tell until we tried overclocking that Athlon.
Stage two in our look at the Frosty ACPsink deals with how well this one of a kind heat sink was able to perform in the real world, on an overclocked Althon 500 Mhz. The questions awaiting us all came down to one thing, would this radical design improve cooling? Time to find out!
Let's have a look at
overclocking with the Frosty ACPsink
...