The easiest way to get the copper sections into the plate was to use a small hammer and lightly tap them into place. Done correctly there was almost no deformation of the soft copper pipes. We kept the aluminum plate atop of a flat steel block to stop the pipes from being pushed in too far. A little bit of mushrooming happened on the tops of the pipes. This was removed by putting the ACPsink to the wet grinder for a few minutes.

After all the copper pipes had been installed, the tops had become slightly deformed by the insertion operation.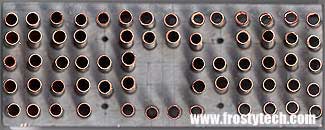 A few minutes with a wet grinder and almost all of the rounded over sections of copper pipe had been removed.
Lapping the base plate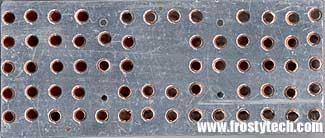 After all the processes that the aluminum plate had to go through it was a bit scratched up to say the least. We lapped the base of the plate by laying out a piece of 400gt wet sandpaper atop a thick piece of glass and moving the ACPsink in a figure-8 motion. We went down to 800gt sandpaper eventually to finish things off.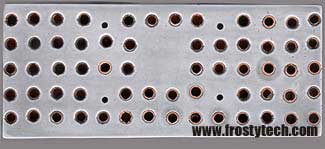 And finally the base of the finished ACPsink was nice and smooth. As the processor would only make contact with the center region, we weren't to concerned about removing scratches on the outer sides.