With all of the holes in the plate enlarged to 11/64" the next challenge was to accurately dimension them. Even with a drill press, holes made by drill bits can only reach a certain level of exactness. For those situations where a hole needs to be smooth or toleranced, a reamer is necessary. Using a 2" long 3/16" diameter straight reamer each hole was ever so slightly made larger, and to the required dimensions.
To aid in the insertion of all those copper pipes, and to make the plate look all that much nicer (not to mention removing any small burrs) we chamfered all the holes on each side of the plate. Both the chamfering and the reaming were done by mounting the aluminum base plate in the jaws of the vice.

A straight fluted reamer, much like this one was used to tolerance each of the holes that the 3/16" copper pipe sections would eventually be mounted into.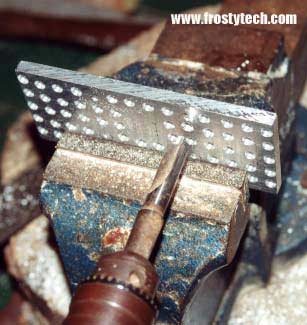 The bit that we're using to chamfer the edges of the holes is not specifically meant for this purpose, but works well nonetheless. The bevel allowed the copper pipe sections to be inserted into the plate all that much easier.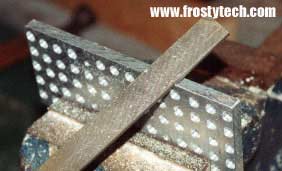 And lastly, to remove any sharp edges or burrs, we filed all of the plates' edges with a fine file.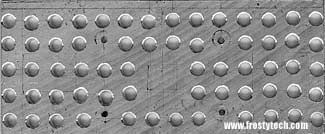 After all those steps this is the final form of the plate, just prior to copper pipe insertion. The holes aren't absolutely lined up, but everything was done by hand :) The holes are all reamed to 3/16" and have a nice bevel.
While it looks like we have taken our sweet time with all of these steps, they were necessary. The plate is now ready to receive many small copper pipes whose outside diameter is just slightly larger then the inside diameter of each reamed hole in the aluminum plate. By pressing the copper pipes into the holes in the plate a strong interference fit will result. The copper, being a softer material than the aluminum will deform slightly as the pipes are forced into the undersized holes. For the pipes to enter smoothly it is important that the holes have a consistent diameter. The reamed surface provides this.
Held up to the light we can easily see through our emerging ACPsink. As far as we are aware, the perforated design of the ACPsink is unique, and one we will be testing out on an Athlon shortly.

Hopefully the holes will not have an overly negative effect on heat transfer from the processors core to the body of the heatsink.